These sticky buns are the epitome of comfort. They remind me of grandparents and long lazy days.  Warm and fresh out of the oven they are perfect take me away food for anyone.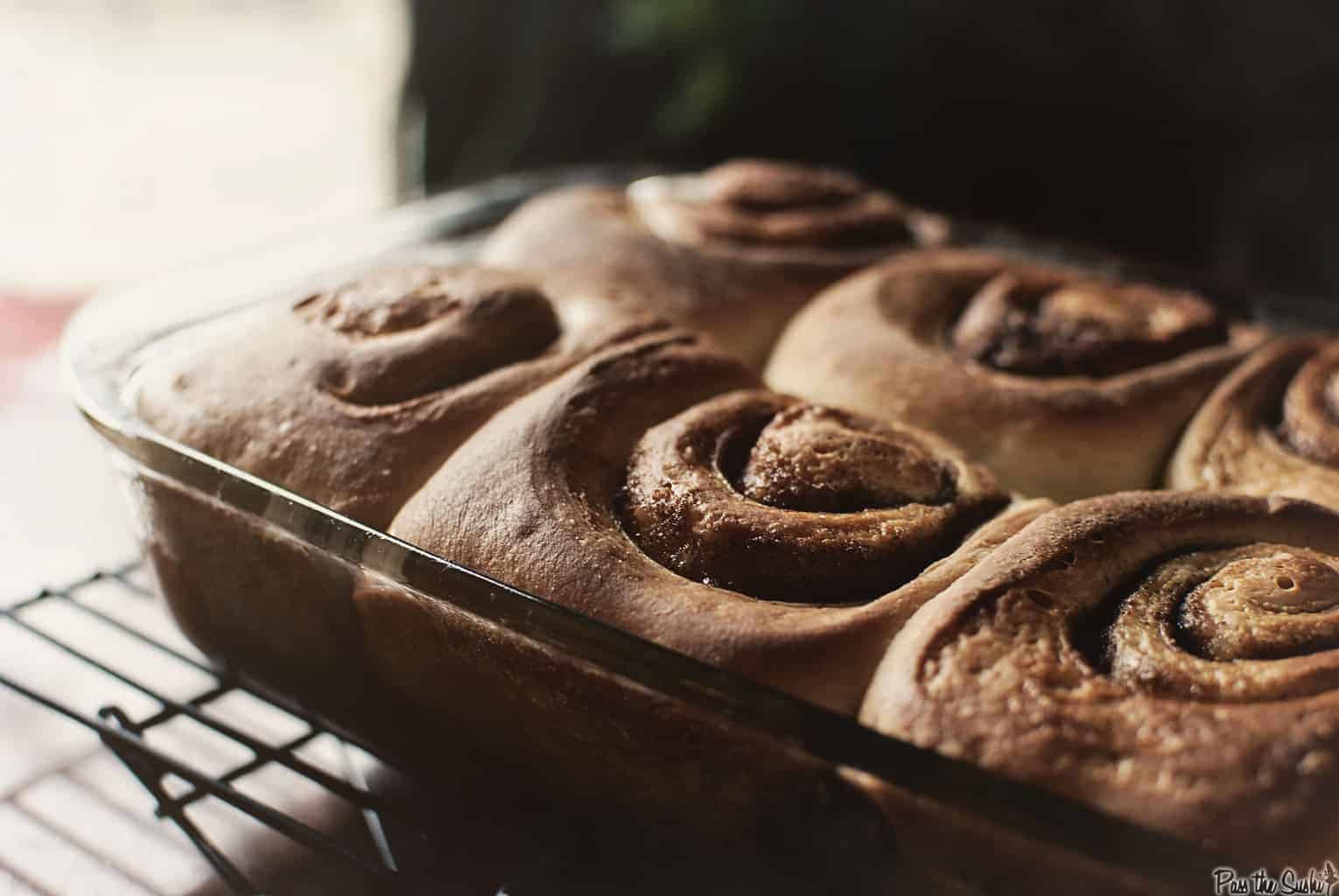 Sometimes I don't know what to say. I'm good with wit and humor, but when things come down to it, I never seem to have the words to make things better. There's been a lot going on recently in our world where I just sit back in horror unsure of how to express my sadness. It's time like those that I find myself in the kitchen baking... I may not be able to speak words that will comfort, but I can show up and share food. My way of showing I care.
Last week I was left speechless and lost several times and found myself returning to the safety of my kitchen to sooth away the fears. I have cooked for a long time and prepared a lot of dishes for this site, and more for my friends. Little had I realized how shielded my tiny kitchen had become for me. How normal and right it felt to be in there stirring and chopping....
These sticky buns are the epitome of comfort. They remind me of grandparents and long lazy days.  Warm and fresh out of the oven they are perfect take me away food for anyone.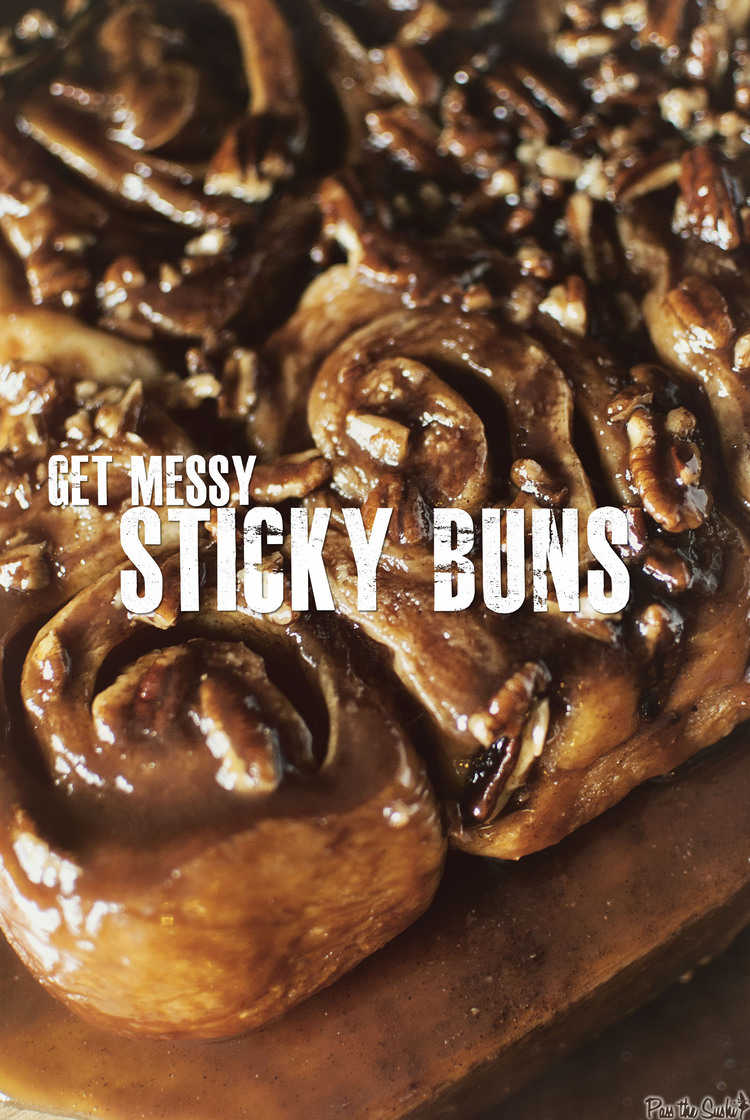 If you've tried this Sticky Buns recipe or any other recipe on passthesushi.com please don't forget to rate the recipe and let me know where you found it in the comments below. I love hearing from you! You can also follow along for more good eats and travel tips on Instagram @passthesushi & @girlcarnivore, Twitter & Facebook.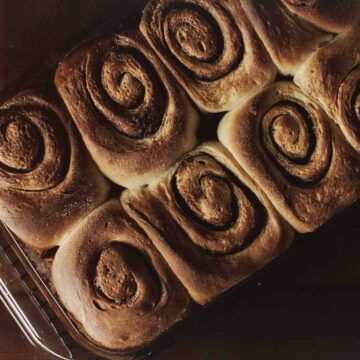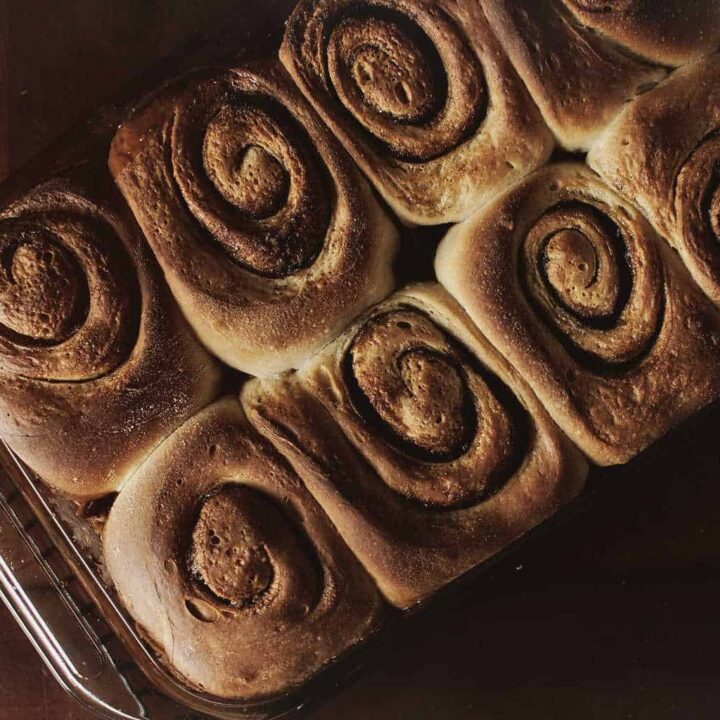 Ingredients
For the dough:
½

cup

milk

8

tablespoon

unsalted butter

½

cup

warm water

1

envelope

-

2 ¼ teas instant yeast

2

teaspoon

vanilla extract

½

cup

sugar

1

large egg

-

plus 2 egg yolks

1 ½

teaspoon

salt

4 - 4 ½

cups

flour

-

plus more for dusting
For the caramel sauce:
2

cups

sugar

1

cup

water

¾

cup

heavy cream

4

tablespoon

unsalted butter

1

teaspoon

vanilla extract

pinch

of salt

2

tablespoon

corn syrup

3

cups

whole pecans

-

lightly toasted and chopped
For the filling:
4

tablespoon

butter

-

cut into ¼" pieces

¾

cup

packed light brown sugar

1

teaspoon

ground cardamom

1

teaspoon

ground cinnamon

¼

teaspoon

salt
Instructions
For the dough:
Heat the milk and butter in a small sauce pan over low heat until butter has just melted. Set aside.

In the bowl of your stand mixer fitted with a paddle attachment, mix together the water, yeast, vanilla, sugar, egg, and egg yolks. Add the salt and the warm milk mixture and mix until just combined. 

Add 2 cups of the flour and combine, 1 minute at medium speed. 

Switch to the dough hook and and add another 2 cups of flour and knead on medium speed until the dough is smooth and is not sticking to the sides, about 10 minutes. Add additional flour, up to ¼ cup, 1 tbs at a time if needed to bring the dough together. 

On a clean lightly floured work surface, form the dough into a ball. 

Place in a lightly oiled bowl, cover, and let ride in a warm draft free area for 1 ½ to 2 hours, or until doubled in size.

Butter a 9 x 13" baking dish.
Make the caramel sauce:
Combine the sugar and water in a heavy bottomed saucepan (pour the sugar into the center to avoid it touching the sides). Cover and bring to a boil over high heat. 

Once boiling, uncover and continue to boil until it has become a thick and straw colored syrup, about 7 minutes (300 degrees F on a candy thermometer). 

Reduce the heat to medium and continue to cook until the mixture begins to smoke and has turned golden in color, 1 to 2 minutes longer (350 degrees).

Meanwhile, bring the butter, cream, vanilla, salt, and corn syrup to a simmer in a small saucepan over high heat. Don't let the cream mixture reach a simmer and cook before the syrup has reached it's proper stage.

As soon as the sugar has reached its 350 degree mark, remove it from the heat and carefully pour a quarter of the cream mixture into it. It's going to bubble like crazy. When that subsides, add the remaining cream and whisk until smooth. 

While still hot, pour the caramel sauce into your prepared baking dish. Sprinkle the pecans over the sauce in an even layer. Don't get all brave and stick your finger in. You will regret that. Set aside.
Filling the rolls:
Once the dough has doubled in size, punch it down and turn it out onto a clean lightly floured work surface. 

Roll out the dough into a 16" by 12" rectangle. 

Combine the filling ingredients in a small bowl and sprinkle evenly over the dough, giving yourself a slight border on the finished end. 

Beginning with the long end closest to you, tightly roll the dough. Lightly moisten the edge with water and pinch shut. 

Place seam side down and cut the roll into 12 even pieces. Place cut side up in that caramel filled baking dish you have on stand by. 

Cover with plastic wrap and place in a warm, draft free spot for 1 to 1 ½ hours longer, until the buns have doubled in size.

Preheat oven to 350 degrees F. 

When the buns have risen, bake for 25 to 30 minutes, or until the center reads 185 - 188 degrees F on an instant read thermometer. Cool pan for 5 minutes before taking on the challenge of finding a dish big enough to flip these out onto. 😉

Carefully, using both hands, flip the buns on to a serving dish. Caramel is going to go every where. Scrape out any remaining caramel and spoon over buns. 

Cool for 10 minutes before serving warm. Worth it.
Nutritional informations provided as a courtesy and is only an approximatation. Values will changes based on ingredients used.
⭐ Tried this recipe? Rate it ⭐
Help out the next person and give it a star rating below!