This homemade Breakfast Pizza is the perfect breakfast for any occasion, whether you're hosting a weekend brunch or trying a new breakfast recipe. With simple ingredients like olive oil, garlic, ricotta, Prosciutto, mozzarella, and eggs, this easy Breakfast Pizza will win over even the pickiest of eaters.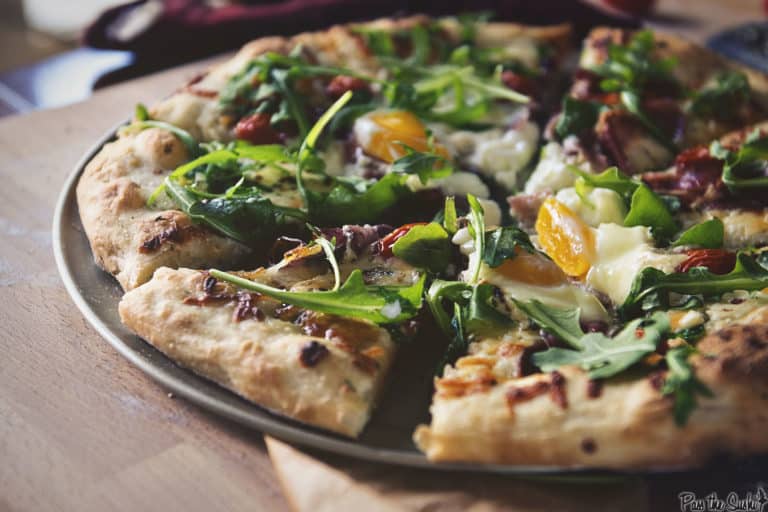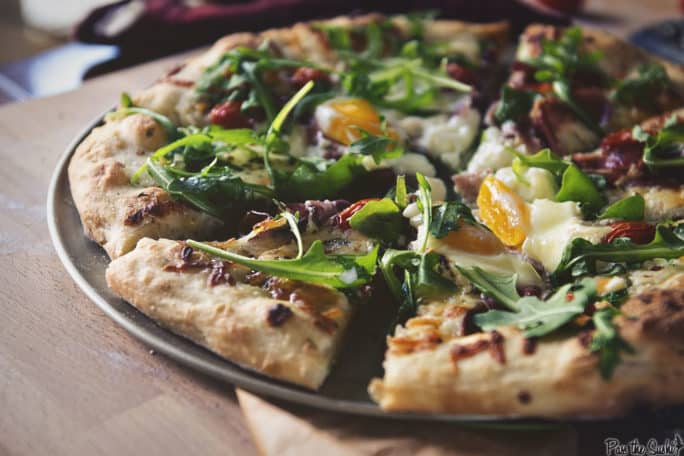 Jump to:
We love a good savory breakfast, like this Potato Frittata and Prime Rib Omelet. Take this Breakfast Pizza, for example. It's loaded with mozzarella cheese, ricotta cheese, and freshly cracked eggs that will make your breakfast dishes a lot more interesting. Even if you're not a big fan of pizza, you'll love this easy Breakfast Pizza recipe!
What Is Breakfast Pizza?
Breakfast Pizza is just like it sounds – breakfast ingredients on top of a pizza crust. Except, we're not using your basic sausage and bacon unless you want to, of course. We're using mozzarella cheese, ricotta, Prosciutto, eggs, and fresh arugula to create a fancier version of your basic breakfast pizza.
If you love pizza, you'll love this Farm Country Grilled Pizza, Grilled Everything Pizza, or this Cheesesteak Pizza.
Why you'll love this recipe
This recipe is super easy to make and only requires a few ingredients! It's a great way to incorporate some of your favorite breakfast foods onto a pre-made pizza crust for the ultimate filling meal. The best part is that this recipe only takes a few minutes to whip up, meaning you can make this even on busy mornings! Plus, you can customize this recipe using your favorite breakfast ingredients, and it'll still come out tasting amazing!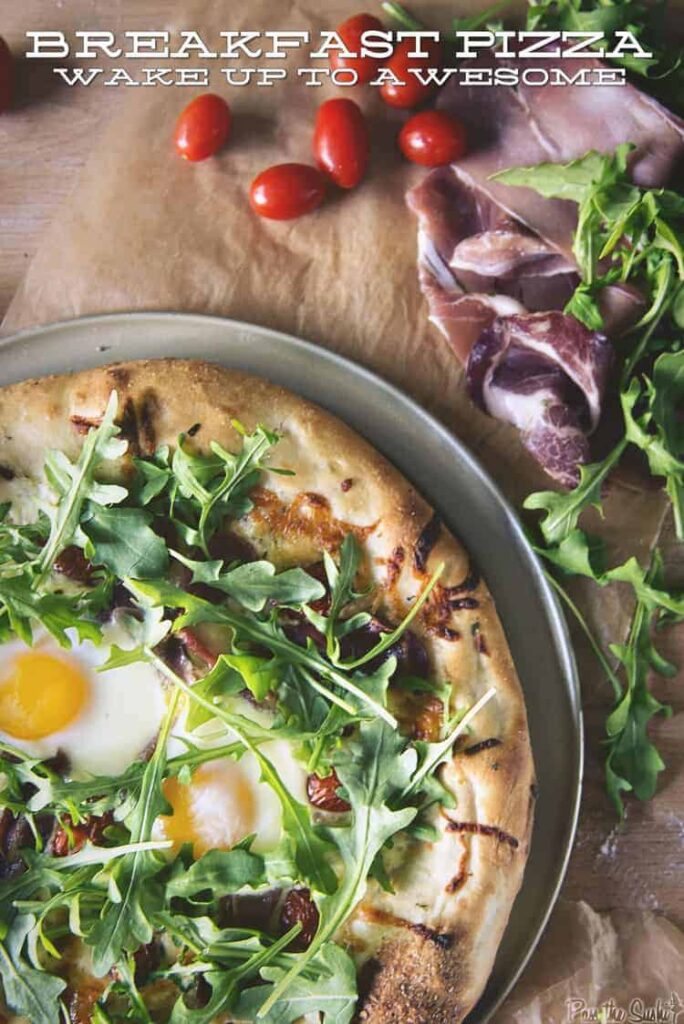 Ingredients
Round of dough – Use your favorite pre-made crust.
Olive oil
Garlic cloves – Minced
Ricotta cheese – Use any kind you like.
Oregano
Parsley
Red pepper flakes
Prosciutto – Coppa, and bresaola
Mozzarella – Shredded
Eggs
Fresh arugula
How to Make This Delicious Breakfast Pizza
Preheating and Preparing
The first step is to preheat your pizza oven as indicated in the manufacturer's instructions or to the recommended temperature.
Rolling Out and Flavoring
On a surface dusted with flour, roll out your pizza dough to your preferred thickness. Then, brush olive oil evenly over the dough's surface to coat it. Next, sprinkle minced garlic over the oiled dough and dollop ricotta cheese onto the dough, pressing it a bit to flatten. Lastly, sprinkle oregano, parsley, and red pepper flakes on top of the ricotta.
Layering and Toppings
Arrange Prosciutto, coppa, and bresaola on the dough for added flavor. Then, sprinkle mozzarella cheese evenly over the toppings. Gently crack eggs over the cheese layer.
Baking the Pizza
Carefully transfer your prepared pizza into the preheated pizza oven. Allow the pizza to cook until the bottom is crisp and golden and the eggs have set to your liking.
Finishing Touches
Once the pizza is cooked to perfection, carefully take it out of the oven. Scatter fresh arugula over the hot pizza; it will slightly wilt from the heat. Give the pizza a few minutes (around 5 minutes) to cool slightly before you slice it and get ready to serve.
What to serve With Breakfast Pizza
Serve up this yummy pizza with some Slow Cooker Loaded Hash Browns. For a touch of sweetness, serve alongside some Belgian-Style Yeast Waffles​ or a Fresh Fruit Salad!
Expert Recipe Tips
Rotating the pizza halfway through prevents it from burning.
Since this recipe uses pre-made crust, make sure to watch it as it can burn quickly.
Swap out the Prosciutto for breakfast sausage or pork sausage to make for a more classic touch.
Add in some crispy bacon pieces for a bit of texture and flavor.
Want to cut down on the fat? Use egg whites instead.
Add a dash of hot sauce for an extra kick.
If you're not a fan of sunny side-up eggs, you can make scrambled eggs and sprinkle those on top of the pizza.
Leftovers and Reheating
Place any leftover breakfast pizza in an airtight container in the fridge for 4 days in an airtight container. When you're ready to eat it, pop it in the oven at 350 degrees F until heated. Alternatively, place the leftover pizza in the microwave and heat in 30-second intervals.
Recipe FAQs
Can I use other types of cheese besides mozzarella?
Absolutely! If you want to switch things up, add some cheddar cheese or parmesan cheese! If you want to get super fancy, you can even use goat cheese for a tangier flavor profile!
What if I don't have a pizza oven?
Use a pizza stone or large skillet and bake the breakfast pizza at 450-500 degrees F until the pizza is golden brown and the eggs have set. 
More Breakfast Recipes
​
This hearty breakfast is full of flavor and will keep you full all morning long! Simple ingredients unite to create a symphony of flavors atop a crispy crust that will leave you begging for more. If you try this recipe, please rate the recipe card and let us know if you liked this recipe!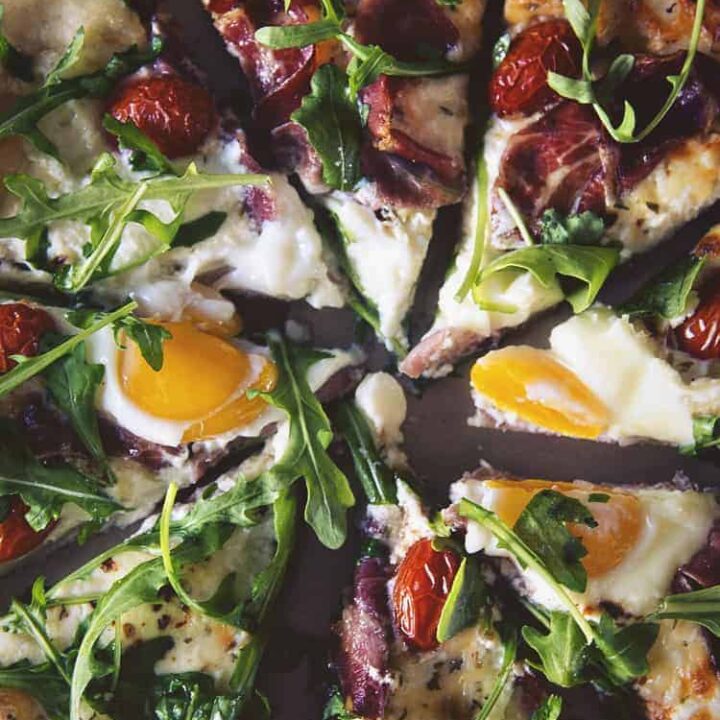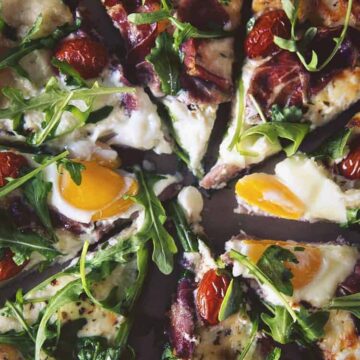 Ingredients
1

round of dough

1

tbs

olive oil

2

garlic cloves

-

minced

1/3

cup

ricotta

1

teas oregano

1

teas parsley

1/2

teas red pepper flakes

Prosciutto

-

coppa, and bresaola

1/2

cup

mozzarella

-

shredded

2

eggs

1

cup

fresh arugula
Instructions
Preheat the pizza oven.

On a floured surface, roll out the pizza dough. Brush the olive oil over the dough surface. Toss the garlic on and dollop on the ricotta, pressing a bit to flatten. Sprinkle the oregano, parsley, and red pepper flakes on top. Arrange the proscuitto, coppa, and bresaola on the dough. Sprinkle with mozzarella. Lastly, gently crack the eggs over top.

Transfer the pizza to the pizza oven and cook until the pizza is crisp and golden on the bottom and the eggs are set.

Remove from the oven and toss the arugula over top. Wait 5 minutes before slicing and serving.
Nutritional informations provided as a courtesy and is only an approximatation. Values will changes based on ingredients used.
⭐ Tried this recipe? Rate it ⭐
Help out the next person and give it a star rating below!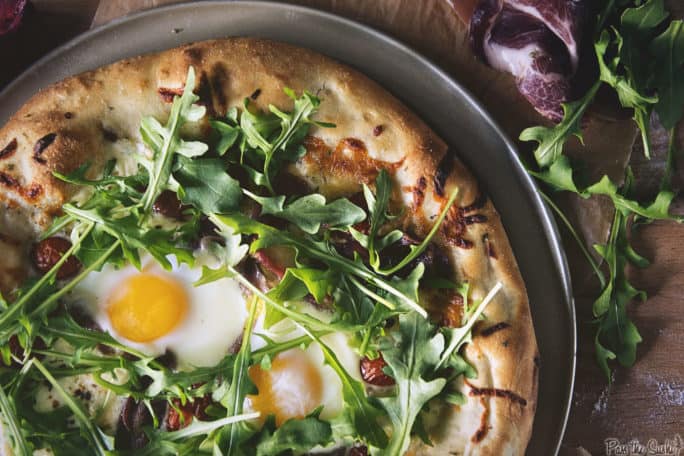 This post is a sponsored post from Cuisinart. However, the pizza creation and pizza love are all my own.