Grilled everything pizza is your love for grilling, combined with everything you love about pizza. Grilled meats,  rich marinara sauce, fresh herbs, and hot, bubbly mozzarella cheese.
I may have a new obsession this summer and it took me by surprise. Normally I get excited at the smell of smouldering charcoals, anticipating burgers, steaks, chops and other hearty meaty goodness. But this year, I grilled my first pizza and there is no going back.
I may love my pizza stone, but once I clumsily laid that first dough on the grate, my opinion was changed forever. Sure, dinner takes a little planning ahead so that you have time to prep your dough and let it rise, but once that's done, everything comes together very quickly. You have to move fast, so have all of your toppings prepped and ready. Having a helper on standby is also a great option, as it can be hard to do everything by yourself.
Once you try grilling your first pizza, you may reconsider just calling for delivery through the end of the grilling season.
You have got to try this grilled everything pizza recipe!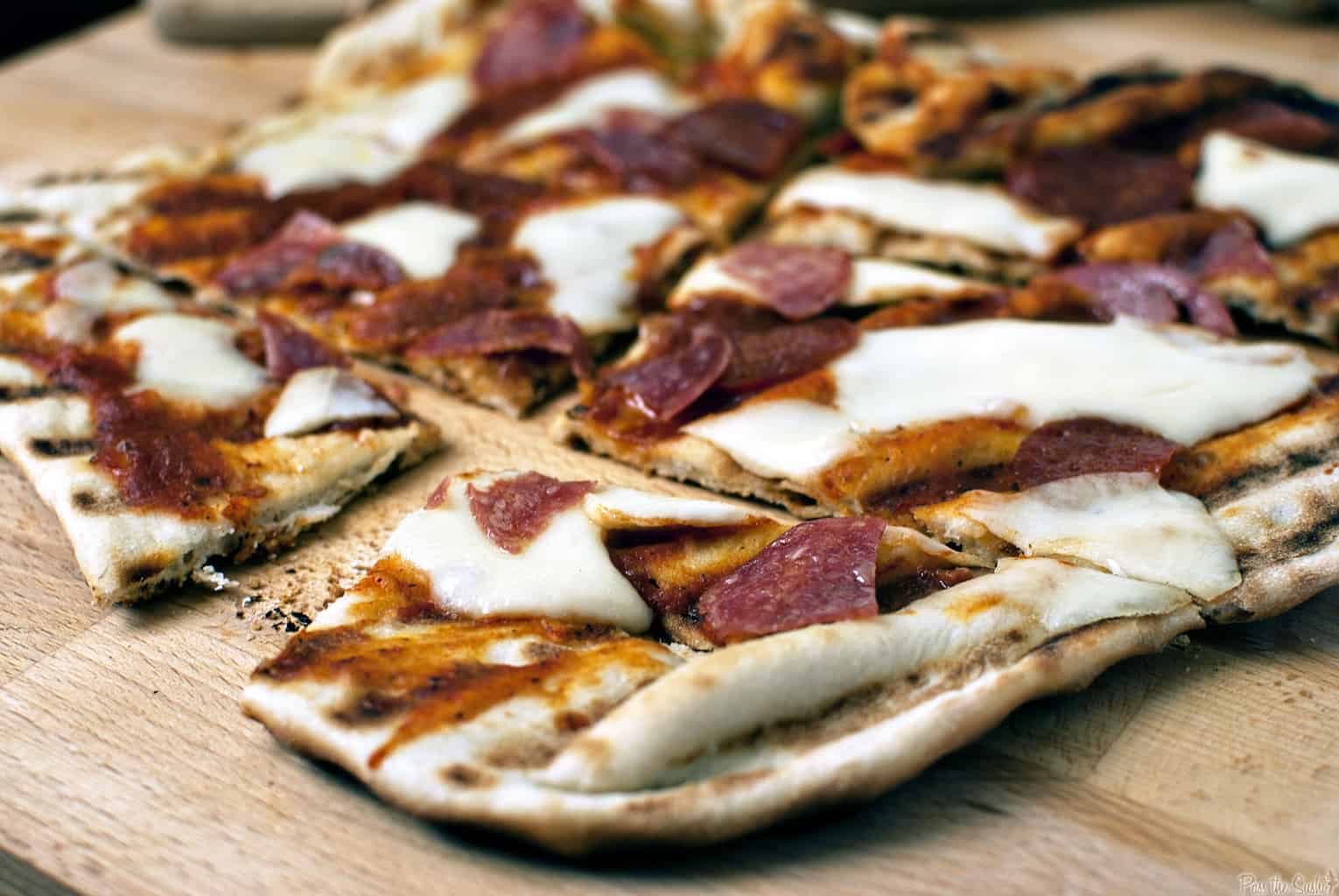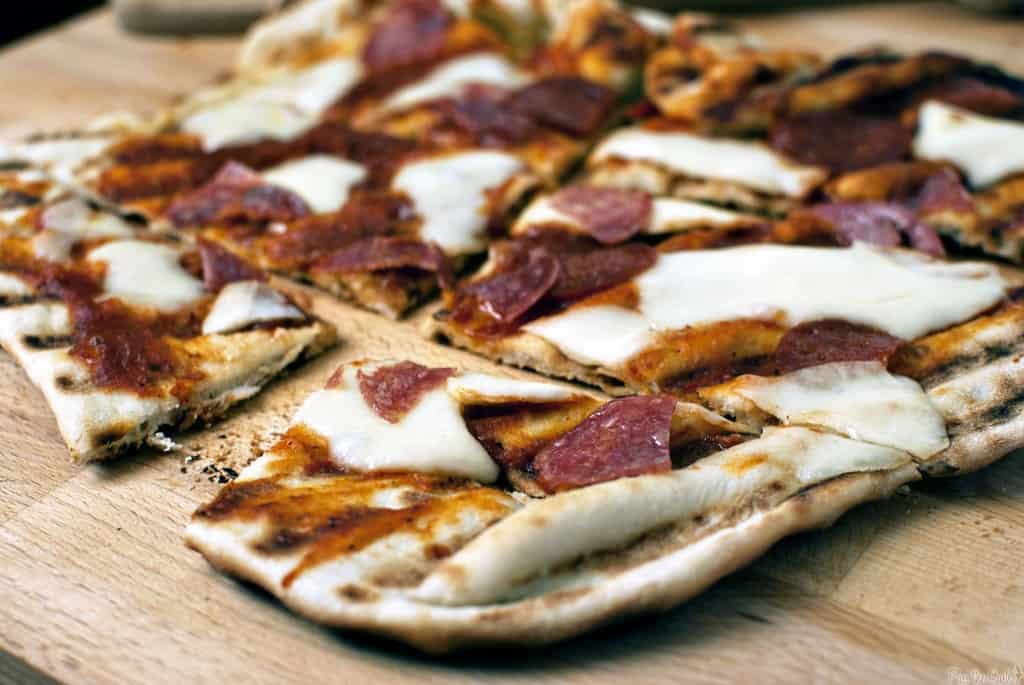 What are you waiting for? Run out and turn your grills on – even if it is 104 degrees wherever you may be! 😀
Grilled Everything Pizza
from Food Network Magazine July/August 2010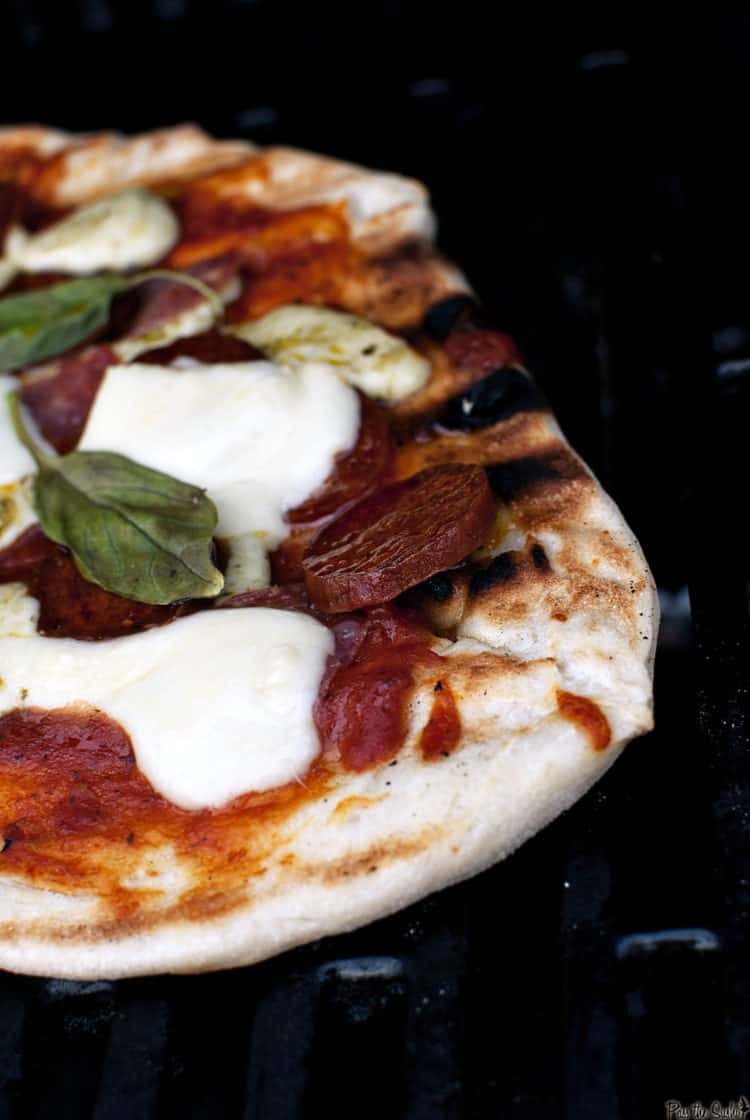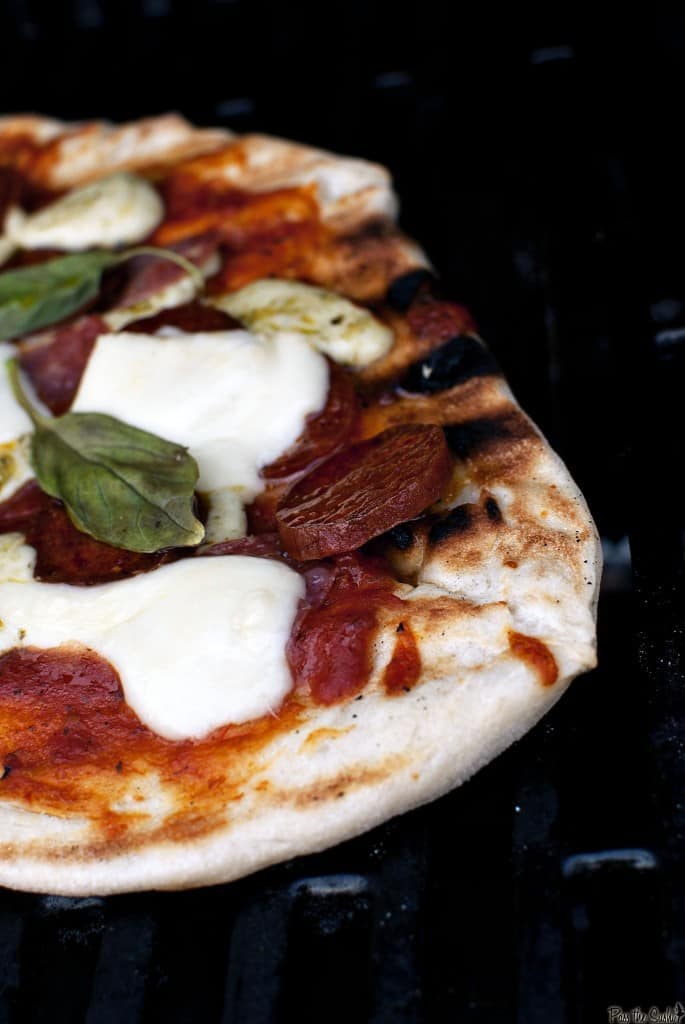 Ingredients:
1 cup warm water
2 teas sugar
1 packet active dry yeast
2 tbs extra-virgin olive oil, plus more for brushing and drizzling
3 cups AP-Flour, plus more for dusting
1 teas salt
1/2-3/4 cup marinara sauce
8 ounces fresh mozzarella, sliced
1/2 cup sliced pepperoni
4 thinly sliced hot or sweet capicola, torn
1/2 bunch fresh basil, torn
Preparation:
Prepare the dough: whisk 1 cup warm water (about 105 degrees F) and the sugar in a small bowl and sprinkle the yeast over top. Let stand until foamy, about 10 minutes. Stir in the olive oil
Whisk the flour and salt in a large bowl. Make a well in the center, pour in the yeast mixture and stir to make a shaggy dough. Turn out onto a floured surface and knead until smooth and elastic, about 5 minutes, adding just enough flour to prevent from sticking. Form into a ball, put in a large oiled bowl and turn to coat with oil.  Turn seam-side down, cover with plastic wrap and let rise at room temperature until doubled in size (about 1 1/2 hours). Meanwhile, preheat a grill to medium high and grill any toppings you may want to add on (onions, peppers, mushrooms, etc).
Arrange all of your toppings on a tray near your grill.
Reduce the grill heat to medium low. Divide the dough in half and dist the dough and work surfce with flour. Roll each piece into a 7″ x 12″ rectangle, about 1/8″ thick. Brush an inverted baking sheet with olive oil and lay your prepared crusts on it. Carefuly, lift each piece by the corners and lay on the grill, oiled side down. Cook until the dough puffs and the underside is stiff and marked, about 5 minutes.
Flip the dough with tongs, brush with olive oil, spread with the marinara sauce and top with mozzarella and toppings. Cover and cool until the cheese melts, about 5 more minutes. Transfer the pizzas to a cutting board. Top with basil a drizzle of olive oil and salt.