Chocolate chip banana muffins are the best little snack ever. This one bowl recipe makes muffins that are loaded with chocolate chips and ripe bananas. Easy and so delicious!
I may not have a sweet tooth, but I can never turn down a fresh muffin. Something about their consistency and texture make them perfect. And even though I am trying to learn to love fruit its its stripped and naked form, I'm solidly convinced the banana was made to be in muffins and breads.
It has to be my favorite muffin flavor of all time, with blueberry coming in a close second. I made these chocolate chip banana muffins back when I received a sample of coconut oil to try out as one of my test recipes. Next time, I'm going to add some coconut flakes to really kick up the coconut flavor.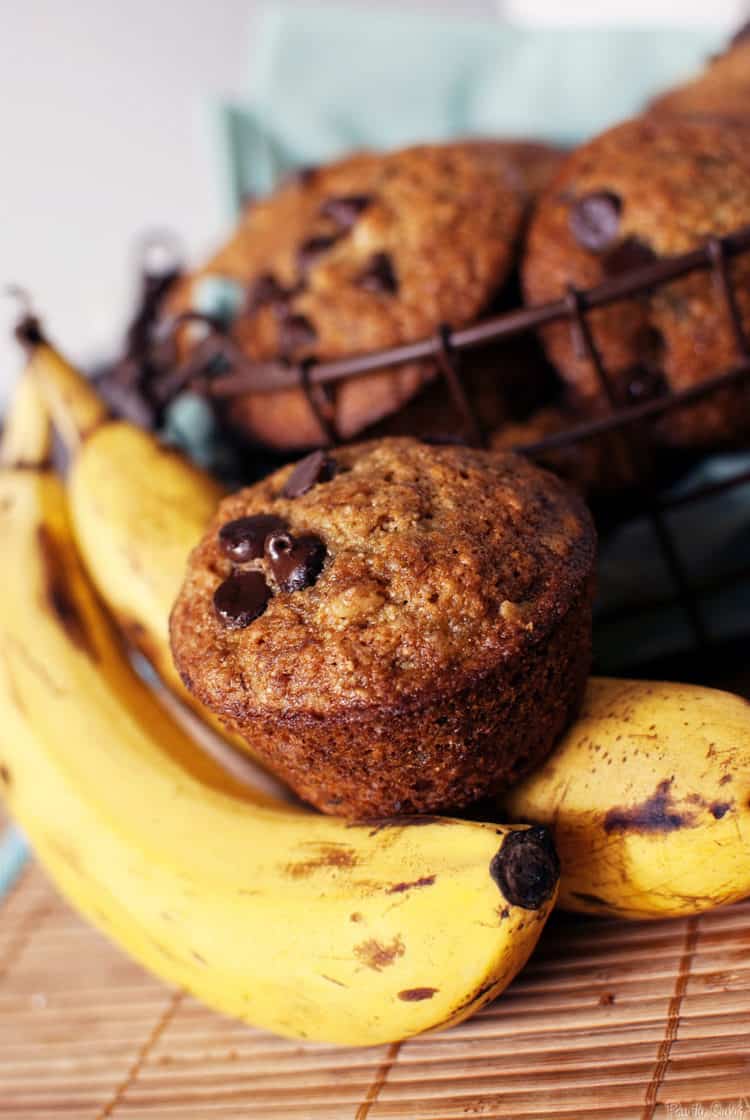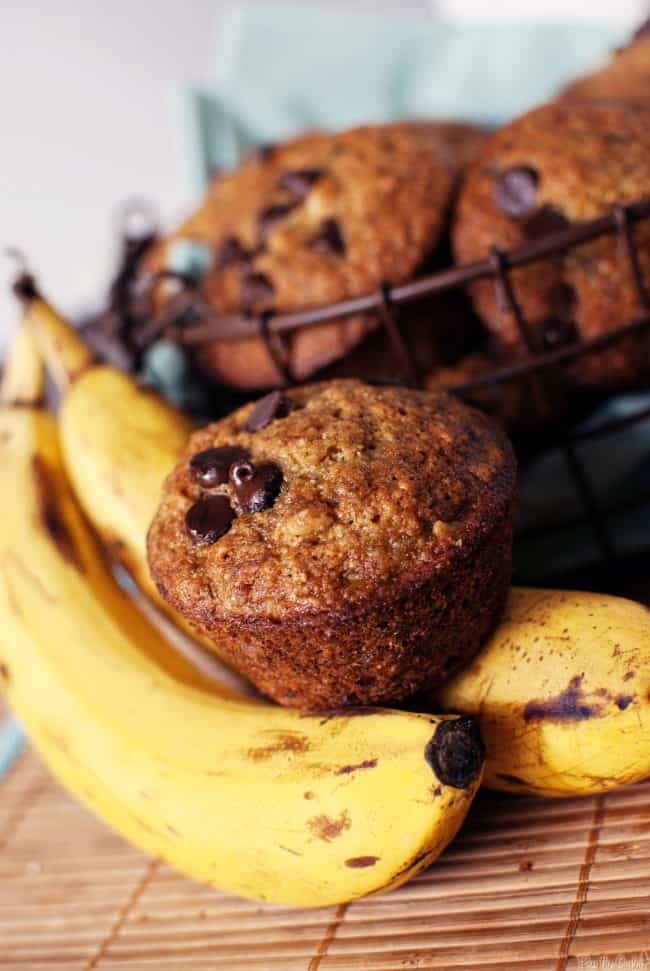 Sorry if all my posts seem short lately. Summer is catching up with me and it seems like I never get 5 minutes to myself to organize my thoughts. *whine whine whine*
But I do have some neat features coming soon! I just programmed the recipe index to work the way I want, so now I just have to fluff it up a bit before it goes live. I realize this news is not nearly as exciting to you as it is to me – sorry! But as a designer/programmer, I'm happy. 😀
Bake a batch of chocolate chip banana muffins now, and you can thank me later.
Chocolate Chip Banana Muffins
from Family Food and Fun, Adapted from Herbivoracious
2 large ripe bananas, peeled
1/4 cup unsalted butter
1/4 cup melted coconut oil
1 cup brown sugar
1 egg, beaten
1/4 cup milk
2 teaspoons pure vanilla extract
1/2 teaspoon Kosher salt
1 cup all-purpose flour
1 cup white whole wheat flour
1 teaspoon baking powder
1/2 teaspoon baking soda
chopped walnuts (optional)
chocolate chips (optional)
Preparation:
Preheat the oven to 375°. Line 12 muffins tins with muffin/cupcake liners or grease tins.
Put the bananas in a large, microwave safe bowl. Microwave on high for 1 minute. Add the butter and coconut oil and microwave 20 seconds at a time until the butter is softened but not melted.
Using a potato masher, mash the bananas, butter, and oil together until there isn't a lot of lumpiness left. Thoroughly stir in the sugar, beaten egg, milk, vanilla extract, and salt in the bowl with the mashed bananas.
In another bowl, mix flour, baking powder, and baking soda.
Fold the dry ingredients into the wet. Stop when they are just moistened.
Distribute the batter into the tins. Top with walnuts and/or chocolate chips if desired (I folded mine into the party). Bake about 15 minutes, or until a toothpick inserted in the middle comes out dry.