Potato frittata is the perfect breakfast, brunch, or dinner recipe. This frittata is loaded with pork sausage, potatoes, cheese and onions.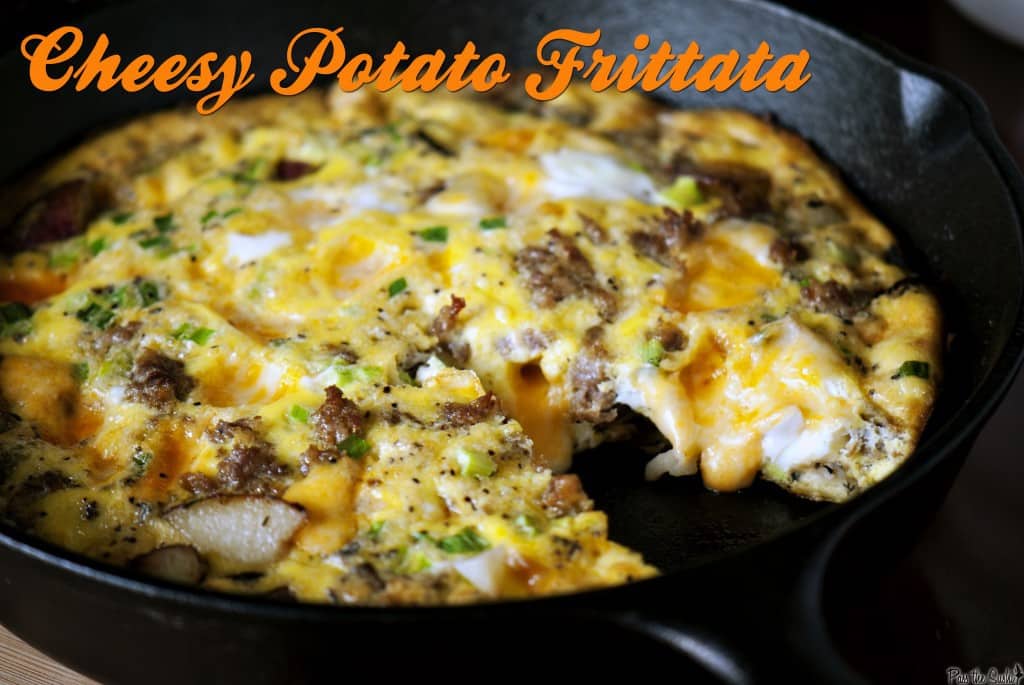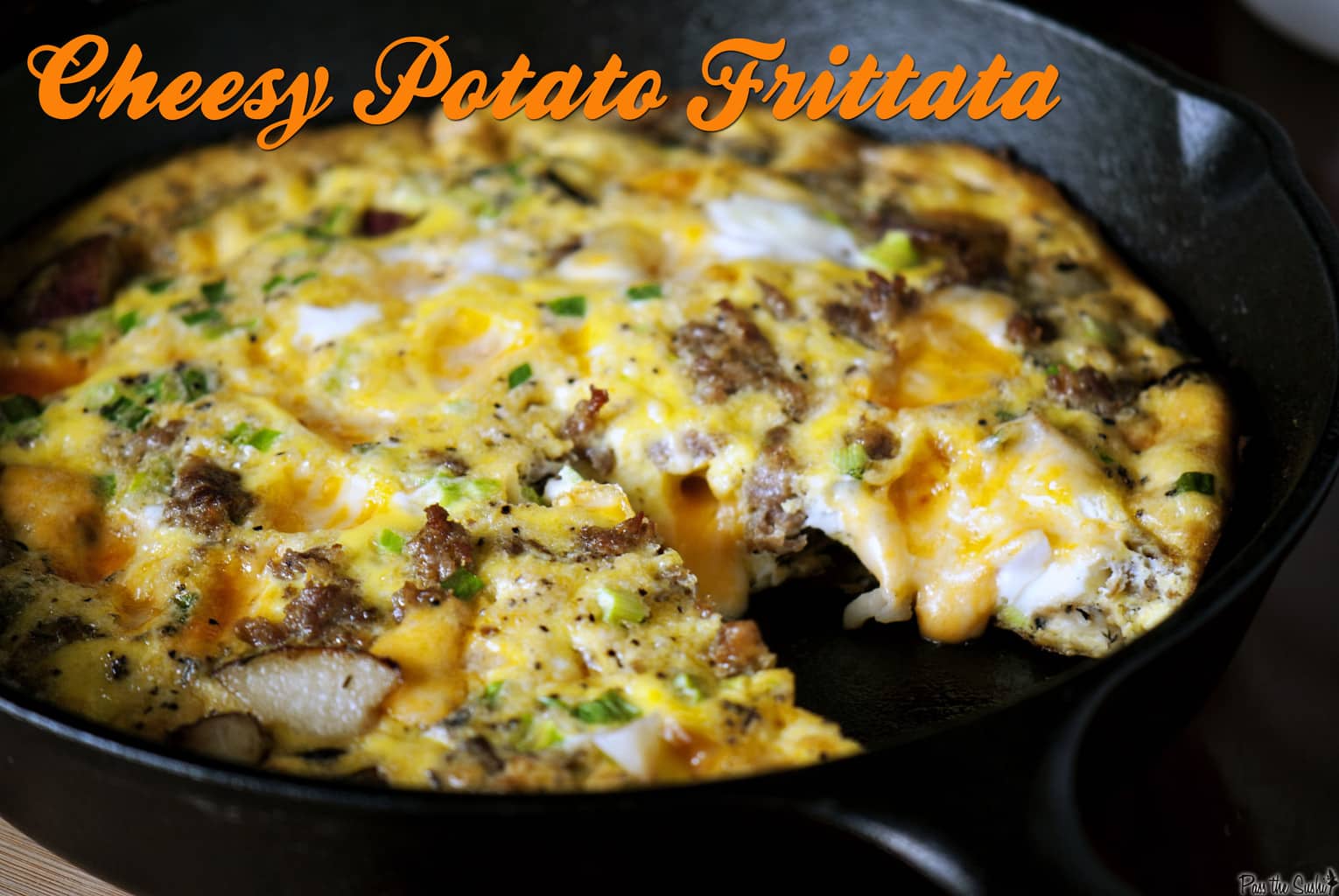 Look around this blog. You notice anything? Keep looking… That's right. No basic egg dishes.
Ever.
The egg, one of the most versatile, simply and healthy things one could ever cook and you won't see me use them (unless we're baking something – then it doesn't count). Want a dirty little secret? I hate eggs. Ever since one of my mom's boyfriends told me that that little white thing you get in some eggs was a baby chicken I'd just murdered, I've never been able to eat them.
These protein packed pillars of the gastronomical universe should make my meatatarian self salivate over ever umami filled bite, but but one moment of traumatic childhood egg cracking and there it went. Now that I'm a big girl, all grown up and in my own kitchen, I am trying to embrace the egg. In small doses and with a lot of other things thrown in, it's not bad.
In an attempt to get to know eggs, and seeing a recipe packed with tons of other flavors and textures, I picked this cheesy potato frittata from The Weekend Gourmet to challenge myself for this month's Secret Recipe Club (a club where you are given a blog to sneak around and test out a recipe and I d love myself some sneakiness). I was super excited to get The Weekend Gourmet because of these (but figured that would kind of be like cheating for an SRC post) and because I have been reading Wendy's blog for a year. She always has great giveaways and delicious down home food to salivate over. This was my first time getting a blog who I knew and it was super hard to keep quiet bout it!

All I know for sure is that you need to make yourself a cheesy potato frittata as soon as possible.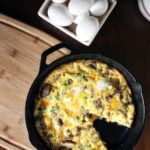 Cheesy Potato Frittata
Ingredients
1/4 - 1/2

lb

sausage

1

tbs

butter

1

tbs

olive oil

1

cup

diced red potatoes

1/2

cup

sliced mushrooms

1/2

cup

diced yellow onion

2

sprigs of thyme

or 1 teas dried thyme

6

eggs

2

tbs

milk

1/2

teas salt

1/4

teas pepper

4

ounces

cubed colby jack cheese

2

scallions

diced
Instructions
Preheat oven to 375.

In an oven proof skillet over medium heat, brown sausage and crumble. When cooked, set aside and whip grease from pan with a paper towel.

Increase heat to medium-high and add olive oil and butter to pan. When hot, add potatoes, saute for 5 minutes. Add onions, mushroom and thyme and saute 10 minute longer until potatoes are golden and fork tender.

Meanwhile, in a large bowl, whisk together eggs, milk, kosher salt, and pepper in a large mixing bowl. Add cheese and scallions when and stir to combine.

Arrange potatoes, mushrooms, and onion mixture in on layer in your skillet and pour the egg mixture over everything.

Put the frittata in the oven and bake for 15-20 minutes.Make sure to use caution (and a heavy duty oven mitt) when removing frittata from oven.

Let cool 5 minutes. To serve, run a small knife along the edges and cover the top with a plate. Using both hands (and once again, oven mitts) flip skillet so that he frittata sits beautifully on your plate. Or keep it rustic and remove portions from the skillet.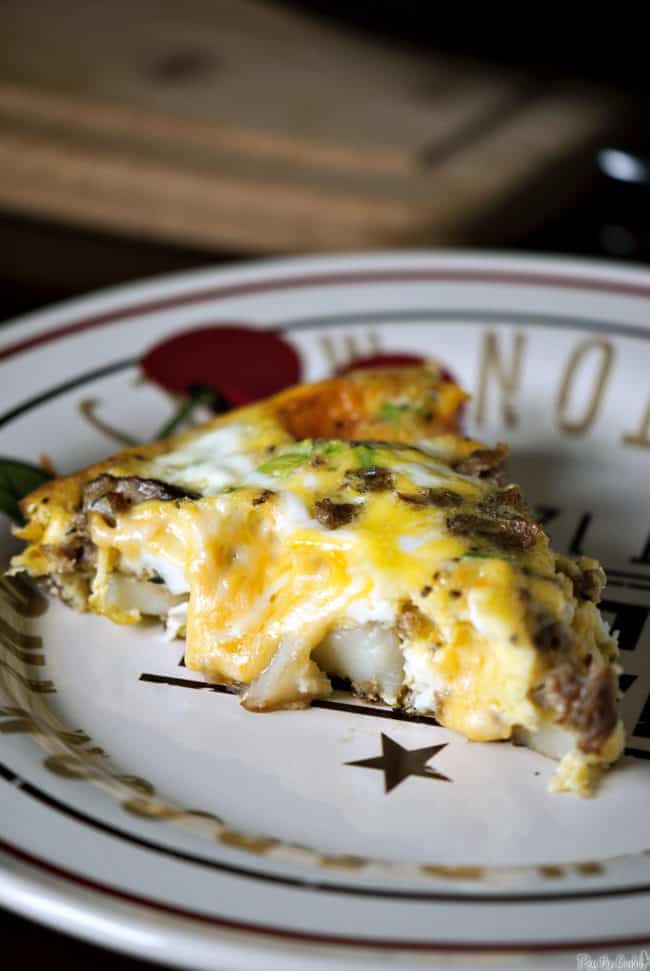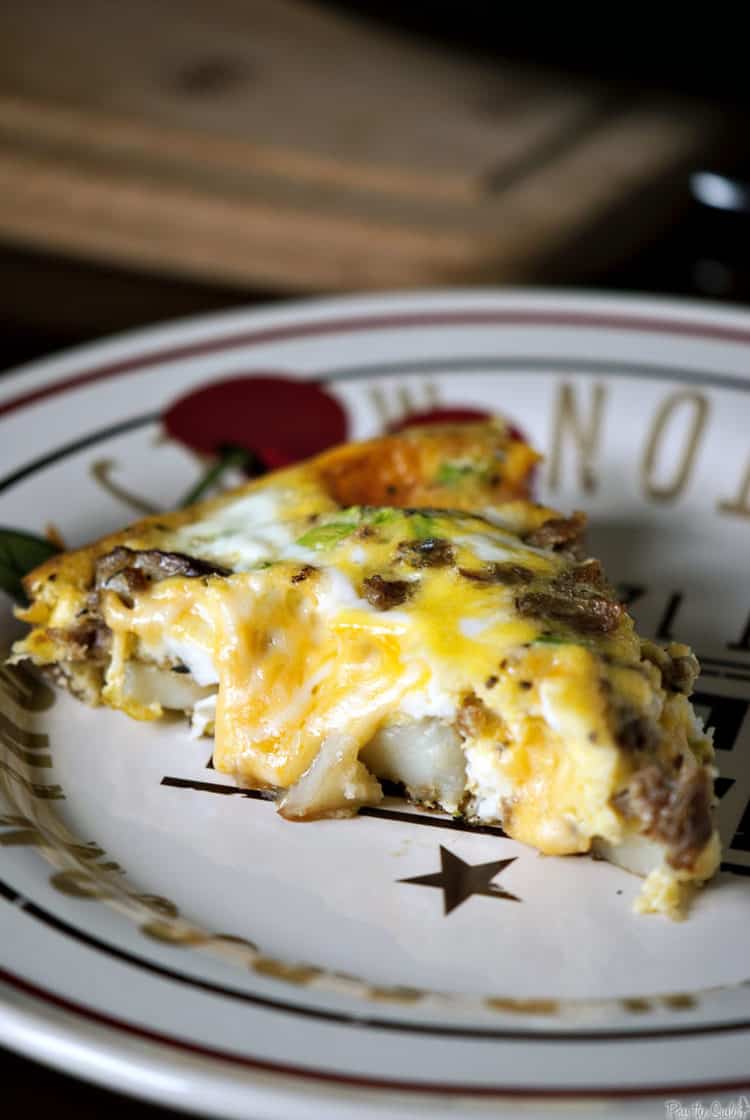 And yes, I ate that slice of potato frittata. No, nothing bad happened.
Baby steps.