Looking to satisfy the sweet tooth, but stay a little on the healthy side? This recipe for Toasted Coconut Blueberry Banana Bread Scones a flavor combo that totally wins!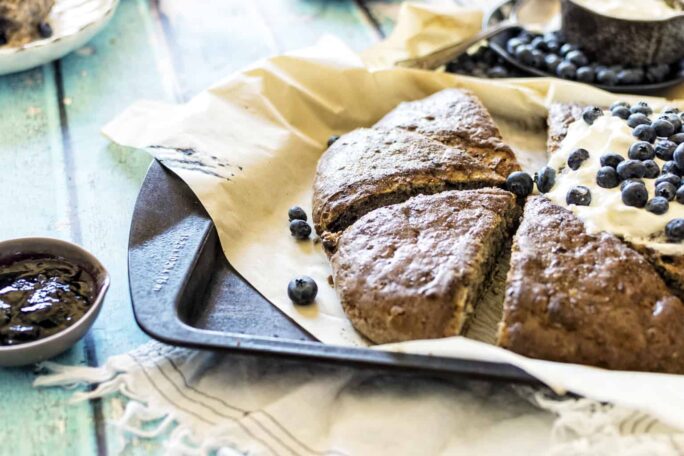 When it comes to baking, we all know my sweet tooth isn't as prevalent as my quest for savory deliciousness (like these amazing bacon biscuits). So, when I sit down to create a recipe that's a bit more indulgent, I have been working to break the mold by using healthier alternatives, creative ingredients, and overall folding in less sugar of the recipes as I test them in the kitchen.
I have found that I can often cut the sugar in most baking recipes by half when I start and not even notice less sweetness. Lately, I've been using Cottage Cheese as a key ingredient in several of my dishes. This healthier alternative adds a creamy melt-in-your-mouth texture and more protein! They are seriously re-imagining cottage cheese!
Discovering Toasted Coconut Blueberry Banana Bread Scones
This recipe didn't exactly happen by accident. But it was a process of discovery. I like to go on journeys. I want an adventure. And most of all, I crave an experience. Guess what, that can even happen with a simple trip to the market, or a random ramble through whatever is left in the fridge or the pantry.
Yes, that might not come off as living life on the edge, but you have to have an edge living life well too. So you have to create the moment to be in the moment, the place where anything is possible.
Like even reinventing banana bread as a scone.
What could I put in a scone?
This time was no different, I basically knew I wanted a delicious scone to serve with morning coffee, but I wanted to omit most of the sugar, and use healthy ingredients I had on hand to actually bump up the wow factor.
I started out to make blueberry scones, and noticed some ripening bananas to my left, and remembered some coconut flakes in the freezer I could toast too. At that point, it became a hunt for what else I may have on hand, and I chopped some nuts up to add that extra crunch.
Before I knew it, there was a crazy delicious batter in front of me, ready for baking.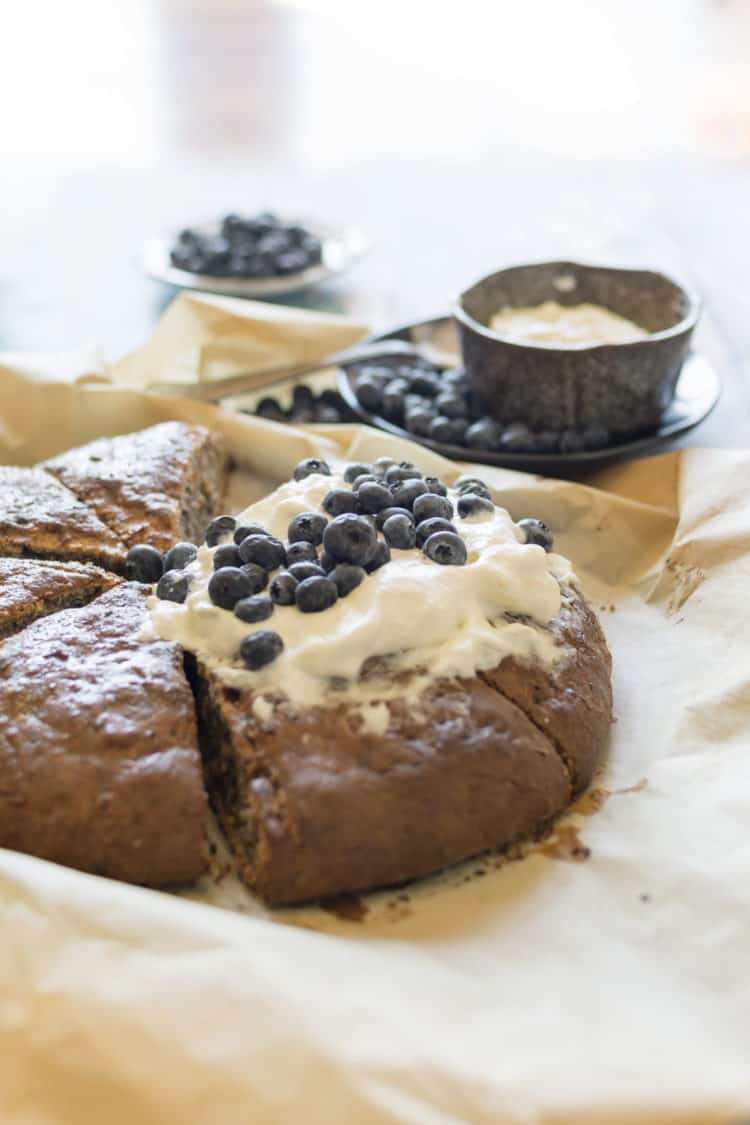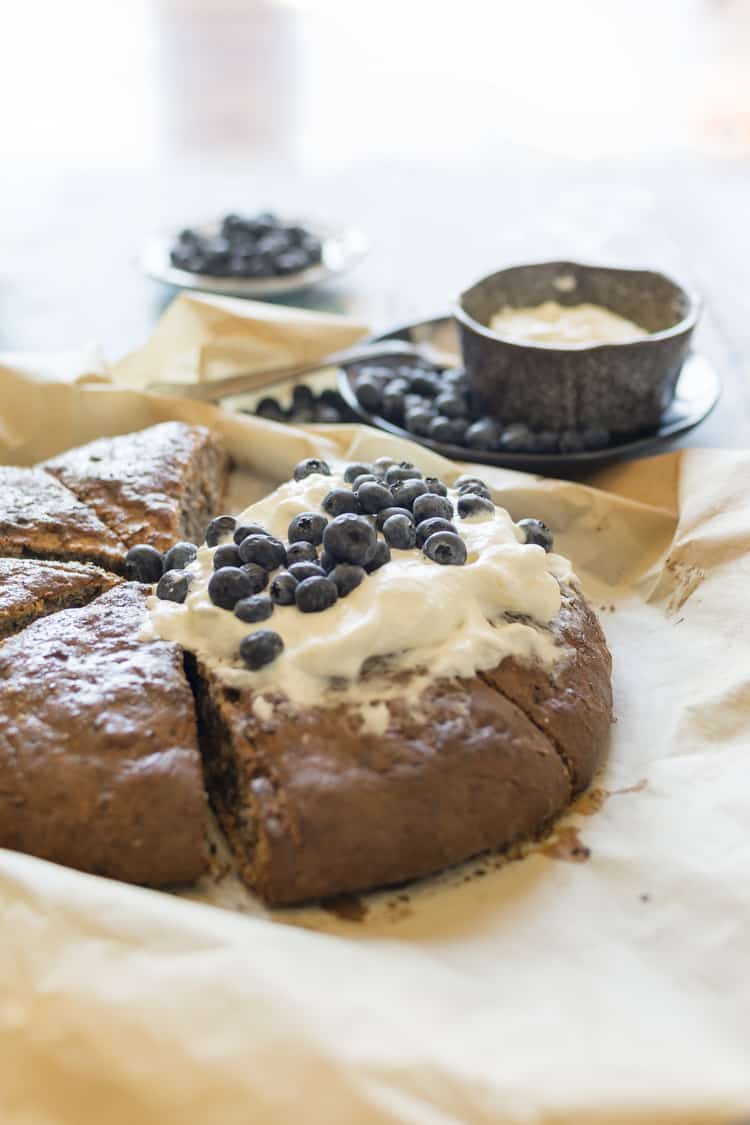 On top of reducing the sugar in my recipes, I've been trying to make efforts to swap traditional fats and liquids for things that can add some bonus value (extra vitamins, proteins, you get the idea)!
I remembered the Blueberry Cottage Cheese I'd recently grabbed while a hangry rush through the market had me tossing in some fun new bonus items to play with and since I'd already eaten the pineapple I smuggled home in the cart full of fun finds (hello delicious real pineapple chunks).
I decided I would sub the cottage cheese for the buttermilk I had planned on using. Idea gold.
Is it A Scone Or Banana Bread?
You might be wondering if this is banana bread masquerading as a scone, or a scone trying to trick you into believing it is banana bread. I think it is actually possible to be both. To understand why you need to get inside both. 
Scones and banana bread both are types of bread that are leavened by baking powder, not yeast. After that, really the only difference is how much sugar typically goes into make them. 
So, you already know I reduced the sugar significantly and that brought my banana bread more to the scone side of the equation. 
However, I know sometimes scones can seem like just a dry and tasteless lump of baked flour. This recipe does have enough sugar, plus the bonus sweetness from the coconut flakes and blueberries, so it is sweet. 
Not too sweet mind you. But sweet enough that you don't worry about it being a stale cousin to the hardtack bread pioneers ate because sugar was a luxury that didn't fit in the wagons.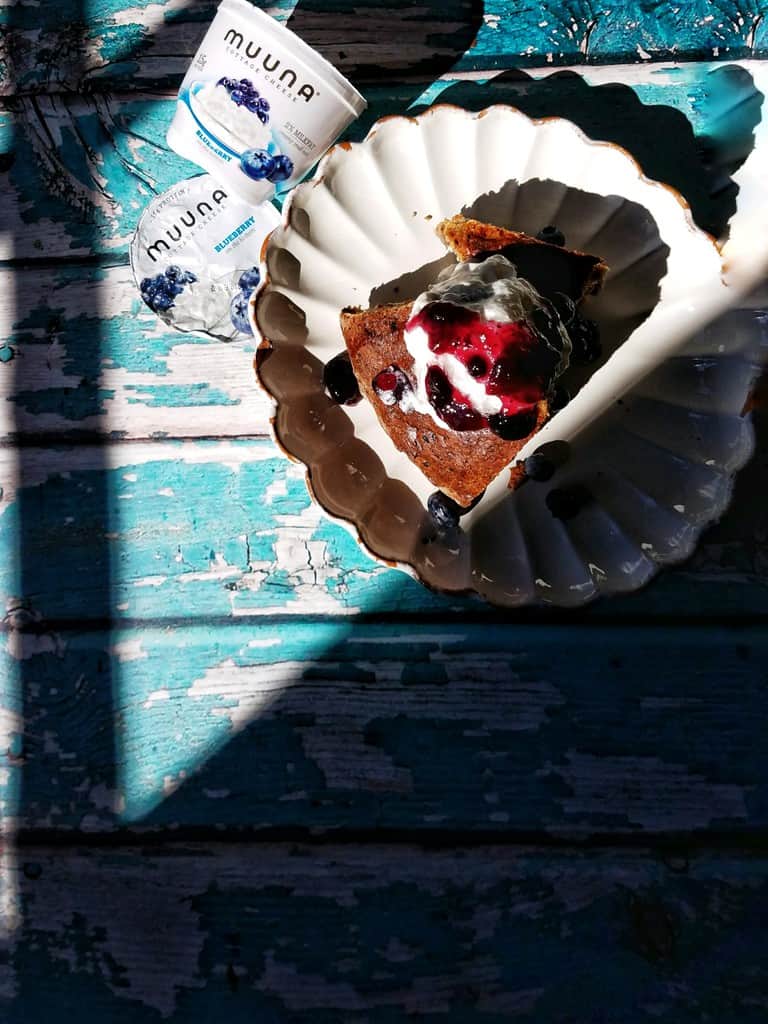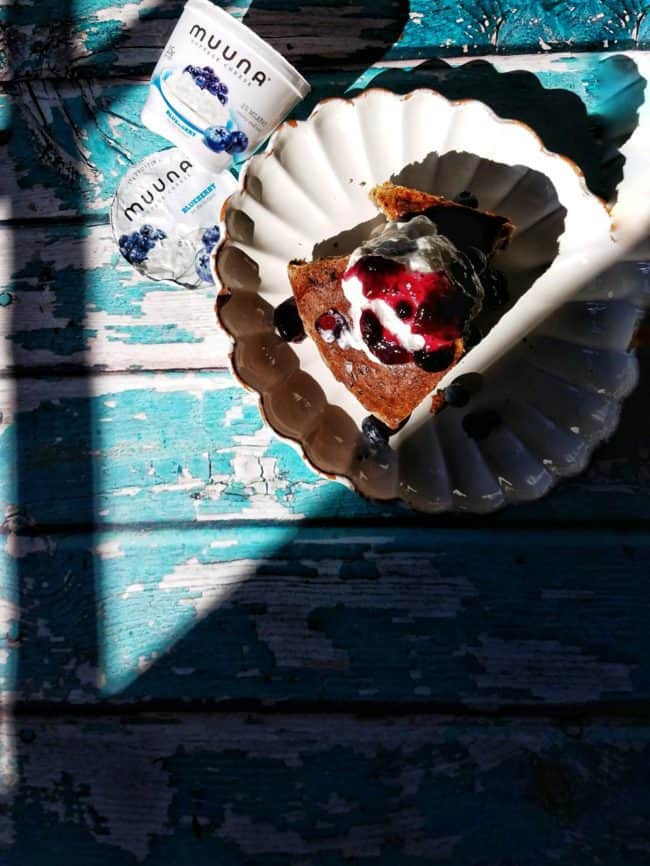 Sweetened Or Unsweetened Coconut Flakes?
I was serious about cutting down on the sugar. Coconut already has a good amount of sugar in it. It isn't like drying loses sugars. It just loses water. 
So using sweetened coconut flakes is not necessary. You can if you want to bring some sugar back into the recipe, but you don't need it. 
The cottage cheese I use has blueberries in it. Real blueberries and not gloppy syrup with a couple blueberries in it. You are always welcome to add some more blueberries if you want a bit more sweetness. Blueberries are sweet but they also are super rich in antioxidants so a few more of those won't hurt.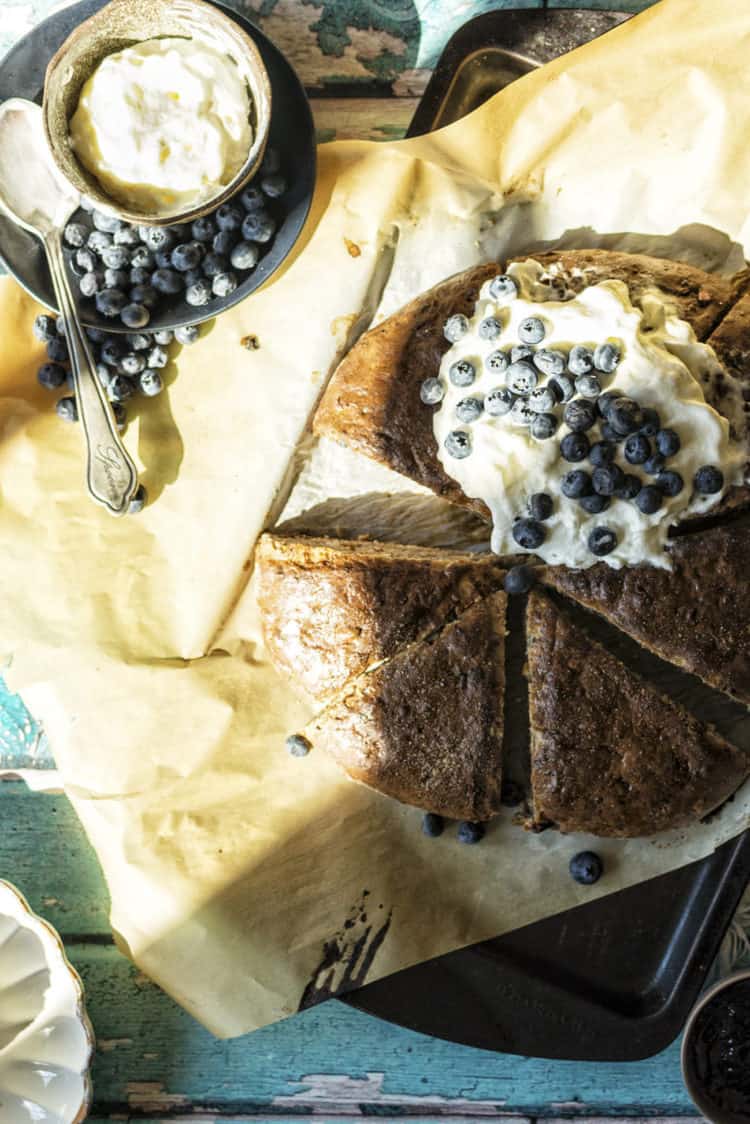 Packed with Protein
Bonus, by using Cottage Cheese, I was upping the protein in this recipe. Each of their individual fruit cups contains 15g of protein per serving.  
But, of course, what makes it even better and easier to enjoy is that melt-in-your-mouth creamy texture and delicious pieces of real fruit on the bottom, if you're just diving straight in.
Cottage cheese is not something I would have even thought about in a morning pastry, but knowing I was adding a little something healthy for only 130 calories and 9g of sugar to the sweet treat made it seem that much less guilty.
Plus, with my crazy biking goals, I love fueling up on protein as it seems to be the only thing that satiates my hunger for a long time.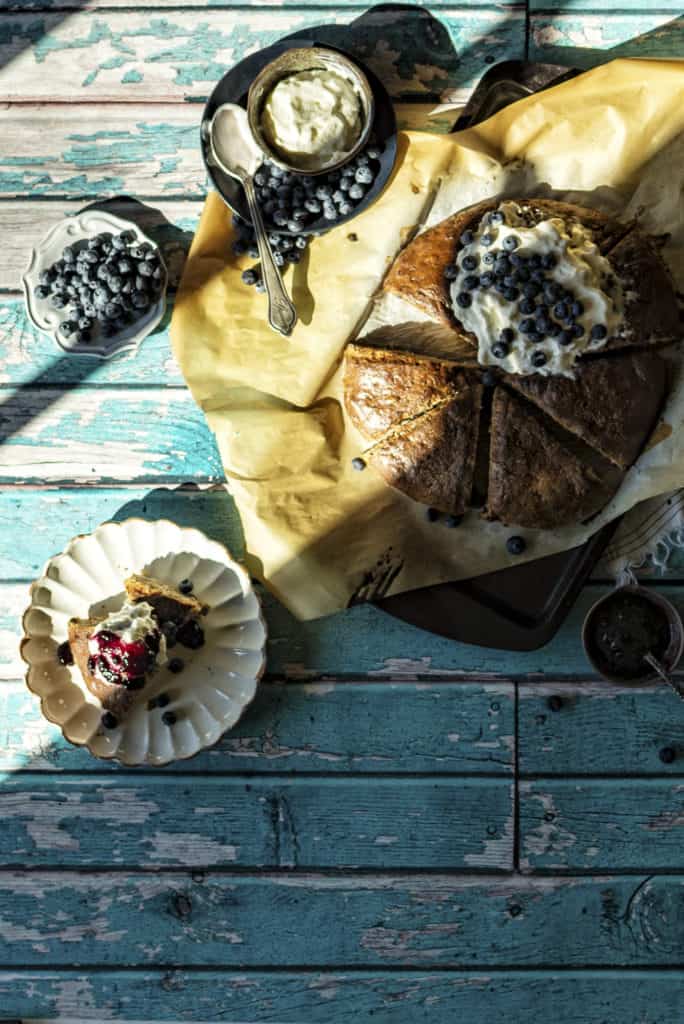 If you've tried this Toasted Coconut Blueberry Banana Bread Scones recipe or any other recipe on passthesushi.com please don't forget to rate the recipe and let me know where you found it in the comments below, I love hearing from you! You can also follow along for more good eats and travel tips on Instagram @passthesushi & @girlcarnivore, Twitter & Facebook.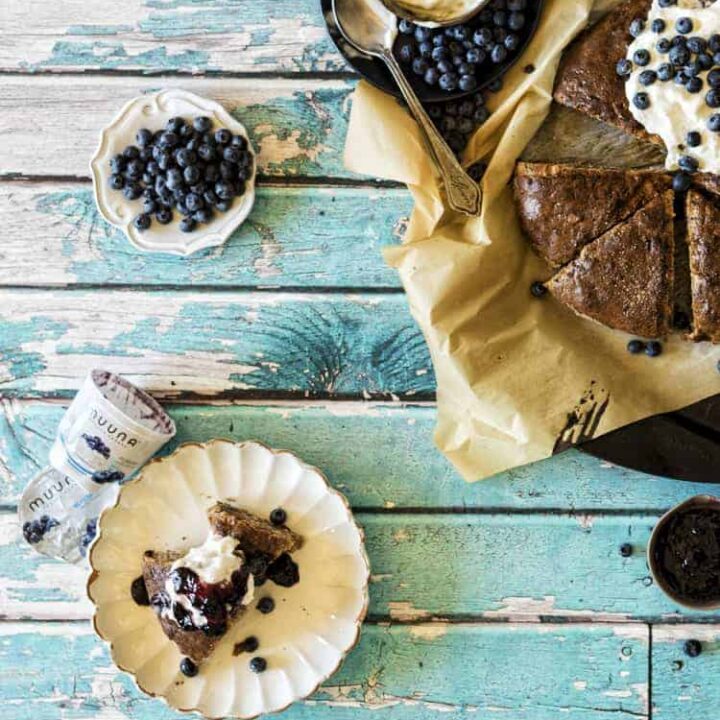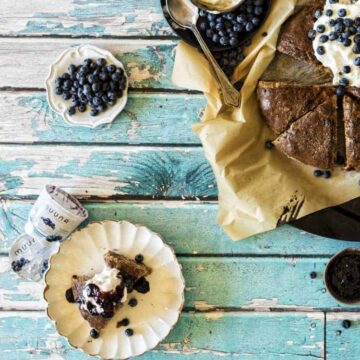 Toasted Coconut Blueberry Banana Bread Scones
These are a blend of fun fruit flavors with coconut, banana, and blueberries in each delicious loaded scone.
Print
Pin
Rate
Ingredients
½

cup

unsweetened coconut flakes

-

toasted

½

cup

pecans

-

toasted and chopped

3 1/2

cups

cake flour

½

cup

brown sugar

2

tbs

baking powder

1

tsp

baking soda

1

tsp

salt

8

tbs

cold butter

-

cut into ¼ cubes

2

cups

Muuna Blueberry Cottage Cheese

-

4 of the single serve cups

1

tsp

vanilla

2

ripe bananas

1

egg

1

tbs

heavy cream
Instructions
Preheat the oven to 425 degrees F. Line a baking sheet with parchment paper.

In a large bowl, combine the flour, brown sugar, baking powder, baking soda, and salt. Work in the butter with your finger tips, breaking it down into smaller pea sized cubes.

In another bowl, combine the Muuna Blueberry Cottage Cheese, vanilla, and bananas. Mix in the egg to combine. Add the toasted coconut and pecans and just combine.

Working in batches, fold the cottage cheese mixture into the flour.

Lightly flour the parchment paper and turn the batter out. Knead a few times before forming into a large disk, about 2" thick. Press slight markings for the cut lines with a knife or dough cutter. 

Place into the preheated oven, reduce heat to 375 and bake for 20 to 25 minutes, until crust if firm and inside is set.

Remove from the oven, cover with a clean town and allow the scones to rest a few minutes before slicing and serving.

Serve warm with fresh whipped cream, blueberry jam, and blueberries.
Nutrition
Serving:
1
g
|
Calories:
521
kcal
|
Carbohydrates:
74
g
|
Protein:
9
g
|
Fat:
22
g
|
Saturated Fat:
12
g
|
Polyunsaturated Fat:
9
g
|
Cholesterol:
58
mg
|
Sodium:
971
mg
|
Fiber:
4
g
|
Sugar:
20
g
Nutritional informations provided as a courtesy and is only an approximatation. Values will changes based on ingredients used.
⭐ Tried this recipe? Rate it ⭐
Help out the next person and give it a star rating below!
This looks amazing but I don't have the time to make Banana Bread! Yes you do. If you're in a rush, make this Banana Bread, it only takes 6 minutes start to finish. What? Yup.