With a subtle sweetness and a rustic charm, these Cornmeal Pancakes are perfect for those looking to add a little extra pizzazz to their breakfast recipes.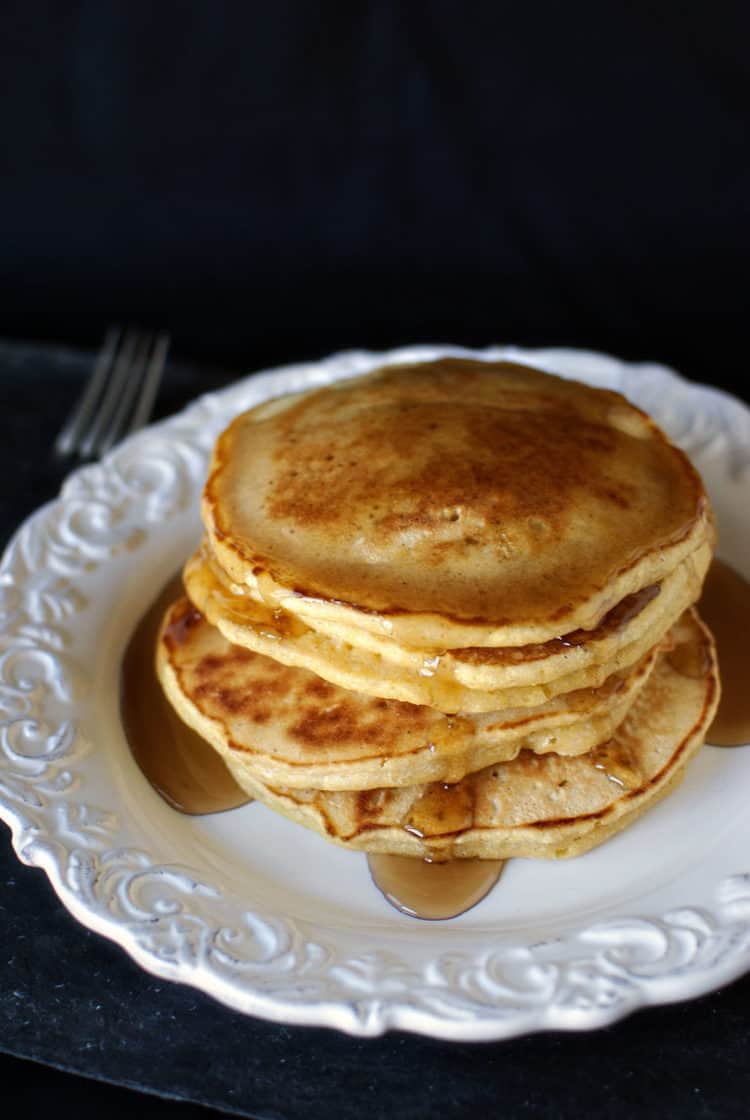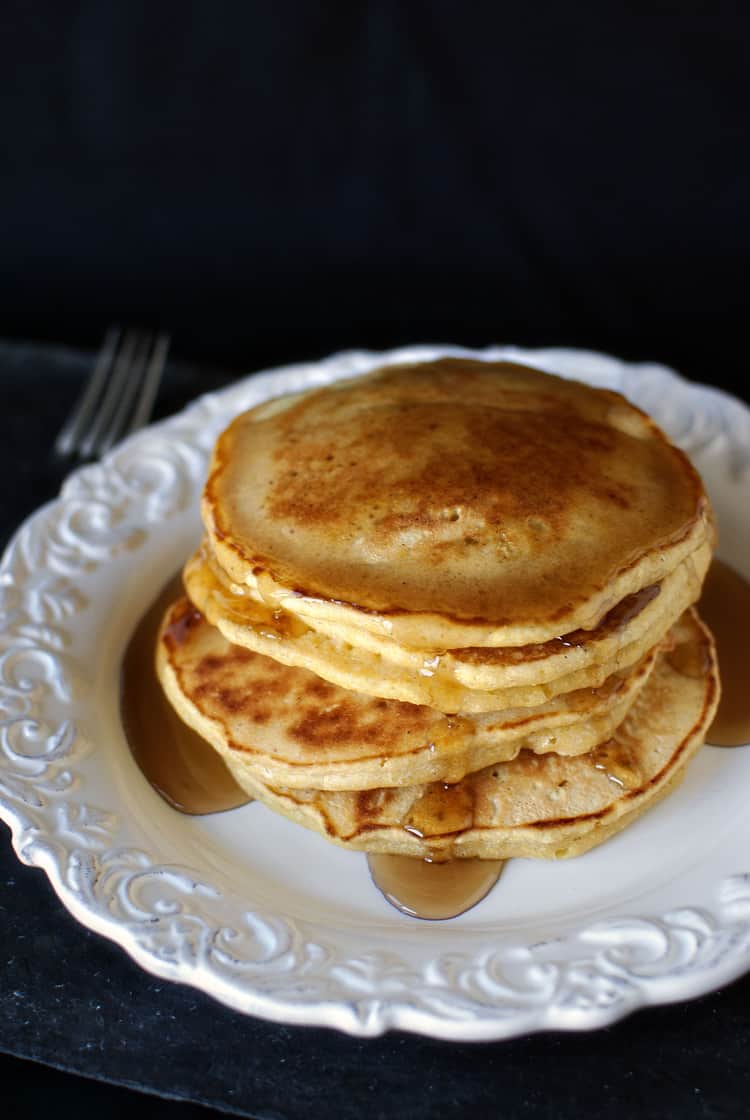 Listen up, breakfast enthusiasts! It's time to shake things up with a pancake variety that brings a touch of rustic charm to your morning routine: cornmeal pancakes. Say goodbye to classic buttermilk pancakes (unless you like that sort of thing) and prepare to embrace the slightly gritty, slightly sassy deliciousness of these golden beauties.
With a hearty texture and a hint of corn's sweet embrace, these breakfast pancakes are here to prove that sometimes, breaking the pancake mold is the only way to go. So, unless you feel like busting out the waffle maker for cornmeal waffles, get your griddles ready, and let's dive into the world of easy cornmeal pancakes where breakfast dreams are made!
Are cornmeal pancakes not sweet enough for you? Try these seriously sweet treats – Eggnog Pancakes, Banana Bread Pancakes, and Gingerbread Pancakes!
What Are Cornmeal Pancakes?
If you're a huge fan of cornbread, you'll love these cornmeal pancakes. Made with savory cornmeal and just a touch of sugar, these delicious pancakes will surely become one of your new favorite breakfast recipes!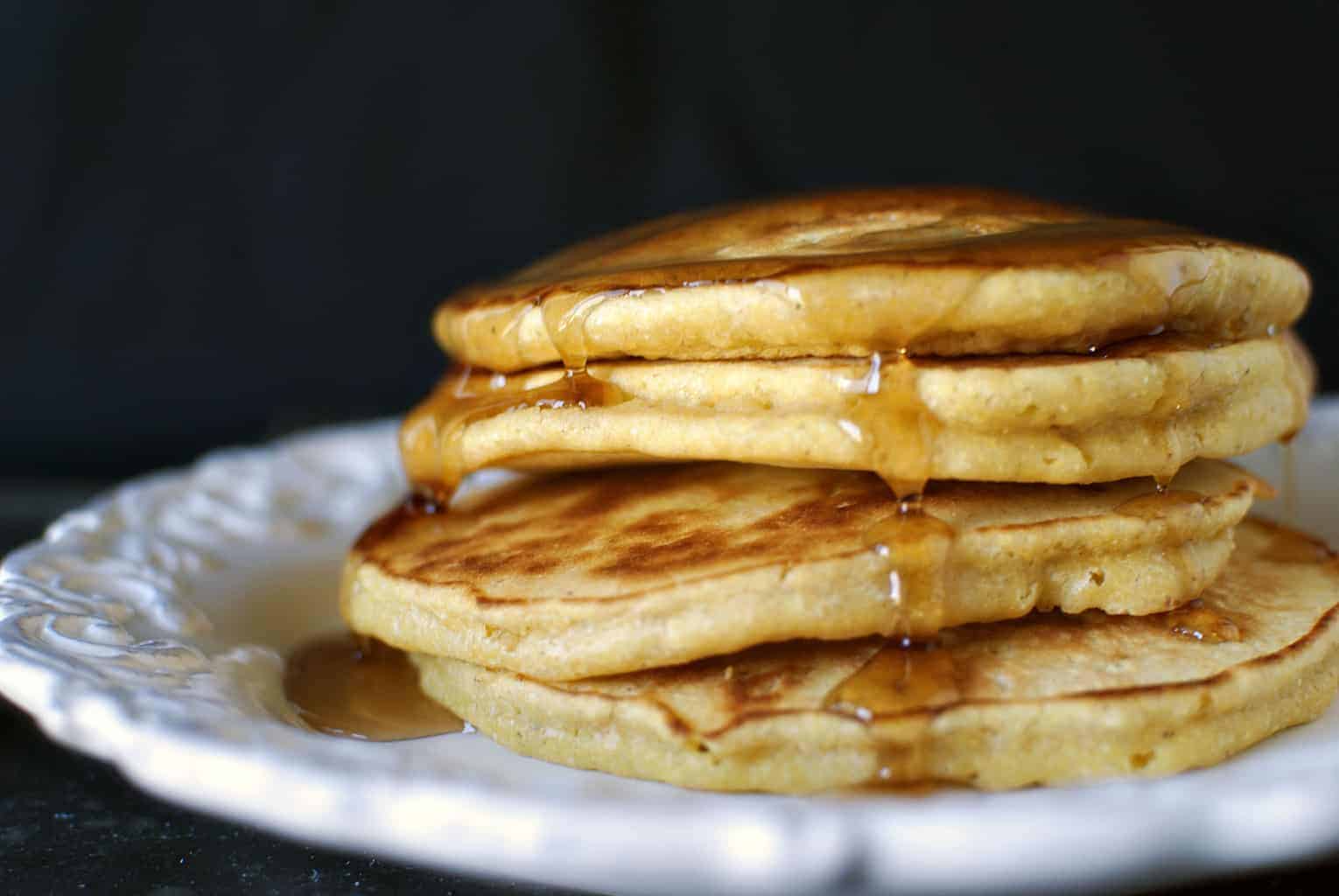 Now I'm hungry for cornmeal pancakes. Let's eat.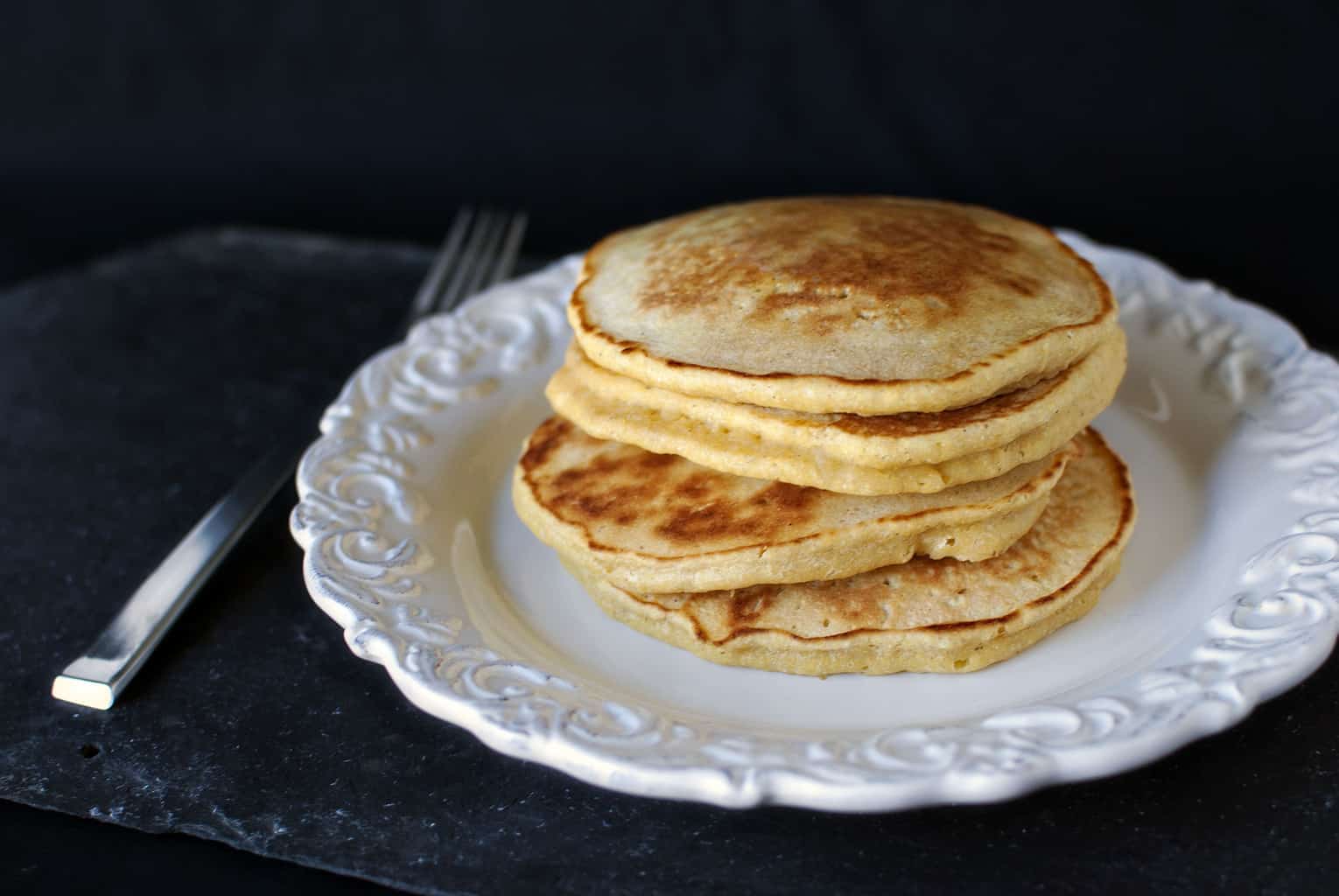 What You Need to Make Cornmeal Pancakes
All-Purpose Flour
Cornmeal – You can find this at almost any grocery store near the flour and cornbread mix.
Baking Powder
Salt
White Sugar – Just a touch for a little sweetness.
Milk
Egg
Melted Butter
How to Make Cornmeal Pancakes
Heat griddle or a large skillet to medium-high heat.
In a large bowl, beat the wet ingredients and dry ingredients together.
Using non-stick cooking spray or a tablespoon of butter, lightly coat your griddle surface. Pour ⅓ cup of pancake batter and wait until bubbles around the edges before flipping and cook for 3 to 4 minutes until golden brown on the other side. Repeat with the remaining batter.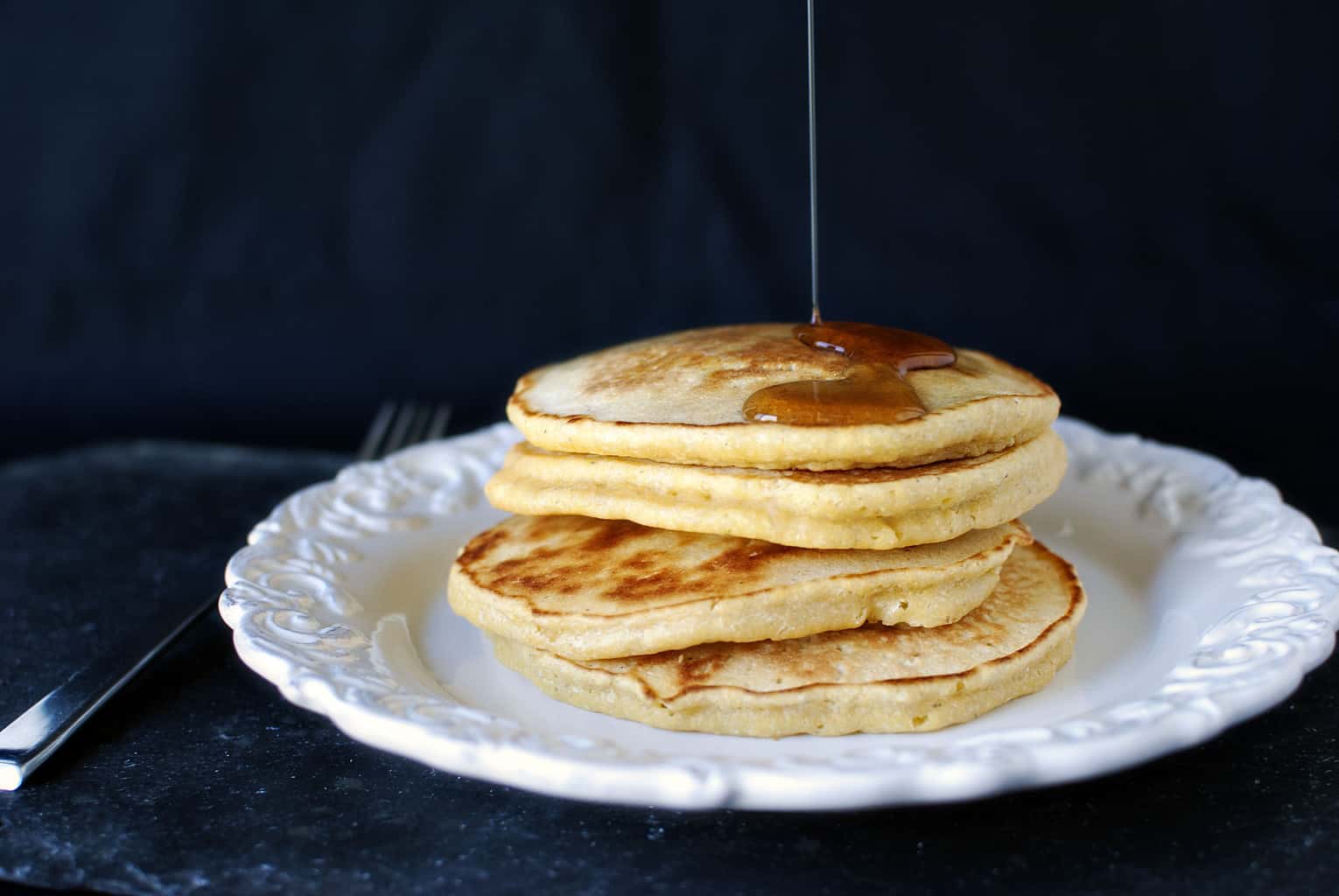 What to Serve With Cornmeal Pancakes
Pair these fluffy pancakes with these savory breakfast dishes – like our perfect scrambled eggs, Cheesy Potato Frittata, Breakfast Sausage Ravioli, or BBQ Pork Frittata!
Leftovers and Reheating
Place pancakes in an airtight container in the refrigerator for 3-4 days.
Store pancakes in an airtight container or freezer bag separated by a layer of parchment paper to prevent them from getting stuck to each other. Keep in the freezer for up to 2-3 months.
When you're ready to enjoy the pancakes, simply thaw them in the refrigerator overnight (if frozen). Then, heat them up in a toaster, oven, or microwave.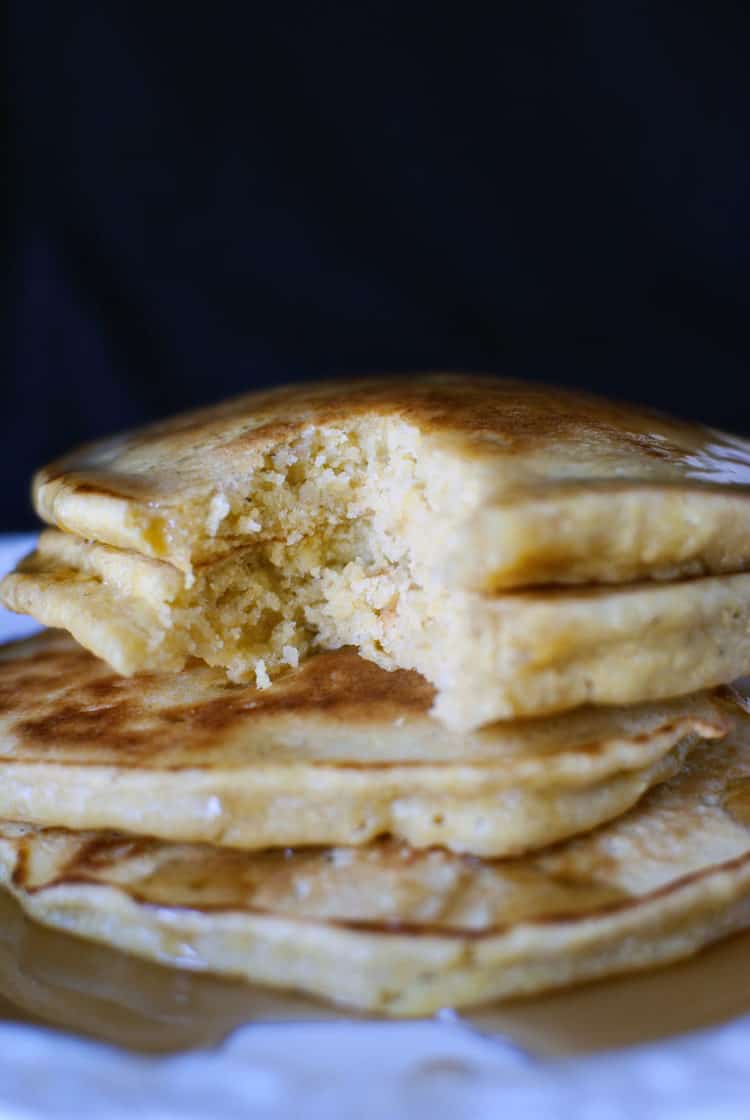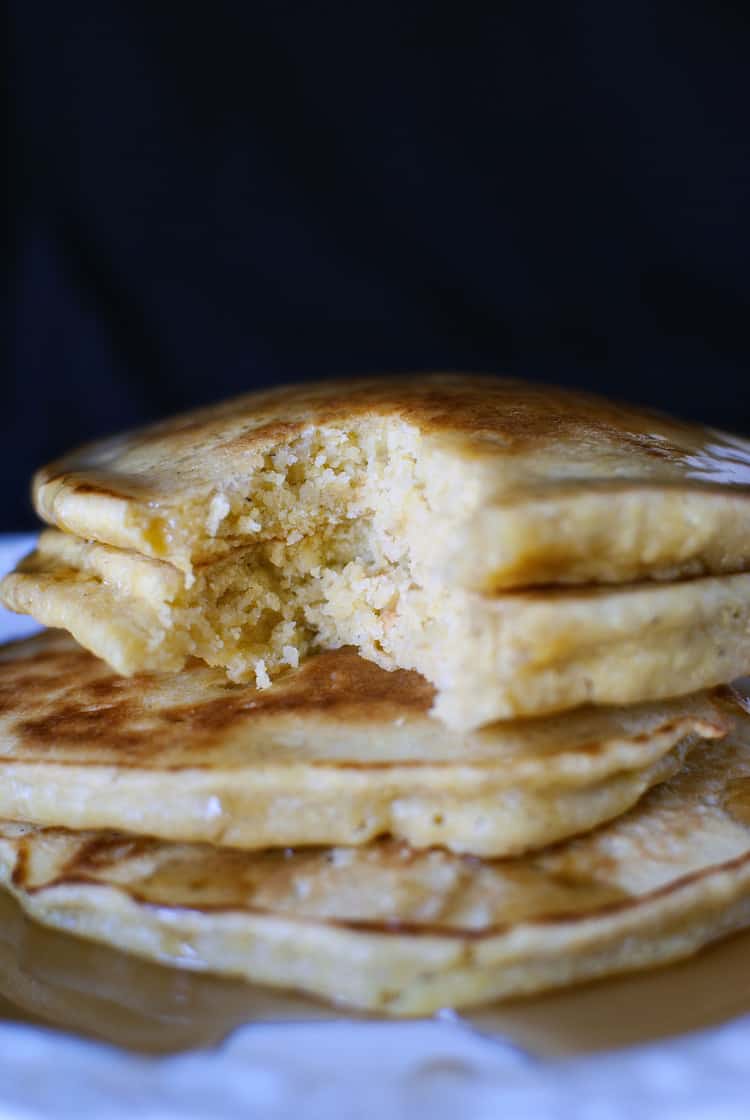 Expert Tips
Do not overmix your pancakes! You want to fold the batter until the ingredients are just combined. There will still be some large lumps, but that's okay!
Add some chocolate chips for extra chocolatey goodness, or try our Chocolate Chip Pancakes!
Use a cookie scoop to get the perfect amount of batter every time!
Add some oatmeal for extra fiber, or just whip up our Oatmeal Chocolate Chip Pancakes instead!
Consider using buttermilk instead of regular milk for a tangy twist. It adds a subtle richness and enhances the overall flavor profile of your cornmeal pancakes. You can also use almond milk if you want to keep things dairy-free.
Add a touch of sweetness by incorporating ingredients like honey, maple syrup, brown sugar, fresh fruit, or even a hint of vanilla extract. Alternatively, for a savory variation, experiment with herbs, spices, and savory add-ins like cheese, herbs, or cooked bacon.
Make a double batch of this great recipe so you can enjoy them any time you want!
Recipe FAQs
Can I use different types of cornmeal for these pancakes?
As much as we appreciate your enthusiasm, stick to good ol' regular yellow cornmeal for this recipe. Stone-ground or fine cornmeal will do the trick, but please, no cornbread mix or corn flour shenanigans. 

Can I use whole wheat flour instead of all-purpose flour?
Absolutely! Whole wheat flour can add a nuttier flavor and extra fiber to your pancakes. Just be aware that the texture might be slightly denser compared to using all-purpose flour alone. You can also try a combination of both flours for a balance of delicious flavor and texture.
Can I substitute the butter in this cornmeal pancake recipe?
Absolutely! Use any kind of oil you like, such as vegetable oil or coconut. Just remember the ratio of vegetable oil to butter is 3/4 the serving of butter. For coconut oil, the ratio is 1:1.
Can I adjust the sweetness of these pancakes?
Absolutely! Since this recipe only uses one tablespoon of sugar, you can do more if you prefer a slightly sweeter pancake.
Can I use a different type of sugar other than white sugar?
Yes! Try experimenting with brown sugar, coconut sugar, or any other sweetener you like! Just remember the measurements might be slightly different than granulated sugar.
Help! My pancakes are too gritty. What did I do wrong?
The delicious texture is part of the cornmeal charm. However, if it feels like you're munching on sand, check your cornmeal-to-flour ratio. Adjust it to suit your texture preferences and experiment until you find your ideal balance of grit and fluff. Keep in mind that coarse cornmeal will have a grittier texture, so try to find fine-ground cornmeal.
More Breakfast Recipes to Try
And there you have it, a cornmeal pancakes recipe that will have you questioning why you ever bothered with plain traditional pancakes. These golden, crispy delights are here to shake up your breakfast routine. Say goodbye to boring pancakes and hello to a burst of flavorful texture that will have your taste buds doing a happy dance. But fair warning: once you've experienced the irresistible crunch and subtle sweetness of cornmeal pancakes, those regular pancakes just won't cut it anymore.
So, embrace the cornmeal revolution, and prepare to become the envy of breakfast enthusiasts everywhere. Bon appétit! Also, please rate the recipe card and leave a comment below to help out the next reader!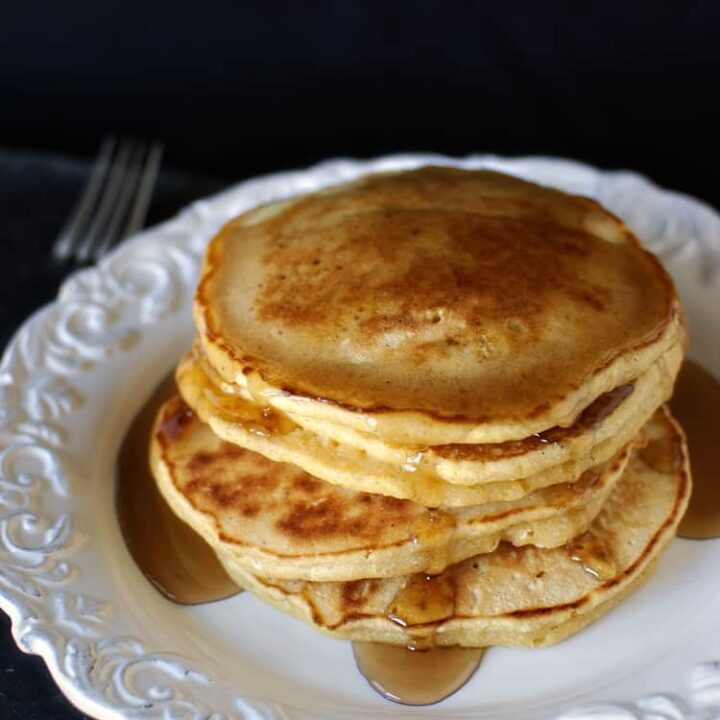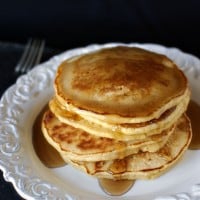 Cornmeal Pancakes Recipe
Our cornmeal pancakes offer a unique twist to your breakfast routine. ? Enjoy the distinctive, hearty taste of cornmeal in a fluffy, delicious pancake! ?
Print
Pin
Rate
Ingredients
¾

cup

all-purpose flour

¾

cup

cornmeal

½

tsp

baking powder

1

tsp

salt

1

tbsp

white sugar

1-¼

cups

milk

1

egg

3

tsbp butter

-

melted
Instructions
Preheat your griddle or skillet to medium-high heat.

In a large bowl, beat all the ingredient together until just combined.

Using non-stick cooking spray, lightly coat your griddle surface.

Pour ⅓ cup of batter and wait until bubbles for around the edges to flip and cook for 3 to 4 minutes on the other side.
Notes
For a more cornbread like texture, slightly more crisp on the outside, cook these a little longer than a traditional pancake recipe.
Nutrition
Serving:
1
g
|
Calories:
547
kcal
|
Carbohydrates:
93
g
|
Protein:
18
g
|
Fat:
11
g
|
Saturated Fat:
4
g
|
Polyunsaturated Fat:
2
g
|
Monounsaturated Fat:
3
g
|
Trans Fat:
0.01
g
|
Cholesterol:
100
mg
|
Sodium:
1256
mg
|
Potassium:
603
mg
|
Fiber:
7
g
|
Sugar:
14
g
|
Vitamin A:
366
IU
|
Calcium:
255
mg
|
Iron:
4
mg
Nutritional informations provided as a courtesy and is only an approximatation. Values will changes based on ingredients used.
⭐ Tried this recipe? Rate it ⭐
Help out the next person and give it a star rating below!