Cornmeal pancakes are nothing like the sweet, sticky, syrupy pancakes you may have eaten as a kid. They're sweet, but in a savory sort of way, and they're just as sweet as a warm hug from a puppy.
How many days does it take to fall in love? Seven and a half.
Two weeks ago I told you I was dog-sitting 90 pounds of pure energy. Golda was hyper, destructive, anxious and neglected by her previous owner. We were watching her for her new owner because I couldn't stomach the idea of her going back into a kennel after spending a year abandoned in one.
She flinched every time you moved, ears down, tail tucked between her legs. She chewed through an extension cord, part of our deck, tried to take out our lawn furniture and my watering can. She didn't tell us she needed to go out and used the basement instead. She would roughhouse inside with our dog - a combined 160 pounds of destructive energy. She would wake up every night at least 3 times and her morning routine was 3 hours earlier then ours. I'm not a morning person.
And I miss her.
She took to me like glue - not wanting to leave my side in the time that we watched her. At first, she was unable to leave the deck, for fear of the neighbor's dogs to run through the yard, to playing with them. We watched her go from cowering in corners, to happily prancing at the door when we got home. She went from pacing at the door, to coming to my side of the bed to lay her head there for some late night petting. She even slept on my side of the bed while Marble slept on Handsome's side of the room. I'm sure she was scared and anxious at the thought of being placed into yet another family, but I reminded her every day that her papa bear was coming back for her. Upon his return, she jumped up and wrapped her paws around him in the very human-like behavior of a hug.
But when I turned to leave for work on the final morning of her stay with us, knowing her owner was on his way to pick up his little girl, I saw her goofy smile and tail wagging at me. It was then that I knew I was in for a long night.
Dogs are unconditionally loving, and I had forgotten how quickly they make a huge impact on your heart. I know Golda is with her family and is happy to be there - well fed, loved and cared for. But, wow. That 90 pounds of pure energy really left her mark on me, and I can't wait for her to come visit again.
Now I'm hungry for cornmeal pancakes. Let's eat.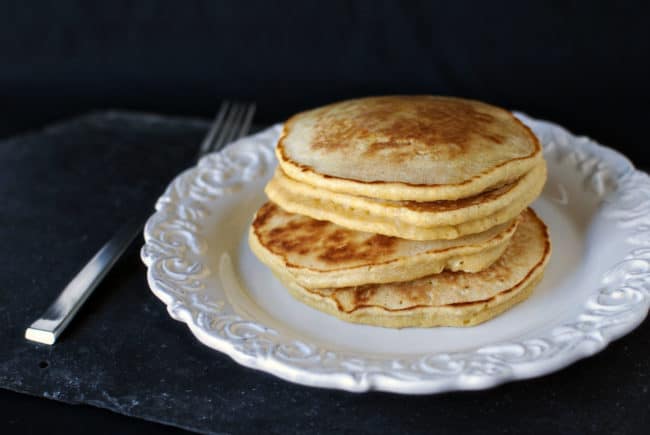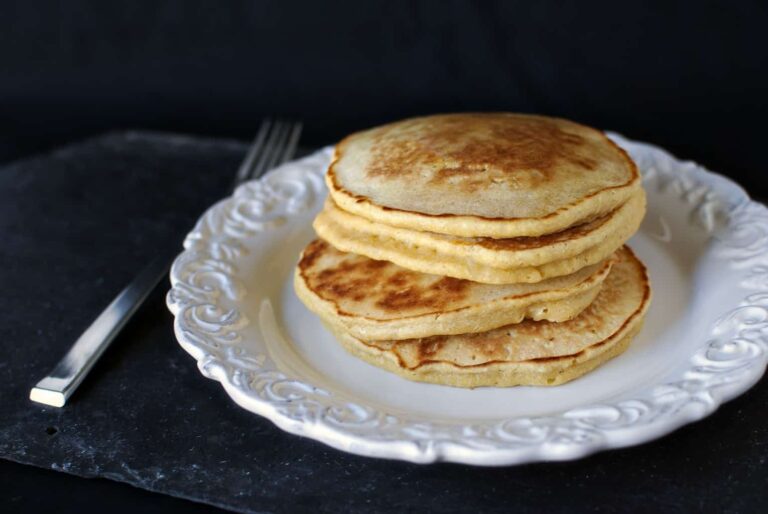 Cornmeal Pancakes
from Add a Little Love
Ingredients:
¾ cup all-purpose flour
¾ cup cornmeal
½ teaspoons baking powder
1 teaspoon salt
1 tablespoon white sugar
1-¼ cups milk
1 egg
3 tablespoons butter, melted
Preparation:
Preheat your griddle or skillet to medium-high heat.
In a large bowl, beat all the ingredient together. Using non-stick cooking spray, lightly coat your griddle surface. Pour ⅓ cup of batter and wait until bubbles for around the edges to flip and cook for 3 to 4 minutes on the other side.
My griddle was acting up and I cooked these a bit longer then my normal pancake times for the texture I prefer.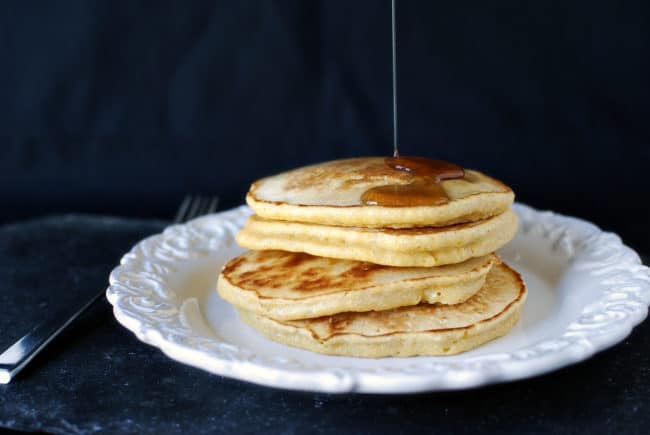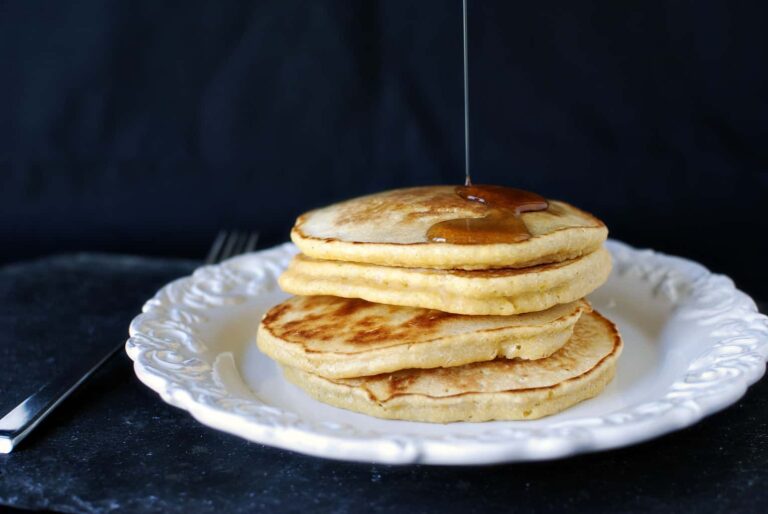 This cornmeal pancakes recipe only makes about 6 small to medium pancakes, so if you're feeding more than two people, I suggest doubling the recipe. Maybe, depending on your head count, you should triple it.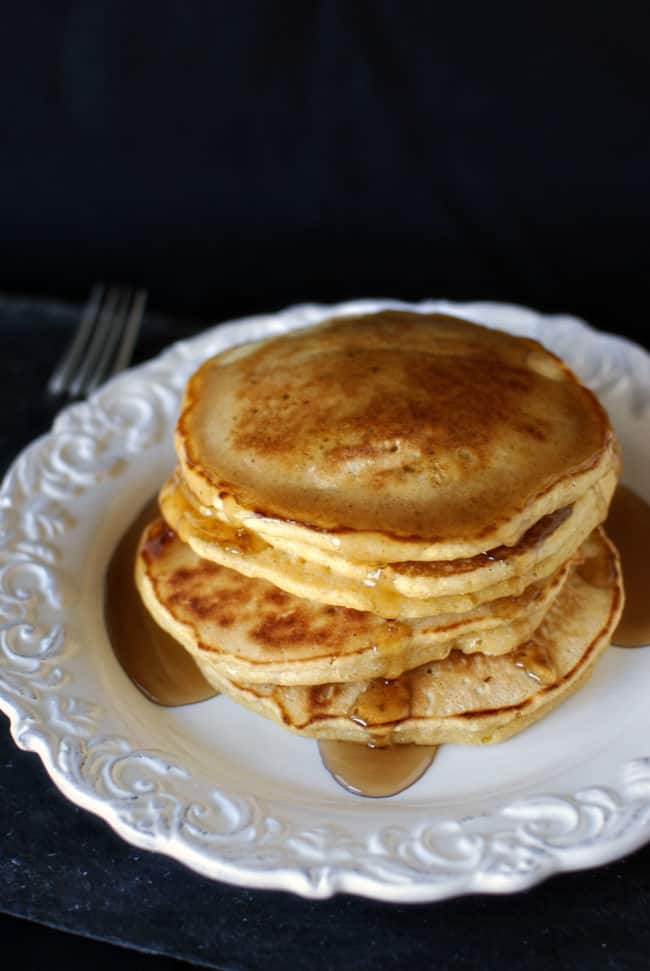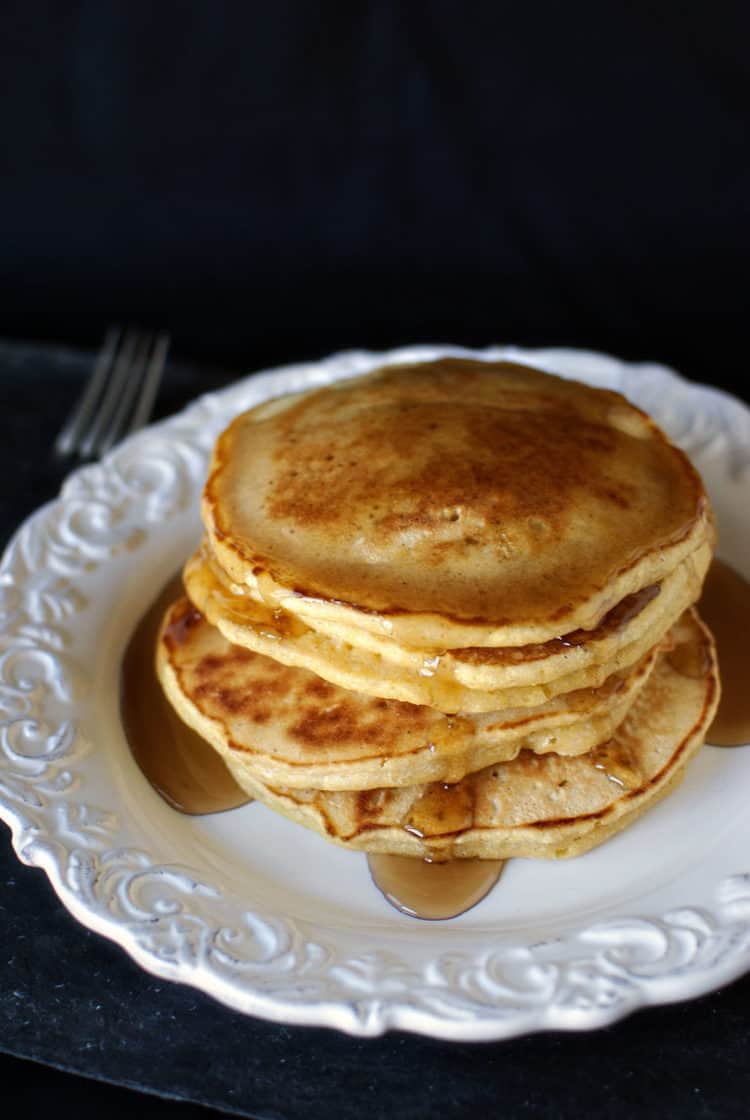 This Friday, May 13, 2011, Steph's Bite by Bite is hosting an online bake sale to raise money for the Leukemia & Lymphoma Society. I can't wait to participate in an online bake sale! I've never done anything like this before, but it is the second time Steph has hosted a bake sale on her site. I'm donating Cranberry White-Chocolate Chip Cookies (one of my favorites). Tons of awesome bakers are involved, so get pumped! Steph's last bake sale earned $1,707 – let's see if we can up the ante for round two!