The ultimate Cinnamon Buns recipe is right here, and you're going to love it! Yeast-risen cinnamon rolls, made from scratch, topped with sweet cream cheese glaze. The ultimate cinnamon buns are definitely worth getting up for on a weekend morning.
---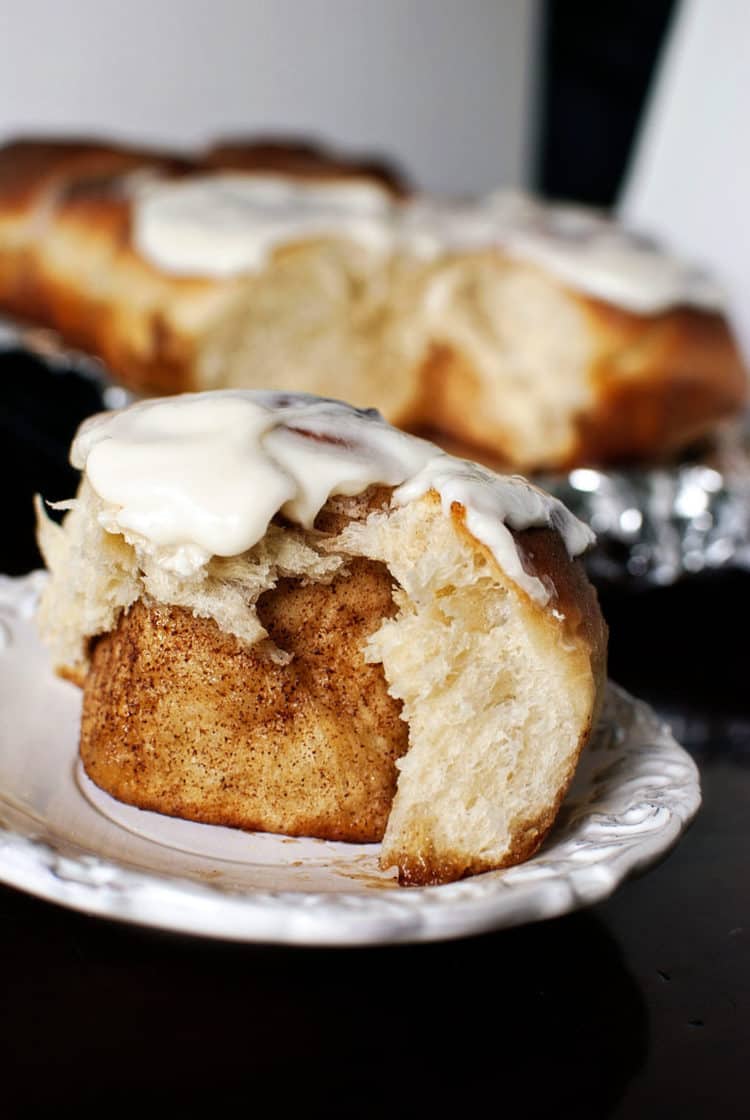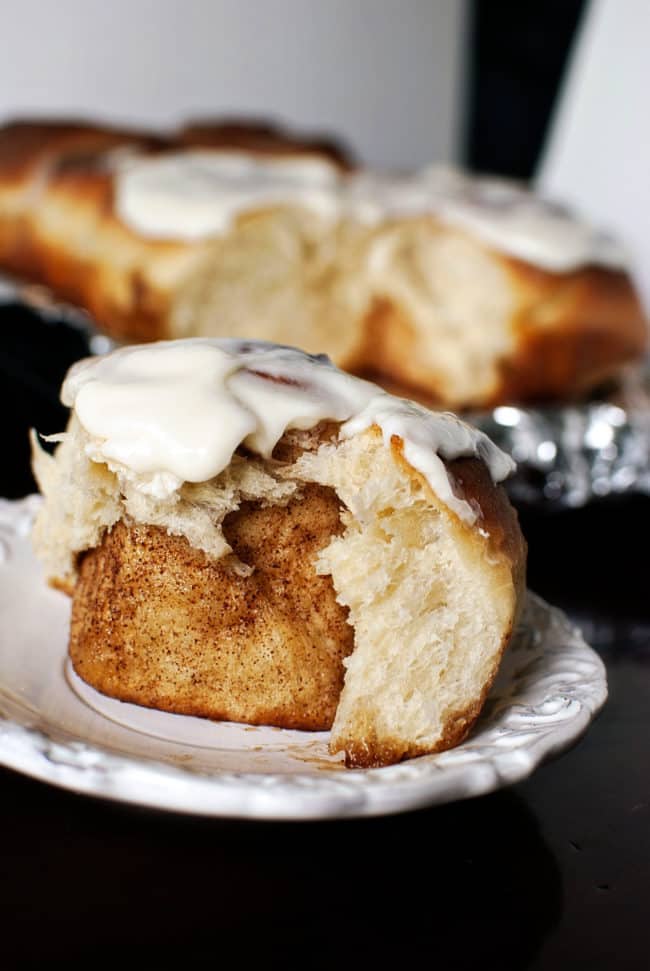 Jump to:
Forget the canned stuff and show off your mad baking skills with these homemade Cinnamon Buns! We've tried pretty much every single way to make cinnamon rolls, from Nutella Cinnamon Rolls to Bacon Topped Chocolate Stuffed Cinnamon Buns. Now, we're going back to basics with this Cinnamon Buns recipe. It's super simple, tastes delicious, and is another breakfast treat that will take you back to simpler times!
What Are Cinnamon Buns
These Cinnamon Buns are very similar to regular cinnamon rolls, except we're using instant yeast to make the dough rise faster. Also, we're using cornstarch in the dough, which might seem a little odd, but it actually helps reduce the protein in all-purpose flour, lending to fluffier rolls.
Why you'll love this recipe
Fluffy dough filled with a dreamy cinnamon sugar filling and drizzled with a decadent cream cheese frosting is the best way to wake up in the morning. All you need are a few simple ingredients, and you can make these perfect cinnamon rolls right at home! Want more delicious cinnamon roll recipes? Try these Pumpkin Cinnamon Rolls, Pecan Cinnamon Rolls, and Quick Cinnamon Rolls!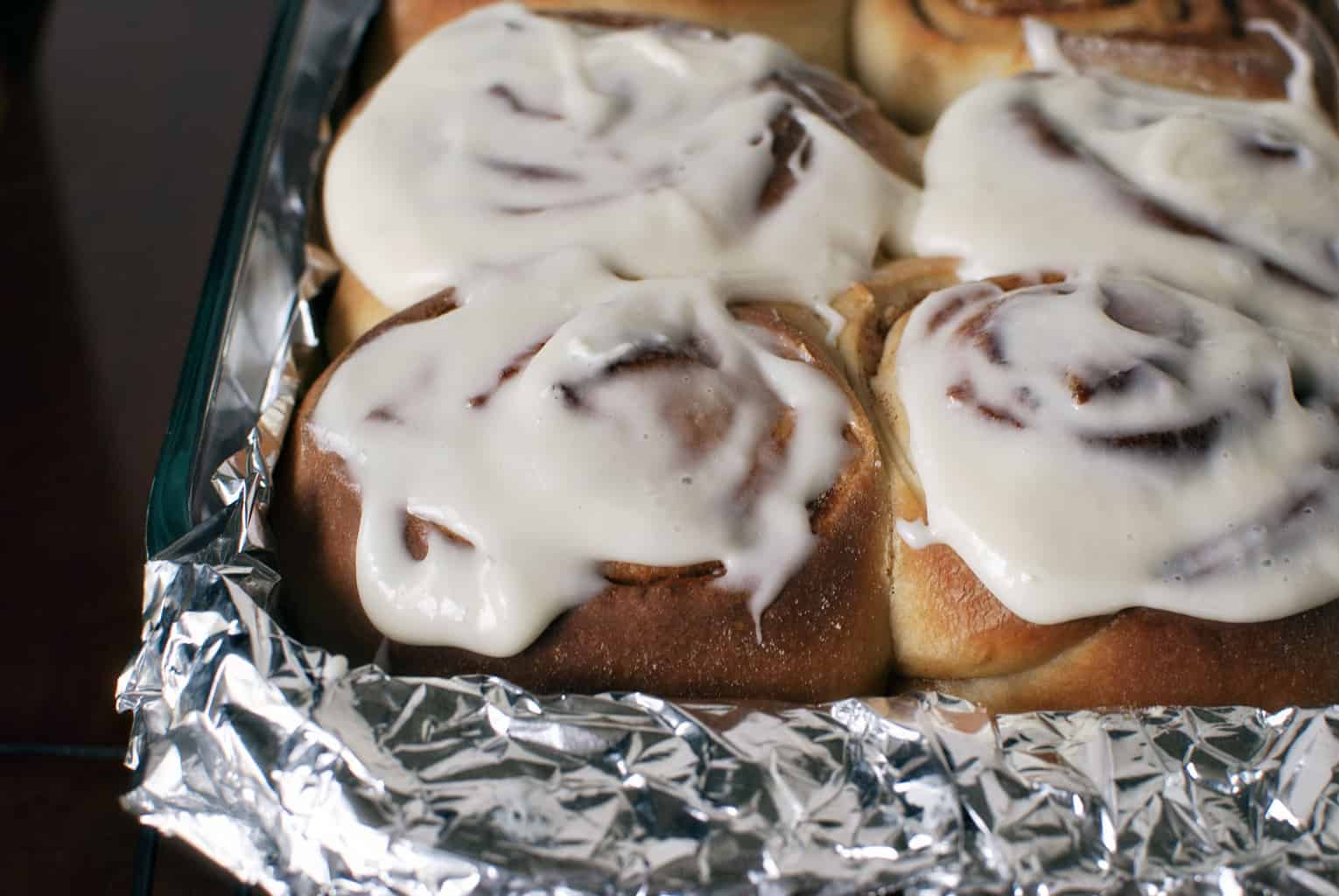 Ingredients
For the Dough
Whole milk
Rapid-rise yeast or instant yeast
Eggs
Unbleached all-purpose flour
Cornstarch
Granulated sugar
Table salt
Unsalted butter
For the Filling
Light brown sugar
Ground cinnamon
Salt
Unsalted butter
For the Glaze
Cream cheese
Whole milk
Vanilla extract
Confectioners' sugar
How to Make These Homemade Cinnamon Rolls
Preparing the Dough
First, we're going to make the cinnamon roll dough. First, move the rack to the middle and preheat your oven to 200 degrees F. Once it reaches that temperature, turn it off. Then, take a 13×9-inch baking pan and line it with foil, making sure there's extra foil hanging over the edges. Don't forget to spray the foil and a medium bowl with nonstick cooking spray.
Now, in a liquid measuring cup, whisk together some milk and yeast until the yeast dissolves. After that, whisk in the eggs. In a stand mixer bowl fitted with a dough hook, combine some flour, cornstarch, sugar, and salt. With the mixer on low, pour in the warm milk mixture in a steady stream.
Let it mix until the dough comes together, which should take about a minute. Then, increase the speed to medium and add pieces of butter, one at a time, until everything is well mixed. Continue mixing until the dough becomes smooth and pulls away from the sides of the bowl. This process should take about 10 minutes.
Once it's ready, transfer the dough onto a clean surface and knead it into a smooth, round ball. Put this dough into the prepared bowl, cover it with plastic wrap, and place it in the warm oven for the first rise. We're going to let the dough rise there until it doubles in size, which should take around 2 hours.
Preparing the Filling
While the dough is rising, let's make the cinnamon filling. In a small bowl, combine brown sugar, cinnamon, and salt.
Rolling and Rising
Now, once your dough has doubled in size, take it out onto a lightly floured surface. Using a rolling pin, roll it into an 18-inch square. After that, spread some softened butter all over it and evenly sprinkle the filling mixture on top of the dough. Starting from the edge closest to you, roll the dough into a tight cylinder.
Lightly pinch the seam to seal it, and then cut it into 8 pieces. Place these pieces, cut side up, in the prepared pan. For the second rise, cover them with plastic wrap and let them rise in a warm place until they double in size again, which should take about 1 hour.
Making the Glaze and Baking
Now, it's time to make the glaze. In a medium bowl, whisk together cream cheese, milk, vanilla, and confectioners' sugar until it's nice and smooth.
Remove the plastic wrap from the buns and preheat your oven to 350 degrees F. Bake the buns until they turn a deep golden brown and you notice that the filling has melted, which should take about 35 to 40 minutes. Once the warm rolls are out of the oven, transfer them to a wire rack and spread ½ cup of the glaze on top.
Let them cool for about 30 minutes. To get the buns out of the pan, use the foil overhang. Finally, top them with the remaining glaze, and they're ready to enjoy!
What to Serve With These Delicious Cinnamon Rolls
You can eat these Cinnamon Buns on their own or pair them with some protein like this Breakfast Pizza, Prime Rib Omelet, or these Tex-Mex Hash Browns​!
Expert Recipe Tips
Use a very sharp knife or unflavored dental floss to cut the dough for clean cuts.
Swap out the instant yeast for active dry yeast if you don't have instant. The rise time may be longer, though.
Make sure the milk is 110 degrees F in order for the yeast to activate. If it's too hot or too cold, the yeast won't activate, and you'll have to start over. You'll notice the yeast activating when tiny bubbles rise to the surface.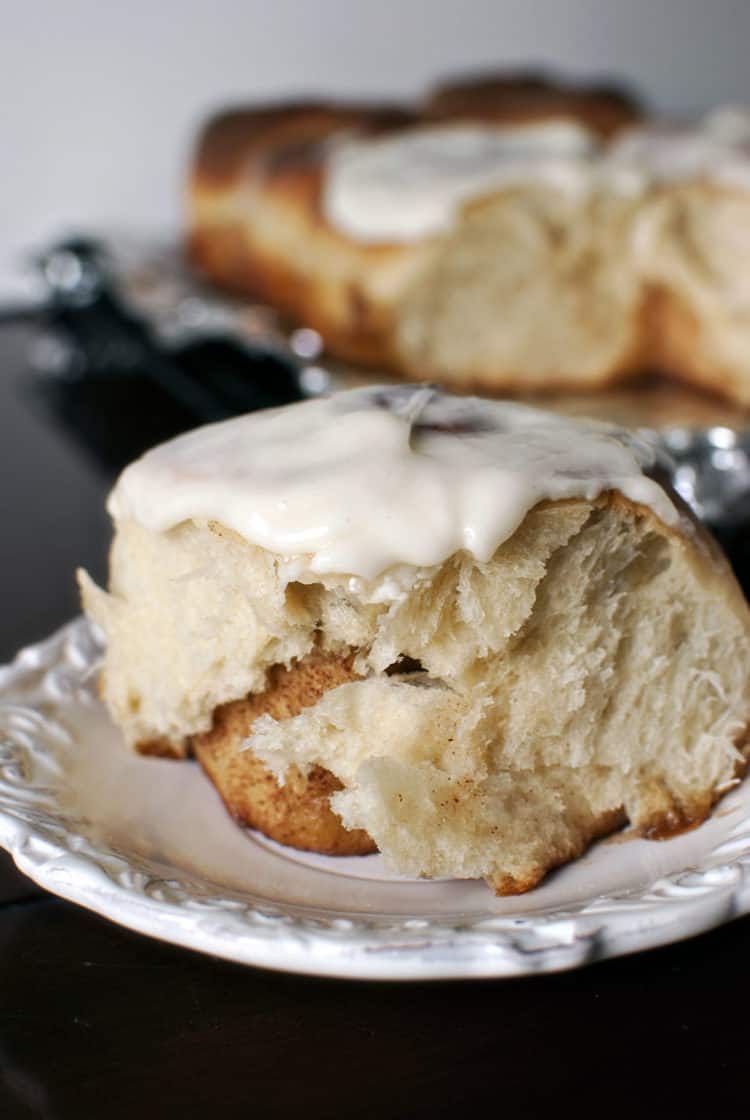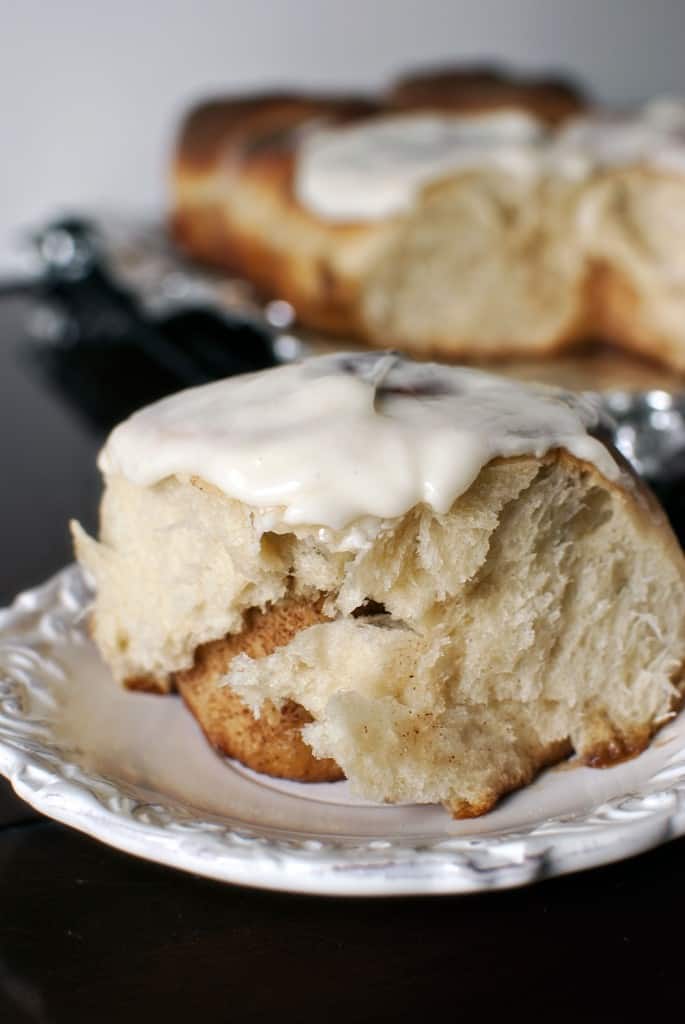 Leftovers and Reheating
Store any leftover cinnamon rolls in an airtight container for up to 2 days at room temperature. If you haven't devoured your cinnamon rolls in 2 days, kudos to you. You can keep them in the fridge for up to 1 week. After one week, place individual rolls in containers in the freezer for up to 2 months.
Recipe FAQs
Can I refrigerate the cinnamon roll dough and bake the next morning?
Yes! Just prep the cinnamon roll dough like normal before letting the dough rise. Then, pop it into the fridge overnight. The next morning, take the dough out to rise two times and bake as directed. 
Can I freeze the cinnamon roll dough and bake later?
Yes! Make the dough like normal and freeze it before the first rise. If you know you're going to freeze the dough, add 50% more yeast to the recipe to prevent it from dying during the freezing process.

Freeze the dough for up to 2 weeks before baking. When you're ready to bake the buns, let them thaw in the fridge overnight and let them come to room temperature before baking. 
More Sweet Breakfast Recipes
The next time you get a craving to make some fluffy cinnamon rolls, whip out this recipe! If you try this recipe, please rate the recipe card and let us know if you liked it!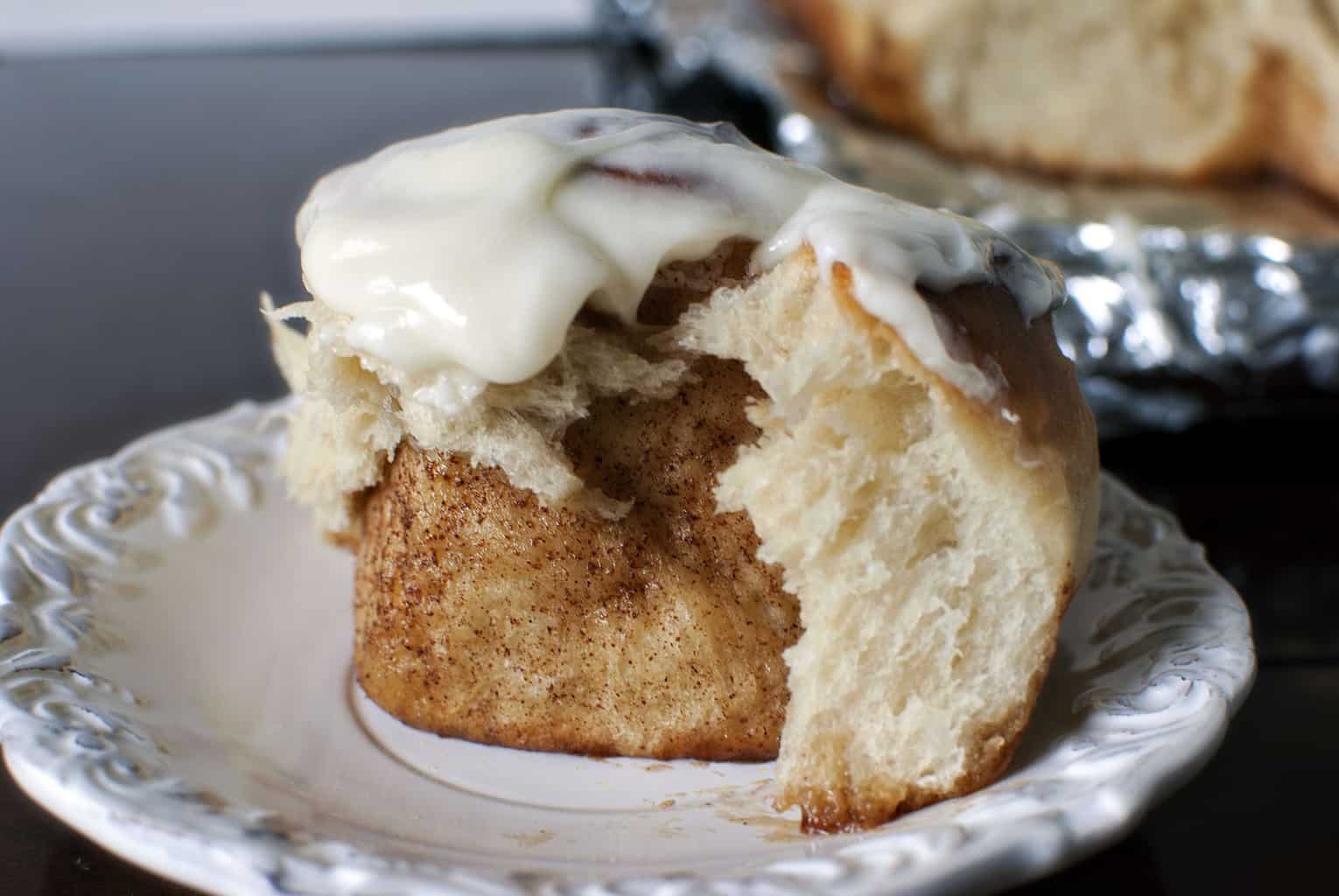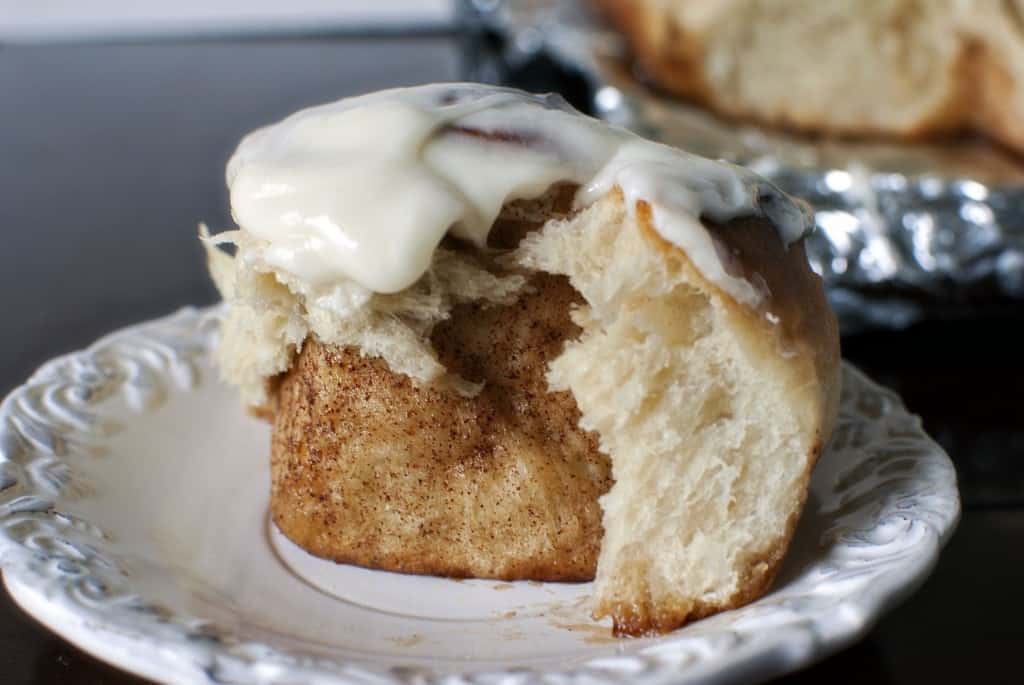 Ultimate Cinnamon Buns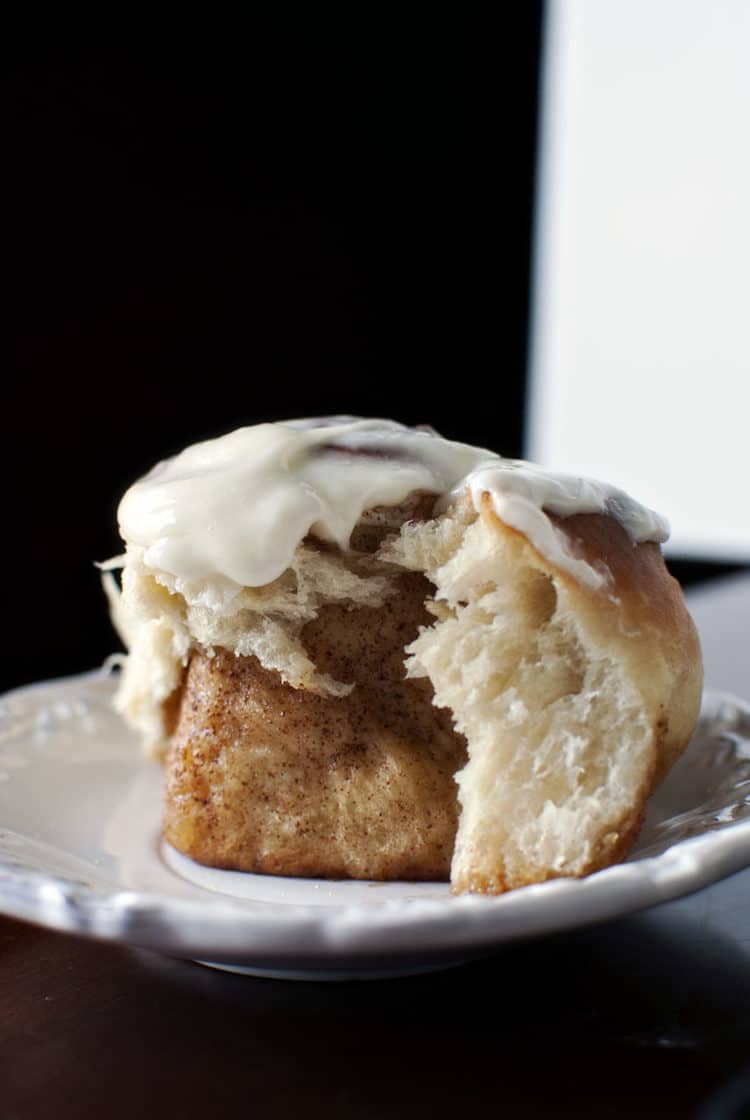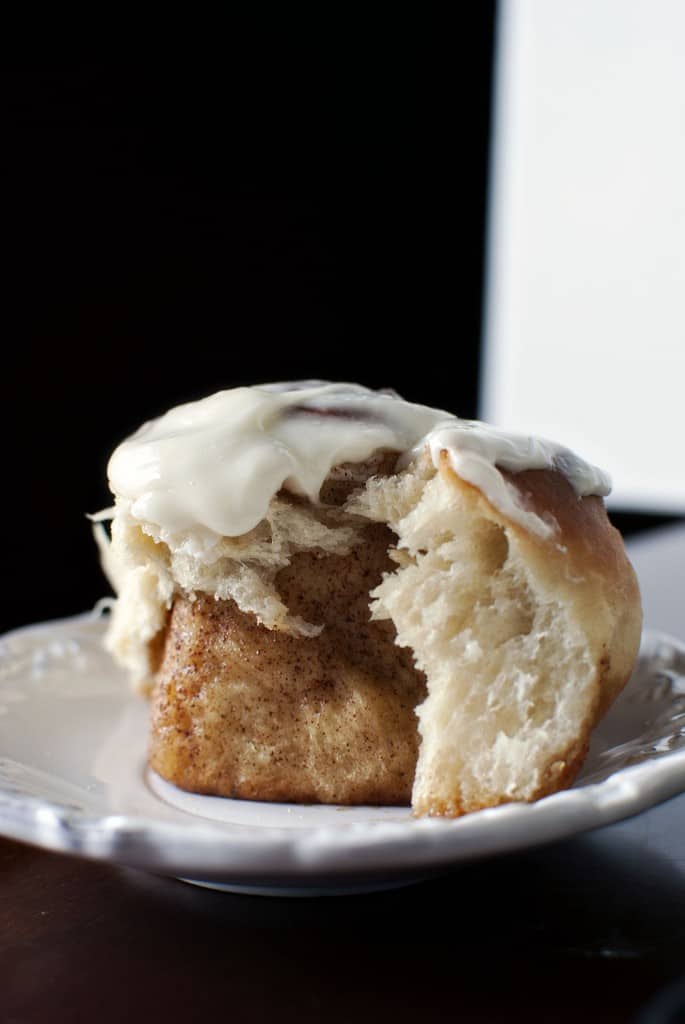 Cook's Illustrated Holiday Baking – Winter 2010
Ingredients:
For the Dough:
3/4 cup whole milk, heated to 110 degrees
1 envelope (2 1/4 teas) rapid-rise yeast or instant yeast
3 large eggs, room temperature
4 1/4 cups (21 1/2 ounces) unbleached all-purpose flour
1/2 cup cornstarch
1/2 cup granulated sugar
1 1/2 teas table salt
12 tbs (1 1/2 sticks) unsalted butter, cut into 12 pieces and softened
For the Filling:
1 1/2 cups (10 1/2 ounces) packed light brown sugar
1 1/2 tbs ground cinnamon
1/4 teas table salt
4 tbs (1/2 stick) unsalted butter, softened
For the Glaze:
4 ounces cream cheese, softened
1 tbs whole milk
1 teas vanilla extract
1 1/2 cups (6 ounces) confectioners sugar
Preparation:
Note: If the dough is still wet and sticky after mixing for 10 minutes in step 2, add up to 1/4 cup flour (a tbs at a time) until the dough releases from the bowl. For smaller cinnamon buns, cut the dough into 12 pieces in step 3. The buns can be made ahead of time; After transferring the pieces to the prepared pan in step 3, the buns can be covered tightly with plastic wrap and refrigerated for up to 24 hours. When ready to bake, let the buns sit at room temperature for 1 hour. Remove the plastic wrap and continue with the recipe from step 4 as directed.
For the dough: Adjust oven rack to middle position and heat oven to 200 degrees. When oven reaches 200 degrees, shut off. Line 13×9 inch baking pan with foil, allowing excess foil to hang over pan edges. Spray foil and medium bowl with nonstick cooking spray.
Whisk milk and yeast in liquid measuring cup until yeast dissolves, then whisk in eggs. In bowl, of stand mixer fitter with dough hook, mix flour, cornstarch, sugar and salt until combined. With mixer on low, add warm milk mixture in steady stream and mix until dough comes together, about 1 minute. Increase speed to medium and add butter, one piece at a time, until incorporated. Continue to mix until dough is smooth and comes away from sides of bowl, about 10 minutes. Turn dough out onto clean surface and knead to form smooth, round ball. Transfer dough to prepared bowl, cover with plastic wrap, and place in warm oven. Let rise until doubled in size, about 2 hours.
For the Filling: Combine brown sugar, cinnamon, and salt in a small bowl. Turn dough out onto lightly floured surface. Roll dough into an 18-inch square, spread with butter, and sprinkle evenly with filling. Starting with the edge nearest you, roll dough into tight cylinder, pinch lightly to seal seam, and cut into 8 pieces. Transfer pieces, cut side up, to prepared pan. Cover with plastic wrap and let rise in warm spot until doubled in size, about 1 hour.
For the glaze and to bake: Heat oven to 350 degrees. Whisk cream cheese, milk vanilla and confectioners' sugar in medium bowl until smooth. Discard plastic wrap and bake buns until deep golden brown and filling is melted, 35 to 40 minutes. Transfer to wire rack and top buns with 1/2 cup glaze; cool 30 minutes. Using foil overhang, lift buns from pan and top with remaining glaze. Serve.