The ultimate cinnamon buns recipe is right here, and you're going to love it! Yeast-risen cinnamon rolls, made from scratch, topped w/ sweet cream cheese glaze. The ultimate cinnamon buns are definitely worth getting up for on a weekend morning.
---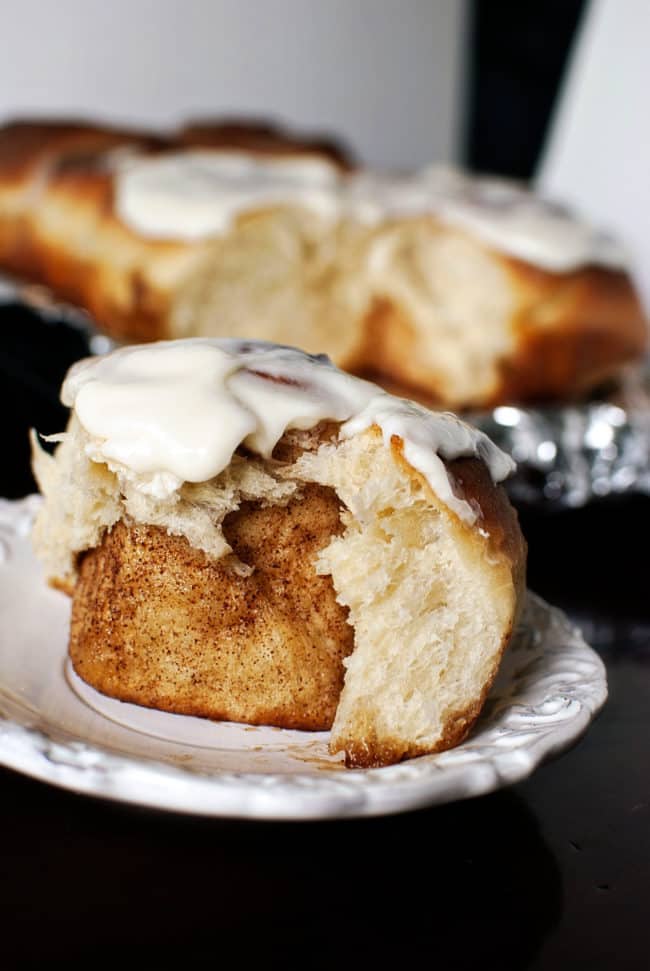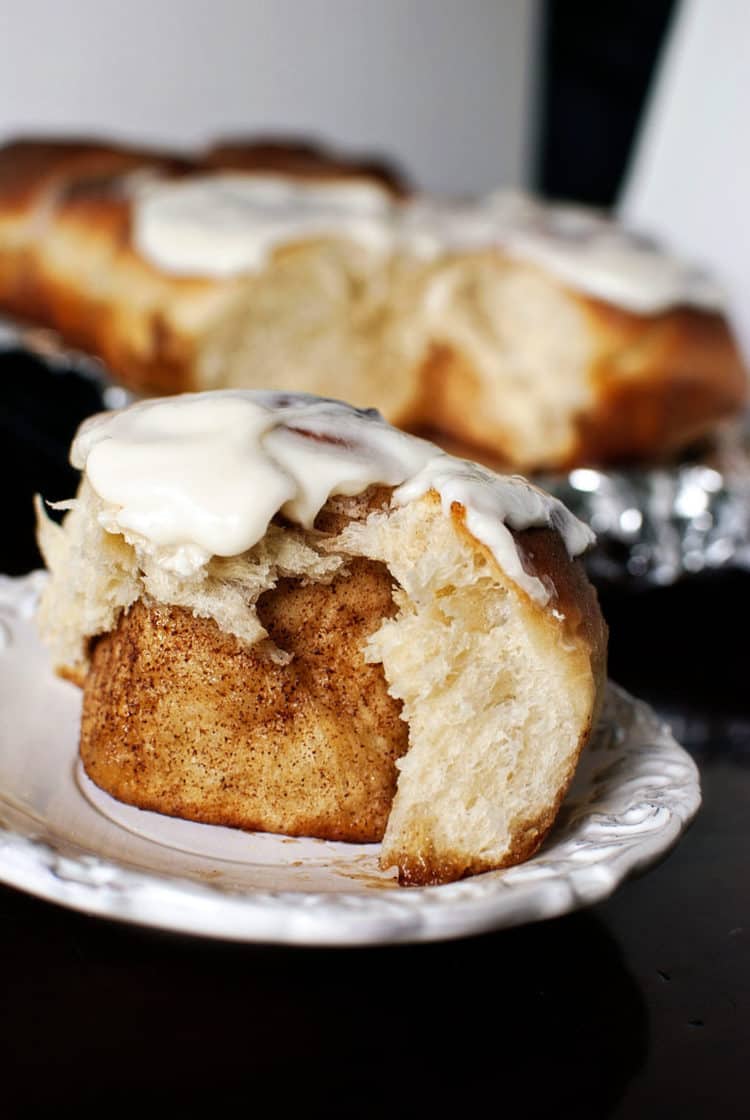 Oh, do I have a story for you.
Last Friday night, Handsome and I were cleaning up after dinner and debating what we would like to do for the evening when my phone rang. It was the state police, telling me that I needed to come to Court House 11. Right then. Not weeks or months later. Right then. 8:45 on Friday night. Seriously? Had I committed some crime that I wasn't aware of?
Nope. It was for something much more ridiculous.
Remember all the way back in January when I did the right thing and stopped for a car accident I saw? Now I know why people don't bother. Apparently, they were supposed to subpoena me, but the paperwork got lost and they waited until the last minute before realizing they needed me.
I called a friend of mine just to make sure this wasn't some cop trick.
I had to drive 45 minutes on a Friday night for a fender bender because someone refuses to admit they failed to yield. Handsome just laughed and I sighed and completed my civic duty. I got to draw on a dry erase board, make assumptions towards the basic laws of physics, answer the same question reworded over and over, and swear to tell the whole truth and all that jazz. All because she didn't want to admit she simply failed to yield (you know, the only way her car would have been able to collide with his). I'm sad if this is what our law enforcement is wasting their time on.
Days like this put me in the mood for the ultimate cinnamon buns.
Ultimate Cinnamon Buns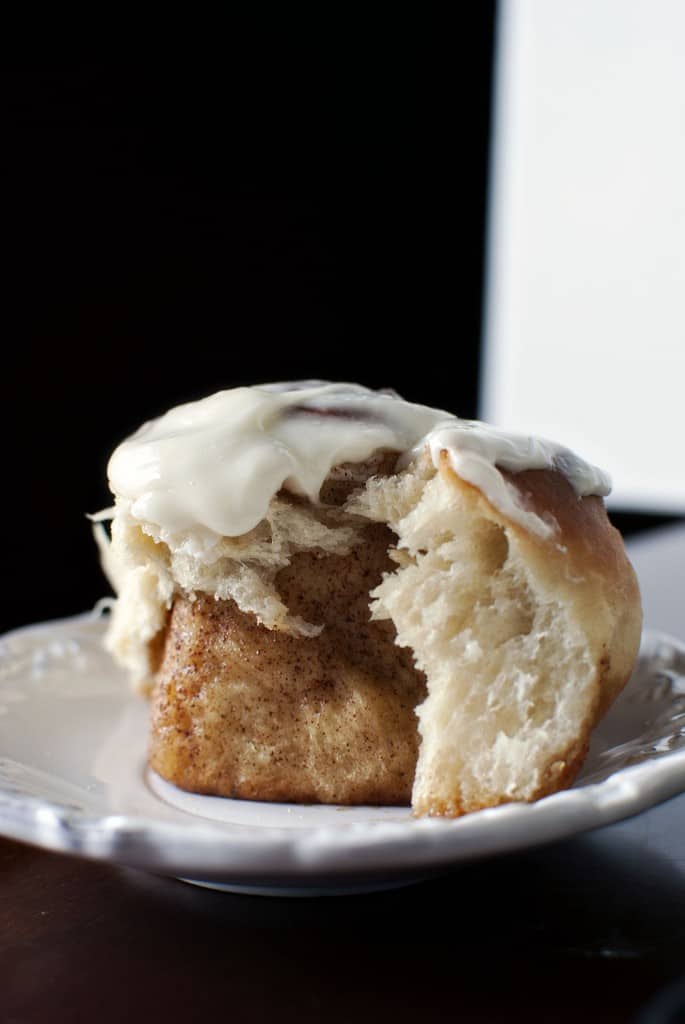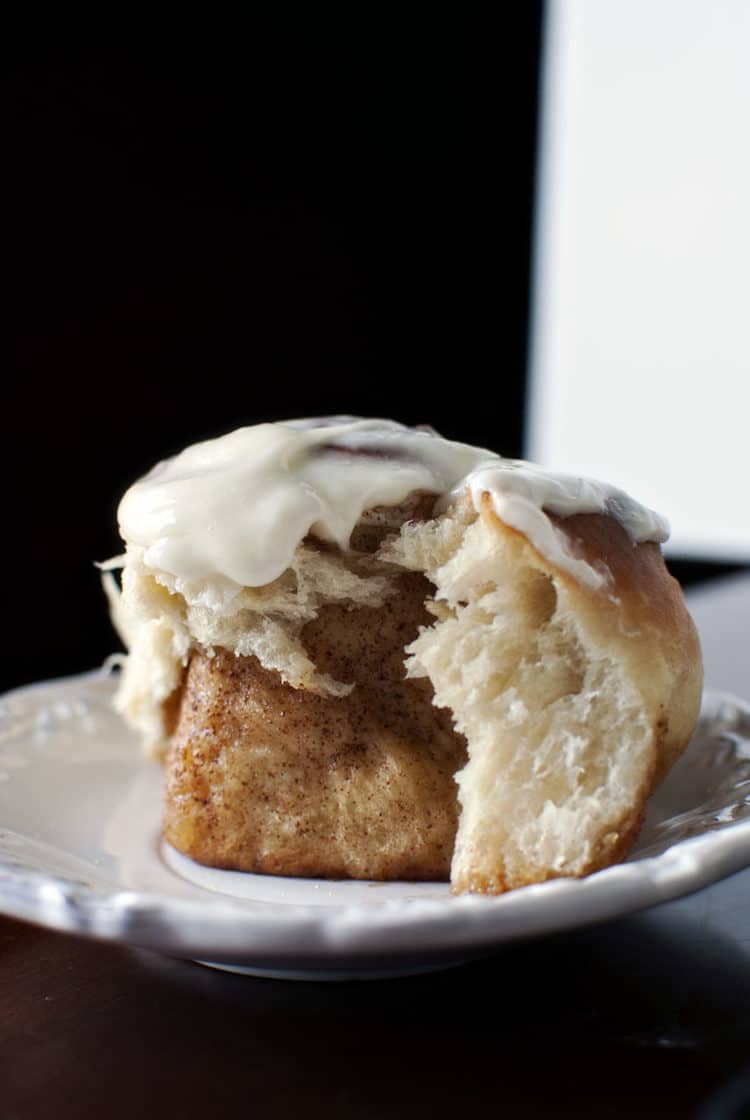 Cook's Illustrated Holiday Baking - Winter 2010
Ingredients:
For the Dough:
¾ cup whole milk, heated to 110 degrees
1 envelope (2 ¼ teas) rapid-rise yeast or instant yeast
3 large eggs, room temperature
4 ¼ cups (21 ½ ounces) unbleached all-purpose flour
½ cup cornstarch
½ cup granulated sugar
1 ½ teas table salt
12 tbs (1 ½ sticks) unsalted butter, cut into 12 pieces and softened
For the Filling:
1 ½ cups (10 ½ ounces) packed light brown sugar
1 ½ tbs ground cinnamon
¼ teas table salt
4 tbs (½ stick) unsalted butter, softened
For the Glaze:
4 ounces cream cheese, softened
1 tbs whole milk
1 teas vanilla extract
1 ½ cups (6 ounces) confectioners sugar
Preparation:
Note: If the dough is still wet and sticky after mixing for 10 minutes in step 2, add up to ¼ cup flour (a tbs at a time) until the dough releases from the bowl. For smaller cinnamon buns, cut the dough into 12 pieces in step 3. The buns can be made ahead of time; After transferring the pieces to the prepared pan in step 3, the buns can be covered tightly with plastic wrap and refrigerated for up to 24 hours. When ready to bake, let the buns sit at room temperature for 1 hour. Remove the plastic wrap and continue with the recipe from step 4 as directed.
For the dough: Adjust oven rack to middle position and heat oven to 200 degrees. When oven reaches 200 degrees, shut off. Line 13x9 inch baking pan with foil, allowing excess foil to hang over pan edges. Spray foil and medium bowl with nonstick cooking spray.
Whisk milk and yeast in liquid measuring cup until yeast dissolves, then whisk in eggs. In bowl, of stand mixer fitter with dough hook, mix flour, cornstarch, sugar and salt until combined. With mixer on low, add warm milk mixture in steady stream and mix until dough comes together, about 1 minute. Increase speed to medium and add butter, one piece at a time, until incorporated. Continue to mix until dough is smooth and comes away from sides of bowl, about 10 minutes. Turn dough out onto clean surface and knead to form smooth, round ball. Transfer dough to prepared bowl, cover with plastic wrap, and place in warm oven. Let rise until doubled in size, about 2 hours.
For the Filling: Combine brown sugar, cinnamon, and salt in a small bowl. Turn dough out onto lightly floured surface. Roll dough into an 18-inch square, spread with butter, and sprinkle evenly with filling. Starting with the edge nearest you, roll dough into tight cylinder, pinch lightly to seal seam, and cut into 8 pieces. Transfer pieces, cut side up, to prepared pan. Cover with plastic wrap and let rise in warm spot until doubled in size, about 1 hour.
For the glaze and to bake: Heat oven to 350 degrees. Whisk cream cheese, milk vanilla and confectioners' sugar in medium bowl until smooth. Discard plastic wrap and bake buns until deep golden brown and filling is melted, 35 to 40 minutes. Transfer to wire rack and top buns with ½ cup glaze; cool 30 minutes. Using foil overhang, lift buns from pan and top with remaining glaze. Serve.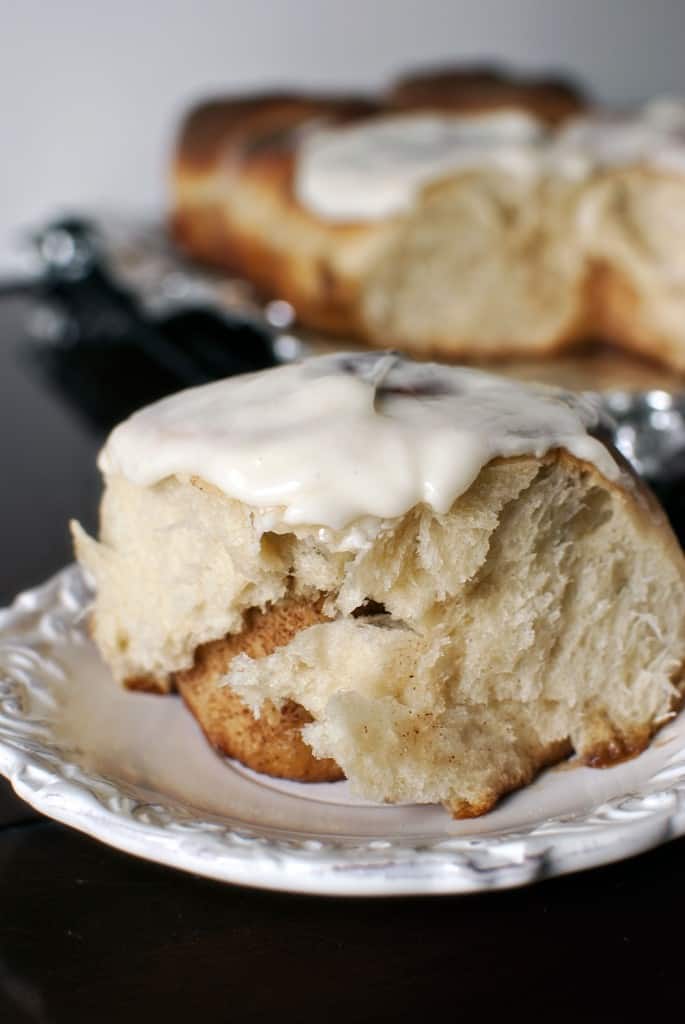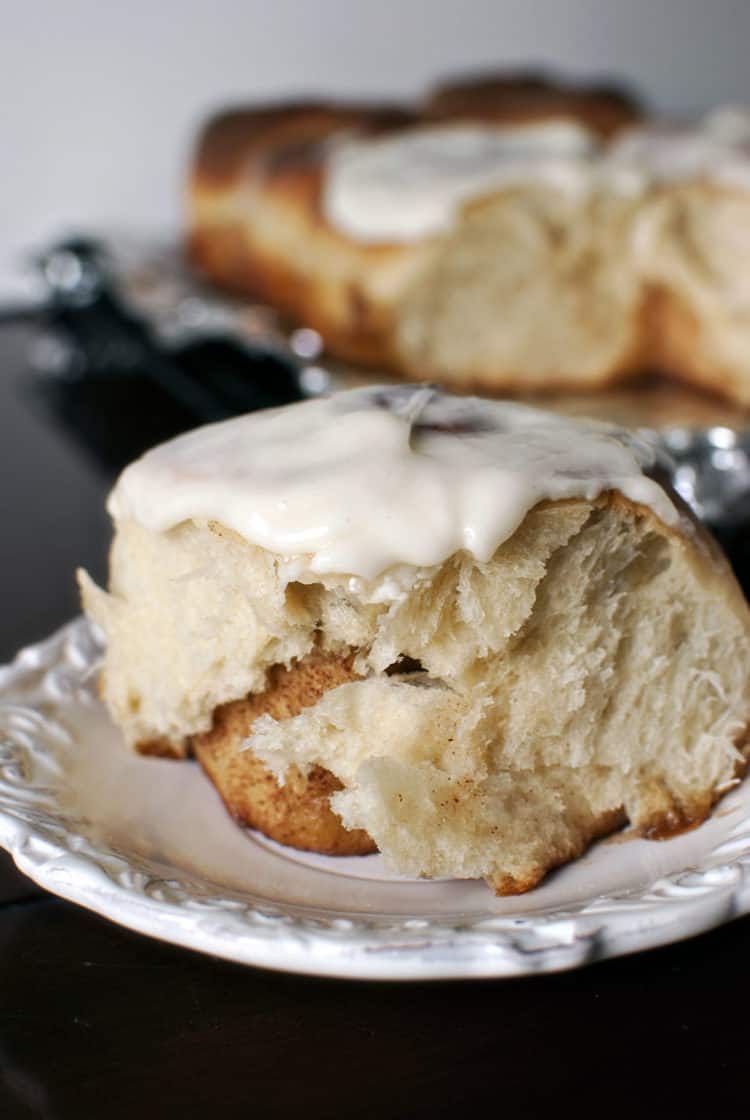 Without asking, I'm convinced at least one person I know just read this with a little 'I told you so' grin on their face. Be careful, or I won't share my ultimate cinnamon buns with you. 😉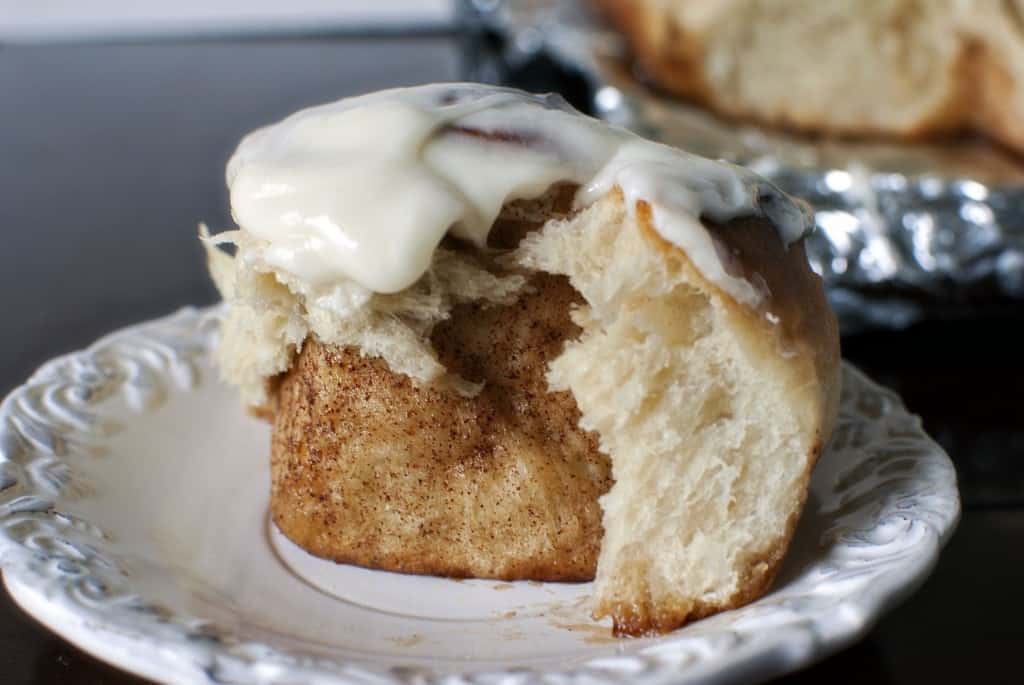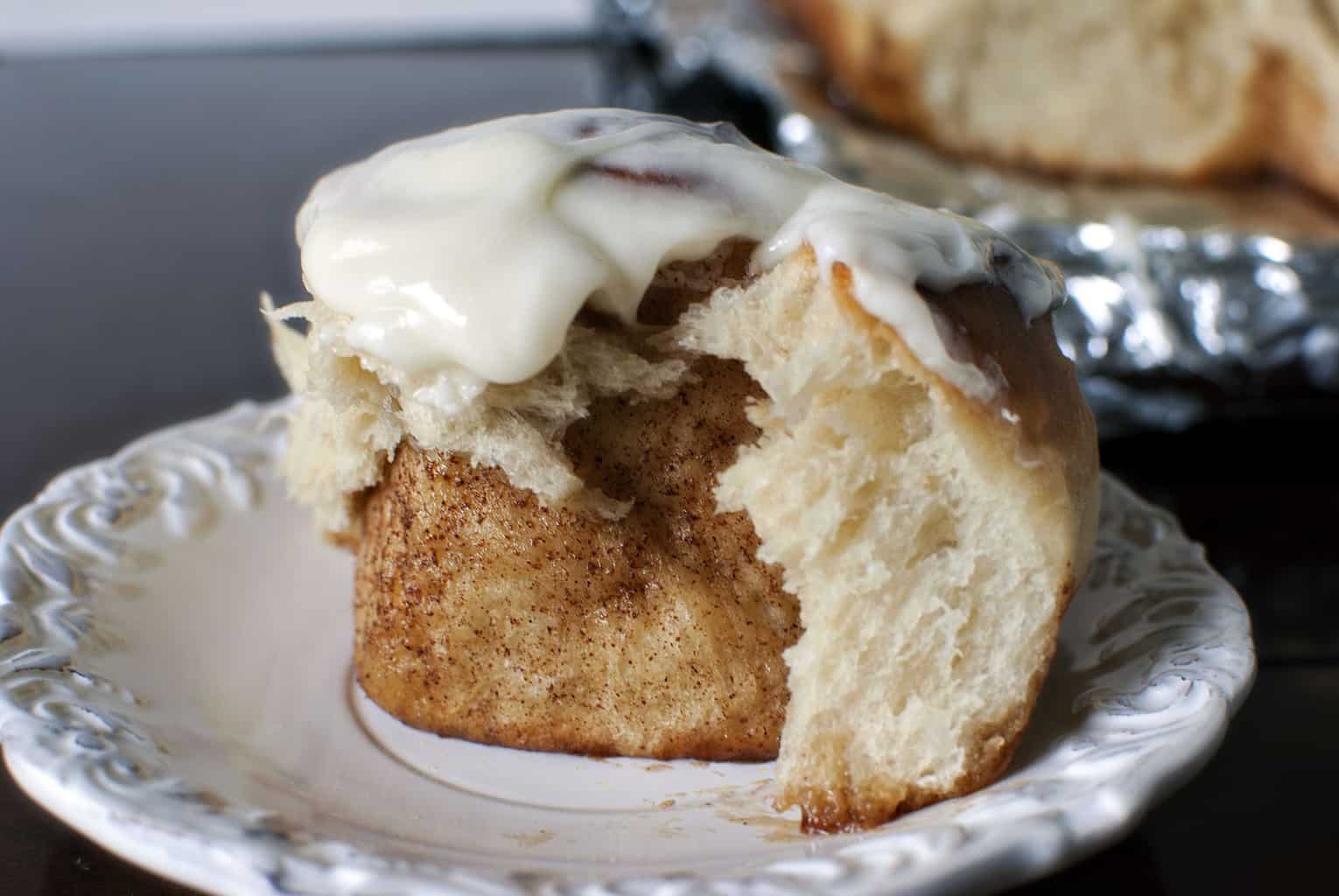 This Friday, May 13, Steph's Bite by Bite is hosting a bake sale on Friday May 13th to raise money Leukemia & Lymphoma Society. I can't wait to participate in an online bake sale! I've never done anything like this before but it is the second time Steph has hosted a bake sale on her site. I'm donating Cranberry White-Chocolate Chip Cookies (one of my favorites). Tons of awesome bakers are involved, so get pumped! Steph's last bake sale earned $1,707 – let's see if we can up the ante for round two!