These quick, easy Nutella Cinnamon Rolls are made with pre-made croissant dough to simplify your morning and filled with Nutella to satisfy all your cravings.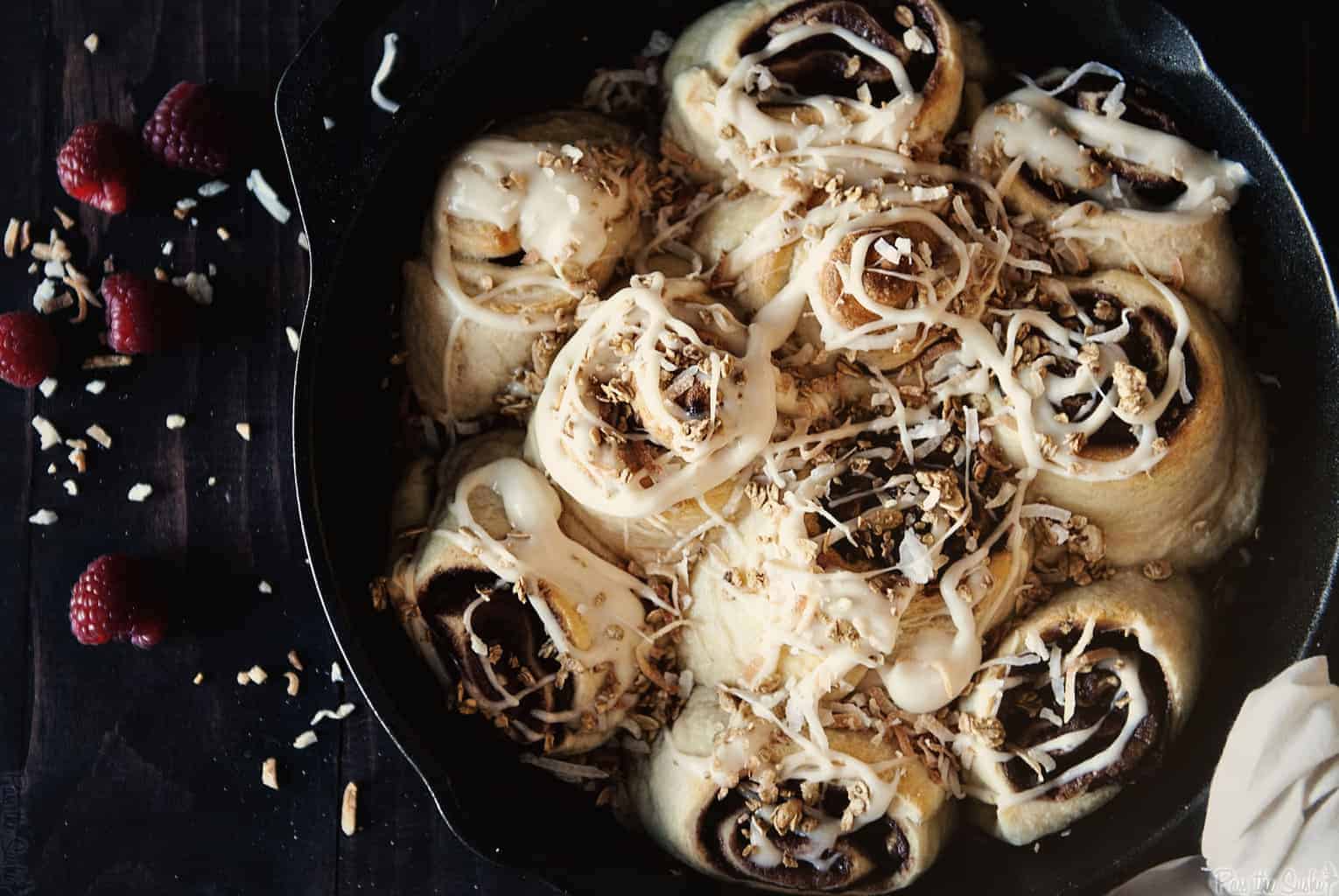 In this article:
We know a thing or two about making cinnamon rolls, from Chocolate Chip Cinnamon Rolls to Pumpkin Cinnamon Rolls. We've tried every flavor combination under the sun. Now, we're diving into the delicious world of Nutella. These Nutella Cinnamon Rolls are everything you could ever want in a pastry – warm rolls filled with a Nutella cinnamon filling and topped with a dreamy cream cheese frosting sprinkled with toasted coconut and granola. If you're not drooling by now, you will be after you make these gooey rolls!
If you want even more cinnamon roll recipes, you have to try these Bacon Topped Stuffed Cinnamon Buns or Maple Pecan Cinnamon Rolls!
What Are Nutella Cinnamon Rolls?
Nutella Cinnamon Rolls are very similar to traditional cinnamon rolls. You have the cinnamon filling but with a chocolatey twist – Nutella. We then don these fluffy rolls in a traditional cream cheese icing and top with toasted coconut and granola for extra texture and flavor!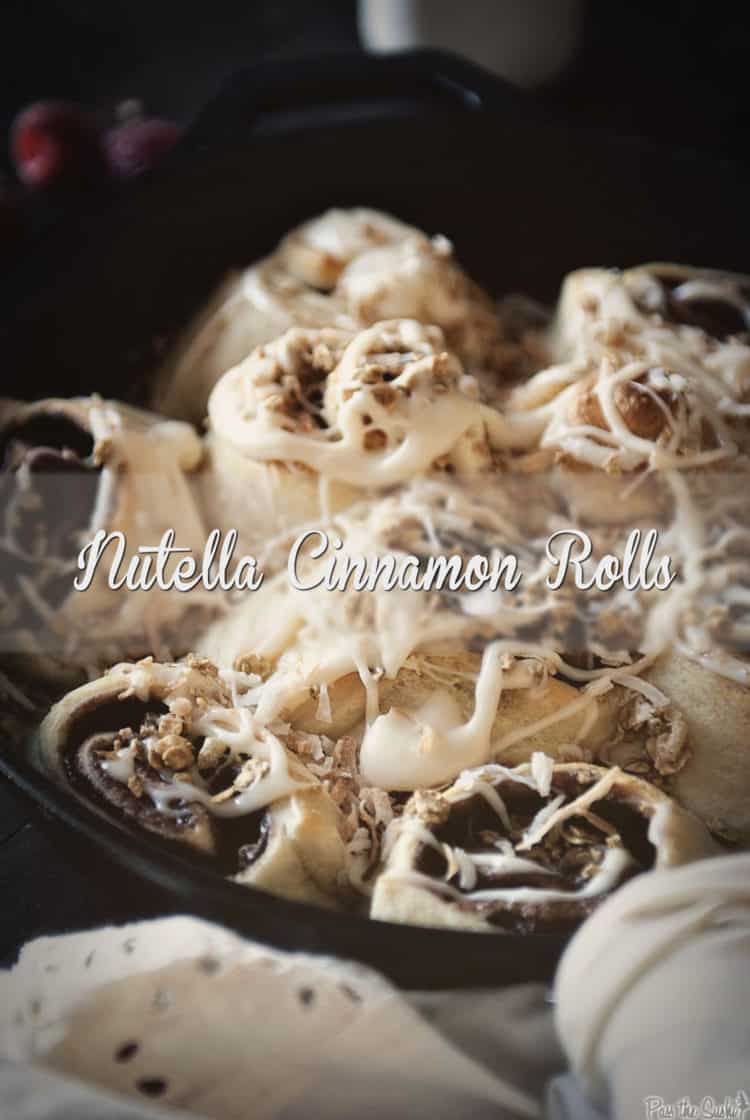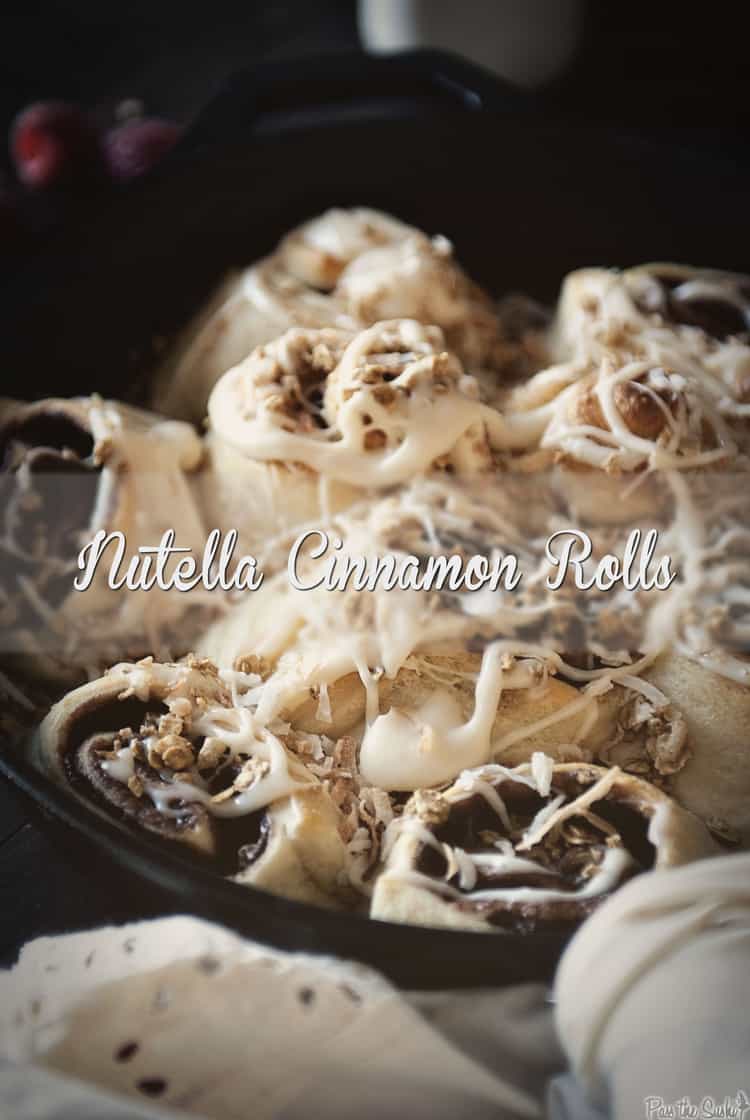 Why you'll love this recipe
Just like our Quick Cinnamon Rolls, these Nutella Cinnamon Rolls don't have yeast and don't need to rise, making them the perfect quick breakfast or tasty treat! The simple ingredients and fast cooking time make this the perfect recipe for any occasion, whether hosting a brunch party or prepping breakfast for the week! Nutella, cinnamon, toasted coconut, granola, and cream cheese icing unite to create the most decadent, gooey cinnamon rolls you've ever had.
Ingredients
Pillsbury sheets – Un-perforated crescent roll dough
Nutella
Cinnamon
Toasted hazelnuts
Cream cheese
Confectioners' sugar
Milk
Toasted coconut
Crunchy granola
How to Make Nutella Cinnamon Rolls
Prep
Preheat that oven to 350 degrees F. Then, grease a baking dish with cooking spray to make sure nothing sticks.
Creating the Nutella Filling
Next, unroll the Pillsbury dough onto a clean work surface. Make sure it's in the shape of a large rectangle. Spread an even layer of Nutella all over the entire surface of the soft dough, making sure to leave a ½" Nutella-free border around the edges. Sprinkle cinnamon and toss the toasted hazelnuts all around.
Roll the Dough
Starting from one of the short ends, roll the dough into a tight swirl. Pinch seam to seal in the Nutella filling.
Slice and Arrange
Slice dough into roughly 2" portions. Pop the sliced rolls into your prepared pan. We're going to do this a second time with the second sheet of dough.
Bake
Slide the pan into the oven and bake for about 15 to 20 minutes until golden brown—just remember, the bottoms might need a smidge more time to cook up perfectly.
Whipping Up the Glaze
While the rolls are baking, whip up a glaze. Grab a whisk and mix together confectioners' sugar, cream cheese, and a little milk in a small bowl. Adjust the sweetness and thickness as you go along—more sugar for sweetness and a bit of milk to adjust the consistency.
Final Touches
Let the rolls cool for about 5 minutes. Then, drizzle the cream cheese glaze on top of the Nutella rolls. And while the glaze is still setting, sprinkle on some toasted coconut and granola.
What to Serve With These Homemade Cinnamon Rolls
Don't leave these Nutella Cinnamon Rolls hanging! Pair them with other breakfast recipes like breakfast pizza, a potato frittata, or breakfast sausage ravioli!
Expert Recipe Tips
If you're not a fan of toasted coconut, feel free to leave it off.
Use your favorite homemade dough if you prefer. Just make sure it's rolled out to a similar thickness.​
If you have it, use unflavored dental floss to cut individual rolls. It will come out cleaner than a knife. Otherwise, a very sharp knife will work!
Leftovers & Reheating
Place any leftover cinnamon rolls in an airtight container and leave on the counter for up to 2 days or pop them in the fridge for up to 1 week. You can also freeze your cinnamon rolls for up to 2 months.
When it comes time to eat your Nutella rolls, microwave them for 10-15 seconds or until warm and gooey.
If removing the cinnamon rolls from the freezer, let them thaw in the fridge overnight before reheating.
Recipe FAQs
Can I omit the nuts or use a different type?
​Yes! If you're not a fan of nuts or have allergies, feel free to omit them. You can also experiment with other types of nuts, like chopped walnuts or pecans.
Can I use a different type of glaze?
Absolutely! While the cream cheese glaze is delicious, you can switch it up with a simple powdered sugar and milk glaze or even a Nutella drizzle for an extra dose of indulgence.
Can I make these rolls ahead of time?
Yes! You can prepare the rolls, cover them tightly with plastic wrap, and refrigerate them overnight. When you're ready to bake, just let them come to room temperature for about 30 minutes before popping them in the oven.
More Breakfast Recipes
​
The Nutella Cinnamon Rolls are the best way to start your day! Rich, chocolate cinnamon filling topped with creamy cream cheese icing is the perfect combination for when you're trying to curb that nagging sweet tooth! If you tried this recipe, please rate the recipe card and leave a comment to help out the next reader!
📖 Recipe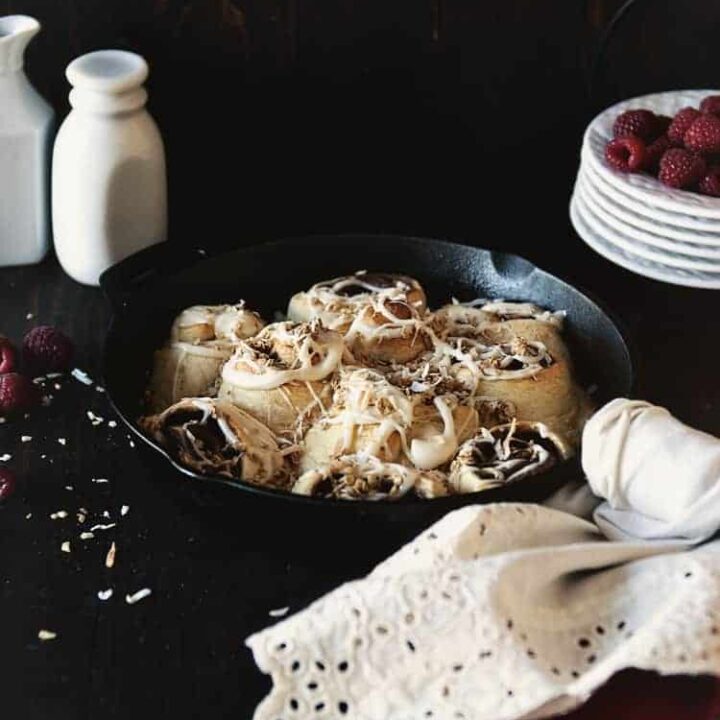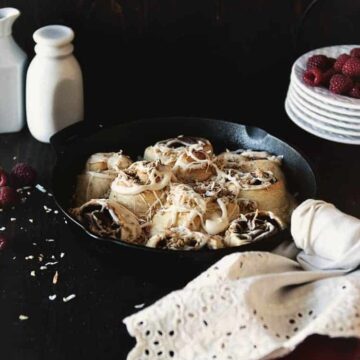 Ingredients
24

oz

Pillsbury sheets

-

2 containers of Un-perforated crescent rolls

¾

cup

Nutella

1 - 2

teaspoon

cinnamon

⅓

cup

toasted hazelnuts

-

chopped

2

oz

cream cheese

¾ - 1

cup

confectioners' sugar

1

tablespoon

milk

⅓

cup

toasted coconut

⅓

cup

crunchy granola
Instructions
Preheat oven to 350 degrees F. Grease a square or round baking dish.

Unroll the dough onto a clean work surface. Spread Nutella evenly over the dough, leaving a ½" boarder around the edges. Sprinkle with cinnamon and toasted hazelnuts throughout.

Starting with a short end, roll the dough into a tight roll, pinching to seal the ends. 

Cut into approximately 2" even portions and place in the prepared pan. Repeat with the second sheet of dough.

Bake for 15--20 minutes, until golden and poofy (remember, the bottoms are going to need a little extra time to cook or they will be soggy).

Meanwhile, whisk the confectioners' sugar, cream cheese, and milk to create a thick glaze. Add more confectioners' sugar as needed. More or less milk to thicken or thin it out.

Let rolls cool for 5 minutes before drizzling glaze over top. Sprinkle with toasted coconut and granola right away while the glaze is setting.

Serve!
Nutritional informations provided as a courtesy and is only an approximatation. Values will changes based on ingredients used.
⭐ Tried this recipe? Rate it ⭐
Help out the next person and give it a star rating below!