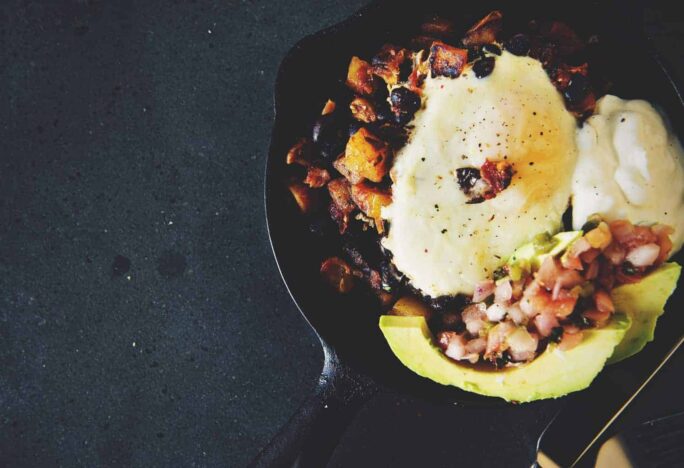 Everything comes with balance.
That's something I am struggling on in the last year. Being 99% self-employed, my income is feast or famine, which can lead to crazy stress. Traveling all over there's no set routine. There was eat a little bit of everything the chef put in front of you days and then there was oh my god the guilt days. There was crazy stress and missing my dog. There was holy crap, this is my life days.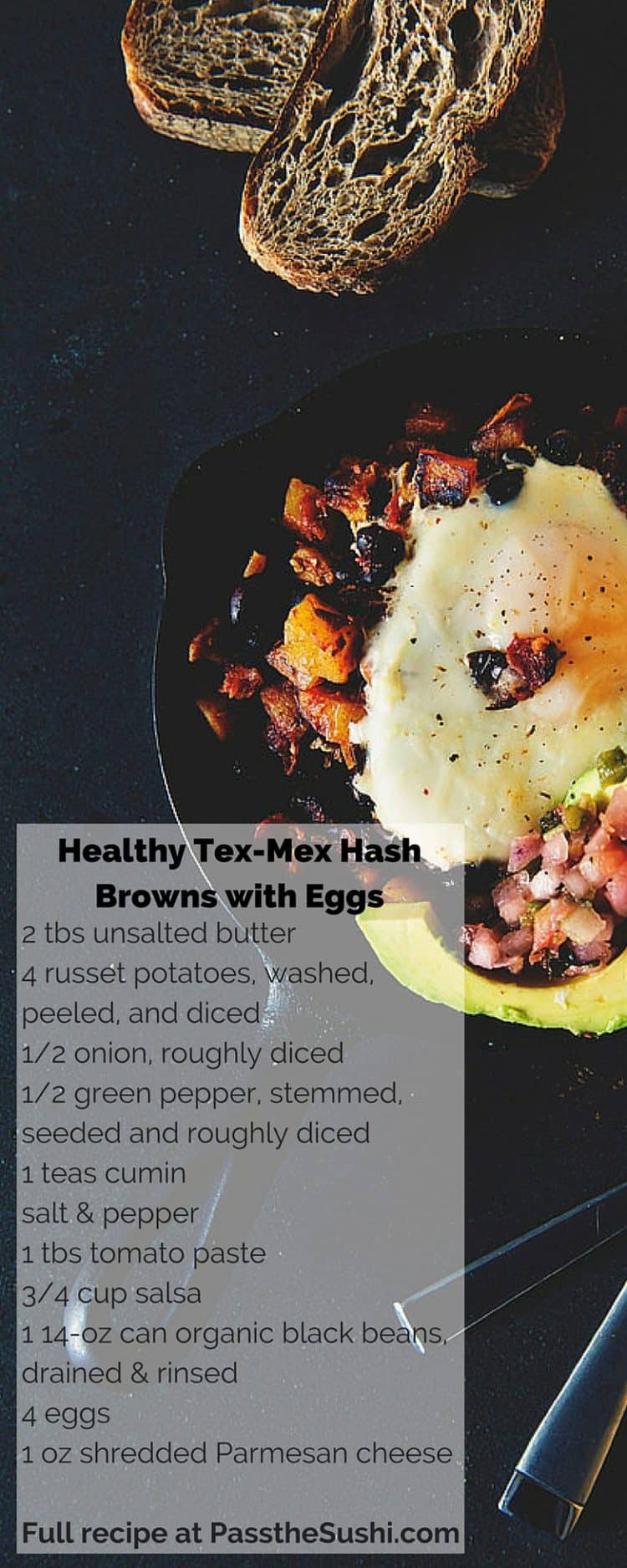 This year, I have realized all that crazy isn't  phase. It's the product of some crazy hard earned dreams coming to frutition, but that also means that I need to bend and adapt. To accept the lack of routine and spin it so that it works for me and doesn't just sit on my hips. I need to pick smarter choices and decline a bite or two when I'm done, really done eating, no matter how excited the chef is. I need to pull back in my own kitchen and round out my daily intake with more than just - shockingly - cheeseburgers.
I'm working to find balance. And that's all I really need to calm down and get the inner harmony my crazy life requires. Knowing that every day I'm working on it.
We spent this weekend snowed in watching the great blizzard of 2016 toss mountains of snow around our yard outside. I'd prepared and stocked up on fresh veggies and great ideas so I knew eating well would be no problem. But I didn't want to spend it just noshing on junk food either (as tends to happens when I'm at home and cozy in my PJs). Snow days brings out my need to nibble, so I wanted to stay ahead of the curve and really keep an eye on why I was eating and what as well.
While sitting on the trainer sweating to the oldies (Fall Out Boy to age myself with you young hip kids and your Snapchats), I was reminded of a friend who competes at a much higher lever of mountain bike racing then I do. He once told me his favorite food on a long ride is a simple salted boiled potato. Yeah, that's right. He isn't going for a punch of flavor there. He boils small fingerling potatoes and has them in his back pocket to chew on while he's riding. (Bet you always wondered what we shoved in all those weird spandex pockets we have). He swears it's the perfect fuel to keep him going. With that memory fresh on my mind, I decided to create something new for us for breakfast.
I diced potatoes, onions, peppers. I poked around my pantry for some savory flavors and added in some salsa and spice. I folded in black beans for added an healthy bonus and topped everything off with a gently baked egg and a light touch of cheese to make it feel like it was bad for you. It was a great way to sneak in a hearty weekend worthy breakfast that wasn't just (another) pile of pancakes. It felt big and special but was really simple and only used ingredients that I always keep on hand. It reminded me that Sunday brunch doesn't have to be a big overdone thing double downed and shoved between a giant cinnamon bun. That is can just be me, in my PJ's snowed in and happy.
This year I'm going to choose to be healthier, lighter, smarter with my meals and mix in wholesome ingredients. Less eating out. More eating for me.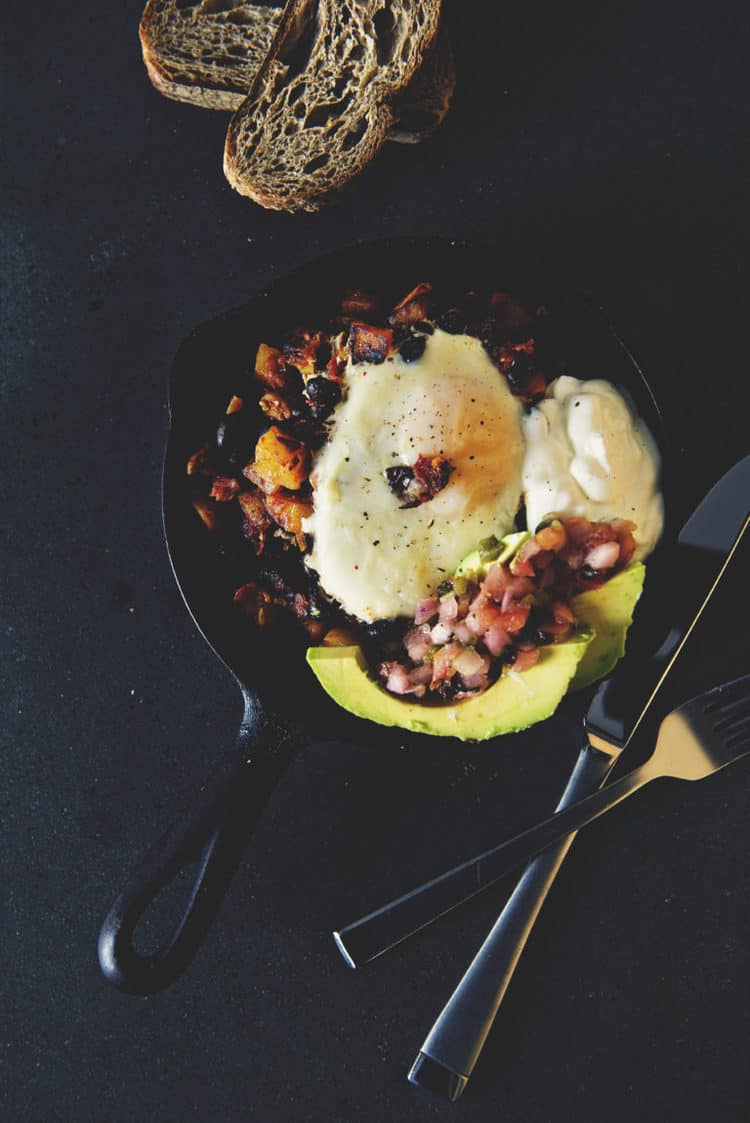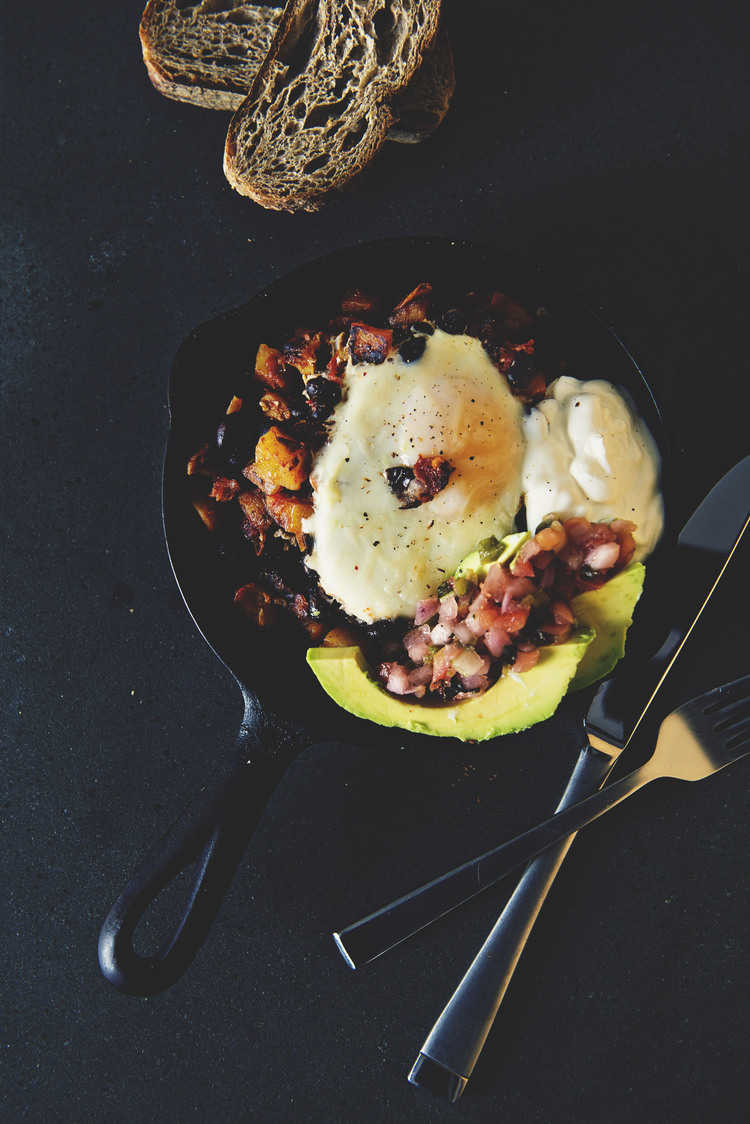 📖 Recipe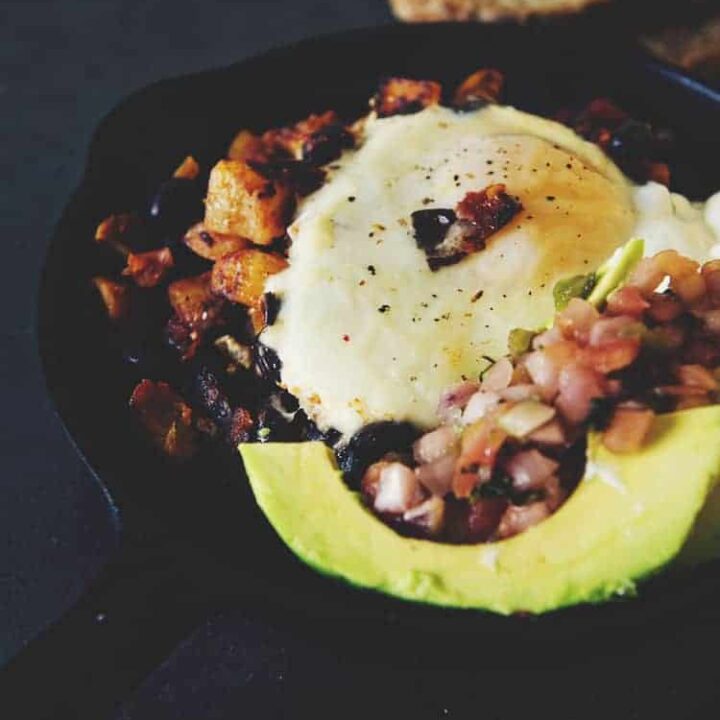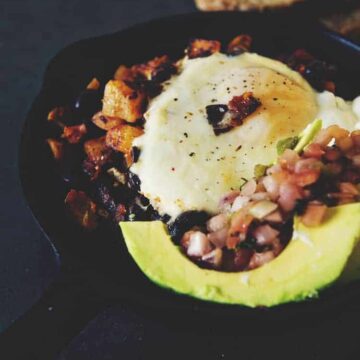 Ingredients
2

tbs

unsalted butter

4

russet potatoes

-

washed, peeled, and diced

½

onion

-

roughly diced

½

green pepper

-

stemmed, seeded and roughly diced

1

teas cumin

salt & pepper

1

tbs

tomato paste

¾

cup

salsa

1 14-

oz

can organic black beans

-

drained and rinsed

4

eggs

1

oz

shredded Parmesan cheese

1

avocado sliced

sour cream and salsa for garnish
Instructions
Heat the butter in a large skillet over medium high heat. Swirl to coat the pan.

Add the potatoes and let them cook, stirring occasionally until starting to brown. Add the onion, pepper, and a bit of salt and let cook until soft, about 5 yo 7 minutes longer. If the potatoes haven't gotten nice and golden yet, just let them work a little longer.

When the potatoes are looking perfect, stir in the tomato paste and cumin and let cook for a minute until everything is rust colored.

Stir in the salsa and let thicken a minute or two. Finally, stir in the beans.

Make 4 little holes in the hash and gently crack and egg placing one in each spot. Allow to cook until whites are set. Immediately remove from heat and sprinkle with cheese.

Serve with a tosted slice of hearty multi-grain bread, additional salsa, light sour cream and sliced avocado for a full on breakfast fiesta.
Nutritional informations provided as a courtesy and is only an approximatation. Values will changes based on ingredients used.
⭐ Tried this recipe? Rate it ⭐
Help out the next person and give it a star rating below!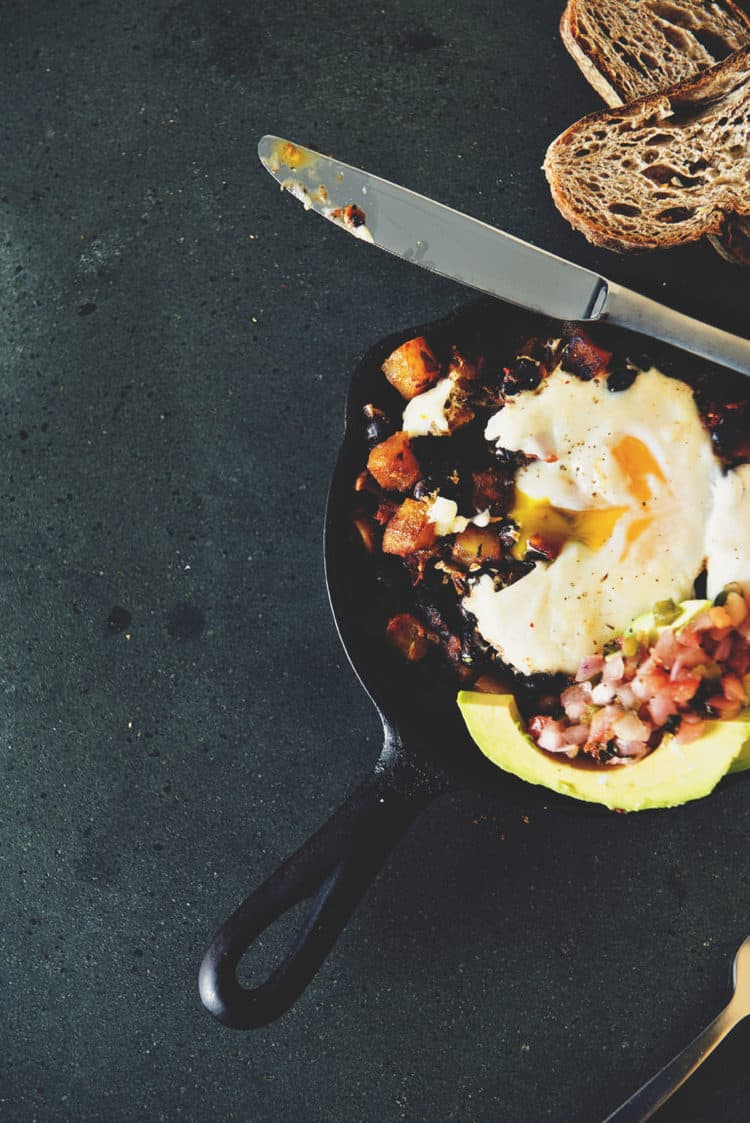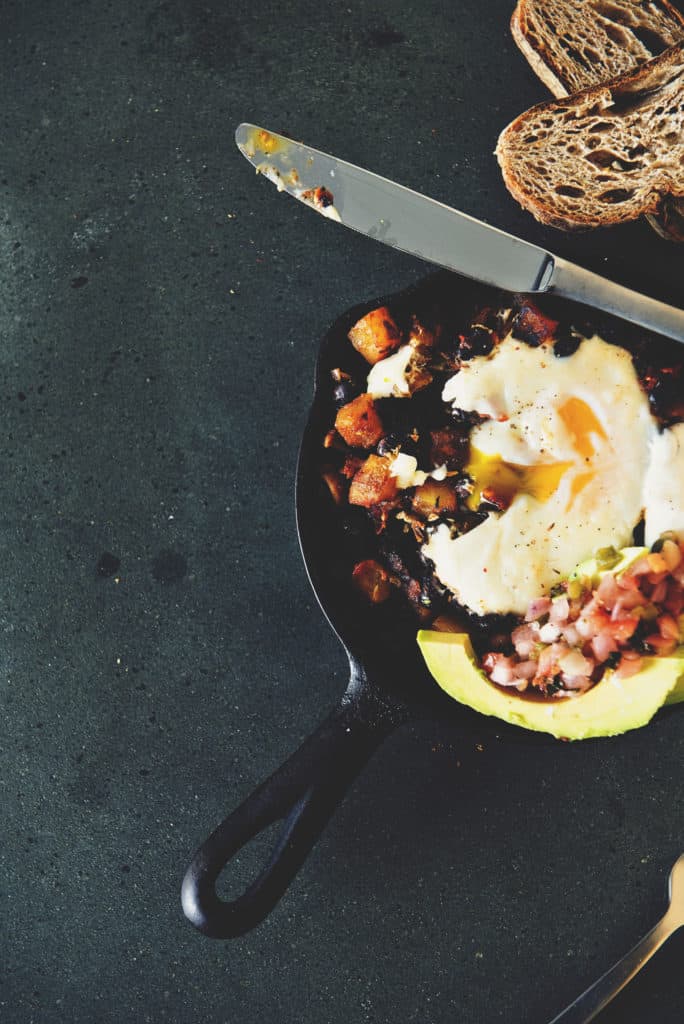 This post was sponsored by the US Potato Board. Girls gotta pay the bills. The hash was my own creation and still mighty delicious so give it a go and let me know what you think!