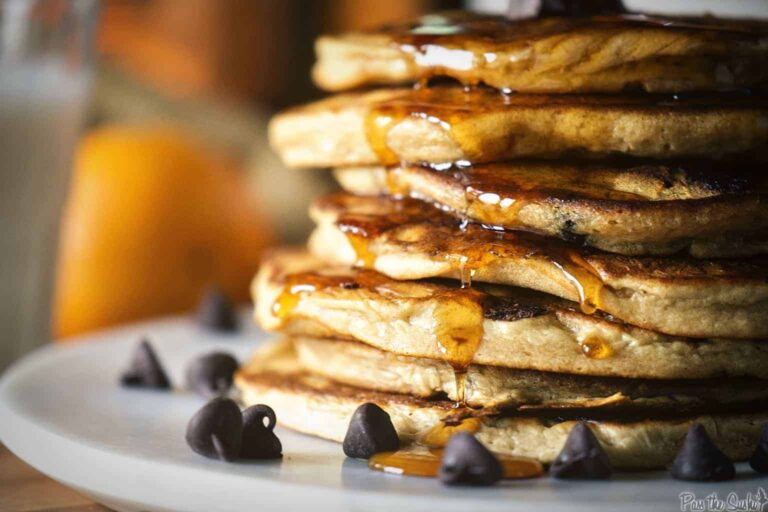 When is the last time you had a weekend off? I mean like... off. No commitments. No house that needs to get cleaned so bad that you devote an entire day to chores and laundry. No birthday parties, kids events, social obligations, barbecues, family dinners, or anything. Like... a weekend off. To do anything you want? Because... It's time to make time for one. Maybe it's a spontaneous weekend getaway or a stay-cation in your jammies snuggling? Maybe it's building a snowman or a long hike in the woods. Whatever it is... it's time for a down to earth break from the routine. I love my friends, family, and life. But after a few days weeks of full on, I am ready to collapse or cry (I'm not alone right?) and all I want to do is diddly squat. Diddly squat sounds down right perfect at the moment...
And let me just tell you.... these Oatmeal Chocolate Chip Pancakes are the kick off for a mellow weekend of nothingness.  Part of my 2015 resolutions was to take time on Sunday mornings to be with my man and stop and sit down to breakfast together. We both work for ourselves and have a very demanding schedule, so it's easy to let those weekday errands run the weekend, the projects that need finishing eat up our time, and those personal commitments take over the day. But, we can make the time for breakfast. It's an hour of whipping something up, sitting and pausing with nothing else demanding our attention in that moment, but us. And that pause before we dive headfirst into the day is important to me since stay-cations are few and far between for anyone who's working hard these days.
Just like personal fitness or our own goals, the time will be there only if we make it, otherwise there is always another chore to be done. Family brunch or breakfast is one of those things where you have to agree to make the time. It's been a few weeks since we kicked off the year, and we have only pulled it off twice together,but I have made sure that 'brunch' has been a theme of my Sunday commitments in one variety or another as I compromise my time and goals right now. This week, breakfast was catching up at a cafe with a friend I hadn't seen in a few weeks after a good run, two weeks ago it was waffles with my aunt and a group of her friends that I was happy to meet. A little give and take, but still trying to stick to that goal.
Whether you have made the promise to escape for the whole weekend, or if you can only sneak in an hour, these fun delicious oatmeal chocolate chip pancakes are the perfect way t make the most out of whatever time it is you have.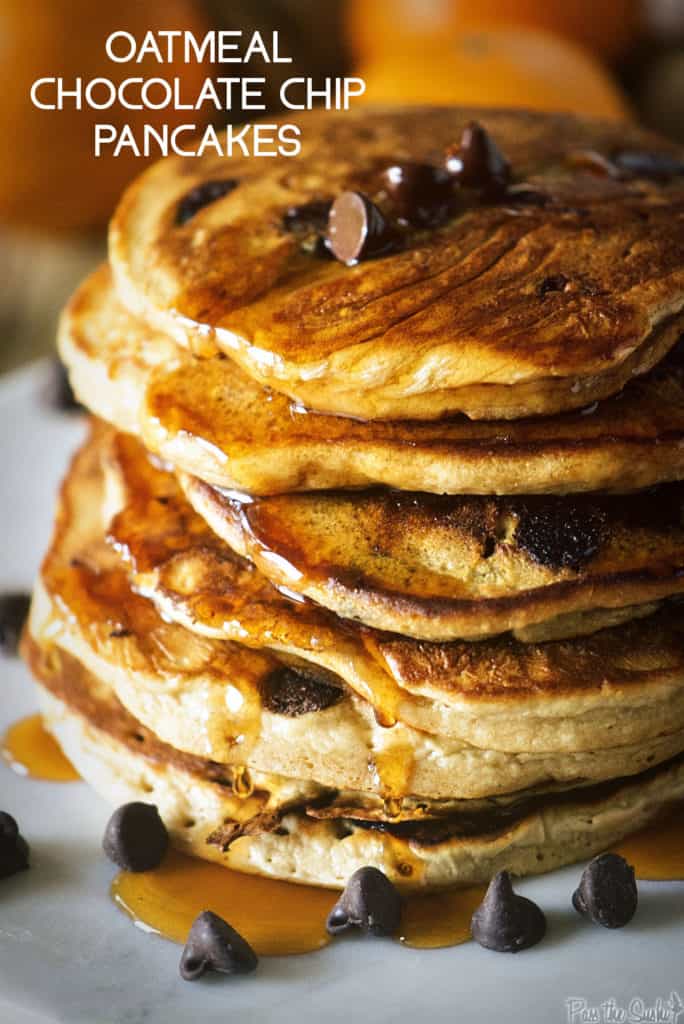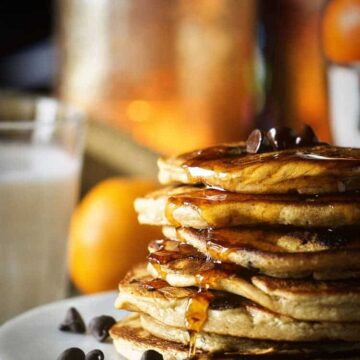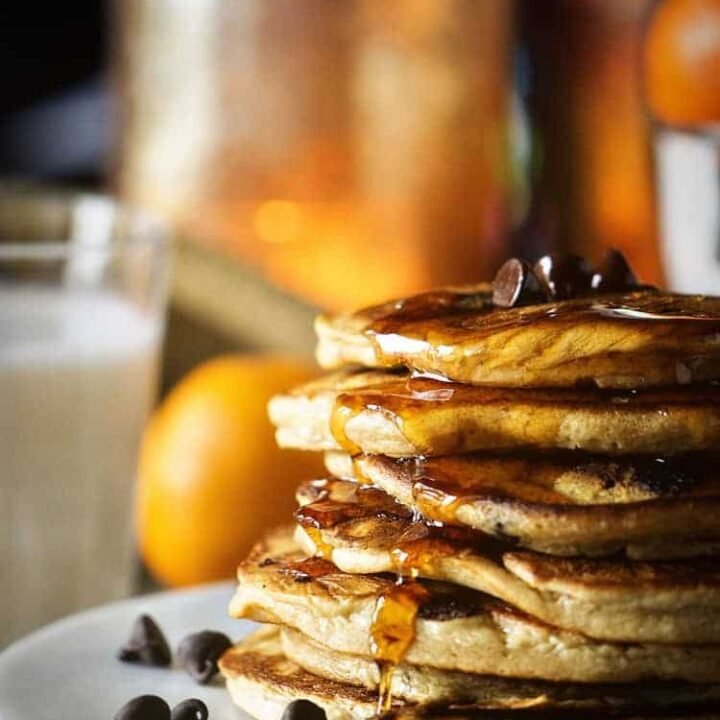 Ingredients
½

cup

quick cooking oats

½

cup

flour

1

tbs

sugar

1

tbs

brown sugar

1

teas baking powder

1

teas baking soda

½

teas salt

1

teas vanilla

1

egg

1

cup

milk

2

tbs

vegetable oil

butter to grease pan

½

cup

chocolate chips
Instructions
Preheat your griddle or skillet over medium-high heat for pancakes.

In a food processor, pulse the oats until they are almost a powder. (A few chunks can remain). Add the flour, sugar, brown sugar, baking powder, baking soda, and salt and pulse once or twice longer to combine. Add the vanilla, egg, milk, and vegetable oil. Pulse to combine. Carefully remove from processor and make sure that all of the flour is combined until just wet.

Place a small dollop of butter over the hot pan and swirl to coat. Pour in ⅓ cup portions of batter and sprinkle each with a few chocolate chips. Cook until pancake has set (tiny bubbles appear on the edges and bottoms are golden). Flip and cook 3 to 5 minutes longer on until golden on both sides.

Pile the pancakes high and serve while warm with extra butter and syrup if desired.
Nutritional informations provided as a courtesy and is only an approximatation. Values will changes based on ingredients used.
⭐ Tried this recipe? Rate it ⭐
Help out the next person and give it a star rating below!