Caramel apples are delicious, but Butterfinger caramel apples will make you the favorite house for Trick or Treat! Tart Granny Smith apples coated with sweet, homemade Butterfinger caramel sauce.
I had visions of creating a post filled with wicked witches and poison apples, riddles wrapped in fables and tales of childhood characters spun in a whole new way to coordinate with ABC's new show, Once Upon a Time. The thing is, I got a little poisoned appled out a bit early in the month and secondly, read Fables instead.
Fables is a comic – bear with me – like you have never read. It's my 'gateway drug', my 'comic crack baby', and easily my number one selling graphic novel. And there's a reason for it.
Fables takes every fairy tale character you have ever thought you heard of and has them exiled and living on a street in New York city (well, except for the talking animals, can't have those walking down the streets of NYC). Bill Willingham spins these childhood memories in a way you never thought possible long before TV executives had the idea, along with stunning covers from James Jean, and a majority of beautiful internal art by Mark Buckingham. Snow white is a hardened woman who wont talk about the dwarves. Old King Cole is the aloof mayor. The Big Bad Wolf keeps things in line by having the role of sheriff. And everyone's favorite prince works his charm a little to well (on Snow, Cinderella, Sleeping Beauty, and and anyone else he can every chance he gets). Willingham takes characters you only vaguely remembered and builds depth and personality that you can't help but fall in love with.
The first book is a murder mystery used to introduce the human characters, the second arch introduces you to the animal farm and the third one starts to flush out a key point to the books- the war to go home. You will be drawn in by comedy, drama, love and war and when you find out who it is who is keeping everything at stake, won't be able to put these books down.
Currently there are 15 volumes of Fables collected into graphic novels, 2 short Cinderella side stories,  1001 Nights of Snowfall, Peter and Max a novelization of Fables stories and a line of books about Jack (you know Jack be nimble, Jack and Jill, Jack and the bean stalk? Yeah, that Jack that's always up to too much no good).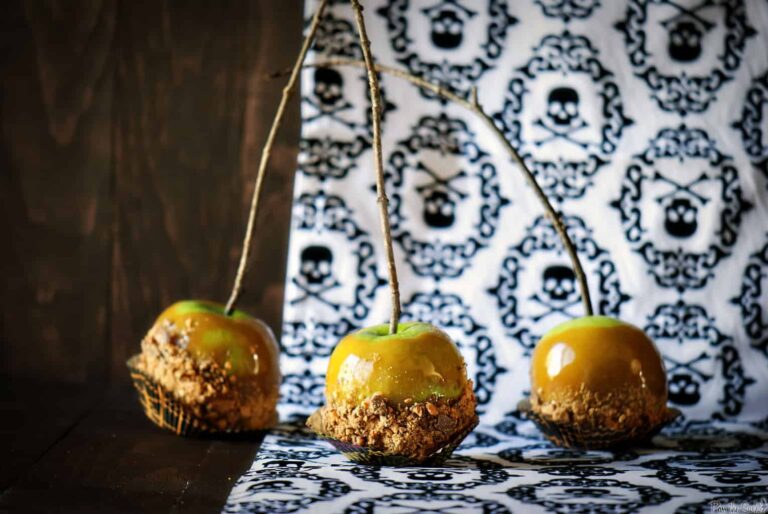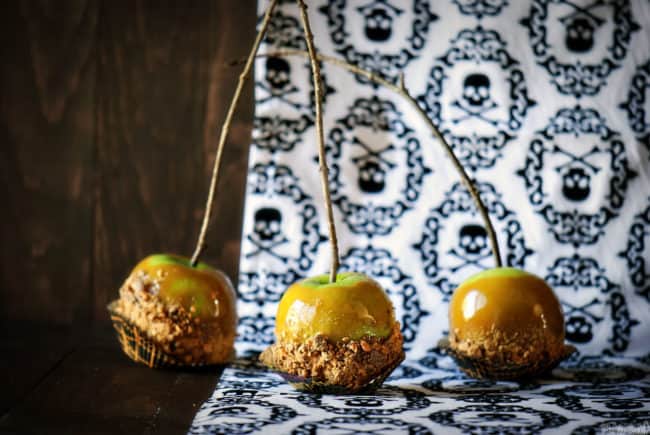 Butterfinger Caramel Apples
Perfect for Halloween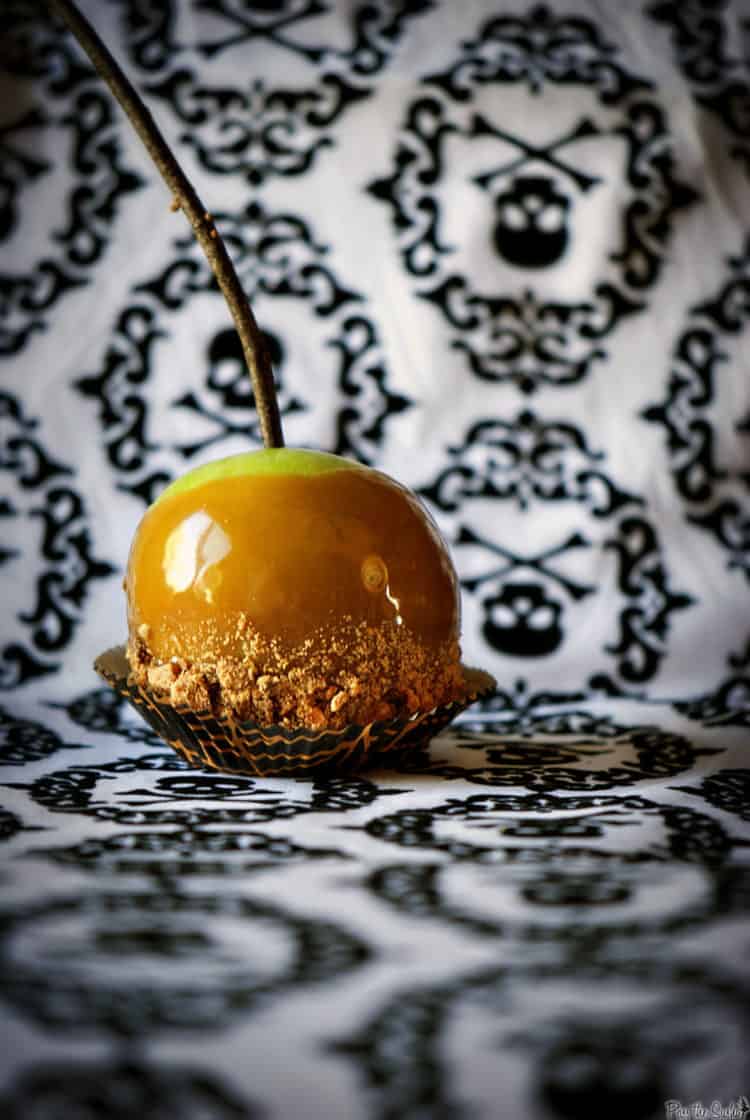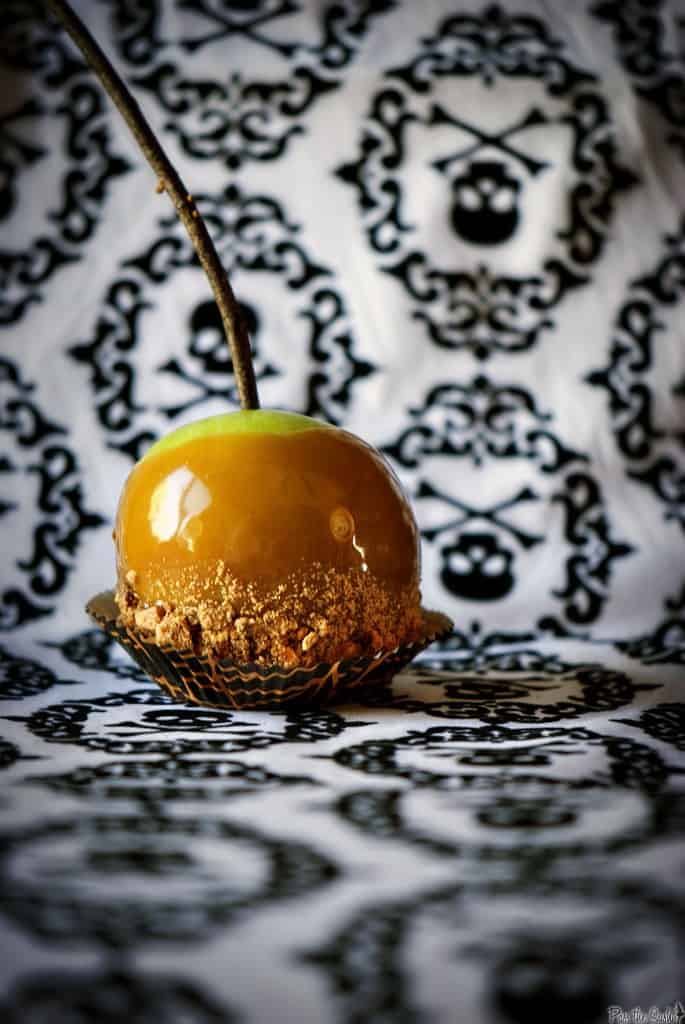 From The Cooking Photographer
Ingredients:
5 Granny Smith Apples
3 (2.1 ounce) Butterfinger candy bars, or 15 mini Butterfinger bars
11 oz bag Caramel Bits
2 tbs half and half
1 teas light corn syrup
1 teas vanilla extract
Pinch of salt
Preparation:
Place Butterfinger bars in the freezer for at least 20 minutes before starting.
Wash and dry apples. Twist off the stem and place a wooden dowel,  popsicle stick, or clean twig into the apples. Lay out a piece of wax paper to set apples on.
Unwrap Butterfinger bars  and place in a gallon-sized bag and crush into small crumbs with the back of a spoon or a wooden rolling pin. Place crumbs on a large plate. Set aside.
Place caramels, half & half, corn syrup and salt together in a shallow bowl. Microwave in 30 second increments on high stirring at each stop. Repeat until well melted. Stir in vanilla extract and salt. (I microwaved mine for a total of 2 1/2 minutes before everything had melted and come together).
Roll an apple in caramel spooning some over the top. Let the excess drip off and spoon off the bottom. Dip the bottom in the crushed candy. Scoop up some of the candy and pat crumbs onto the sides of apples, patting with the back of a spoon if needed. Place apple on wax paper to set.
Reheat caramel between each apple for 15 to 20 seconds, if needed and repeat process with the rest of the apples.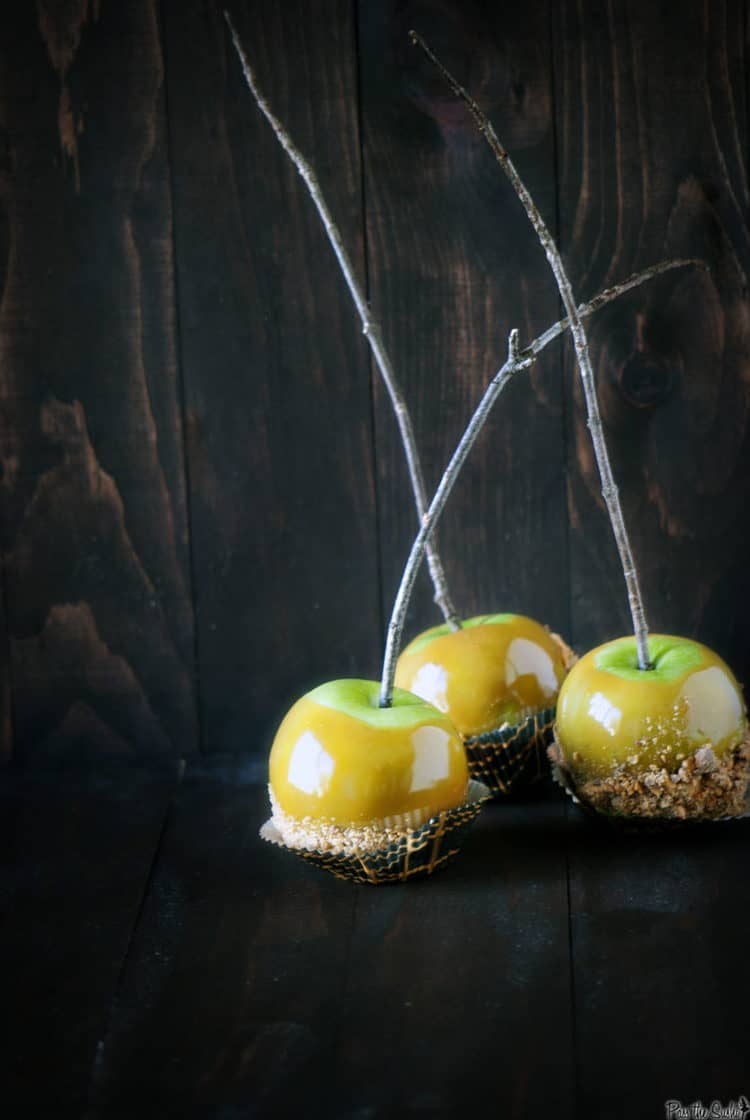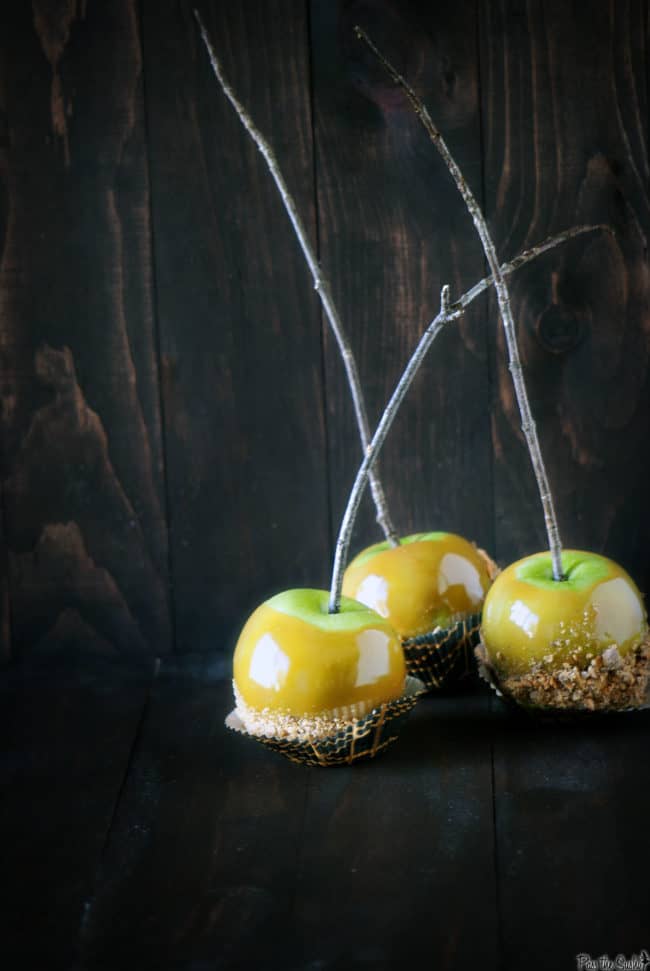 Please note, that I am not saying that Once Upon a Time is a rip off of Fables, I am saying that Fables is awesome. End of story. If you are tuning into Walking Dead on Sunday nights on AMC, I highly suggest reading the original comics, too.
Now make a batch of Butterfinger caramel apples.