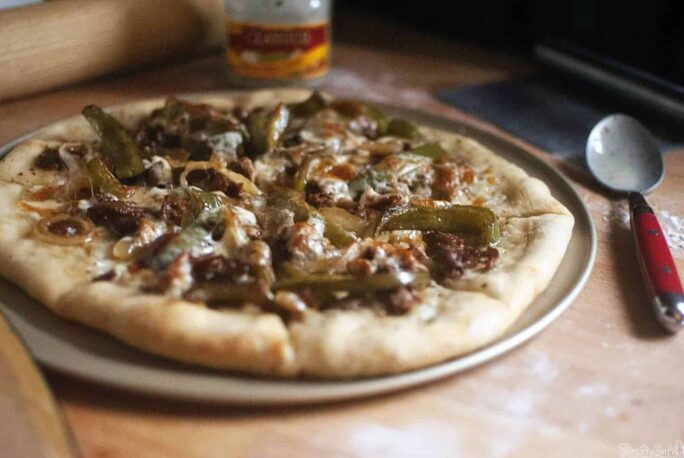 Last night we challenged ourselves to a new pizza recipe inspired by Classico's pizza sauces from their 'Elevate Pizza Night' challenge they sent out to us. Generally speaking, I had never been a fan of Classico sauce. If I used a can sauce it was Prego for quick family pasta or something that I could mix and add a ton of my own flavor to before it went on the table. But I had three little bottles of pizza sauce to taste test and give a go at….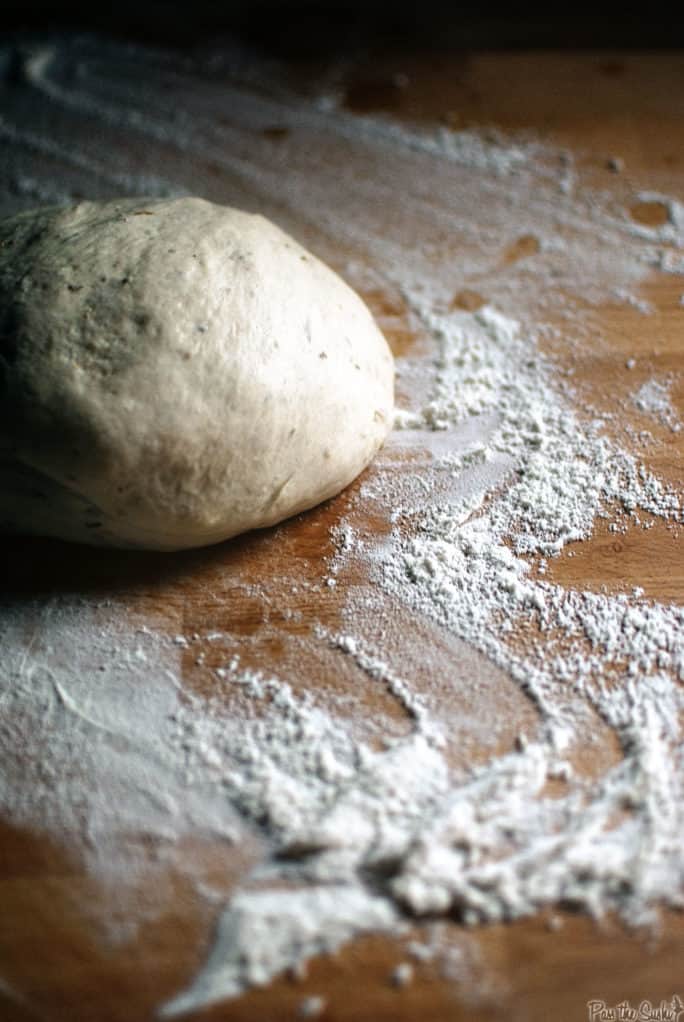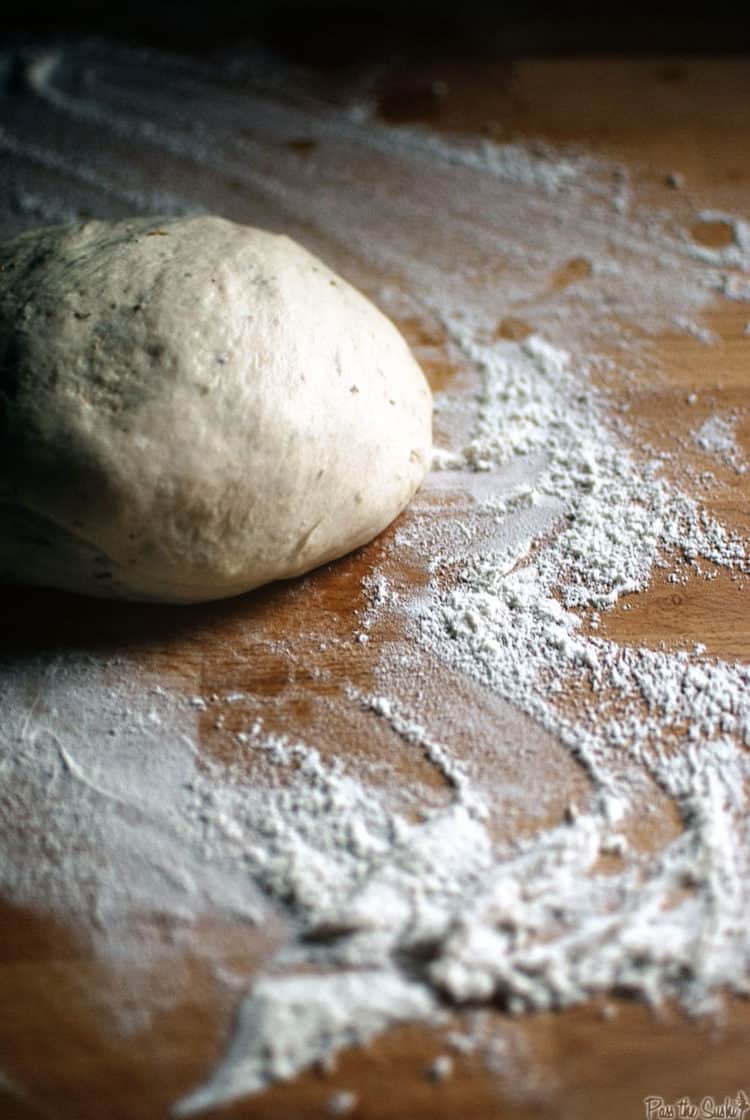 And let me tell you, it that little jar of pre-made store bought pizza sauce was shockingly good. So much so that that's how I wanted to approach this whole post – Shockingly Good Sauce by Classico. Box, canned and prepacked things just don't often live up to my expectations any more. (I am not saying that with my nose in the air – I am totally down with Hamburger Helper and there is totally a frozen dinner just chilling in my freezer waiting for a night when I'm just too tired, but once you find a good home-made recipe to replace it, there's simply no going back). We used the white pizza sauce. I had envisioned something a little more classy for my elevated pizzas, but Handsome had the idea of turning his cheesesteaks into a pizza topping and I kind of ran with it, while making it week night simple. So we came up withe this Philly inspired Thin Crust Cheesesteak Pizza.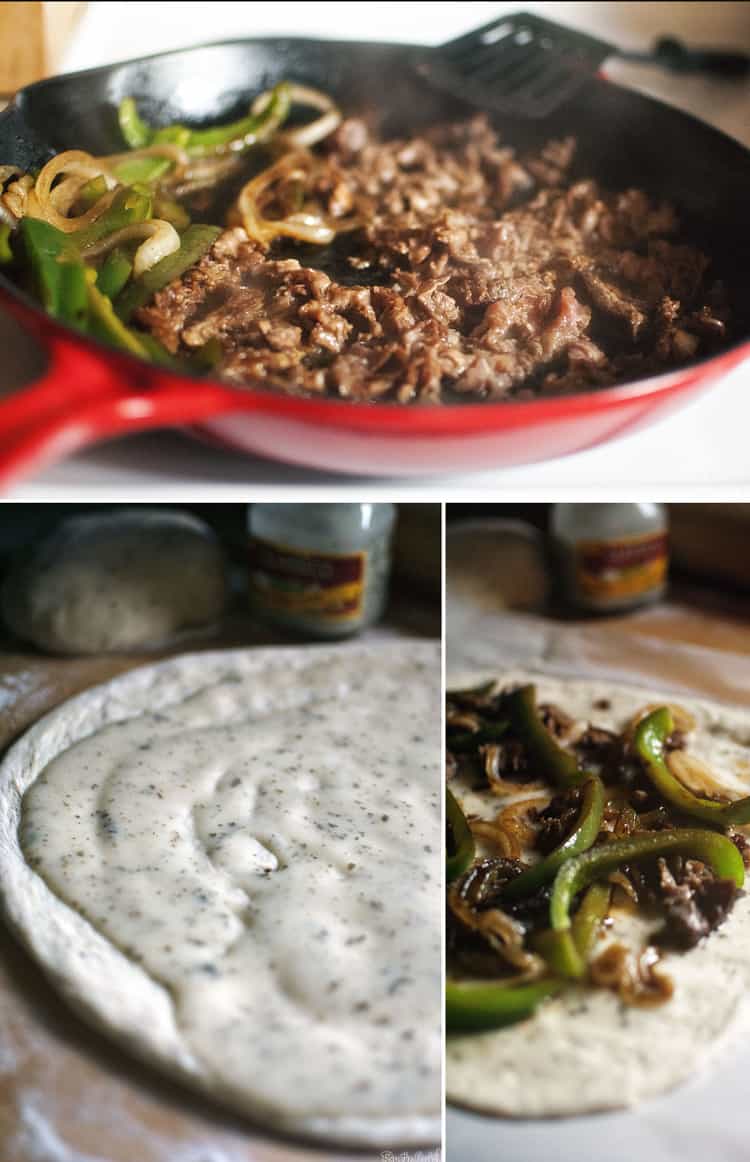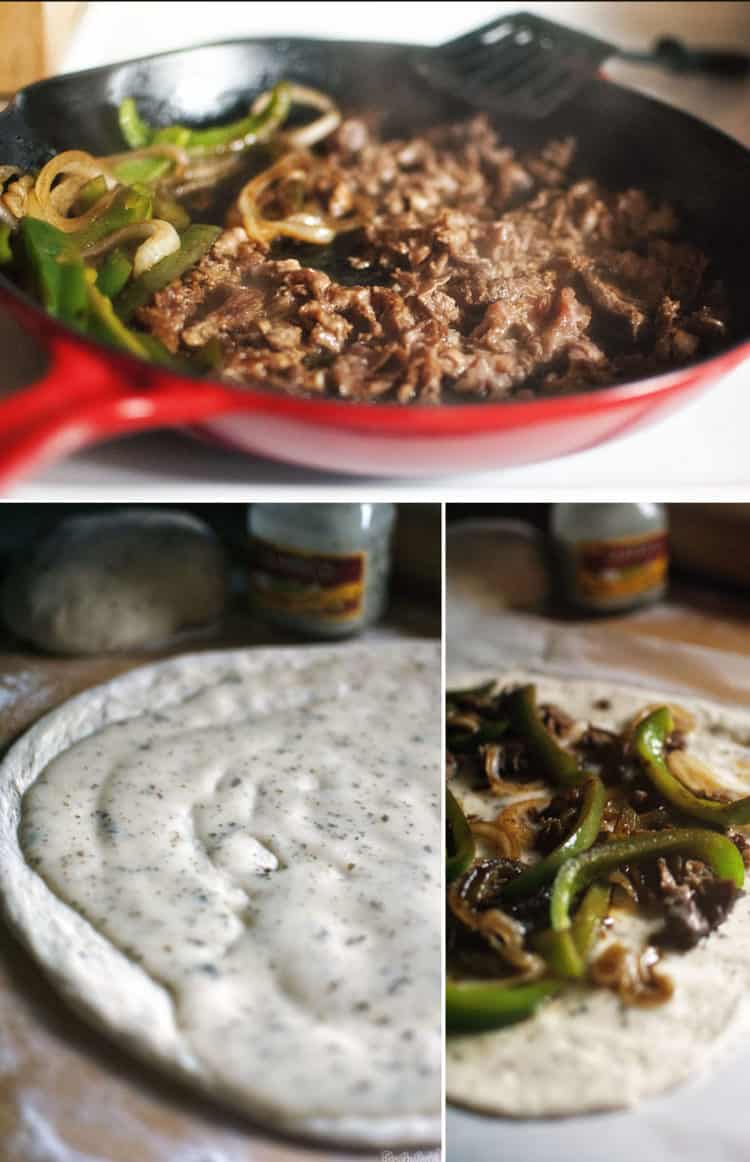 We took one bite, and let's just say, it was money baby.
(Truth, this pizza was made on Halloween eve. We were busy handing out candy to trick-or-treaters all night and keeping the dog from getting too excited. Proof is in the pudding, this meal works on a busy weeknight!)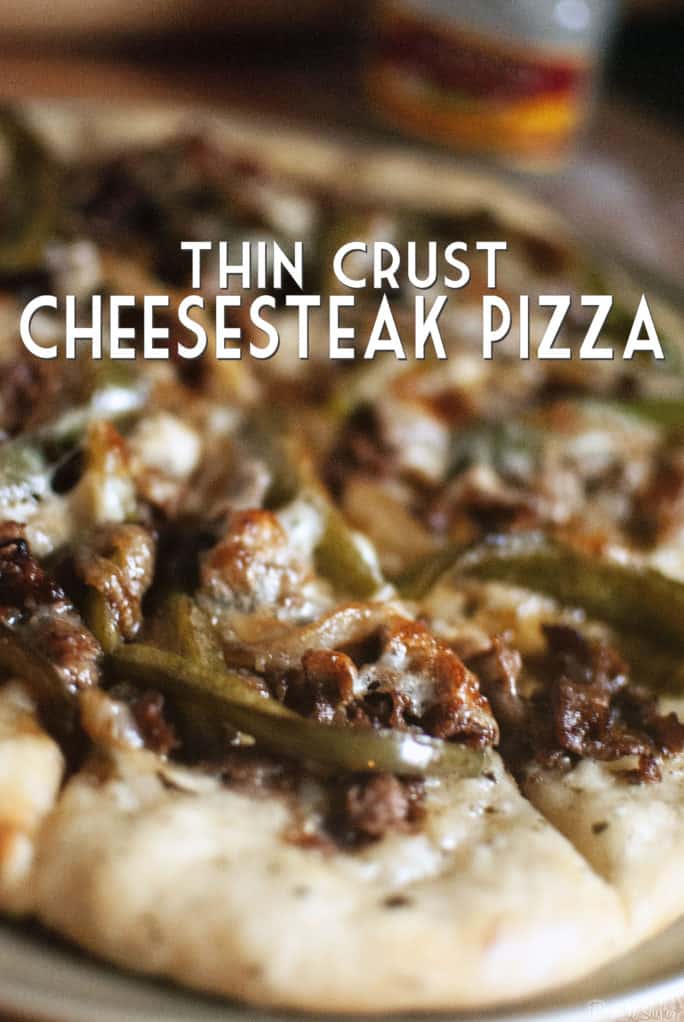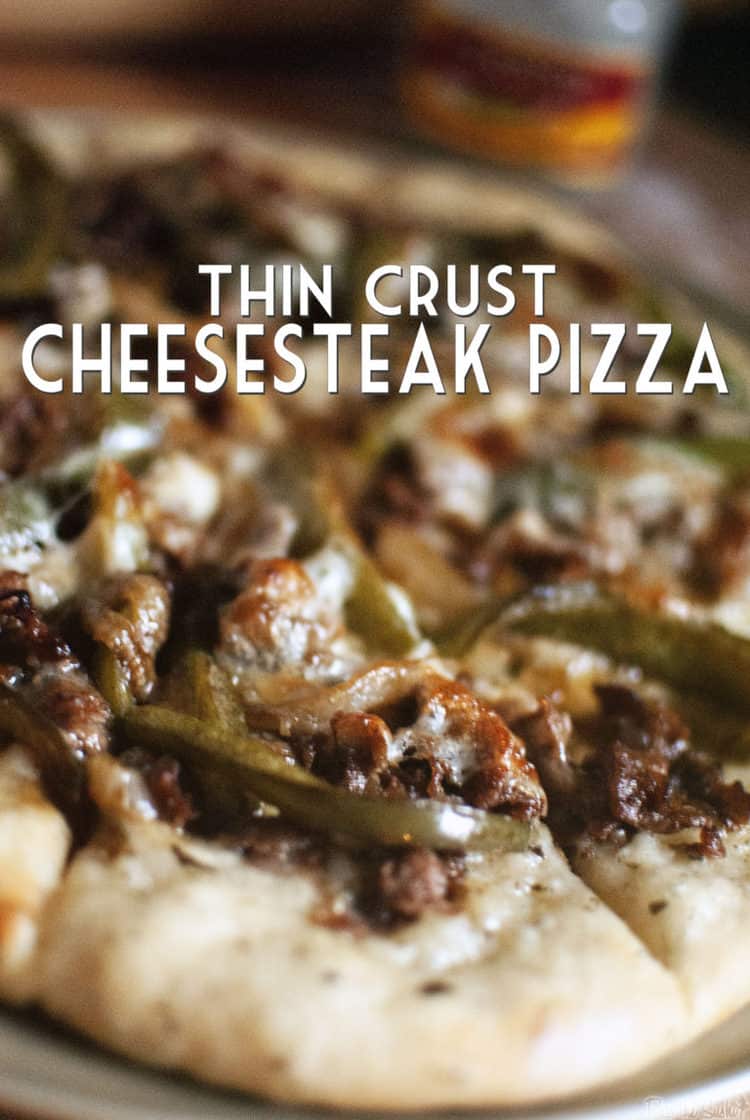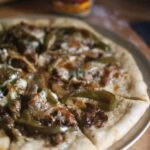 Cheesesteak Pizza – Elevate Pizza Night
Ingredients
1

packet

2 1/4 teas active dry yeast

1

cup

lukewarm water

1

tbs

honey

2 1/4

– 2 1/2 cups flour

1

teas salt

1/2

teas garlic powder

1

teas oregano flakes

2

tbs

olive oil

divided, plus more for greasing the bowl

1/2

onion

sliced

1/2

green pepper

sliced

2

round cheesesteak patties

the kind that break apart – message me for where to get these – they rock the pants off of steak ums

1

tbs

Worcestershire sauce

2

tbs

steak sauce

1

jar Classico White Pizza Sauce

which currently isn't listed on their website. Demand it! Hunt it down! It was really good…

6 to 8

slices

provolone cheese
Instructions
Add the honey and yeast to the water and stir to combine. Let stand for 7 to 10 minutes, while the yeast gets foamy.

Whisk the flour, salt, garlic powder, and oregano flakes in a large bowl. Make a little hole in the middle and pour in the yeast mix and 1 tbs olive oil. Stir to combine. Knead with your stand mixer or by hand until the dough forms a ball. Knead for 10 minutes. Turn out and form into a tight ball.

Place dough into a well greased bowl. Top with greased plastic wrap and let sit until doubled in size, about 1 hour, in a dry warm spot. (I set the bowl on top of my oven as it preheats or in the microwave depending on how warm my house is).

Preheat the oven to 425 degrees for at least 40 minutes before cooking. Slide a rack to the bottom-most slot.

Preheat a skillet over medium high heat. Add the remaining 1 tbs olive oil and swirl to coat pan. Sautee the onion and pepper for 5 to 7 minutes until soft. Push the veggies off to the side and add the steak patties. Cook according to directions seasoning with Worcestershire and steak sauce. Remove from heat.

Turn the dough out onto a floured surface and divide into 2 parts. Roll one at a time into a 1/8? round disk, sprinkling with more flour if needed to keep from sticking. If the dough pulls pack while rolling and doesn't seem to want to create a disk, let it sit 5 minutes longer.

Slide the pizza dough onto parchment paper. Spoon the white sauce over the pizza, leaving 1/2 border for the edges, sprinkle half of the peppers, onions, and steak meat over top. Tear the provolone slices in half and place on top as well. Using the parchment paper, transfer the pizza to your baking sheet, or preheated pizza stone in the oven and bake for 10-13 minutes until edges are golden brown and cheese is browning. Carefully, remove the pizza from the oven and let cool for 5 minutes before slicing and serving.

Repeat with remaining dough and ingredients.
Leave a comment for a chance to win a coupon to taste test one of these kicking jars of flavor yourself!  
(Winners will be picked at random, though I am always open to bribes) 
The fine print: PasstheSushi.com partnered with Classico for this post and was given products to test for the brand, however the recipe, photographs and opinions expressed in this post are 100% mine and I was not paid for participating in this program.