This copycat Cinnabon Recipe will flip your world upside down in the best way possible! They taste just as good as the real thing, but they don't cost as much, and you can take all of the credit for how awesome they taste.
The smell of gooey cinnamon rolls is the best way to start your morning, whether it's a crisp fall morning and you're making Pumpkin Cinnamon Rolls or Christmas morning, and you're whipping up delicious Quick Cinnamon Rolls with maple syrup. This copycat Cinnabon recipe is the ultimate way to enjoy cinnamon buns!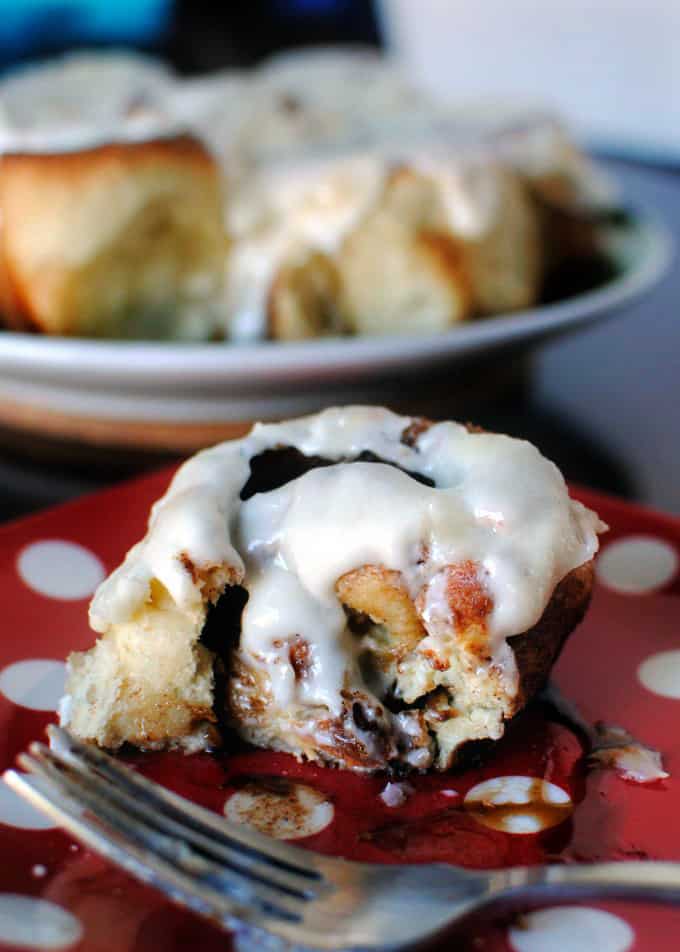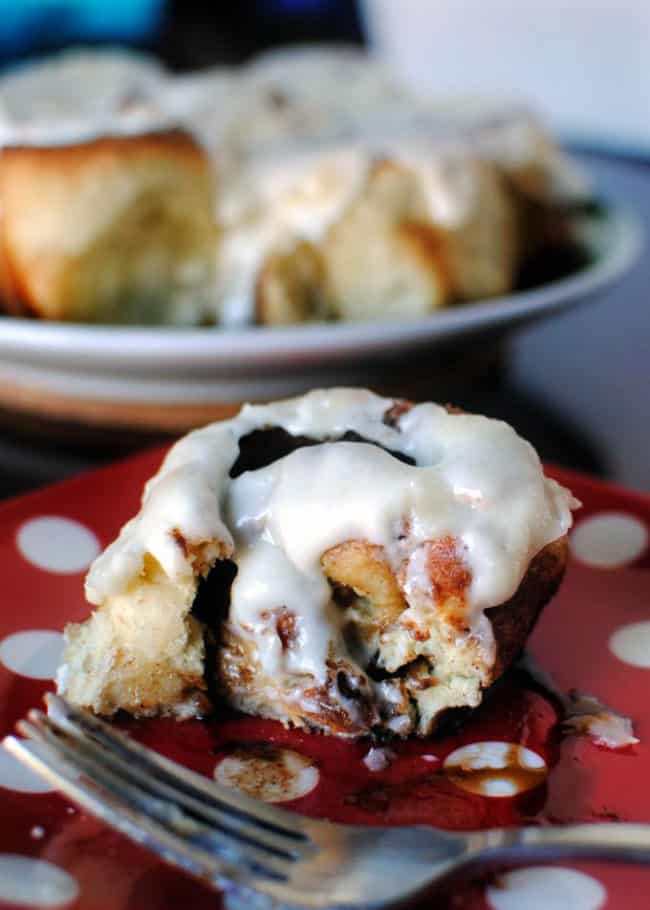 Jump to:
What Is This Cinnabon Cinnamon Rolls Recipe
These copycat Cinnabon cinnamon rolls are everything you could ever want in a warm cinnamon sugar roll. Remember when you used to walk around the mall, and the smell of the Cinnabon store wafted through your nose, gently beckoning you to grab one and indulge? Yeah, these are the homemade versions of that nostalgic goodness, except you can make them right in your own kitchen!
If you're as obsessed with cinnamon rolls as we are, you'll love these Chocolate Chip Cinnamon Rolls, Nutella Cinnamon Rolls, Bacon Topped Chocolate Stuffed Cinnamon Rolls!
Why you'll love this recipe
This homemade cinnamon roll recipe is the perfect way to indulge in the glory of a Cinnabon without the hefty cost or travel. Plus, you probably already have all the ingredients you need in your pantry, meaning you can whip up these bad boys as soon as you finish reading this post!

Ingredients
For the Dough
Warm milk
Eggs
Melted butter
Bread flour
Salt
White sugar
Active dry yeast
For the Filling
Brown sugar
Ground cinnamon
Softened butter
For the Icing
Cream cheese
Softened butter
Confectioners' sugar
Vanilla extract
Salt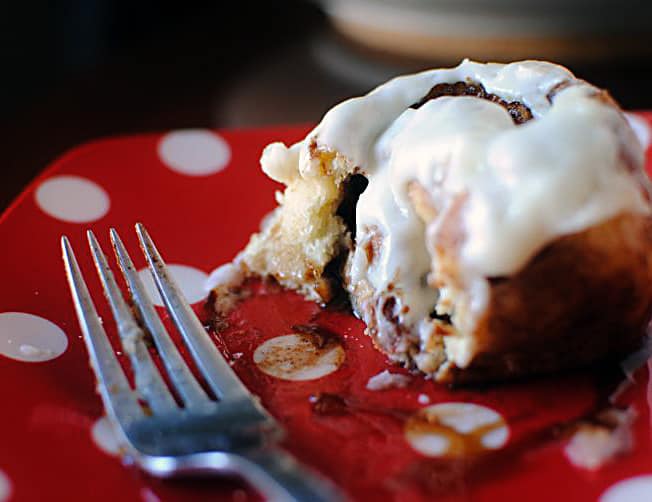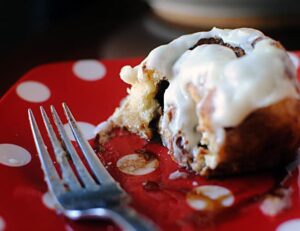 How to Make This Cinnabon Copycat Recipe
Making the Dough and Filling
First, dissolve the yeast in warm milk in a large bowl. Then, add the sugar, butter, salt, eggs, and flour. Mix everything together until it's well combined.
Next, it's time to knead the dough on a lightly floured surface. Use your hands, lightly dusted with flour, to shape it into a large ball. Place that ball in a greased bowl and let it sit in a warm place for about an hour or until the dough has doubled in size.
While your dough is rising, take a small bowl and mix together the brown sugar and cinnamon.
Rolling and Filling
When your dough is ready, you can start working on the rolls. You can either spray your work surface with cooking spray or sprinkle some flour on it to prevent sticking. Using a rolling pin, roll out the dough into a 16×21-inch rectangle, about a quarter of an inch thick.
Now, spread ⅓ cup of butter evenly over the dough, and then sprinkle the sugar-cinnamon mixture all over it.
Roll up the dough into a log, and then you can cut it into 12 rolls. If you prefer smaller rolls, you can make more cuts. Place these rolls into a lightly greased 9×13 inch glass baking dish, cover it, and let them rise again until they're nearly doubled in size, which should take about 30 minutes.
Baking and Icing the Rolls
During the second rise, preheat your oven to 350 degrees F. Once it's heated, put the rolls in the oven and bake them until they turn a lovely golden brown, which should take about 18-20 minutes.
While the rolls are baking, you can prepare the delicious cream cheese icing. Just beat together the cream cheese, butter, powdered sugar, vanilla extract, and a pinch of salt.
Once the rolls are out of the oven and still warm, spread this yummy frosting over them. The warmth of the rolls will make the frosting melt into them, creating a mouthwatering treat. Enjoy!
What to Serve With Cinnabon Cinnamon Rolls
Serve up these delicious cinnamon rolls with a huge brunch spread consisting of a Potato Frittata, Tex-Mex Hash Browns with Eggs, and Breakfast Sausage Ravioli!
Expert Recipe Tips
Use a sharp knife or dental floss to cut the rolls cleanly.
Use a stand mixer with a dough hook to speed up the kneading process.
Leftovers and Reheating
Place leftover Cinnabon rolls in an airtight container at room temperature for up to 2 days. After that, stick them in the fridge for up to 1 week. You can also freeze baked Cinnabon rolls in individual containers for up to 2 months.
When you get a craving for a warm cinnamon roll, simply pop them into the microwave for 10 seconds or until heated to your liking. If you freeze your cinnamon rolls, let them thaw in the fridge overnight and heat up in the microwave.
Recipe FAQs
Can I make the cinnamon roll dough ahead of time and bake the next morning?
Absolutely! Since the rise times can make whipping up this recipe in the morning a bit difficult, you can make the dough up until the point of baking, pop it in the fridge, and bake the next day. Just make sure to let the rolls come to room temperature before baking them as the recipe instructs. 
Can I use instant yeast instead of dry yeast?
Absolutely! Instant yeast just makes the dough rise faster!
Can I freeze the cinnamon roll dough and bake at a later time?
Yes! You can freeze the dough before it rises for 1-2 weeks. We wouldn't recommend freezing for longer than that, as some of the yeast may die in the process. If you plan on freezing your unbaked rolls, add 50% more yeast to the dough so it will rise properly. 
More Sweet Breakfast Recipes
If you're looking for the best Cinnamon Roll recipe you've ever had, then this recipe is for you! One bite of these perfect cinnamon rolls will send you back to simpler times when your biggest worry in life was whether or not you could convince your mom to buy you a Cinnabon roll. If you try this recipe, please rate the recipe card and let us know if you liked it!
Copycat Cinnabon Rolls
from https://thegirlwhoateeverything.blogspot.com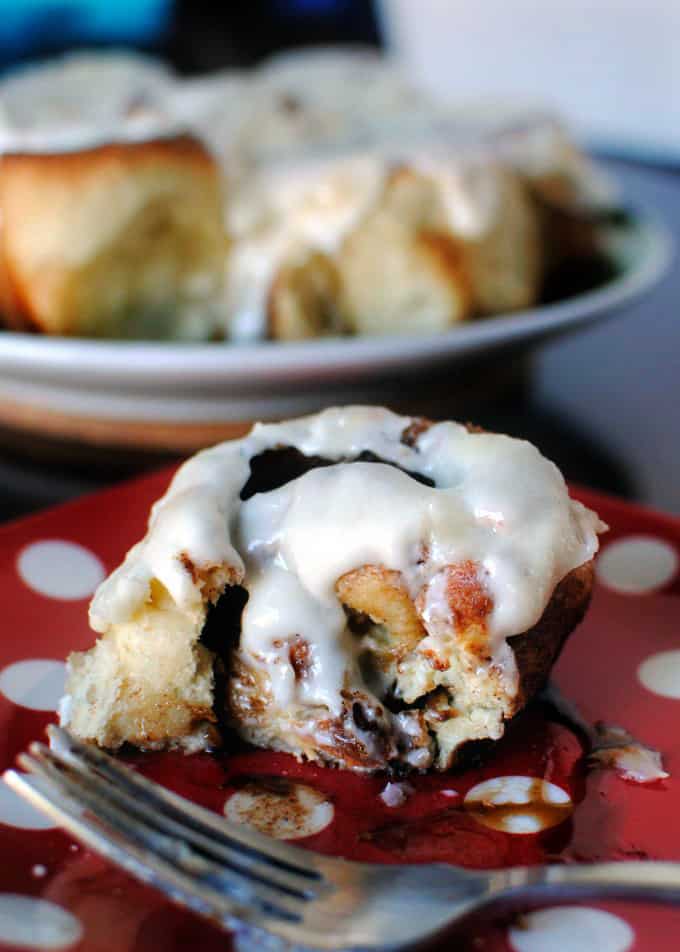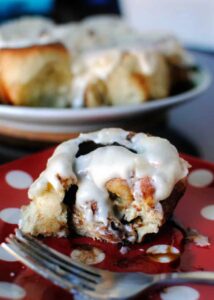 Ingredients:
1 cup warm milk (110 degrees F/45 degrees C)
2 eggs, room temperature
1/3 cup butter, melted
4 1/2 cups bread flour
1 teas salt
1/2 cup white sugar
1 pkg yeast (1/4 ounce)
For the Filling:
1 cup brown sugar, packed
2 1/2 tbs ground cinnamon
1/3 cup butter, softened
For the Icing:
3 oz cream cheese, softened
1/4 cup butter, softened
1 1/2 cups confectioners' sugar
1/2 teas vanilla extract
1/8 teas salt
Preparation:
Dissolve yeast in warm milk in a large bowl. Add sugar, butter, salt, eggs, and flour. Mix well. Knead dough into a large ball, using your hands dusted lightly with flour. Put in a bowl and let rise in a warm place about 1 hour or until dough has doubled in size.
In a small bowl, combine brown sugar and cinnamon.
Spray work surface with cooking spray or sprinkle flour on it. Roll dough into a 16×21 inch rectangle about 1/4 inch thick. Spread dough with 1/3 cup butter and sprinkle evenly with sugar/cinnamon mixture.
Roll up dough and cut into 12 rolls (or more smaller rolls). Place rolls in a lightly greased 9×13 inch glass baking dish. Cover and let rise until nearly doubled, about 30 minutes.
Meanwhile, preheat oven to 350 degrees. Bake rolls in preheated oven until golden brown, about 18-20 minutes.
While rolls are baking, beat together cream cheese, butter, confectioners' sugar, vanilla extract and salt. Spread frosting on while they are still warm so that the frosting melts into the roll.