These copycat Cinnabon rolls will flip your world upside down. In the best way possible! They taste just as good as the real thing, but they don't cost as much, and you can take all of the credit for how awesome they taste.
It's cooling off outside and I am loving it. I have a long sleeve shirt on and am cozy - now by typing this that means tomorrow will be back in the 90s with a billion degrees humidity and humans will melt when they make a connection with asphalt. Today, though, I will enjoy it. 🙂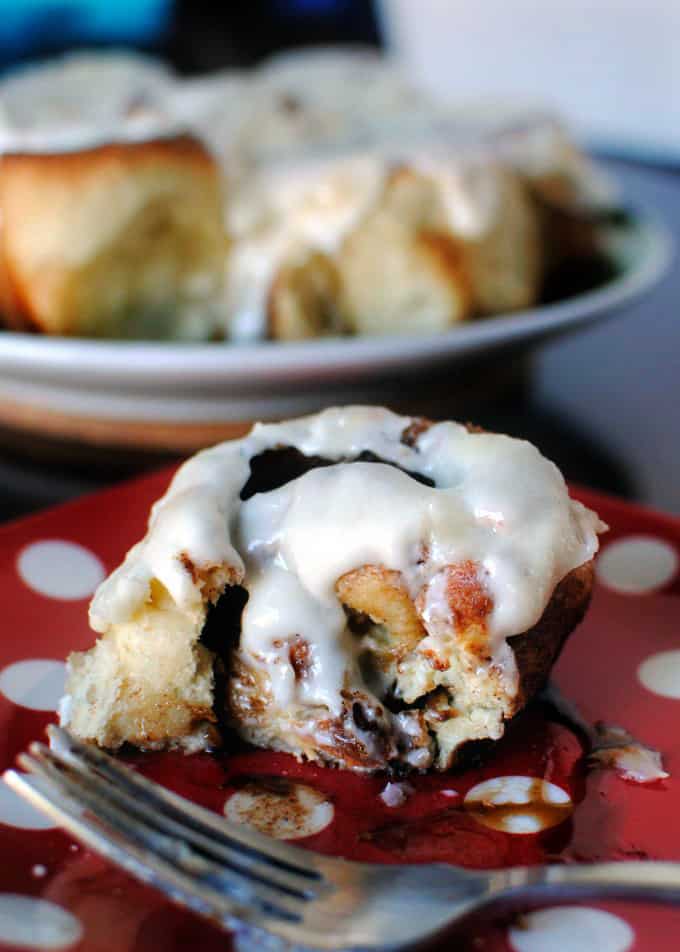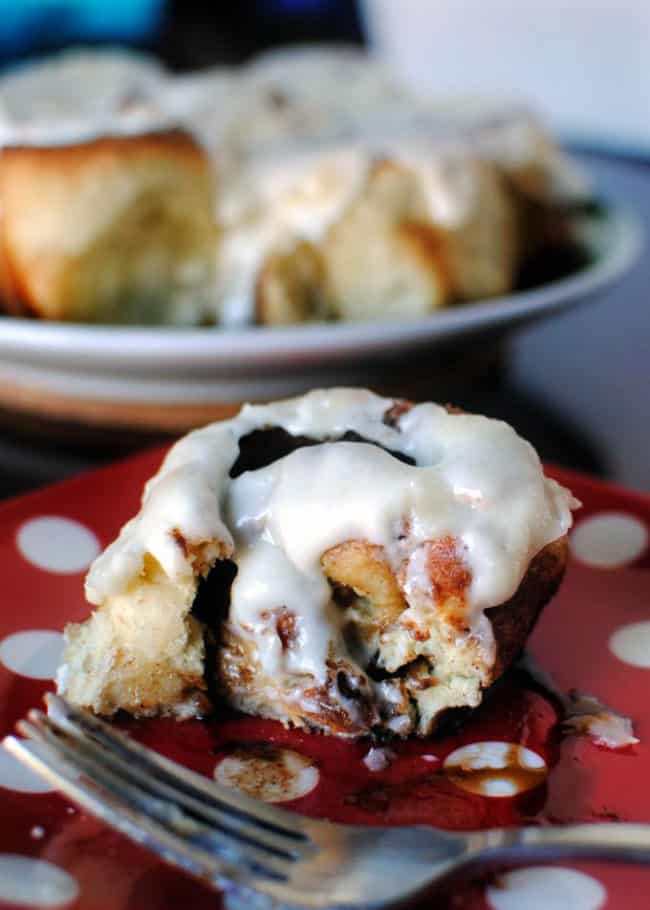 Is there a better way to start the day then with warm delicious copycat Cinnabon rolls?
Yes - sleeping in. However, that wasn't an option, as I needed to open my shop so I figured I would get up early and have these ready to take in for my customers. I know this sounds sweet, but its pretty much my standard 'get the sweet fattening calorie laden baked goods out of my house' procedure 😉
Copycat Cinnabon Rolls
from https://thegirlwhoateeverything.blogspot.com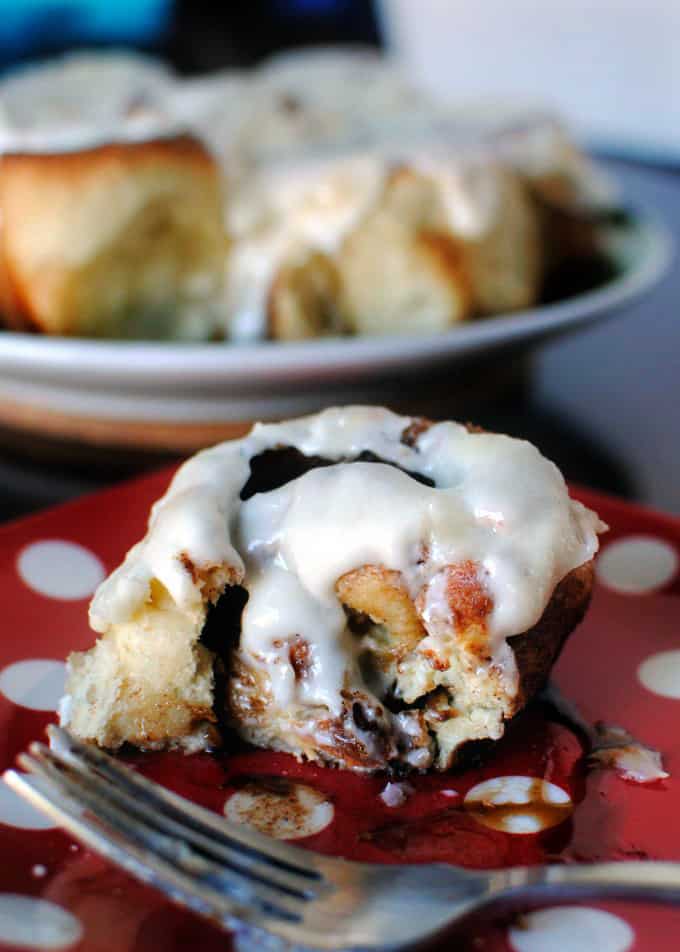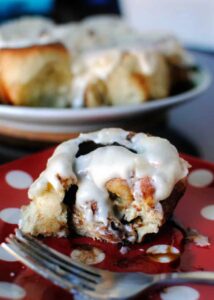 Ingredients:
1 cup warm milk (110 degrees F/45 degrees C)
2 eggs, room temperature
⅓ cup butter, melted
4 ½ cups bread flour
1 teas salt
½ cup white sugar
1 pkg yeast (¼ ounce)
For the Filling:
1 cup brown sugar, packed
2 ½ tbs ground cinnamon
⅓ cup butter, softened
For the Icing:
3 oz cream cheese, softened
¼ cup butter, softened
1 ½ cups confectioners' sugar
½ teas vanilla extract
⅛ teas salt
Preparation:
Dissolve yeast in warm milk in a large bowl. Add sugar, butter, salt, eggs, and flour. Mix well. Knead dough into a large ball, using your hands dusted lightly with flour. Put in a bowl and let rise in a warm place about 1 hour or until dough has doubled in size.
In a small bowl, combine brown sugar and cinnamon.
Spray work  surface with cooking spray or sprinkle flour on it. Roll dough into a 16x21 inch rectangle about ¼ inch thick. Spread dough with ⅓ cup butter and sprinkle evenly with sugar/cinnamon mixture.
Roll up dough and cut into 12 rolls (or more smaller rolls). Place rolls in a lightly greased 9x13 inch glass baking dish. Cover and let rise until nearly doubled, about 30 minutes.
Meanwhile, preheat oven to 350 degrees. Bake rolls in preheated oven until golden brown, about 18-20 minutes.
While rolls are baking, beat together cream cheese, butter, confectioners' sugar, vanilla extract and salt. Spread frosting on while they are still warm so that the frosting melts into the roll.

Why I even made these copycat Cinnabon rolls, I'm not really sure.
I don't like to eat breakfast and if I do - sweet things seem to just weigh me down.
I did it though, and they were good - heavy, sweet, and breakfasty as well, so they weren't exactly my cup of tea in the morning, but everyone else appreciated them. If I could afford ribeye steak for breakfast I would probably be more into the whole thing. Until then, I'll try to keep my meals until after 12pm.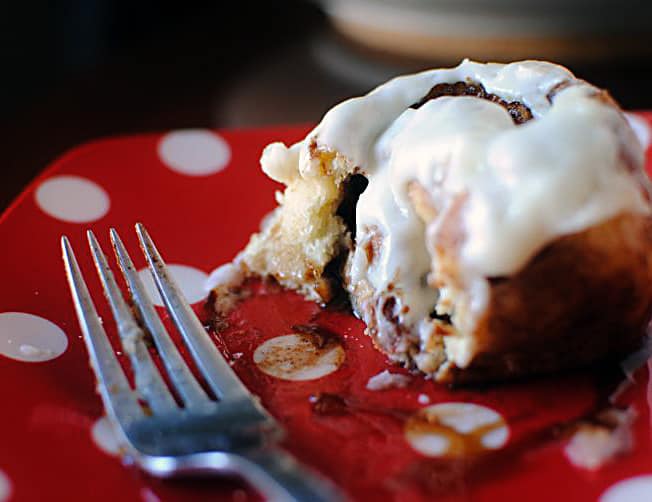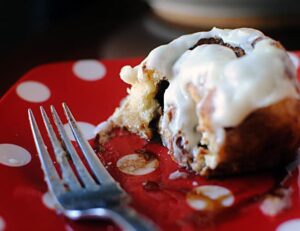 If you are a fan of the breakfasty type things, these were awesome cinnamon buns and really not hard to make at all, other then having the time for the prep work.
Sure, you could always fall back to the Doughboy, but homemade is always better.