Vanilla chai cupcakes are moist and fluffy, filled with earthy spices like cardamom, ginger, and nutmeg. The vanilla chai buttercream frosting on top will give you seriously sweet dreams!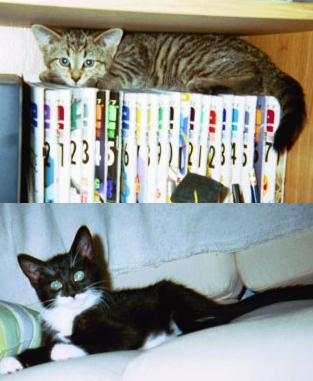 My lil girl kitten, Kiori, loves to counter cruise, which is not a behavior I condone. Leave a stick of butter out and she can't help herself, up on the counter tops she goes to claim it as her own. She has calmed down a bit since our counters aren't as spacious as out last living arrangements and I only really catch her up there once in a while (like this morning when two sticks of butter were coming to room temp – or when someone leaves pizza crust on a plate. Not pointing any fingers or anything).
The absolute best moment was the day she stuck her entire face into a cupcake with strawberry icing. Really? How can you be angry at a kitten who has pink icing all over her face? Wish I had the camera ready for that one. Not to mention, when it comes to the pets, I'm a horrible disciplinarian. I tend to find all of the bad behavior funny or cute and its really hard to get an angry infliction acrossed when your laughing.
Maddox is the tabby and Kiori is the back and white one. 🙂 Weren't they so cute when they were little???
Vanilla Chai Cupcakes
adapted from, Some More Please, seen on https://thenovicechefblog.com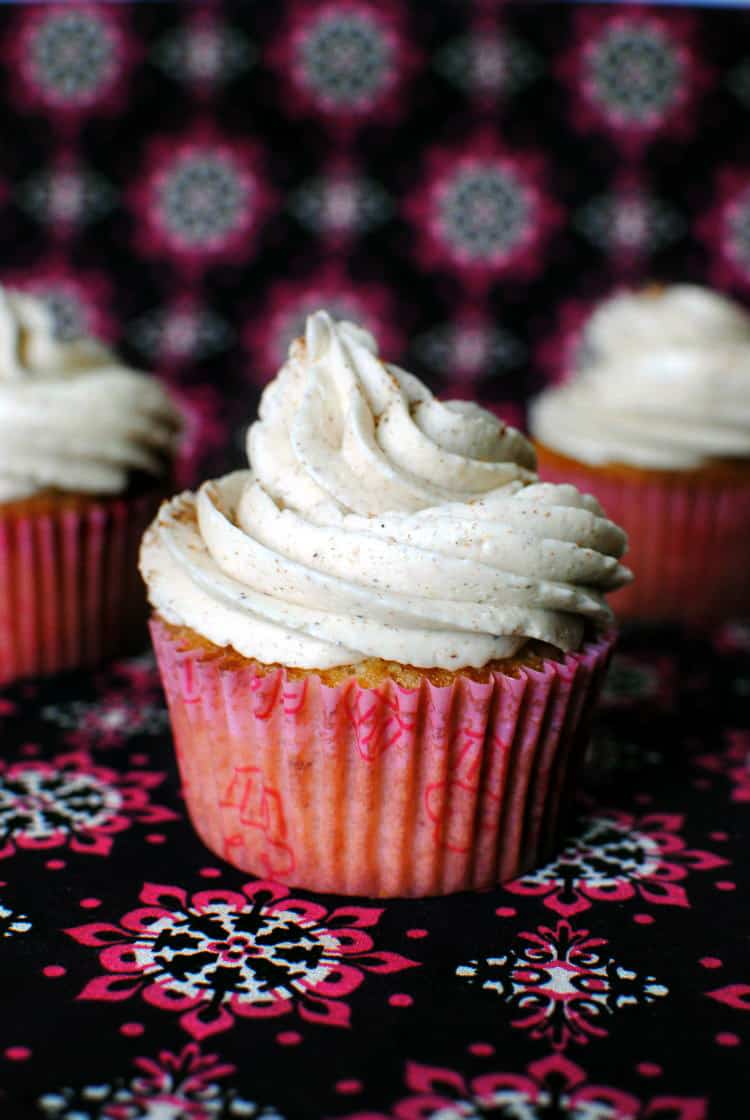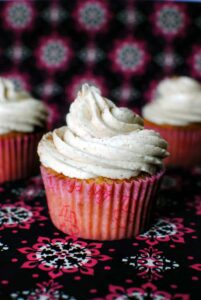 Ingredients:
1 stick (1/2 cup) butter
1 cup sugar
2 tsp vanilla extract
2 eggs
1/2 quantity chai spice mix (recipe to follow)
1 1/4 cups plain flour, sifted
1/2 cup buttermilk
1/2 tsp baking soda
1/2 tsp apple cider vinegar
For the Chai Spice Mix
1 1/2 tsp ground cardamom
1 1/2 tsp ground cinnamon
1/2 tsp ground ginger
1/4 tsp cloves
1/4 tsp ground nutmeg
Preparation:
spices together in small bowl.
Preheat oven to 325 degrees.
Cream together the butter and sugar. Add the vanilla and beat in one egg at a time. Stir in half the quantity of chai spice mix.
Fold in the flour and buttermilk alternately and stir until combined, don't over mix.
Mix together the baking soda and vinegar and mix into the batter.
Spoon into prepared cupcake cases until 3/4 full and bake 15-20 minutes or until a toothpick comes out clean.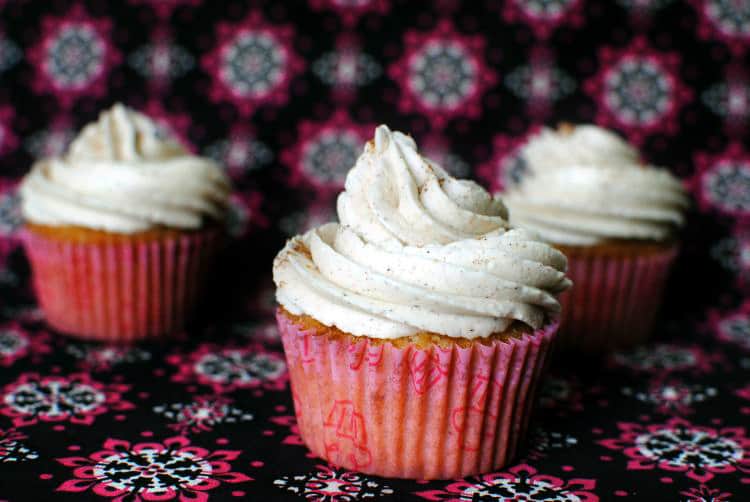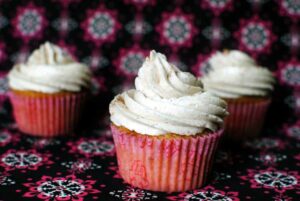 Vanilla Chai Buttercream Frosting
Ingredients:

2 stick (1 cup) butter
1 tsp vanilla extract
2 cups powdered sugar, sifted
1/2 quantity chai spice mix
1-2 tbs cold milk, if needed
Preparation:
In a stand mixer, beat the butter until it is creamy. On low, mix in the vanilla and the rest of the chai spice mix. Carefully beat in the icing sugar about ½ cup at a time. If the buttercream is too thick add 1-2 tbs of cold milk until the desired consistency is reached. Then pipe onto cooled cupcakes with your favorite frosting tip.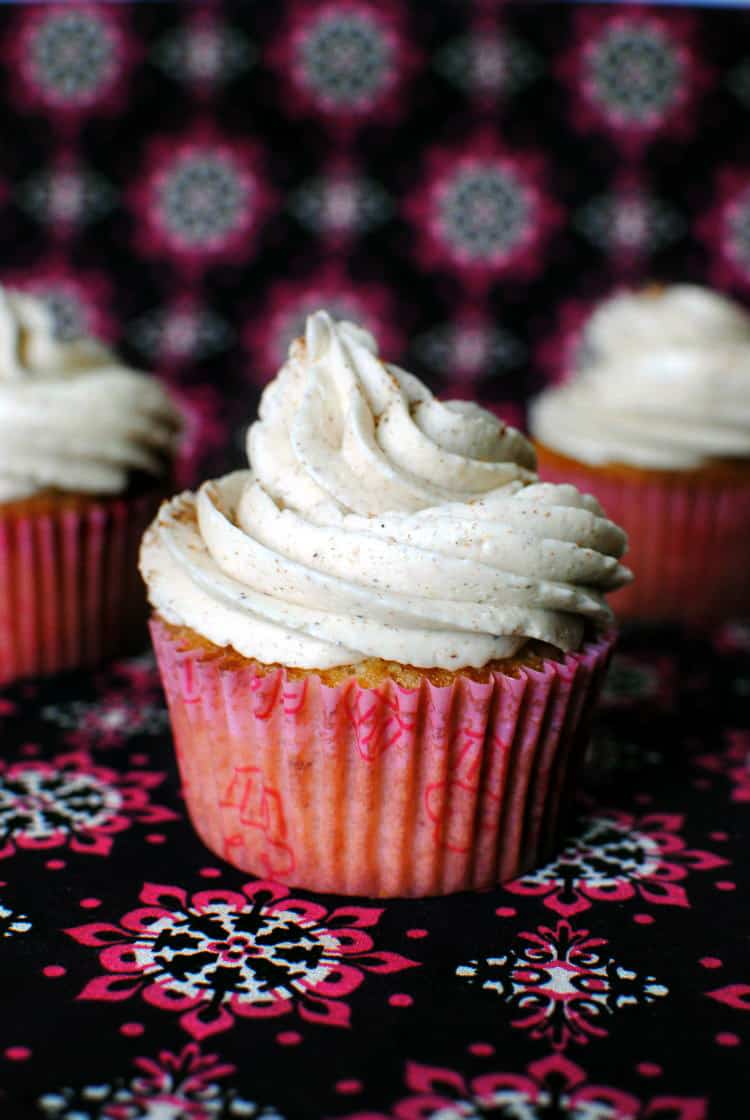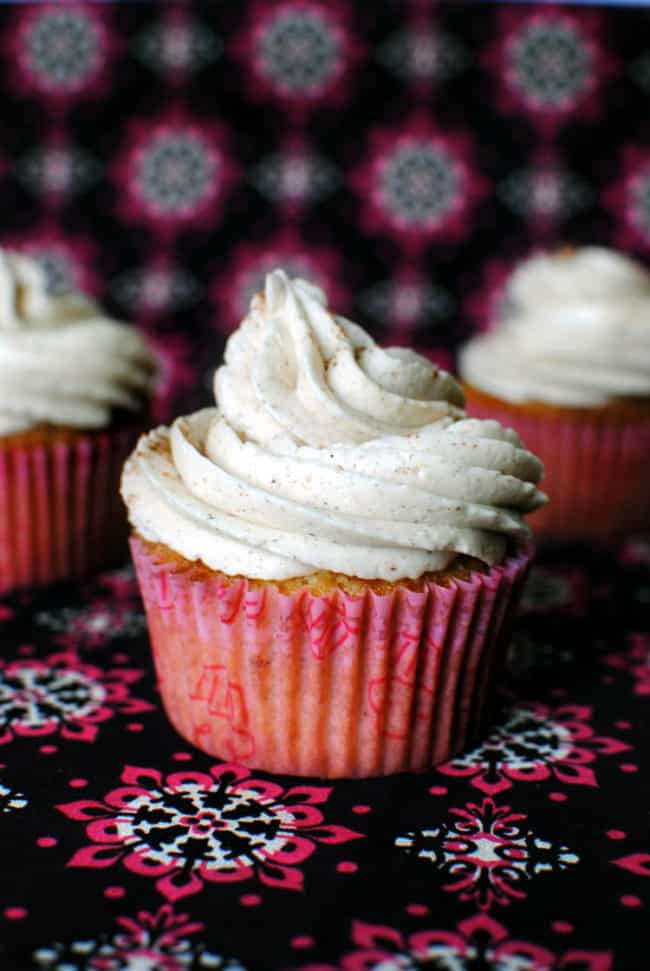 This is my second attempt at the wonderful world of icing tips and cupcakes.
I used Bake It Pretty's Closed Star Tip and a Bake Mate pastry bag. Mine look nothing like the picture shown, but practice makes perfect…. someday… However! I did learn a neat little tip from You Made That?, which was to wrap the icing in plastic wrap before putting it in the pastry bag. AWESOME. My kitchen did not have frosting all over it like my last attempt – nor did I 😀 Make sure to cut a hole in the plastic wrap (duh) before sticking it in the pastry bag. Clean up was a breeze.
PS. These vanilla chai cupcakes were awesome.  Not sure why, but they made me feel uber girly.