This Lemon Drop Cake is just tart enough to almost pucker your lips, and sweet enough to have you scraping every bit of frosting up.
As a food blogger, creating food and post to inspire our readers for special occasions is mandatory. Once again I sit down at my desk with an over-sized mug of tea in my hand wondering how on earth to deal with Mother's Day. As some of you know, my mother passed away when I was younger and I didn't really have a normal parent/child relationship with her. 
Last year, I talked about my mom and dazzled you with out Chocolate Jimmy Sandwiches telling you how awkward a post it was for me. In a year of posts and miles forward in the blog-o-sphere (or at least that's what I tell myself), nothing has changed. I could take the time and anonymity of the internet to make up fluffy posts now with wonderful mother/daughter stories but it just isn't the case.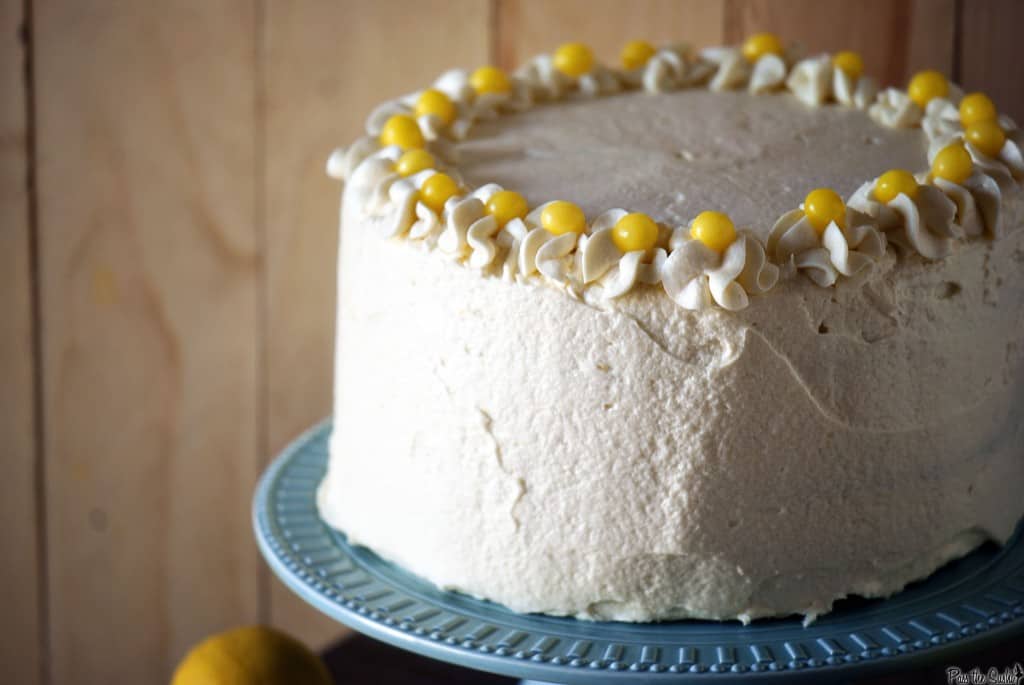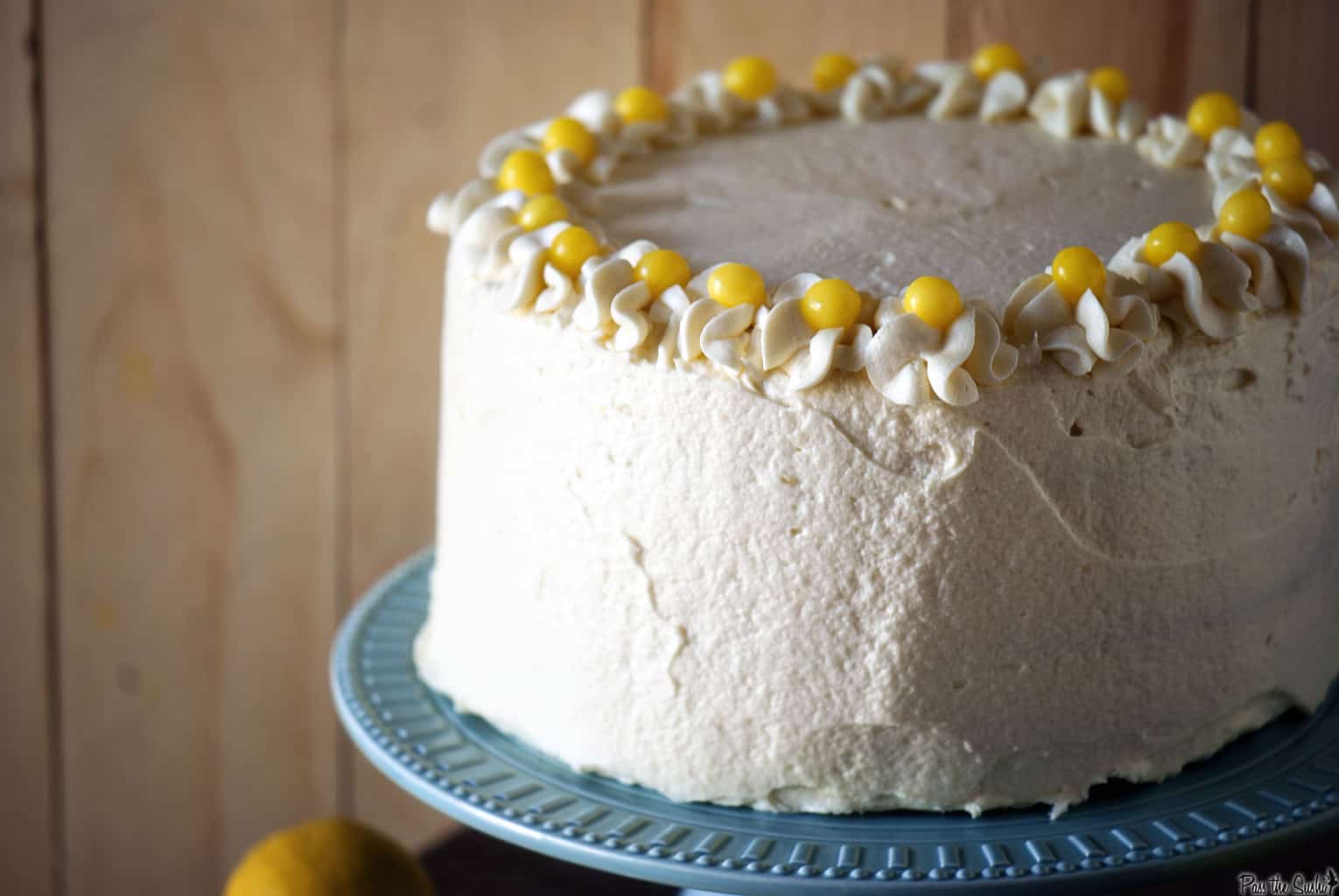 I am lucky though, to have had several strong women shape my life and help influence me to become the woman I am today. One such woman had to deal with me in my teen years, and I can't put into words how terrible that must have been. My father had been recently divorced, my mom was gone, and here we were living with someone new. I was a teen, annoyed, hurt and bothered. I pulled some ridiculous crap. But whether by choice or just because she was stuck with me, this one woman held on. There is more, lots more, but I am not about dragging you through that on the internet. I am happy she stuck around though, because it's the closest role in my life that I will ever have to a real 'mom'. Someone I call on a regular basis just to chat with, to whine to, or just to see what she is making for dinner. I like to think that's what moms are good for.
She also really happens to like lemons. So without any more behind the scenes info, and before you leave running off to more fluffy posts, check out this cake.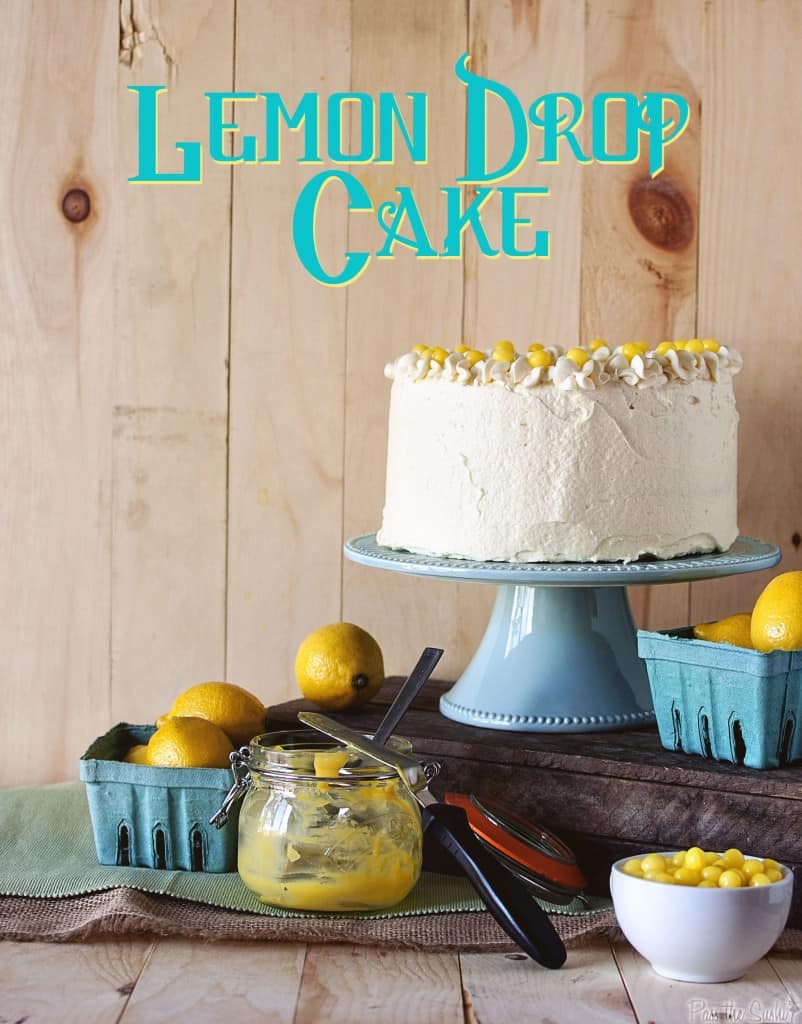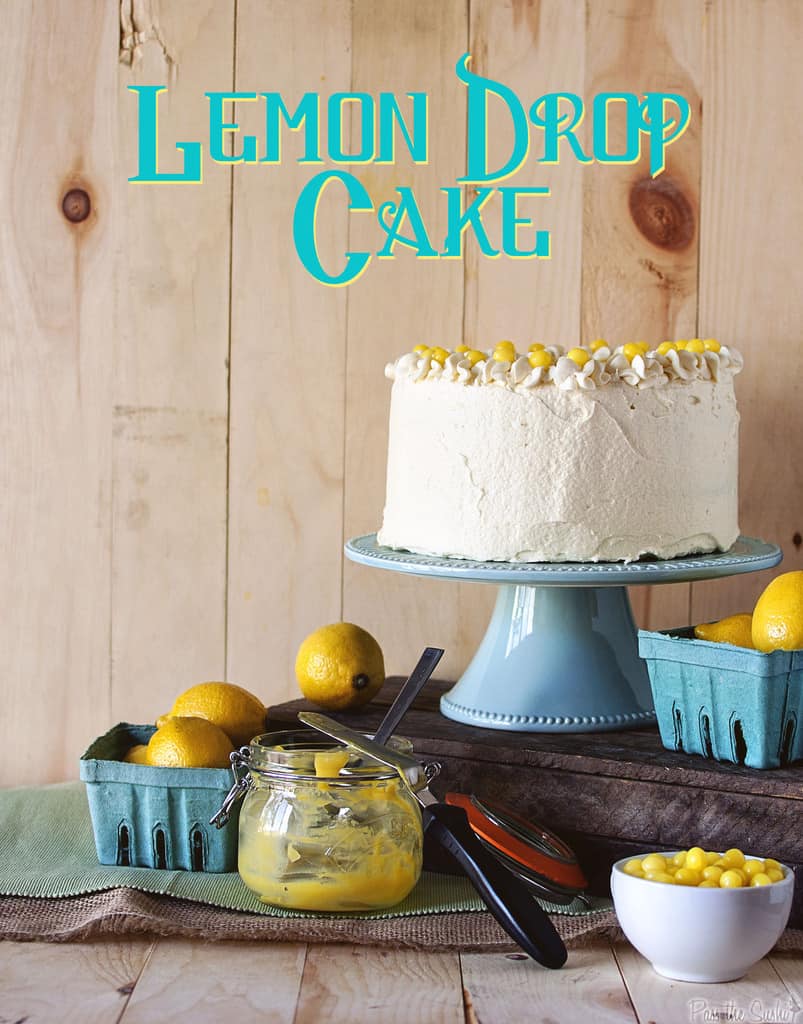 There is something about the mixture of tart and sweet that really gets me excited. It adds a whole new layer to desserts, and makes them feel much less heavy. Here are a few of my favorite lemony dessert creations!

Limoncello Gelato with Vanilla Lemon Curd Swirl
North Carolina Lemon Pie
Meyer Lemon Pudding Pie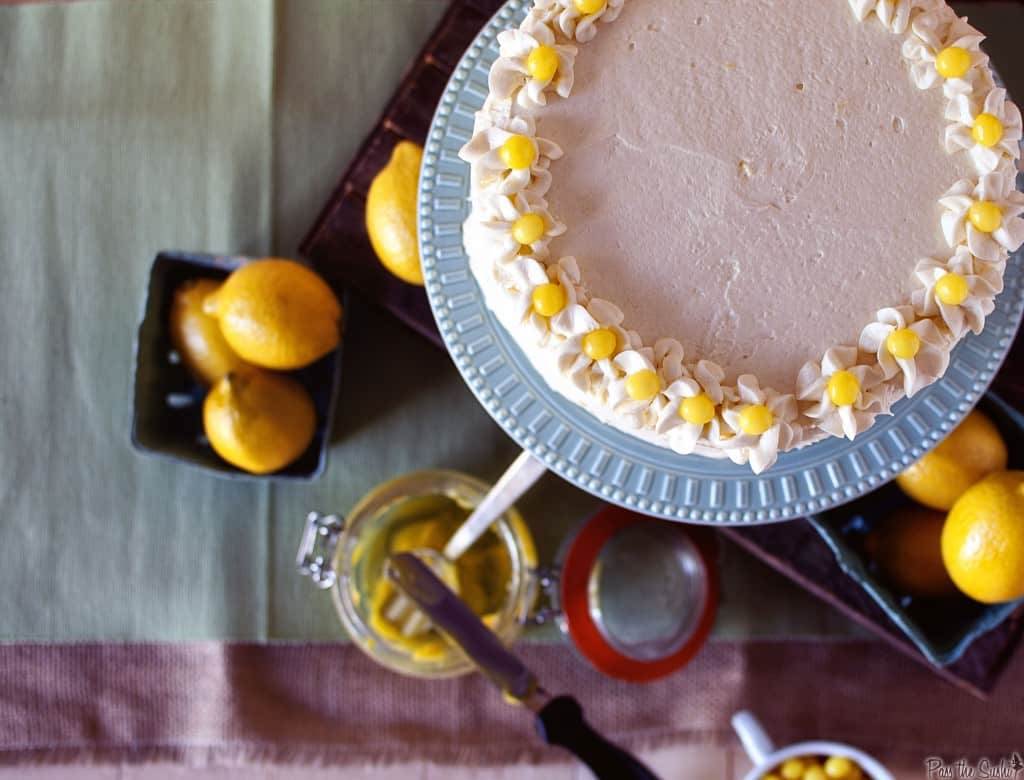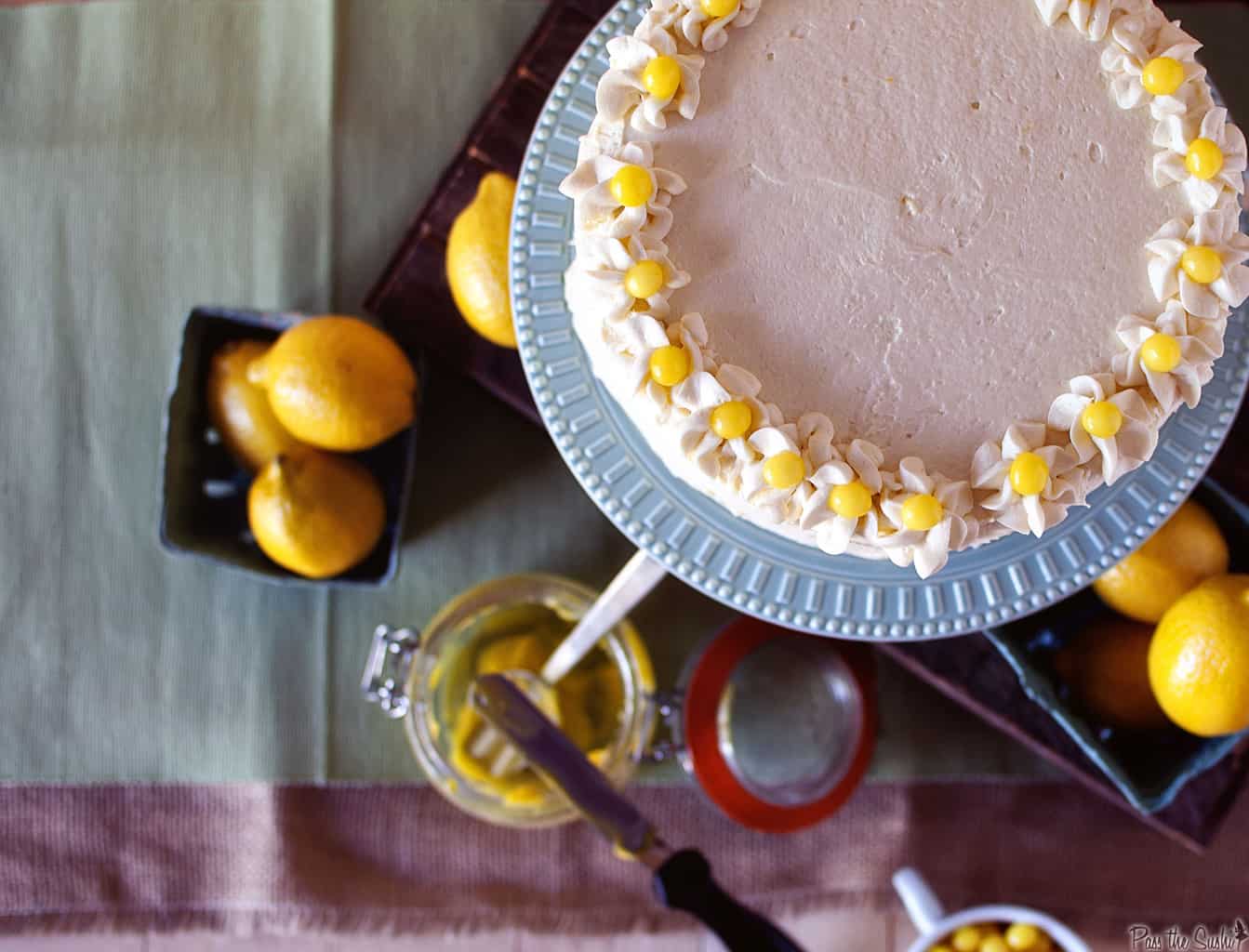 If you've tried my Lemon Drop Cake recipe or any other recipe on passthesushi.com please don't forget to rate the recipe and let me know where you found it in the comments below, I love hearing from you! You can also follow along for more good eats and travel tips on Instagram @passthesushi & @girlcarnivore, Twitter & Facebook.
Yield: 1 cake
Lemon Drop Cake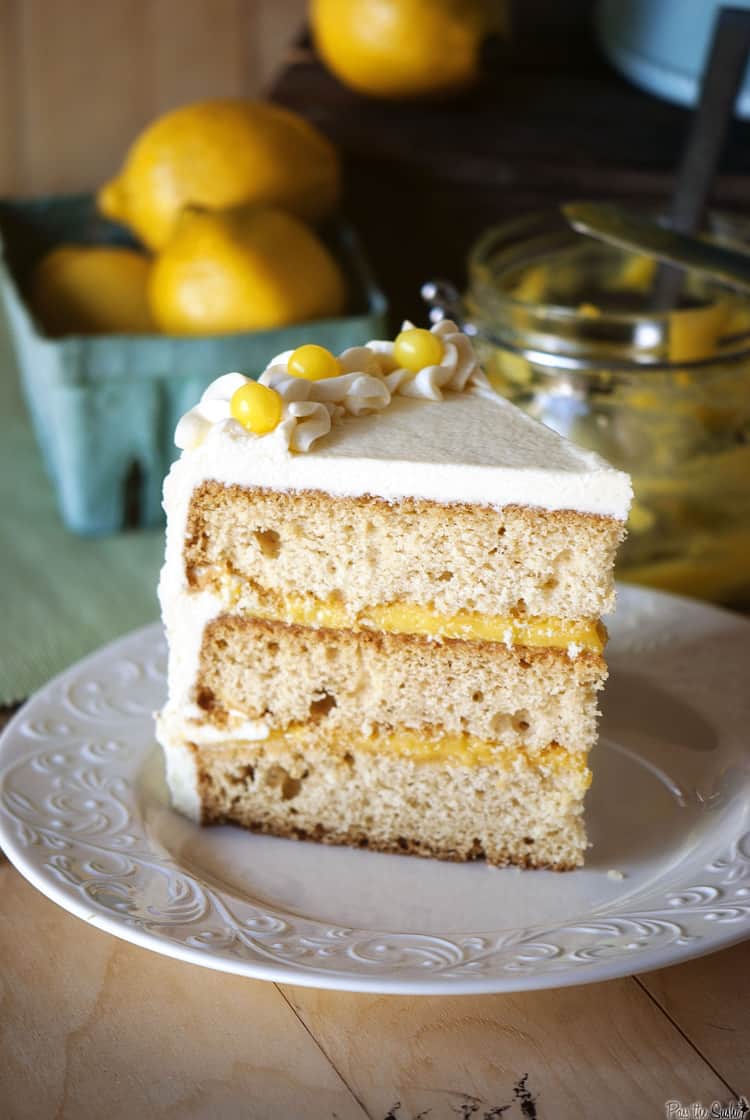 This Lemon Drop cake is just tart enough to almost pucker your lips, and sweet enough to have you scraping every bit of frosting up.
Total Time
3 hours
10 minutes
Ingredients
For the Cake
2 ½ cups cake flour
¾ cup flour
1 tablespoon baking powder
1 teaspoon baking soda
¾ teaspoon salt
½ cup unsalted butter, softened
½ cup shortening
1 ¾ cup sugar
1 tablespoon vanilla extract
grated zest of one lemon
1 large egg
1 ½ cups cold ice water
3 large egg whites, at room temperature
¼ teaspoon cream of tartar
For the Lemon Curd
¾ cups fresh lemon juice, about 6 lemons
grated zest of 2 lemons
2 large eggs
7 egg yolks
¾ cup sugar
4 tbs butter, at room temperature
For the Frosting
1 ½ cups sugar
⅓ cup flour
1 ½ cups milk
½ cup heavy cream
1 ½ cups butter, soft but cool, cut into small pieces
1 teaspoon vanilla extract
½ cup lemon curd
Instructions
Preheat the oven to 325 degrees F. Butter 3 8" round cake pans.
Line with parchment paper and butter the parchment paper. Dust the cake pans with flour and knock out any excess flour.
Whisk together the flour, baking soda, baking powder, and salt. Set aside.
In the bowl of an electric mixer, fitted with the paddle attachment, cream the butter and shortening together, about 4 minutes. Add the sugar, vanilla, and lemon zest. Beat on medium speed until fluffy.
Scrape down the sides of the bowl with a rubber spatula.
Add the egg, and beat until just combined. Reduce the speed to low.
Add the dry ingredients, alternating with the ice water, in three additions. Scrape down the sides and mix on low to make sure everything was incorporated.
In a clean bowl, whisk egg whites and cream of tartar until soft peaks form. Be careful no to over beat.
Gently fold the egg whites into the batter.
Divide the batter among the prepared pans and smooth the tops.
Bake for 40 to 45 minutes, rotating the pans halfway through the baking time, until a toothpick inserted comes out clean.
Transfer the cakes to a wire rack and cool for 20 minutes before turning out and cooling completely.
Make the Lemon Curd Filling:
In a small bowl, pour the lemon juice over the lemon zest and let stand for 10 minutes. In a nonreactive bowl, whisk together the eggs, egg yolks, and sugar until combined.
Add the lemon zest and and lemon juice to the egg mixture and whisk until just combined.
Place your bowl containing the egg mixture over a double boiler.
Continuously stir the mixture with a heatproof spatula until the mixture has thickened to a pudding-like texture.
Remove the bowl from the heat and whisk in the butter until emulsified. Strain the mixture through a fine-mesh sieve.
Take a sheet of plastic wrap and press it into the mixture and around the bowl so that he curd does not form a skin.
Do not refrigerate the curd unless you are saving it for future use.
Make the Lemon Drop Frosting:
In a medium heavy-bottomed saucepan, whisk the sugar and flour together.
Add the milk and cream and cook over medium heat, whisking occasionally, until the mixture comes to a boil and has thickened, about 20 minutes. (At about the 10 minute mark things start to change and thicken a bit. At the 15 minute mark, start really paying attention to prevent burning your frosting).
Transfer the mixture to the bowl of an electric mixer fitted with the paddle attachment.
Cover with a clean dish towel and beat on high until cool. Reduce the speed to low and add the butter; mix until thoroughly incorporated. Increase the speed to medium-high and beat until light and fluffy.
Add the vanilla and ½ cup lemon curd and mix until combined. Go on, take a taste test. If the frosting is too soft, refrigerate it until it is the proper consistency. If too firm, place the bowl over a pot of simmering water and beat with a wooden spoon until.
Assemble the cake:
Refrigerate the frosting for only a few minutes until it can hold its shape.
Place one cake layer on a serving platter and trim the top, if needed, to create a flat surface.
Spread about 1 cup of the lemon curd evenly on top. Add the next layer and trim if needed.
Add the remaining lemon curd and smooth. Top with the last cake and trim if needed.
Crumb coat the cake and refrigerate for about 15 minutes to set.
Frost the sides and top of the cake with the frosting.
Garnish with lemon drop candies and place in refrigerator for 15 minutes to set.
Recommended Products
As an Amazon Associate and member of other affiliate programs, I earn from qualifying purchases.
Nutrition Information:
Yield:
12
Serving Size:
1
Amount Per Serving:
Calories:

946
Total Fat:

53g
Saturated Fat:

30g
Trans Fat:

1g
Unsaturated Fat:

20g
Cholesterol:

278mg
Sodium:

664mg
Carbohydrates:

112g
Fiber:

3g
Sugar:

74g
Protein:

10g
Nutrition information provided is an estimate from nutritionix.com. For specific health concerns, please put the recipe into your Dr recommended nutrition calculator.