This Banana-Nut Pound Cake slices into perfect layers of moist dense cake. Like a traditional pound cake, but amplified. It is a humble cake, with an amazing glaze.
There was a post planned for this site where I was going to talk about this 'pay it forward' ideal that I would love to live by. I have had a lot of awesome pay it forward moments in the last year (mountain bikers are an especially good group for this) where a kind person has helped me, not because they had to, but because it was the right thing to do.
Then January 1st happened and return lines and crappy sales associates and just generally pissy people happened and whatever benevolent and pay it forward attitude I had went out the window faster then a get fit resolution.
I try to remember most of us have had a crappy job that we hated and rolled our eyes through, but when that eye rolling is directed at myself and I haven't even done anything worth that snotty attitude it kind of crawls under my skin.
Ok ok, back to the pay it forward. Yeah. We've all been there. Had a crappy day and been rude to a person who didn't deserve it. Let's all try to remember what those days are like though, even when that smart mouthed sales clerk thinks she can walk all over you. Maybe shes just had a rough day and isn't trying to pocket that $10 she did not hand you when you made an not-so-even exchange and looked at you like a crackhead when you tried to explain that you were owed change. Yes, she's clearly having a bad day….
So, I'm going to try to keep the pay it forward theme going. It's hard in today's world. I offered to return a cart for a woman a few weeks ago and she looked at me with contempt. Been screamed at for holding a door open. Maybe everyone's just having a bad day. Otherwise, this pay if forward thing is not going to last too long for me…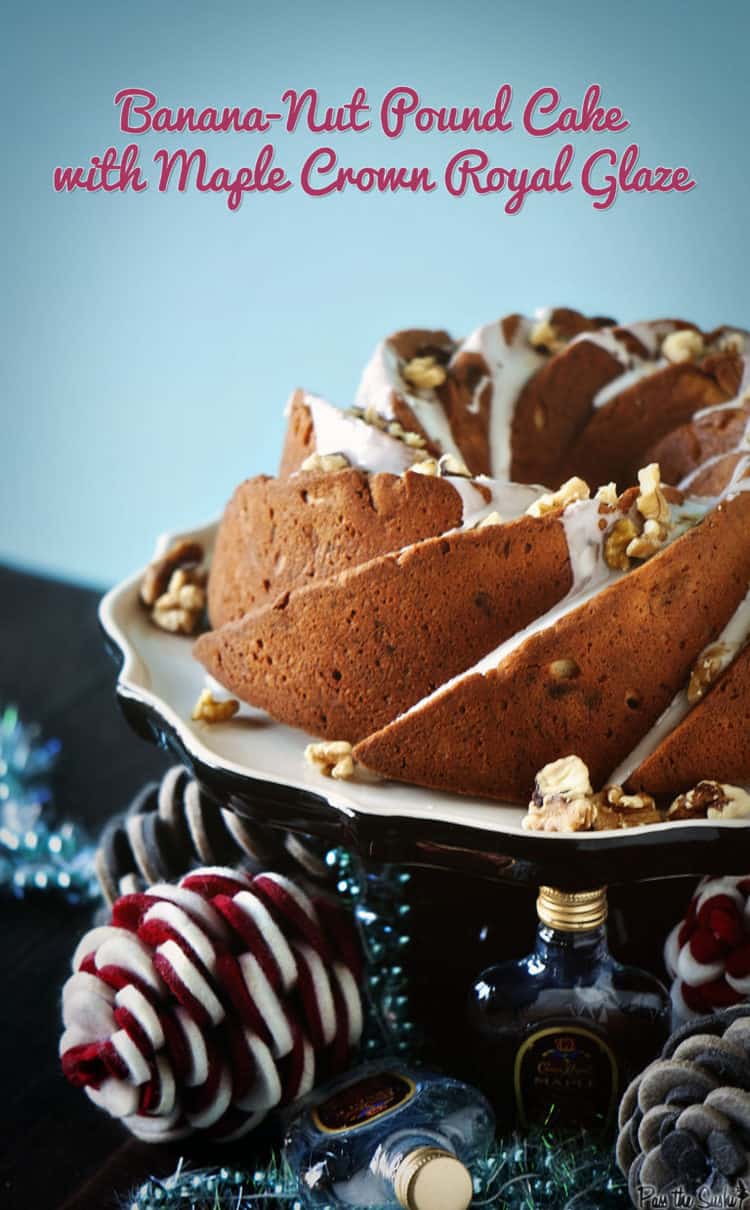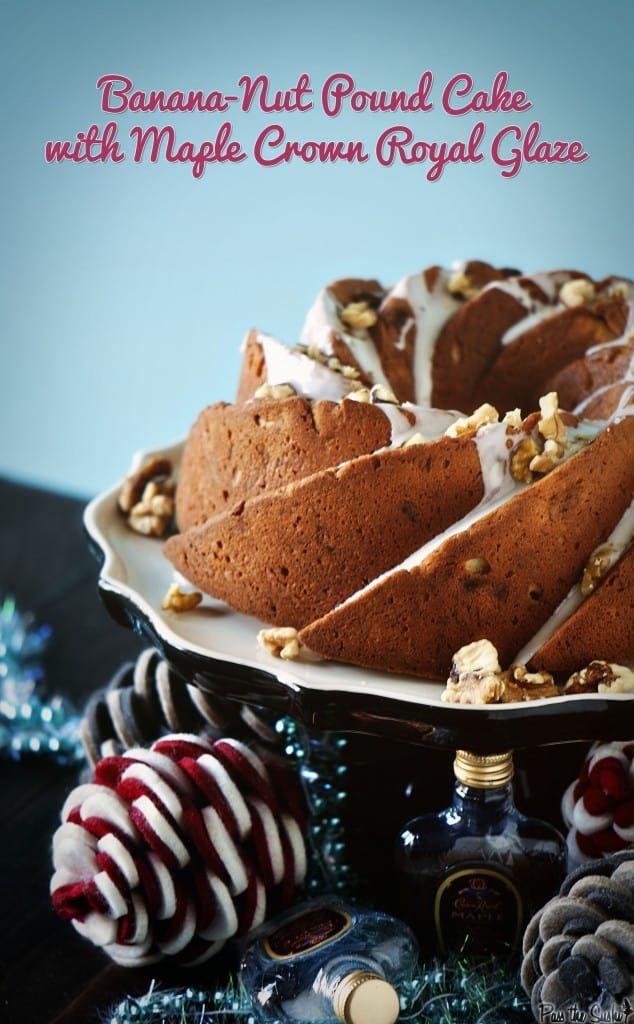 Speaking of paying it forward, I'd like to give a shout out to Taylor Strategy for sending me tiny little bottles of alcohol to sample for this cake. They have been put to good use… and a few may have been added to a dash of eggnog as well.
Need more simple but delicious cake inspiration? Look no farther!

Browned Butter Coffee Cake with Maple Cream Cheese Frosting
Skillet Apple Upside Down Cake
Pear Cornmeal Cake
Rum and Date Cake with Caramel
If you've tried my Banana-Nut Pound Cake with Maple Crown Royal Glaze recipe or any other recipe on passthesushi.com please don't forget to rate the recipe and let me know where you found it in the comments below, I love hearing from you! You can also follow along for more good eats and travel tips on Instagram @passthesushi & @girlcarnivore, Twitter & Facebook.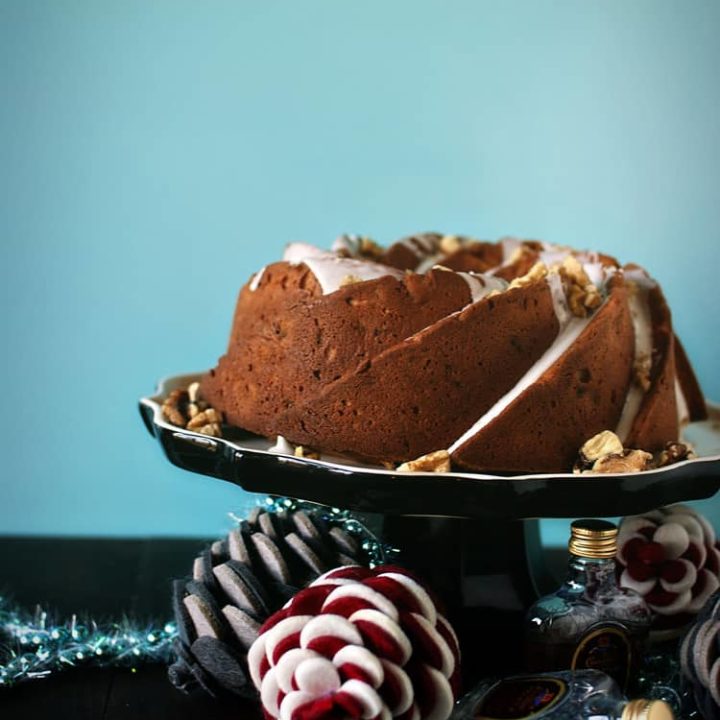 Banana-Nut Pound Cake with Maple Crown Royal Glaze
Cook Time:
1 hour
20 minutes
Total Time:
1 hour
30 minutes
I have made this cake at least three times since ripping it out of the pages of BHG. Each time I have tried a different alcohol or a different flavor combo and not been disappointed.
Ingredients
3 1/4 cups flour
1 /2 tsp baking powder
8 oz package cream cheese, softened
1 1/2 cup light brown sugar
1 cup sugar
4 eggs
2 medium bananas, mashed (1 cup)
1/4 cup Maple Crown Royal
1/4 tbsp vanilla
1 cup chopped pecans or walnuts
Instructions
Preheat oven to 325 degrees F. Grease a 10″ bundt pan and dust with flour, knocking out any excess.
Combine flour and baking powder in a medium bowl, set aside.
In the bowl of your stand mixer, cream the cream cheese and sugars together until smooth and fluffy, about 7 minutes.
Add eggs one at a time, scraping down the sides of the bowl as needed.
Add the bananas, Maple Crown Royal, and vanilla.
Add the flour and mix until just combined. Fold in the nuts.
Pour batter into prepared pan and wiggle a little to even out. (the cake, not your booty).
Bake for 80 minutes or until a toothpick inserted in the center comes out clean and cake is a nice golden brown.
Cool in pan for 10 minutes before turning out to cool completely.
If desired top with a Maple Crown Royal glaze:
whisk 1/2 cup powdered sugar with 1 – 2 teas Maple Crown until a thick glaze forms.
Add extra liquid or sugar to loosen or tighten the glaze.
Spoon over the cake and sprinkle with additional nuts if needed.
Notes
adapted from BHG Magazine December 2012
Nutrition Information:
Yield:

12
Serving Size:

1
Amount Per Serving:
Calories:

455
Total Fat:

15g
Saturated Fat:

5g
Trans Fat:

0g
Unsaturated Fat:

9g
Cholesterol:

81mg
Sodium:

172mg
Carbohydrates:

72g
Fiber:

2g
Sugar:

42g
Protein:

8g
Nutrition information provided is an estimate from nutritionix.com. For specific health concerns, please put the recipe into your Dr recommended nutrition calculator.