One of my favorite banana bread recipes. Super quick and simple with just the right hint of sweet from the Nutella swirls.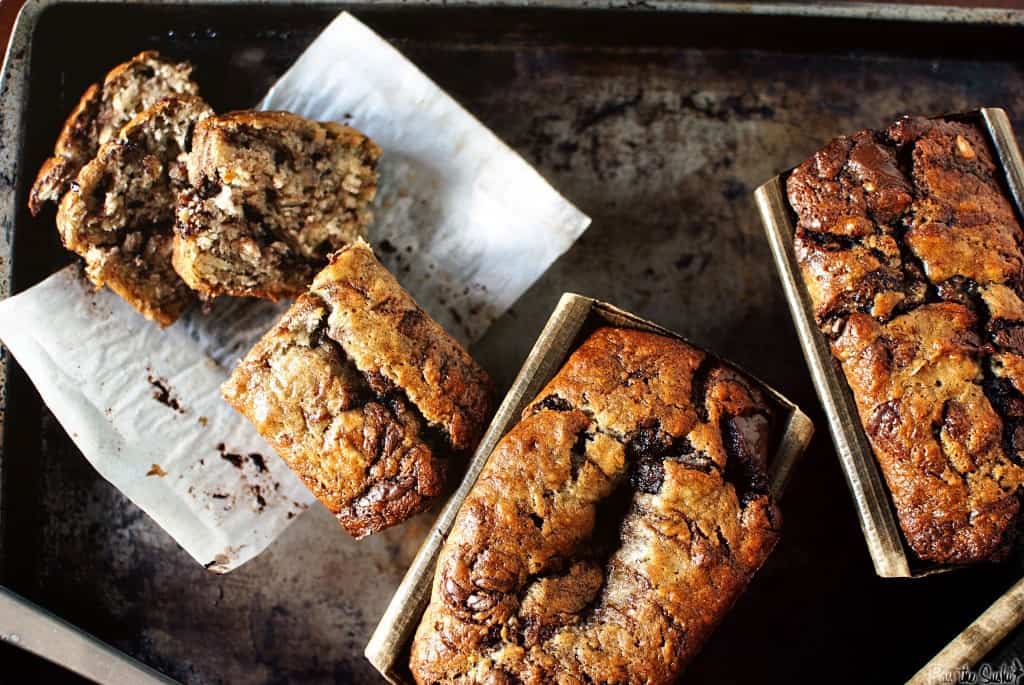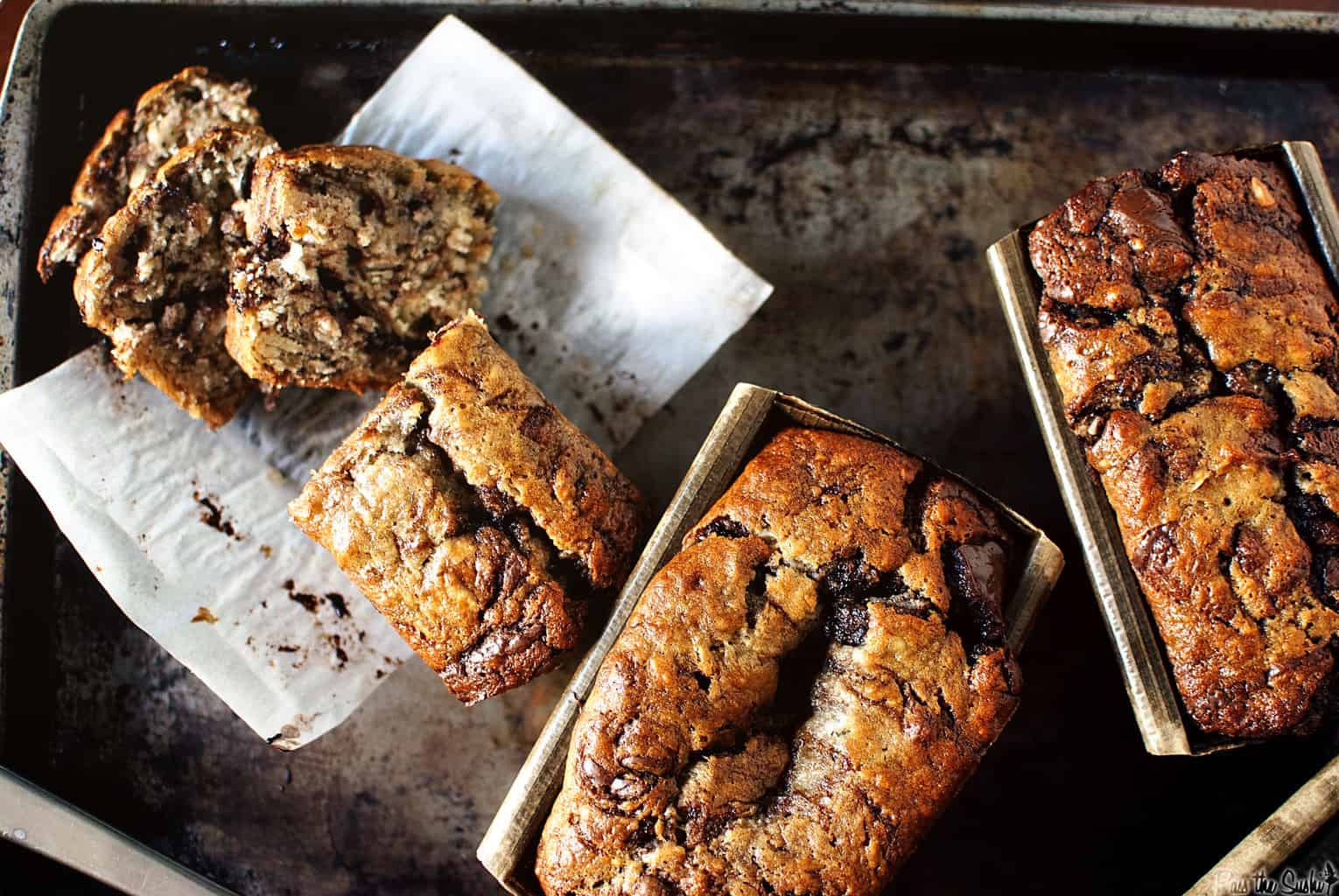 Banana Bread With Nutella
Ok, I get it. The very idea of baking can sometimes seem like climbing a mountain. You do it "because it is there" but that doesn't mean it is going to be successful. People climb mountains all the time and have to turn back…. Or worse.
So why take the chance in the first place? But banana bread is not that sort of bread. In terms of bread, banana bread is more like a picnic on a nice hill overlooking a beautiful landscape. It doesn't take much to get there, and the reward is more than justified by the effort.
It takes literally minutes to make. Minutes to bake. No worry about rising. Very little worries about falling. And you can freeze it easily to enjoy months later as well.
Adding Nutella To Banana Bread
Even folks that don't like nuts on their banana bread go nutty for banana bread with Nutella. In case you are unfamiliar with this product, it is like the chocolate and hazelnut equivalent of peanut butter.
Whoever says nothing goes together like peanuts and chocolate obviously has never had chocolate and hazelnuts together.
I guess you could sort of describe it as being like a chocolate hazelnut frosting but it isn't butter based like typical frostings. It is just that same sort of smooth consistency. And you feel like spreading it on everything from toast to cupcakes and everything else.
For those that know and love Nutella… Don't lie… I bet you even eat it right out of the jar with a spoon.
Swirling Nutella into banana bread takes your loaf to another level of absolutely amazing. Because you know what goes great with chocolate and hazelnuts? If you guessed bananas, then you deserve a prize. You will smell the reward baking soon enough.
Where Do I Find Nutella?
Nutella used to be a lot harder to find. It used to be like one of those specialty food items only found in special European groceries run by ex-communist KGB agents. Like you needed a special password and a secret handshake to access it.
Nowadays, you will find Nutella pretty much everywhere. In supermarkets it is typically on the shelf by the peanut butter, but you can also find it often on the baking aisle. 
Want more delicious chocolate swirl recipes? Try this paleo cheesecake!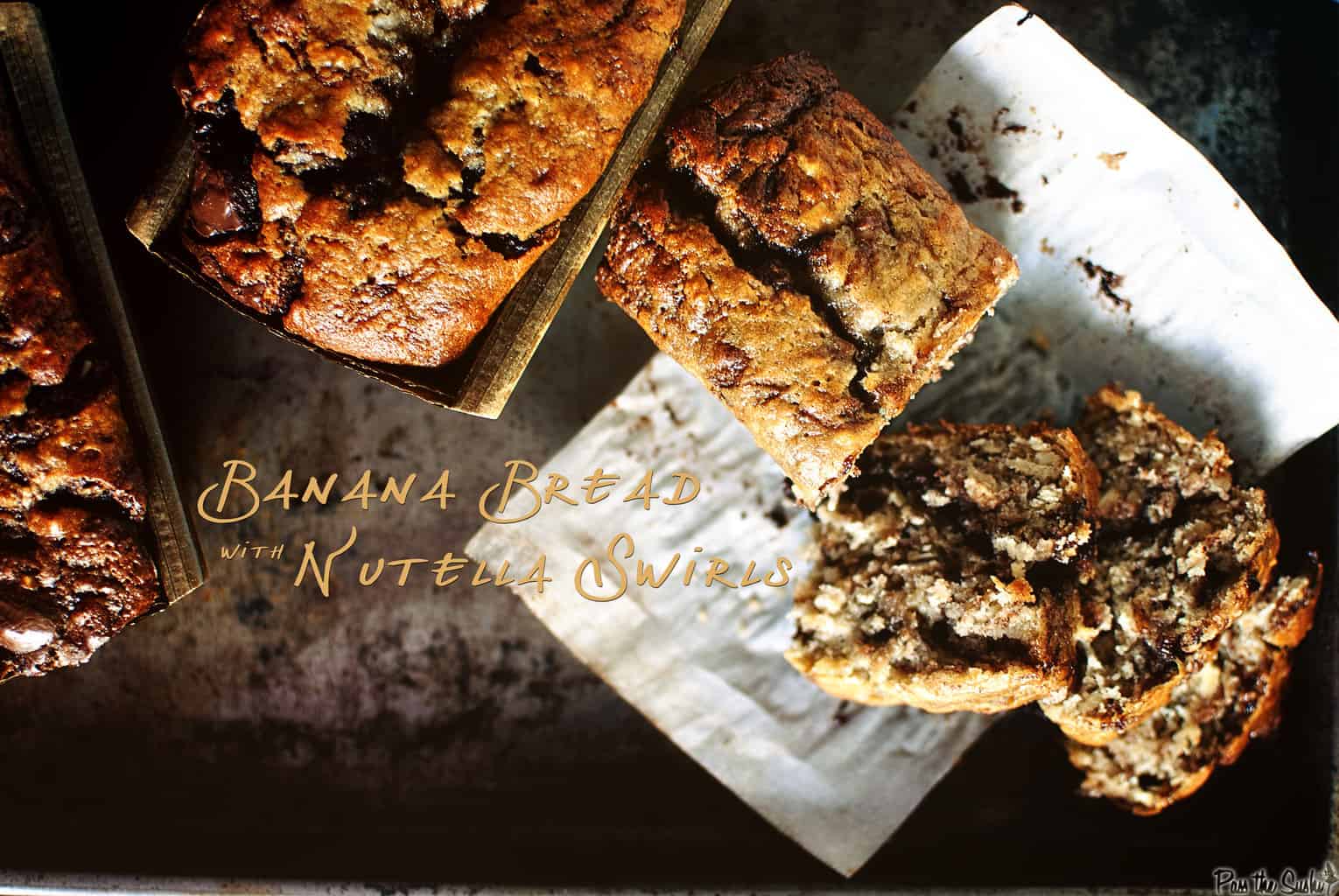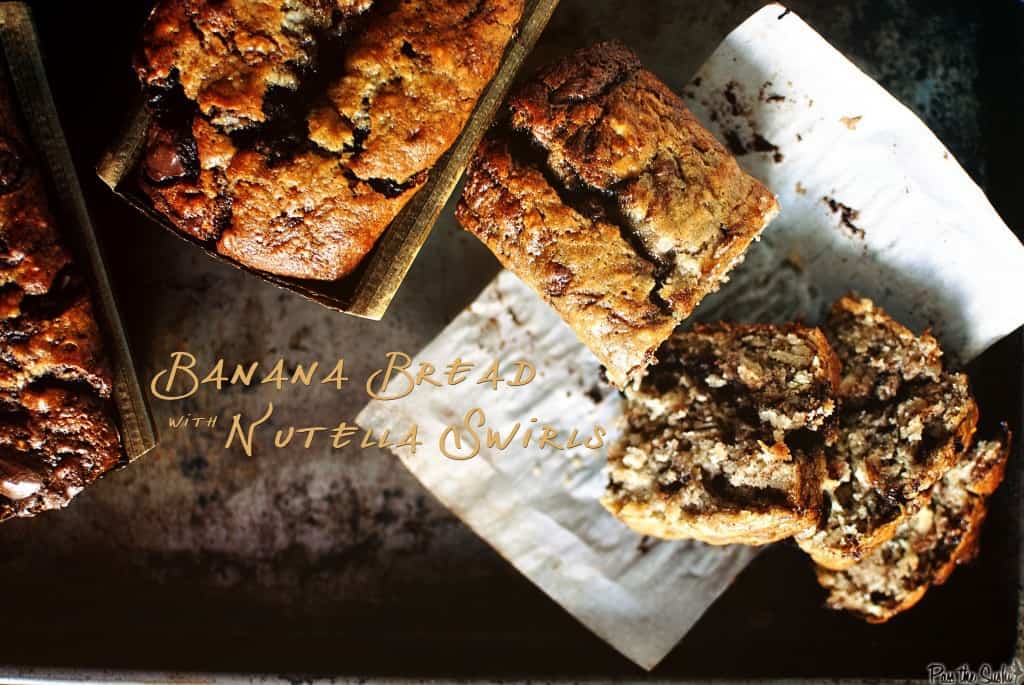 Banana Bread Making Tips
Banana bread is so easy to mix and bake you don't need to know much about how to do it. There are a few tip to make sure it comes out no less than fantastic though.
Mix your dry and wet ingredients separately. Only mix them together right at the moment you are ready to pour them into your pan. The leavening agents of baking powder and baking soda start working as soon as any moisture is involved. So make the most of them but only mixing the wet and dry ingredients right before going into the oven. 
Grease your pan with shortening instead of butter. Sometimes the butter scorches and will cause an unpleasant flavor as well as making it hard to take the bread out of the pan. 
Mix your dry ingredients with a whisk so they are stirred before adding to the liquid ingredients. 
Don't over-mix the wet and dry ingredients. Get them evenly mixed, but don't over stir. You don't want a lot of gluten protein chains building up in the batter.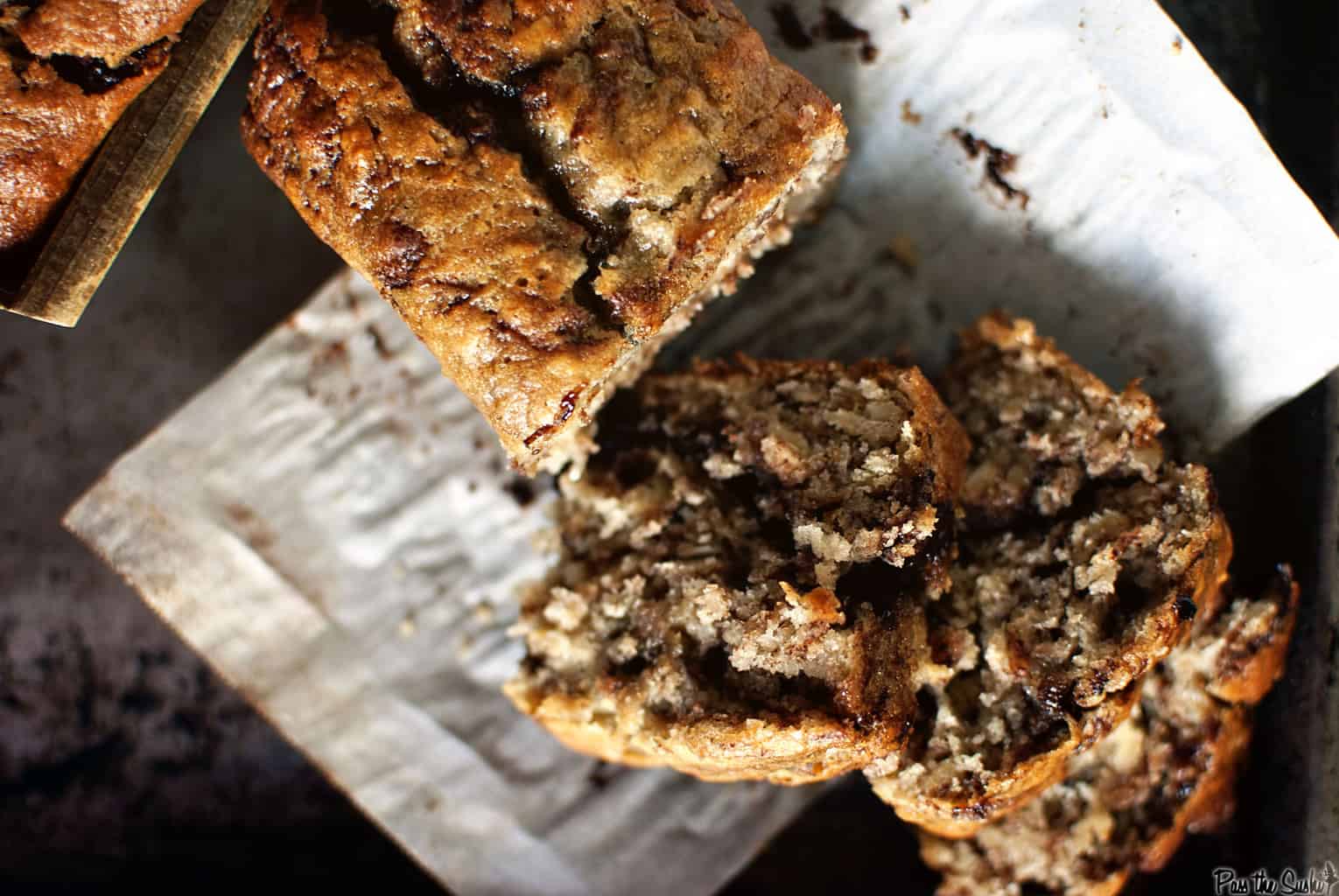 Some Other Banana Bread Ideas
If you love how easy it is to make banana bread, then you will look forward to getting creative with it. Here are some variations I have enjoyed experimenting with myself:
This looks amazing but I don't have the time to make Banana Bread! Yes you do. If you're in a rush, make this Banana Bread, it only takes 6 minutes start to finish. What? Yup.
📖 Recipe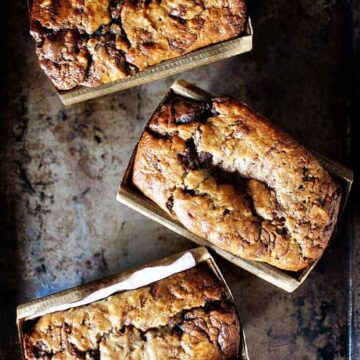 Banana Bread with Nutella Swirls
This Nutella swirled banana bread is a decadent midday snack with tea or coffee - or perfect reheated for breakfast. Heck, these are good whenever you get the banana bread craving!
Print
Pin
Rate
Ingredients
2

cups

flour

-

plus more for dusting pan

½

cup

shredded coconut

¾

cups

sugar

1

teas baking soda

½

teas salt

3

ripe

-

dark brown bananas

¼

cup

yogurt

2

large eggs

-

lightly beaten

6

tbs

unsalted butter

-

melted and cooled

1

teas vanilla extract

½

cup

slivered almonds or chopped walnuts

½

cup

Nutella
Instructions
Preheat oven to 350 degrees F.

Butter 4 small loaf pans. Line with parchment paper, butter again and dust with flour, being sure to knock out any additional.

In a large bowl, combine flour, coconut, sugar, baking soda, and salt. Set aside.

In a medium bowl, combine the mashed banana with the yogurt, eggs, butter, and vanilla.

Gently add the wet mixture into the dry mixture and stir about 10 times. The batter will be thick and lumpy.

Fold in the slivered almonds if using.

In a microwave-safe bowl, heat the Nutella for about 15 seconds, stir, and microwave for another 15 to make the Nutella smooth. Set aside.

Divide half of the batter among the 4 prepared pans.

Spoon half of the Nutella over the batter filled pans and using a butter knife, swirl the Nutella.

Evenly divide the remaining batter and repeat the Nutella swirl with the remaining Nutella.

Bake for about 25-30 minutes or until a toothpick inserted into the center comes out clean, not including any hot melty Nutella goodness.

Cool loaves completely. If using a metal pan, remove from pan after 20 minutes. If disposable pans, just allow the bread to cool in the pans.

Slice and serve.
Nutrition
Serving:
1
g
|
Calories:
221
kcal
|
Carbohydrates:
30
g
|
Protein:
4
g
|
Fat:
10
g
|
Saturated Fat:
6
g
|
Polyunsaturated Fat:
4
g
|
Cholesterol:
35
mg
|
Sodium:
138
mg
|
Fiber:
2
g
|
Sugar:
16
g
Nutritional informations provided as a courtesy and is only an approximatation. Values will changes based on ingredients used.
⭐ Tried this recipe? Rate it ⭐
Help out the next person and give it a star rating below!