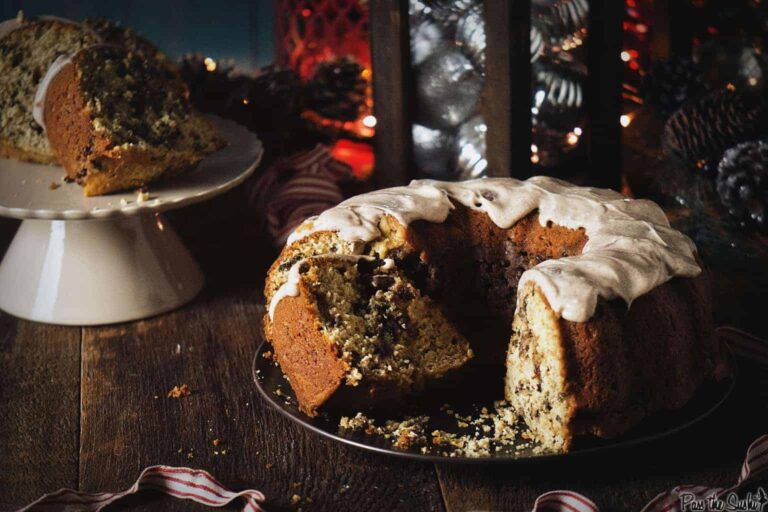 There is little in this world as comforting as curling up with friends and family sharing memories and laughter together. Every cookie tray passes by with warm chocolate chips melting and staining your fingers as you break the perfect disks in half for nibbling while watching classic holiday movies. Moist buttery cakes with crumbs lining nothing but their remains on plates as you share moments over a game of Yahtzee. These are the moments I am most fond of when I recall long winters and holidays gone by with my loved ones. After everything settles down and the excitement of a special day has grown thin and you can just savor the time together. The hours that linger late into the evening where you can listen to one another without any expectations or pressure of the big meals.
Long after the tour has split last night when we were sitting in a cafe enjoying a few minutes in Wurzburg, Germany last night, a couple walked by from our tour and we invited them to join us as we sat under heated lamps absorbing it all. They told us stories of adventures together in years past and there was a gentle smile creeping upon both of their faces and shared seconds of eye contact that was so special and perfect. Married 32 years and still smiling at one another. Hearing about a snow covered train ride through the country some 20 years before sounded like a fairy tale dream. The husband had planned every detail – from train ride to hotel. I was left romanticizing over how magical and charming the whole adventure must have been, and admiring them for both taking the time to share these experiences together.
We walked back to the ship, the husband taking his wife's hand for the whole trip. It's hard to not feel the magic in that moment. Those are the stories that will be shared late in the evening after the big moments have passed any everyone really just starts to let down their guard. These are the stories I love.
Perfect for these moments, and all of your holiday entertaining, this Browned Butter Coffee Cake with Spiced Maple Cream Cheese Frosting is a perfect slice and serve while appreciating those memories.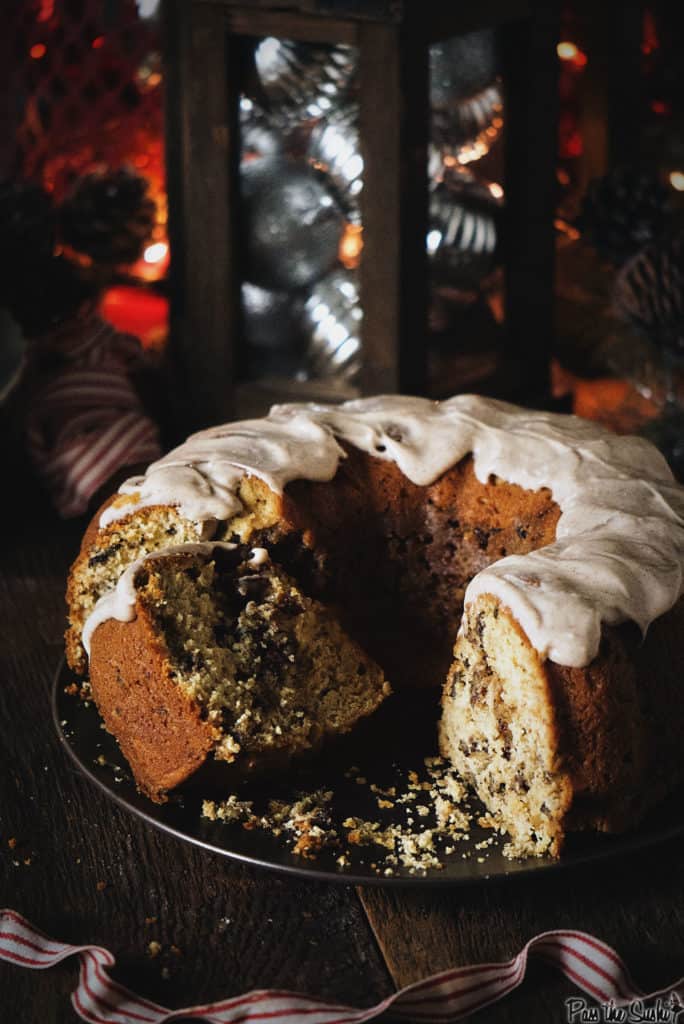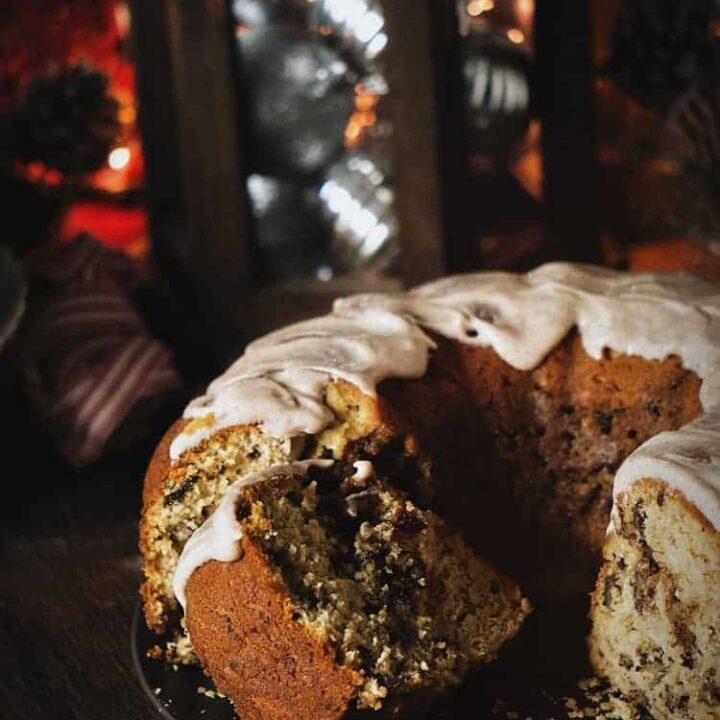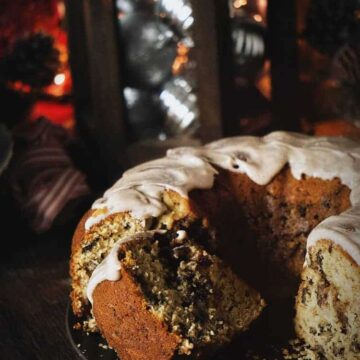 Ingredients
3/4

cup

butter

2

cups

pecan halves

-

toasted and chopped

2

cups

packed brown sugar

2

teas flour

-

plus 3 cups flour

1 1/2

teas baking powder

1 1/2

teas baking soda

3/4

teas salt

3

eggs

1

teas vanilla

1 1/2

cup

sour cream

4

oz

cream cheese

4

tbs

maple syrup

1/4

teas cinnamon

1/8

teas freshly grated nutmeg

1/8

teas cloves
Instructions
Allow the butter to melt in a small saucepan over medium low heat. Let the butter sit on the burner with out stirring for 5 to 6 minutes longer until it become fragrant (nutty) and slighltly browned. Remove from heat and allow to cool 5 minutes. Pour into a small bowl and cover. Allow to cool in the refrigerator for 2 hours.

When the butter has cooled, preheat the oven to 325 degrees F and grease a 10" fluted cake pan. scoop out 3 tbs and mix into a small bowl with 3/4 cup of the toasted chopped pecans, 1/2 cup brown sugar and 2 teas flour. Use your fingers to rub the mixture together until well mixed, coarse and sandy. Set aside.

Whisk the remaining 3 cups flour, baking powder, soda, and salt in a large bowl.

In the bowl of your stand mixer, cream the reamining browned butter with the beater attachment for 3 minutes. Add the remaining 1 1/2 cup brown sugar and mix. Scrape down the sides. Add in the eggs one at the time, mixing after each addition. Add the vanilla, scrape down the sides and mix once more.

In 3 additions, add the flour and sour cream, mixing well after each addition. Scrape down the sides and bottom one more to make sure everything is well mixed.

Scoop half of the batter into the prepared pan. Shimmy a bit to even out. Sprinkle the filling mix in an even layer and top with the remaining batter. Spread to cover evenly.

Bake for 50 minutes, until golden and cooked through.

Allot to cool 10 minutes in pan on a wire rack before turning out to cool completely.

While the cake cools, make the frosting. Whip the cream cheese in a bowl. Add the syrup, cinnamon, nutmeg, and cloves.

When the cake is cool, spread the icing over the cake, slice and serve.
Notes
BGH Special Interest Magazine Fall Baking 2013
Nutritional informations provided as a courtesy and is only an approximatation. Values will changes based on ingredients used.
⭐ Tried this recipe? Rate it ⭐
Help out the next person and give it a star rating below!