Warm yourself up with this perfect holiday breakfast. Spiked Eggnog Belgian Waffles with Warmed Boozy Syrup is the perfect recipe for brunch or bringing a little festive flavor to any special winter breakfast menu. These waffles come out thick and full of flavor - just what you what when you aren't nibbling on holiday cookies in the morning!
(Skip ahead - right to the recipe!)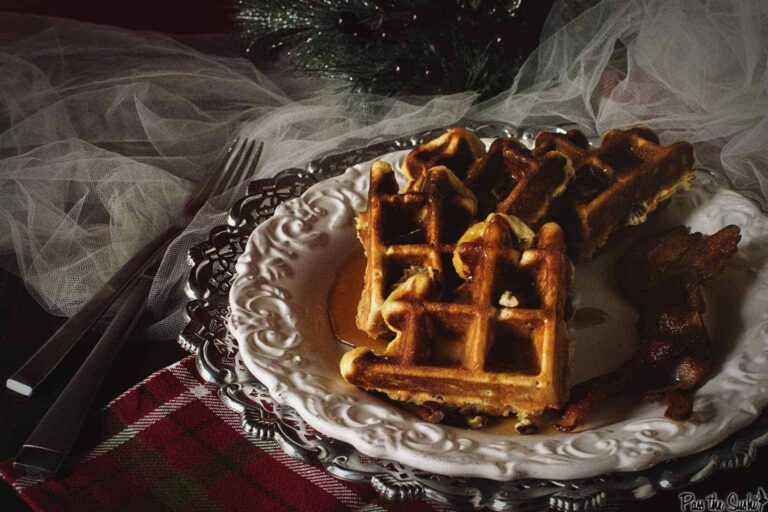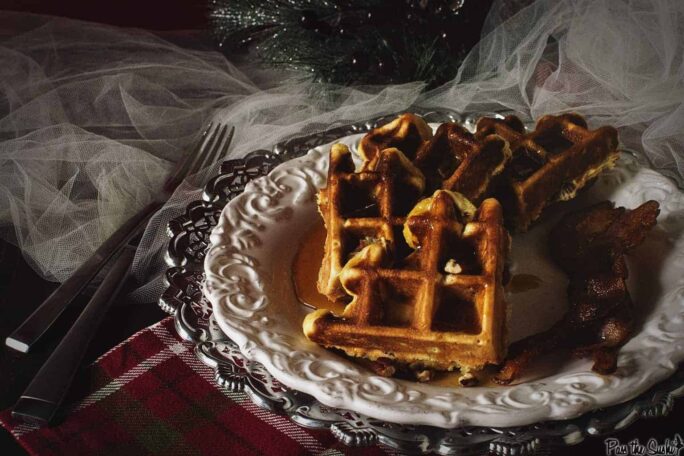 Making time for Santa.
The other night, I looked around my house at small piles of accumulated clutter here and there, dishes that needed washed and a floor that needed swept of the ever present furballs that chance my dog around like a shadow. It was uncharacteristically warm out. All of it made me not even want to bother with hunting out the perfect holiday tree.
While sitting there popping a blinky light on and off again that lit up to read Santa, I wondered what happened that I got too busy for Christmas. Sure, I still wanted to get people gifts and wrap some packages, but I won't lie, a part of me even considered just buying bags and wrapping everyone's gifts in a quick burst of tissue paper and not even bothering with wrapping and bows.
At what point did the girl who eyes lit up at every single Christmas light and the mere thought of decorating the tree get tired of it. When did I get too busy for Christmas? When did it become a chore to decorate my home in a way that would make me happy and cozy every time I stepped in the front door? Why was this suddenly work?
Part of being an adult is working, sometimes more than not, and the reality of lean holidays some years. It's that the dishes and laundry will always be piling up even long after the tree is taken down. It's all of these things, plus managing Christmas.
My phone beeped and a friend wanted to know if I would be hosting my annual holiday party. A huge to do at my house, where everything is handmade and I happily host and feed 30 or 40 people. No, not this year. It's too much work. 
When did I get too busy for the holidays? Too busy to be merry and bright? Too stressed with the responsibilities of adulthood that I lost the magic of Christmas?
Christmas is the one time of year that I get to spoil the ones I love, my family and friends, deserving (and maybe some not so) strangers just because I can - in any way I can. It's my annual toy drive for the children's hospital and stockings for my co-workers. It's finding the perfect something special for Handsome and a meaningful and thoughtful small package for my step-aunts. It's a fresh bone for my pup and an extra one for a friends who may not remember that his little girl get's a Christmas stocking too. It's still working every day and finding the time at night to watch It's a Wonderful Life with the newfound adult appreciation for those moments. It's trimming the tree - the way my daddy taught me, weaving the lights in and out and around each branch, so that when you squint, every part of the tree glows. And though that way takes far more time that just stringing the lights quickly along the branches, it's what I know and couldn't imagine doing it any other way.
Christmas is about that spirit that is. The moments that remind us that no matter how busy. No matter how strapped we are from this month to the next, or how generous we can be - it is Christmas. The holiday spirit that makes you want to do the things that bring cheer and joy.
It's knowing that the chores are there, the obligations and work are all waiting. But that somehow you can fit it all in and no matter how big or small, that Christmas is. It is wonderful, warm and perfect just the way it is, as long as you welcome it. This holiday, as the ones that came before and the many to follow, is perfect just the way it is.  The tree will get decorated, the cookies baked, and the gifts will be given - and no one will notice the ribbons or bows. They will remember the thought, the care, and the time spent mingling over cocoa, even when you all have to get up early and work again tomorrow.
Maybe somewhere in there, that child will always live on, regardless of adult realities, waiting and hoping for those small Christmas miracles that make everything magical.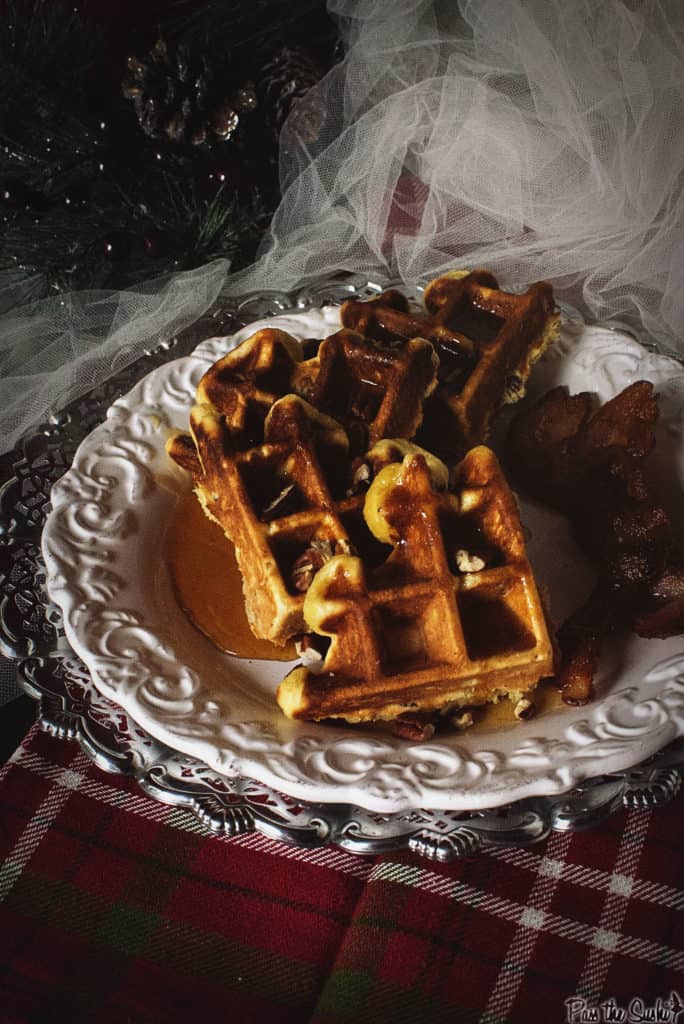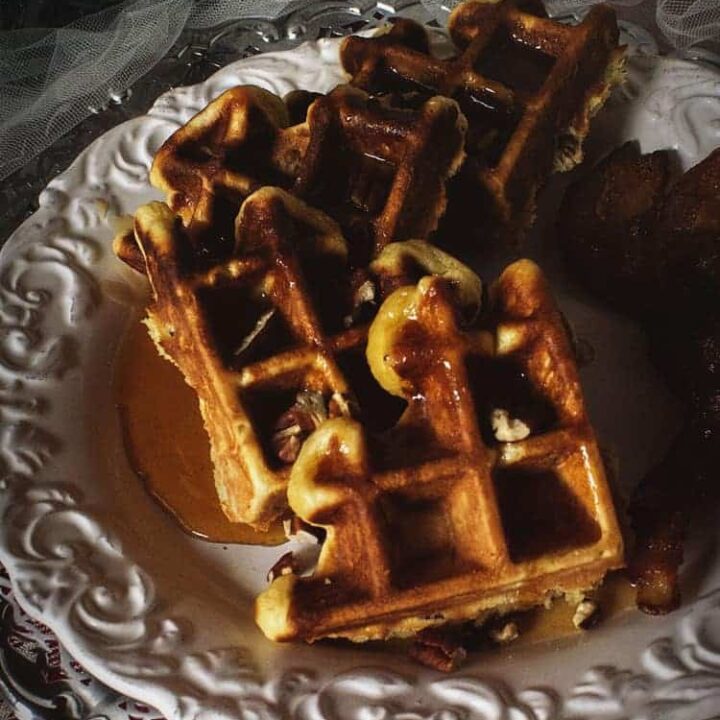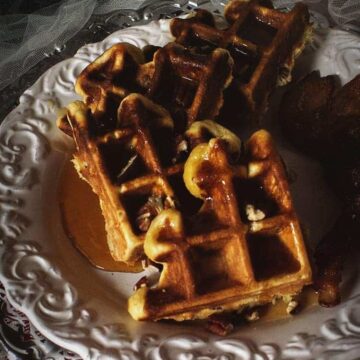 Ingredients
2 ¼

teaspoons

1 packet active dry yeast

2

cups

flour

2

tbs

sugar

½

teas salt

¼

teas freshly grated nutmeg

6

tbs

unsalted butter

-

melted and cooled

3

eggs

-

lightly beaten

1 ½

cups

eggnog

1

teas vanilla extract

1

tbs

dark rum

¾

cup

pecans

-

toasted and chopped
Maple-Rum Syrup:
1

cup

pure maple syrup

1

tbs

dark rum

2

tbs

butter

⅛

twas freshly grated nutmeg
Instructions
Preheat the oven to 200 degrees. Preheat and grease your waffle iron per manufacturers instructions.

In a large bowl, whisk the yeast, flour, sugar, salt, and nutmeg together.

Whisk the eggs into the cooled butter in a bowl. Add the eggnog, vanilla, and rum and whisk to combine.

Pour the eggnog mixture into the flour and stir just to moisten everything. Fold in the pecans.

Ladle the batter into the waffle iron and cook until toasty and golden.

Arrange the prepared waffles on a baking sheet and keep in the oven to stay warm until ready to serve.

Meanwhile, whisk the maple syrup, rum, butter, and nutmeg in a small saucepan. Heat over medium low and whisk occasionally.

Serve the waffles with more butter and warmed boozy syrup.
Nutritional informations provided as a courtesy and is only an approximatation. Values will changes based on ingredients used.
⭐ Tried this recipe? Rate it ⭐
Help out the next person and give it a star rating below!