This Smoked Old Fashioned Cocktail is a classic, smoky cocktail infused with a new sweet and smoky flavor. It's made with smoked, muddled cherries, smoked cherry simple syrup, angostura bitters, and campfire whiskey!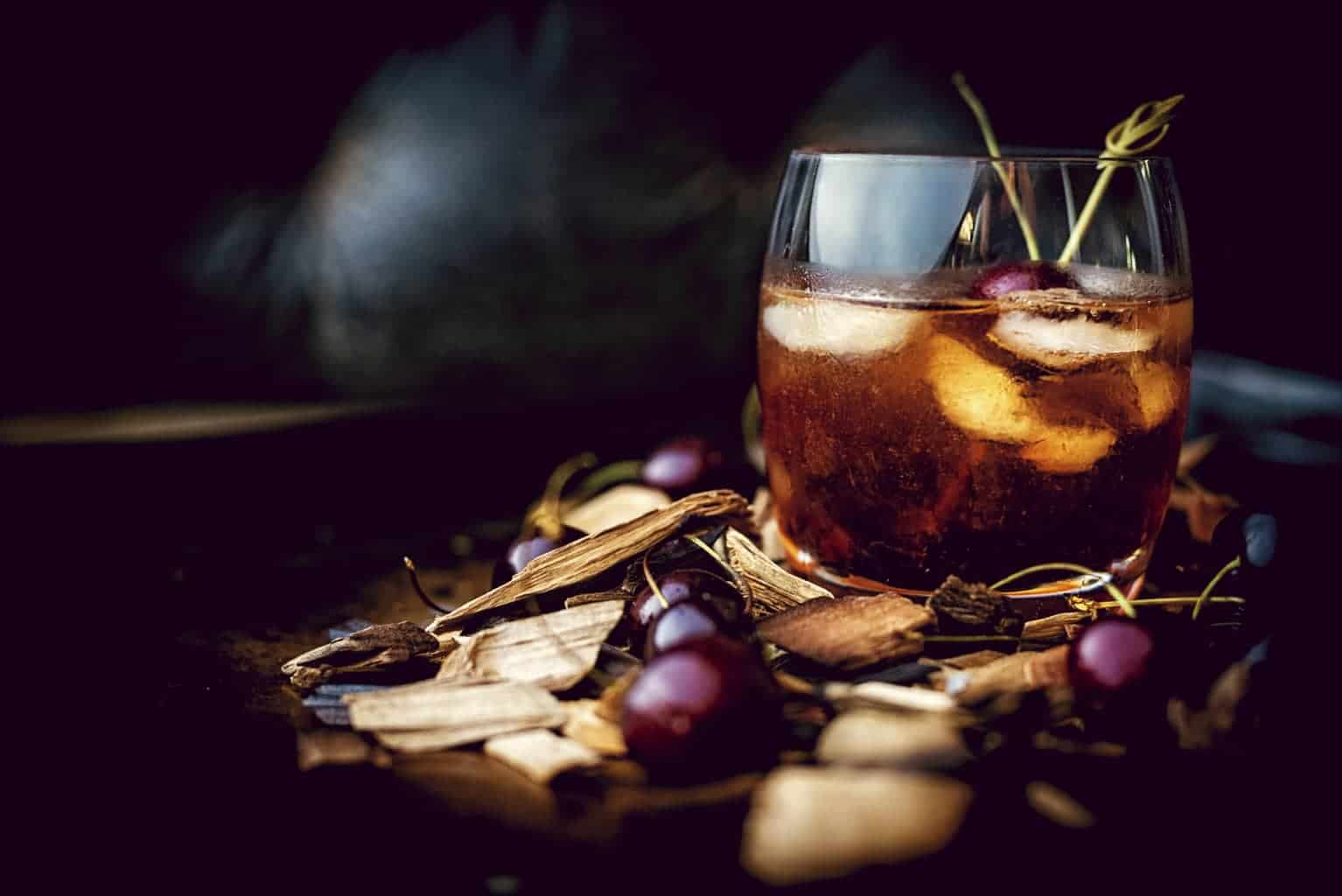 Step into the world of mixology and discover an array of alluring cocktail recipes that will give you a magical cocktail experience! First stop – Smoked Cocktails. Specifically, a Smoked Old Fashioned. This smoky cocktail will tease your taste buds with a cherry-infused smoky twist on the classic Old Fashioned cocktail! So grab your favorite whiskey glass and get ready to impress your friends with this smoked Old Fashioned recipe that will take your cocktail game from ordinary to extraordinary. Let the smoke and cherries work their magic as you sip your way to cocktail bliss! No cocktail kits are required!
Not a fan of whiskey? Try this Smoked Winter Gin and Tonic Cocktail instead! Or, if you're craving a more dessert-esque cocktail, try our Kahlúa Midnight Coffee Cocktail!
What Is A Smoked Old Fashioned?
An Old Fashioned is a tasty cocktail made by muddling sugar with bitters, then adding whiskey. Can't stand bitters? Don't be bitter about it! Try our Whiskey Sour Cocktail instead!
Generally, a traditional Old Fashioned is served with an orange slice on the rim of the glass, a maraschino cherry, and a sugar cube. However, since we're "smoking" this classic cocktail, we're throwing tradition out the window and opting for a rebellious modern twist. But, instead of using a smoke infuser to smoke our whiskey cocktails, we're smoking the cherries and adding campfire whiskey!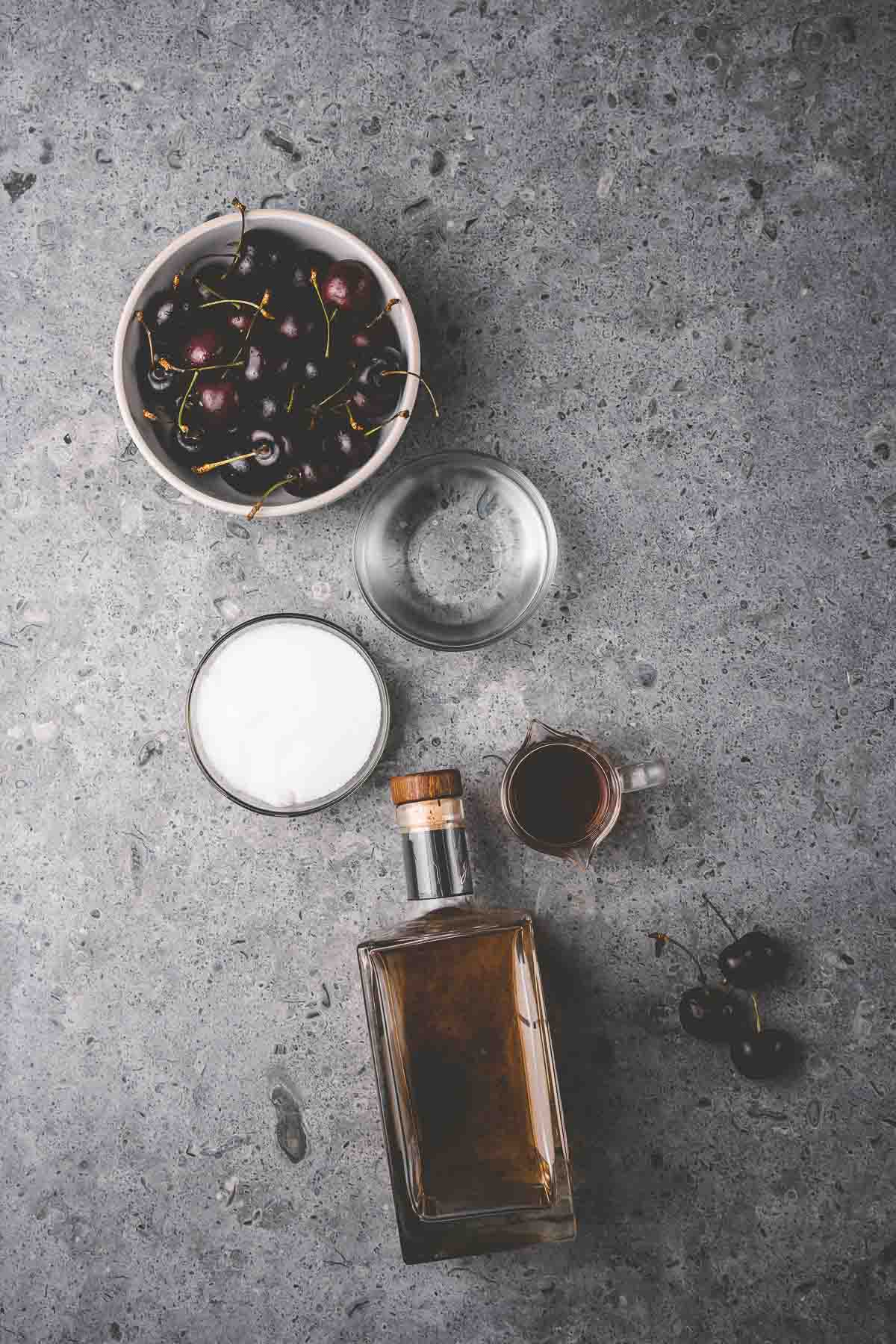 What You Need to Make a Smoked Old Fashioned
Smoked Cherry Simple Syrup
Alder Wood Chips - smoking the cherries with wood chips gives them a smokey flavor.
Fresh Cherries - ripe, dark, and sweet fresh cherries complement the different flavors perfectly.
Sugar and Water - dissolved together to form the base for the simple syrup. You can use raw sugar or pure maple syrup if you like!
Cherry Old Fashioned
Smoked Cherries - you'll muddle smoke cherries in the bottom of the serving glass.
Cherry Simple Syrup - your homemade smoked cherry simple syrup is the perfect sweetener. Add as much or as little as you like.
Booze - a combination of Angostura bitters and campfire whiskey- is perfect for this Smoked Old Fashioned Cocktail.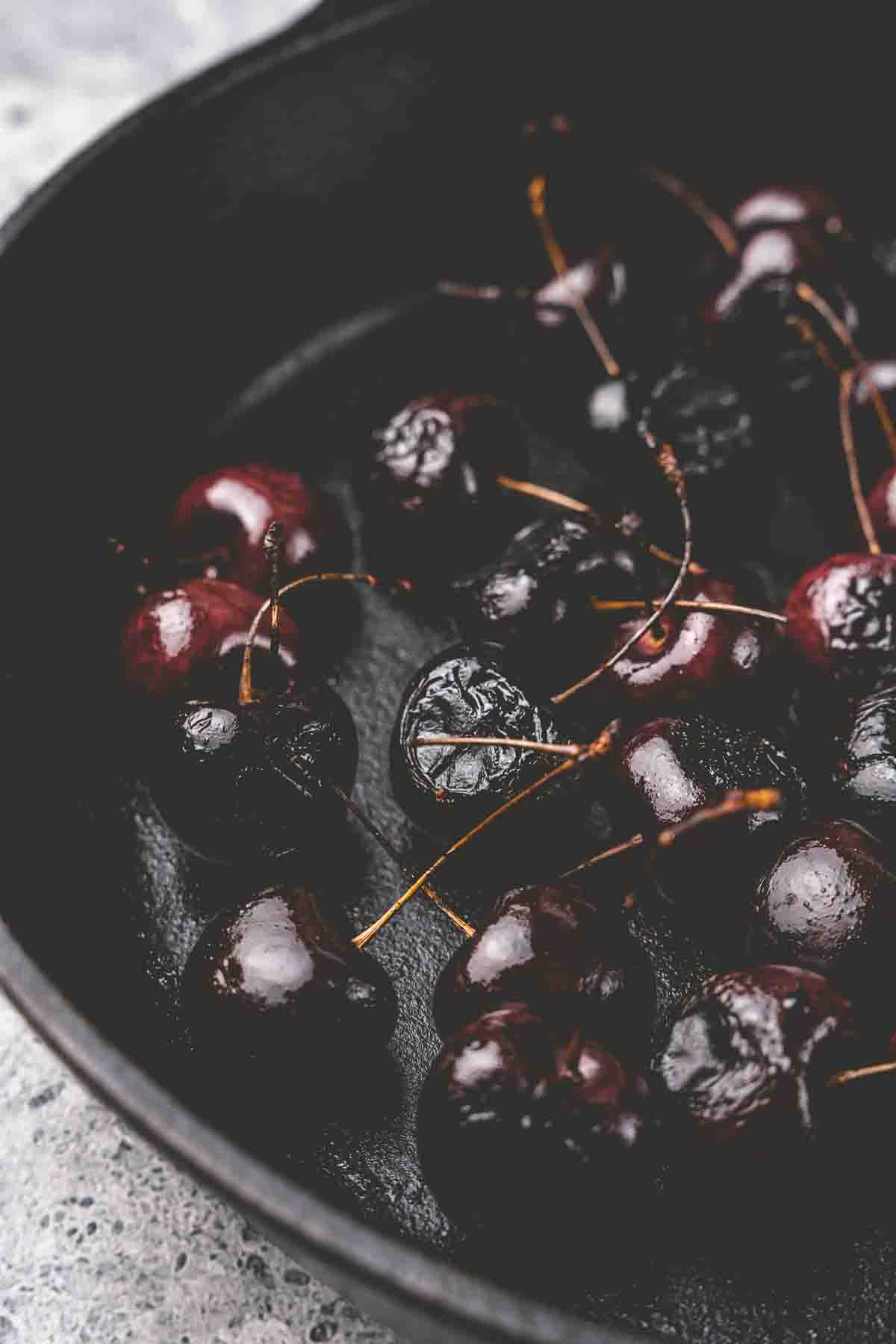 How to Make a Smoked Old Fashioned
First, smoke 1 pound of fresh cherries in a wood smoker with Alder wood chips for 45 minutes to an hour.
In a saucepan over low heat, dissolve sugar in water until smooth. Add ½ cup of smoked cherries and marinate overnight in an airtight container. Strain the syrup, and keep the cherries.
Add a spoonful of smoked cherries to the bottom of your serving glass to make your Smoked Old Fashioned drink. Muddle, add a large ice cube, cherry simple syrup, bitters, and whiskey. No need for a cocktail shaker!
What to Serve With a Smoked Old Fashioned
Feel free to sip your Smoked Old Fashioned by itself, or if you're feeling peckish, pair it with these delicious recipes – Honey-Glazed Pork Chops, Bourbon Chocolate Pecan Pie, Tart Cranberry-Cherry Pie, or Bacon-Wrapped Stuffed Chicken Breast!
Expert Tips
Don't forget the wood chips! The Alder wood chips are the key to making those cherries nice and smoky.
Marinate the cherries overnight. Let the smoked cherries sit in the sugar/water mixture overnight for the best flavor.
Aside from your simple ingredients, you'll need a wood smoker, heat-proof gloves or tongs for removing the cherries, something for the cherries to be put on in the smoker, a glass, and large ice cubes.
Swap out the classic bitters for homemade black walnut bitters for a depth of flavor. You can also use orange bitters for a more citrusy flavor.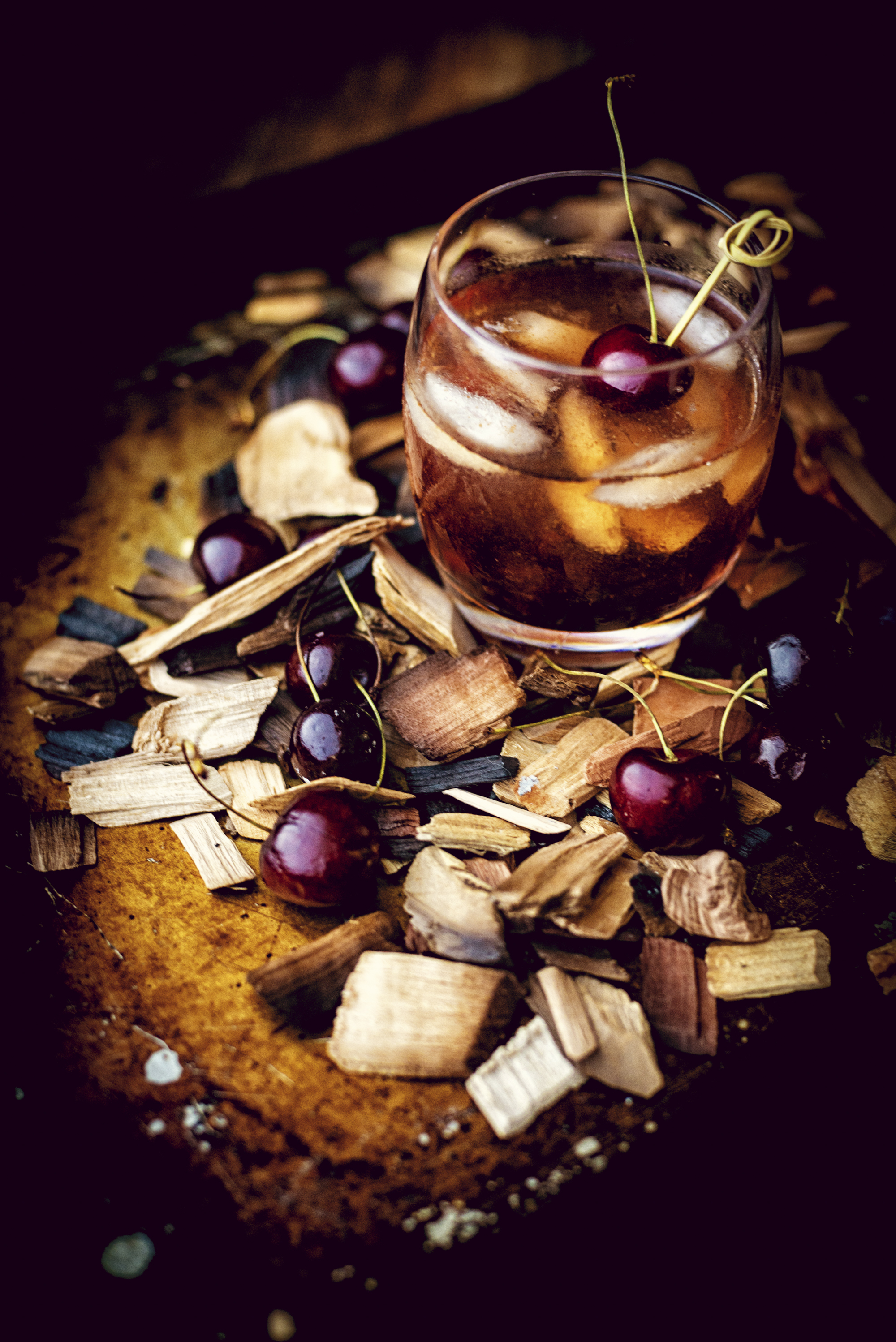 Recipe FAQs
Can I adjust the level of sweetness in the Old Fashioned?
Absolutely! The beauty of the Old Fashioned lies in its versatility. If you prefer a sweeter concoction, you can adjust the amount of simple syrup or muddled sugar to your taste. Feel free to play with the sweetness levels and find that perfect balance that suits your palate.
Help! I'm not a fan of whiskey. Can I use a different spirit for this Smoked Old Fashioned Cocktail Recipe?
If whiskey isn't your spirit of choice, you can certainly experiment with other options. We suggest checking all of our cocktail recipes for spirits that are more to you're liking but you could try, for example, bourbon whiskey for a smoother flavor profile. Some great options are Knob Creek and Woodford Reserve. Just keep in mind that different spirits will alter the overall taste of your signature cocktail, so embrace the adventure and let your taste buds guide you.
Can I use any type of wood for smoking the cherries?
While we appreciate your adventurous spirit, not all woods are created equal when it comes to smoking cocktails. Some different types of wood with milder flavors are oak, apple, or cherry wood. These wood types will complement the unique flavor profiles of your Old Fashioned. Avoid overpowering woods like mesquite unless you want your smoked cocktail to taste like a barbecue mishap.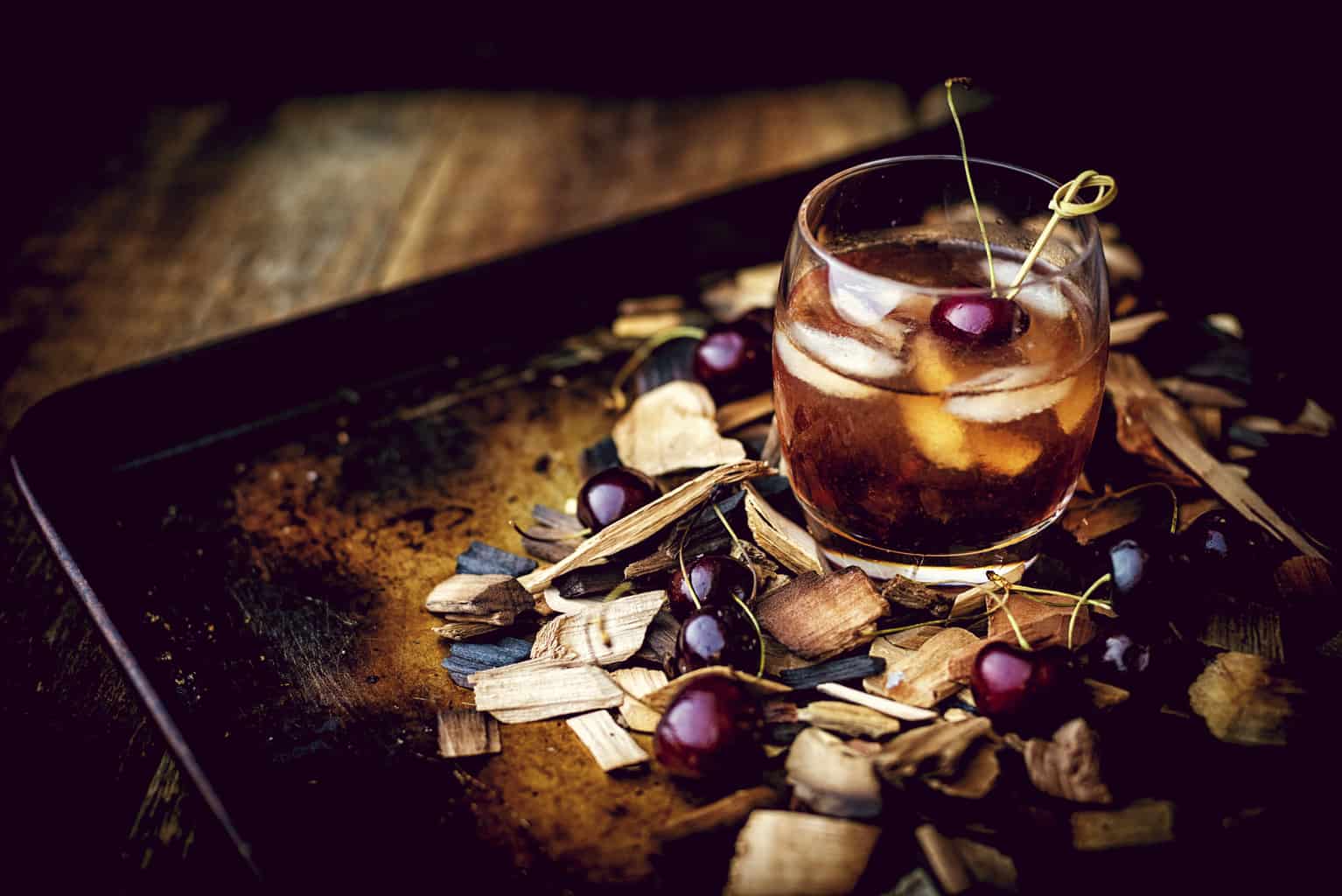 More Cocktail Recipes to Try
And voila! You've now mastered the art of crafting the perfect smoked old fashioned. With every sip, you'll be transported to a dimly lit speakeasy, surrounded by the sophisticated whispers of fellow cocktail connoisseurs. As you impress your friends with your mixology skills, be prepared for the jealous glances and the inevitable question, "Can you make me one too?"
So go ahead, indulge in this smoky, bold concoction, but remember, once you've had a taste, regular old fashioneds just won't cut it anymore. Cheers to your newfound mastery of mixology! Also, please rate the recipe card and leave a comment below to help out the next reader!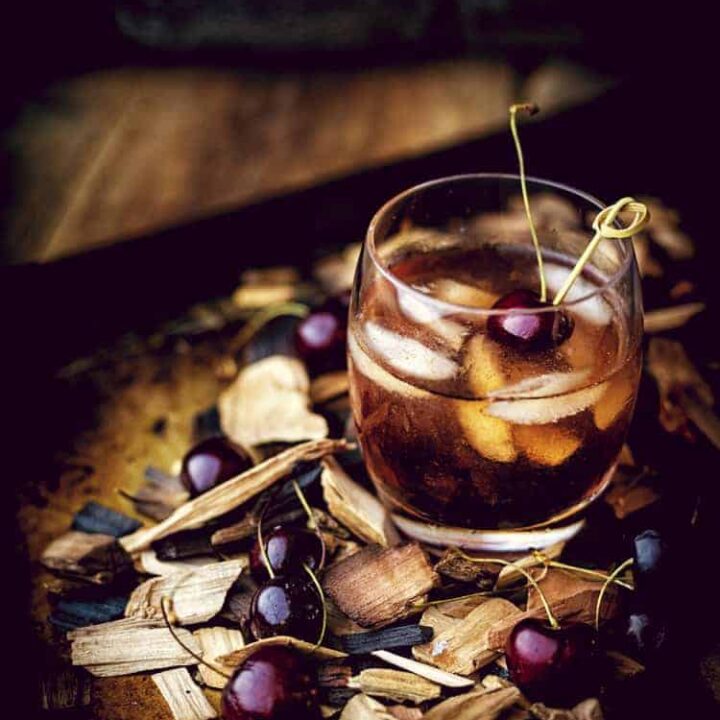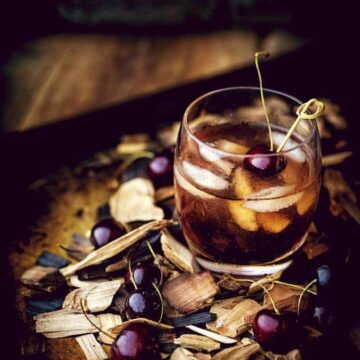 Smoked Cherry Old Fashioned Cocktail
Unwind with our Smoked Old Fashioned, a cocktail that balances tradition and novelty. ? Enjoy the warm, rich bourbon flavors underscored by a unique smoky hint. ?
Print
Pin
Rate
Share by Text
Ingredients
For the Smoked Cherry Simple Syrup:
Alder wood chips

Fresh Cherries

Sugar

Water
For The Cocktail
3

Smoked Cherries

1

teaspoon

Smoked Cherry Simple Syrup

Splash Anastoga Bitters

2

oz

Campfire Whiskey
Instructions
To Make the Smoked Cherry Simple Syrup:
Smoke 1lb of fresh cherries in a wood smoker with Alder wood chips for 45 minutes to 1 hour, until dark and soft.

Remove carefully and allow to cool before proceeding.

Make the smoked cherry simple syrup by dissolving ½ cup of sugar in ½ cup of water in a small sauce pan over low heat.

Add ½ cup of the smoked cherries to the syrup and allow to sit overnight in an airtight container. Strain and discard the cherries.
To Make the Smoked Cherry Old Fashioned Cocktail:
Add a spoonful of smoked cherries to the bottom of the glass, muddle. Add

Add ice, smoked cherry simple syrup, bitters and whiskey.

Serve with an orange peel or smoked cherry for garnish.
Nutrition
Serving:
1
g
|
Calories:
936
kcal
|
Carbohydrates:
176
g
|
Protein:
2
g
|
Fat:
10
g
|
Saturated Fat:
1
g
|
Polyunsaturated Fat:
8
g
|
Sodium:
161
mg
|
Fiber:
2
g
|
Sugar:
160
g
Nutritional informations provided as a courtesy and is only an approximatation. Values will changes based on ingredients used.
⭐ Tried this recipe? Rate it ⭐
Help out the next person and give it a star rating below!