Let's take things back a little old school. Sip slow and enjoy this smokey mature classic cocktail, infused with savory new flavors. The Smoked Old Fashioned is a gentlemen's cocktail, in a woman's world.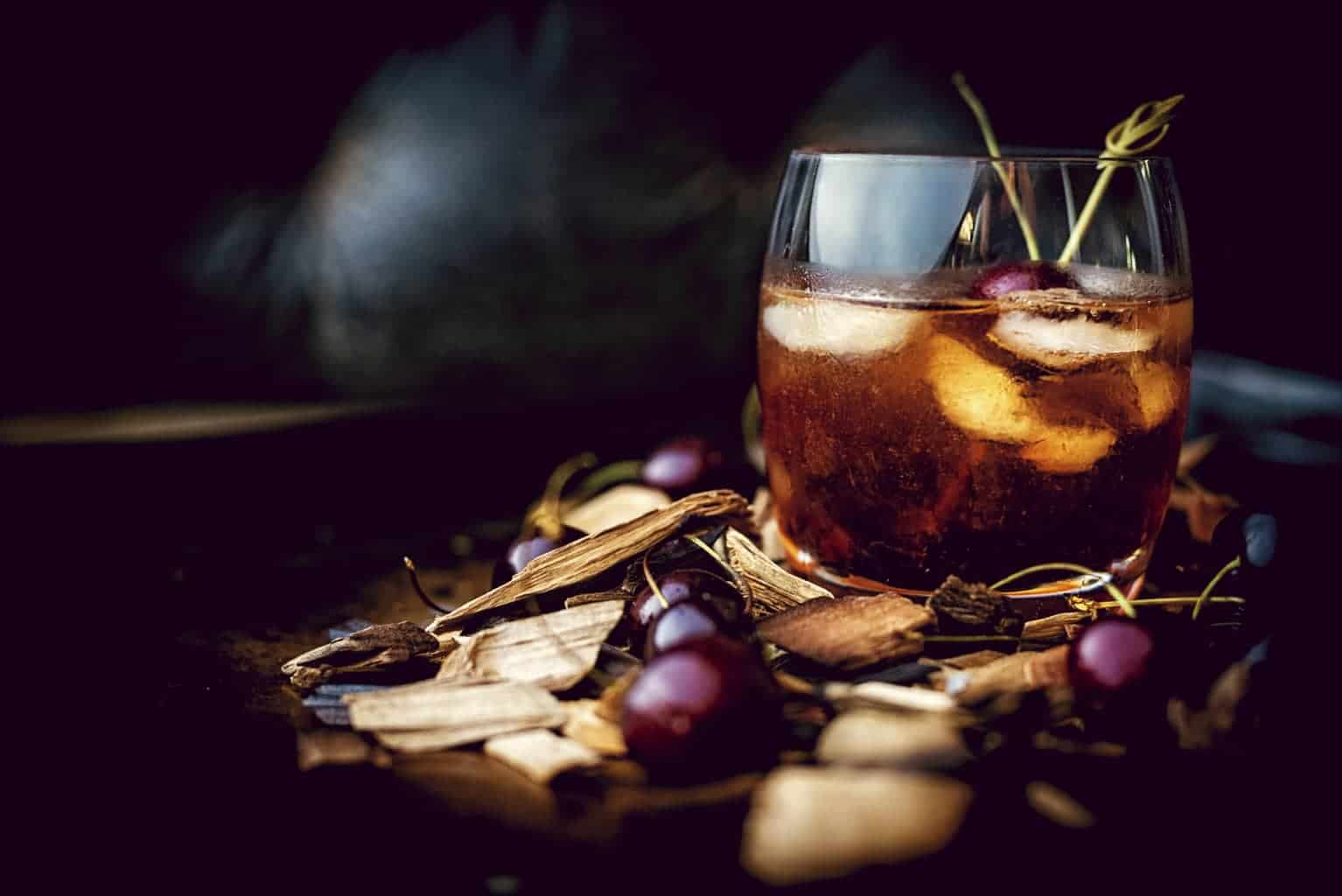 This cherry flavor smoked cocktail is filled with a rich, musky flavor with an awesome presentation. Smoking cocktails is a huge craze in mixology and it's also a great way to add a ton of piquant flavor to your favorite cocktail drink.
Just like cured meats where smoking makes the finished result a lot better, making a smoked cocktail recipe can make a simple drink into a shining star! All because of that smoky flavor.
There's Something About Classic Cocktails.
They make you sit in nostalgia; Pulp scenes, smokey bars, and a light number from a three-part jazz band glaze the shadowy corners of your memory. Holding the chilled glass forces you to slow down, as an Old Fashioned is meant to be sipped slow, over hushed conversations.
Not a cocktail churned out to be pounded for a quick buzz, it's meant for lingering over words and moments as the stars dance forgotten somewhere high above.
Hunting out true craft cocktail joints has become a pastime in my travels, looking for a place to step out of my skin and observe the nuance of an intimate moment in our day.
A standard comes to mind for a successful speakeasy; Close private areas, dim lights, deep reds, golds, and a smooth mix of old designed to transport us away from our modern rush and force us to pause are present as I reminisce over the tucked-away places.
The experienced barkeeps with their signature dapper dress, tapdance behind their countertop laboratory, mixing a harmonious blend of new and old flavors with heavy alcohols.
The bar is the only place teaming with a buzz of life in an otherwise subdued environment as the air fills with the muffled conversations that can only take place in clandestine nooks. The cocktails are limited and crafted to perfection, not meant for those wanting to fill their head with a sugary buzz, but rather, those who enjoy a sophisticated blend intended to highlight the nuance of the liquors.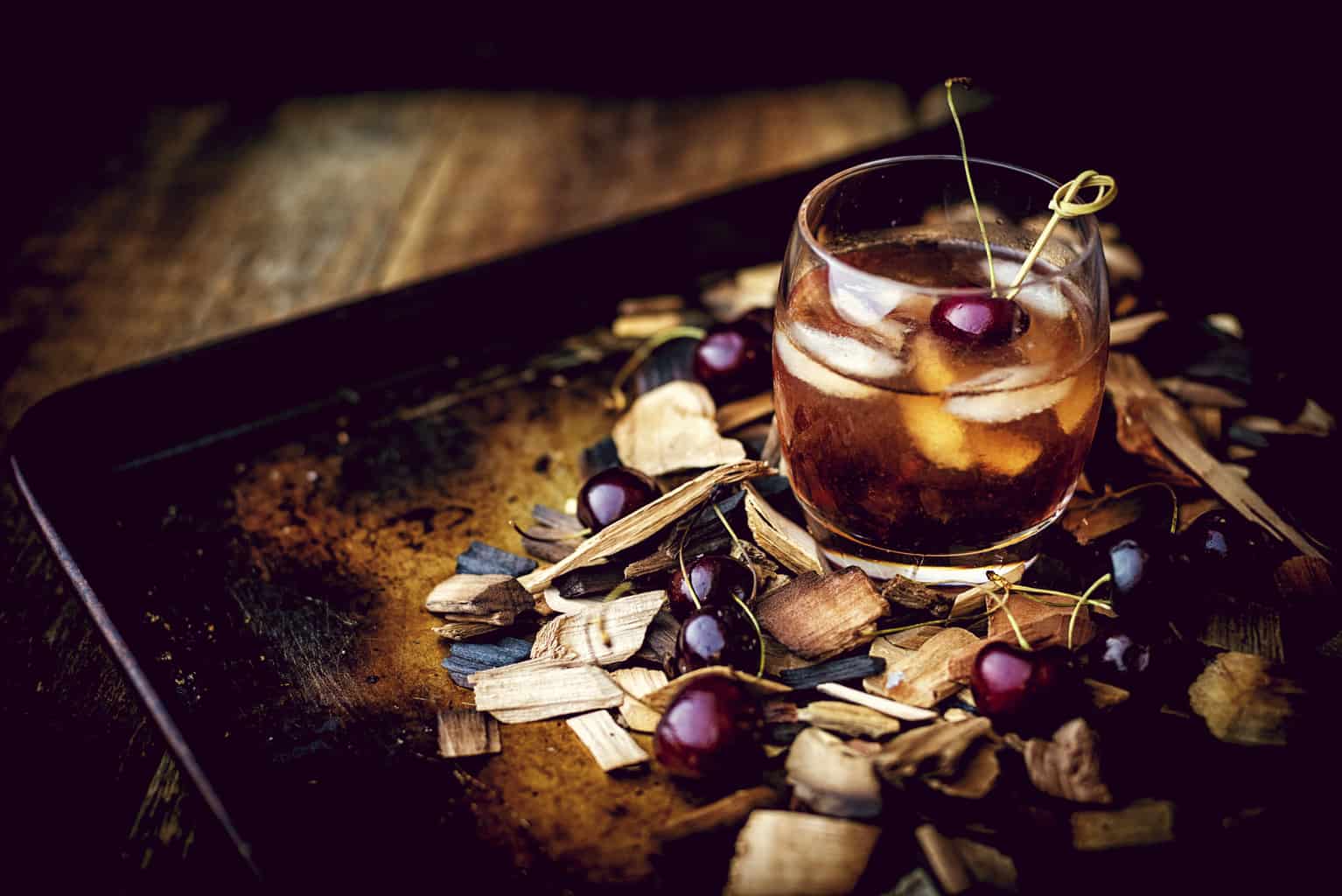 My recent run of cocktails has had a masculine edge, calling on my girl carnivore roots of smoke and flame, to elevate what could be considered a delicate libation. The watermelon margarita bit back with the serrano-infused tequila. The grilled peaches sweetened the bourbon and mellowed the zing from the fresh ginger.
And for my third creation in this run, I was inspired by a smoked cocktail I had in a bar in South Dakota, where the bar-tender smoked the inside of the glass by torching a cedar plank, then capturing the smoke with a liquid dripped glass for a smooth finish to the already timeless cocktail.
Smoked Cherry Simple Syrup
After tasting the smoked cocktail, I've had an idea to add a little bit of sweetness into the mix to hoist the flavor even more. Choosing to add a simple cherry syrup was an awesome idea because it complemented the smoky taste really well. It reminds me of a campfire in an eternal forest.
What is in an Old Fashioned?
An Old Fashioned is made by muddling sugar with bitters, then adding whiskey. Generally, it is served with a twist of citrus rind in a short tumbler-like glass. While I like the taste and subtle notes in a traditional old fashion, I wanted to capture that smokey flavor.
And by more than just smoking the glass. I wanted it to capture summer nights by the fire, and deliver them to your mouth.
What if I smoke the ingredients?
Inspired, I decided to take that smoke one step further, smoking a fresh pound of ripe cherries. Wanting to capture the sexy appeal of the fruit and whiskey in a moody cocktail made for late nights. The natural warmth of the whiskey in your belly pairs seamlessly with the subtle hint of smoke only softened by the sweetness of the seasonal cherries.
The Smoked Cherry Old Fashioned worked to subdue my need for a hidden late-night cocktail bar, filling my imagination with the casual noir experience in my surroundings as I sank into my leather reading chair for the night.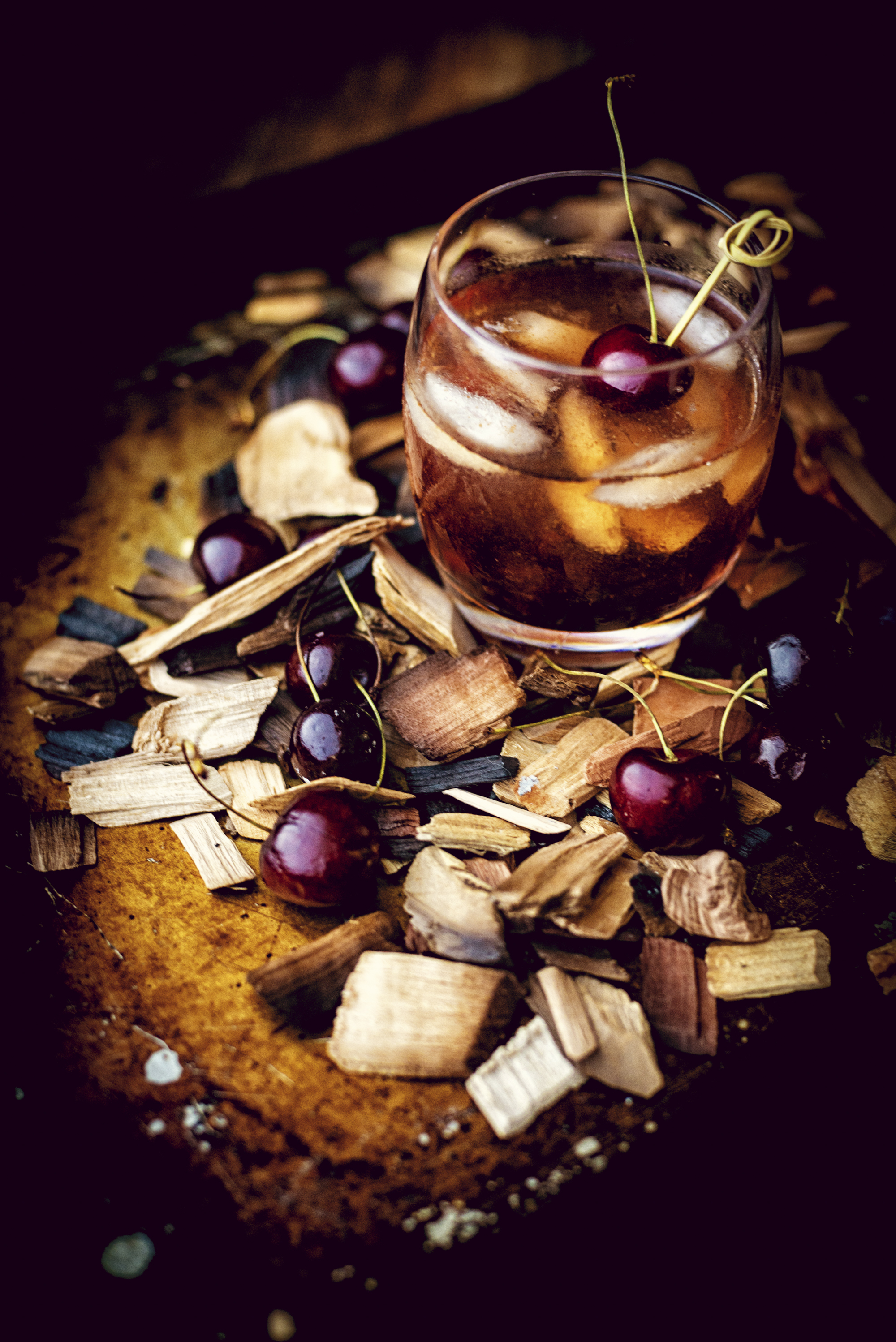 What You Need
For this smoked cocktail recipe you'll gather up:
Wood chips
Fresh rather than frozen, cherries
Sugar or sugar cubes
Water
Aside from your key ingredients you'll need a wood smoker, heat proof glove or tongs for removing the cherries, something for the cherries to be put on in the smoker, a glass and large ice cubes. Don't forget the stars of the show, Anastoga Bitters and Campfire Whiskey.
Can I use different alcohol and ingredients than those listed?
I always say the sky's the limit, but I highly recommend that you try the recipe as-is before swapping ingredients. You will not regret having this smoking gun of a cocktail in all of its original glory!
For more sultry recipes to bring the cocktail bar to your living room, check these out! So good!
Pomegranate Moscow Mule Cocktail Recipe
Spicy Sriracha Dirty Shirley Cocktail
If you've tried my Smoked Cherry Old Fashioned Cocktail recipe or any other recipe on passthesushi.com please don't forget to rate the recipe and let me know where you found it in the comments below. I love hearing from you! You can also follow along for more good eats and travel tips on Instagram @passthesushi & @girlcarnivore, Twitter & Facebook.
Yield: 12 cocktails
Smoked Cherry Old Fashioned Cocktail
Sip slow and enjoy this smokey mature classic cocktail, infused with savory new flavors. The Smoked Cherry Old Fashioned is a gentlemen's cocktail, in a woman's world.
Additional Time
2 minutes
Total Time
1 hour
2 minutes
Ingredients
For the Smoked Cherry Simple Syrup:
Alder wood chips
Fresh Cherries
Sugar
Water
For The Cocktail
3 Smoked Cherries
1 tsp Smoked Cherry Simple Syrup
Splash Anastoga Bitters
2 oz Campfire Whiskey
Instructions
To Make the Smoked Cherry Simple Syrup:
Smoke 1lb of fresh cherries in a wood smoker with Alder wood chips for 45 minutes to 1 hour, until dark and soft. Remove carefully and allow to cool before proceeding.
Make the smoked cherry simple syrup by dissolving 1/2 cup of sugar in 1/2 cup of water in a small sauce pan over low heat. Add 1/2 cup of the smoked cherries to the syrup and allow to sit overnight in an airtight container. Strain and discard the cherries.
To Make the Smoked Cherry Old Fashioned Cocktail:
Add a spoonful of smoked cherries to the bottom of the glass, muddle. Add ice, smoked cherry simple syrup, bitters and whiskey. Serve with an orange peel or smoked cherry for garnish.
Recommended Products
As an Amazon Associate and member of other affiliate programs, I earn from qualifying purchases.
Nutrition Information:
Yield:
1
Serving Size:
1
Amount Per Serving:
Calories:

936
Total Fat:

10g
Saturated Fat:

1g
Trans Fat:

0g
Unsaturated Fat:

8g
Cholesterol:

0mg
Sodium:

161mg
Carbohydrates:

176g
Fiber:

2g
Sugar:

160g
Protein:

2g
Nutrition information provided is an estimate from nutritionix.com. For specific health concerns, please put the recipe into your Dr recommended nutrition calculator.