This Whiskey Sour Recipe is a classic cocktail that perfectly balances the smoothness of whiskey with the tanginess of fresh lemon juice. If you're looking for a new addition to your list of cocktail recipes, this classic Whiskey Sour is for you!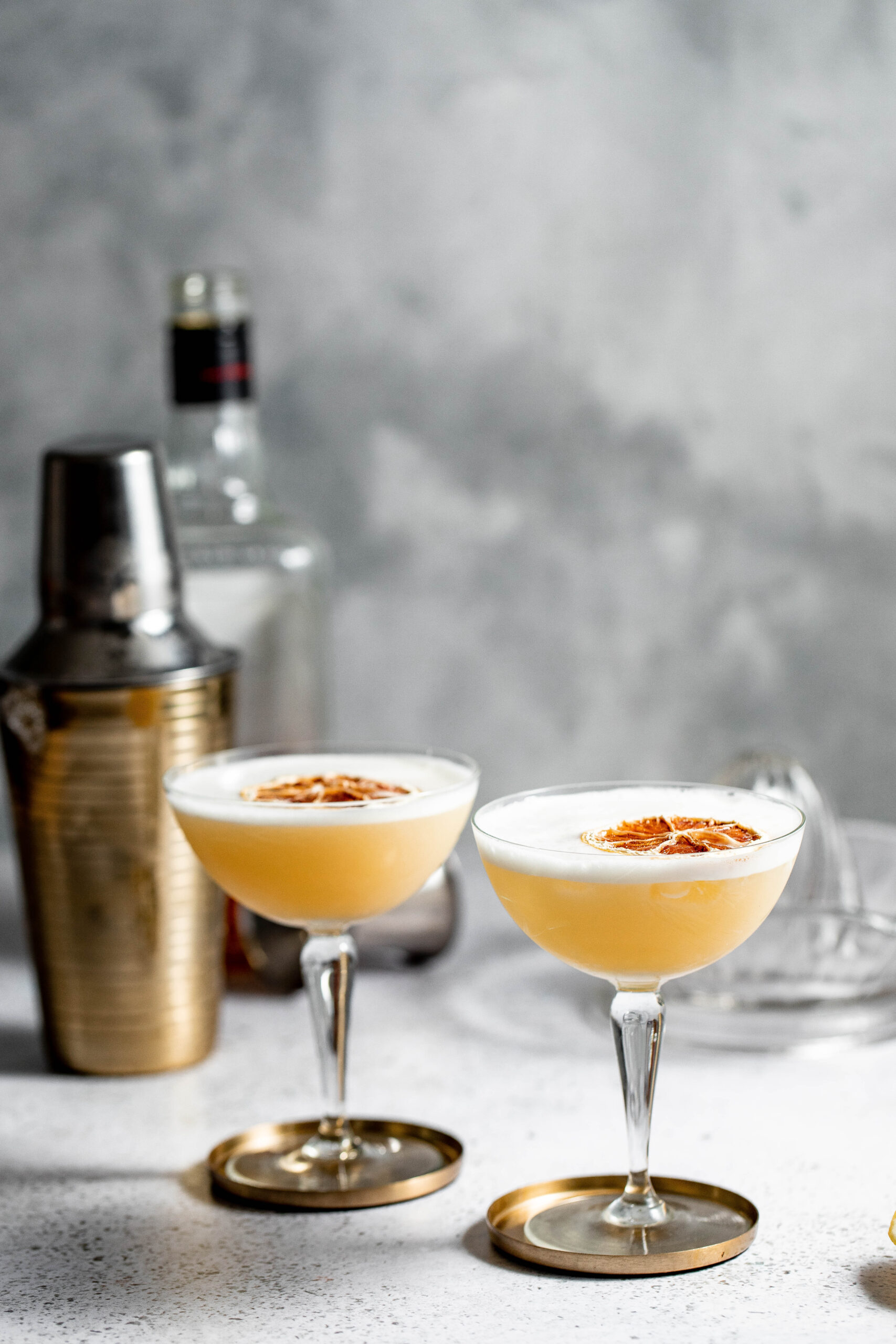 Jump to:
The Whiskey Sour is a timeless drink loved by whiskey enthusiasts and cocktail fans everywhere. If you're a fan of the classics, you'll also love this Smoked Old Fashioned and Smoked Gin and Tonic! With its perfect mix of smooth whiskey and tangy lemon juice, this Whiskey Sour cocktail is a guaranteed crowd-pleaser. So, get ready to channel your inner mixologist and embark on this tasty whiskey adventure!
What Is a Whiskey Sour Recipe?
The Whiskey Sour has a long history, dating all the way back to long voyages during the 19th century. Because scurvy was prevalent during this time, sailors would stock up on citrus fruits like oranges, limes, and lemons to combat the disease. Paired with alcohol that could be kept at room temperature, like bourbon and whiskey, the Whiskey Sour was born.
Like traditional Whiskey Sour, we combined our ingredients in a cocktail shaker and poured the cocktail into a coupe glass. You can serve this cocktail in an old-fashioned glass (rocks), cobbler glass, or highball. It's absolutely beautiful with the egg foam and a dried lemon slice for garnish.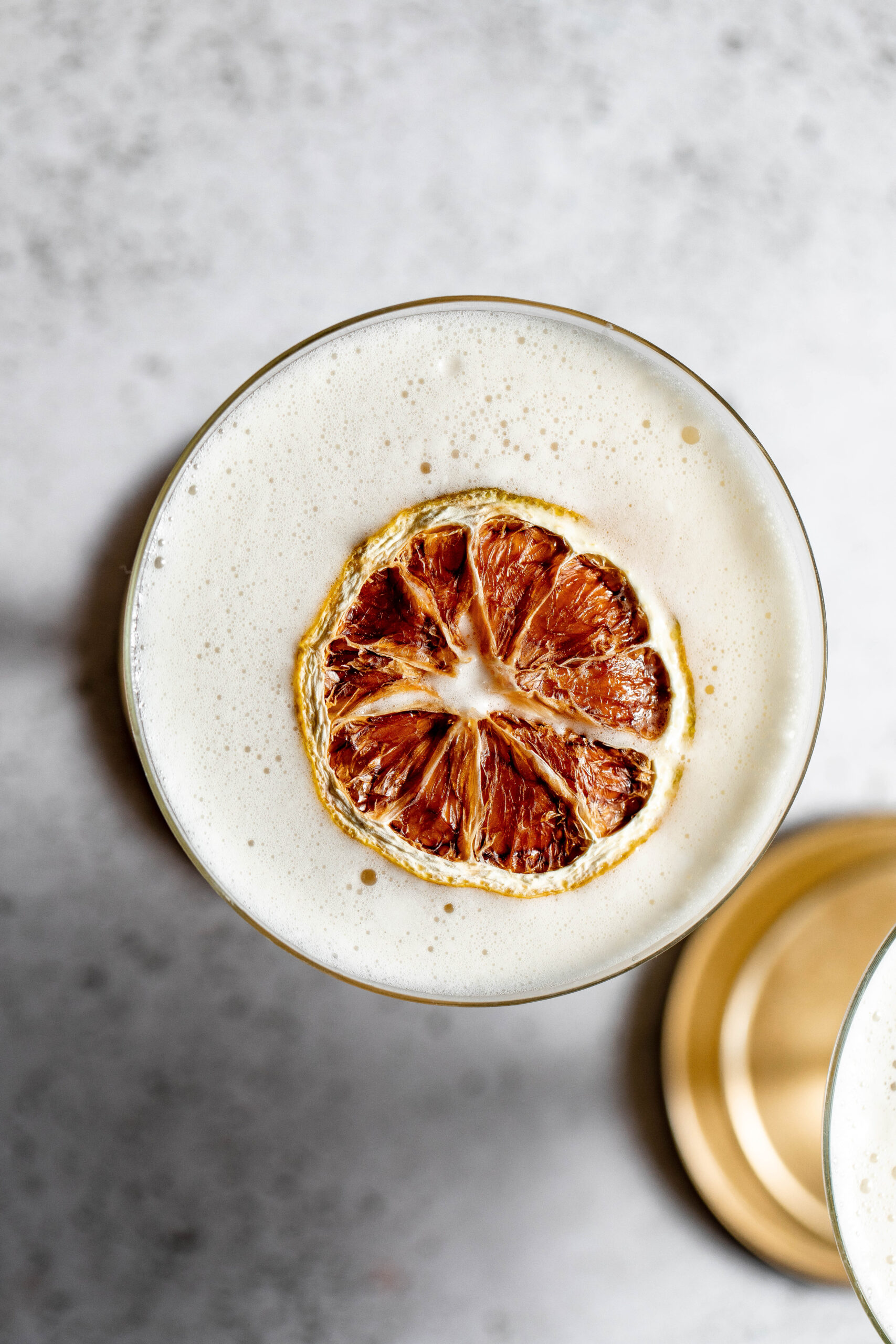 What You Need to Make This Cocktail Recipe
Good Whiskey – Use the best whiskey you can find!
Simple syrup
Juice from a fresh lemon
Egg white
Lemon slices
How to Make a Whiskey Sour Recipe
This one looks oh-so-fancy but is actually easy to make.
Add the whiskey

, simple syrup, and lemon juice to a cocktail shaker.

Add the egg white and secure the lid.
Then vigorously shake the cocktail shaker for 20 seconds. This mixes the drink and froths the egg yolk for that iconic topping.
Using a cocktail strainer, strain the drink into a cobbler glass, carefully pour the egg white foam over top, and garnish with a lemon slice for a top scale bar worthy drink right at home. Happy hour awaits.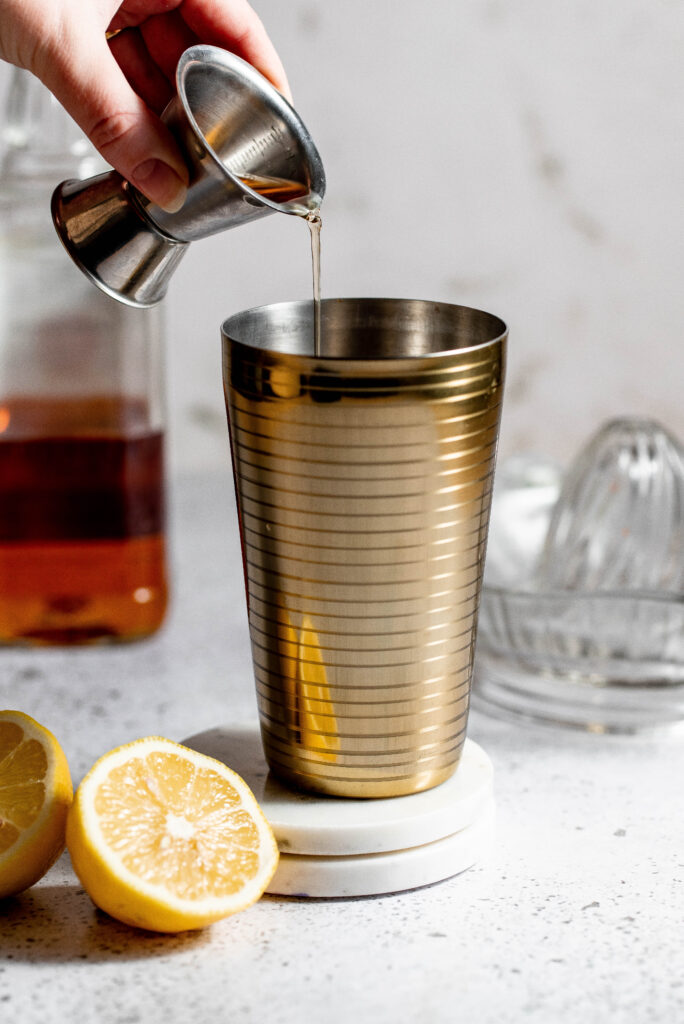 Expert Tips
Garnish with Angostura bitters to intensify the flavors of other ingredients!
Add extra simple syrup to increase the sweetness!
Garnish with a lemon twist or orange peel for an extra citrusy twist!
Add a splash of orange juice for extra sweetness!
What to Serve With a Whiskey Sour Recipe
Looking for some seafood dishes to pair with your Whiskey Sour? Then, you have to try this Grilled Miso-Ginger Salmon and Seafood Scampi Pasta! If you're in the mood for beef, this Rosemary Ribeye Steak will surely satisfy your cravings!
Recipe FAQs
​How can I jazz up this easy recipe?
Some great additions to this recipe are switching out the simple syrup for maple syrup or honey syrup! You can also add a brandied cherry instead of a maraschino cherry for an extra boozy delight!
Can I use bottled lemon juice instead of fresh lemon juice?
While it's more convenient to use bottled lemon juice, fresh lemon juice really does give this drink a fresh flavor. However, you can still use bottled lemon juice if that's all you have!
What whiskey do you recommend to make the perfect Whiskey Sour?
The type of whiskey you use in this recipe can greatly affect the flavor profile. For example, Scotch whisky (without an 'e') has a smoky flavor, is made from malted barley, and is distilled twice. On the other hand, Irish Whiskey has a smoother flavor with notes of honey, is made from a blend of malted and unmalted barley (usually), and is distilled three times, attributing to its smoothness.
Next, we have bourbon. Bourbon is a popular choice for whiskey sours because of its sweet vanilla notes that beautifully contrast the sour elements. Finally, we have rye whiskey. Rye is a bit spicier than bourbon and has a more peppery, clove-like essence.
So, to answer your question, it depends on what you're looking for in a flavor profile. Irish Whiskey or Scotch Whisky will be your best bet if you prefer less sweet spirits. On the other hand, if you like a sweeter flavor profile, bourbon might be the way to go. Lastly, rye whiskey is an excellent choice if you want to add a hint of spiciness to your drink!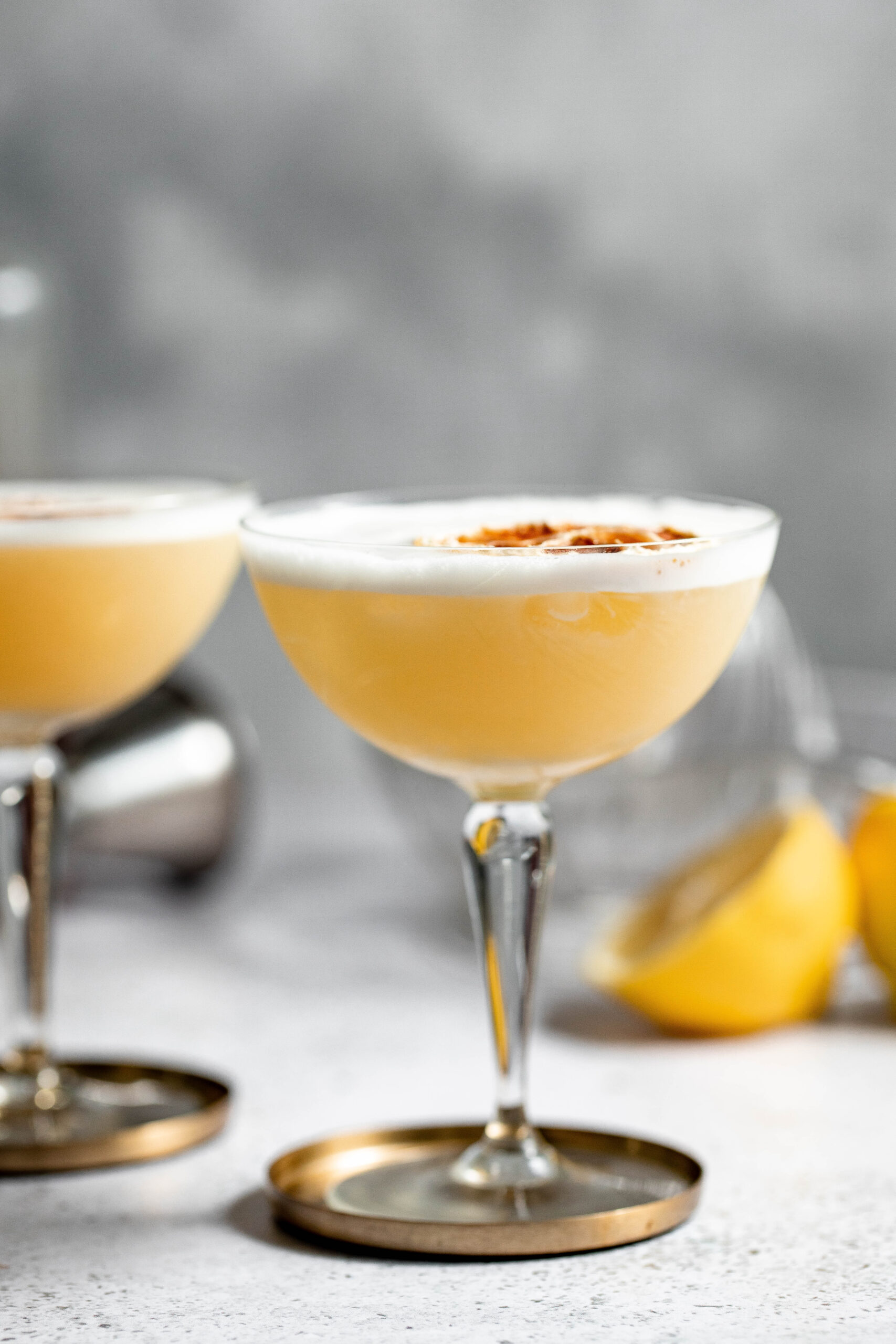 More Whiskey Recipes to Try
Although National Whiskey Sour Day is August 25, you don't have to wait that long to enjoy this whiskey drink! With this simple recipe, you can whip up a Whiskey Sour and enjoy it within the comforts of your own home in no time! Grab your favorite whiskey and the rest of your ingredients, and craft this timeless classic! Also, please rate the recipe card and leave a comment below to help out the next reader!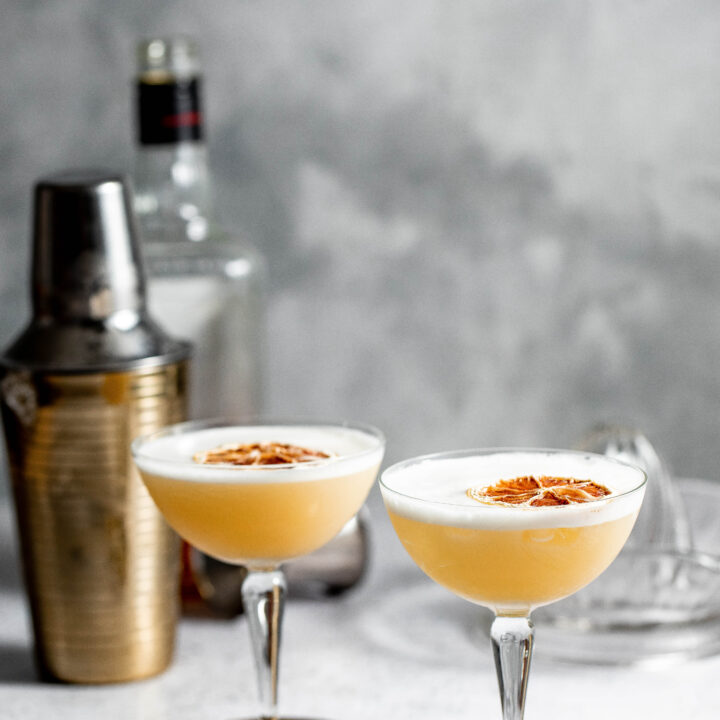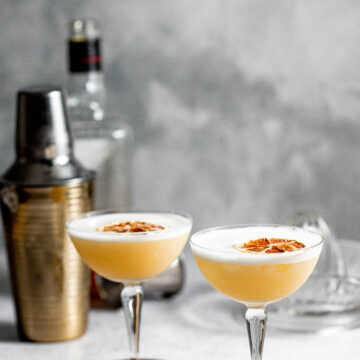 Whiskey Sour Recipe
Enjoy the smooth and tangy flavors of a classic whiskey sour cocktail. ?? Made with whiskey, freshly squeezed lemon juice, and a touch of sweetness from simple syrup, this cocktail is a perfect balance of flavors. Garnish with a lemon twist and savor every sip.
Print
Pin
Rate
Ingredients
2

oz

whiskey

1

oz

simple syrup

1

oz

freshly squeezed lemon juice

1

egg white

Lemon slices

-

for garnish
Instructions
Add the whiskey, lemon juice, simple syrup and egg white to a cocktail shaker.

Shake for 20 seconds, then add ice and shake for another 30 seconds.

Strain the cocktail into a glass and serve with a fresh or dried lemon slice.
Nutrition
Serving:
1
g
|
Calories:
142
kcal
|
Carbohydrates:
0.1
g
|
Potassium:
1
mg
|
Sugar:
0.1
g
|
Iron:
0.01
mg
Nutritional informations provided as a courtesy and is only an approximatation. Values will changes based on ingredients used.
⭐ Tried this recipe? Rate it ⭐
Help out the next person and give it a star rating below!