Seafood scampi combines fresh scallops and shrimp with tender angel hair pasta for an easy weeknight dinner recipe.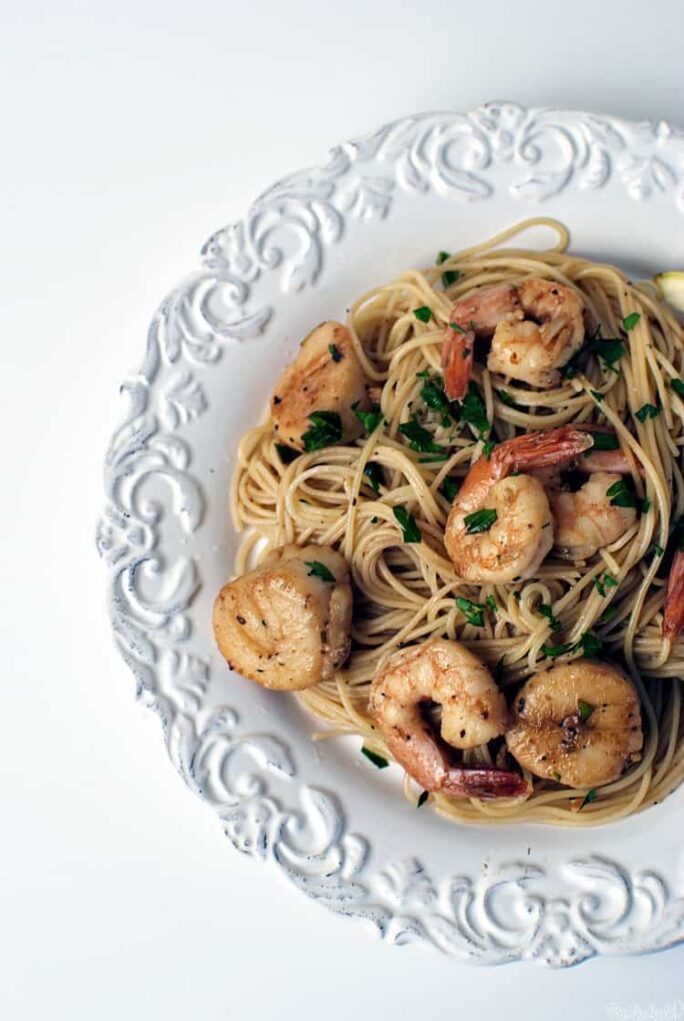 Creamy pasta with light shrimp – is there a better light dish out there? I can't think of one. And yet, it's not something I make at home nearly enough! Always way cheaper then out at a fancy restaurant – shrimp scampi is one of those meals I need to make more often.
What is Scampi?
Scampi, also know as Langoustines or Norway lobsters, are about the size of a large crawfish and harvested from silty bottom regions of the Eastern Atlantic and parts of the Mediterranean Sea.
They are closer related to and have a taste and texture more akin to lobster than shrimp. Not readily available in the United States, immigrants utilized the local shrimp in their recipes, and our modern definition of "scampi" as a preparation style was born.
Humor me for a moment
So, I'm driving the other day – set the scene, tunes bopping, sunglasses on, make the universal imaginary driving action with your hand, ok, go – when I passed a sign for flying deer that sparked this post.
You know, the sign they post whenever there is a corn field or more than three trees in a row, to alert you that wild life may try to take the right of way regardless of the laws of physics. Under the picture of the reindeer (seriously, it's a flying deer. You'll never look at those signs the same) it said 8/10 mile.
There is a point to this random post.
1) I have always wondered who keeps the deer in check. Unless there is a GIANT electrical fence, what keeps that deer in the allotted area as designated by the sign? Really, shouldn't it just be – wildlife… you know everywhere? Just keep an eye out.
Not just in the areas where flying deer are marked by yellow signs. Because, if it's not flying deer it's most likely pedestrians, either way, don't hit them.
2) 8/10 of a mile? Really. Round up. No ones figuring out where the 8/10 ends so that they may speed up and drive like a maniac in a deer free utopia. 8/10…
Flying deer, next mile. And probably further. Keep it simple.
3) Lastly, who's teaching the deer fractions. 8/10. That's the best we could come up with? We didn't even bother to reduce it. 8/10…
I am not even very proficient with fractions – so who is sitting out there training these wold creatures to stop and turn about when they reach the last 2/10 of that mile – especially with that tasty corn field on the other side of the street.
OK, maybe there wasn't a point to that, but this shrimp and scallops seafood scampi recipe is worth waiting for.

Want a few more tasty and quick seafood recipes? Here ya go!
Grilled Tequila Shrimp Salad
Shrimp Po Boy Burgers
King Salmon with Peas and Mint
If you've tried my Shrimp and Scallop Scampi recipe, or any other recipe on passthesushi.com please don't forget to rate the recipe and let me know where you found it in the comments below. I love hearing from you! You can also follow along for more good eats and travel tips on Instagram @passthesushi & @girlcarnivore, Twitter & Facebook.