Dive into a world of oceanic delicacies with our easy, delicious seafood scampi. Balancing the tender, briny sweetness of seafood with the zesty punch of garlic and lemon, it's a dish that brings coastal cuisine right to your kitchen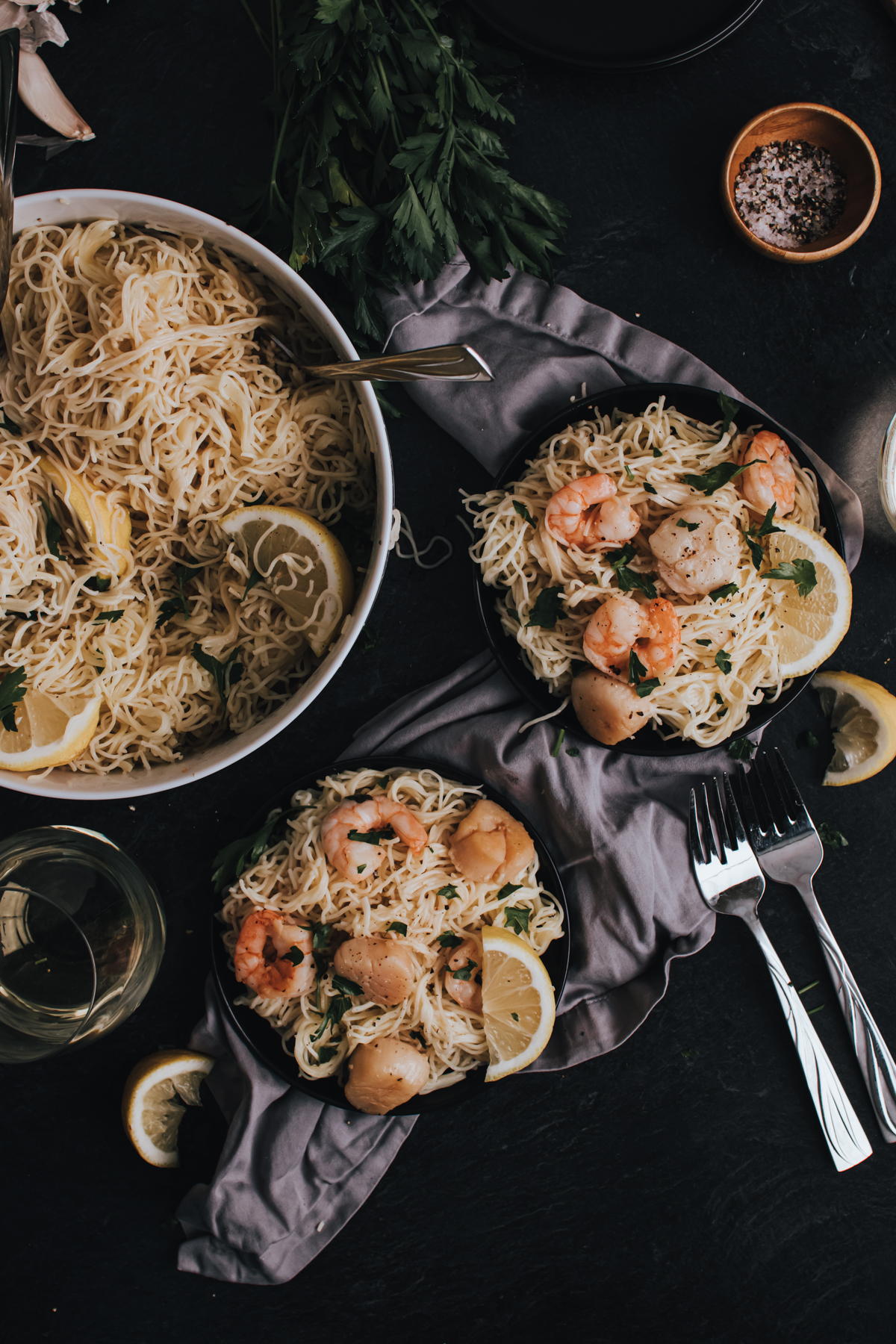 Jump to:
This Seafood Scampi Pasta combines fresh scallops, juicy shrimp, and tender pasta with a light, fresh, flavorful garlic, butter, and white wine sauce. It's a perfect dinner dish that takes just 25 minutes to make!
Quick dinners are our jam, especially on busy weeknights when we only have 30 minutes to prep everything, like this Broccoli Cheddar Soup, Quick Tortellini Bake, and this Seafood Scampi. This easy recipe only takes 25 minutes and a few simple ingredients, and you can sink your teeth into this flavor-packed Italian-American classic. What's not to love?
What Is Seafood Scampi?
Seafood Scampi consists of creamy pasta tossed in a white wine and lemon butter sauce with garlicky shrimp and perfectly seared scallops. This recipe is a fun twist on the classic shrimp scampi recipe. Instead of using only shrimp tossed in pasta and a garlicky sauce, we're also tossing in some seared scallops! Buttery scallops add the perfect briny saltiness to the dish without overpowering it. Plus, a little extra protein never hurt anybody, right?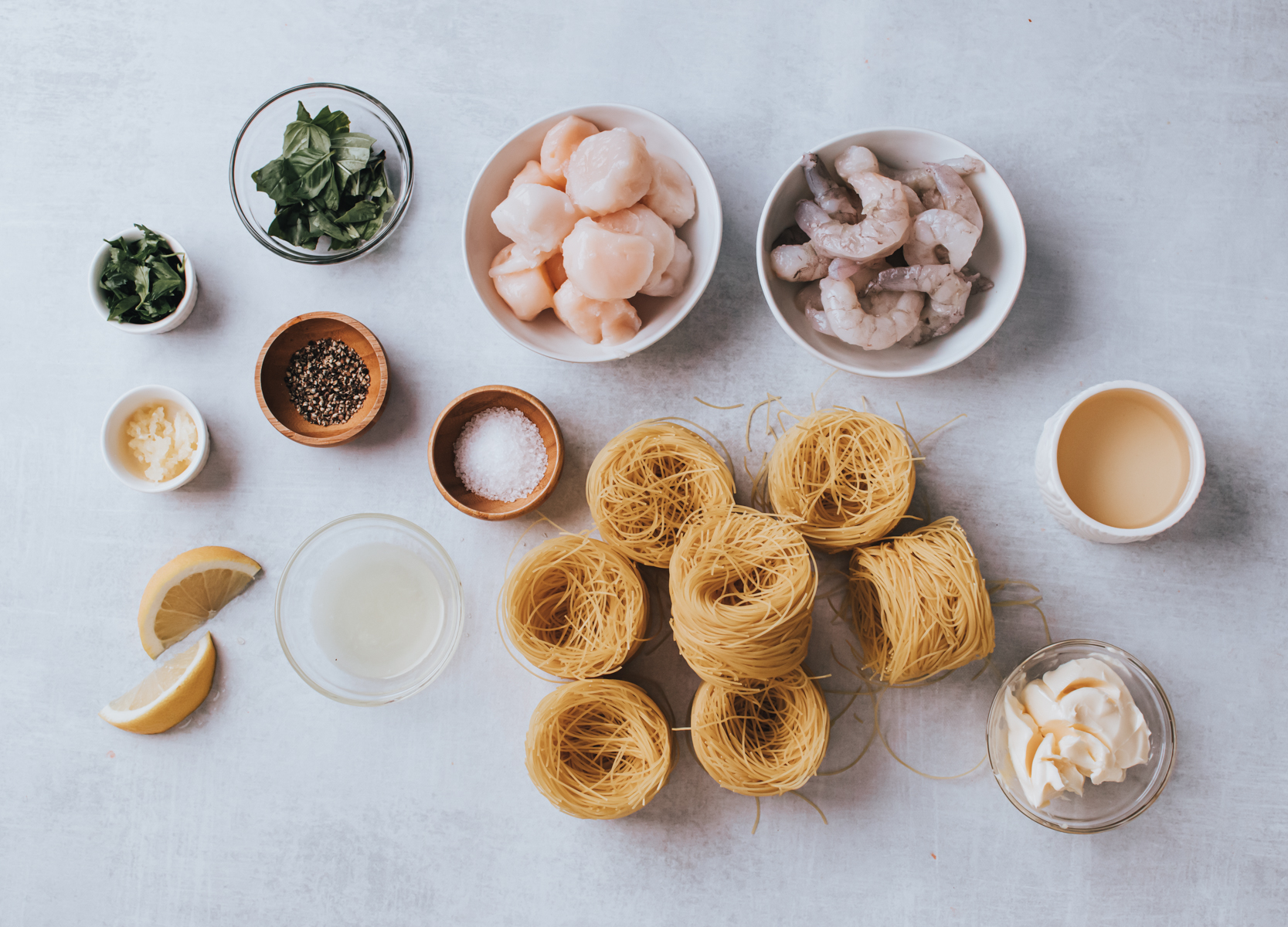 What You Need to Make This Easy Seafood Scampi Recipe
Kosher Salt
Pasta – We're using 1lb of angel hair pasta, but use whatever you have on hand.
Shrimp – Purchase jumbo shrimp that have already been cleaned and peeled.
Scallops – We used big diver scallops. Look for thawed scallops at your local fish market or grocery store.
Black Pepper – Use freshly ground black pepper for that perfect kick of heat.
Butter – We recommend unsalted butter so you can control the saltiness of the dish.
Garlic – Adds the perfect kick of flavor.
Fresh Lemon Juice and Crisp White Wine – A citrusy, tangy, fresh base for our shrimp scampi sauce.
Herbs – We're adding a little freshness with the addition of fresh basil and fresh parsley.
Note: Alternatively, this recipe can use smaller bay scallops and smaller shrimp if you can't find the jumbo ones. We just prefer the larger seafood's taste, texture, and presentation.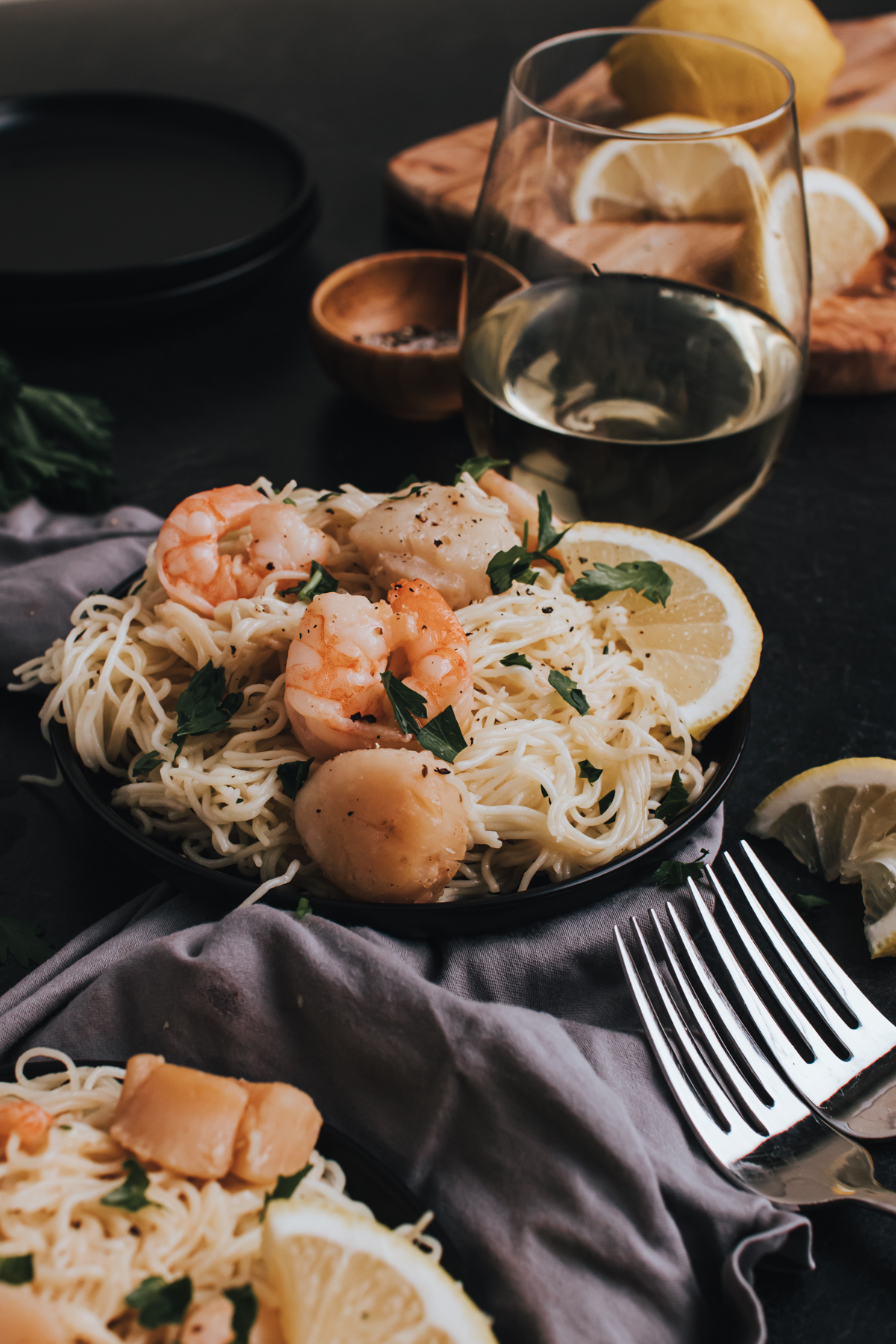 How to Make Seafood Scampi
Cook the Shrimp
First, pat the shrimp and scallops dry and season them with salt and pepper. Preheat a skillet for a few minutes, then add the shrimp. Allow them to cook until they turn pink, flip them, add the garlic, and cook for another minute.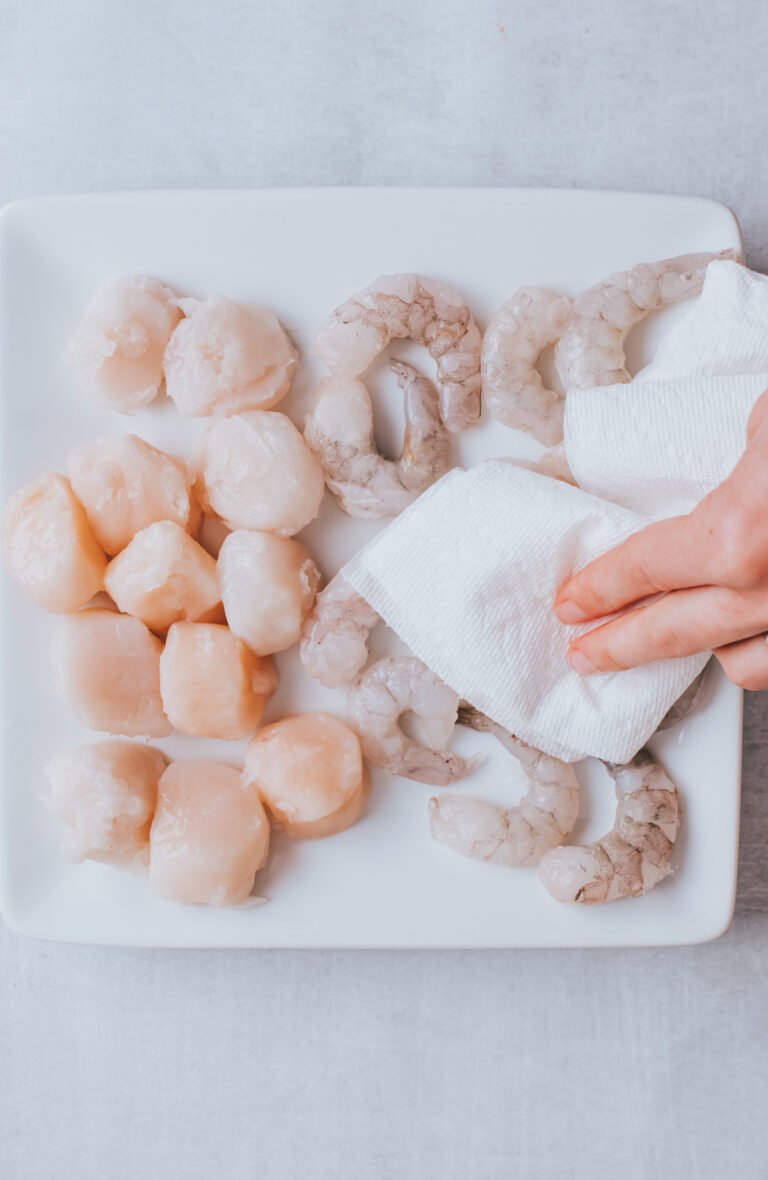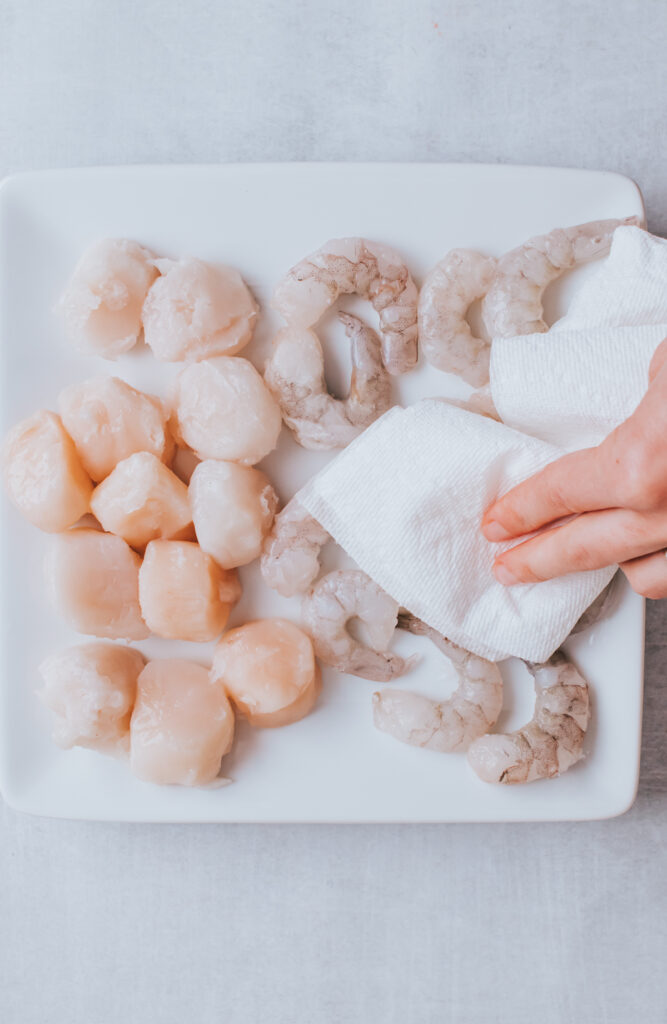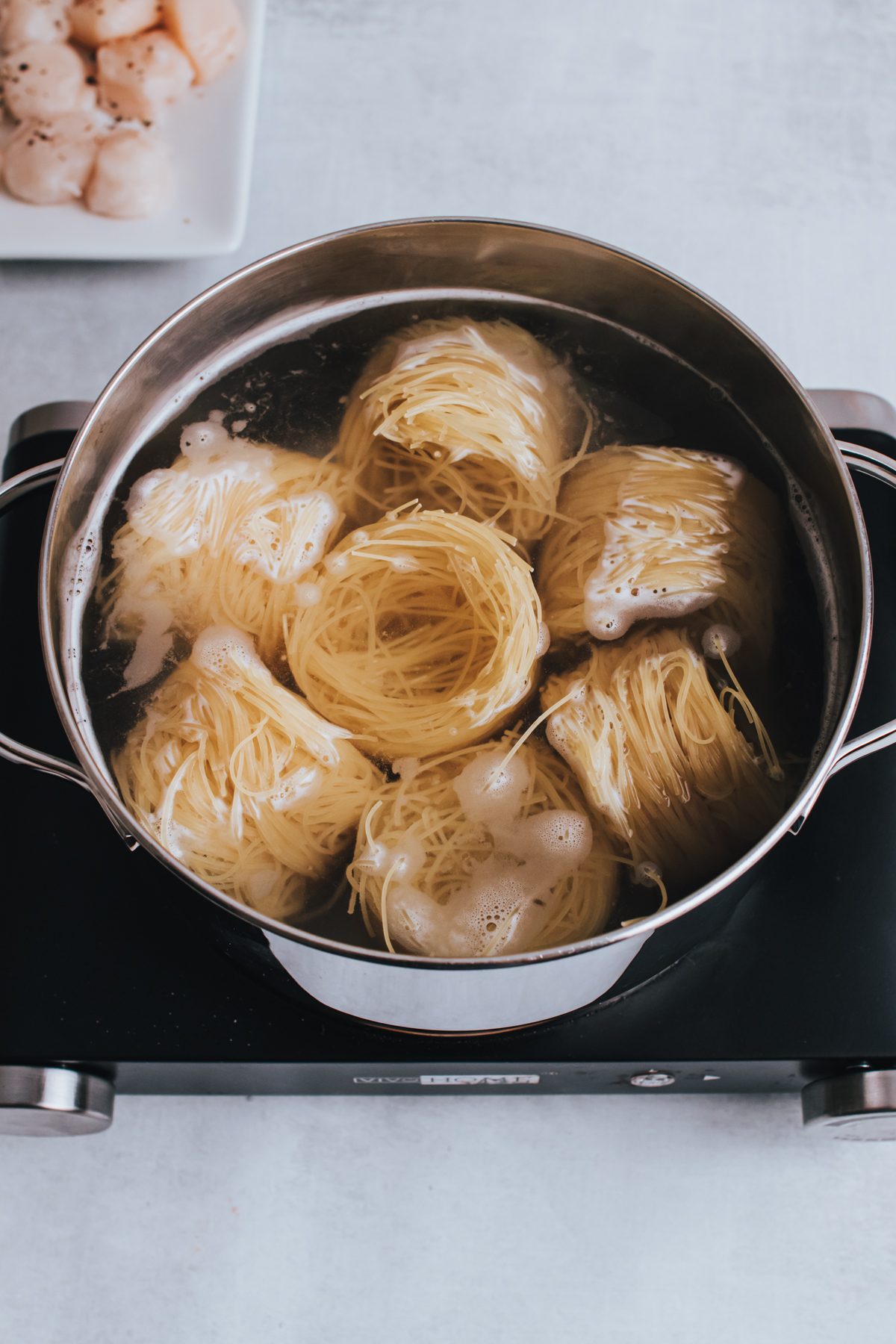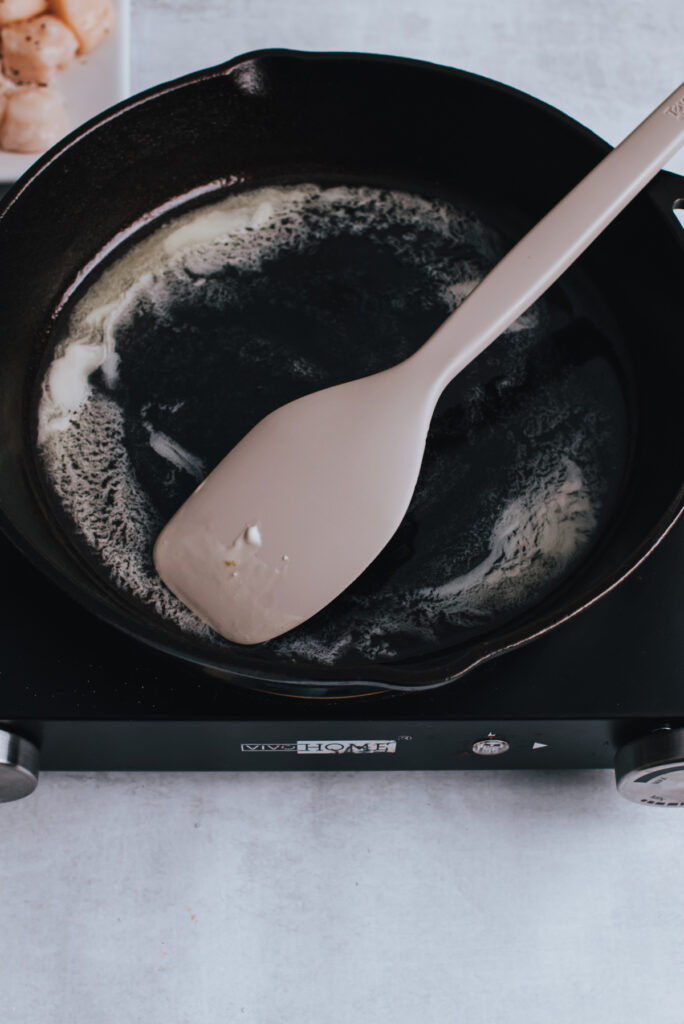 ​Sear the Scallops
Repeat with the scallops, allowing for a good sear on one side before even daring to flip. It's the crust on the scallop that makes them so memorable. Look for cracks along the outer edges.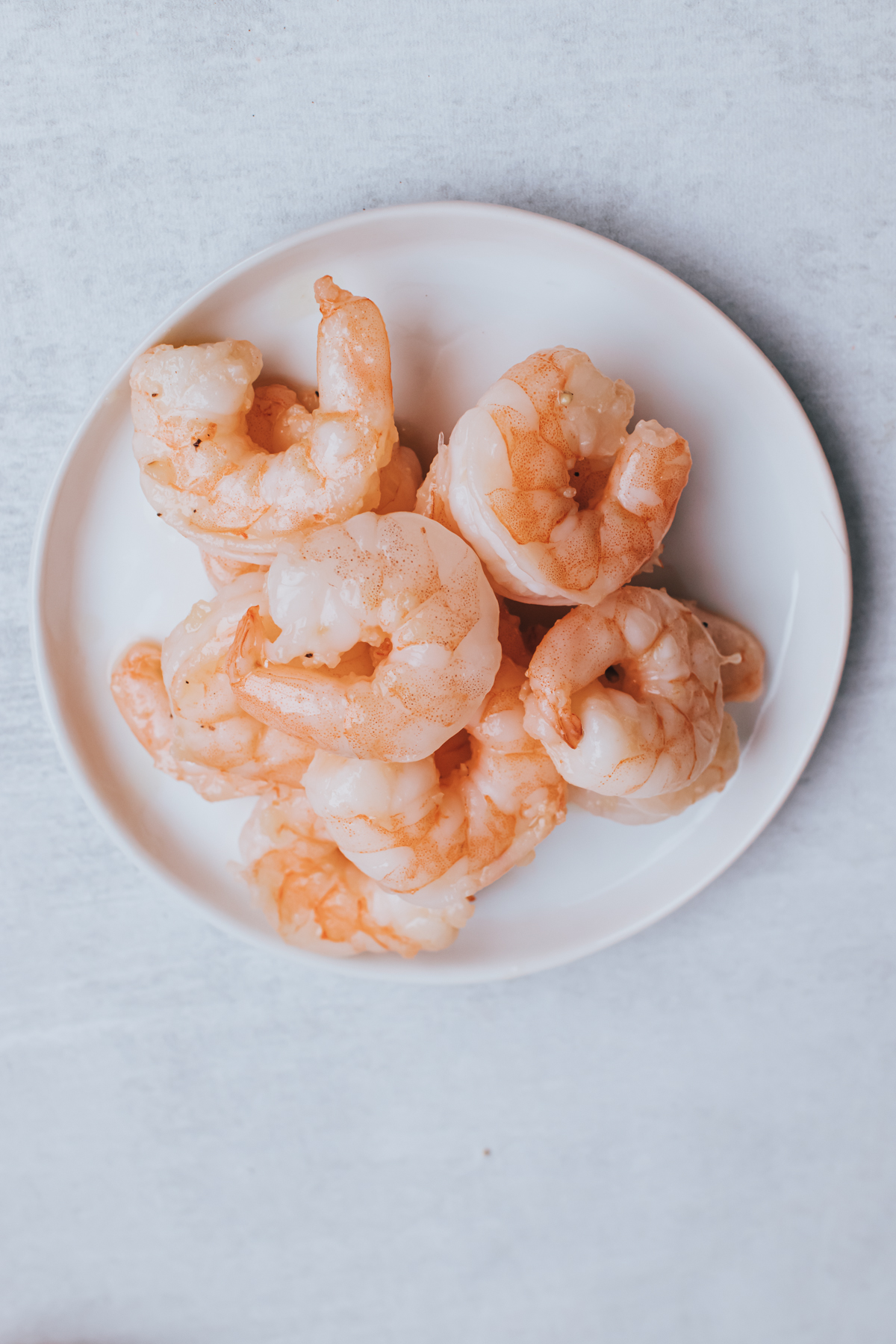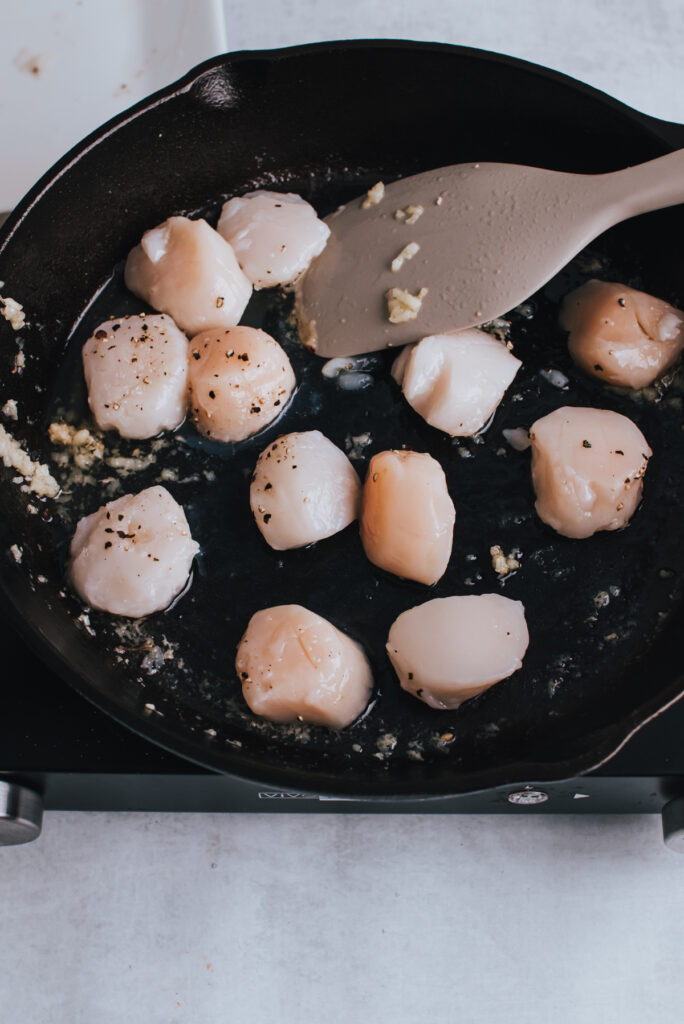 Deglaze and Make the Sauce
Deglaze the pan with a splash of white wine and use a spatula to scrape up any browned bites. Add the rest of the wine and the lemon juice. Once the wine has reduced, pull the skillet off of the heat and add in butter, cooked shrimp, and herbs.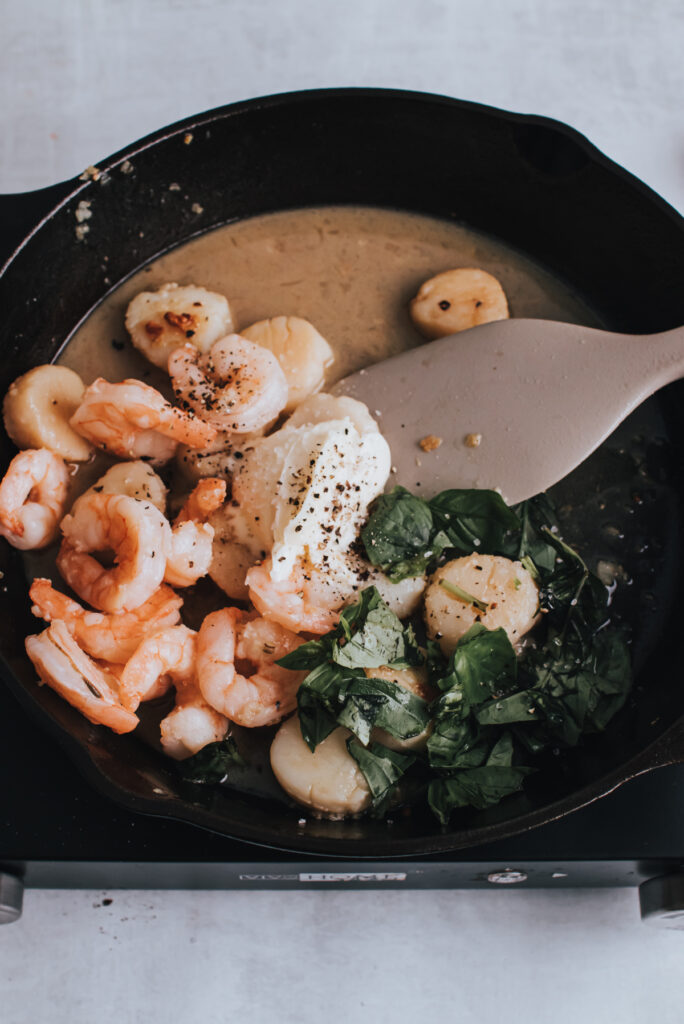 Serve and Enjoy
To finish, take the scampi and serve it over al dente angel hair pasta! Sprinkle some parmesan cheese and red pepper flakes over the top to finish to add a little tang and heat to this seafood dish!
What to Serve With Seafood Scampi
Before serving your Seafood Scampi, serve up this Boiled Caprese Salad as a quick appetizer!
It's also delicious, served with an Italian Hoagie Salad on the side and a slice of fresh rosemary garlic bread to sop up the buttery sauce.
The white wine garlic butter sauce also pairs well with White Wine Sangria!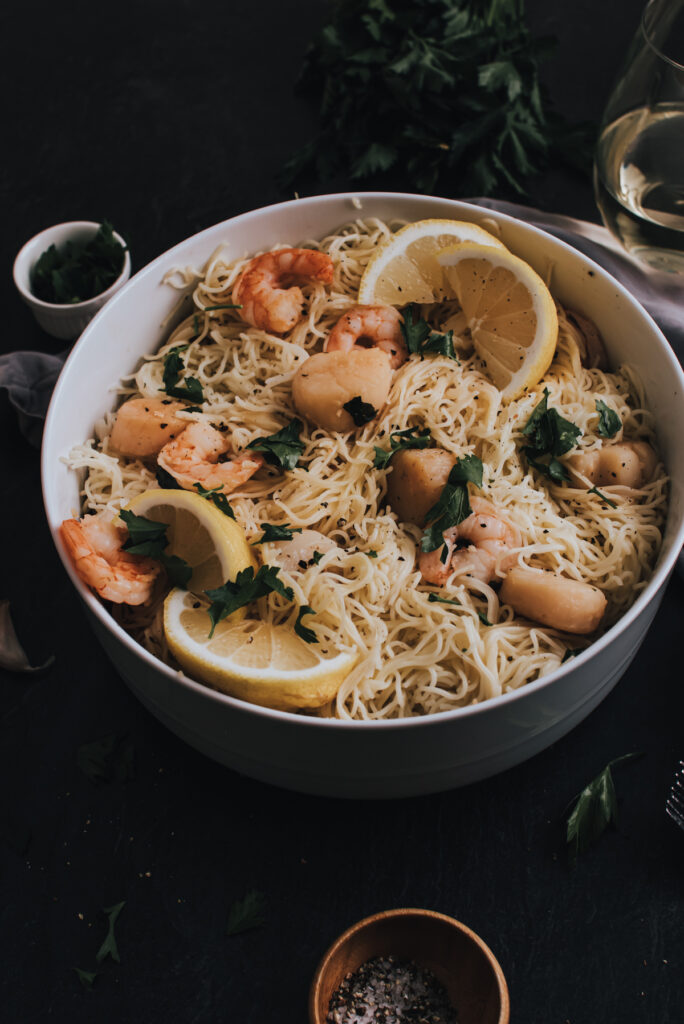 Leftovers and Reheating
Once the seafood and the pasta are mixed, we recommend serving right away. Shrimp and scallops don't reheat well, so we recommend sautéing additional seafood as needed for any leftover pasta.
The leftover pasta will last in an airtight container in the fridge for up to 3 days. To reheat, warm in a microwave-safe bowl in 30-second bursts until heated through.
Freshen with a squeeze of lemon juice for the perfect leftover dinner!
Expert Tips
If you prefer a one-pan meal, you can totally use the same pot for the seafood after draining the pasta water.
Pat the seafood dry to prevent sticking in the pan.
Preheat the pan. Make sure the skillet is nice and hot before you add in the seafood for the best texture. This also helps prevent sticking!
If you have a large enough pan, you can cook the shrimp and scallops at the same time.
Don't overcrowd the pan. If you don't have a large enough skillet, definitely cook the seafood in batches. Overcrowding the pan won't allow everything to cook properly and will affect the texture!
Use another pasta shape. We love the delicate texture of the angel hair with the light and fresh flavors of the scampi sauce, but other pasta shapes will work too. Try linguine, fettuccine, bow tie pasta, penne, etc.
For extra lemony goodness, shave a little lemon zest on top of your finished pasta dish!
Recipe FAQs
What Is Scampi Sauce Made Of?
Scampi sauce is essentially a combination of reduced wine, garlic, and butter with a splash of fresh citrus from lemon. While we love the scampi sauce over pasta with the shrimp and scallops, it's also amazing over other mild proteins like shellfish or even chicken. 
Best Wine to Use for Seafood Scampi?
We recommend a dry white wine such as Pinot Grigio or Sauvignon Blanc. It makes for the best flavor! And bonus: it's a great pairing with the dish when you're serving it!
More Seafood Recipes
This classic recipe is your ticket to seafood paradise, where each bite is a burst of buttery perfection. No need to wait for special occasions or a dinner party to serve this simple yet decadent dish. A random weekday will do just fine! If you try this recipe, please rate the recipe card and leave a comment below to help out the next reader!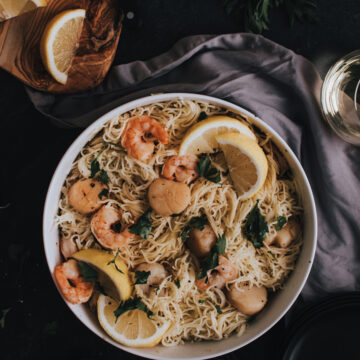 Shrimp and Scallop Scampi with Angel Hair Pasta
Savor the taste of the sea with our enticing seafood scampi, a harmony of juicy shrimp, garlicky butter, and zesty lemon. ?? It's a quick, simple recipe that transcends the ordinary, transporting you to the shoreline with every bite.
Print
Pin
Rate
Share by Text
Ingredients
Kosher salt

1

lb

angel hair

12

jumbo shrimp

-

peeled and cleaned

12

large sea scallops

-

tough foot muscles removed

Freshly ground black pepper

3 1/2

tbs

unsalted butter

2

cloves

garlic

-

minced

2

tbs

fresh lemon juice

-

plus lemon wedges for garnish

1/2

cup

dry white wine

1/4

cup

torn fresh basil

2

tbs

chopped fresh parsley
Instructions
Bring a large pot of salted water to a boil. Add the angel hair and cook as the label directs.

Meanwhile, heat a large skillet over medium-high heat.

Pat the shrimp and scallops dry, then season with salt and pepper.

Add 1/12 tbs butter to the pan and cook the shrimp until golden on one side, about 3 minutes.

Turn the shrimp and add half of the garlic; cook until the garlic is fragrant but the shrimp are still translucent, 1 to 2 minutes more.

Transfer the shrimp to a plate.

Add the scallops to the skillet and cook until golden on one side, about 3 minutes.

Turn the scallops, add the remaining garlic and cook 1 to 2 more minutes.

Add the lemon juice and wine and bring to a boil, scraping up any browned bits with a wooden spoon.

Cook until the sauce is reduced by half, about 3 minutes.

Return the shrimp to the pan, then add the basil and the remaining 2 tbs butter; season with salt and pepper.

Drain the pasta and transfer to a large serving bowl.

Toss with the shrimp, scallops and sauce; garnish with parsley and lemon.
Notes
*This dish can be made easily with chicken for my non shellfish loving fans. Just cut chicken cutlets into thin strips and cook in the pan before or in place of the shrimp.
We find angel hair pasta can get a little sticky while we whip this up. Feel free to make this with whatever pasta you have on hand. 
Food Network Magazine October 2009
Nutrition
Serving:
1
g
|
Calories:
358
kcal
|
Carbohydrates:
41
g
|
Protein:
18
g
|
Fat:
11
g
|
Saturated Fat:
7
g
|
Polyunsaturated Fat:
4
g
|
Cholesterol:
74
mg
|
Sodium:
558
mg
|
Fiber:
2
g
|
Sugar:
2
g
Nutritional informations provided as a courtesy and is only an approximatation. Values will changes based on ingredients used.
⭐ Tried this recipe? Rate it ⭐
Help out the next person and give it a star rating below!