Seafood scampi combines fresh scallops and shrimp with tender angel hair pasta for an easy weeknight dinner. This recipe comes together quickly but results in an amazingly rich and decadent dinner that always leaves everyone swooning and rarely any leftovers.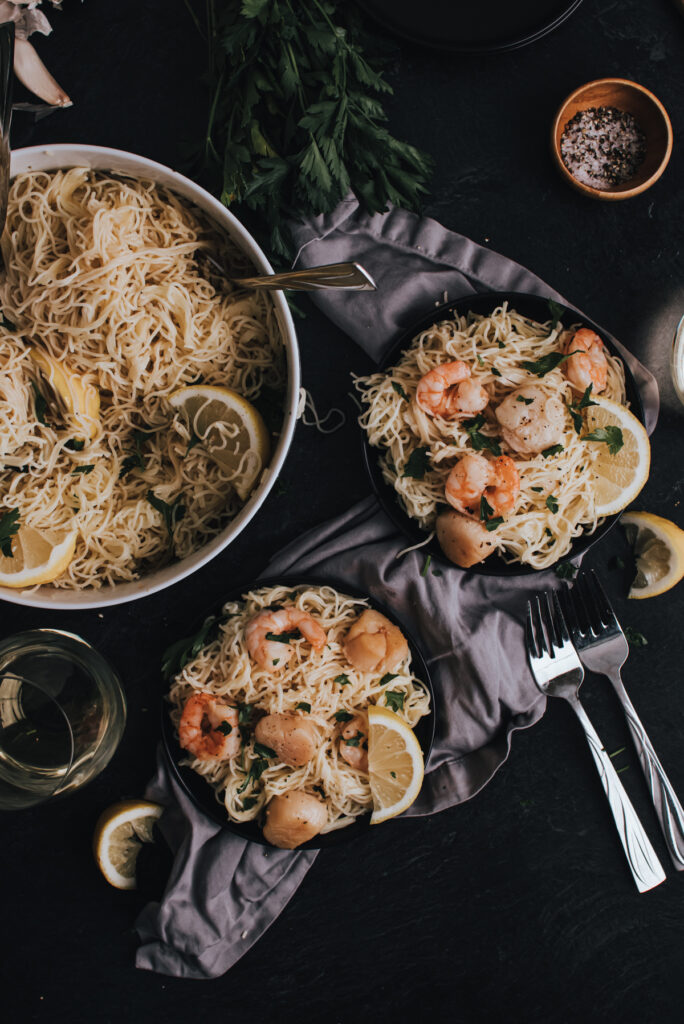 Buttery, garlicky, enticing shrimp scampi – but make it pasta. This shrimp scampi recipe is the best of the best for me. It's the perfect meal for dinner or for any special occasion.
Don't have any idea what dish to bring to a celebration party? Try this shrimp scampi pasta! Don't have time to whip up a complex dish for a birthday? Try this shrimp scampi recipe! You'll have an impressive dish in no time that tastes like it's been made for hours.
I'm drooling just looking at this gorgeous pasta recipe with fresh shrimp! This is honestly the best seafood scampi recipe and you definitely need to try it out!
Creamy pasta tossed in a white wine and butter sauce with light shrimp and perfectly seared scallops – is there a better dish out there? I can't think of one. And yet, it's not something I make at home nearly enough! Always way cheaper than going out to a fancy restaurant – shrimp scampi is one of those recipes that when I make at home, I sit back and savor.
The magic of this dish is in its simplicity. Light fresh flavors are all it takes. Scampi sauce is essentially a reduced wine, garlic, and a better combination with a splash of fresh citrus from a lemon. It is amazing over mild proteins like shellfish or even chicken.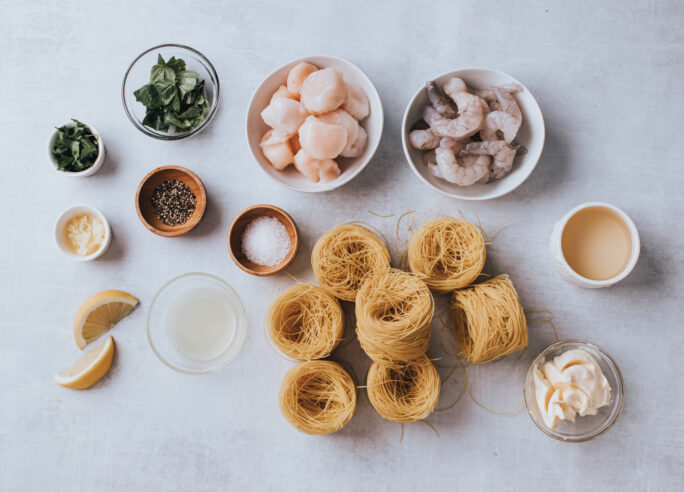 What you Need to Make Mixed Seafood Scampi Recipe
Head to the market and gather your ingredients for this quick pasta dish. (No really, it's quick, so having everything ready to go will make sure that you complete this recipe without any snags).
Angel hair pasta
Butter
Shrimp
Scallops
Salt
Pepper
Garlic
Lemon
White wine
Fresh herbs (like basil and parsley)
For the shrimp, purchase jumbo shrimp that have already been cleaned and peeled. For the big diver scallops, look for thawed scallops at your local fish market. Alternatively, this recipe can use smaller bay scallops and smaller shrimp if you can't find the jumbo ones. I just prefer the taste, texture, and presentation of the larger seafood.
Fresh herbs are also a must for this recipe. The basil and parsley liven up the dish as they are folded in and the aroma is outstanding.
What wine for seafood scampi?
Make sure to pick a dry white wine for this scampi recipe. Choose either a Pinot Grigio or Sauvignon Blanc. Bonus, this makes a great pairing for when you're serving the dish as well. Cheers.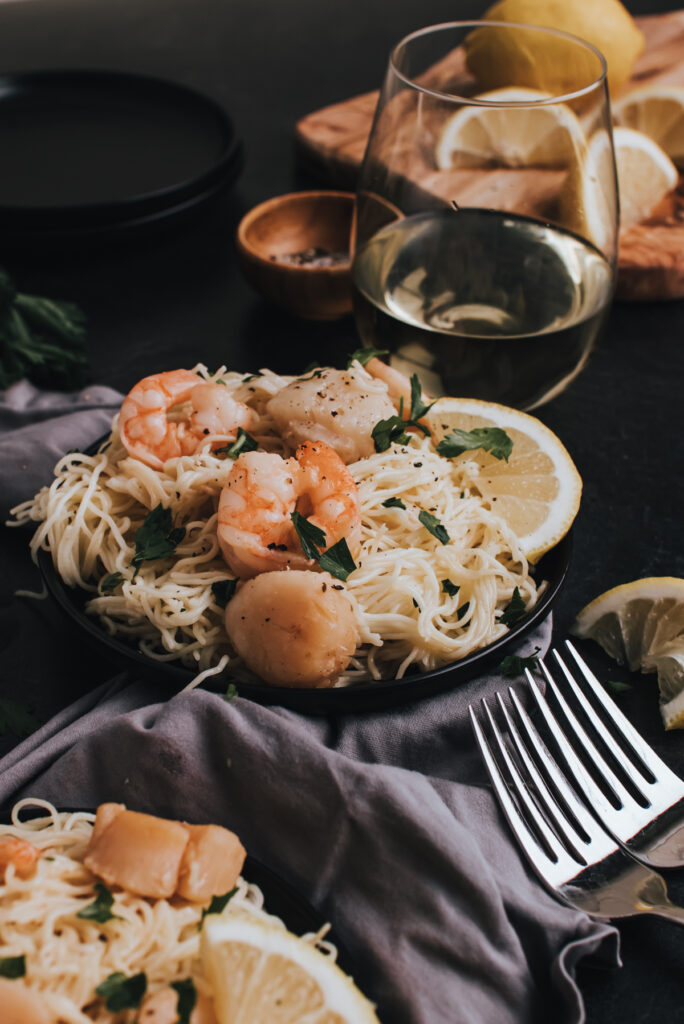 How to make the best seafood scampi recipe
From start to finish this recipe takes 30 minutes. But the key is having everything ready to go for success. Two pans or large skillets work great for boiling the pasta and also cooking the seafood at the same time OR if you want you could make this all in the same pot after draining the pasta and setting it aside.
To prevent sticking in the pan, make sure the shrimp and scallops are patted dry and then season them with salt and pepper.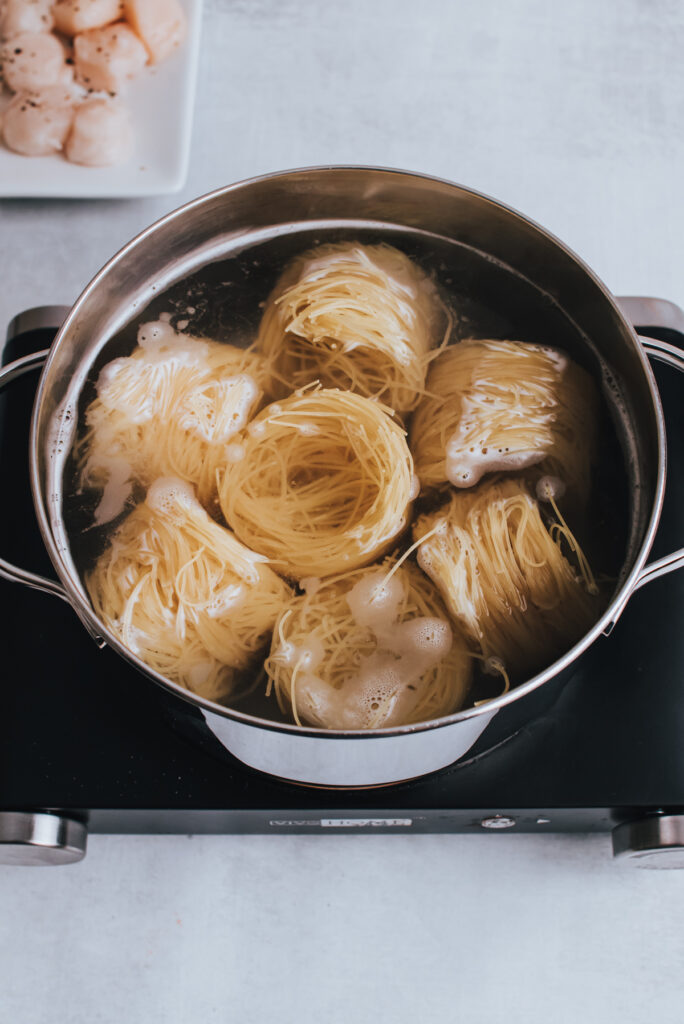 A quality pan that has been properly pre-heated on medium-high heat also prevents the tender shellfish from sticking, so make sure the pan has had a few minutes to come to temp. Allow the shrimp to cook without fussing with them too much until they turn pink. Flip, add the garlic and continue to cook a minute longer.
Note the shrimp will continue to cook even when they are removed from the heat and then tossed back in with everything as well.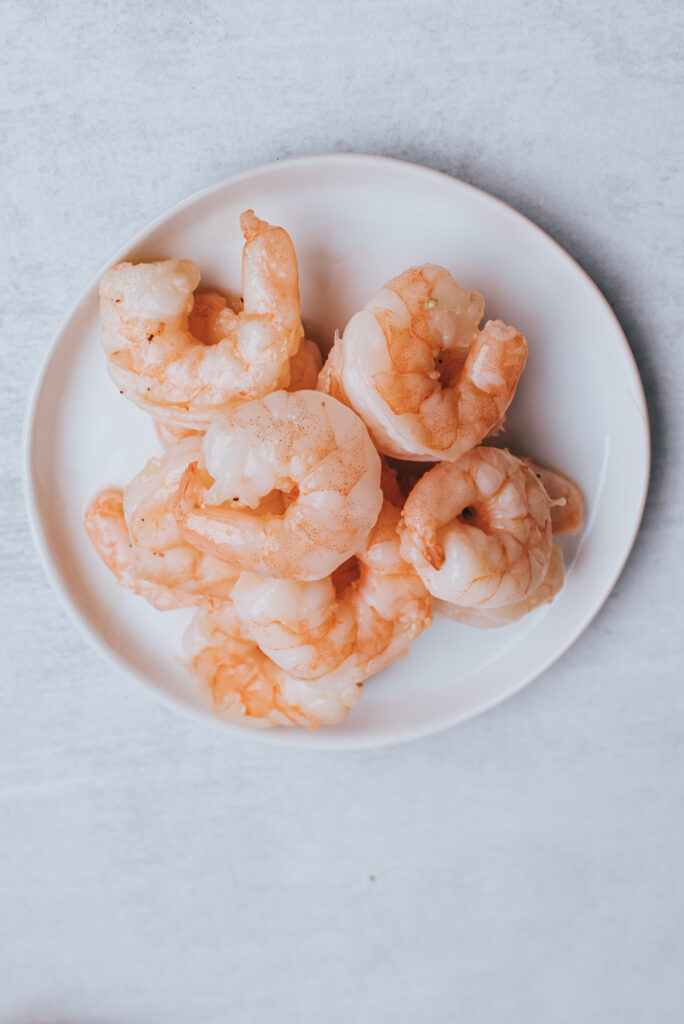 Repeat with the scallops, allowing for a good sear on one side before even daring to flip. It's the crust on a scallop that makes them so memorable when you get them at restaurants. I watch for cracks along the outer edges of the scallops as a hint to their doneness.
If you have a large enough pan, you can cook the shrimp and scallops at the same time. However, a smaller pan can become overcrowded, not allowing everything to cook through properly, which is why we completed this recipe in phases and need to transfer the shrimp to the pan after cooking the round of scallops.
Finally deglaze the pan by adding just a splash of white wine, and using your spatula to scrape up any browned bits. Add the remaining wine and lemon juice to infuse flavors before folding in the remaining butter, cooked shrimp, and herbs off the heat once the wine has reduced.
Now simply take your scampi and serve over pasta.
I love to top mine with a dash of red pepper flakes and devour all my hard work with a perfectly paired glass of wine.
What to Serve with Scampi
Finish it all off with fresh garlic bread to sop up the buttery sauce and a large salad on the side.
How to Heat Leftovers
Sadly, I do not feel that reheating shrimp or scallops for scampi in the microwave leads to good texture at all so I recommend only cooking enough seafood for one meal. Sautee additional seafood as needed for any leftover pasta.
How to Store Leftovers
Store leftover pasta in an airtight container for up to 3 days. Reheat the pasta in a microwave-safe bowl in a 30-second burst until heated through. Freshen with a squeeze of sliced lemon.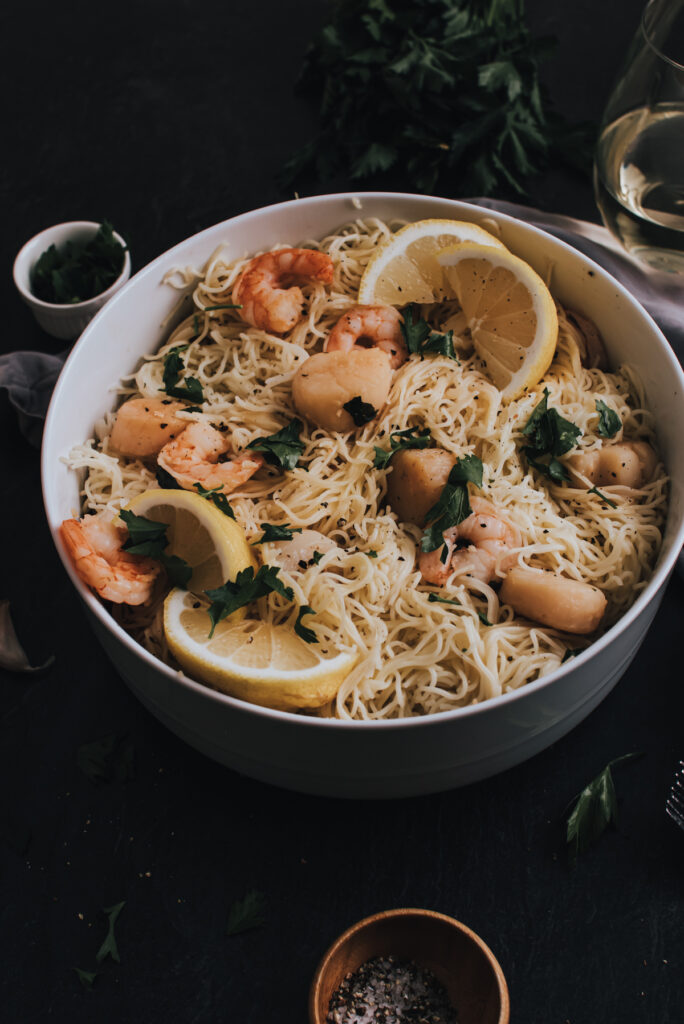 Want a few more amazing seafood recipes to try? Here are a few of my favorites:
If you've tried my Shrimp and Scallop Scampi recipe, or any other recipe on passthesushi.com please don't forget to rate the recipe and let me know where you found it in the comments below. I love hearing from you! You can also follow along for more good eats and travel tips on Instagram @passthesushi & @girlcarnivore, Twitter & Facebook.
Yield: 4 servings
Shrimp and Scallop Scampi with Angel Hair Pasta
This easy scampi recipe is loaded with pan-seared shrimp and scallops with a buttery white wine sauce, lemon, and fresh herbs for a wonderful 5 star dinner.
Additional Time
5 minutes
Ingredients
Kosher salt
1 lb angel hair
12 jumbo shrimp, peeled and cleaned
12 large sea scallops, tough foot muscles removed
Freshly ground black pepper
3 1/2 tbs unsalted butter
2 cloves garlic, minced
2 tbs fresh lemon juice, plus lemon wedges for garnish
1/2 cup dry white wine
1/4 cup torn fresh basil
2 tbs chopped fresh parsley
Instructions
Bring a large pot of salted water to a boil. Add the angel hair and cook as the label directs.
Meanwhile, heat a large skillet over medium-high heat.
Pat the shrimp and scallops dry, then season with salt and pepper.
Add 1/12 tbs butter to the pan and cook the shrimp until golden on one side, about 3 minutes.
Turn the shrimp and add half of the garlic; cook until the garlic is fragrant but the shrimp are still translucent, 1 to 2 minutes more.
Transfer the shrimp to a plate.
Add the scallops to the skillet and cook until golden on one side, about 3 minutes.
Turn the scallops, add the remaining garlic and cook 1 to 2 more minutes.
Add the lemon juice and wine and bring to a boil, scraping up any browned bits with a wooden spoon.
Cook until the sauce is reduced by half, about 3 minutes.
Return the shrimp to the pan, then add the basil and the remaining 2 tbs butter; season with salt and pepper.
Drain the pasta and transfer to a large serving bowl.
Toss with the shrimp, scallops and sauce; garnish with parsley and lemon.
Notes
*This dish can be made easily with chicken for my non shellfish loving fans. Just cut chicken cutlets into thin strips and cook in the pan before or in place of the shrimp.
Food Network Magazine October 2009
Nutrition Information:
Yield:
4
Serving Size:
1
Amount Per Serving:
Calories:

358
Total Fat:

11g
Saturated Fat:

7g
Trans Fat:

0g
Unsaturated Fat:

4g
Cholesterol:

74mg
Sodium:

558mg
Carbohydrates:

41g
Fiber:

2g
Sugar:

2g
Protein:

18g
Nutrition information provided is an estimate from nutritionix.com. For specific health concerns, please put the recipe into your Dr recommended nutrition calculator.