Tortellini bake with rose sauce is quick and easy meatless meal. Loaded with lots of cheese and marinara sauce, it's a comfort food dish that everyone will love.
Have you ever been hit on – by a woman? (OK, gents – that what a rhetorical question). Because it happens to me all the time.
I was out to dinner with some friends once having an evening of ridiculously fun conversations and being ourselves. I don't remember what we were really talking about but movies, politics and the sorts tend to be our normal topics. I know Angelina Jolie was being spoken about at once point or another (yeah, I know she's not everyone's favorite – but I love her).
Our conversation went on and on and when the couple across from us got up to leave the woman headed to our table. She said something along the lines of a pick up regarding how hot our conversation was and how she loved how assertive and confident we were. I winked at my friends thinking one of them was about to get picked up.
And then she handed me a business card, "I'd love to hear form you some time." Followed up by how great my views were and how much she had enjoyed listening to me talk.
Um. Not what I had expected at all.
And then I looked at the card….. Oh yeah. It was for Slumber Parties, to which my friends had to explain to me was an 'adult' themed Tupperware party. Oh my.
About the tortellini bake:
Don't let the phrase "rose sauce" fool you. There's no wine in this recipe. Rose sauce is basically marinara sauce combined with cream, or in this case, cream cheese!

Quick Tortellini Bake with Rose Sauce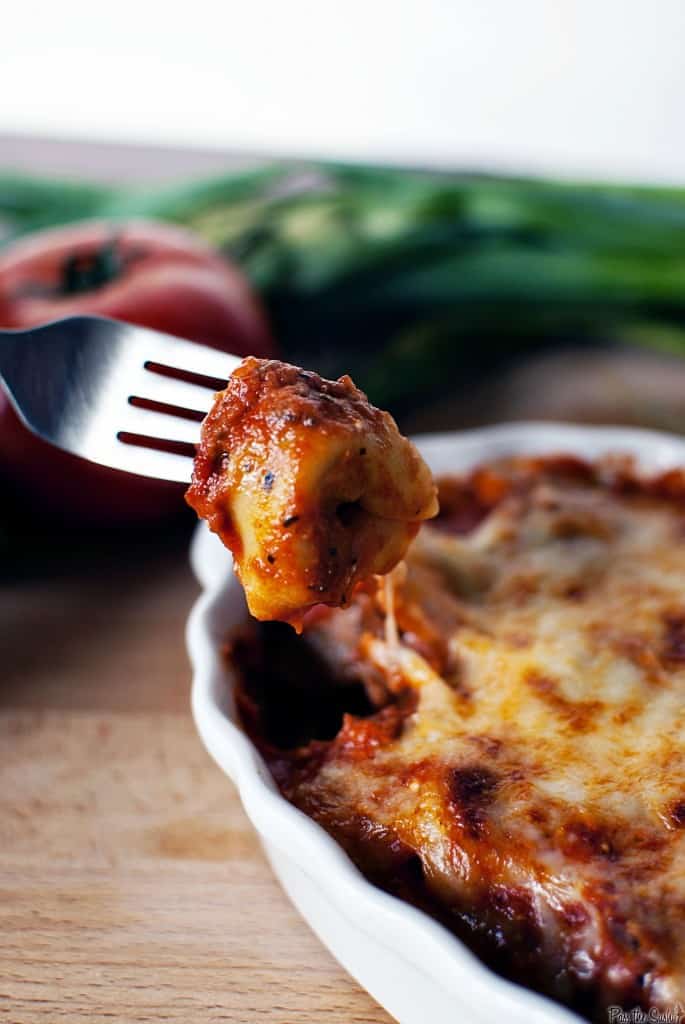 From Amy's Cooking Adventures, Original inspired by Real Mom Kitchen
Ingredients:
20 oz frozen or refrigerated tortellini
1 tbs olive oil
1 24-oz jar jar of spaghetti sauce of your choice
3 oz cream cheese, softened
1/3 cup skim milk
1 cup grated parmesan cheese, divided
½ teas garlic powder
½ teas dried basil
½ teas dried oregano
1 cup mozzarella cheese
Preparation:
Preheat oven to 350 degrees F.  Spray one large baking dish or two small ones with cooking spray.
Bring a large pot of water to boil. Cook the tortellini as per the package. Drain.
Meanwhile, stir together the spaghetti sauce, cream cheese, milk, 1/2 cup parmesan cheese, garlic powder, basil, and oregano.
Pour the tortellini into prepared baking dish and cover with sauce mixture. Toss a bit to combine. Sprinkle the mixture with the mozzarella cheese and the remaining parmesan cheese.  Bake for 20-25 minutes, until the cheese is melted and beginning to brown.