Adult hot chocolate is rich, creamy, and thick, boozed up with alcohol and topped with fresh whipped cream dollops. Not for little kids, just the grown up kind.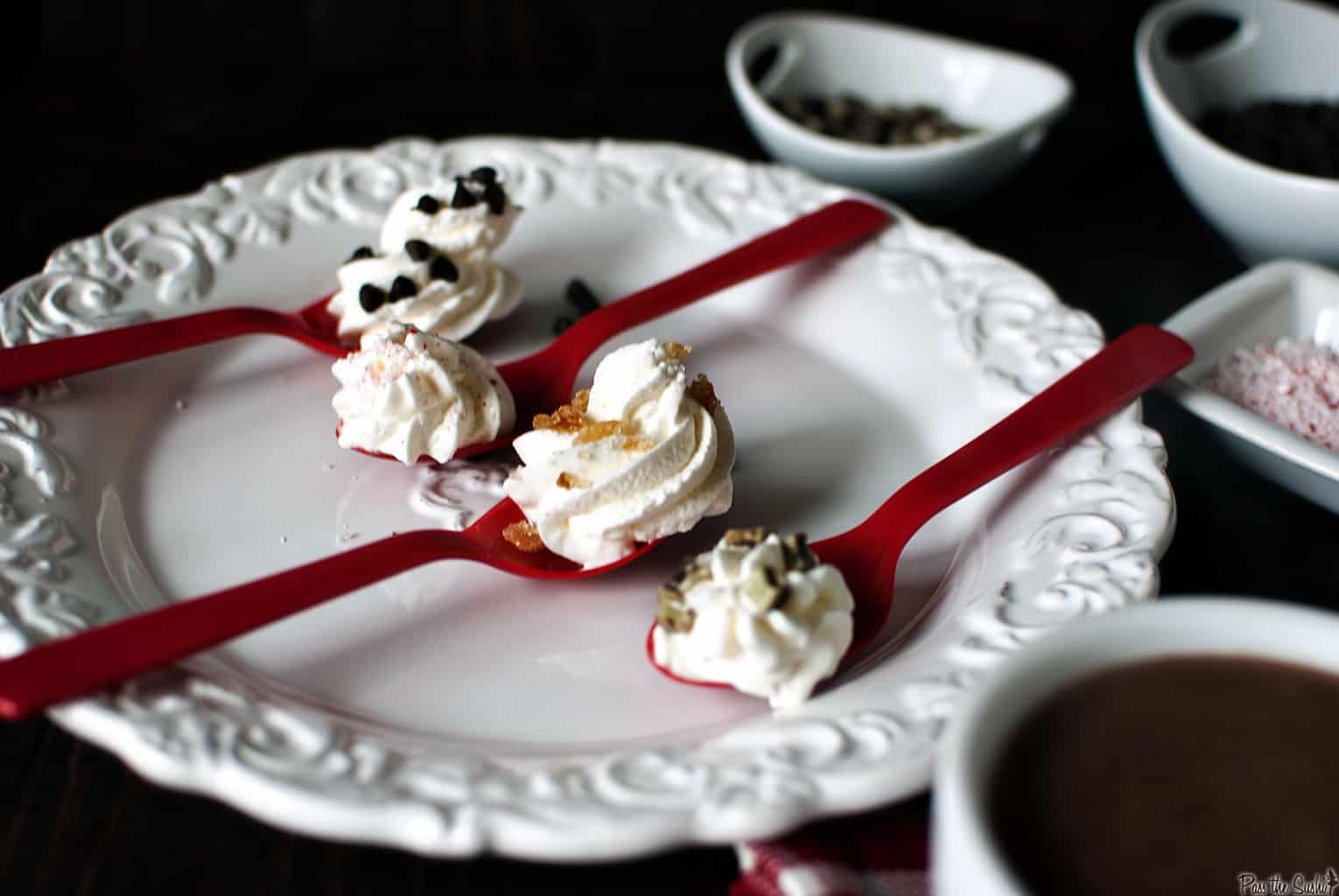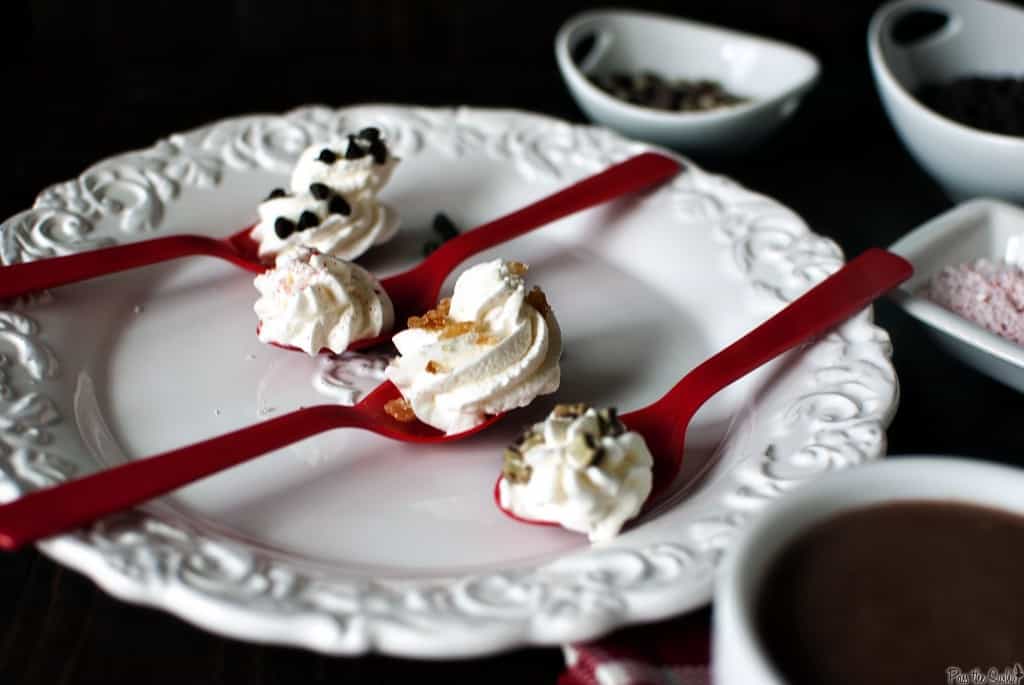 I'm having a bah humbug moment. As I type this I am listening to Christmas carols but there is still no tree gracing my living room with pine needles everywhere. There is nothing wrapped. There is no holiday menu planned. I've cooked today, cleaned today been to the market today, and really I am not feeling it. Which is not like me at all.
Normally I am a Christmas fanatic. One of those insanely perky people who will wish random strangers Merry Christmas and dance about with my Santa hat on with no fear of judgement from anyone.
This year its not there. This year a lot collided with the holiday season and even though it really has nothing to do with me – it's screwing with my jingle. So please, forgive this post of pure honesty and enjoy the snacks.
And while I'm ranting because I am downright cranky. Slow down in parking lots people. I get that it's the Super Walmart, the only Target for miles or just the local gas station – But pedestrians have the right of way. The spot you eye'd up while patiently waiting in traffic may indeed not be there for you after I safely cross the street but there will be another, and probably not that far from where you hoping. Heaven forbid I sped past you as you were having trouble trying to push that cart – you would have words for me that I haven't heard since high school, but when you're behind the wheel it's a different story.
I realize this is not the time of year to whine. I am probably on the naughty list for 2012 now, but it's really really screwing with my holiday mojo and making it hard to find the same joy that I normally do in those small things that make Christmas matter.
Ok, now that I got that out of my system. I'll be giving myself a swift kick in the pants and perking up on PtS, I promise.
I think a mug of boozy, adult hot chocolate is in order.
Rich n' Thick Adult Hot Chocolate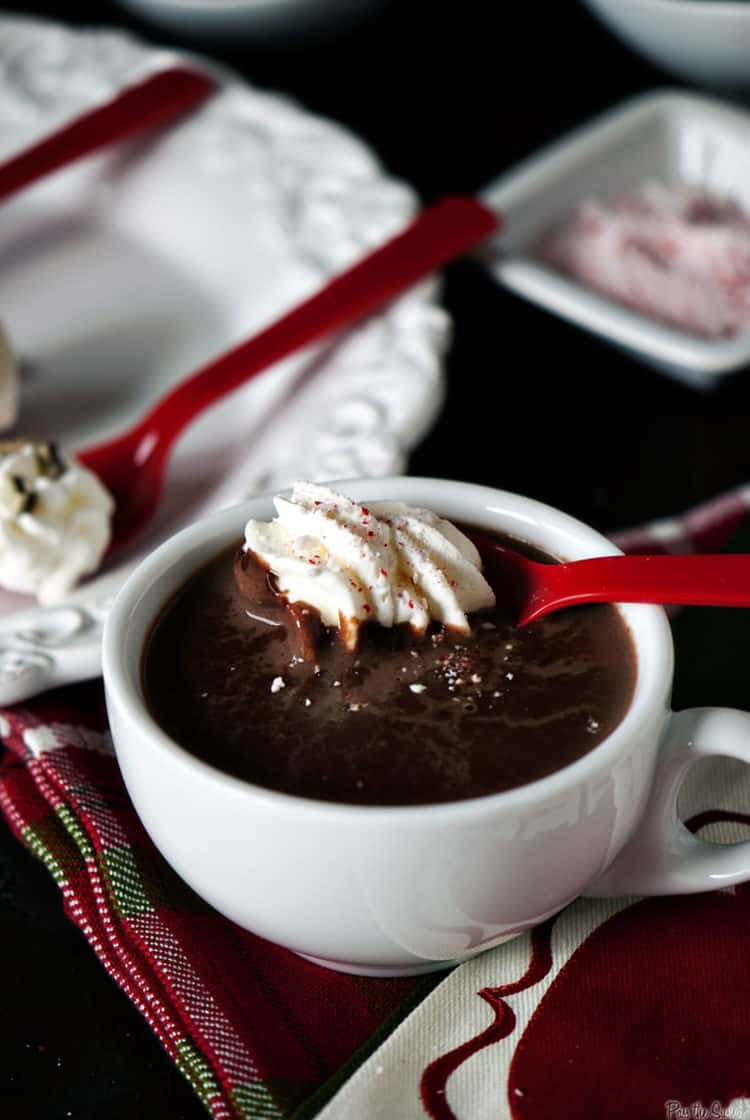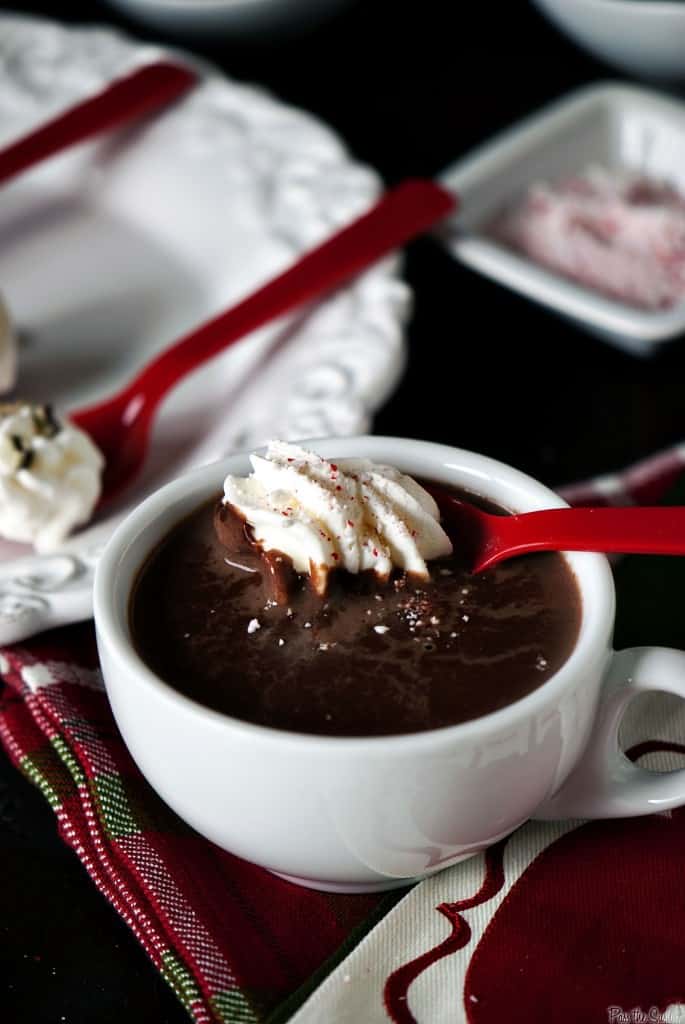 From Southern Living Jan 2009
Ingredients:
2 tsp cornstarch
4 cups milk, divided
7 oz dark chocolate, chopped
1/3 cup honey
1 tsp vanilla
1/2 cup Southern Comfort, Bailey's, pumpkin liquor or peppermint schnapps
Pinch of salt
Whipped Dollops
Preparation:
Whisk together cornstarch and 1/2 cup milk until smooth.
Cook remaining milk in a large, non-aluminium saucepan over medium heat until bubbles appear around the edge of the saucepan, about 4 minutes. Be careful not to boil.
Whisk in chocolate, honey, vanilla, liquor, and salt until blended and smooth. Whisk in cornstarch mixture. Bring milk mixture to a boil, whisking continuously.
Remove from heat. Let cool slightly before serving in mugs with whipped dollops or mini marshmallows.
Whipped Dollops
Ingredients:
1 cup frozen whipped topping, thawed
1/4 cup desired toppings

candied ginger
peppermint sprinkles
Andes mint chips
mini chocolate chips
Preparation:
Line a baking pan with parchment paper. Place 8 spoons on pan. Freeze 15 minutes.
Spoon whipped topping into a zip-lock bag and do not seal. Using scissors, cut a corner off, about 1/2 inch. Twist the bag and pipe dollops onto the spoons. Stick in freezer 5 minutes to firm up.
Remove from freezer and sprinkle dollops with about 1 1/2 teaspoon desired topping. Place back in the freezer for another 45 minutes before serving.
These can be covered and kept frozen up to 2 days.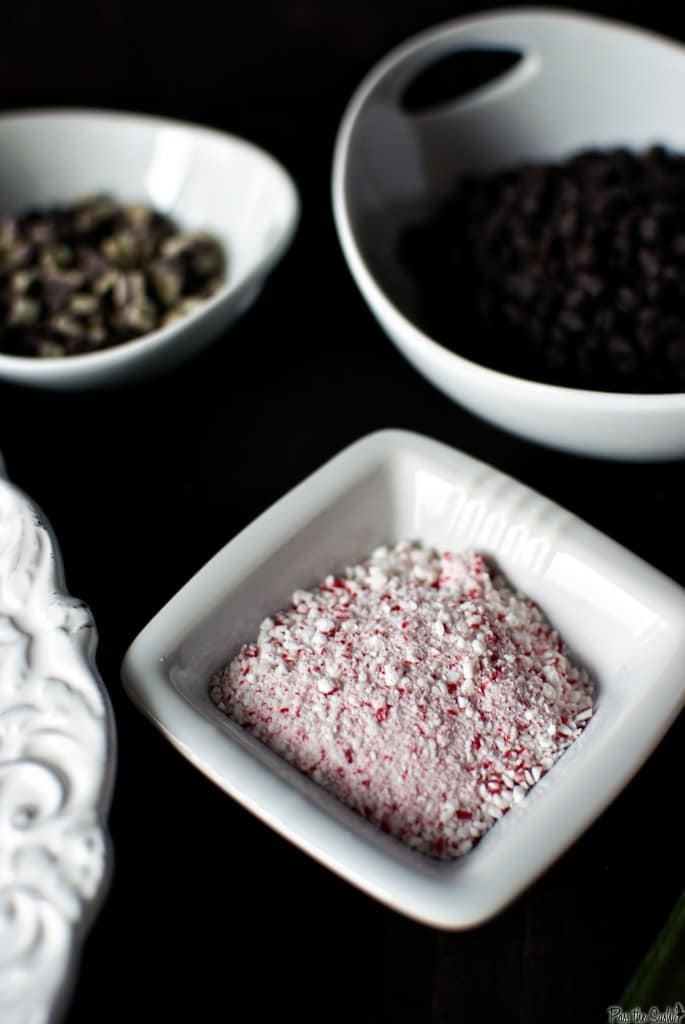 Just as a side note: Handsome, I hope you're not planning on getting me any new knives for Christmas. A, we have too many. Sure I could use some nice ones but that would require us to get ride of at least one of the three sets we own. So unless you are ready to say your goodbyes, don't. B, I will use any new sharp objects to bring the fury of Hell into that blasted alarm clock you insist hitting snooze on at least three times before stirring… on Saturdays.
Ok, done. Swear.