Carbonara is a classic Italian sauce made with tempered eggs, bacon, and cheese. The addition of saffron brings a new flavor profile to this comfort food recipe.
By the time you are reading this, I will be on my way to Dallas to hobnob with other comic retailers, distributors, vendors, and the guys who make the capes fly. To say traveling for work is fun would be a tab bit of a lie. Sure, I have a blast while I'm there, I get to meet great people and rock the comic business, but leaving my two cats, the dog and free snuggles behind really pulls at my heart strings. I know its only a short time, which is nothing compared to people who travel a lot for their job, but it still get's to me.
I try to fill my head with the good thoughts, like just how handy Handsome can be. Have I mentioned to you all that he's a general contractor? Which means he's skilled at everything - electric, plumbing, building and woodworking. His most recent love is creating beautiful wooden furniture and plans to be expanding that business soon. In the meantime, he has started planning a big change in our home.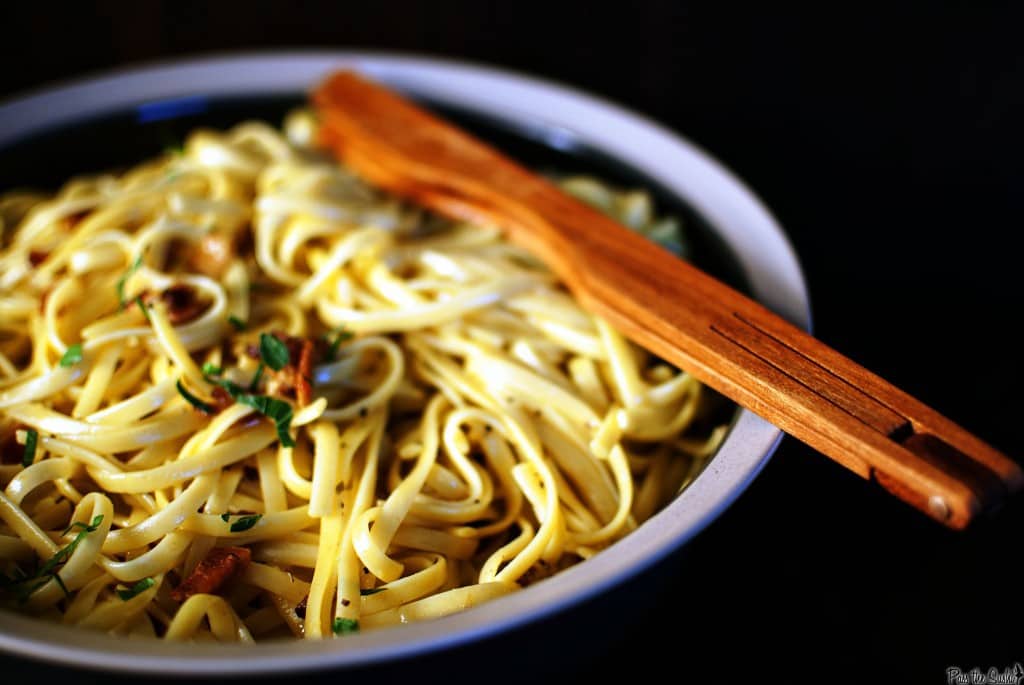 Custom kitchen cabinets. Seriously. I know.
If you were to ever stop by for some grub, you would notice that the house has a really small kitchen with the standard cabinets that came with house 20 or so years ago. They are the same color as every other kitchen cabinet in the world 20 years ago. The counters are beginning to fall apart and the horrid wallpaper that someone at some point thought was a good idea, is peeling off. Oh, and let's not talk about superficial things like the gold plate covers for the outlets. Who does that?
The idea of dark walnut cabinets and clean solid surface counters have me giddy with excitement. We already picked out the wood and purchased the material that will be the counter tops. I know it won't be soon (after all, a contractor's house comes last) but when it's all said and done, we will have an amazing kitchen!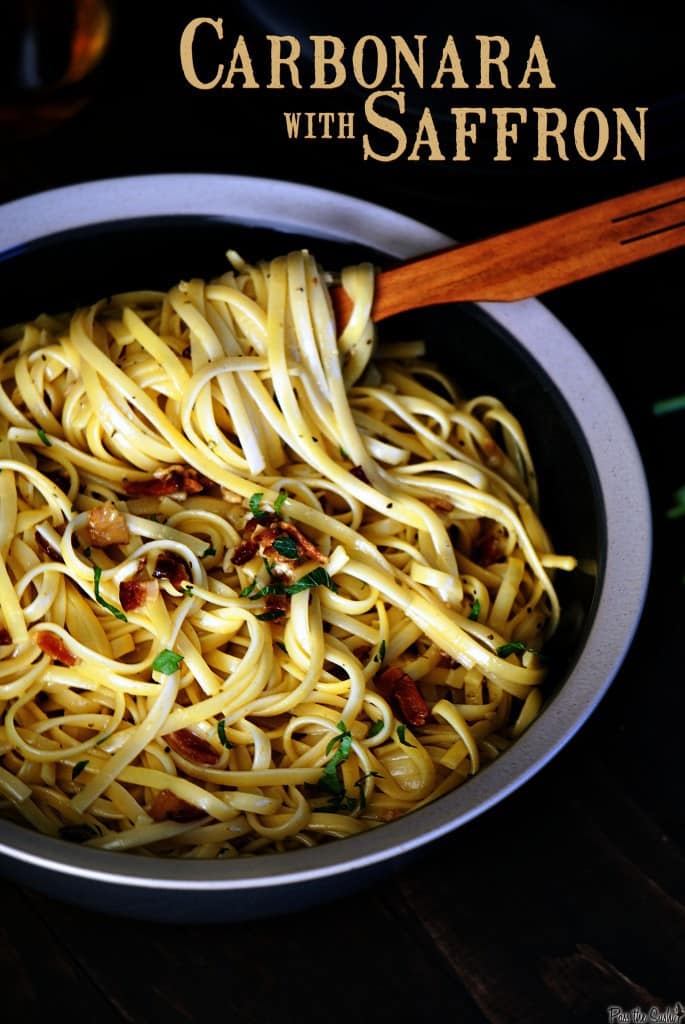 An amazing kitchen in which I will make an amazing dinner of pasta carbonara with saffron.
Pasta Carbonara with Saffron
Ingredients
Salt and pepper
1 pound linguine, tagliatelle or egg tagliatelle pasta
1 ½ cups chicken stock
¼ teas saffron
3 tbs extra-virgin olive oil
⅓ lbs thick-cut bacon, chopped
4 cloves garlic, minced
½ cup dry white wine
2 teas ground turmeric
3 egg yolks
½ to ⅔ cup grated Parmesan cheese
Fresh flat leaf parsley, chopped
Instructions
Bring a large pot of salted water to a boil, add the pasta and cook until al dente according to directions on package. Drain, reserving a ladleful of pasta cooking water; set aside to cool.
In a small saucepan, bring the chicken stock and saffron to a boil over medium-high heat. Lower the heat and simmer until reduced.
Meanwhile, in a large skillet, heat the olive oil, over medium heat. Add the bacon and cook until just crisp. Add the garlic and cook for one minute. Stir in the wine and turmeric.
Beat the egg yolks with the cooled pasta cooking water.
Add the pasta to the skillet with the bacon. Pour in the saffron stock and toss; season with pepper. Turn off the heat and stir in the egg yolks, cheese and parsley.
To add a bit more to this pasta, I pan seared a salmon filet in a skillet over medium heat for 2 – 4 minutes on each side for rare. Wrap in foil and let rest until pasta is ready. Fork into bite sized pieces and toss in with the pasta.