Skillet brownies topped with vanilla ice cream, then drizzled with caramel and chocolate sauce take fudgy brownies to the next level of goodness. They become a skillet brownies sundae!
If you were to have the impression that I cook a lot, you would be right. And through all most of my experiments, recipes, failures, and success, Handsome sits and eats without saying a word. I ask if it was good, and he  may nod, or say yes, but there is rarely any excitement in his voice. After a while, you just come to terms with it. He wouldn't care if I fed him macaroni and cheese for weeks on end, he would nod and say it was good. Which may be something I considered for a while, just to see if I could ignite some sort of reaction from him.  I wasn't even aware that my curried pot pies were one of his favorite meals until almost a year after I made them, when he asked for them again.  The closest thing I've gotten to a compliment is a request for a repeat.
The other night we were killing time and prepping for the weekend by having a few drinks, an appetizer, and dessert out at some restaurants. After a fail at one place, we packed up our rodeo and headed over to one of our favorite spots. Another martini for me and a brownie for him.
A brownie.
A $10.50 plain chocolate, old fashioned brownie. With a scoop of vanilla ice cream, chocolate syrup and caramel.
"The best brownie ever," he proclaimed.
Of course, I considered that a challenge to bake him skillet brownies and make him a brownie sundae he'd remember forever.
…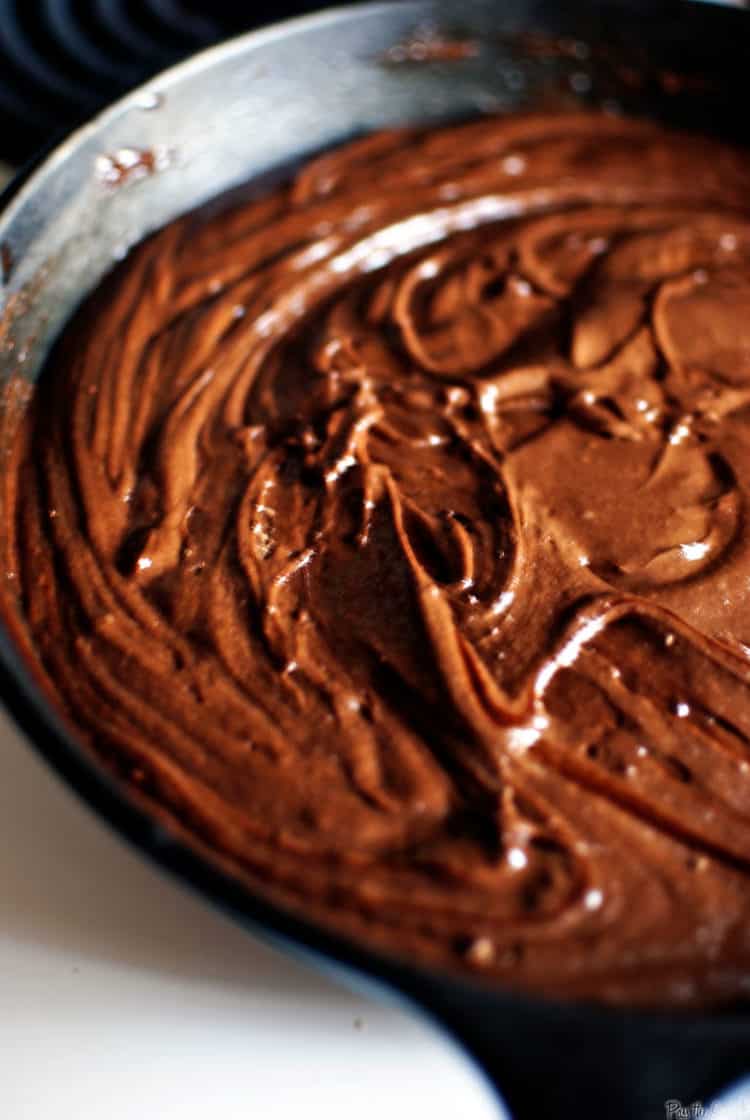 (Look at all that chocolatey awesomeness before baking)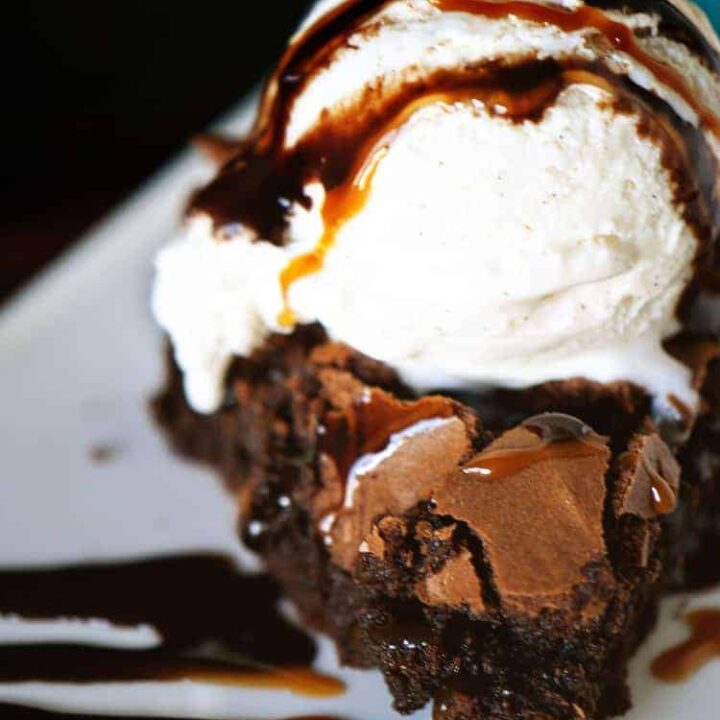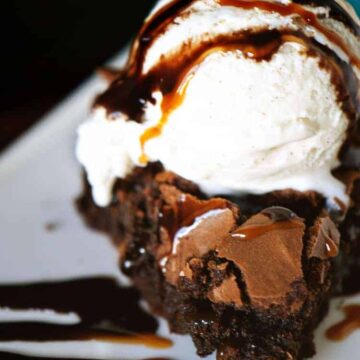 Ingredients
1 1/4

cups

sugar

3

large eggs

1

cup

all-purpose flour

-

spooned and leveled

1/4

cup

Dutch-process cocoa powder

-

spooned and leveled

1/2

teaspoon

salt

4

tablespoons

1/2 stick unsalted butter

1/4

cup

heavy cream

8

ounces

bittersweet chocolate

-

coarsely chopped
Instructions
Preheat oven to 350 degrees F. In a large bowl, combine the sugar and eggs until fully incorporated. In another bowl, whisk together flour, cocoa, and salt.

In an ovenproof skillet (I used an iron skillet), bring butter and cream to a simmer over medium and butter is melted. Reduce heat to low and stir in the chocolate for one minute. Remove from heat, let stand 5 minutes and stir. Let sit another 5 minutes to cool.

Pour the chocolate chocolate mixture into sugar mixture, whisking until blended. Fold in the flour. Pour batter back into skillet, and using a rubber spatula scrape down sides if needed.

Bake until a toothpick inserted in center comes out clean, about 40-45 minutes. Slice and serve warm from the skillet, with a scoop of plain vanilla ice cream, a drizzle of caramel and chocolate sauce.
Nutritional informations provided as a courtesy and is only an approximatation. Values will changes based on ingredients used.
⭐ Tried this recipe? Rate it ⭐
Help out the next person and give it a star rating below!
Really? The best brownie ever? It's been sitting in a freezer for days waiting to be zapped in a microwave and handed to you. I make countless desserts and this is what you finally say is good??? One human hands didn't even bake….
As you can imagine, I said no brownie would ever be created in my house again.
"But this one has caramel and chocolate sauce." Because we don't keep either in the house….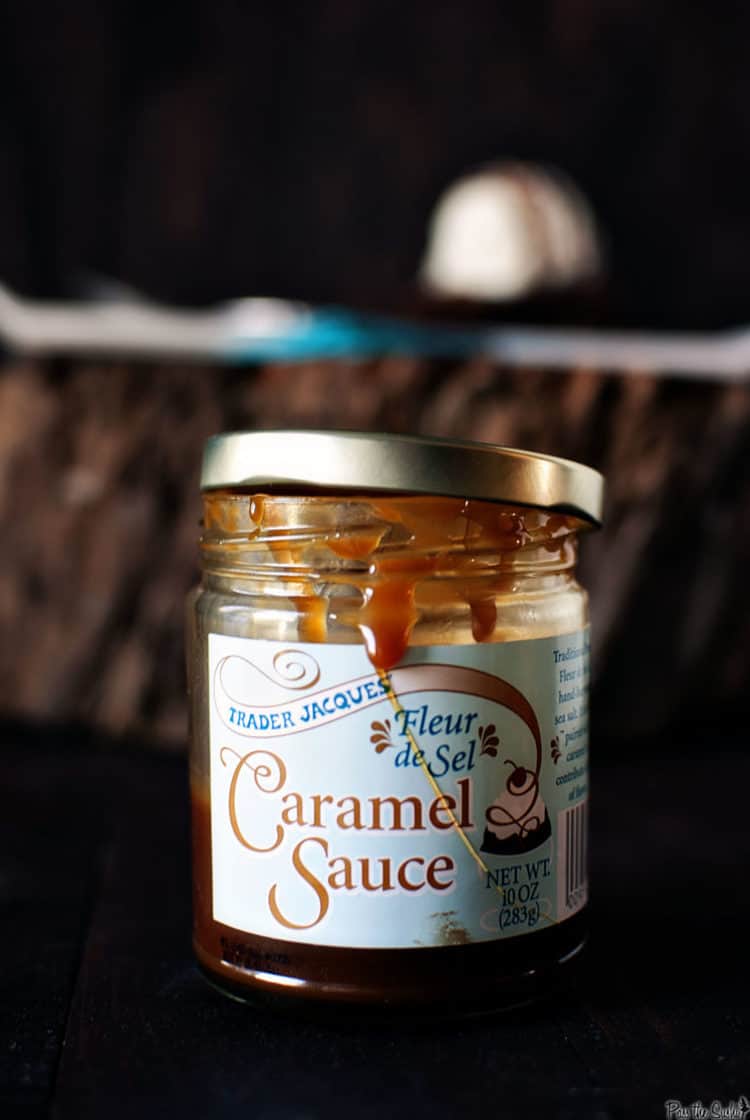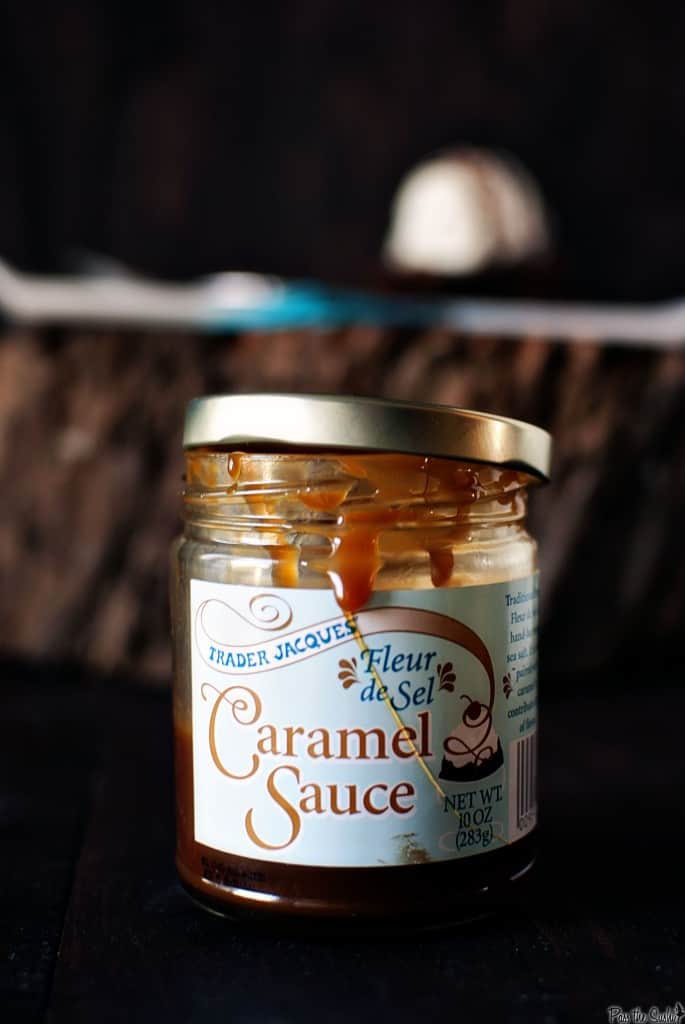 Ahem…
And then I had to show him up.
Karma? Him walking in from work an hour early, just as I washed the caramel and chocolate from the platter. And what.
So, if you would like to impress your sweetie for Valentine's day, or any day rather, skip the tireless work put into a fancy dessert, no need to bust out the ever faithful Kitchenaid, nope. One whisk, two bowls and a skillet. Prep, 5 minutes. Cook 40. Plop down some Ben and Jerry's and there you have it. You can thank me later for the time you will save trying to come up with something spectacular.
Just make skillet brownies.