Homemade macaroni and cheese is a baked version of the classic comfort food that everyone loves. Tender elbow macaroni with a rich 3-cheese sauce baked over it. So perfect!

There are few rules in this house when it comes to food. OK, let's be honest - there are a ton of 'requests' that I pay no attention to (like no onions. Really? No onions? Isn't that part of the holy trinity of cooking? How could I possibly give up onions? My neon pink Virgin Mary would be horrified if she thought there would never be another onion in this house – it's a sin!).
But really, the BF is willing to try any of the things I put in front of him with minimal whining as long as I agree to serve mac and cheese once a week.
Not just any mac and cheese. His mac and cheese. Ready to hold those foodie palates noses high? We're talking noodles and melted Velveeta cheese. That's it. Maybe a dash of milk to help the goo slide, but it's literally just that. Microwave Velveeta, pour over noodles. Mix that bowl up and serve. The worst part? I really like it, but every now and then it would be nice to make a real homemade macaroni and cheese.
Wasn't I the most excited little girl on the block when some friends of mine asked me to prepare them a 'real' homemade macaroni and cheese? I jumped for joy! The BF couldn't deny me an opportunity to actually purchase Gruyere cheese and use it in the dinner!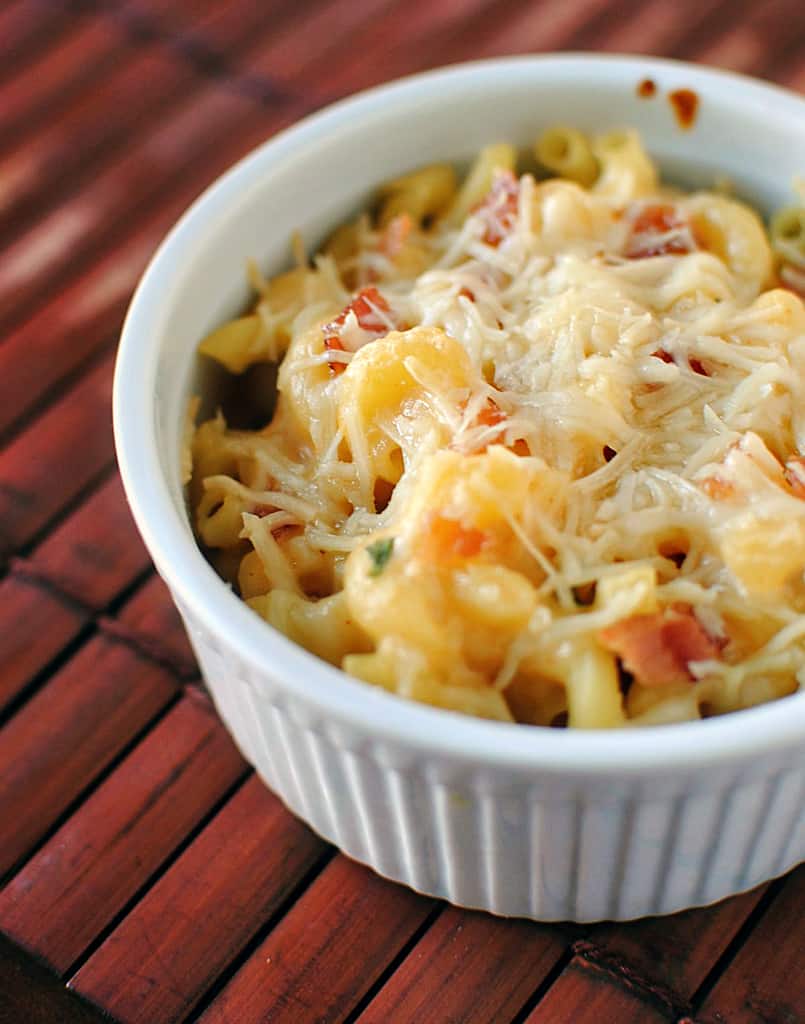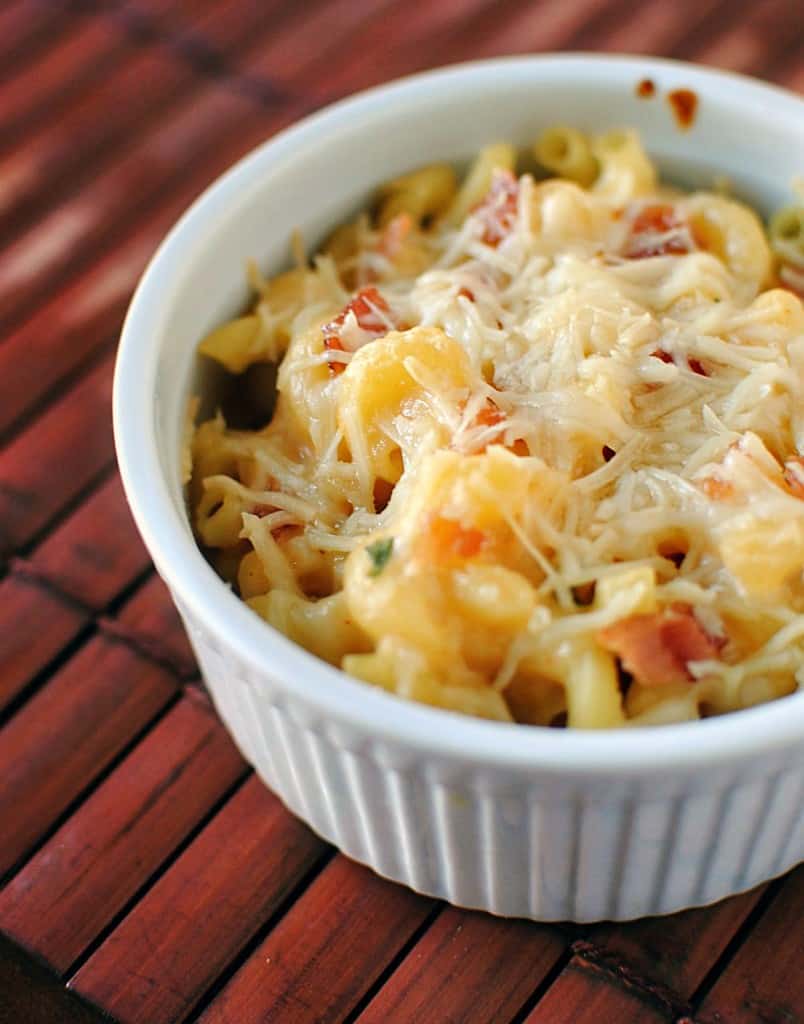 Homemade Macaroni and Cheese
Inspired by a little of Alton, a little of Ina and a little of my own inner fat kid.
Ingredients: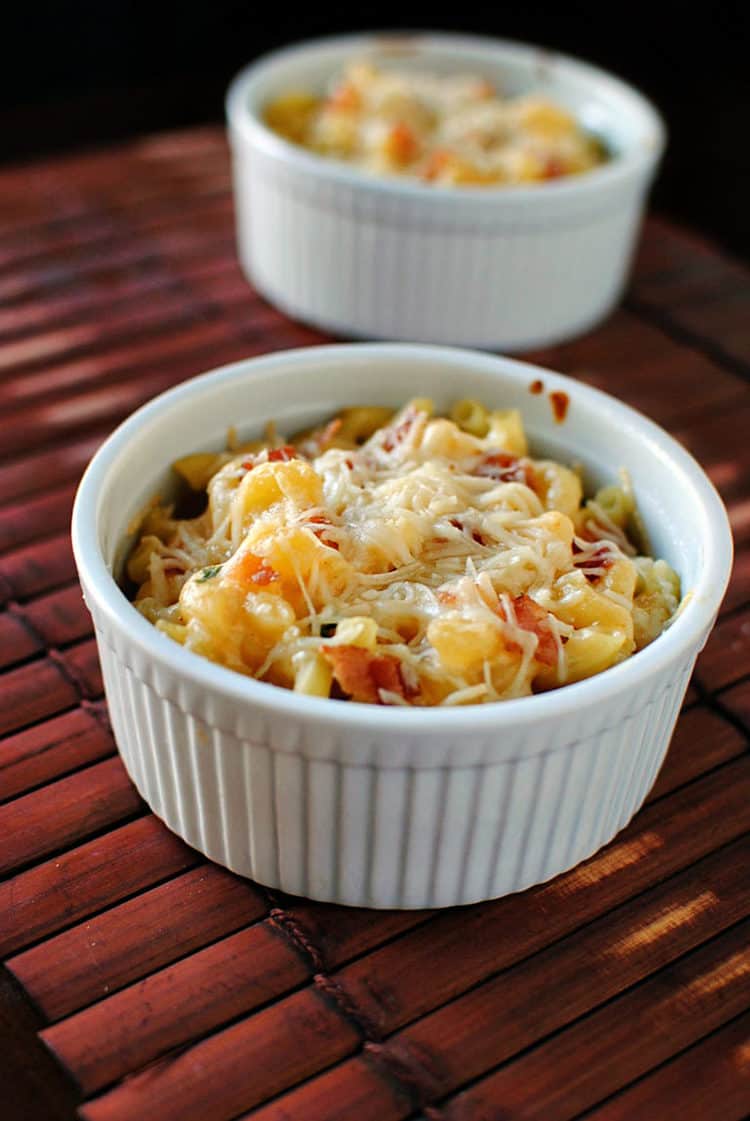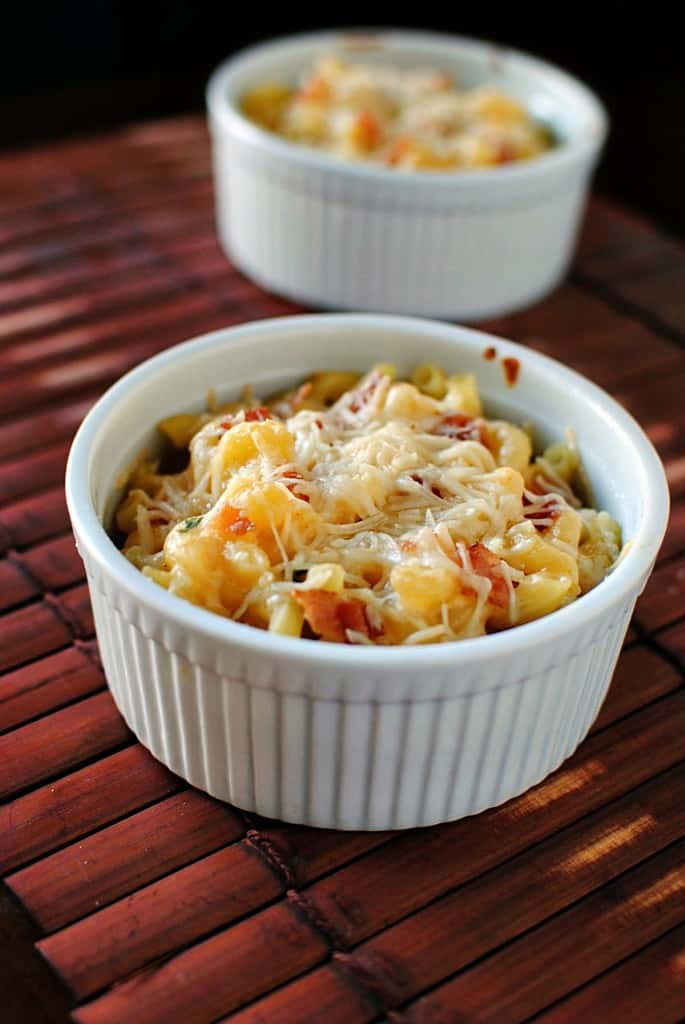 1 ½ boxes elbow macaroni
3 tbs butter
3 tbs flour
2 cups hot milk
¼ teas fresh grated nutmeg
1 teas cayenne pepper
¼ teas freshly ground black pepper
4 oz Gruyere sliced into small cubes
6 oz sharp cheddar grated
3 oz Fontina, sliced into small cubes
1 tbs fresh parsley
1 bay leaf
2 large handfuls Parmesan
Preparation:
Prepare your macaroni as directed. Preheat your oven to 375 degrees.
Meanwhile, melt butter in a sauce pan add flour and cook until light brown. Add the milk, whisking constantly. Add the nutmeg, cayenne, pepper.  Whisking constantly melt in the cheese slowly so you don't end up with one big clump that gets stuck in your whisk. Add parsley and bay leaf; simmer for 7 minutes.
In a buttered 9 x 13" pan layer ⅓ of macaroni topping with ⅓ of sauce. Repeat these steps 2 more times. Top with Parmesan.
Bake for 25 minutes or until bubbly. Serve.
For my own small ramekins, I added already prepared bacon to add to the homemade macaroni and cheese, because everything's better with bacon.
This turned out great. A little dryer then my liking after the time it spent baking in the oven, but that is easily remedied with more milk in the future. Most of the tray was devoured (yes, even by the BF) at the Super Bowl party, and the rest went home with my friends.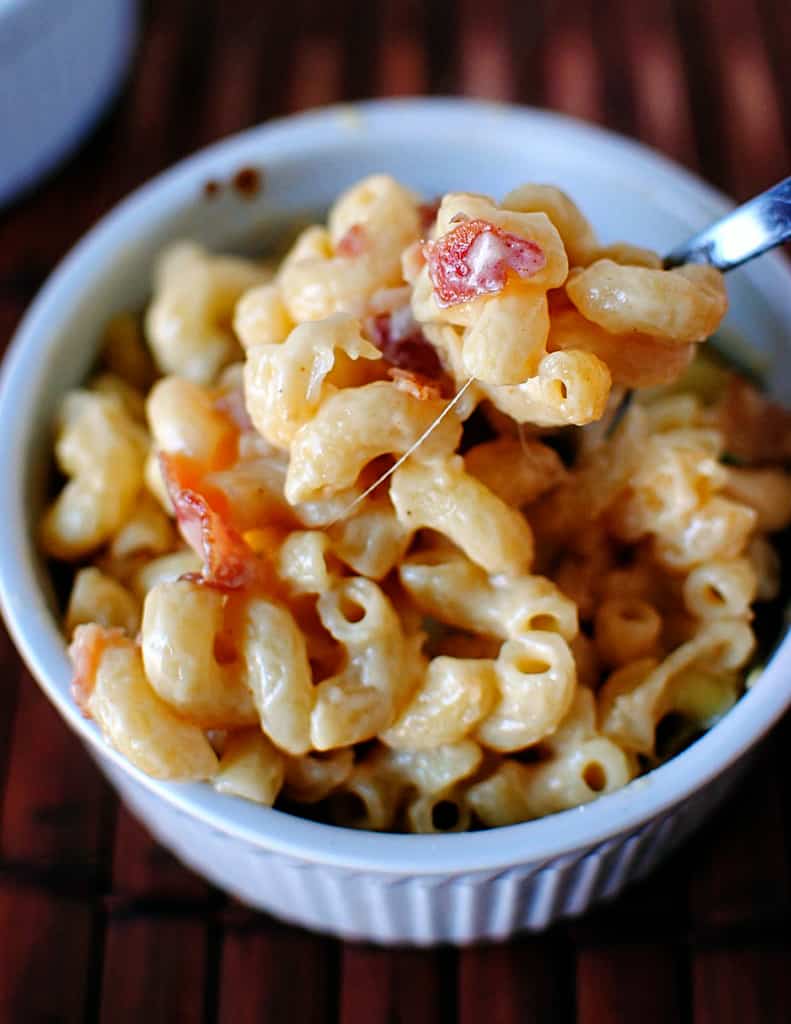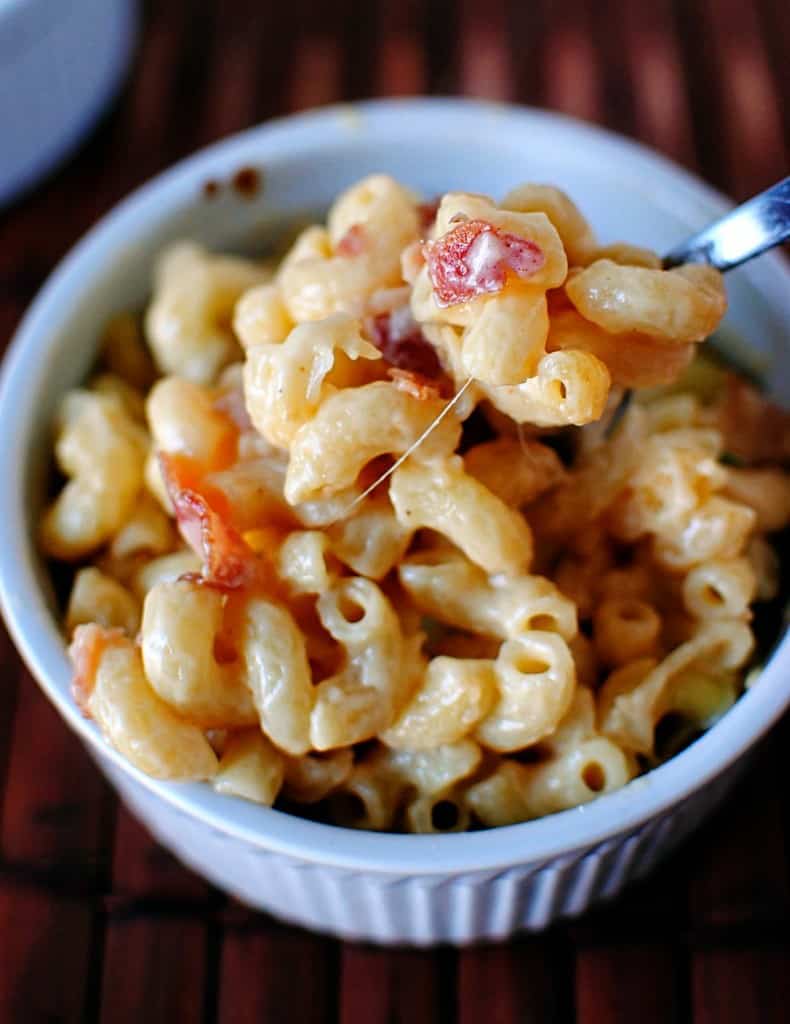 I promise I'll make it up to him when I'm back from Dallas with his weekly serving of Velveeta. Doesn't that sound like a classy Valentine's dinner?
Speaking of Dallas - if there are any 'must-trys', now is the time to let me know! I've never been to Texas before and am really excited!
Have you ever made "real" homemade macaroni and cheese, or are you a fan of the noodles and processed cheese version?