Sticky toffee pudding is a British dessert, made from dates that are baked into a soft sponge cake, then covered in a river of toffee.
There's something you don't realize until you are well into your adult years - you look around and see that the friends you know all have children, are moving far away or just evolving in a direction that is not as connected to you any more. Sure you can catch up from time to time, hang out on occasion and meet up for meals, but its not like when you were younger where you played with the same group of friends every day.
It's also harder to meet people, between work and life where do you meet new friends if you are not all playing in the same sandbox? Lucky for Handsome and I we meet new people from time to time that are rad enough to keep around as friends.
Last summer we had the fortune of meeting a couple about our age, and doing what people our age like to do, drink. Ok, sometime's we ate too and one of the desserts they introduced us to was from her native country of England, sticky toffee pudding.
Oh my god. This sticky toffee pudding may not look like much, but throw aside that fancy piping tip and serve these on Valentine's day.
Whatever you end goal is, you're sure to get it. 😉

📖 Recipe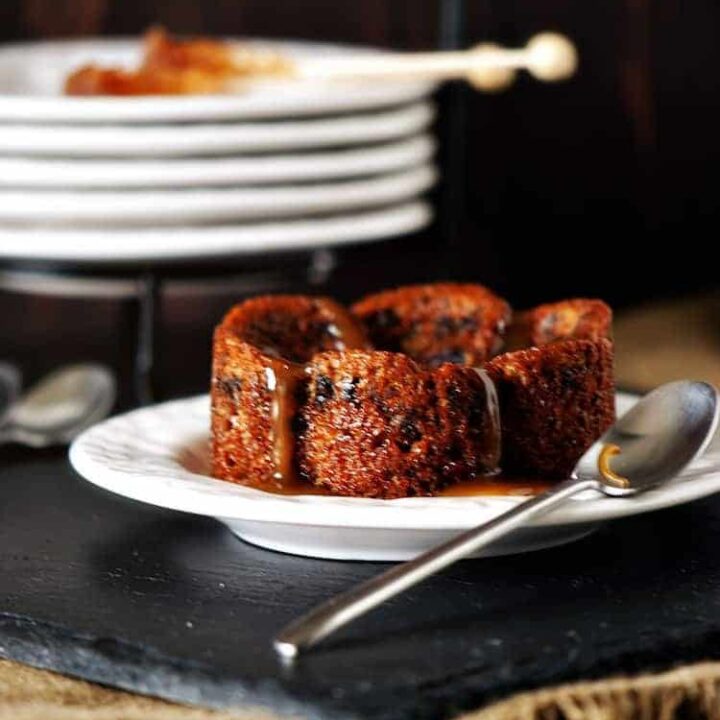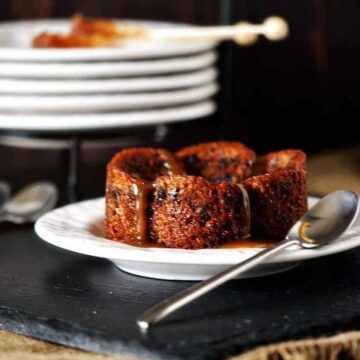 Ingredients
1

cup

plus 1 tablespoon all-purpose flour

1

teas baking powder

¾

cup

pitted dates

1 ¼

cups

boiling water

1

teas baking soda

¼

cup

unsalted butter

-

softened

¾

cup

granulated sugar

1

large egg

-

lightly beaten

1

teaspoon

vanilla

½

cup

unsalted butter

½

cup

heavy cream

1

cup

packed light brown sugar

1

cup

heavy cream

-

whipped
Instructions
Preheat oven to 350 degrees F. Butter each of a 6 mini bunt pa.

In a bowl, combine the flour and baking powder.

Chop the dates fine, place in a small bowl and add the boiling water and baking soda; set aside.

In a bowl of electric mixer beat the butter and sugar until light and fluffy. Add the egg and vanilla; beat until blended. Gradually beat in the flour mixture. Add the date mixture to the batter and fold until blended with a rubber spatula.

Pour into the prepared baking dish. Bake until pudding is set and firm on top, about 35 minutes. Remove from oven to a wire rack. Cool is pan for 5 minutes before removing from pan to cool more.

Meanwhile, make the toffee sauce: Combine the butter, heavy cream and brown sugar in a small heavy saucepan. Bring to a boil over medium low heat, stirring often until mixture has thickened, about 8 minutes.

Serve the pudding's warm with heaping tablespoons of the toffee sauce over top.
Notes
Nutritional informations provided as a courtesy and is only an approximatation. Values will changes based on ingredients used.
⭐ Tried this recipe? Rate it ⭐
Help out the next person and give it a star rating below!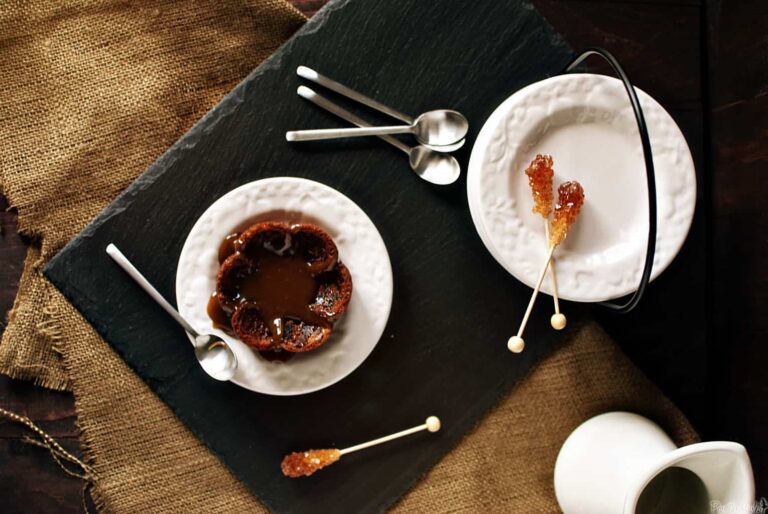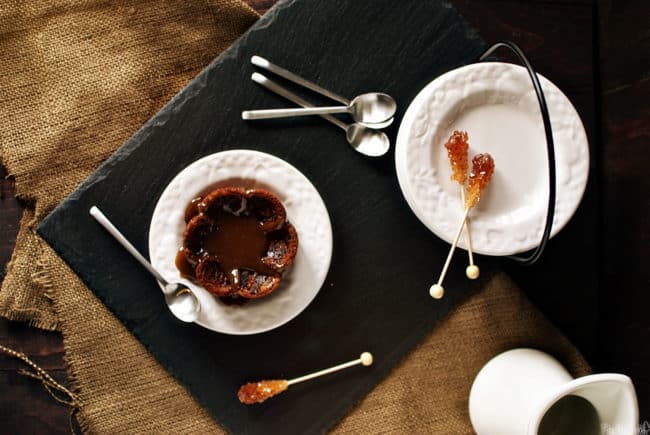 So, what are you'r plans for Valentine's day? Are you making a smexy dinner and dessert? Are you enjoying and evening out? Or are you going to be like me and work late, then enjoy a bowl of cereal in your PJ's? After I get back from Dallas, I have meetings and work, Handsome has school, Valentine's Day may be celebrated sometime in March... >.>