This Creole Bread Pudding is like no dessert you've ever tasted! It's made up of stale bread turned soft and sweet thanks to batter and a warm and sweet bourbon whiskey sauce.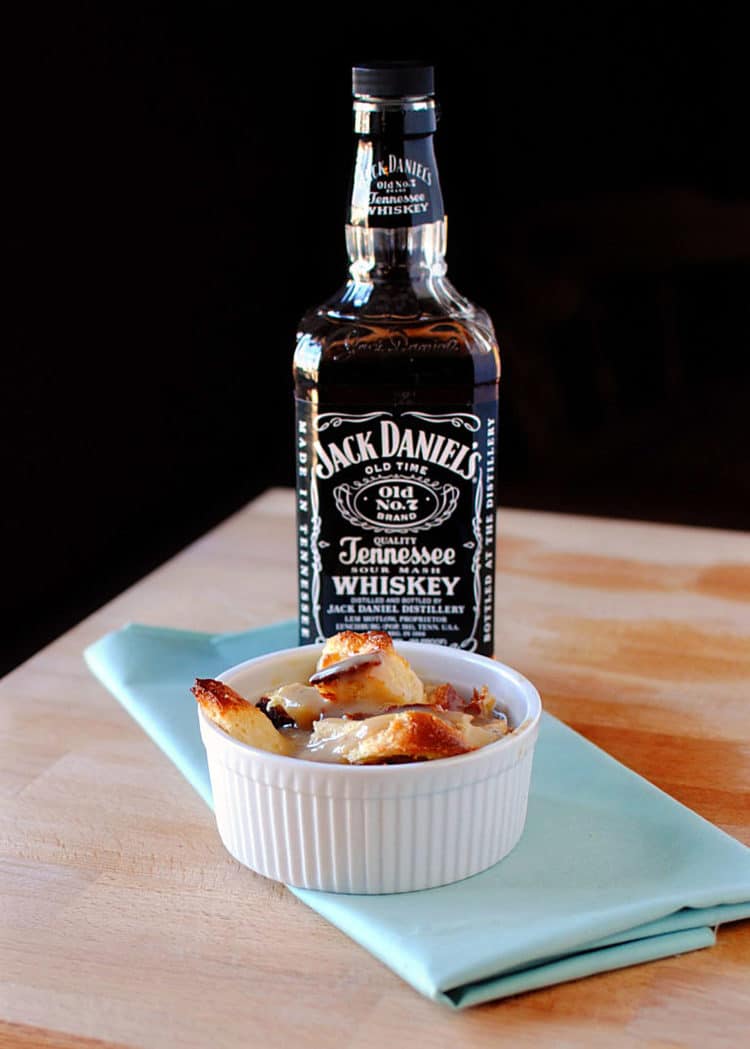 I'll admit…I had never had bread pudding before making this Creole Bread Pudding. I was a little bit skeptical about the idea of soaking bread in a liquid and then adding another liquid on top. That screams soggy bread to me.
But wow, was I wrong. This Southern Bread Pudding could not be further from soggy bread. Its stale bread transformed into a soft, sweet, and decadent dessert. 
This recipe is so good and takes just 10 minutes to prep!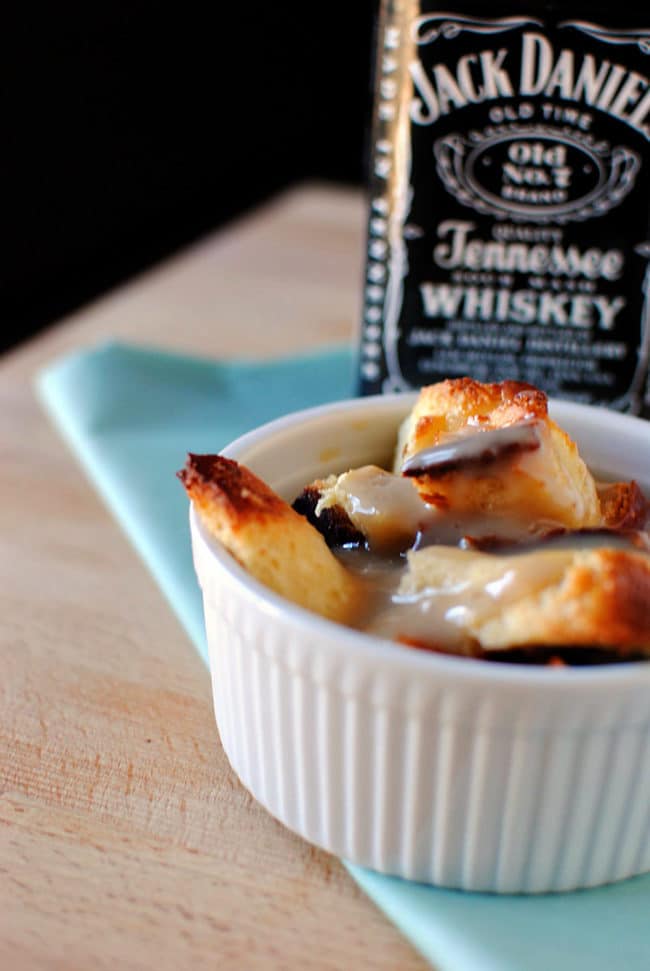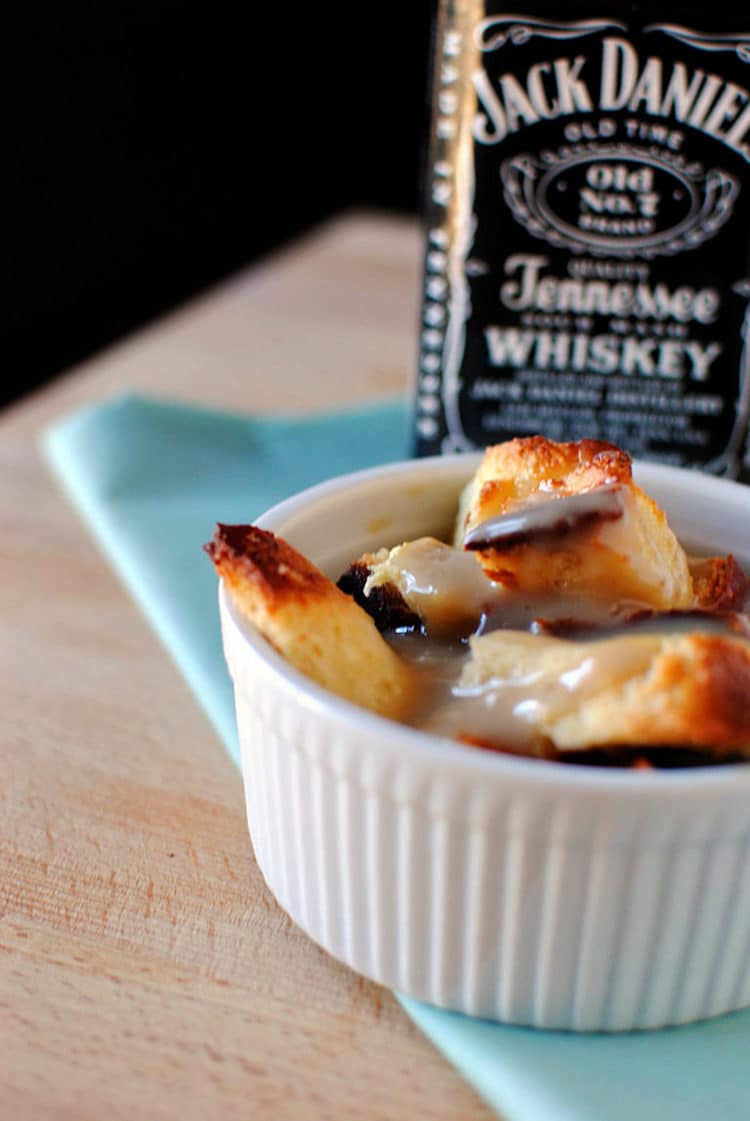 Ingredients Needed:
This Southern Bread Pudding is made up of surprisingly simple ingredients.
For the Bread Pudding
Butter - you'll use butter to grease the pan and add extra flavor.
Batter - we'll soak the bread in a batter made with eggs, sugar, milk, vanilla, and nutmeg.
French Bread - use stale French bread cut into 1-inch cubes.
Raisins - you can omit if you prefer, but I love the pop of sweet texture that raisins add.
For the Bourbon Sauce
Water - the base for the bourbon sauce to thin it out.
Brown Sugar - creates a delicious caramel flavor that enhances the bourbon and adds the perfect sweetness.
Nutmeg - adds a touch of sweet spice.
Bourbon and Cornstarch - whisked together to, of course, add warm bourbon flavor and to thicken the sauce.
Butter - use unsalted butter.
How to Make Southern Bread Pudding
First, in a large bowl, beat the eggs until frothy. Mix in the sugar, milk, vanilla, and nutmeg, then add the bread and raisins. Stir well, then let it soak for 15 minutes.
Transfer the bread mixture into a buttered baking dish, smooth the top, then bake until set.
Whiskey Sauce for Bread Pudding
In a medium saucepan, combine water, brown sugar, and nutmeg. Bring to a boil over high heat.
In a bowl, mix bourbon and cornstarch. Add that into the brown sugar mixture, then cook until the sauce thickens and smooths out. Stir in the butter, then serve warm over your bread pudding.
Is Bread Pudding Made from Old Bread?
Yep! The key to the best bread pudding is to use older, slightly stale bread.
The harder texture of the stale bread holds up so nicely in the batter, giving the final result the perfect soft texture. Fresher bread will be soggier!
If you don't have any stale bread, you can speed up the process by baking a loaf of fresh bread in the oven for 10 minutes to dry it out.
How Do You Make Bread Pudding Moist?
The batter and the bourbon sauce both contribute to a perfectly moist bread pudding, so don't skimp!
I'll admit. I was a little bit nervous about the "soggy bread" texture I thought I was in for, but having made the bread pudding, I can confidently say that soggy bread is not an issue.
How to Store
Leftover bread pudding will last in the fridge for up to 4 days.
Can You Freeze Bread Pudding?
Yes! To freeze leftovers, wrap the bread pudding tightly, place into a freezer bag or container, then store for up to 3 months.
How Do You Reheat Bread Pudding?
I recommend warming leftovers in the oven at 350ºF for about 15 minutes. You can also warm single servings in the microwave if preferred.
Tip: Save the extra whiskey sauce for bread pudding in a small container so it doesn't sit on top of the leftovers, then warm it and serve it with leftovers.
More amazing dessert recipes to try:
Yield: 12 Servings
Creole Bread Pudding with Whiskey Sauce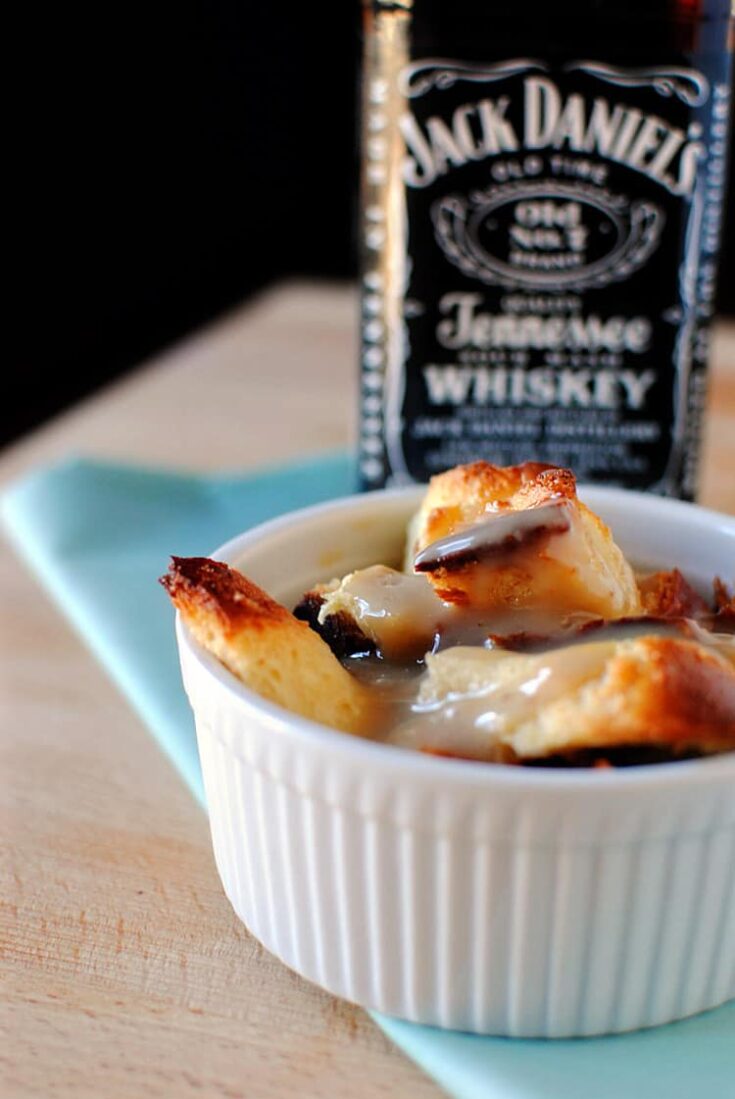 A classic southern recipe for Bread Pudding with a creamy Whiskey spiked Sauce
Additional Time
5 minutes
Ingredients
For the bread pudding:
Butter for greasing
3 large eggs
1 cup sugar
1 quart milk
1 teas vanilla extract
½ teas grated nutmeg
10 cups stale French bread, cut into 1-inch cubes
1 cup raisins
For the whiskey sauce:
1 ¼ cups water
½ cup packed light brown sugar
¼ teas ground nutmeg
¼ cup bourbon
1 ½ teas cornstartch
2 teas unsalted butter
Instructions
Make the Bread Pudding
Preheat the oven to 350 degrees F. Generously butter a 9×13 inch baking dish.
In a large mixing bowl, beat the eggs with an electric mixer or a whisk until frothy.
Beat in the sugar, milk, vanilla, and nutmeg. Mix thoroughly.
Add the bread and raisins and stir well by hand. Set aside and let the bread soak for 15 minutes.
Pour the bread mixture into the prepared dish and smooth the top.
Bake just until set, about 45 minutes.
Make the Whiskey Sauce
Meanwhile, combine the water, brown sugar, and nutmeg in a medium saucepan and bring to a boil over high heat.
In a small bowl, stir together the bourbon and corn-starch, then stir into the sugar mixture and cook until the mixture thickens and is smooth, about 8 to 10 minutes (you will have to lower the heat as high will cause the mixture to bubble over).
Stir in the butter and serve over warm bread pudding.
Nutrition Information:
Yield:
12
Serving Size:
1
Amount Per Serving:
Calories:

317
Total Fat:

6g
Saturated Fat:

3g
Trans Fat:

0g
Unsaturated Fat:

2g
Cholesterol:

58mg
Sodium:

286mg
Carbohydrates:

57g
Fiber:

1g
Sugar:

33g
Protein:

9g
Nutrition information provided is an estimate from nutritionix.com. For specific health concerns, please put the recipe into your Dr recommended nutrition calculator.