Banana and cheesecake go together like milk and honey. This smooth and creamy Bananas Foster Cheesecake Bars level up the dessert game.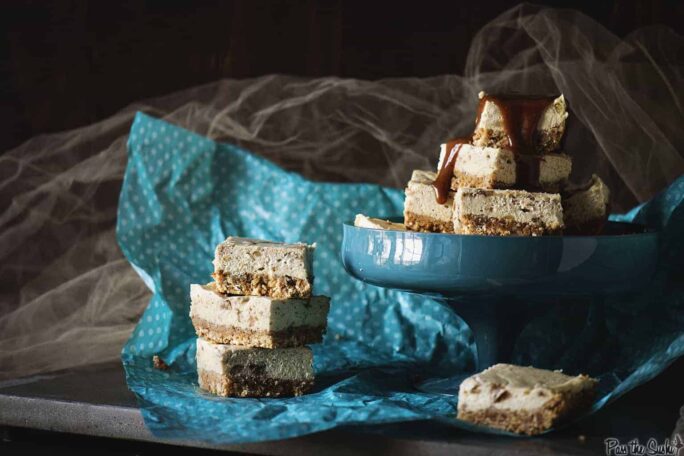 Sometimes plain Jane cheesecake just doesn't cut it. Sometimes you have to dress it up a bit, put on the black tie, and douse it in caramel. Because sometimes you want something a little bit more than your classic old-fashioned cheesecake.
Let these bars come to the rescue. A quick and easy recipe, that makes kicking banana loaded dessert bars topped with a caramel sauce and extra bananas (just in case you weren't getting enough already) is perfect for your next celebration.
And celebrate we shall.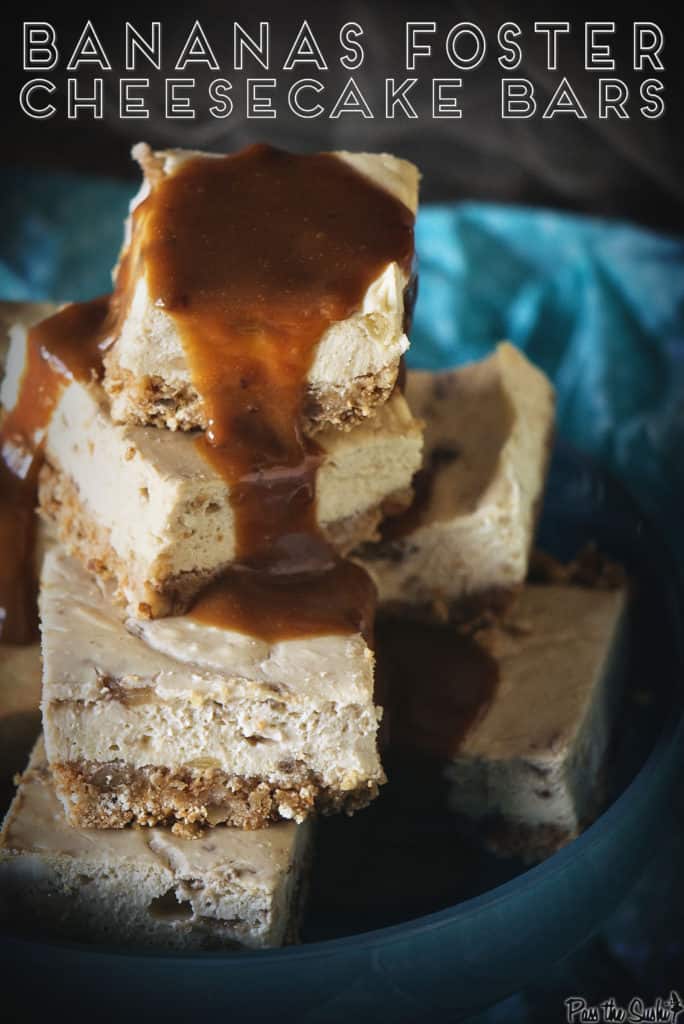 The Luxury Of Bananas Foster Cheesecake Bars
Bananas Foster Cheesecake bars are like the grab and go version of the famed Bananas Foster. Bananas Foster is one of those big show desserts typically served in fine steakhouses. You know it when you see it.
A guy in a tuxedo wheels a cart to the table and ceremoniously uncovers a silver serving dish. A few flourishes of motion, a splash of booze, then a fanfare of fire with a finish of whipped cream. All eyes on the table. Anyone that doesn't like being stared at is forewarned…
Don't order bananas foster if you don't like being the center of attention for a couple minutes. Especially if piercingly jealous looks make you feel uneasy. You won't be able to enjoy one of life's great desserts.
But you can avoid all that.
Just make yourself some bananas foster cheesecake bars. I am not going to put you through the trouble of flambeing them either. It's all good if you know what you are doing, but I don't want you to light anything on fire unless it is the charcoal in the grill for the steaks you want to enjoy first.
In fact, the only danger in these is how tempted you will be to eat the whole thing by yourself.
Don't go there. You don't want to end up like one of those bananas foster addicts that can't say no. Licking your fingers and threatening to bite anyone that asks for a bar is not cool.
Of course, you could make extra…
Perfect Crust For Bananas Foster bars
Anything starting out on a good foundation is bound to succeed. At least, you would think right? Isn't that the way things are supposed to go? Certainly a good crust on the bars makes a huge difference.
In this case, the crust is so easy and absolutely delicious that you could stop there and you wouldn't be too bummed. Of course, the banana cheesecake mixture takes you to the moon and back. Yes, the moon is made of cheesecake. 
Banana cheesecake to be precise.
Vanilla wafers go so well with bananas because of all that vanilla. Crumbled up, mixed with sugar, almonds, and butter they become the perfect vehicle for the banana cheesecake layer.
Sometimes, with crushed cookie pie crusts, you need to pre-bake them a bit, then cool them, and finally fill them and finish baking. In this case, you can just press in the Nilla wafer pie crust, fill, and bake. The cheesecake mixture filling bakes long enough for your crust to set up too.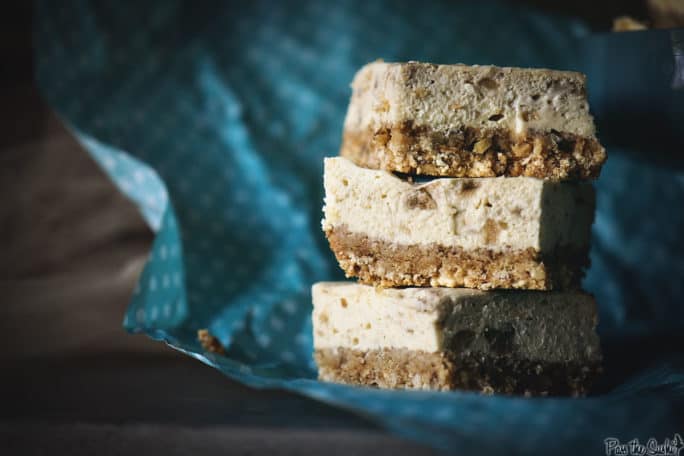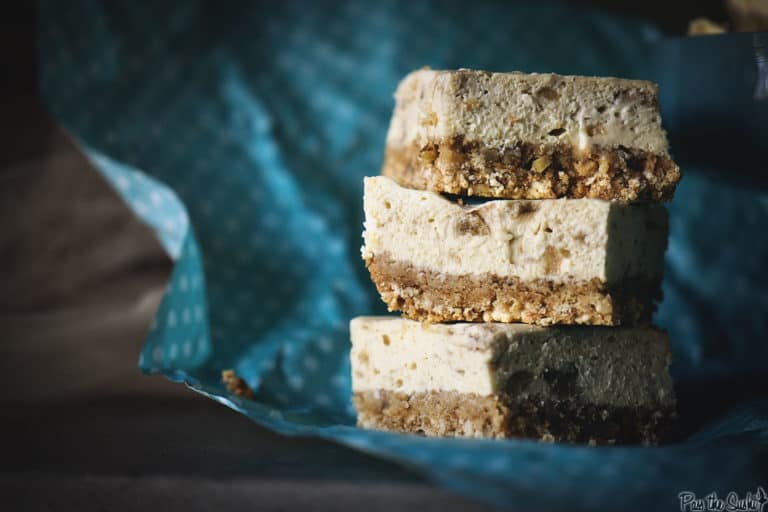 Ripe Or Unripe Bananas
Don't mind those bananas turning a bit dark. The riper your banana is, the better the banana flavor. You might not like to think about just peeling and eating a banana that ripe. No one does. But when it comes to things like making banana bread or bananas foster cheesecake, then real ripe also equals really, really good. 
If you want to decorate with less ripe bananas or change your mind and want to make a banana split, then the less ripe ones are the way to go.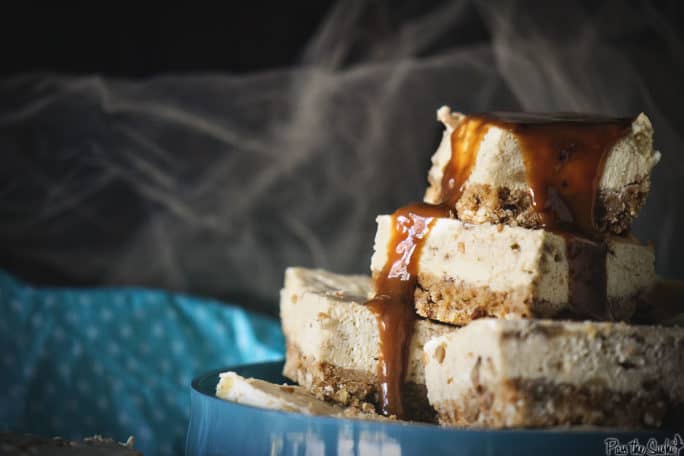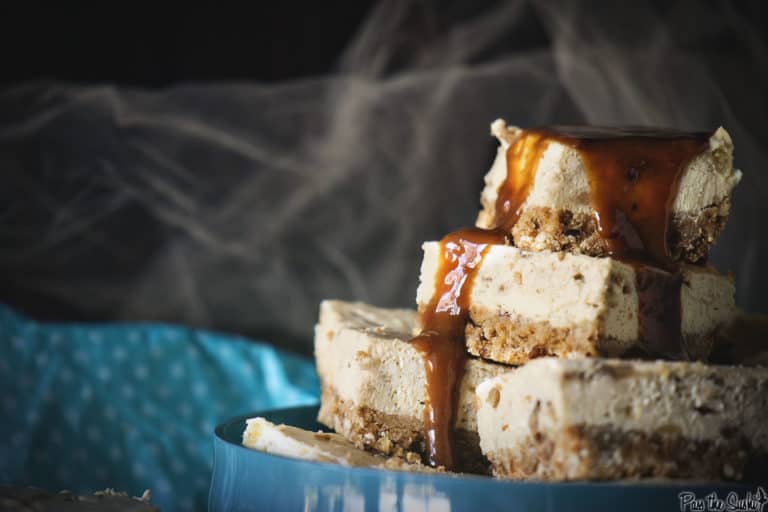 Caramel Sauce
In this recipe, I take it completely easy on you. The caramel sauce is done with the convenience of just melting pre-made caramel. No worrying about the cream scorching. Just melt and pour.
But I know some of you are already thinking… "what if?" Like... "What if I made my own caramel sauce for this amazing treat?"
I have you covered. Check out some of the caramel sauces I have in these desserts…
Yield: 24 servings
Bananas Foster Cheesecake Bars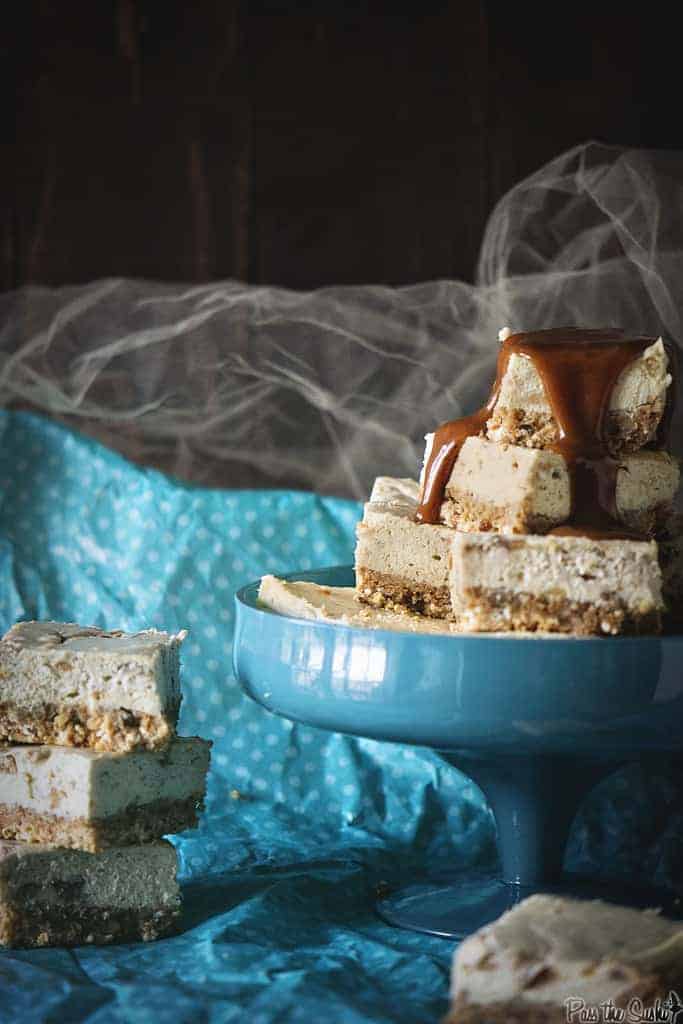 Slice and go banana fosters cheesecake bars are a perfect pot luck recipe! They can be made ahead and served with caramel sauce drizzled on when ready to serve!
Total Time
2 hours
40 minutes
Ingredients
2 cups vanilla wafer crumbs
½ cup pecans, chopped
¼ cup butter, melted
¾ cup packed brown sugar, divided
24 oz cream cheese, softened
2 teaspoon rum
3 eggs
1 to 2 ripe bananas, mashed (about ½ cup)
2 bananas, sliced (for topping)
2 teaspoon lemon juice
25 Caramels, found individually wrapped in the candy or baking aisle
2 tablespoon milk
Instructions
Preheat the oven to 350 degrees F. In a bowl, combine the cookie crumbs, pecans, butter, and ¼ cup brown sugar until combined.
Using your fingers press it into a even layer in a 9x13 baking dish.
Combine the cream cheese in a in the bowl of your stand mixer fitted with the paddle attachment for 30 seconds.
Add the remaining brown sugar and mix until combined.
Beat in the rum and eggs, scraping down the sides as needed.
Lastly fold in the mashed banana.
Pour the banana cream cheese mix over the crust in an even layer. Bake for 30 minutes, until center is set.
Cool on wire rack before placing in fridge to cool completely, at least 3 hours.
Before serving, toss the remaining sliced bananas with the lemon juice.
In a heatproof bowl over a simmering pot of water, melt the caramels with the milk until smooth, stirring often.
Top the cheesecake with the caramel sauce and sliced bananas.Slice and serve.
Nutrition Information:
Yield:
24
Serving Size:
1
Amount Per Serving:
Calories:

255
Total Fat:

16g
Saturated Fat:

8g
Trans Fat:

0g
Unsaturated Fat:

6g
Cholesterol:

58mg
Sodium:

168mg
Carbohydrates:

26g
Fiber:

1g
Sugar:

19g
Protein:

4g
Nutrition information provided is an estimate from nutritionix.com. For specific health concerns, please put the recipe into your Dr recommended nutrition calculator.
Still craving more Banana loaded treats?