These creamy cheesy loaded mashed potatoes are quick to make and amazing when served fresh and hot; the perfect base for supper, much like my classic homestyle mashed potatoes. And the next day, the leftovers are even better stretched into fun new recipes!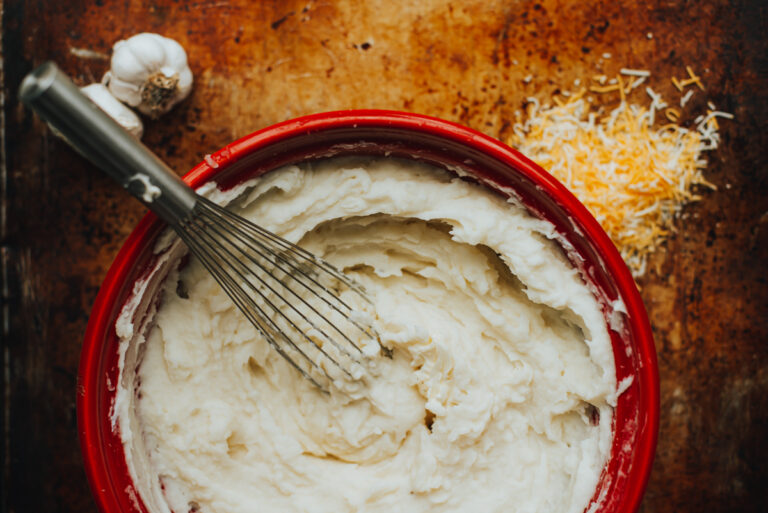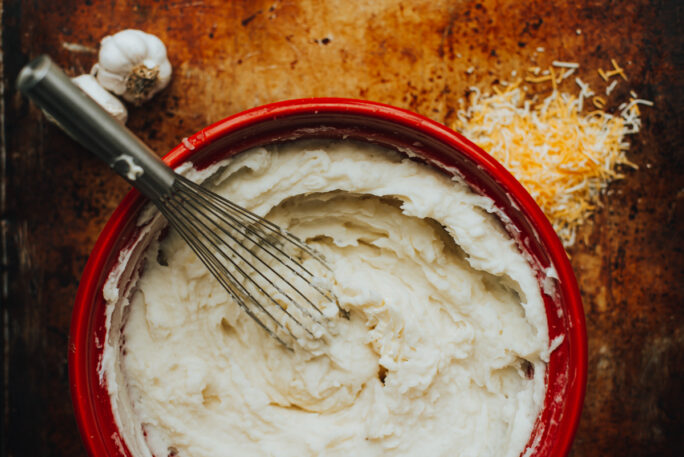 This recipe was created for the Idaho Potato Council, but all thoughts and opinions are my own.
Make Loaded Cheese and Garlic Mashed Potatoes
Loaded mashed spuds sit pretty darn high on the mountaintop of perfect comfort foods. They have it all. Fluffy yet filling. Luxurious but simple to make. And don't forget the garlic. Because the garlic flavor fills up the dish like air to a balloon and carries it off. 
Expect to arrive in a magical place where you feel full and satisfied beyond your wildest dreams.
Considering the cheese and sour cream, you probably won't even think about topping with a pat of butter. But nobody needs to complain if you do.
After all… This loaded mashed potato recipe aspires to a richness that welcomes that sort of decadence.
The Best Potatoes For Mashing
Although you actually can use any sort of potato for this recipe, I recommend russets from Idaho. There are so many potato varieties available in the store these days, but russets work so perfectly. We all know the best potatoes come from Idaho, why mess with the classics?
But there is more to it than just blindly using the russet. If I told you to jump over a Ferrari going eighty on the freeway then I wouldn't expect you to do it without a very good reason. So, allow me to explain why russets are so ideal.
Russes are much higher in starch. So, that might only sound great if you like the dry cleaner to make your collars extra stiff, but truth be told, higher starch means fluffier potato. It also means less mashing and whipping to get there. 
Which is important because too much mashing and mixing can turn your spuds into glue. That might come in handy if you are making paste for the kindergarten class and you don't want to worry about the kids eating the glue, but not for mashed potatoes.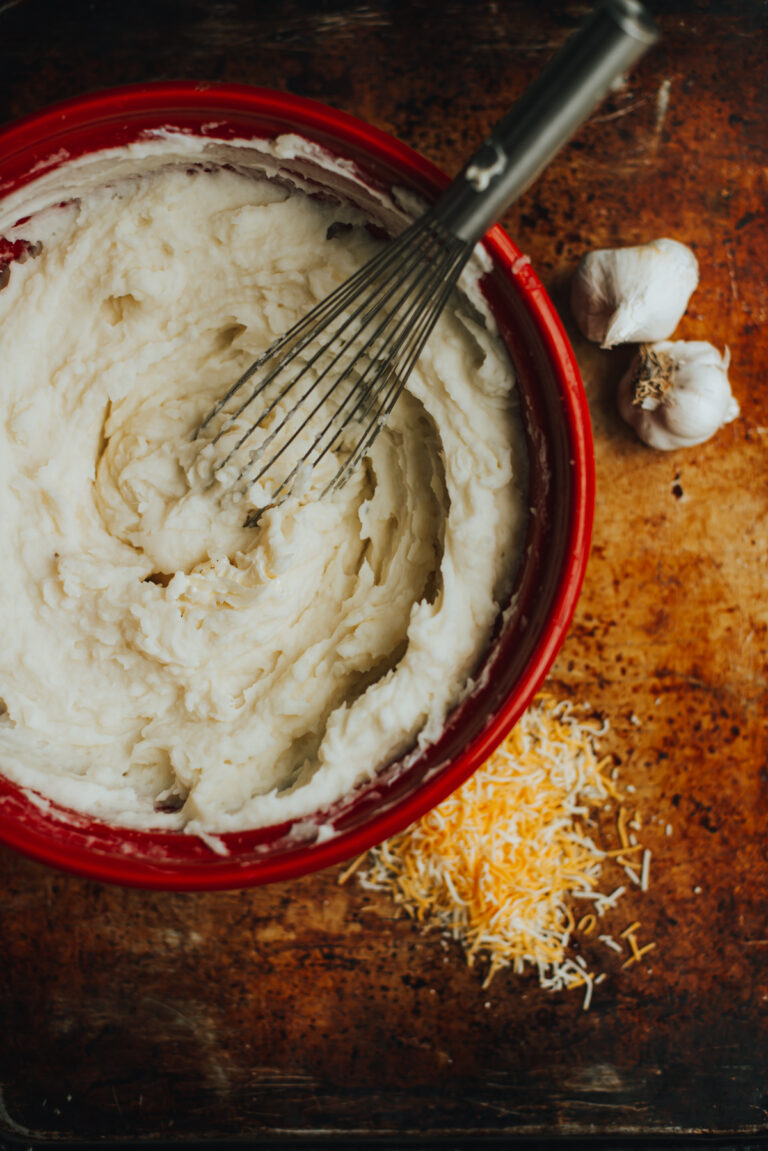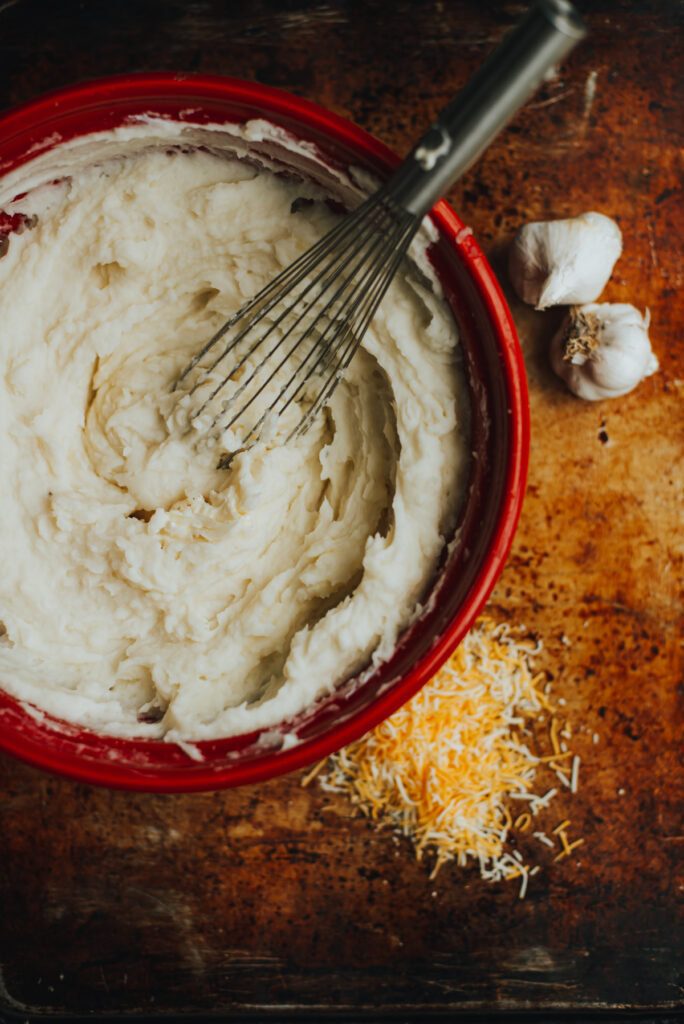 What If Russets Are Not Available?
If you can't find russets, then you probably need to start shopping elsewhere. I think it is the easiest potato to find. But, let's just say there was a run on russets and you are desperate for an alternative…
Go with Yukon Golds. They have a similar level of starch so they will work equally well.
Is Cheddar Cheese The Best For Mashed Potatoes?
I am pretty sure village skirmishes have erupted over what type of cheese is best for mashed potatoes. Luckily, it happened long ago when manly men wore short plaid skirts and brandished bucklers and rattled sabers about.
Fortunately, I think it was pretty clearly decided that cheddar cheese is the perfect way to load a potato up and make it amazing. A nice medium or very sharp cheddar has just the right sort of tang to parlay the blandness of a potato into something more amazing.
The addition of the salt in cheddar helps to season the the creaminess as well.
Of course, there are probably a few folks out there that don't necessarily like cheddar. For those three or four people there are options.
Best Cheese For Loaded Mashed Potatoes
If you don't want to go to the store for cheddar, or you just prefer other cheeses, then all good. Most cheese will actually do wonderfully as well. Even a mold infused blue cheese or Stilton works.
However, I definitely recommend the types of cheese that have a bit of bite to them. If you go with something that just melts nicely, but has a very soft and milky flavor, then it will just be lost in the potato.
Using a cheese that has a bit of tanginess and is a bit on the salty side makes a difference. Cheeses like romano, or feta will do it justice as well.
Getting The Best Consistency
Making loaded mashed potatoes is so easy, but just as easy to mess up. The number one mistake people make is overworking them. You really just want to mash until the potatoes are broken down. Otherwise, when overworked, things can get gummy with starches and glutens getting all upset. (Hint, this is why people love potato ricers).
Instead of beating the mix too harshly, allow your sour cream do the heavy lifting for the smooth and creamy texture. 
If you cook them until they are fork tender, then they will break apart and mash evenly. 
Here are a few things to keep in mind for perfect mashed potatoes:
Peel and cut your potatoes into even sized chunks. That way they cook evenly and can be mashed easily to the same consistency.
Make sure to add a pinch of salt to the water you boil them in. This helps season the potatoes evenly because they absorb it during boiling.
Boil gently on a simmer. I know you could cook them faster on a high boil… but then the potatoes just get beat up and don't cook as evenly.
What To Serve with These
Ok, I know these cheesy garlic mashed potatoes usually sit on the side of the plate. That doesn't mean they will be the last thing finished on it.
Still, you may be looking for some dishes to show the main shebang off with…
Now, the fun part - the leftovers. Since nothing gets wasted in my kitchen, these Sunday supper potatoes were reinvented throughout the week into air fried taquitos and a Moroccan spiced sheppard's pie.
📖 Recipe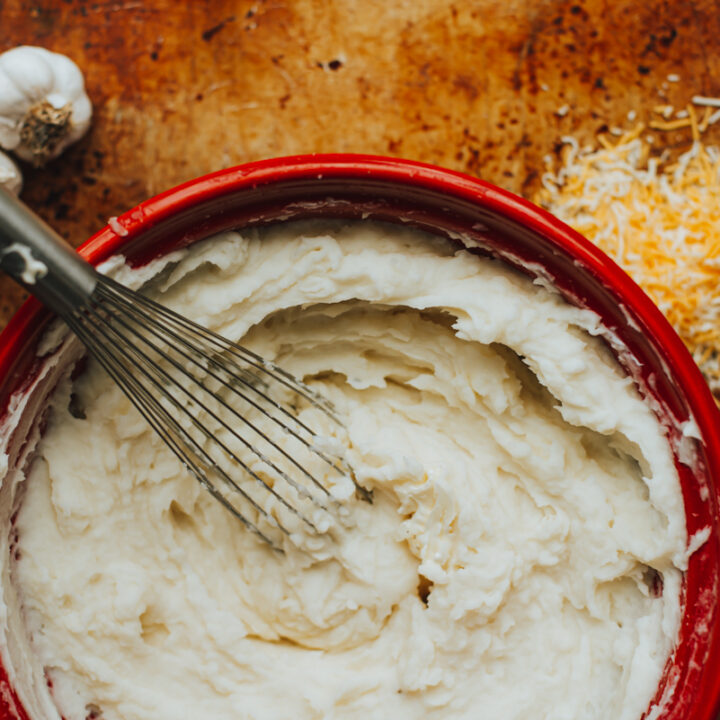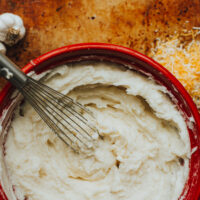 Cheesy Garlic Homestyle Mashed Potatoes
These creamy cheesy mashed potatoes are quick to make and amazing when served fresh and hot; the perfect base for supper. But the next day, the leftovers are even better stretched into fun leftover recipes! 
Print
Pin
Rate
Ingredients
5

lbs

russet potatoes

-

washed, peeled and cubed into even 1" portions

¾

cup

Cream

¼

cup

sour cream

4

tablespoon

Butter

8

oz

Cheddar cheese

-

shredded

6

Garlic cloves

-

minced

Salt and pepper to taste
Instructions
Place the cubed potatoes in a large pot and cover with water. 

Bring to a boil and cook 12-17 minutes, until potatoes are fork tender. 

Drain the potatoes and transfer to a large bowl. 

Mash the potatoes by hand or with a ricer, using caution not to over work the potatoes.

Gently whisk in the cream, sour cream, butter, grated cheese, and garlic. 

Mix to combine until smooth.

Season with salt and pepper to taste and serve hot.  
Notes
Store leftovers in an airtight container in the refrigerator for up to 3 days. 
Nutritional informations provided as a courtesy and is only an approximatation. Values will changes based on ingredients used.
⭐ Tried this recipe? Rate it ⭐
Help out the next person and give it a star rating below!