Doughnut holes are the perfect treat with a hot cup of coffee. These doughnut holes are covered in an almond caramel sauce that you'll go crazy for!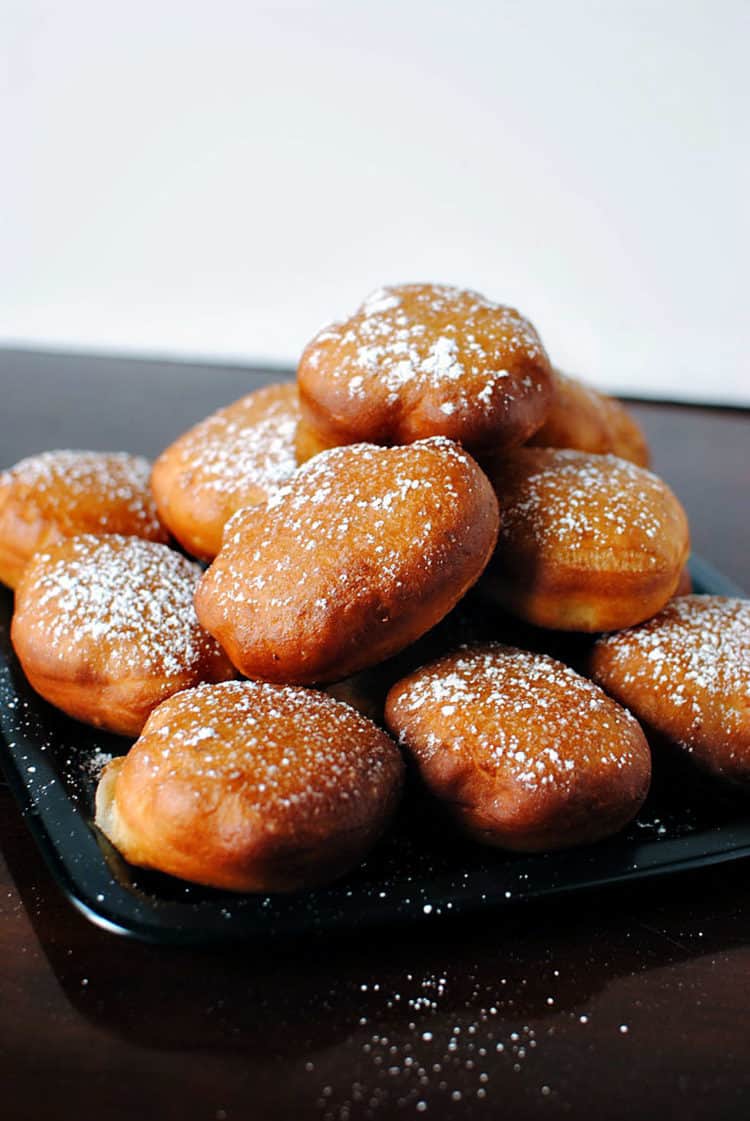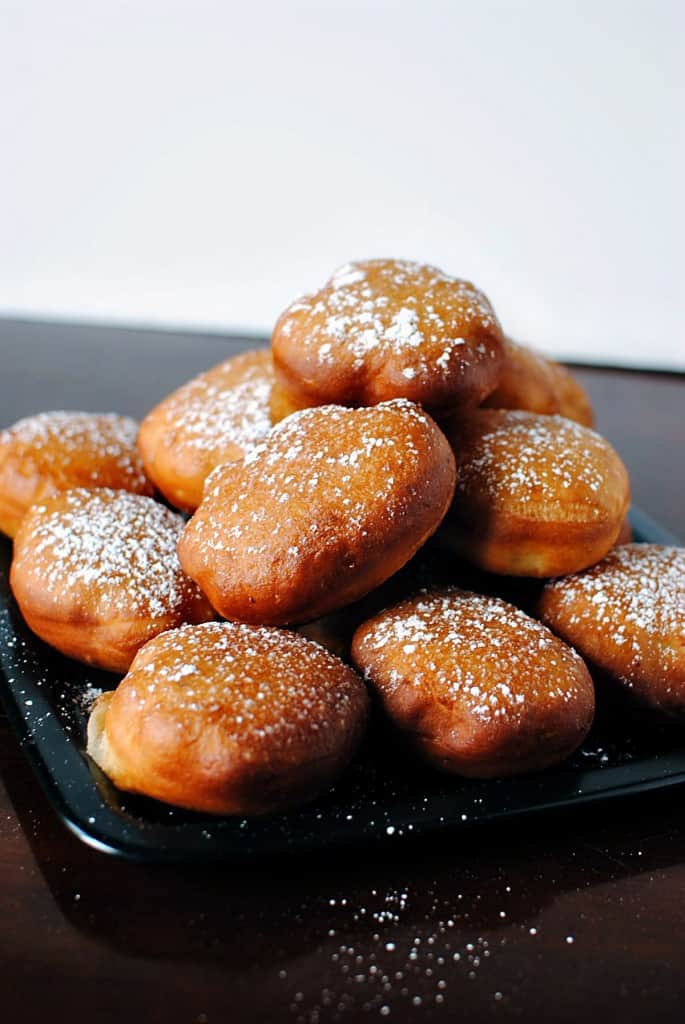 As Pass the Sushi continues to grow, I get to learn so many new things and meet new people and build friendships. I had a fun first last Friday, when this doughnut holes recipe was featured on Chef Dennis' blog, Ask Chef Dennis.
Chef Dennis is a great guy, always posting beautiful recipes as well as really helpful articles with tips and tricks for food sites and other topics that are important to us food bloggers. Every Friday, he showcases another blogger with his Guest Post Friday, which I can say from experience is so much fun!
It's great to see all the nice comments people leave for each guest. Not to mention, he seems to be holding up a goal I tried setting for myself this year, which is to incorporate more fish into his diet (both jealous and motivated). Please go over to his site and have a look around.
Doughnut Holes with Almond Caramel Sauce
From Every Day with Rachael Ray Magazine (March 2011)
Ingredients:
1 Tbl plus 2 teaspoons active dry yeast (½ ounce)
¾  cup warm water
1 ⅓ cups granulated sugar
1 cup almonds, toasted
5 ½ cups AP flour
1 ¾ teas salt
1 stick (4 ounces) plus 3 tbs unsalted butter
1 cup milk
2 eggs, room temperature
2 tbs finely grated orange peel
½ cup heavy cream
¼ teas pure almond extract
Vegetable oil, for frying
Confectioners' sugar, for dusting
Preparation:
In a bowl, combine ½ cup warm water, the yeast and 1 tablespoon plus 1 teaspoon sugar. Let stand until foamy, 5 minutes.
In a food processor, finely grind the almonds and ¼ cup granulated sugar; transfer to a standing mixer. Mix in the flour, ⅓ cup granulated sugar and 1 teaspoon salt.
In a saucepan, melt 1 stick butter, remove from heat. In the bowl of your standing mixer, beat in the milk, eggs and orange peel. Beat in the yeast mixture and flour at low speed. Knead at low speed for 15 minutes. Dough will be sticky to the touch. Transfer dough to a large bowl, cover and let stand in a warm place until doubled in size, about 1 hour.
On a floured surface, roll out the dough to a 1 inch thickness. Using a 1 ½-inch round cookie cutter, cut out rounds of dough and transfer to 2 greased baking sheets. Cover loosely and let sit for 30 minutes.
Meanwhile, in a small saucepan, combine the remaining ⅔ cup granulated sugar with ¼ cup water. Bring to a boil and cook, undisturbed, until amber, about 5 minutes. Remove from heat and stir in the cream. Stir in the almond extract and the remaining 3 tablespoons butter and ¾ teaspoon salt.
Fill a 4 quart saucepan with enough oil to reach a depth of 3 inches. Heat the oil until it registers 350 on a deep-fry thermometer. Working in batches, fry the dough, turning once, until golden, 2 minutes. Transfer to paper towels to cook slightly. Dust with confectioners' sugar and serve with sauce.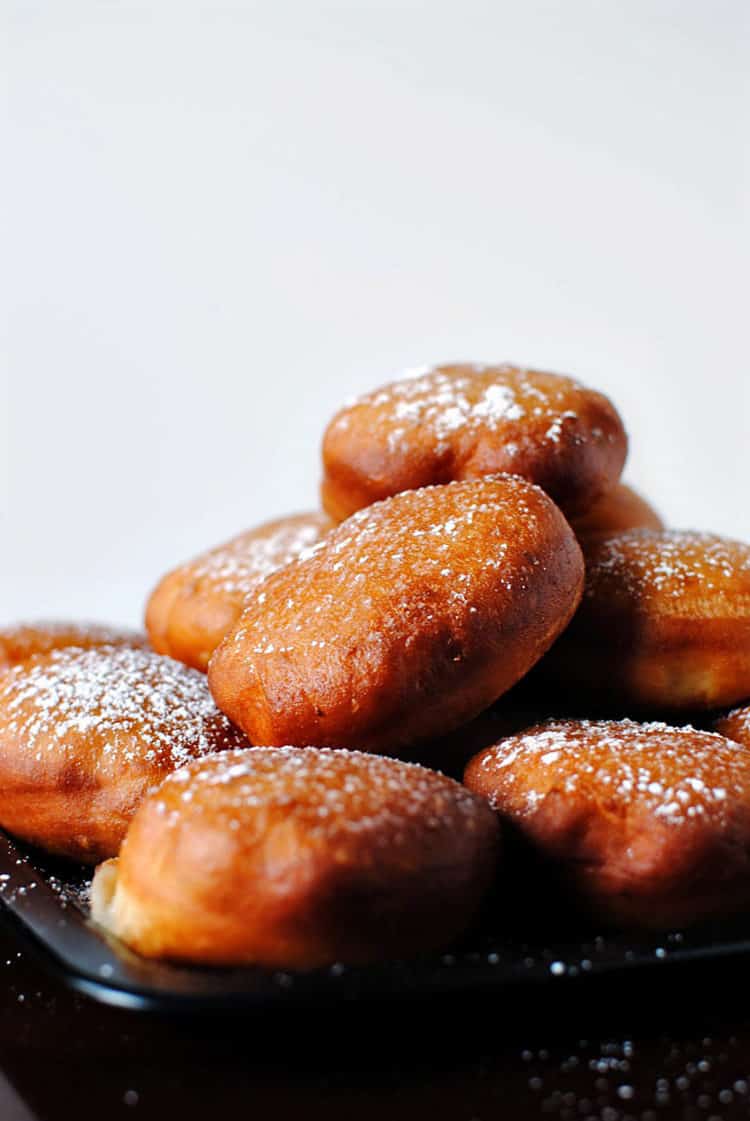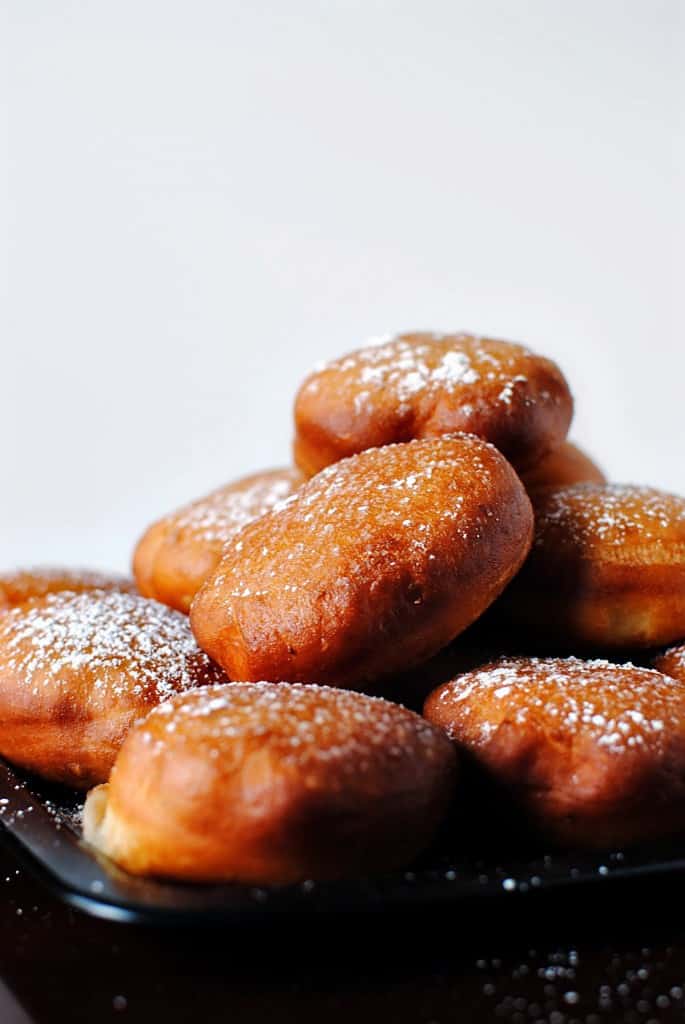 To see the post on Chef Dennis' site, please go here. And be sure to tell Chef Dennis that Kita sent you. 😉