The Italian vibes of this Chicken gnocchi soup will have you saying, "Mama Mia, delizioso!" It is hearty and full of flavor from the juicy chicken, potato gnocchi, and tender veggies.  It can be made on the stovetop or in a slow cooker.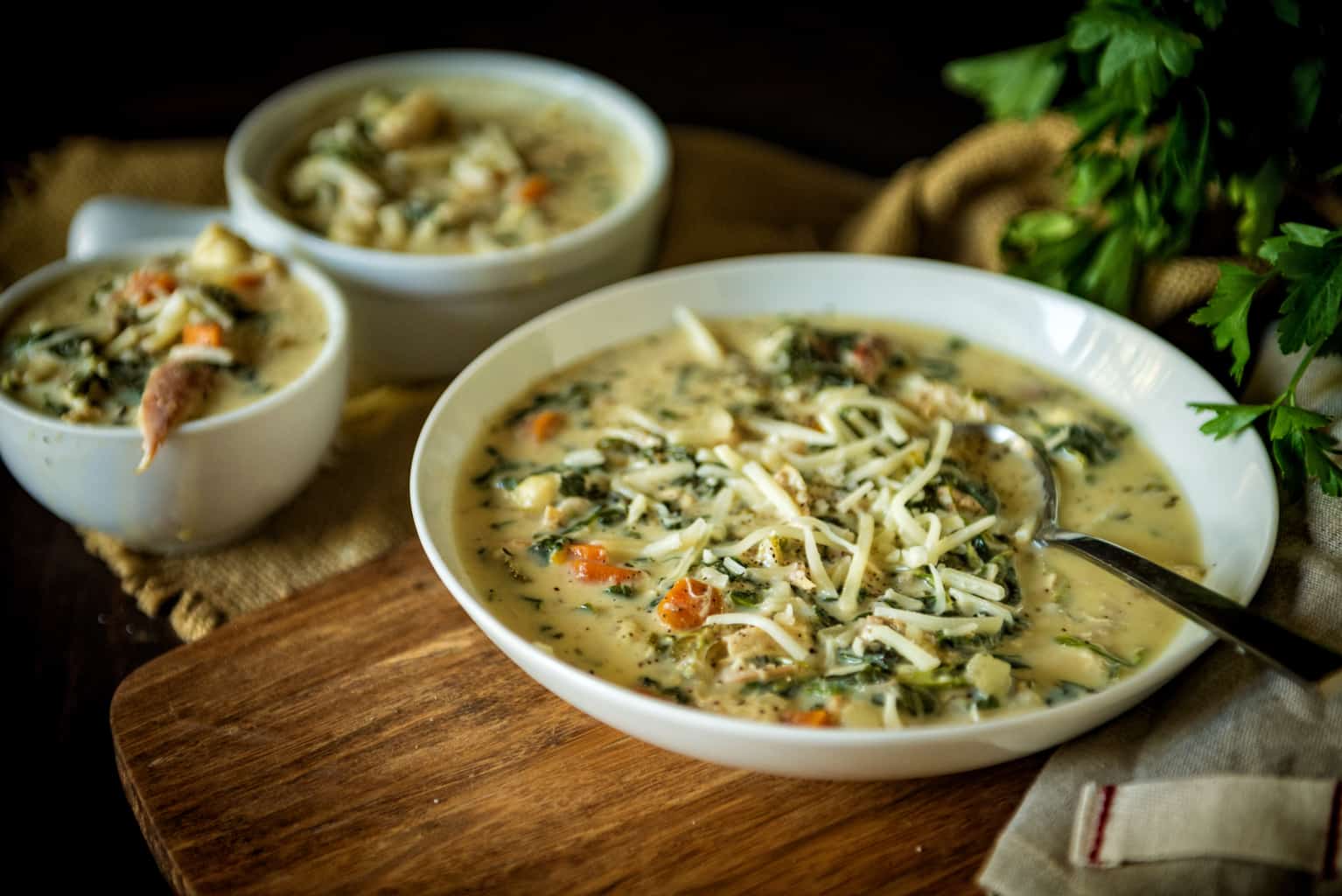 Why Chicken Gnocchi Soup? If you are anything like me - a quick and easy meal WINS many a night. And with this one you are guaranteed big-time flavor.
Why?
Because it's a copycat recipe from America's favorite 'Italian' eatery!
When choosing what Olive Garden soup is my favorite, I always struggle because it's just so hard to choose one! However, this creamy chicken gnocchi soup is a top corrival. I know you'll go crazy over this gnocchi recipe as much as I did.
Aside from that, EVERYONE loves Olive Garden, and for good reason! It's because their food is so addictive. And let's face it, taking your kids out to eat is the most unrivaled gamble. So on days that you're craving some Olive Garden food, you should try this copycat olive garden chicken gnocchi soup!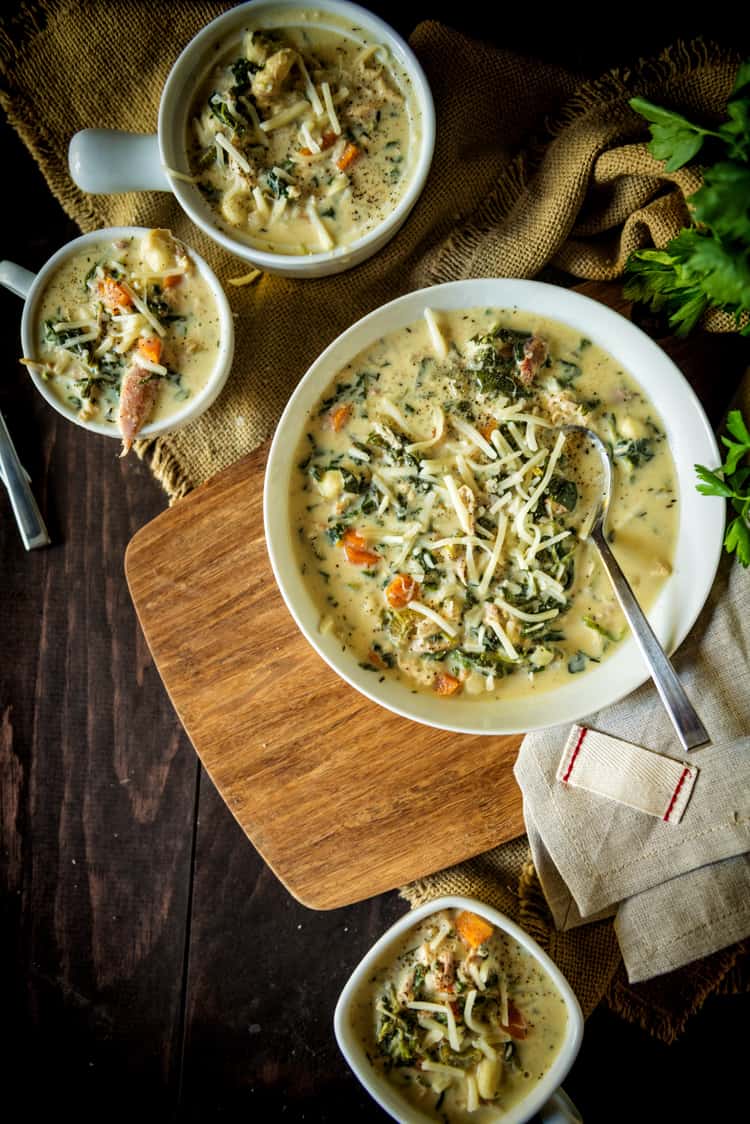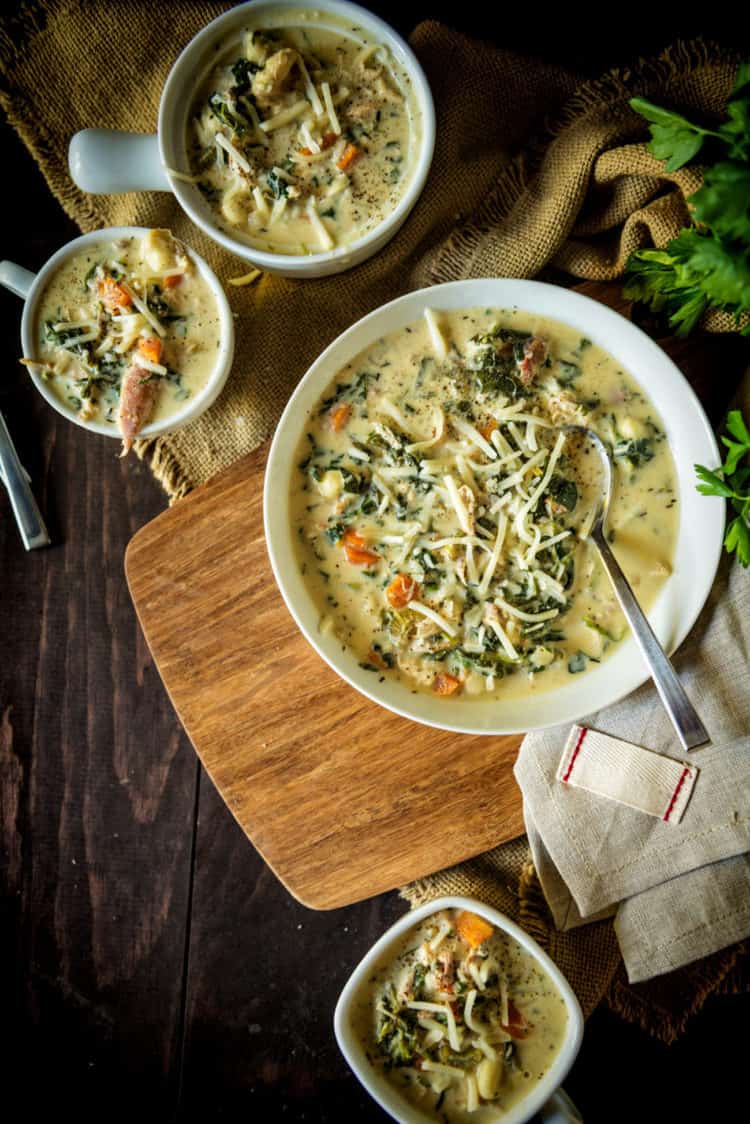 And since they do just about every single dish justice at ye old Olive Garden, this soup is no different (though I hear it's no longer on the menu - craziness).
I have tested (and let's be real, loved) a few other Olive Garden Recipes. So if you're in need of pairings, or just other crowd-pleasing favorites check out the Chicken Scampi, Lasagna Fritta (my fav), and the Copycat Spinach and Artichoke Dip too.
Bringing a restaurant-quality dish at home is really satisfying, not just for you but for the whole family. You save lots of time, money, and the hassle of bringing naughty kids to the dining room place.
My version of this Olive Garden copycat recipe tasted great in my opinion and my whole family loved it! All the ingredients can be easily found at your nearest grocery store (or even at home). You need to put this on your soup list now! I know you won't regret it.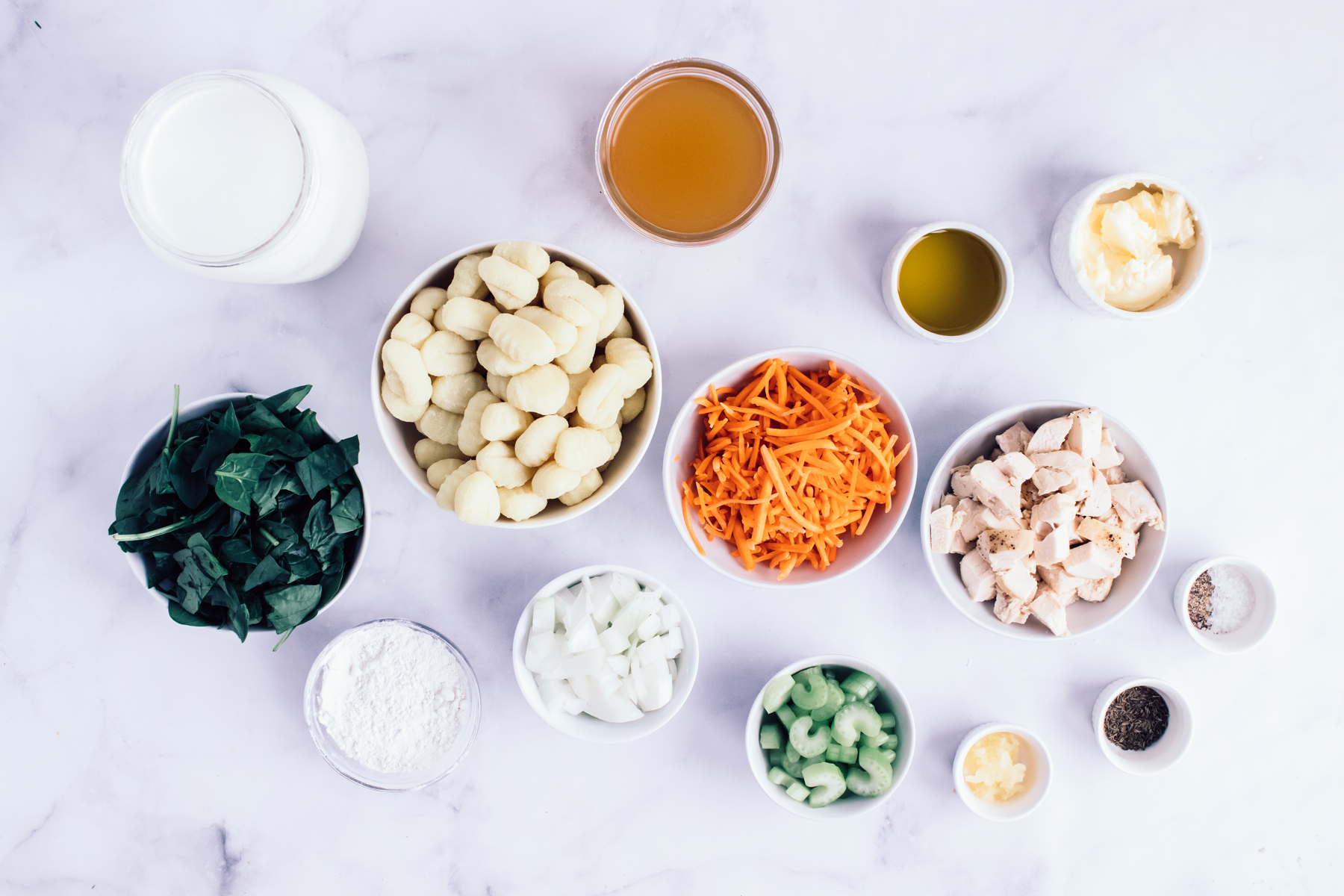 What you need to Make Chicken Gnocchi Soup Recipe (Copycat)
This Chicken Gnocchi recipe has always been on my list of preferred soups to make for a long time now and even though Olive Garden has a large selection of soups, this specific dish just seemed to stand out. The best part of this recipe is that it only takes less than 30 minutes to make!
Onion
Celery
Garlic
Butter & Olive oil
Flour
Half and a half or substitute heavy cream if it's what you have on hand.
Cooked chicken breasts, feel free to use cooked dark meat here too. Any cooked and diced chicken, even rotisserie chicken, works great.
Carrot, shredded or finely chopped
Chicken broth, look for low sodium chicken broth
Fresh spinach, substitute frozen spinach. Just make sure to squeeze the water out.
Thyme
Salt and pepper
Gnocchi
How to Make Chicken Gnocchi Soup
Start by sauteing the onion, celery, and garlic in a pot over medium heat, or on the saute setting on your crockpot, in the butter and oil until the onion is translucent; about 5 minutes.
Next, add the flour and form a roux. Stir the flour in to coat the veggies and absorb the liquid. It will create a thick coating over the veggies as it cooks. This is the key to getting that creamy broth you crave!
Then add the half and half, chicken and carrots, and allow the liquid to thicken.
Meanwhile, if making on the stovetop and not in a slow cooker, pre-cook the gnocchi now as per the package instructions.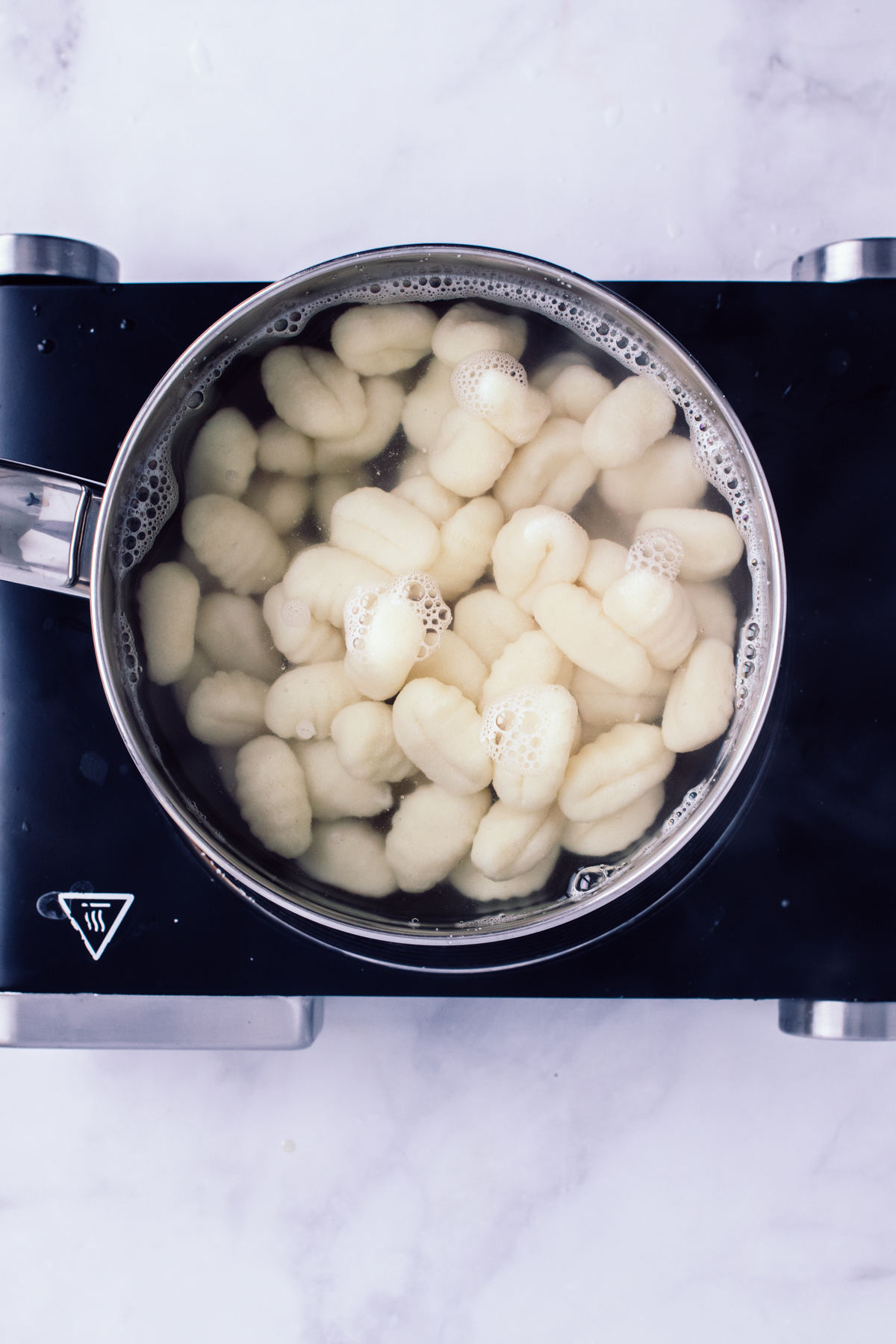 Chicken Gnocchi Soup Recipe for the crock pot:
Stir in the chicken broth, gnocchi, and spinach into the slow cooker and season with salt and pepper. Finally, cover and allow to cook 4 to 5 hours on low until it's heated through, thick and creamy.
Tips, tricks, and notes for this recipe
This recipe calls for cooked chicken, however, you can use raw. Just brown the chicken in the pan or slow cooker and add time for the chicken to cook through in the broth before adding the gnocchi.
If you simmer the gnocchi too long the soup can get starchy.
I love spinach and can't get enough of it. When it's added to the soup it wilts down to barely anything, so feel free to double, or triple the spinach for this recipe.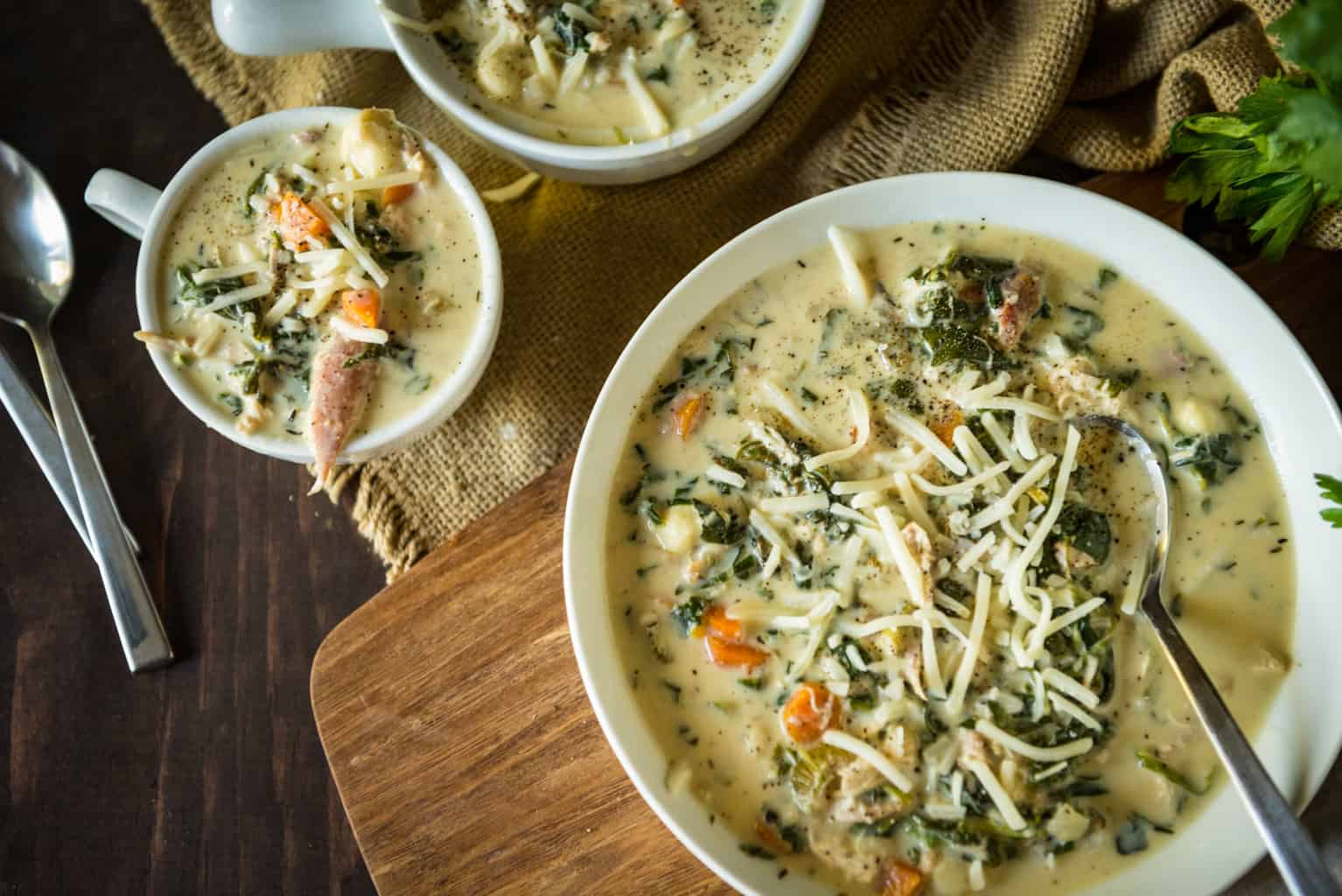 What is Gnocchi and where can I get it?
Gnocchi can be hard to spot sometimes at the local market, but I often find it in the refrigerated pasta section.
Usually, near the pasta at markets, gnocchi is small and soft dough dumplings that can be made from a variety of ingredients including semolina, ordinary wheat flour, egg, cheese, potato, cornmeal, or other similar ingredients, sometimes including herbs and vegetables. Most gnocchi you are likely to find in the US is of the potato variety.
As such, it is sometimes hiding in the store with the frozen potatoes and not the pasta. I would check around in the fresh and dried pasta sections, and with the frozen spuds.
Otherwise, relocate to a more Italian-friendly neighborhood, and you are sure to find it at a fresh pasta vendor. For me though, I would make them.
This Gnocchi Recipe with savory short ribs is pretty outstanding. And I won't blame you if you make a double batch to have them with the beef and in the soup.
How to Reheat Gnocchi Soup
For best results simmer on the stovetop but if you are short on time you can reheat in the microwave.
How to Store Leftovers
Ladle leftover soup into a resealable airtight container and store in the fridge for up to 3 days. Reheat in batches in the microwave or on the stovetop in a small pot as needed.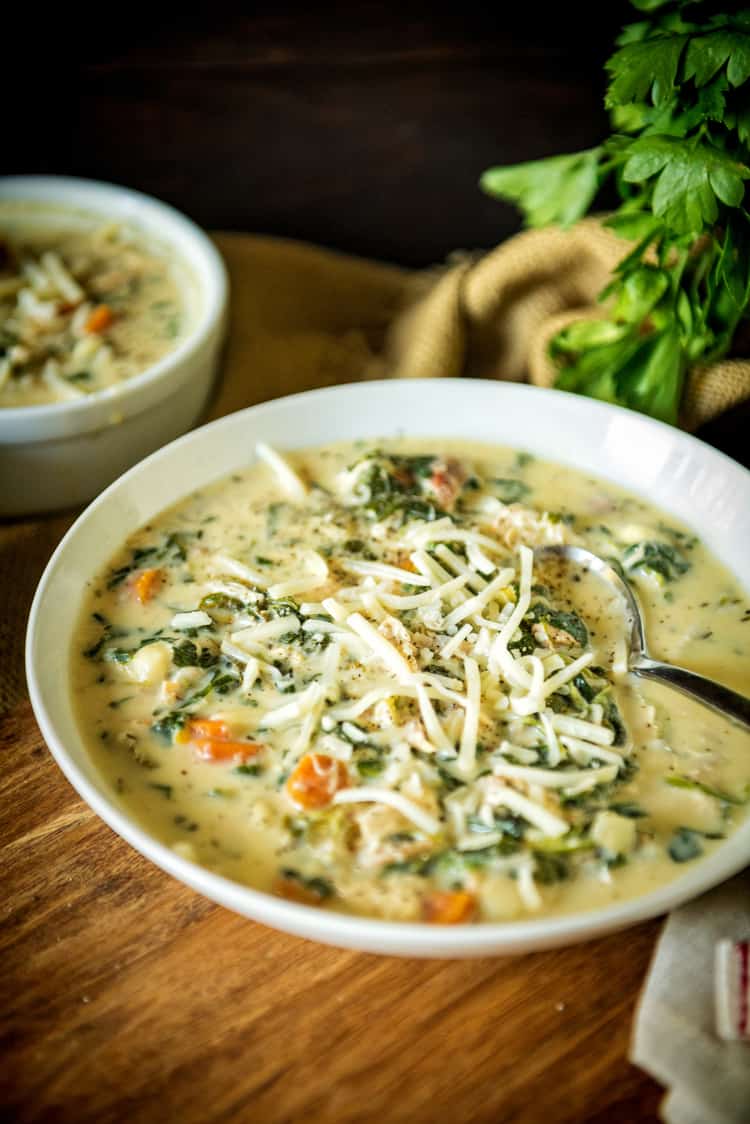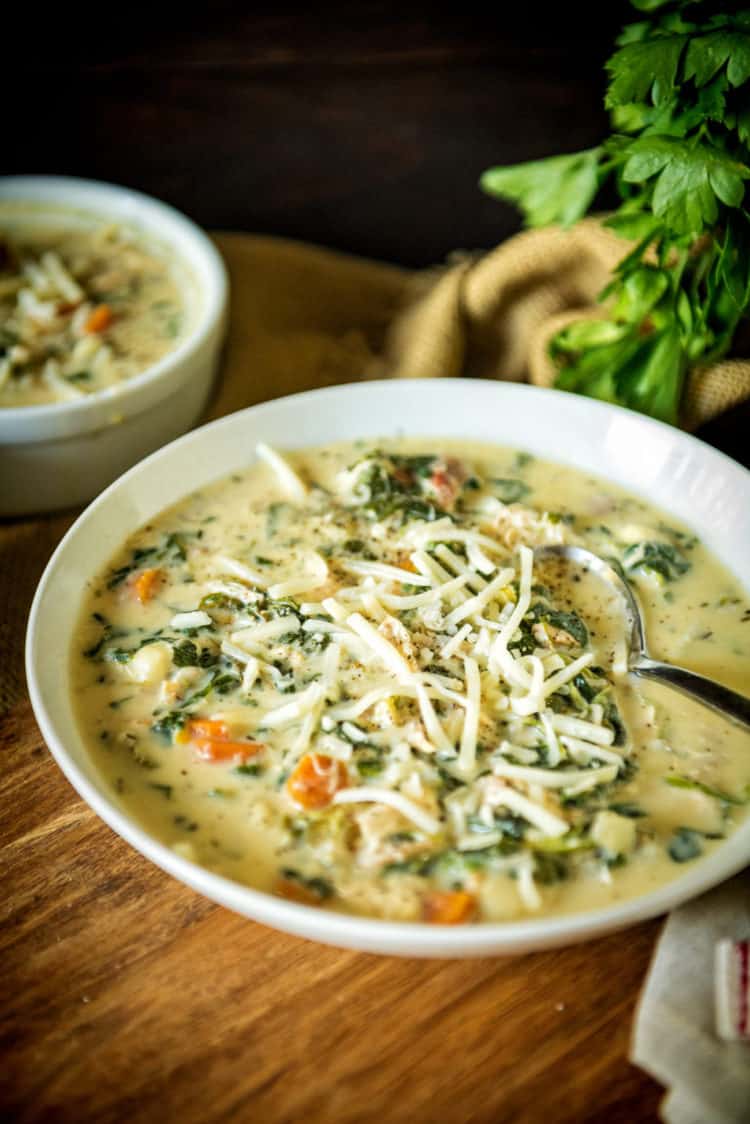 More Slow Cooker Recipes to Try
If you've tried my Chicken Gnocchi Soup recipe or any other recipe on passthesushi.com please don't forget to rate the recipe and let me know where you found it in the comments below, I love hearing from you! You can also follow along for more good eats and travel tips on Instagram @passthesushi & @girlcarnivore, Twitter & Facebook.
Yield: 8 servings
Slow Cooker Chicken Gnocchi Soup
This is one of those recipes that is SO easy, once you make it, you'll be making it once a week!
I made this in a crock pot and let simmer for a while, adding the gnocchi and spinach towards the end when we were getting ready to serve it.
Additional Time
5 minutes
Total Time
4 hours
15 minutes
Ingredients
1 medium onion, diced
½ cup celery, sliced
2 garlic cloves, minced
4 tablespoon butter
4 tablespoon olive oil
¼ cup flour
1 quart half and half, can use evaporated milk
1 cup carrots, shredded
1 cup chicken breasts, diced and cooked (can use canned chicken or turkey)
1 14 ounce can chicken broth
1 cup fresh spinach, coarsely chopped
½ teaspoon dried thyme
salt and pepper to taste
16 ounce package gnocchi
Instructions
In a stock pot or Dutch Oven
In a large stockpot, saute the onion, celery, and garlic in the butter and olive oil.
When the onion is clear, add the flour and form a roux.
Stir and cook for a minute.
Add the half and half.
Meanwhile, in another pan, cook the gnocchi.
Add the carrots and chicken to the stockpot with the roux. Stir often.
When it gets thicker, add the chicken broth, gnocchi, spinach, and seasonings.
Cover and simmer for 45 minutes.
Remove from heat and ladle into bowls to serve.
For Slow Cooker:
Set the slow cooker to sautee, or use a pan over medium heat and saute the onion, celery, and garlic in the butter and olive oil.
Form the roux as instructed above and add the half and half.
Add the carrots and chicken to the roux and stir.
Finally, add the broth and put in the uncooked gnocchi and spinach. Season.
Cover and heat on low for 4 to 5 hours until the gnocchi is cooked through.
Allow to cool 5 minutes before serving.
Notes
Garnish with parmesan cheese and freshly grated black pepper for bonus flavors.
Recommended Products
As an Amazon Associate and member of other affiliate programs, I earn from qualifying purchases.
Nutrition Information:
Yield:
8
Serving Size:
1
Amount Per Serving:
Calories:

526
Total Fat:

31g
Saturated Fat:

16g
Trans Fat:

1g
Unsaturated Fat:

15g
Cholesterol:

111mg
Sodium:

527mg
Carbohydrates:

40g
Fiber:

2g
Sugar:

12g
Protein:

21g
Nutrition information provided is an estimate from nutritionix.com. For specific health concerns, please put the recipe into your Dr recommended nutrition calculator.