Ripe bananas are the perfect catalyst for some classic baking. This recipe for Chocolate Chip Banana Bread Coffee Cake is a quick and easy staple to whip up if you have a few of those browning bananas on hand.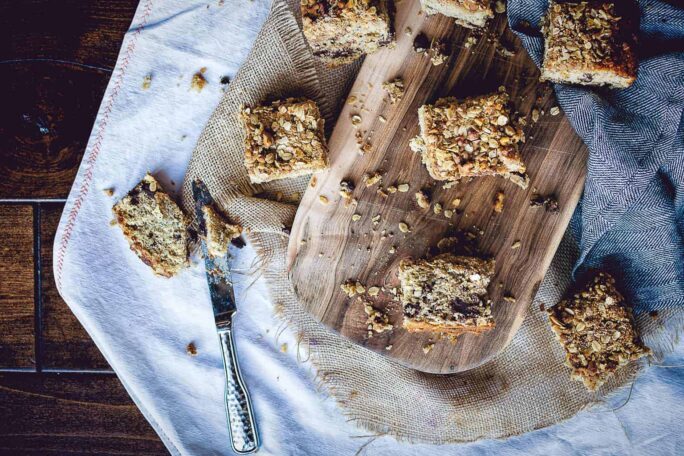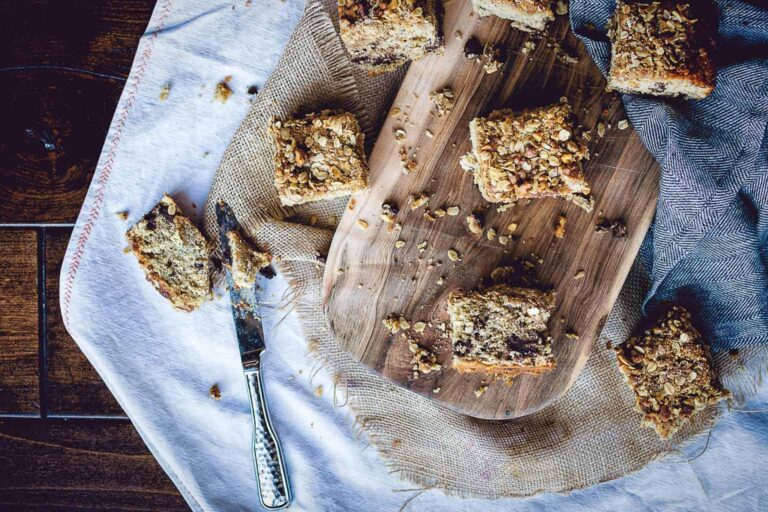 The Easiest Chocolate Chip Banana Bread Coffee Cake
Have you ever sat with a slice of chocolate chip banana bread coffee cake and a cup of tea or coffee and pondered the meaning of life? 
You should. 
So much is contained in those precious moments. Enjoying the simple treasures of life, savoring something you made with your own two hands… There is a world of simple pleasures in that. 
It might seem like something out of reach. Too much for a busy schedule or a troubled mind. But I am here to assure you, that is just not the case.
It's been one of those back and forth sorts of months. The temperature has jumped from abnormal highs to halting lows, and I thought I was fleeing the general gray of my hometown winter by moving south for a month, but it seems to be traveling with me a bit.
Which is just about perfect for the mood I am in. The unexpected cold snap in the south has given me a few days of silence without the lure of the sunshine and beach waves to pull me outside or the long flat coastal roads to have me gearing up for a long bike ride. I've been trying to sit and regain focus and momentum in life in the quietness of a big open space.
I used to have this idea of what being an adult meant for me. The things I would have under control and the life I thought I wanted. I knew I wanted some things and knew I never wanted others. I had this definition of success that was driven in somewhere along the way that I was upholding myself to.
This year, everything for me has changed. My life has opened up and expanded in ways that the same goal-driven girl never even knew were possible. I have become accepting of and welcoming of the abundance of opportunities and tried to flow with it. It felt more right than I have ever known.
And yet, behind the scenes, everything was falling apart. My life was unraveling. That definition of 'adult' life wasn't at all coming together as I had envisioned. I wanted to be successful - the house and home, the dog, and the fence. I wanted to scratch it all off the list because it was the adult thing to do.
But even as a small child, I never daydreamed about the house. It was never the big home, or the picturesque Better Homes and Gardens spread for me. It was a view and a feeling. It was like somewhere deep down; I always knew I wasn't going to fit into that definition, no matter how much I was telling myself to make it work.
And it unraveled.
All of it.
And now, I am left with a new chapter filled with unexpected blank pages and am working through my thoughts and trying to get deep into some soul searching to see what those pages may even look like.
I guess that the hardest part about the whole thing was admitting, I only didn't know what was next. There wasn't a plan or outline for what it had all become, and in that, I felt a failure.
And yet, I regret nothing. There has been so much good, the people, the adventures, the changes in myself, and how I see the world, that I wouldn't undo a moment of it. I needed to accept that we aren't all going to fit into that idyllic notion of adult life that we had believed to be the standard. I need to be ok with whoever it is I am becoming because that person has somehow always been who I was meant to be.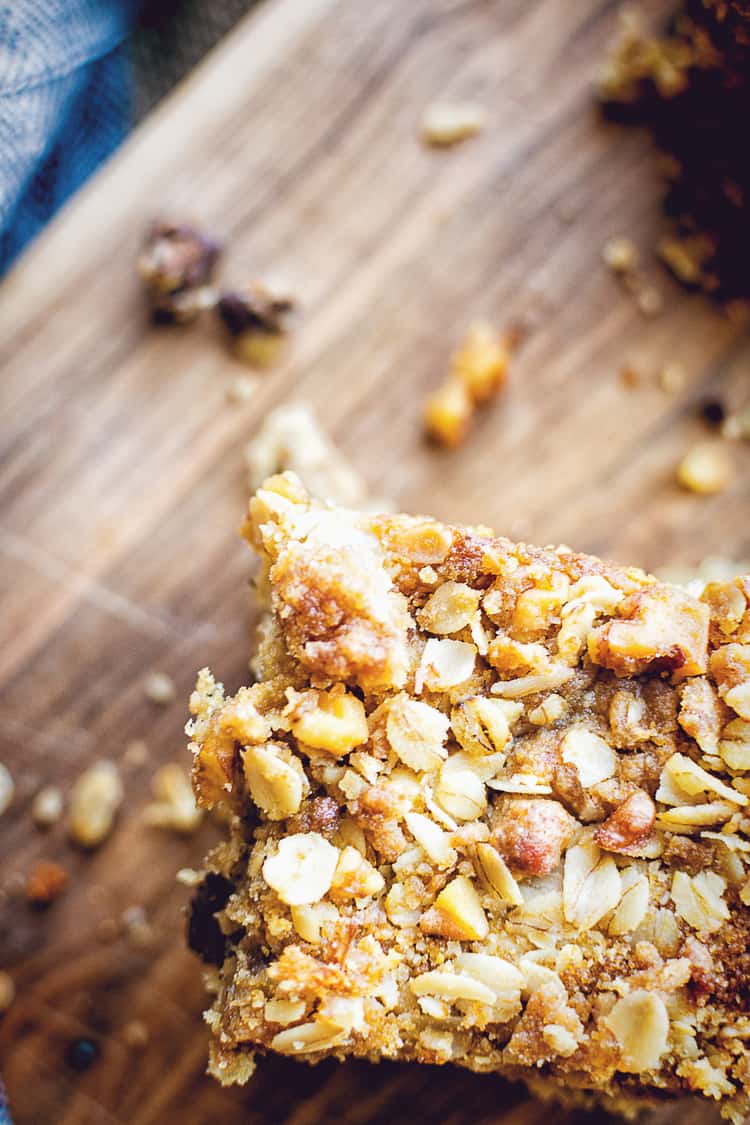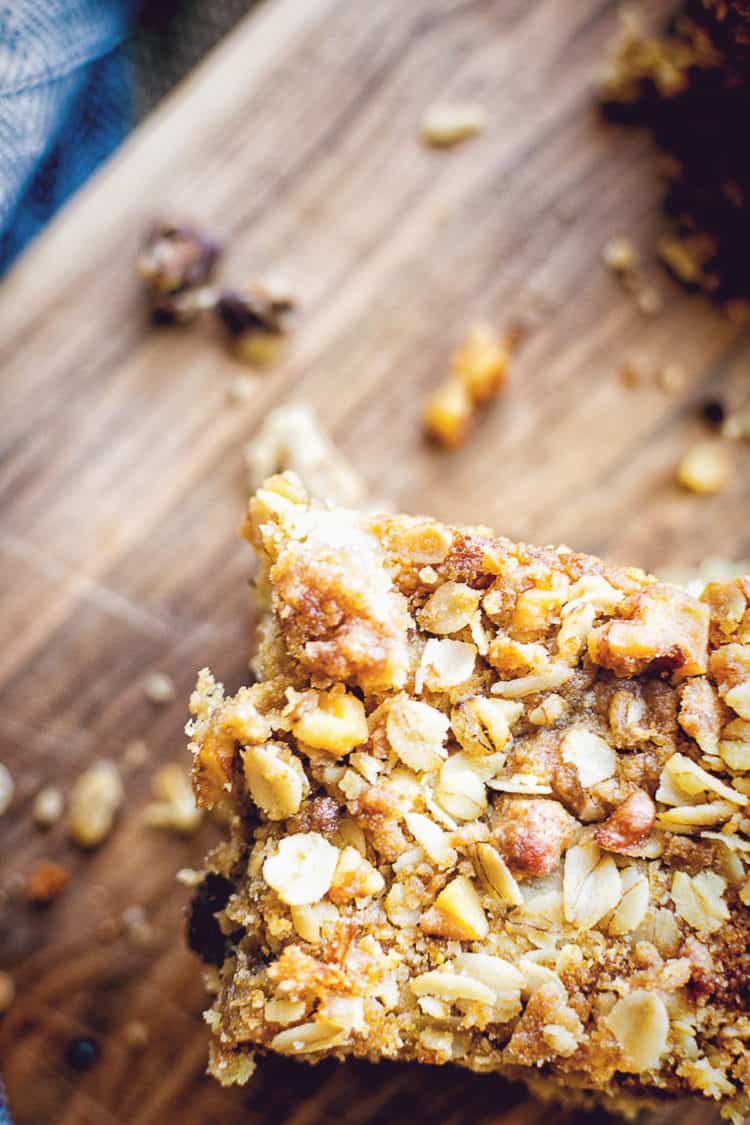 The Zen Of Chocolate Chip Banana Bread
No matter where I went in these moments of introspection, I still came back. Finding my way by the glimmering promise of what I can make of myself. What I can make for myself. And realizing it doesn't have to be complicated. 
It can be as simple as a slice of warm banana coffee cake with a few chocolate chips in it to put a smile on my face. 
I know what you are thinking though…
This looks amazing but I don't have the time to make Banana Bread! Yes you do. If you're in a rush, make this Banana Bread, it only takes 6 minutes start to finish. What? Yup.
The Ease Of Baking Banana Bread
Ok, not every bread is kneading it and pounding it out, and stretching the strands of gluten…  Working it, working it, working it… It's not always about getting the yeast to rise. 
Just like not every day has to be about rising to life's challenges. You can take a path of less resistance. You can ride the bike up and down hills if or when you want. But some days just a nice long flat leisurely ride is the way to go. 
The good news is banana bread isn't about overworking anything. Sometimes it may be one ripe banana and a mug, but most of the time its a very comforting time spent in the kitchen folding ingredients into a batter and filling the house with a familiar aroma.
Deciding What Kind Of Chocolate Chips
On those days when you want to take it easy and you are ready to bake, then the hardest decision to make should be what kind of chocolate chips to use. 
Because even if you are trying to take it easy, and reel it all in, decisions have to be made. 
When it comes to chocolate chips for banana bread, you need to weigh some heavy choices. Like dark or light milk chocolate? Hersheys or Ghirardelli? 
Don't take these matters lightly. So much depends upon a chocolate chip, baked in banana bread, beside a cup of hot coffee. 
To my way of thinking, dark chocolate is the best way to go. Dark chocolate helps shape the overripe banana flavor best. In return, bananas make dark chocolate taste not too dark and bitter. 
Together, they are like an old married couple that has learned to live in perfect harmony and happiness despite the bitterness and bruises life has served them over the years. 
Whew, that got heavy.
Save Some For When You Need It
You never know when you will have those moments of melancholy and a verklempt sense of ennui.  So you better have a bit of banana bread coffee cake handy when you do. 
It only takes minutes to make and once baked, can be stored in the freezer for. 
Wrap it in foil, then roll some plastic wrap around it tightly, then put it in a zip bag or container with a tight lid. It will last for a few months that way no problem.
If you reheat it in the microwave then be sure to place it on a damp paper towel when you put it in.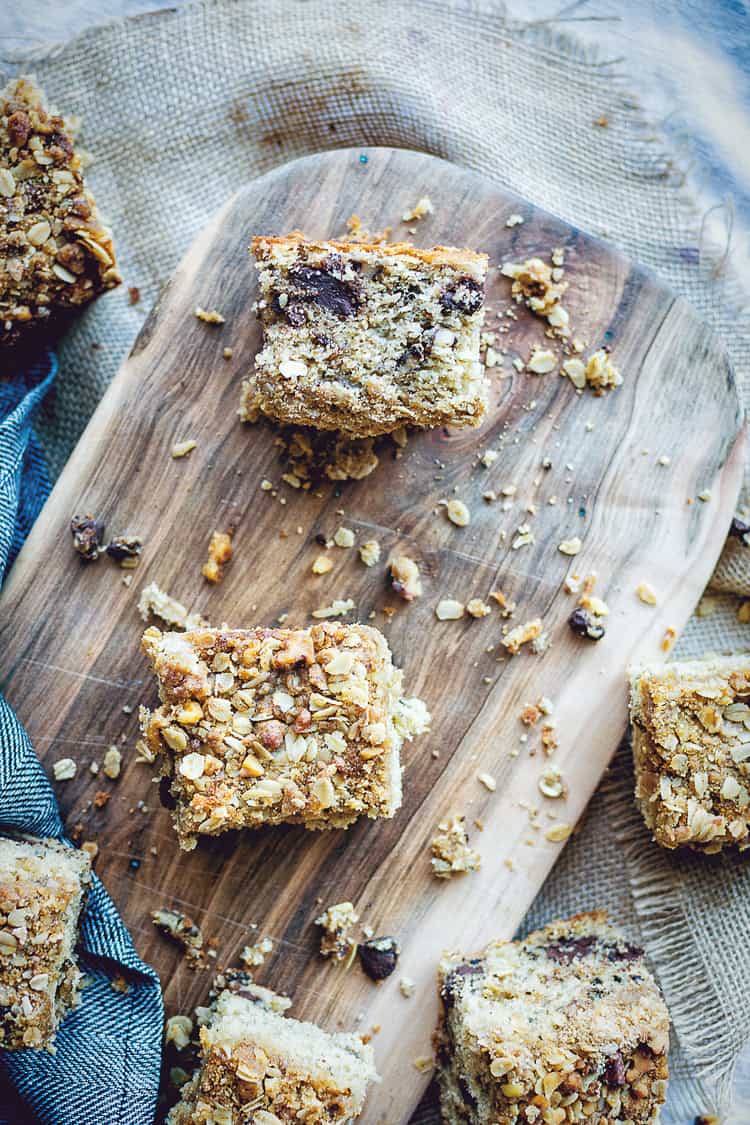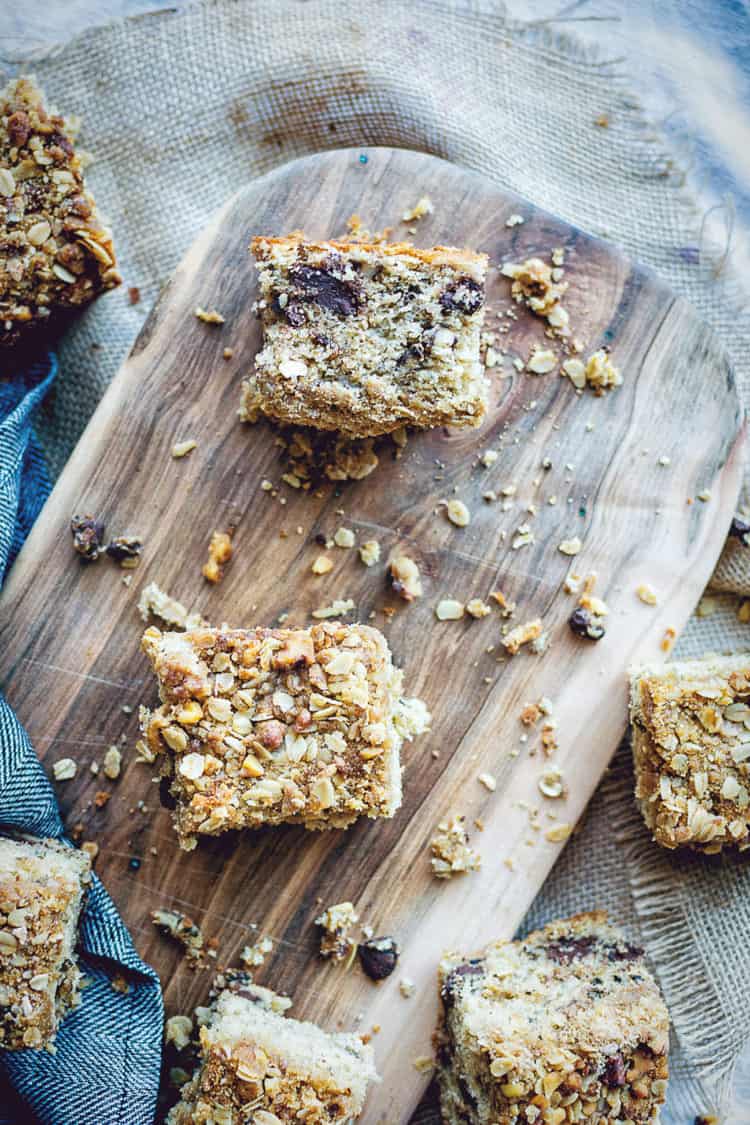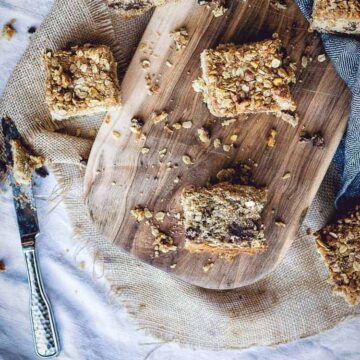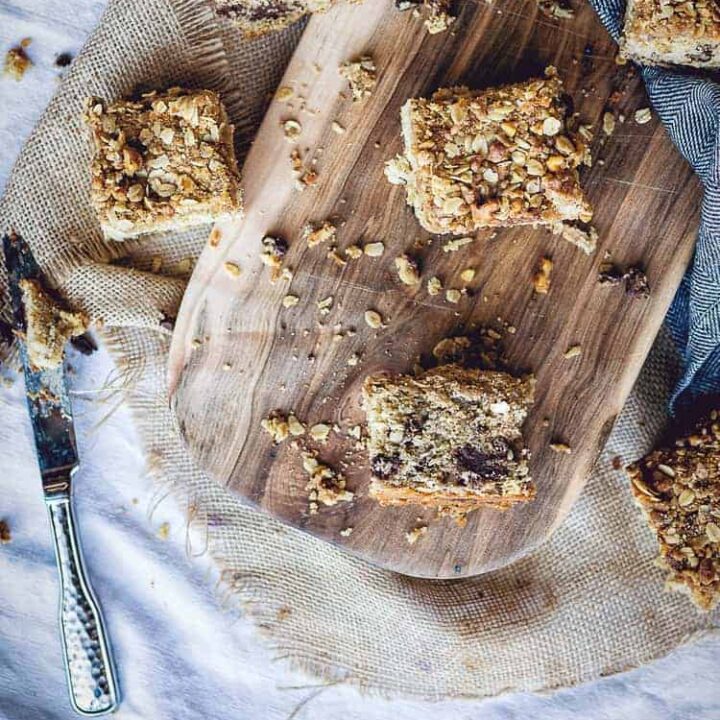 Chocolate Chip Banana Bread Coffee Cake
Loaded with chocolate chips and topped with a crumbly coffee cake topping - this is a 3 banana quick and easy hybrid banana bread meats coffee cake!
Print
Pin
Rate
Ingredients
For the Banana Bread Coffee Cake
3 ½

cups

flour

1

teaspoon

cinnamon

1

teaspoon

nutmeg

1

teaspoon

baking soda

1

tablespoon

baking powder

1

teaspoon

salt

3

ripe bananas

¾

cup

sugar

4

eggs 1 teas vanilla

2

cups

milk

1

cup

dark chocolate chips
For the topping
½

cup

flour

¼

teaspoon

salt

½

teaspoon

cinnamon

¼

cup

brown sugar

4

tablespoon

cold butter

-

diced into ¼" cubes

¼

cup

rolled oats

¼

cup

walnuts

-

chopped
Instructions
Preheat the oven to 350 degrees F. Grease a 9x13 baking dish.

Mix the flour, cinnamon, nutmeg, baking soda, baking powder, and salt together in a large bowl.

In another bowl, mash the bananas with your fork or a blender.

Add in the sugar and vanilla and mix to combine.

Pour in the milk and stir just to combine.

Working in batches, mix the flour mixture into the banana batter until just combined.

Stir in the dark chocolate chips and pour into the greased baking dish.

In another bowl, mix the flour, salt, cinnamon, brown sugar and diced butter together.

Use your fingers to make quick work of breaking down the butter into smaller lumps.

Add the oats and walnuts in and give another quick stir with your hand, working it all together, but still allowing it to remain a bit clumped.

Pat the topping gently all over the top of the batter.

Slide the cake pan into the oven and bake for 40 to 45 minutes.

Remove from oven and allow to cool on a wire rack for 20 minutes before slicing or serving.
Nutrition
Serving:
1
g
|
Calories:
422
kcal
|
Carbohydrates:
68
g
|
Protein:
9
g
|
Fat:
13
g
|
Saturated Fat:
6
g
|
Polyunsaturated Fat:
6
g
|
Cholesterol:
77
mg
|
Sodium:
550
mg
|
Fiber:
3
g
|
Sugar:
27
g
Nutritional informations provided as a courtesy and is only an approximatation. Values will changes based on ingredients used.
⭐ Tried this recipe? Rate it ⭐
Help out the next person and give it a star rating below!