Classic banana bread. The quick bread that uses your leftover bananas. Over ripened fruit for the big snacking win.
I should start this post with a fun fact. I don't like fruit. I hate the texture. I don't like the sweetness. I am not a fruit person. I'm not sure why I don't like fruit but I'm pretty sure I just didn't have it much as a kid so I never developed a taste for it. Now it just creeps me out. Every now and then I try to taste things just in case my palate may have evolved - but I haven't yet found a fruit I enjoy - unless just the skins of apples count.
I do love fruit flavors though. Strawberry ice cream, blueberry waffles, orange soda. All yums. I know, I know. They aren't the real flavors, just sugary impostors. Hey, I'll take it.
So today I made a classic banana bread. Bananas as bananas = ew. Bananas as warm bread with a little honey butter = amazing. Who could have guessed that one?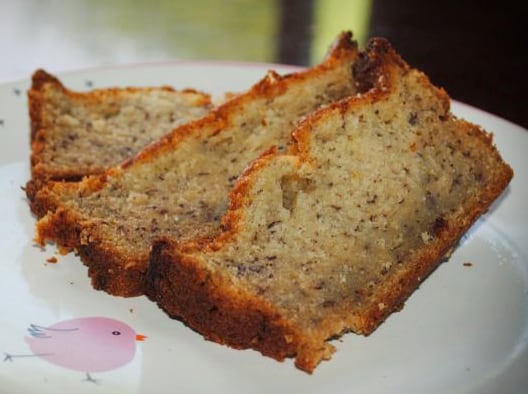 So here it is, folks.
Classic Banana Bread

Adapted from Myrecipes.com

2  cups  all-purpose flour
¾  teaspoon  baking soda
½  teaspoon  salt
1  cup  sugar
¼  cup  butter, softened
2  large eggs
1 ½  cups  mashed ripe banana (about 3 bananas)
⅓  cup  sour cream
1  teaspoon  vanilla extract
Cooking spray

Preheat oven to 350°.

Lightly spoon flour into dry measuring cups; level with a knife. Combine the flour, baking soda, and salt, stirring with a whisk.

Place sugar and butter in a large bowl, and beat with a mixer at medium speed until well blended (about 1 minute). Add the eggs, 1 at a time, beating well after each addition. Add banana, sour cream and vanilla; beat until blended. Add flour mixture; beat at low speed just until moist. Spoon batter into an 8 ½ x 4 ½-inch loaf pan coated with cooking spray. Bake at 350° for 1 hour or until a wooden pick inserted in center comes out clean. Cool 10 minutes in pan on a wire rack; remove from pan. Cool completely on wire rack.
Another awesome banana bread recipe to try is my banana peanut butter swirl bread.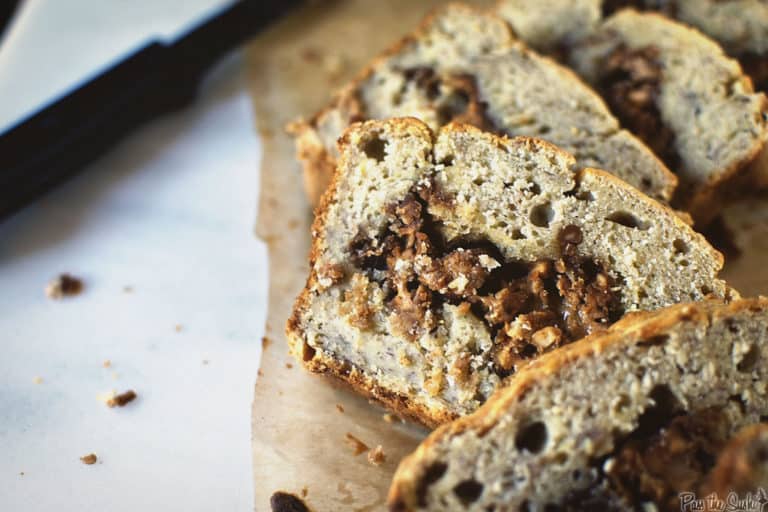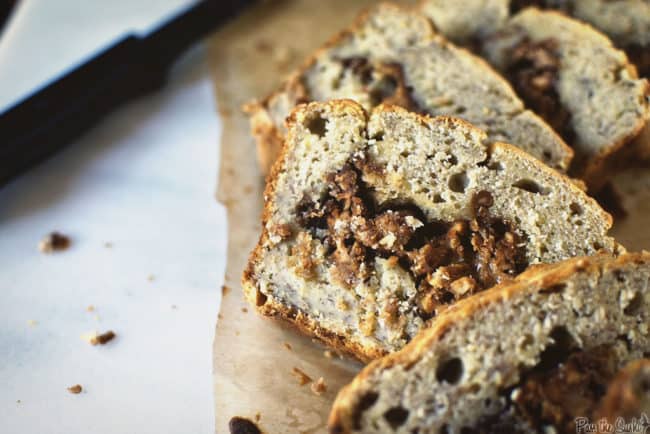 GARDEN UPDATE:
The garden hasn't died yet (amazed!) but some of the previous plants have returned from the grave. The apparently very resilient cannas have dug their way up from whatever root I left behind, broken through the turf barrier and are over taking a small plant that I planted (no idea what its called. Its thin and tiny and has leaves - yes, I really do know nothing about gardening). I plan on wreaking some kind of revenge on these cannas when it stops raining. Seriously though, I am kind of impressed by them.
For right now though, let's eat some classic banana bread. Warmed up and slathered with butter. Yum.