Jambalaya grilled stuffed peppers. Two different recipes come together to create a really delicious dinner that's easy to put together and cooks up pretty quickly, too.
This weeks "two new to try" was an easy two birds with one stone type of thing. I made a Caramelized Cajun Chicken from Southern Living Annual Recipes 2009 and stuffed peppers for my friends. I love trying new things and here is the one mistake I constantly make – I try new things on people. Instead of going back to something I've already made and know is a home run. It's like "Oh, experiment time!"
You know what happens then? About 5 minutes before serving time I start to wonder, "Hmm, was this a bad idea?" With no emergency suckiness plan in my back pocket, I always go ahead with it. Fortunately, I haven't served anything that wasn't yummy. I did serve a 'cookie pie' a few weeks ago that was frustrating me to no end for its inability to cook through properly. I'm blaming it on a crappy store bought pie crust in those little aluminum pie dishes. It was late. I was tired. My parents stopped by unexpectedly. It was 10PM. It was a disaster. But the pie was eaten and my friends  still said it was good. Eventually, I'll learn.
And because I can't do anything straight of the box, I decided to do a "Jambalaya Grilled Stuffed Peppers." Gotta keep with the theme right?
 
Jambalaya Grilled Stuffed Peppers
5 Large peppers (red, green, yellow or orange) with their tops cut of and insides carved out
1 small onion finely chopped
2 cloves of garlic diced
2 tbs Olive Oil (enough to coat the pan)
6 oz Andouille sausage
2 cups cooked rice (to add extra flavor, cut back on time, and use up some pantry stock – I used Zatarans Jambalaya flavored rice)
1 tbs Cajun seasoning
Start your rice.
Saute onion and garlic in a skilled for 5 minutes. Add sausage. Cook through and crumble as much as you can (this will depend on the type of andouille you picked up).
You'll want to start pre-heating the grill at this point. Get it going on a medium high.
Once the rice is ready, add the sausage, onions and garlic to the mix. Add the cajun seasoning (if desired). Stir them all up and let them get to know one another. Keep warm.
Place peppers on the grill and rotate them every few minutes to get a nice texture all over and some browning.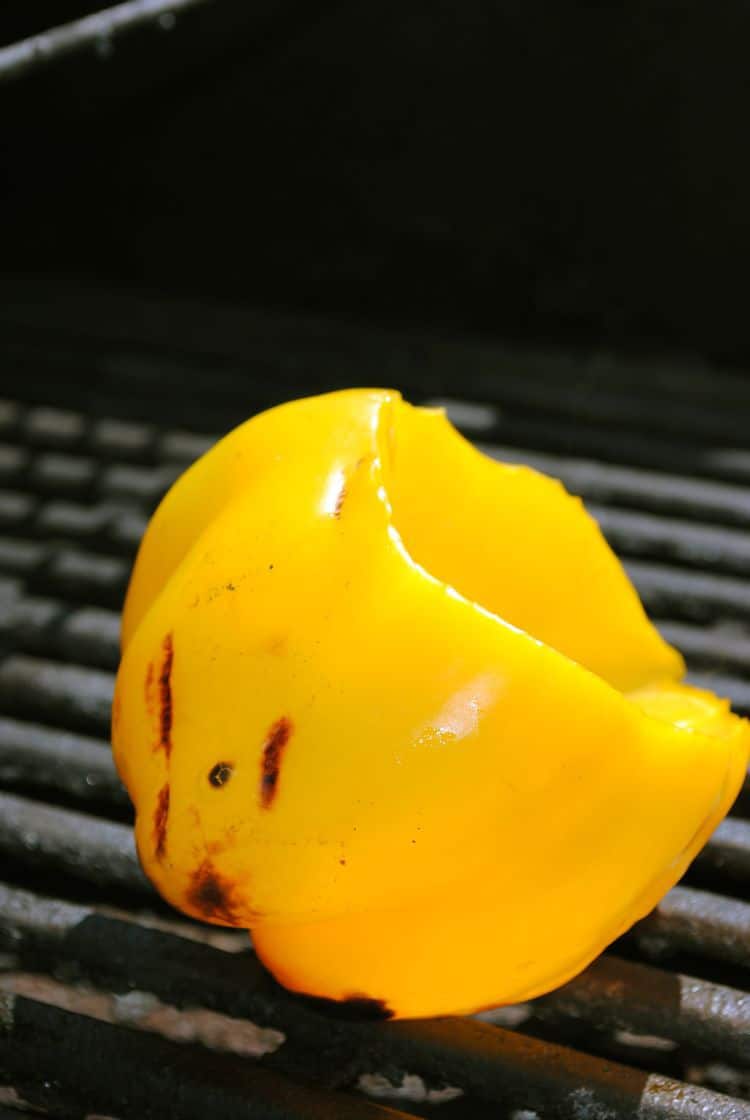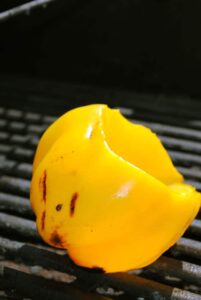 Fill peppers with rice and sausage mixture serve with Caramelized Cajun Chicken, spinach salad and corn bread to complete the meal.
Click here for a link to the chicken. I doubled the b. sugar and Cajun seasonings. Most Cajun seasonings have a high amount of sodium, so I didn't feel the need to add any more salt.
PS. If you are going to use your friends as taste testers for your latest unknown concoction, I recommend asking if they have an aversion to spicy foods first. Oh well. 😀