Use up those ripe bananas with this crunchy peanut butter swirl bread – always a hit with my friends and perfect as a snack or breakfast!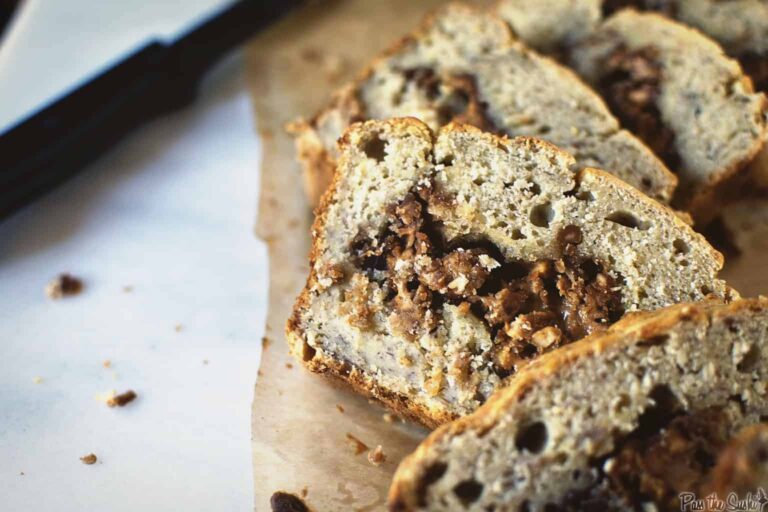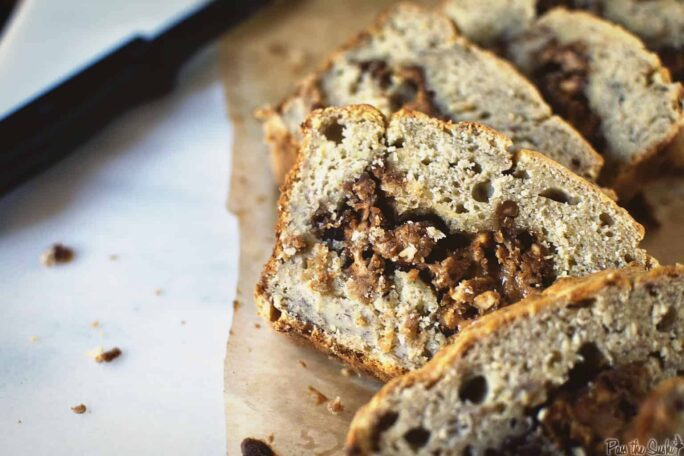 There are days when I see bright beautiful pictures all over Pinterest. They are on everything from wedding blogs to food photos. Clear, crisp, and clean. Perfect homes, stunning tablescapes, picturesque gardens, all being maintained by beautiful women all in perfect white outfits. I worry that I don't send the right message through my work on here of GirlCarnivore.com. That my personal "brand" isn't bright enough. Not clear or crisp enough to attract the right kind of audience, client… the right kind of life.
Then I take a step back from those photoshop-ed models, those magazine homes, and I realize that fresh and spotless and white… that's just not me. The world has enough sparkling pins to go on for days. I sit back and remember I want mine to stand out. As long as I own it, I shine all on my own.
And that is today's self help lesson from the PasstheSushi kitchen – now on to the banana bread!
(By the way… If you are a fan of banana bread, then I also recommend that you check out my banana espresso recipe too)
Peanut Butter Swirl Bread For Real People
Let's get real about peanut butter swirl bread. First, forget about trying to look perfect, act perfect, and be something that doesn't exist in real life. Only on the internet and with the lovely assistance of photo correction software does anything resembling perfection actually exist. Real life needs to be more about authenticity and an appreciation of the sublime.
Real life needs to be about the feeling you get. You know what I am talking about. The feeling of deep satisfaction when you create something that feels good, and tastes great. Sure, it might look a little rough around the edges… but let's call that "rustic".
But it is still a work of art.
Because you, and only you, created it.
And the lovely layer of peanut butter inside the banana bread makes you feel like an artiste. You look at that slice of lovely bread and get a sense of accomplishment. You may even want to wear a beret cocked daringly to the side or use french words like "magnifique!"
How To Swirl The Peanut Butter
What could be better than having a slice of banana bread that already has the perfect amount of peanut butter swirled into it? You can either eat it as is, or lightly toast it.
Just be careful not to over-toast it because the peanut butter will melt out of it.
It is pretty simple though. You are putting the peanut butter mixture into the middle of a simple banana bread batter. As the bread loaf bakes, the peanut butter mixture melts into the bread perfectly.
Before chocolate and peanut butter were a thing, I am pretty sure that bananas and peanuts were the original match made in heaven.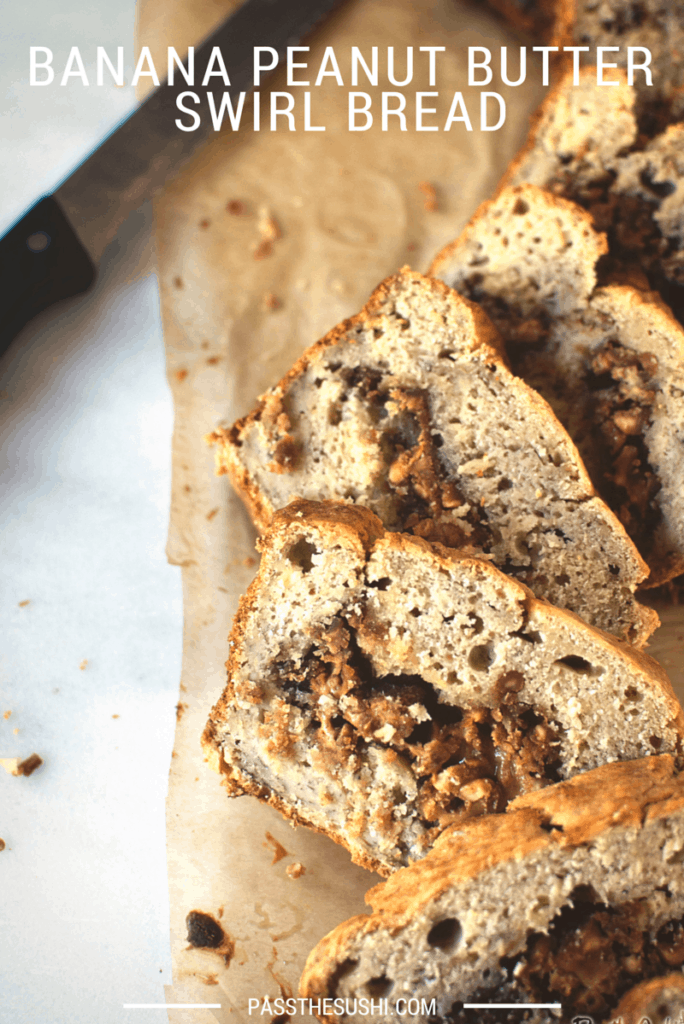 What Kind Of Peanut Butter Works Best?
I recommend the crunchy style peanut butter for very good reasons. It helps to add a bit of crunch to the bread which is very pleasant. Also, the crunchy peanut butter helps hold the spread in the middle of the banana bread.
Finally, if you use creamy style, then you risk it all melting to the bottom of the pan.
What If I'm Allergic To Peanuts?
Being allergic to peanuts is no joke! You can't be too careful Even if you use another type of crunchy nut spread, then being cautious is still necessary. Even other nutty butter product processed in facilities that also do peanuts could be an issue.
However, you can find an alternative. You can grind your own cashew butter with a coarse grind as long as no peanuts are used on the same grinder.
Just for the record, neither peanuts or cashews are actually nuts. Peanuts are a legume that grows in the ground. Cashews are a seed that grows on the outside of a type of apple.
However, there are other nut options as well that come in "crunchy" style too like almond and hazelnut.
So don't feel left out if you can't enjoy peanuts due to allergies. There are options you can go with. You won't lose out on the joy of that nutty banana bread.
More importantly, you won't die from an allergic reaction.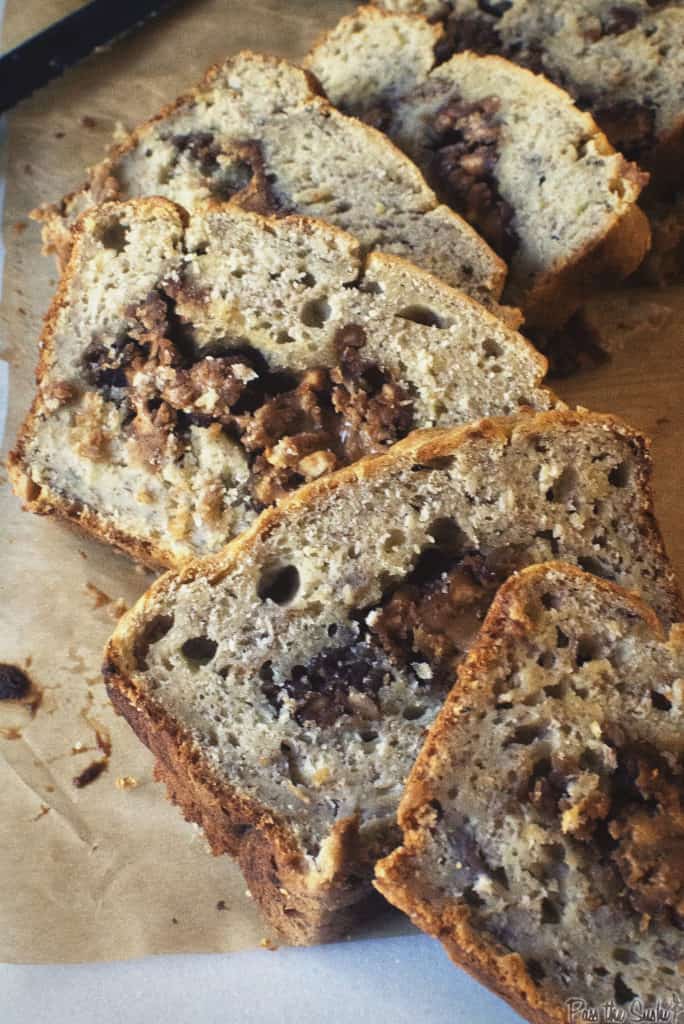 More Banana Recipes To Check Out?
If you are in a mood for going bananas, then I have a few recipes to try you may go completely ape about…
So hopefully one of these will inspire you to create your own masterpiece and give you a sense of satisfaction. Because after all, isn't that feeling close enough to perfect in its own right?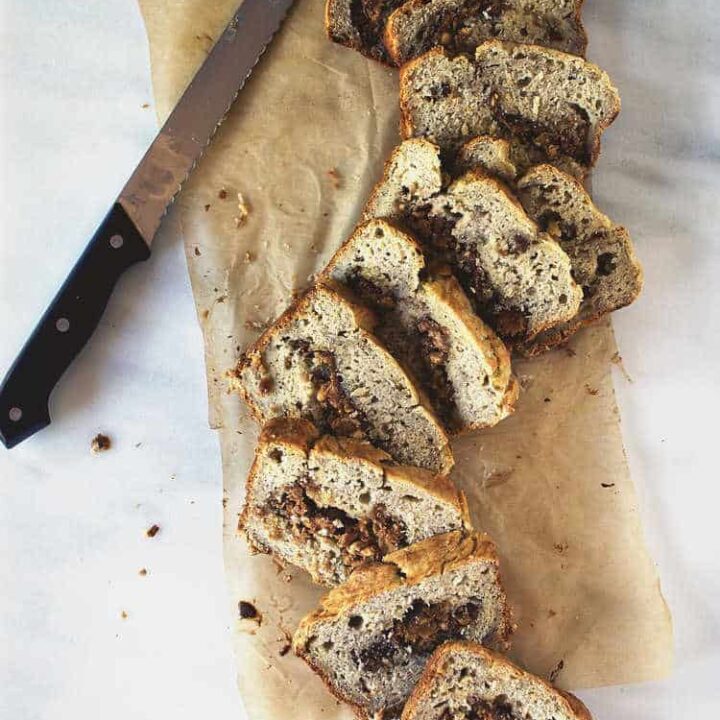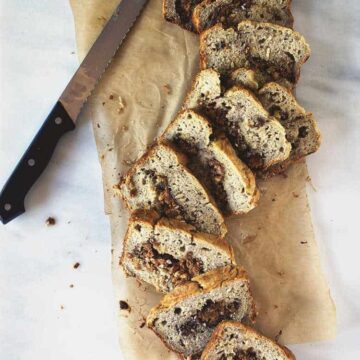 Ingredients
8

tbs

butter

-

softened

1

cup

sugar

2

eggs

4

large ripe bananas

-

mashed

1

teas vanilla

2

cups

flour

2

teas baking powder

1/8

teas salt

1

cup

crunchy peanut butter
Instructions
Preheat the oven to 350 degrees F. Butter a 9 x 5"loaf pan and set aside.

In the bowl of your mixer, beat the butter and sugar until fluffy. Scrape down the sides and add eggs, one at a time. Mix to combine. Add the vanilla and bananas, scrape down the sides, and mix for 15 seconds longer.

In a bowl, whisk together the flour, baking powder, and salt. Add to the banana mixture until just mixed.

Add half of the batter to the greased pan. Dollop on the peanut butter (press between your fingers, come on, get messy!). Top with the remaining batter.

Bake for 55-60 minutes, until a toothpick comes out with only a few moist crumbs.

Let cool for 20 minutes on a wire rack before turning out to cool completely.

Slice and serve.
Notes
Nutritional informations provided as a courtesy and is only an approximatation. Values will changes based on ingredients used.
⭐ Tried this recipe? Rate it ⭐
Help out the next person and give it a star rating below!