If you have yet to experience St Augustine, it's soon to be on your bucket list. The food scene is a blend of savory cultural dishes, top-notch culinary ingenuity, and celebrations of fresh and local. Here's our list of the best restaurants in St Augustine, Florida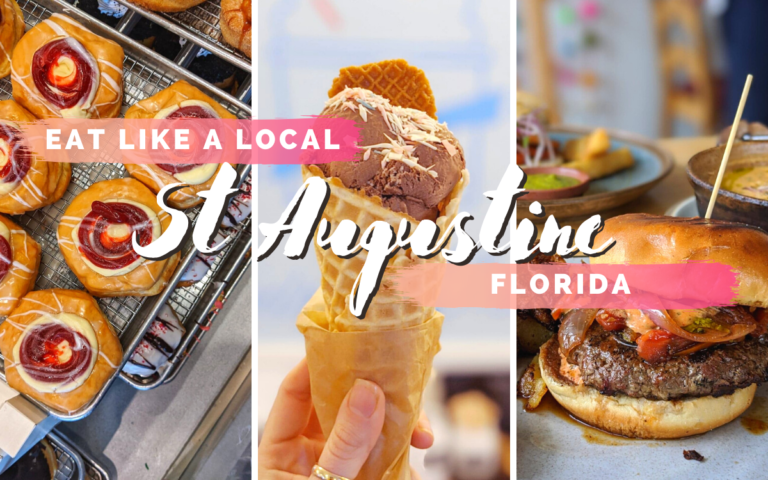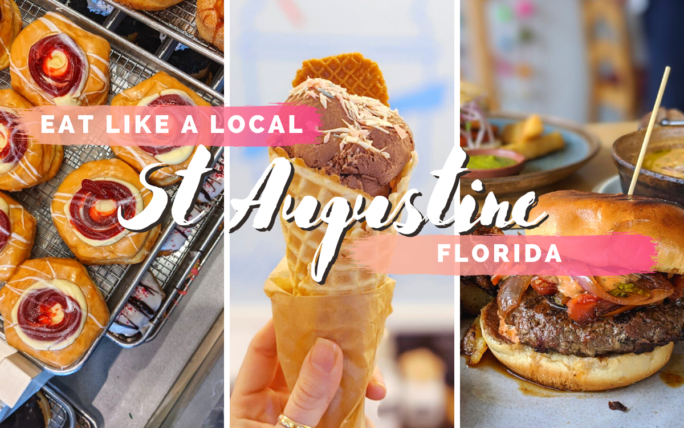 Thanks to St Augustine for hosting my trip. Thoughts and opinions are my own.
[ez-toc]
From pirate ships to world-class music at a pristine outdoor amphitheater, miles of white sand beaches, and plenty of local architecture to feast upon, St Augustine is one of America's oldest cities and one you need to discover. There is so much to do and see, it's hard to take it all in in one visit. We go into the perfect way to maximize your time in my Ultimate 3 Day Agenda. But she's so much more than just a bucket list vacation stop. St Augustine also boasts an incredible food scene worth diving into.
With so many reasons to fall in love with St Augustine, the abundance of world-class eats was also nothing short of stellar. Packed into a relatively small region, it is just under 13 miles squared, there were more 5-star places to pick from than one could possibly encounter on a single trip alone. However, I had a local guide and the sheer determination to make the most of my free time and have the best St Augustine restaurants.
Being America's oldest city, there are a lot of roots deep within the narrow city streets. From the Minorcan conch chowder to Peruvian style burgers there was no shortage of influence popping up on every cross street. There are even a few hidden nods to Wes Anderson films at a local frozen treat spot. With old school traditions blending with modern collaboratives, this city is a culinary playground.
Also, I just want to note, I have mad respect for any city that appreciates the need for coffee in the early hours and half-hour mark as go as much as St Augustine seems to.
Top 10 Foodie Experiences in St Augustine, Florida.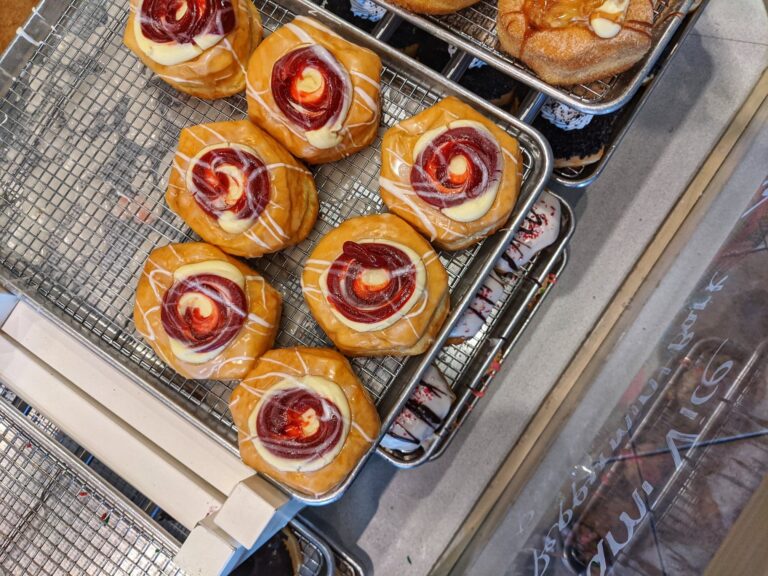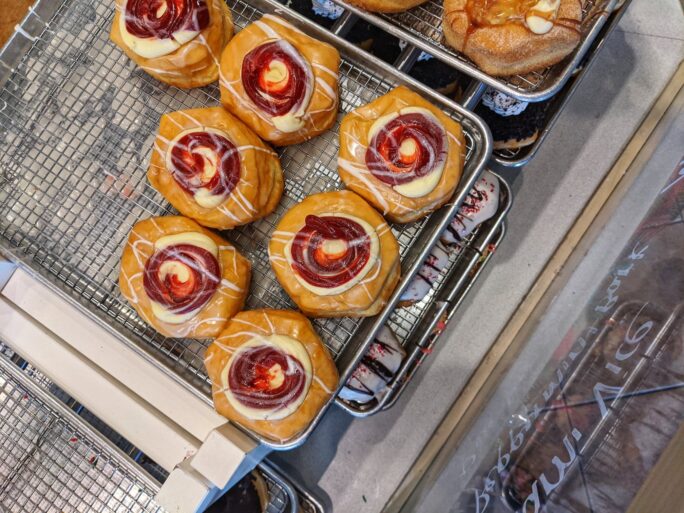 8 Granada St, St. Augustine, FL 32084 | Open Daily 7 AM to 1 PM
You can slap the word craft on just about everything these days, and few places actually earn it. Swillerbees is one of those places, where they can call their doughnuts whatever they want and totally get away with it.
Whether you are in between classes or waiting to take a tour of Flagler College, you have to pop across the square to Swillerbees. The cases are loaded with huge, fresh, flakey, amazing doughnuts. The kind where you are forced to pick one, and truly could only eat one, but you will want to taste them all. With fruit swirls, candy toppings, and the classics, it's a challenge and one I would have happily tried over and over again. Grab a coffee to sit and enjoy the pastry with at the little tables they have in the fun shop.
Personally, I chose a classic with sprinkles. Mainly because I wanted to taste the doughnut to see if it held up, or if it was just the fun toppings. Turns out it was perfect, soft and airy on the inside and absolutely delightful.
What to order:
Grab a sample half dozen and cut them in half to share with friends. Yeah, "friends"…. That's a perfect excuse to justify sampling more than one flavor.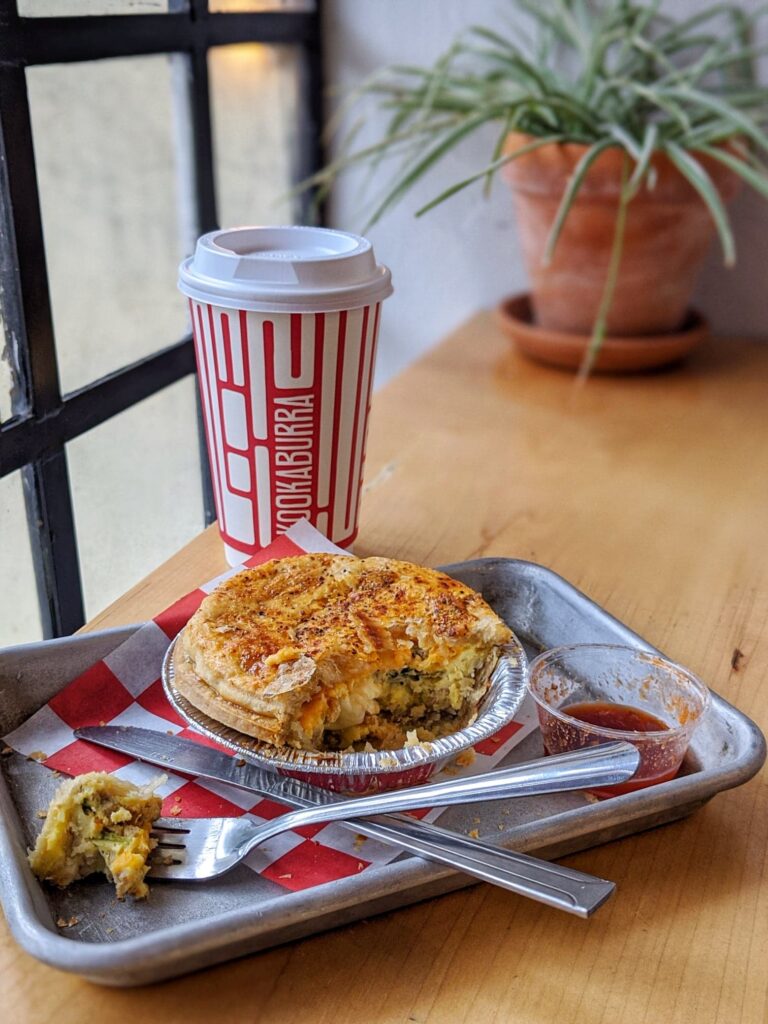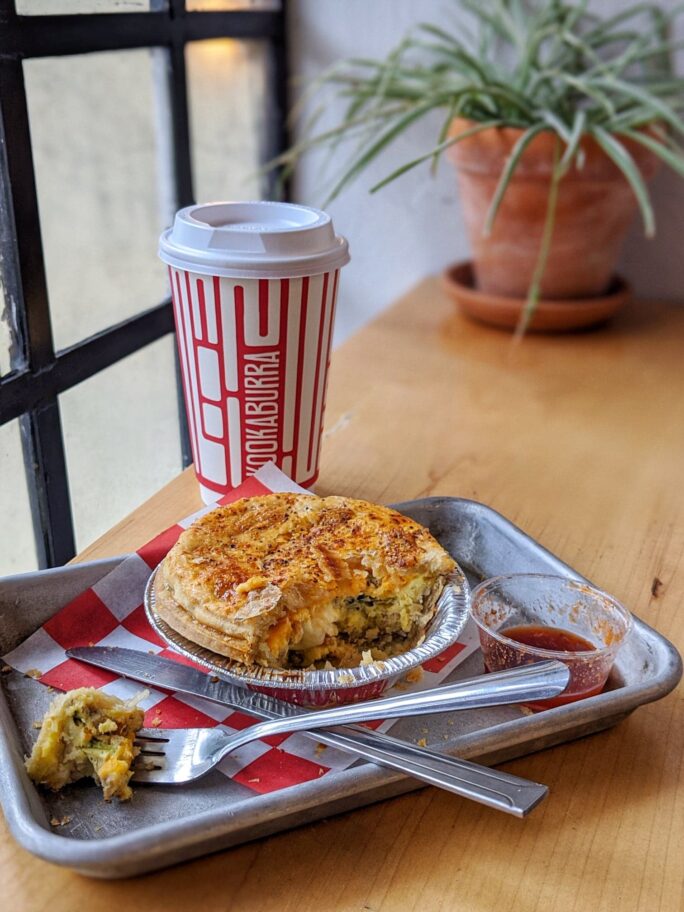 24 Cathedral Place St. Augustine, FL | Open Daily 6:30 AM to 9 PM
An Aussie themed coffee shop sitting right on the side of the central plaza dishing up killer espresso and meat pies. You read that right, hearty meat pies. From cheesy egg and cheddar topped with fresh rosemary to a Thai inspired chicken chili (trust me, that combos amazing) the individual pies are about 5" across and incredibly filling. Splitting one may even be the way to go, unless you are looking to fuel up until supper time.
I let the young lady behind the counter pick for me and she went with the Jackaroo (clearly reading her audience right). It was a combo of Sausage, Sweet Potato, Spinach, Egg and Pepper Jack cheese. And under a perfectly flakey pie crust. I ate a few more bites than I'd like to admit before giving in.
Tip: The space is tiny, so be ready to take your coffee to go. There is a small adjacent seating area, but it could also quickly get crowded.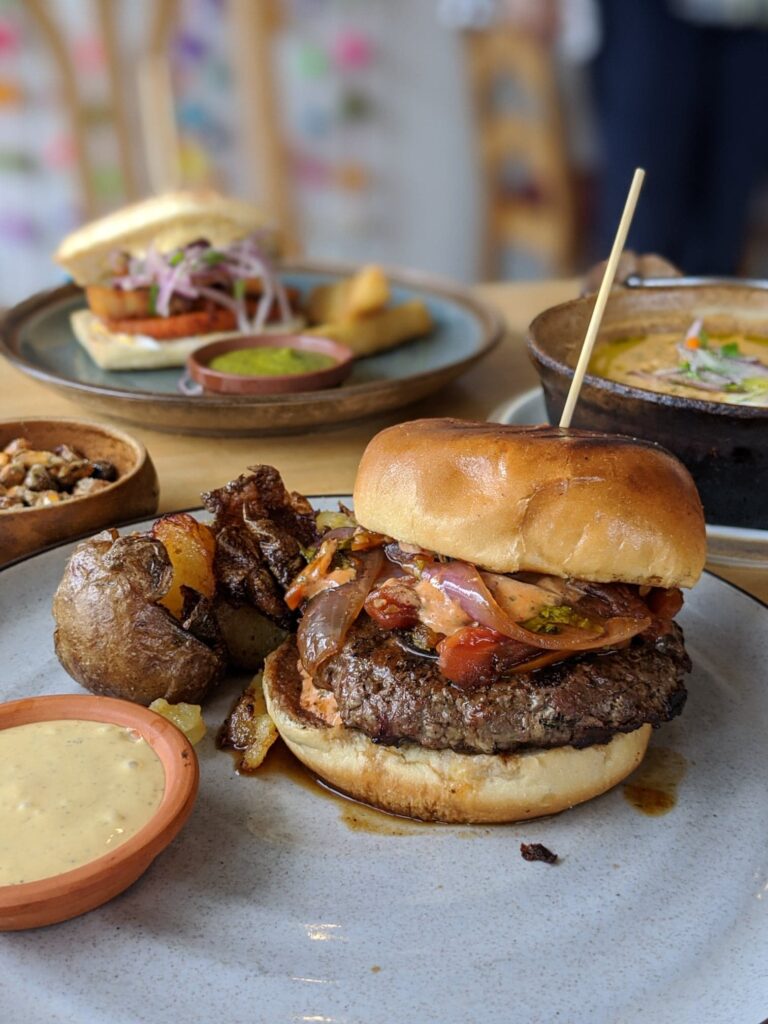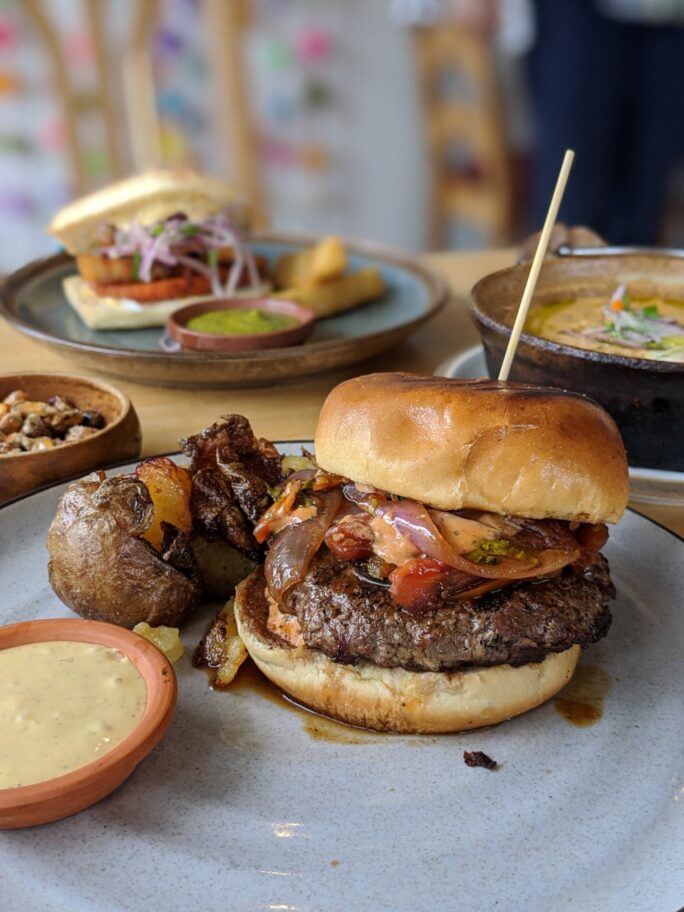 415 Anastasia Blvd, St. Augustine | Open Mon, Wed, Thur, & Fri 11:30 AM – 2 PM for Lunch and 5 Pm to 9 PM for dinner | Saturday & Sunday 5 to 9 PM.
This one may win for most unassuming. Llama is built around Peruvian cuisine. The menu is short and sweet, just like the location, a small end shop in a strip mall just outside of the historic city. And although it looks unassuming, the menu reads like an epicurean dream.
Do not let the short menu fool you, each dish is a nomadic adventure though traditional Peruvian flavors. Be bold and order things you wouldn't normally and inquire about the daily soup. From the small bowls of snacking corn, canchita, on each table to the elegant menu inspired by the diverse landscapes of Peru, head chef Marcel doesn't miss an opportunity to play to the restaurant's namesake while crafting photo-worthy meals. He chose a smaller setting for more intimacy and his attention to detail shines through with every artful bite.
The restaurant changes it's feeling from lunch to dinner, going from casual to more upscale. Even the place settings change. I would be willing to go back to sample both options.
What to Order:
As much as I want you to try a traditional Peruvian inspired dish…. I have judged burger competitions in a variety of states, and the Llama burger was hands down one of the best I have ever had.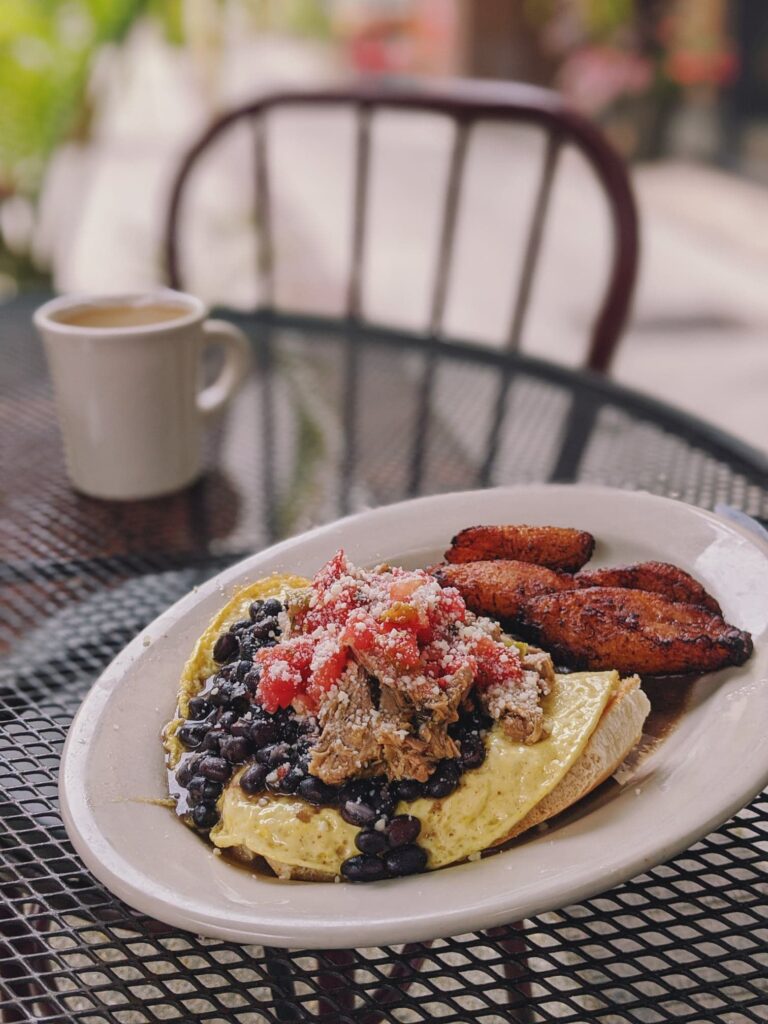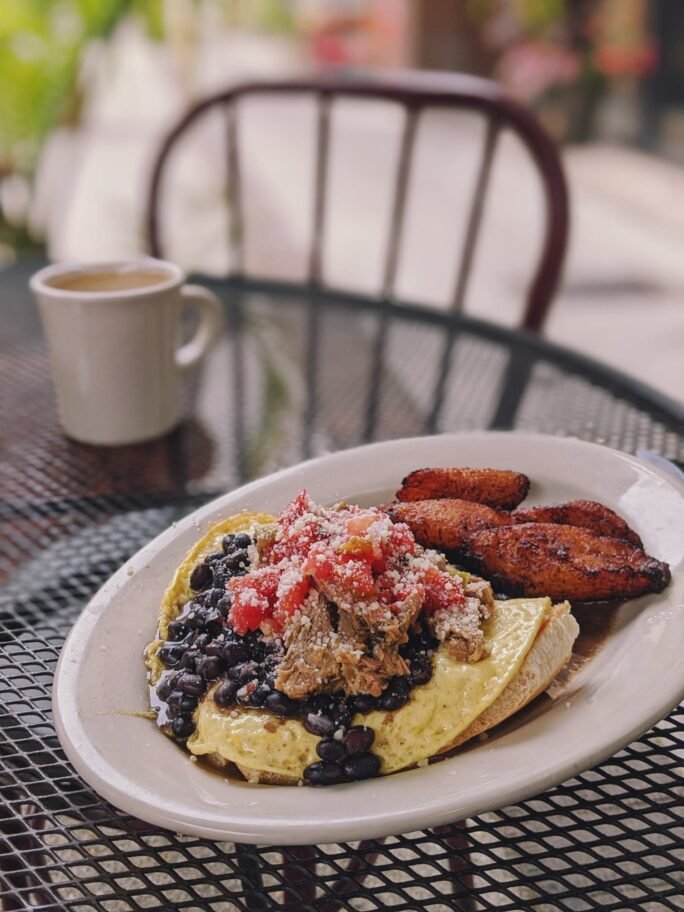 4 Aviles Street St.Augustine, FL | Open Mon-Thurs 8:30 AM – 4 PM Fri-Sat 8:30 AM – 10 PM & Sun 8:30 AM – 8 PM
Cuban food has a special place in my heart after my trip there in 2016. And because I am pretty sure I am a sucker for all Central American foods. So when I was told that La Herencia had the best breakfast in town, I got up early and set out for an adventure.
The cafe was tucked into the oldest street in the city, Aviles street next to Peace Pies and across from a hospital museum and everything about it felt cozy.
The menu had everything I hoped it would. From fried plantains to beans to plenty of pulled pork. I ordered a Cafe con Leche and the Gaujiro, which was a giant breakfast of pulled pork over toast with a mountain of beans and plantains. It was glorious and incredibly filling.
They have a variety of other omelets, some Cuban inspired and other classic American breakfast options as well.
The lunch menu includes grilled sandwiches with favorites like roasted pork and even ham croquette and there's a section of Cuban traditions like ropa vieja and daily specials totally worth checking out. The meals are hearty and absolutely comforting and had me smiling with fond memories.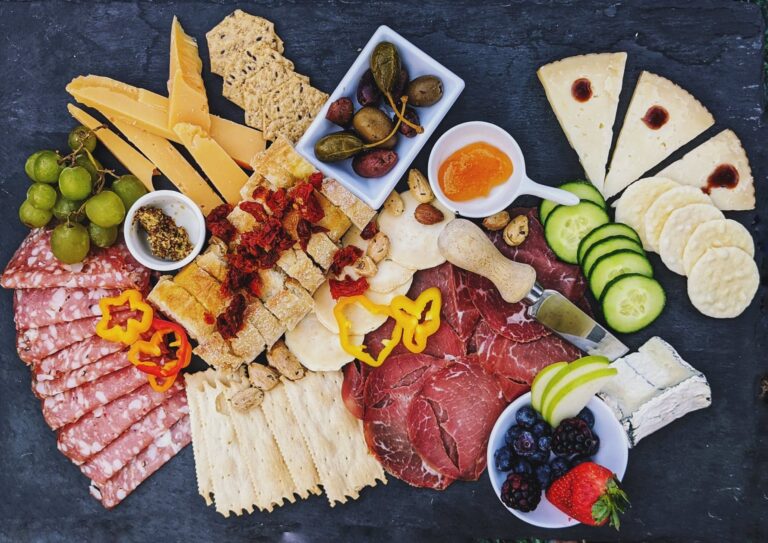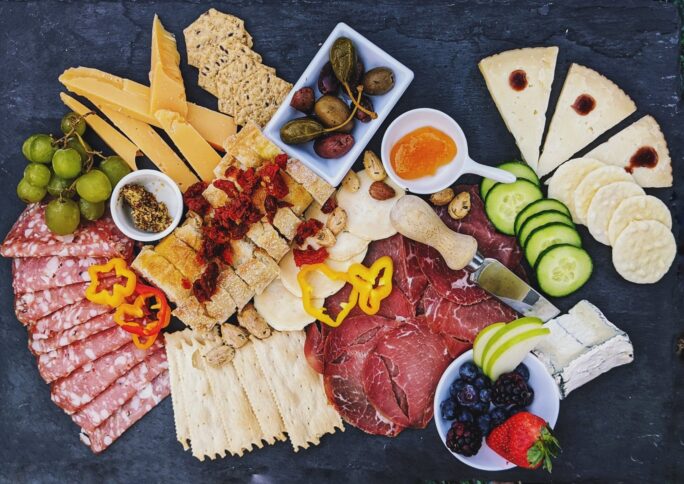 57 Treasury St, St. Augustine, FL | Open Mon, Wed, Thus, Sat 1 PM – 9 PM Fri & Sat 1 PM to 11 PM
Live music, wine flights, and charcuterie boards? Why hello, Heaven.
I am not sure there is a more serene place to sit and spend an afternoon catching up. Casa de Vino 57 is a true wine bar with a massive selection of reds and whites.
The small back garden is the perfect location for a social gathering and they have music nightly, so be sure to check to see whos playing or enjoy the surprise. The menu allows you to choose wine by the glass or to sample several with a flight, which is a great value for what you get.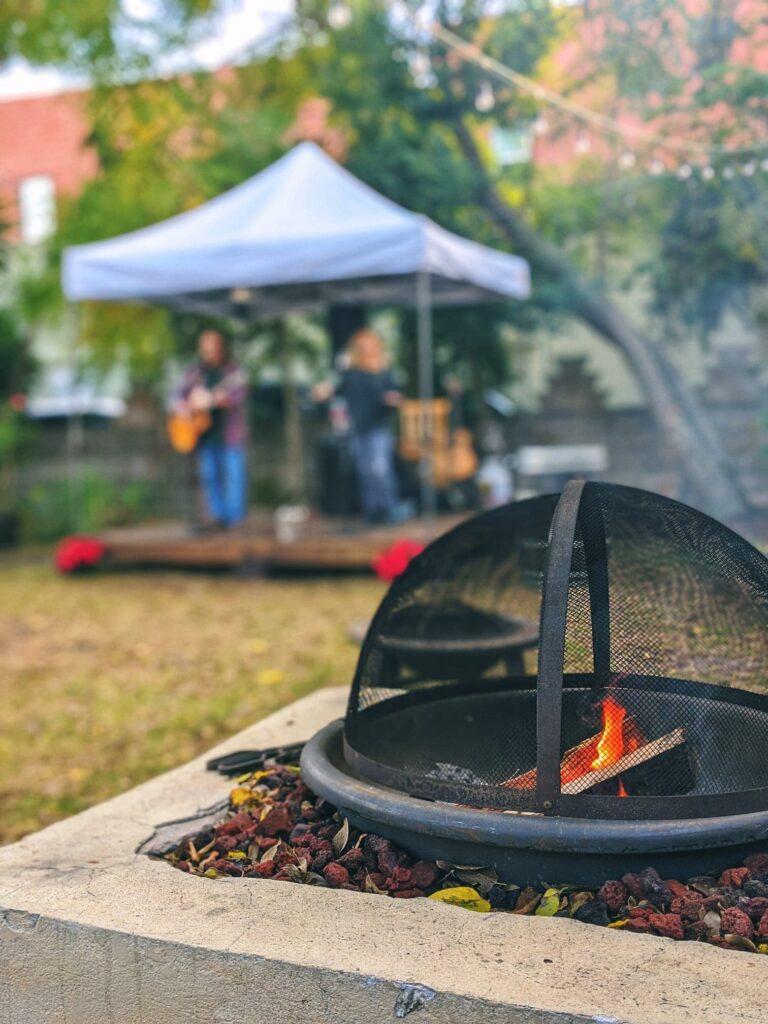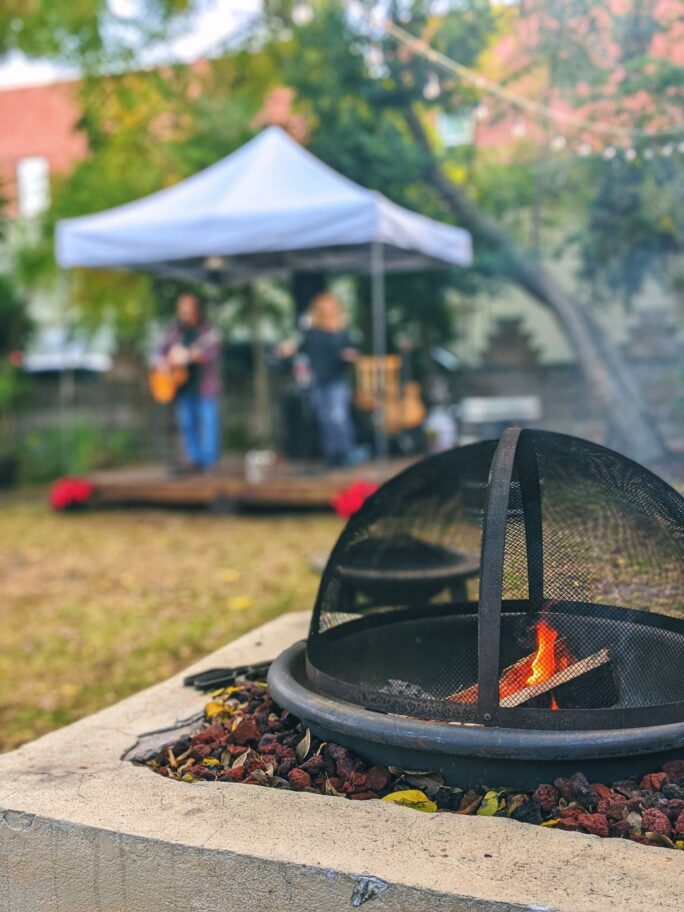 The charcuterie boards let you pick a variety of meats and cheeses that come artfully plated with honey, jams, baguettes, and the most amazing capers you have ever tasted. There are also fish dips and sandwiches, but really the wine cheese combo is the way to go.
What to Order:
Mix and match red and white wines in the flight to really sample some variety. Let the staff help you pick from their menu based on your tastes.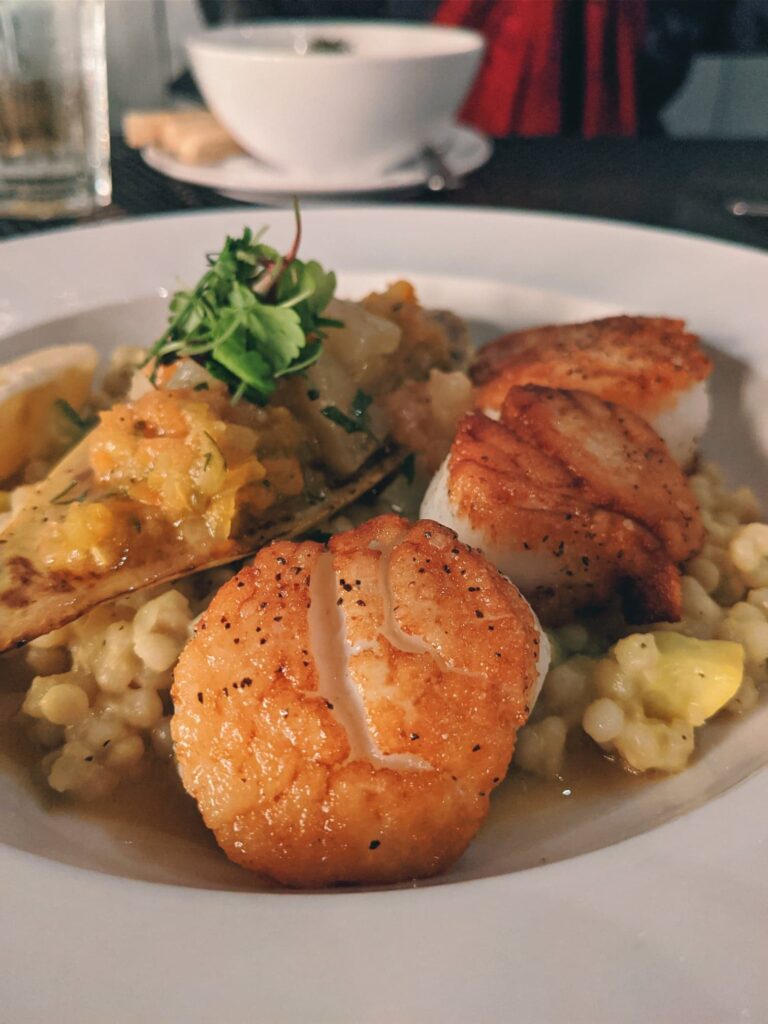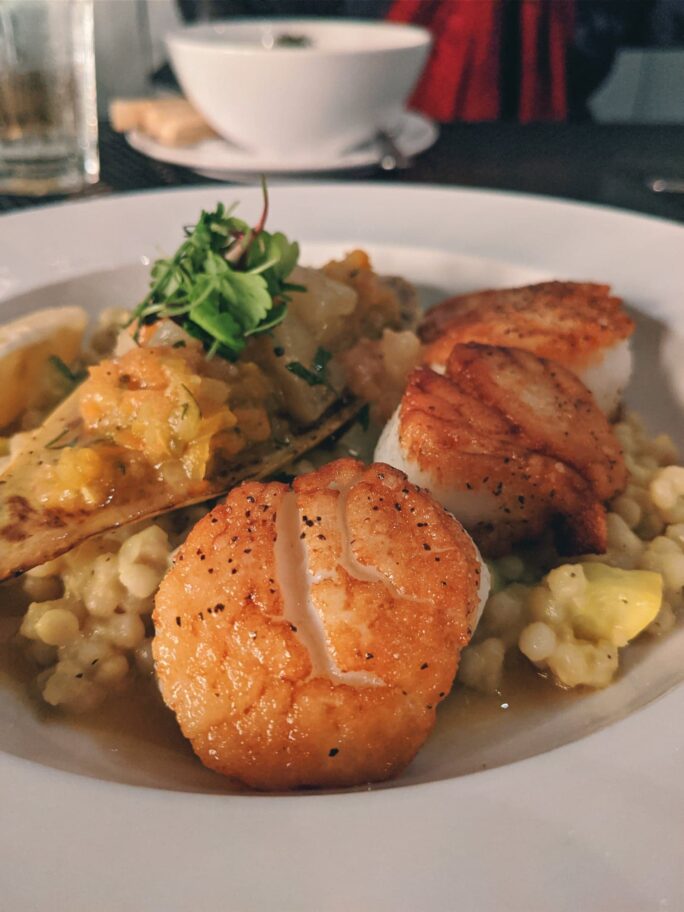 40 Charlotte St, St. Augustine, FL | Open Daily 11:30 AM to 9 PM – Open til 10 PM Friday & Saturday
When you think of the Florida coast, you can't help but think of seafood. Problem is, it's often fried shrimp. Which is a shame because Florida has an amazing selection of beautiful abundant seafood, and so Catch 27 came along. The young chef wanted to celebrate the flavor and beauty of the local seafood with light spins on classic dishes and none of the battered and deep-fried versions (not that I am against a good fish fry). So, he developed a menu around daily locally caught fish and how to highlight their flavors in every dish. Now, the idea sounds light, but the dishes are filling with masterfully prepared scallops, a crazy good spin from his mom's shrimp and grits, and daily specials that you can't help but be enticed by. It's southern cooking, fresh, local and light. The ability of the kitchen to craft something out of their daily catch it one of the highlights of this restaurant. The adorable outdoor seating area is just a bonus.
And because we are in the south there is a fried chicken on the menu, if you somehow make it past all the other temptations.
What To Order:
If you come to Catch 27 and don't order the deviled eggs you are doing yourself a huge disservice. Trust me, they are that kind of good.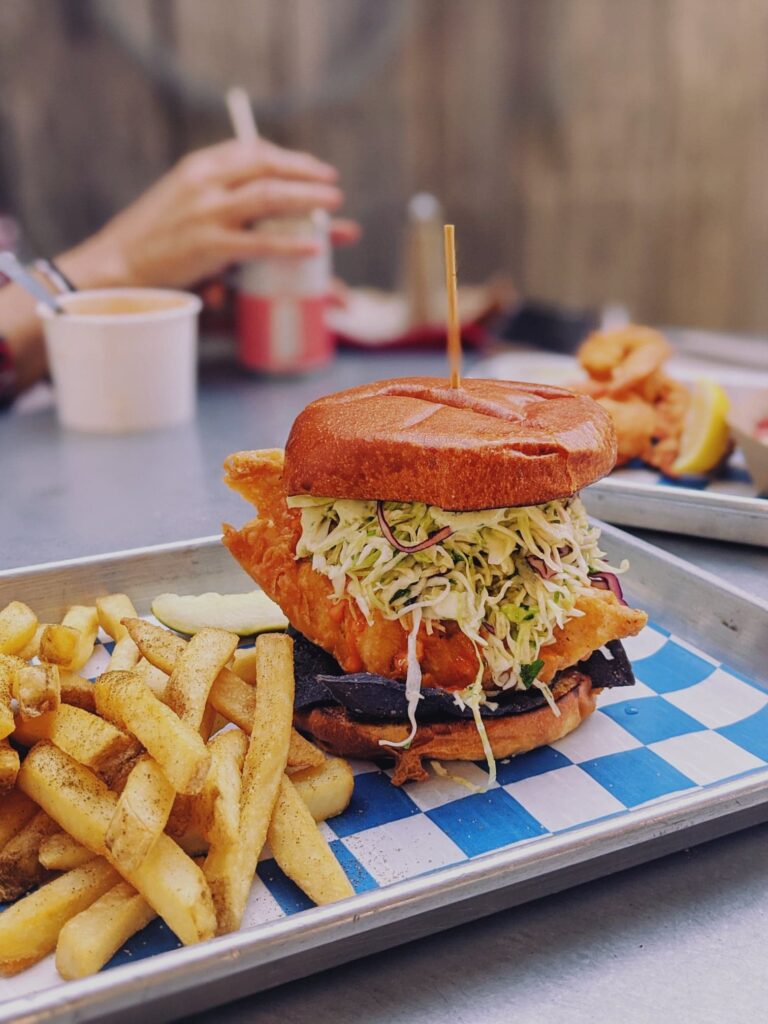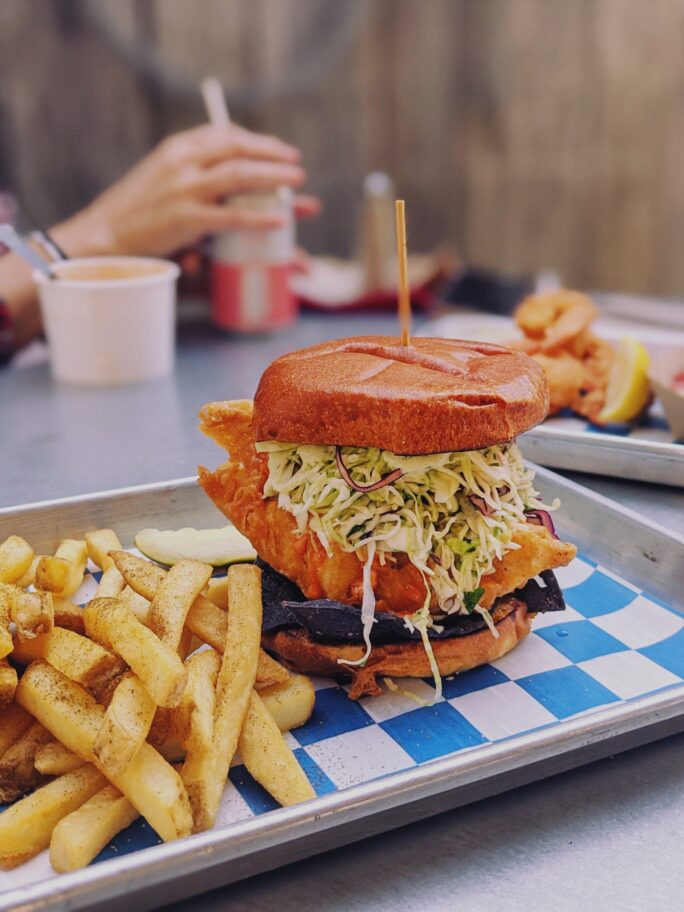 33 St. George Street St. Augustine, FL | Open Daily 11AM to 9PM
I did say I love a fish fry, didn't I? St Augustine Seafood Co is one of those little order at the counter quick spots where they have a simple menu done right, with an adjacent bar. Inspired by the shrimp and fishing boats, there's a local history engraved into the bones of the place and proudly displayed on the walls that sums up the mission behind the menu.
The menu has 2 kinds of clam chowder, seafood baskets of shrimp, fried or not, clams, and fish, that changes depending on what was fresh that you can order blacked, grilled or fried. There's a few other things, like a rather tempting burrito, but that's it. But it's pretty easy to figure out what you're ordering here – seafood. Each with a selection of signature sauces to pick from. It's a simple kind of place that knows what it's doing and does it incredibly well. Not even going to lie, the Datil-Pickle Remoulade is my new addiction for all the things.
There's an area for enjoying the outdoor and people watching along St George Street and a few tables inside. It's the perfect lunch spot for the family. Absolutely relaxed. It's the kind of place I love, simple, casual, and with damned good eats.
What to Order:
Try the slaw, it's really fresh and crazy good! It goes amazingly on a battered fish sandwich. And asked for the soup and a half and half so you get to taste both!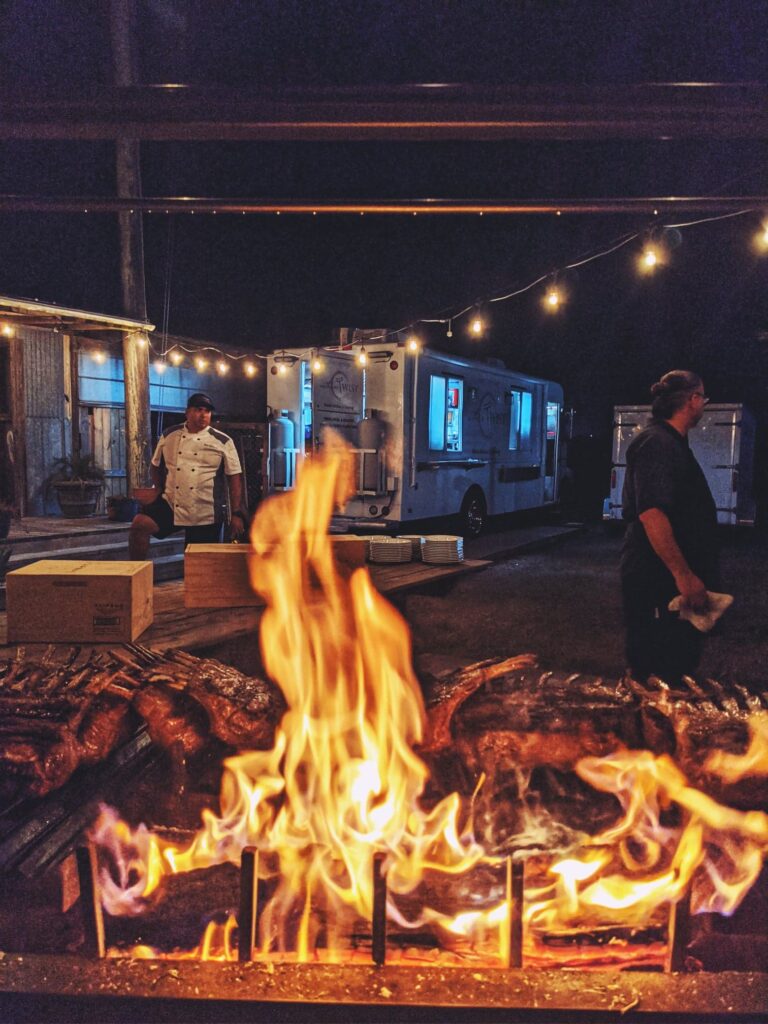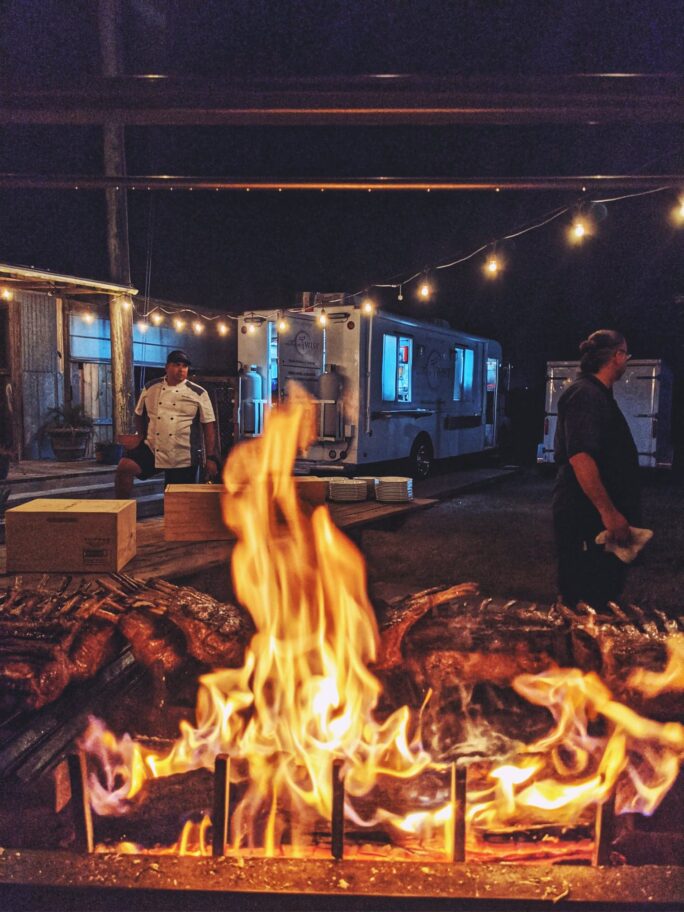 150 Riberia Street Unit C, St. Augustine, FL | Ticket only
This one is really a local thing. There's a guy named Nick, over on the other side of town, building amazing GirlCarnivore worth Asado grills custom for each of his clients. He teamed up with local celeb, Chef Michael Lugo and they dreamed up this gem of an event. On Sundays, at the shop, they set out tables, join forces along with the local Chefs Collaborative, and they whip up family-style meals. Over live fire.
There are no assigned seats, no set menu. Tickets go on sale, you grab them. There's something for everyone and plenty to go around but if you truly want to experience local – this dinner is something you have got to try. It's more like a big family cookout with the top chefs from the area all coming to show off and cook together, then it is a restaurant. And that family feeling is what makes it special. Oh, and did I mention the live-fire cooking show. That's pretty epic too.
Occasionally they do themed, more formal dinners as well, with long tables and BYOB pairings. A little harder to snag a ticket to, but also worth keeping an eye open for.
Tip: Stalk the facebook page and see when the tickets go on sale – grab them. Don't even think twice about it.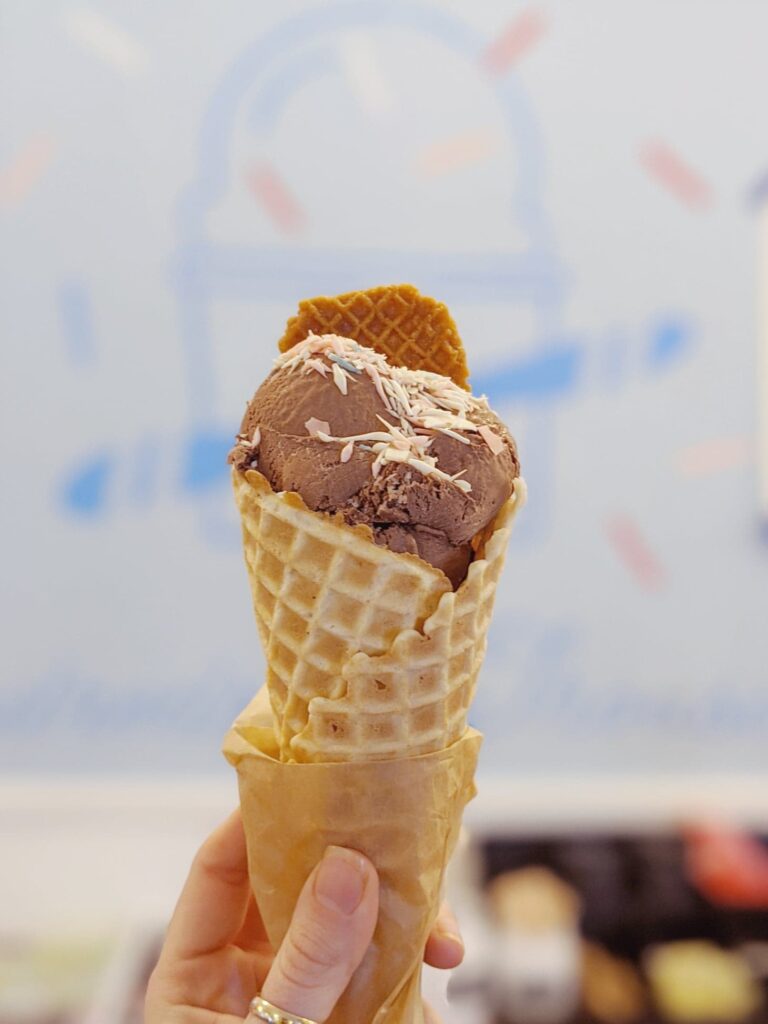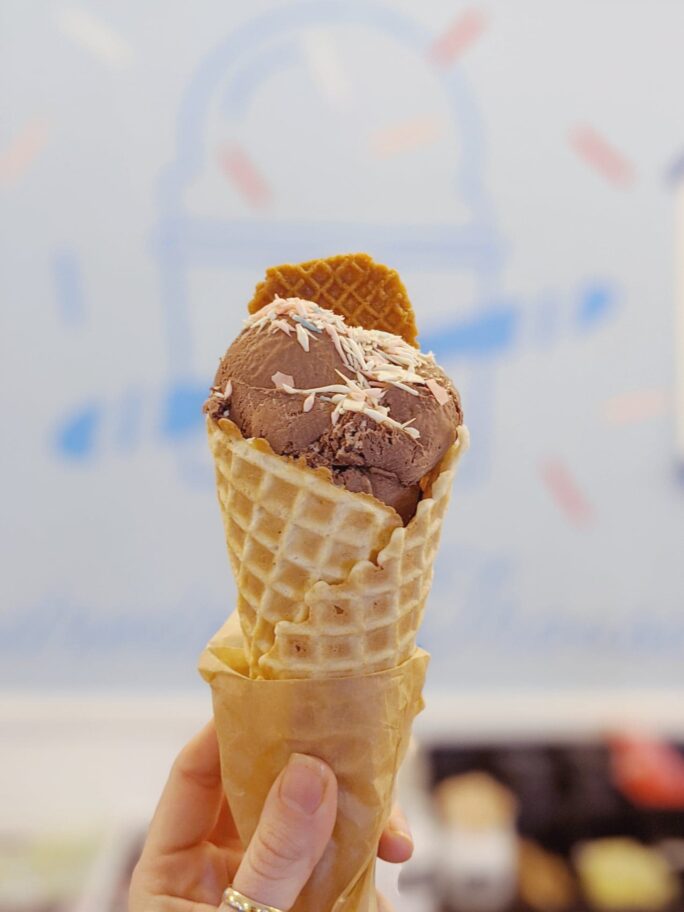 100 St. George St. / Suite J St. Augustine, FL | Sunday-Thursday: 11 AM – 10 PM Friday-Saturday: 11 AM – 11 PM
You can't really eat like a local until you stop for ice cream. And St Augustine has about a dozen places to pick from, all serving up top-quality scoops. But Mayday has a chocolate ice cream infused with the region's spicy datil pepper that will totally knock your socks off and an inspiring story behind their name. Their session chocolate batches are small batch and worth inquiring about.
The homemade waffle cone is another must-try and of course, goes with over 20 churned flavors like BFFs. Each cone also comes with a cookie and even homemade sprinkles if you want them, and why wouldn't you?
Tempting flavors included dirty chai, ice box lemon, raja honey, and a bourbon pecan, just to name a few. Oh, and if you have already popped back to the Inn and want a sweet treat, they have a delivery option. Just sayin'.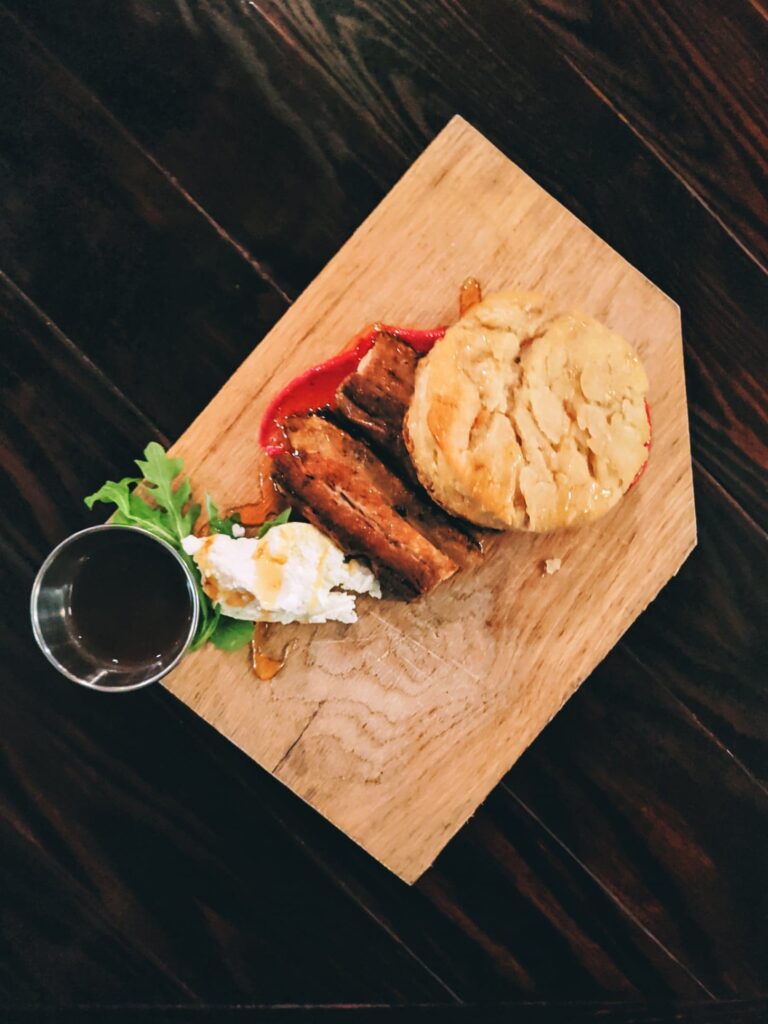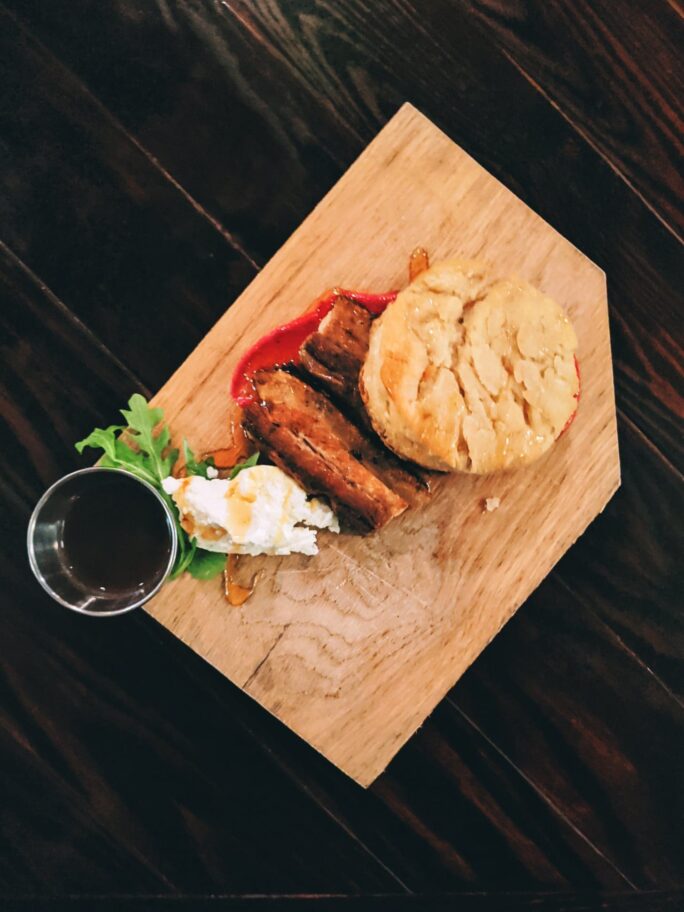 72 Spanish St #3638, St. Augustine, FL | Open every day but Tuesday 11 AM to 9 PM Friday and Saturday Open til 10 PM
The Floridian feels like an open house or Cheers, with a natural ease that instantly relaxes you. It's friendly and welcoming with a story in every nook and cranny. Locals are sitting at high tops and visitors are sitting on the patio enjoying appetizers. The menu is filled with things you want to try. From huge salads and sandwiches to hot dishes celebrating southern cuisine and then that's before you get a glance at the pie case with its fresh slices being narrowed down for the night and you can't help but wonder if it's rude to claim dibs the one you want early.
And then, after you are done being totally unsure of what to order while looking over the fun fresh menu, and trust me, everything looks mouth-watering, you can order a craft cocktail, relax and admire the wallpaper. The best part (besides the food) is that a lot of the local chefs have cut their teeth at the Floridian, it's a staple and gone out to start their own ventures. Maybe it's due to its namesake, maybe they are just onto something, but the Floridian feels like home.
What to Order:
The biscuit and belly and fried green tomatoes are the perfect way to start the night. Between that, one entree is fair to split.
There were so many spots in St Augustine that I feel in love with and several that didn't make this round-up. And to say that each was a local staple is an understatement. The city has such a bustling food scene that I could go back time and time again just to dive further into the menus featured above and all of the places I didn't make it to. Oh, and I'm planning too. It's one of those places where once you've gone, you're definitely returning too.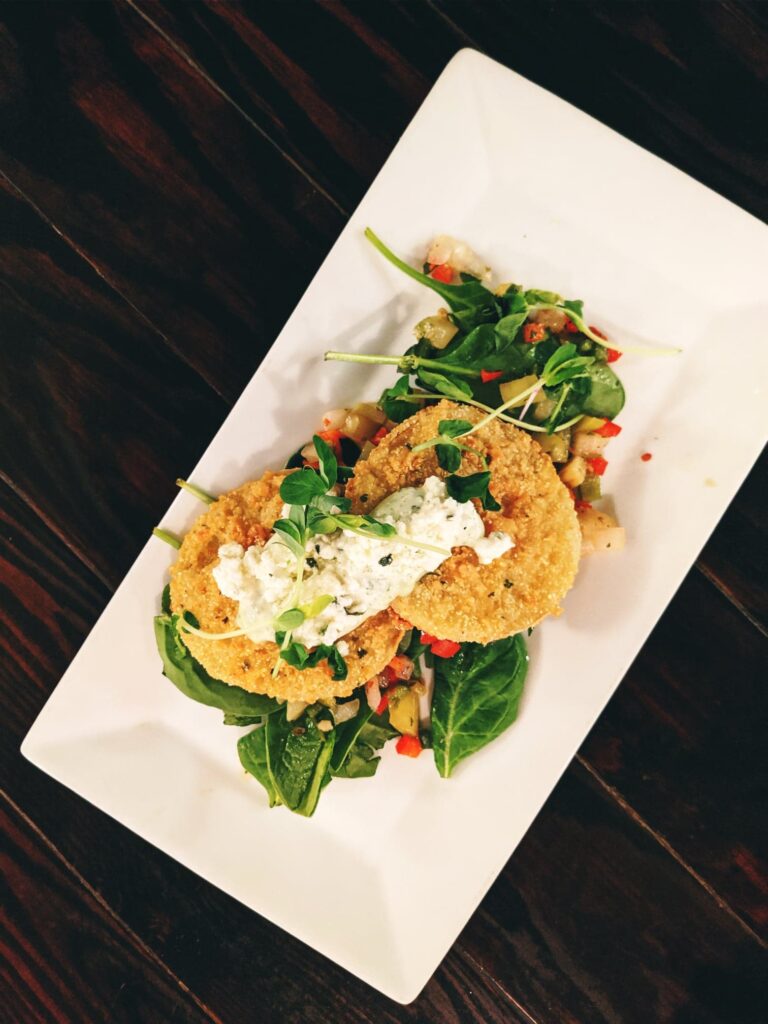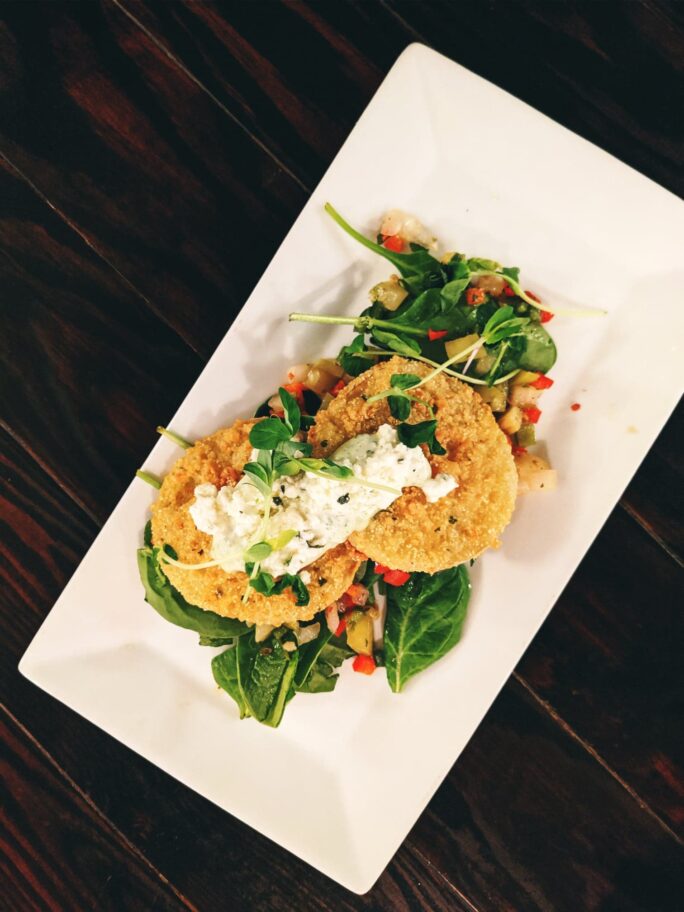 Have another gem I need to know about in St Augustine?
I love your recommendations when I am on the road and always try to hunt them out!
If you've enjoyed this travel review or any other adventures on Pass The sushi, let me know where you found us in the comments below, I love hearing from you! Be sure to check out my other fun travel tips and follow along on Instagram @passthesushi & @girlcarnivore, Twitter & Facebook.