Simple scones are a classic for breakfast or just with a cup of tea. These banana bread scones have a hint of maple and nuts and are perfect when you're in the mood to bake.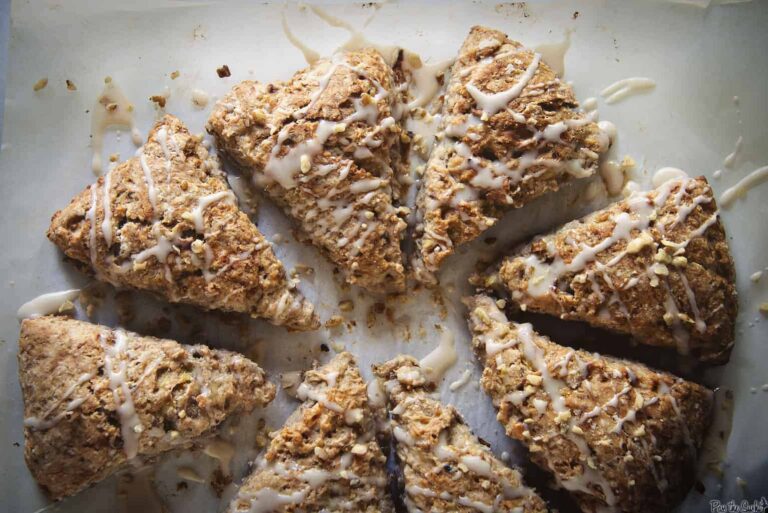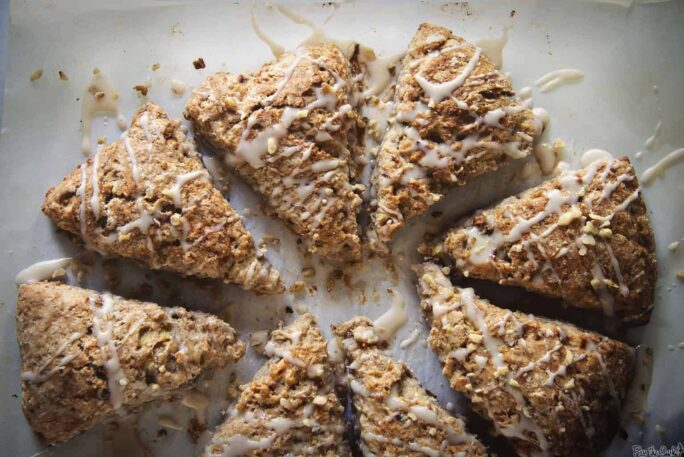 You know those days when nothing is going according to plan? When there are 400 chores to be done and more being created every moment and still nothing is going right?
Today was one of those days.
And that is 100% ok. Because the chores will always be there. There will always be laundry to be done or a shelf to be dusted, but today was my friends first 5k. And I wanted to be there to cheer them on.
So, we dropped the chores and the work and drove down to be there to help them celebrate. I am so proud of them and can't wait to see where they go from here! Totally worth ditching the chores.
Then, just about the time I could get back to the swing of things an unexpected bbq popped up and it was a fantastic opportunity to catch up with some friends. I can stress about that pile of paper work later.
Right now is about letting go of the moments that are out of your control and enjoying the ones that matter.
And, when you get back to those chores and find some past due bananas on the counter, these banana bread scones with maple glaze are perfect for savoring those moment
This looks amazing but I don't have the time to make the whole shebang! Yes you do. If you're in a rush, make this Banana Bread, it only takes 6 minutes start to finish. What? Yup.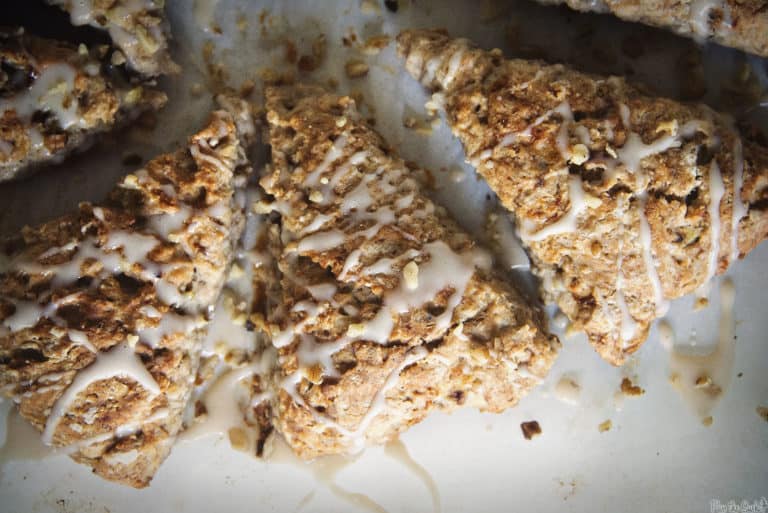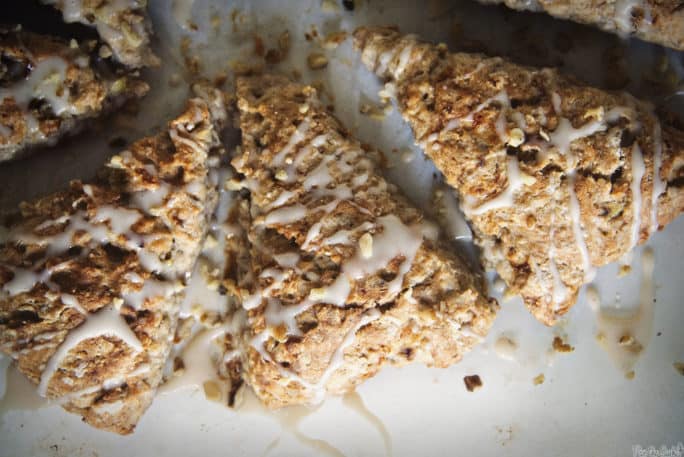 Easy Banana Bread Scones With Maple Glaze
Banana bread scones with maple glaze are essentially an easy variation on simple banana bread. But when you make it a scone… then everyone sits up and takes notice. 
Becoming a Scone just adds that sort of european coffee shop old world class that makes it special. 
Just don't worry about anything getting more complex. Time is a precious commodity for us all. I am sure you would rather be hanging with friends or doing something besides being a slave to the kitchen. 
I mean, unless you love baking and being in the kitchen of course. Then of course there is no drudgery involved… but a fast, easy, and delicious take on banana bread still comes in handy even if that is the case. 
The Convenience Of Banana Bread Scones
One great thing about any sort of banana bread, scone, muffin, or whatever is you get to use those black super ripe bananas you might otherwise have tossed. 
No more cursing yourself for putting off using them. The more ripe… and I mean really ripe they are… the better. Using those old black super ripe bananas makes you feel like putting off using them wasn't a bad idea after all. 
So, next time you are staring down that bushel of dark bananas you think need to be tossed, just stop. Hit the breaks like a train running a nine-mile skid on a ten-mile track. 
Pack them up into a gallon freezer bag and toss them in the freezer. They will actually keep just fine for up to six months. I bet during that time you will find a reason to make some banana bread scones with maple glaze.
Honestly, when you get around to deciding to do banana scones you will be very pleasantly surprised how quick and easy they are to make. 
If you aren't familiar with banana bread, then take note.
You can literally make the batter in minutes. You don't have to worry about yeast rising. You don't have to weigh ingredients to the microgram or it fails and makes you feel like a baking failure. 
In short, these scones make you feel like a dang pastry baking genius. 
And the scent of them baking is almost as good as what you pull out of the oven.
Real Maple Syrup Vs Fake Maple Syrup
Keep it real. Maple syrup is just one of those things that is worth using the real thing. Things like fake maple syrup and fake honey just don't taste the same. People will try to convince you otherwise, but I'm not buying it. 
Sure, they can approximate the flavor. Yes, the fake stuff is cheaper to purchase. But some things in life are just worth splurging on and real maple syrup is one of those things if you ask me. 
The flavor of real maple syrup is just so delicate and refined. I find "maple flavored syrup" to be sort of heavy handed.
Yes, both are basically pure sugar. So health issues for anyone concerned about sugar intake is equal. The anti corn syrup folks certainly can raise that issue with fake maple syrup. 
The fake stuff is typically maple flavored corn syrup. 
Also, just so you know, the grading of maple syrup does not refer to the quality of the syrup, it refers to the darkness. The darker Grade B maple syrup is more flavorful, but it is still just as real maple and good as Grade A maple syrup. 
Think of it as being like the difference between dark and silver rum. There are flavor differences, but not quality differences necessarily.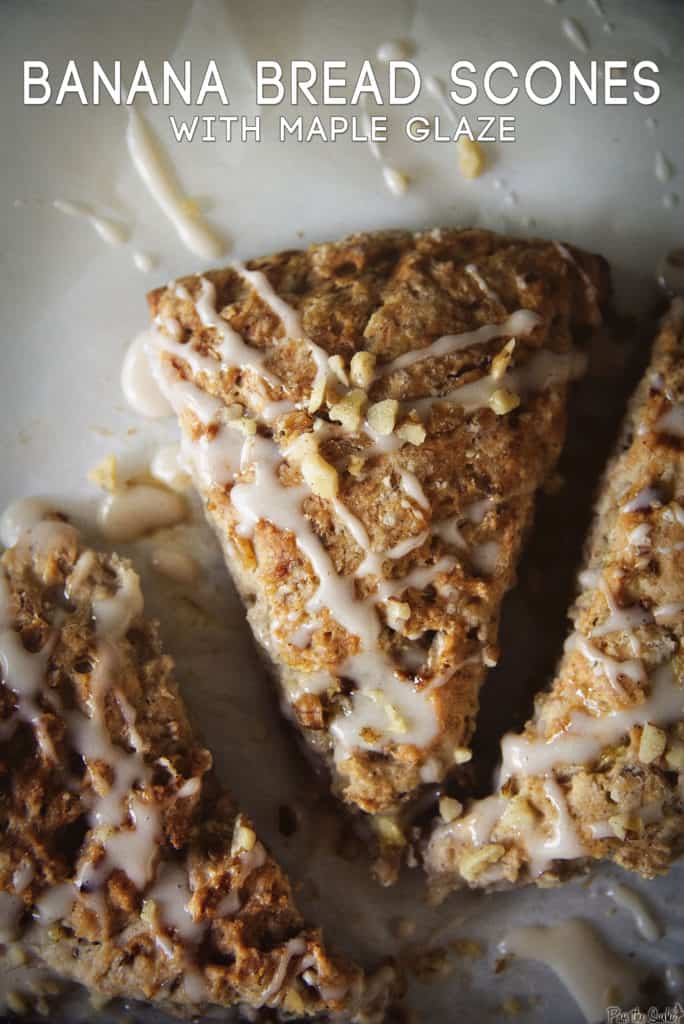 Looking for more baked inspiration? Try out my favorite banana recipes!

Espresso Banana Bread
Chocolate Chip Banana Bread Coffee Cake
Skillet Banana Crumb Cake
Banana Peanut Butter Swirl Bread
If you've tried my Banana Bread Scones recipe or any other recipe on passthesushi.com please don't forget to rate the recipe and let me know where you found it in the comments below, I love hearing from you! You can also follow along for more good eats and travel tips on Instagram @passthesushi & @girlcarnivore, Twitter & Facebook.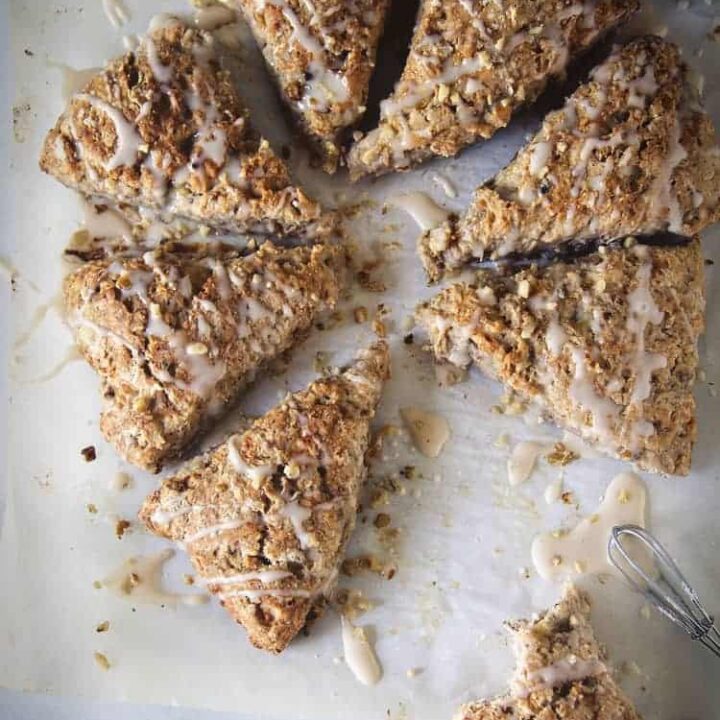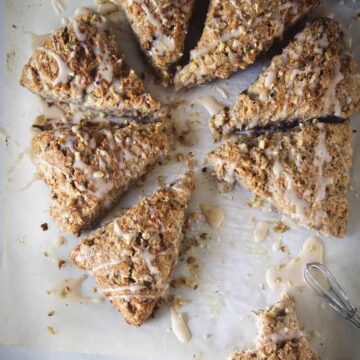 Ingredients
2

very ripe bananas

2-4

tbs

milk

-

plus 2 tbs

4

oz

plain low-fat Greek yogurt

2 1/2

cups

flour

4

tbs

sugar

2

teas baking powder

1/2

teas salt

1

teas cinnamon

4

tbs

unsalted butter

-

cut into 1/4" pieces

1/2

cup

chopped walnuts

1

tbs

real maple syrup

1/4

teaspoon

vanilla

1/4-1/2

cup

confectioners' sugar
Instructions
In a bowl, mash the bananas with a fork to equal one cup (and add a bit of milk if needed to fill to one cup, or some more banana if you have another about). Mix in the Greek yogurt; Set aside.

In another large bowl, whisk the flour, sugar, baking powder, salt, and cinnamon. With your fingers, work the butter into the flour mix until it resembles fine crumbs and no large pieces remain.

Stir in the banana mixture until just combined. Fold in the nuts.

On a piece of wax paper, lightly dusted with flour, form the dough into a 9" disk about 1" thick. Top with a light sprinkle of flour and another sheet of wax paper. Place in freezer for 30 minutes.

Meanwhile, preheat the oven to 400 degrees F.

When ready to cook, remove the top piece of wax paper, slice the dough into 8 equal pieces and slides each out a bit to give each piece some room to grow as it bakes. Place the dough, still on the wax paper, onto a baking sheet. Bake 25 to 30 minutes, until scones are a light golden brown.

Remove from oven and let cool completely on a wire rack.

Whisk the maple syrup, vanilla, and confectioners' sugar together to form the glaze. Add more sugar if needed to thicken. Drizzle over the scones.
Notes
Nutritional informations provided as a courtesy and is only an approximatation. Values will changes based on ingredients used.
⭐ Tried this recipe? Rate it ⭐
Help out the next person and give it a star rating below!