Classic, smooth, and perfect every single time, this recipe for a Classic New York Cheesecake is a hit at any dessert bar. 
All things in life come in multiple formats. There are the sparkly versions of everything, covered in glitz and glitter, then there are the same exact things, toned down and done simply. Beauty and enjoyment can be discovered in both versions of anything if you are willing to explore,willing to take a leap and try variations of things that may be out of your comfort zone. Personally, I am not a glitz and glitter kind of gal. Growing up, it was always jeans and a t-shirt. But danged if those shiny dressy didn't catch my attention from time to time and secretly I coveted that confidence in those glittery things. Same for everything, cars, notebooks, nails, and so on. At the end of the day, I always picked the more basic version.
As an adult, I have learned to incorporate a little of everything into my life. Not because I am hunting and pecking or still coveting those things that I did when I was younger, but because you realize there is nothing that says you can't have a little of this and that to mix up your life. You aren't just one cut and color of jean, you can be all of them on any given day of the week, and maybe twice in one day if the urge strikes.
Today's classic New York cheesecake is a perfect representation of this. Nothing…. not a single covered, coated, or flavored indulgent bite of any other cheesecake will ever beat the simplicity of a classic old fashioned cheesecake. There's something about it's simplicity that is perfect. I am never going to turn down a delicious variation on this perfect dessert. You can dress it up and take it out all day long and it's still going to be pretty damned awesome. I'm not complaining, because it's all good. But at the end of the day, when it comes down to the choice, I will pick the plain New York Cheesecake every single time.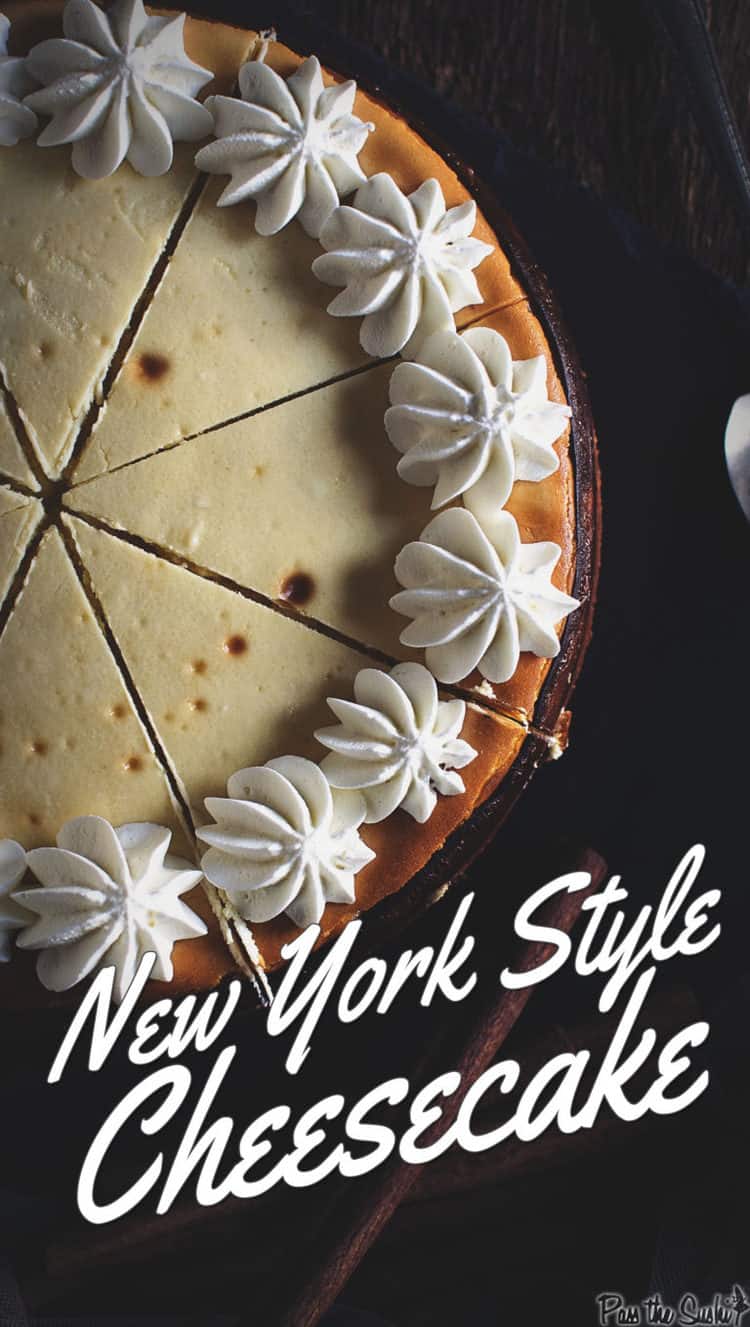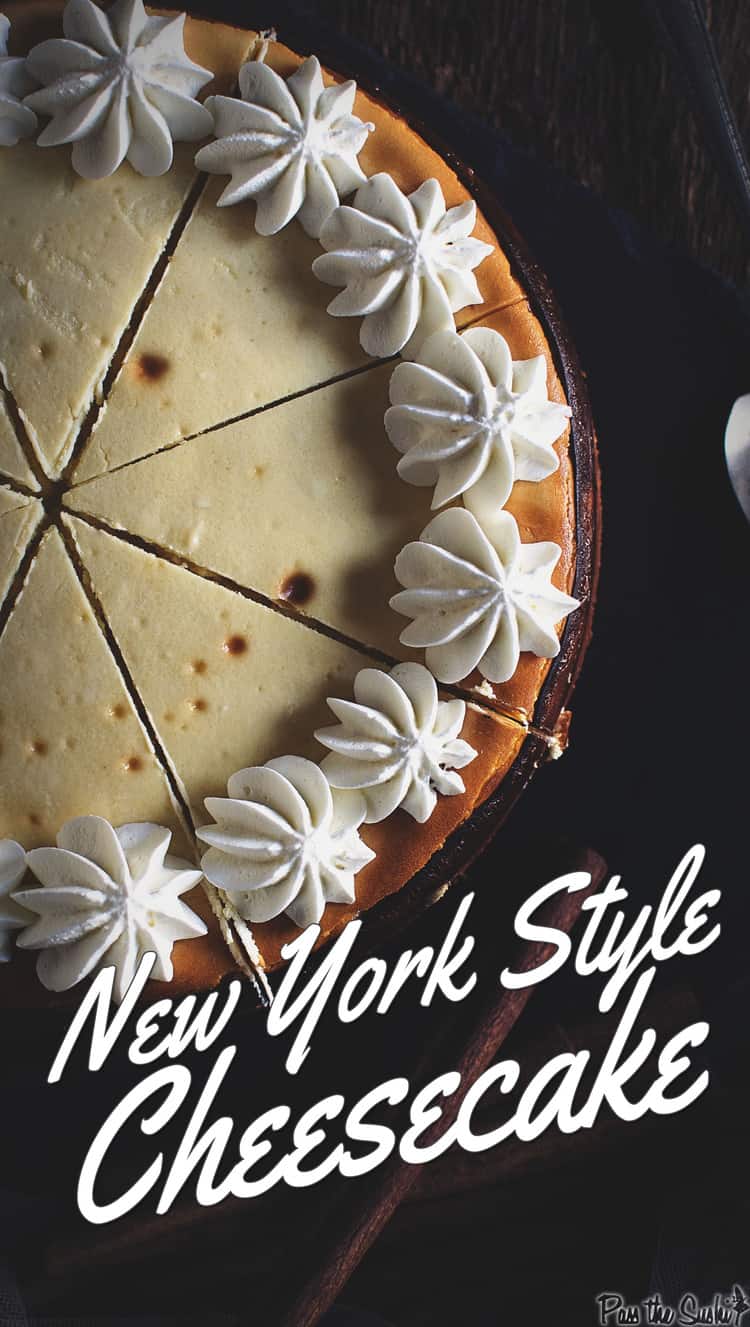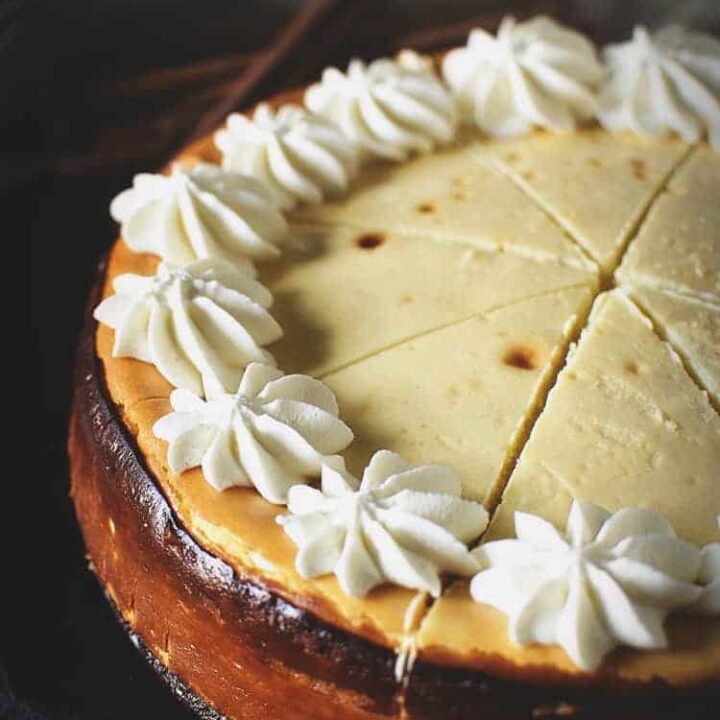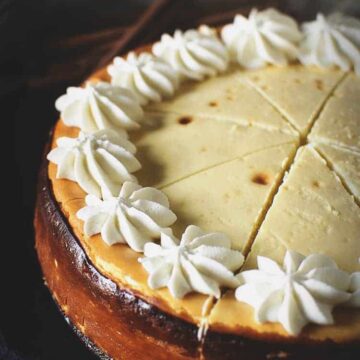 Ingredients
For the Graham Cracker Crust
5

tbs

unsalted butter

-

melted, plus 1 tbs unsalted butter for greasing the pan

8

whole

-

4 oz graham crackers, broken into large chunks

1

tbs

sugar
For the Cheesecake Filling
5 8

oz

2 1/2 lbs packages cream cheese

-

room temperature, cut into 1" cubes

1/8

teas salt

1 1/2

cups

sugar

1/3

cup

sour cream

2

teas freshly squeezed lemon juice

2

teas vanilla

2

large egg yolks

-

plus 6 eggs, room temp
Instructions
Grease the sides and bottom of a 9" springform cake pan and preheat the oven to 325 degrees F.

Pulse the graham cracker crumbs in a food processor until fine crumbs. Add the sugar and pulse once or twice to combine. Remove the bowl and blade carefully from the processor and, with a fork, stir in the butter until everything is just moist.

Bake the graham cracker crust until just starting to brown at the edges and fragrant, about 13 minutes. Cool on a wire rack.
Meanwhile, make the cheesecake filling:
Increase the oven temperature to 500 degrees F.

In the bowl of your stand mixer fitted with the paddle attachment, cream the cream cheese on medium speed to soften it up. With a sturdy spatula (there's about to be a lot of scraping), scrape down the beater and sides of the bowl. Stir in half of the sugar and salt and beat again, about 1 minute. Scrape down the sides and bottom of the bowl. Add the remaining sugar and beat again. Scrape. Add the sour cream, vanilla, and lemon juice. Beat 1 minute and scrape. Add the egg yolks one at a time, beat, scrape. Lastly, add the eggs one at a time, mixing until combined between each addition. Scrape down the bottom, sides, and beater once more and give another quick mix.

Carefully grease the sides of the springform pan again without disturbing the crust. Spoon the filling into the pan and set onto a baking sheet. Place in the oven and cook until the cheesecake is set and the internal temperature is 150 degrees F with an instant thermometer, about 1 1/2 hours.

Allow to cool 2 to 3 hours. Run a knife along the edge of the pan and cover well with plastic wrap (trying not to let it touch the surface of the cake if you are concerned with how pretty it will be) and place in fridge to cool at least 5 hours. (Cheesecake can be stored in fridge up to 4 days).

When ready to serve, allow the cheesecake to stand and room temperature for 30 minutes before slicing and serving.
Notes
Nutritional informations provided as a courtesy and is only an approximatation. Values will changes based on ingredients used.
⭐ Tried this recipe? Rate it ⭐
Help out the next person and give it a star rating below!