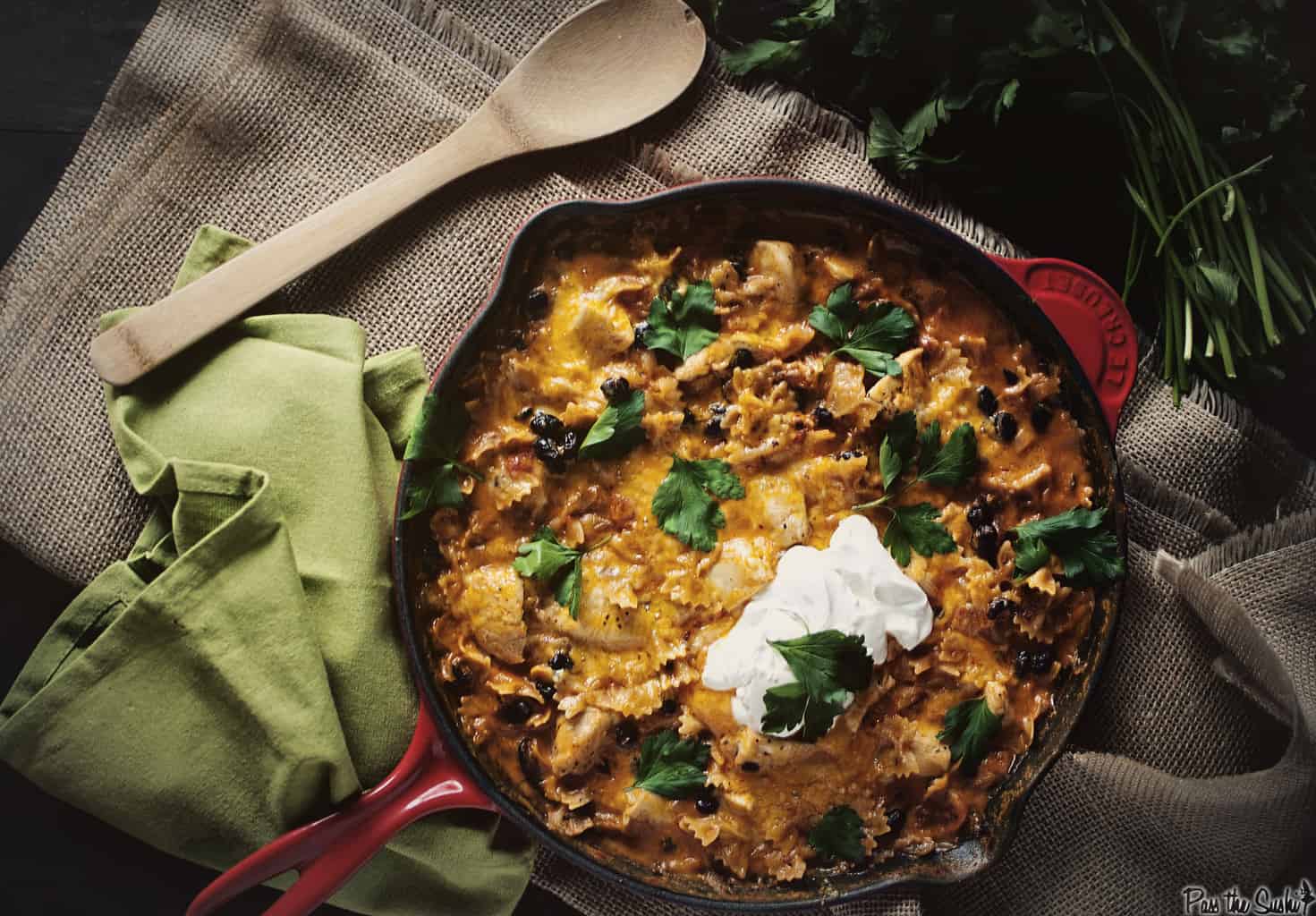 To wrap up an amazing year at Pass the Sushi I have one more killer giveaway for you. There are some big changes in store for the blog next year, some large goals for 2013, and a lot more sass and fun. But that's for a future post. For today, in this crazy busy week, I have a simple weeknight meal for you and a chance to win this gorgeous skillet. Since receiving my Le Creuset skillet, I think all of my other skillets have grown jealous and accumulated a thin layer of dust. I find myself keeping this bad boy ready for go time on the counter and using it for everything from cooking bacon to this weeknight dinner. I can't rave enough about how sturdy it feels and how nice it is to cook with. It takes my hand-my-down stove and really classes the joint up. 😉 Between the skillet, some holiday gifts from past and present, and Doris my kitchen is starting to look pretty rad!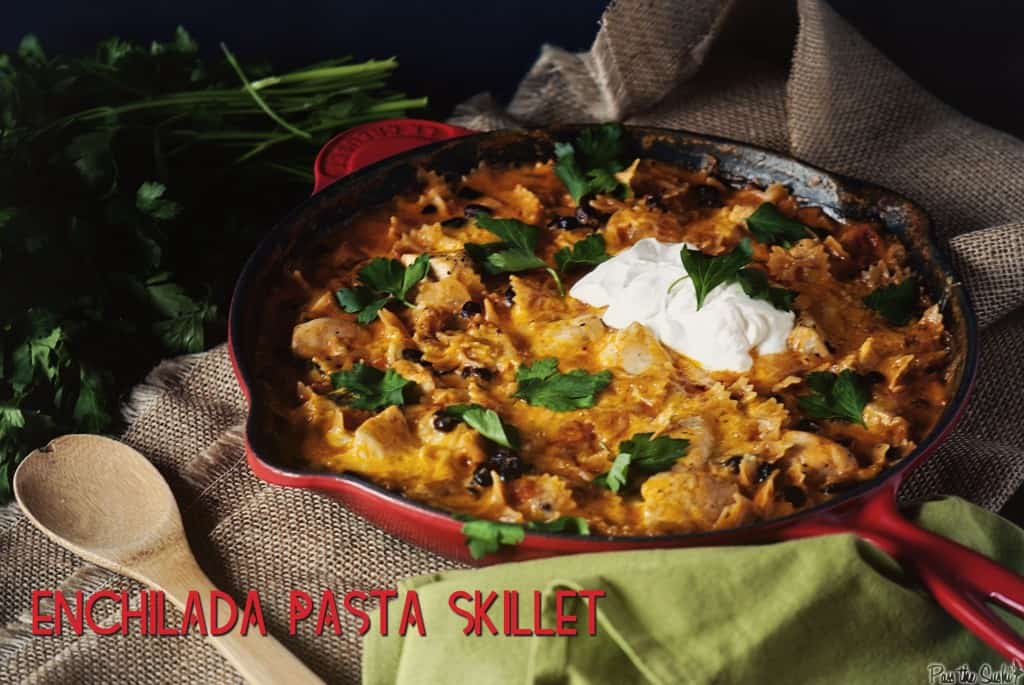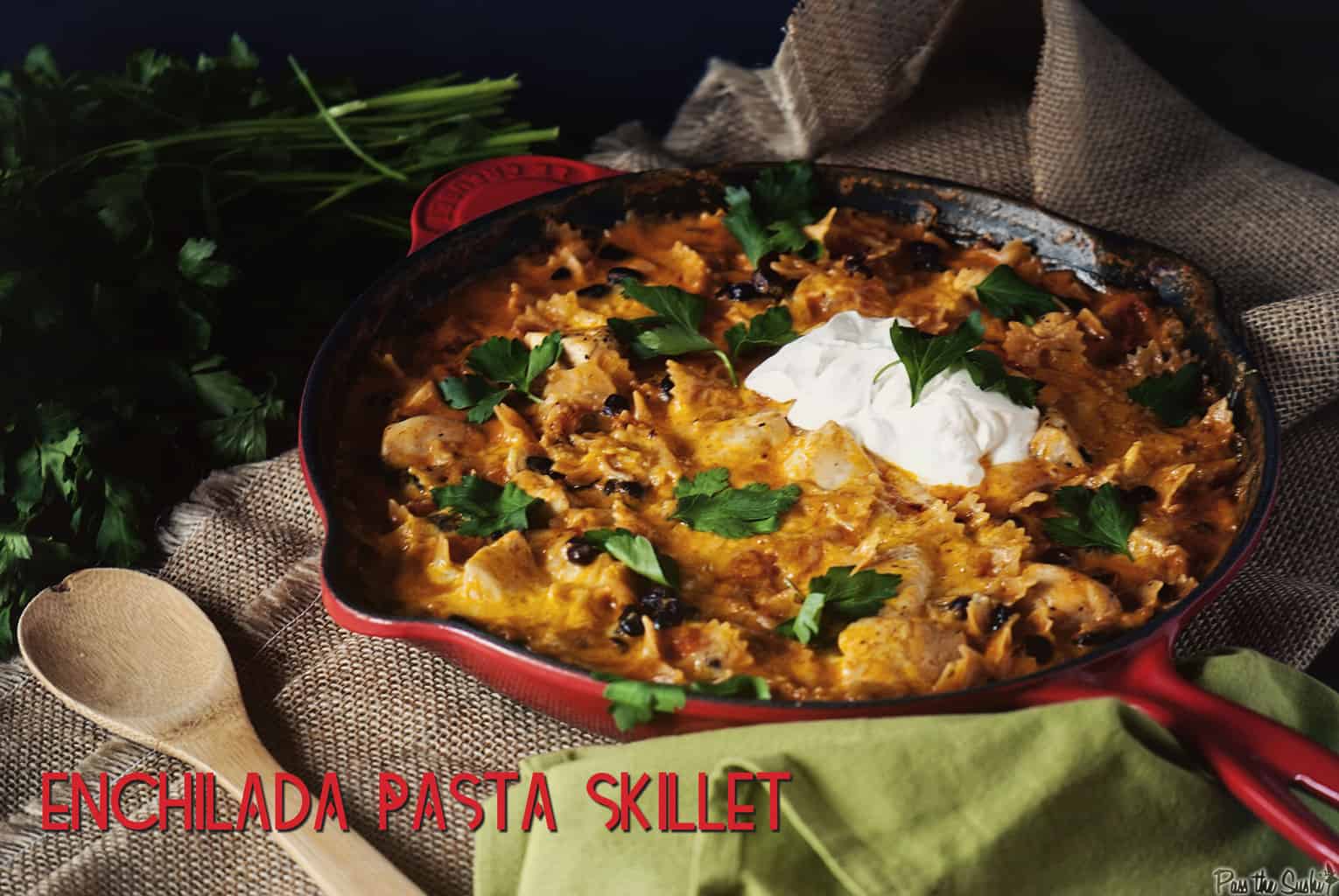 On a side note…. I'm freaking out a little right now because I can't find my sacred notebook where I write all my recipes in. If and when I find it, I will update this recipe for anything I may have left out. OK, found the notebook. Whew. Ever since seeing Julie's Enchilada Pasta Casserole, I have been dying to try out the flavor combo of pasta and creamy enchilada. I needed a quick dinner to get us through before the barrage of Christmas leftovers took over my fridge and this was the perfect solution. I gathered my normal enchilada fixins and got to work. Adjust the heat for your family's taste.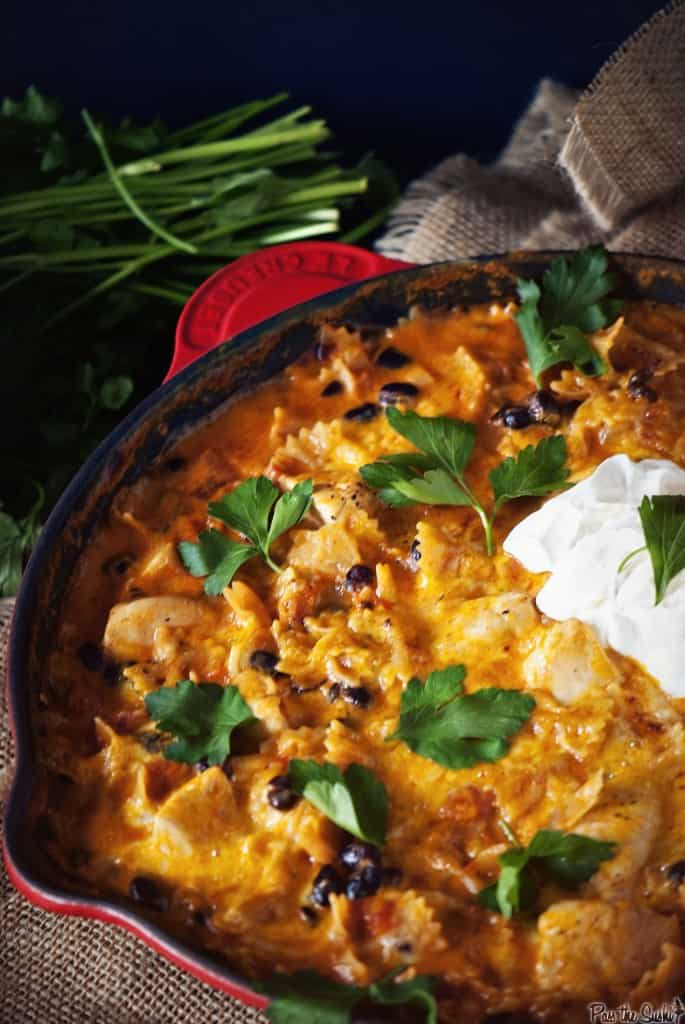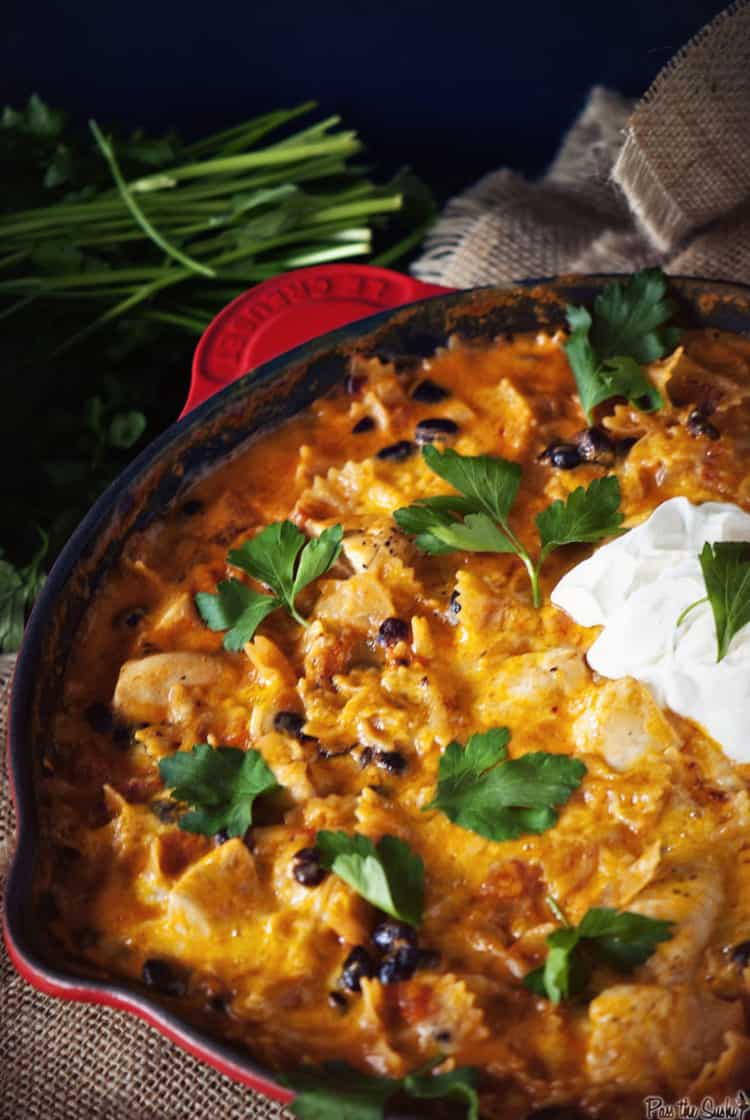 Enchilada Pasta Skillet
Ingredients:
2 tbs olive oil, divided
salt and pepper
1 lbs chicken, cut into bit sized pieces
1/2 onion chopped
1/2 red pepper chopped
1 14.5 oz can black beans, drained and rinsed
2 10 oz cans enchilada sauce
1 cup chicken broth
1 teas Tabasco
2 oz Velveeta cheese (use shredded cheddar or another cheese of your choice if Velveeta is not your thing)
8 oz pasta
1/2 cup shredded cheddar cheese
sour cream, cilantro, scallions
Preparation:
Heat 1 tbs olive oil in a large skillet over medium heat. Season chicken with salt and pepper and place in skillet. Brown on all sides, about 5-7 minutes. Transfer chicken to a plate, cover, and set aside.
Wipe out the skillet and heat the remaining olive oil over medium heat. Cook the onions and peppers until soft, stirring frequently, about 5 minutes. Add the beans, enchilada sauce, chicken broth, Tabasco, Velveeta and pasta. Cover and adjust heat as needed to maintain a low simmer. Cook until pasta is al dente, stirring to prevent anything from sticking to the bottom. (My bow ties took about 10 minutes). Reduce heat to medium low and add chicken, and any accumulated juices back to the skillet. Cook until everything is heated through and sauce has thickened, 3 to 5 minutes longer.
If desired, sprinkle with remaining cheese, and place under broiler for a few minutes until cheese has melted. Top with scallions, cilantro, and a large dollop of sour cream, or serve in small containers on the table for everyone to scoop their own toppings.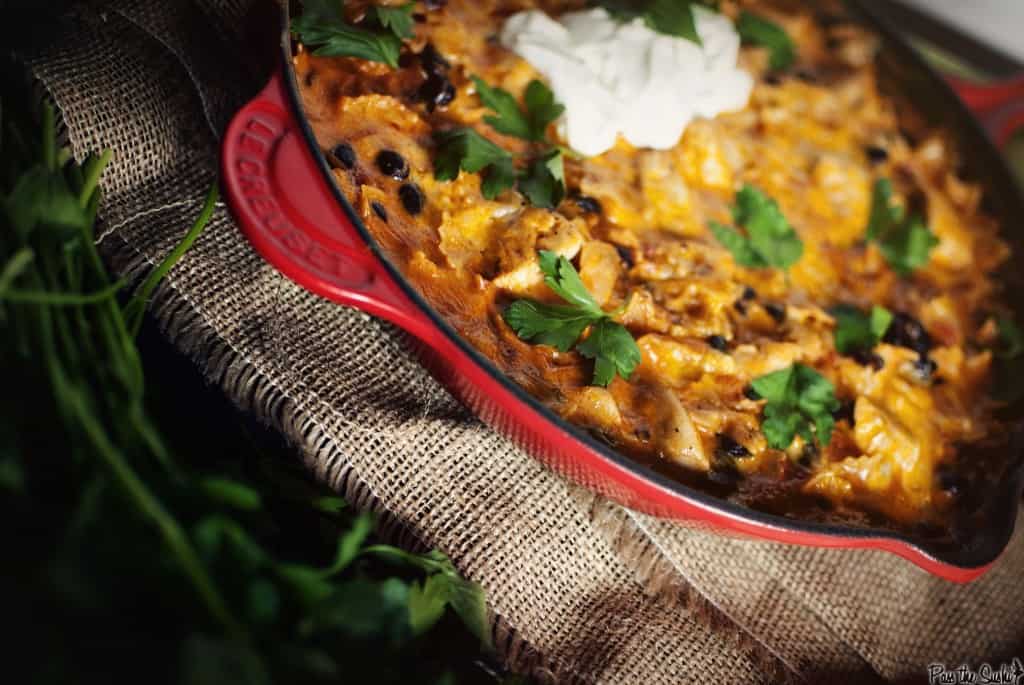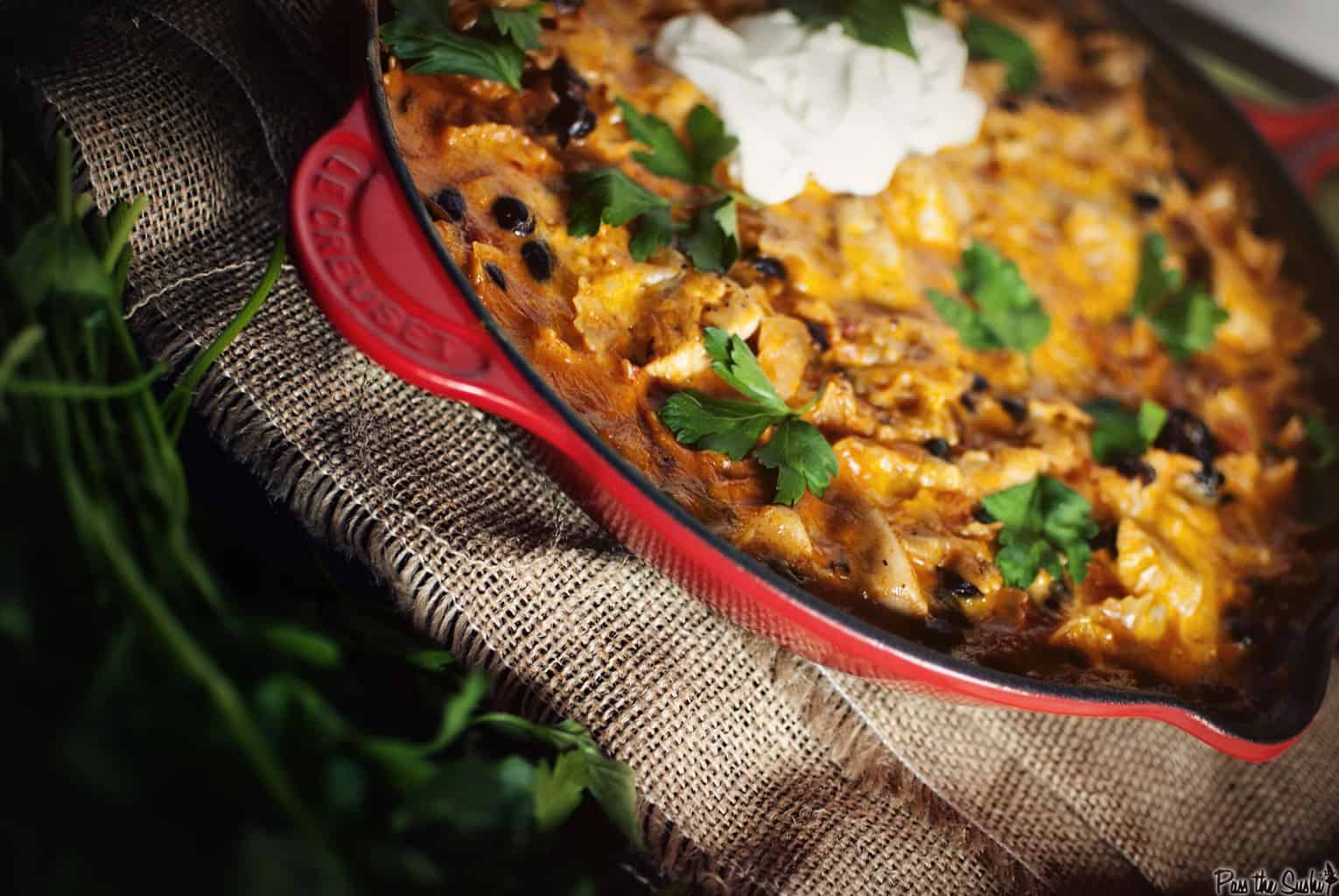 Le Creuset Skillet Giveaway
To enter to win your own shiny large cherry Le Creuset Skillet – head over to the Le Creuset site and let me know what product you would use the most in your kitchen.

Earn Extra Points by doing the following and leaving me a comment saying you have:
Following Pass the Sushi on Facebook
Following Le Creuset on Facebook
Joining the Email Subscription
Following Pass the Sushi on Twitter
Tweeting about this giveaway including @passthesushi and @LeCreuset
Following Le Creuset on Twitter
Subscribing to my RSS Feed
Google +ing this post
And as always, bribery and flattery goes a long way in the PtS kitchen.
Entrees accepted through midnight Thursday January 3rd 2013. Winner will be announced on January 7th's post. Winner must live in the United States.