This Cheeseburger Casserole is reminiscent of that creamy hamburger casserole you loved as a kid! Update it from scratch with this easy 30-minute dinner recipe.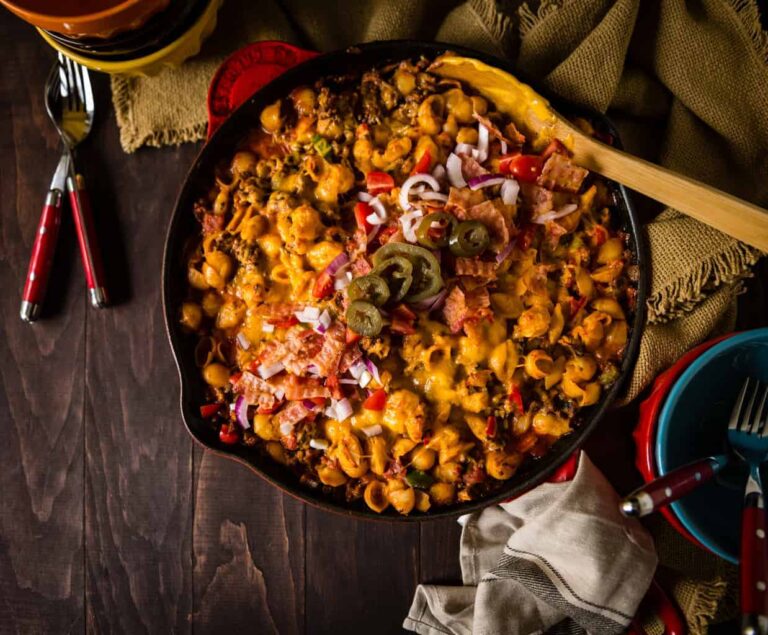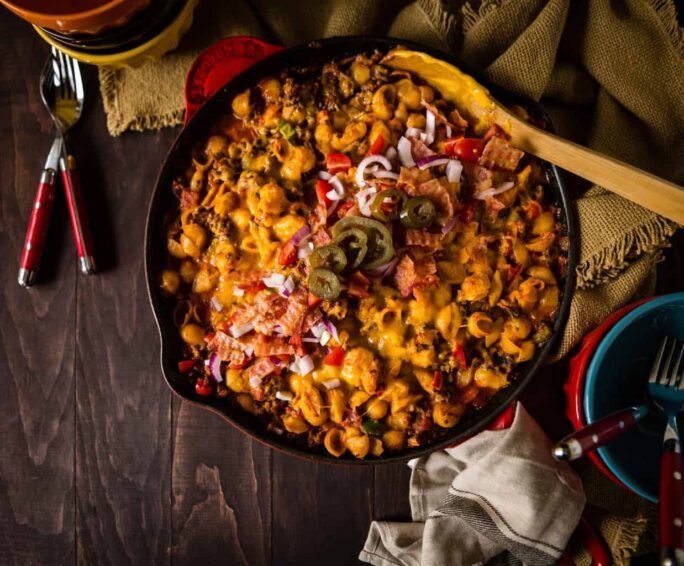 In this article:
If you're a cheeseburger lover, you'll love this easy casserole, along with these Whiskey Burgers and Ranch Beef Burgers. This great recipe contains all the flavors of a cheeseburger without the burger buns! This family favorite is like homemade Hamburger Helper, a classic comfort food that will take you back to the good old days.
What Is a Cheeseburger Pasta Casserole?
Simple ingredients like cheesy shells, cooked ground beef, and fresh veggies unite to create the ultimate easy recipe for busy weeknights when you're tired, and all you want is a quick, home-cooked meal. This cheesy casserole is just like you remember when you were a kid, except it doesn't come out of a box. It's made with your bare hands! We love this easy recipe because it's super easy to make, tastes delicious, and is a great dish the whole family will love! It's the perfect hearty casserole for every occasion.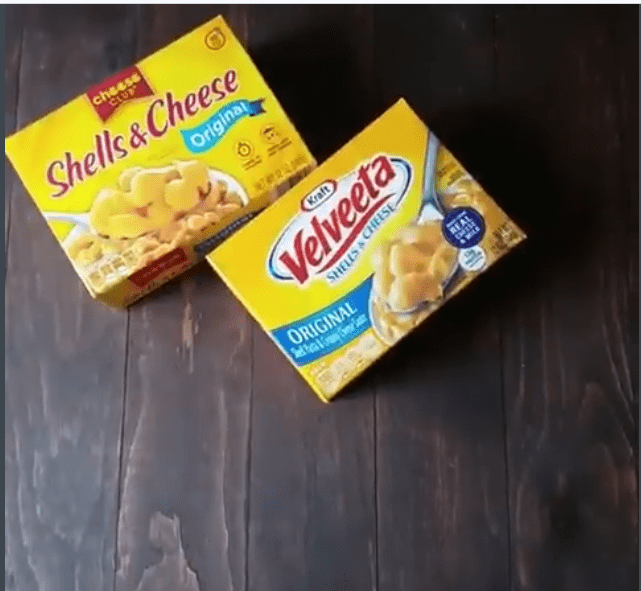 What You Need to Make this Easy Cheeseburger Casserole Recipe
Shells and Cheese – We used Velveeta shells and cheese, but you can also use generic or store brand.
Olive Oil
Onion – Use a white onion for this recipe.
Lean Ground Beef – We recommend 90/10 lean beef or higher.
Red Bell Pepper
Green Bell Pepper
Mushrooms
Steak Seasoning – Use your favorite steak seasoning.
Garlic Powder
Salt and Pepper
Worcestershire Sauce
Crushed Tomatoes
Shredded Sharp Cheddar Cheese
Pre-Cooked Bacon
Fresh Cherry Tomatoes
Red Onion
Pickled Jalapenos on the Side – Optional but so good if you want to add a little kick!
How to Make a Cheeseburger Casserole
Preheat the Oven
First things first, let's get that oven preheated to a toasty 425 degrees F.
Boil Pasta
Grab a big pot and fill it up with water. Let that water go for a nice, rolling boil, and toss in the pasta. Once it's cooked up just right, give the cooked pasta a good drain according to what the package says. Then, fold in that cheesy goodness and cover it up to keep it warm.
Cook Ground Beef and Onion
While your pasta is doing its thing, grab a large skillet. Pour in some olive oil and let it swirl around, making friends with the pan. Drop in the onion and let it cook up for about 5 minutes until it's nice and tender. Now it's time to add the ground beef. Toss it in there and break it up as it sizzles away, making sure it gets all crumbly and browned.
Add the Remaining Ingredients
Once that beef is looking awesome, throw in those peppers, mushrooms, steak seasoning, garlic powder, and a dash of Worcestershire sauce. Give it all a good mix, and let those flavors dance together. Add in the crushed tomatoes.
Bake in the Oven
Grab a casserole dish and combine the ground beef mixture with the noodle mixture and cheese you've been keeping warm. Sprinkle some shredded sharp cheddar on top of the casserole – the more cheese, the better! Pop that dish in the oven and let it bake for about 5 to 7 minutes until the cheese is all melted.
​Rest
Carefully take that cheesy goodness out of the oven and let it rest for a little while until cool enough to serve.
Add the Toppings
Now comes the finishing touch – a sprinkle of crumbled bacon, some chopped tomatoes, sour cream, a bit of red onion, and, if you're feeling fancy, those zesty jalapeno slices.
Serve and enjoy!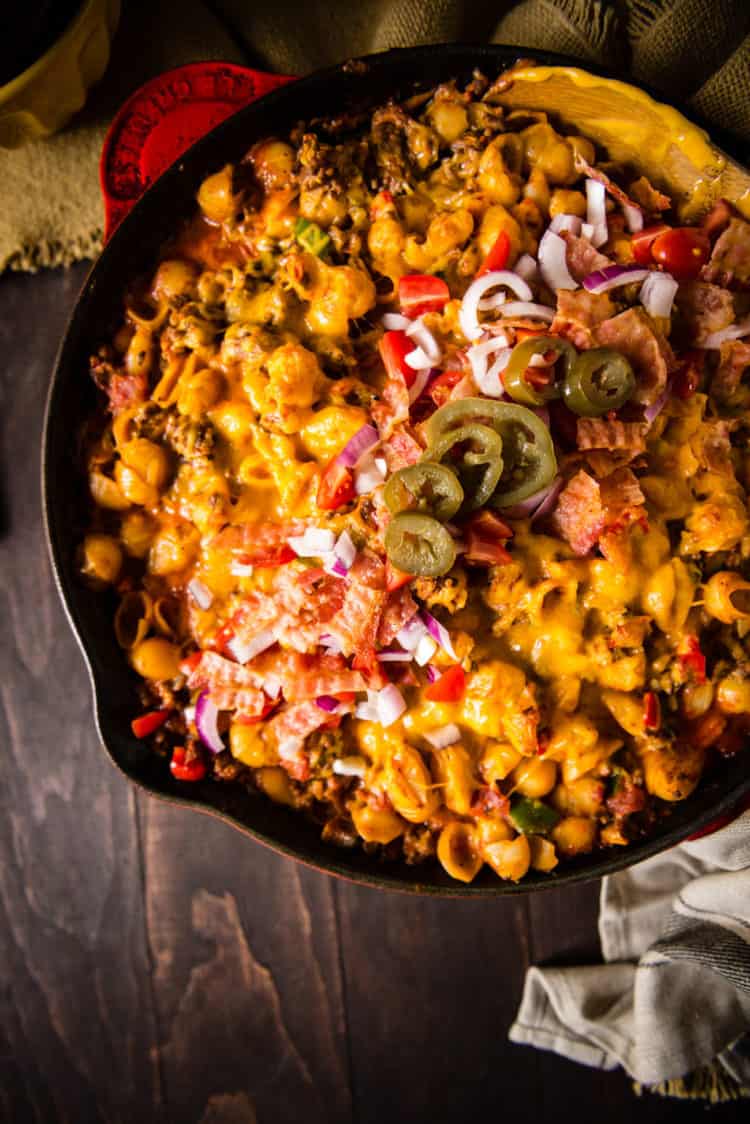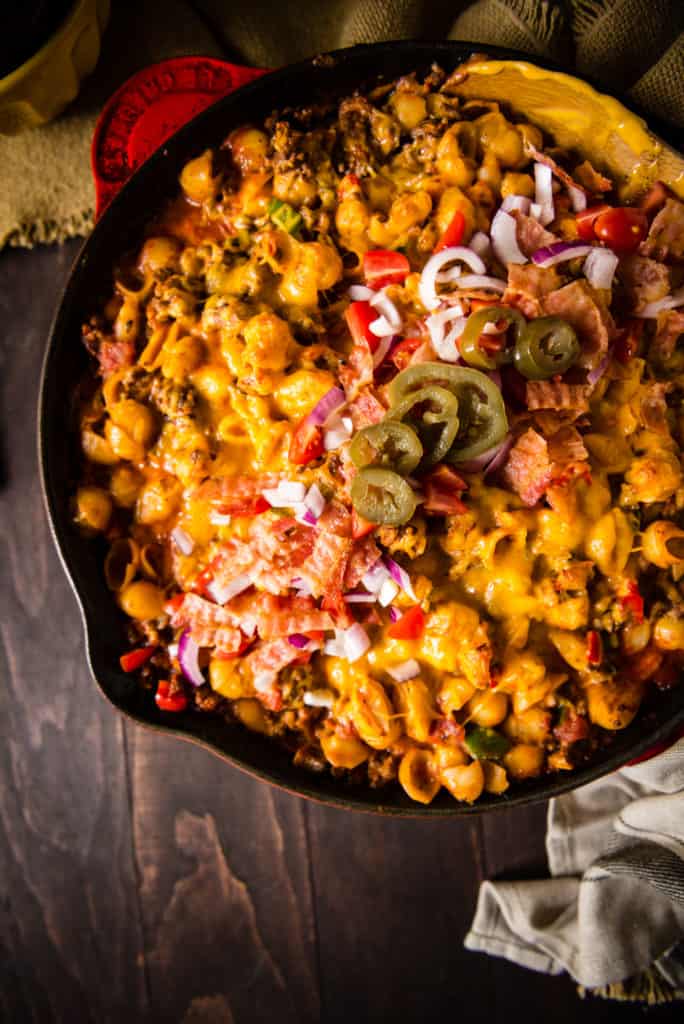 What to Serve With This Cheesy Casserole
​Serve this easy casserole with some Rosemary Garlic Bread or this Watermelon and Avocado Salad!
Leftovers and Reheating
If you have any leftover casserole, place it in an airtight container and keep it in the fridge for up to 4 days.
When you're ready to dig in again, reheat in a skillet on medium heat until heated through. You can also pop the leftover casserole in the microwave and heat it up in 30-second intervals for best results.
If you won't eat all the leftovers within the suggested time frame, freeze individual portions in containers. When you're ready to eat, let them thaw and bake as the recipe instructs.
Expert Tips
If you want an extra kick of flavor, add some chili powder as you're cooking the vegetables and beef.
Whip up some sautéed mushrooms and add them on top.
Make homemade Big Mac sauce or buy some and drizzle it over your casserole!
Recipe FAQs
Can I use another type of lean meat for this recipe?
Yes! Use ground turkey instead if you want even leaner meat or if you prefer the flavor! 
Can I use a different kind of noodle with this recipe?
Absolutely! Use whatever kind of pasta you like and whip up this dreamy Fontina Cheese Sauce to go with it! It's the ultimate Italian-American combo you didn't know you needed. 
Can I make this recipe low carb?
If you want a lower carb option, we recommend trying this Cheeseburger Salad instead!
More Quick Dinner Recipes to Try
This quick comfort meal is exactly what you need during the week to wind down after a long day! Even picky eaters will enjoy the cheesy goodness of this recipe and turn it into a family favorite! If you try this recipe, please rate the recipe card and leave a comment below to help out the next reader!
📖 Recipe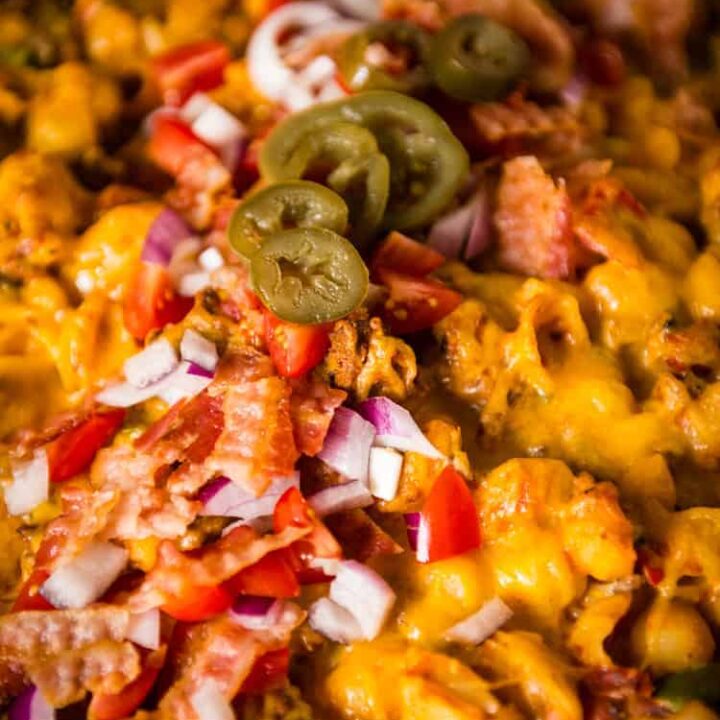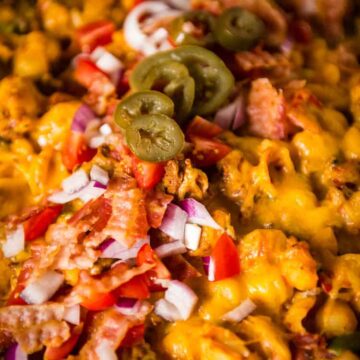 Ingredients
2

boxes shells and cheese

1

tbs

olive oil

½

onion

-

chopped

1 ½ 90

% lean ground beef

½

red pepper

-

stemmed and chopped

½

green pepper

-

stemmed and chopped

½

cup

mushrooms

-

sliced

1

tbs

Steak Seasoning

½

teas garlic powder

Salt and pepper

1

tbs

Worcestershire sauce

1 28

oz

can crushed tomatoes

-

or two 14oz cans crushed tomatoes

½

cup

shredded sharp cheddar cheese

4

slices

pre-cooked bacon

-

chopped

Handful fresh cherry tomatoes

-

chopped

¼

red onion

-

chopped

Pickled jalapenos on the side

-

if desired.
Instructions
Preheat the oven to 425 degrees F.

In a large pot of water, boil the pasta and drain according to the package. Fold in the cheese and cover to keep warm,

Meanwhile, in a large skillet over medium-high heat swirl the olive oil to coat the pan. Add the onion and cook for 5 minutes, until tender. Add the ground beef and cook, breaking up as needed to crumble and brown all over.

When browned, add the peppers, mushrooms, steak seasoning, garlic powder and Worcestershire sauce. Stir to combine. Add in the crushed tomatoes. In an baking dish, fold the ground beef mixture and the prepared shells and cheese together. Sprinkle with the shredded sharp cheddar and bake for 5 to 7 minutes, until cheese is melted and dish is bubbling.

Carefully remove from oven and let rest for a few minutes.

Top with the crumbled bacon, chopped tomatoes, red onion, and if using, jalapeno slices.

Serve and enjoy.
Nutritional informations provided as a courtesy and is only an approximatation. Values will changes based on ingredients used.
⭐ Tried this recipe? Rate it ⭐
Help out the next person and give it a star rating below!