Charred Oranges, fresh rosemary, sweet spiced honey, and smoke gin take this cocktail classic to a whole new level. The Smoked Winter Gin and Tonic. Perfect for sipping slow all season long.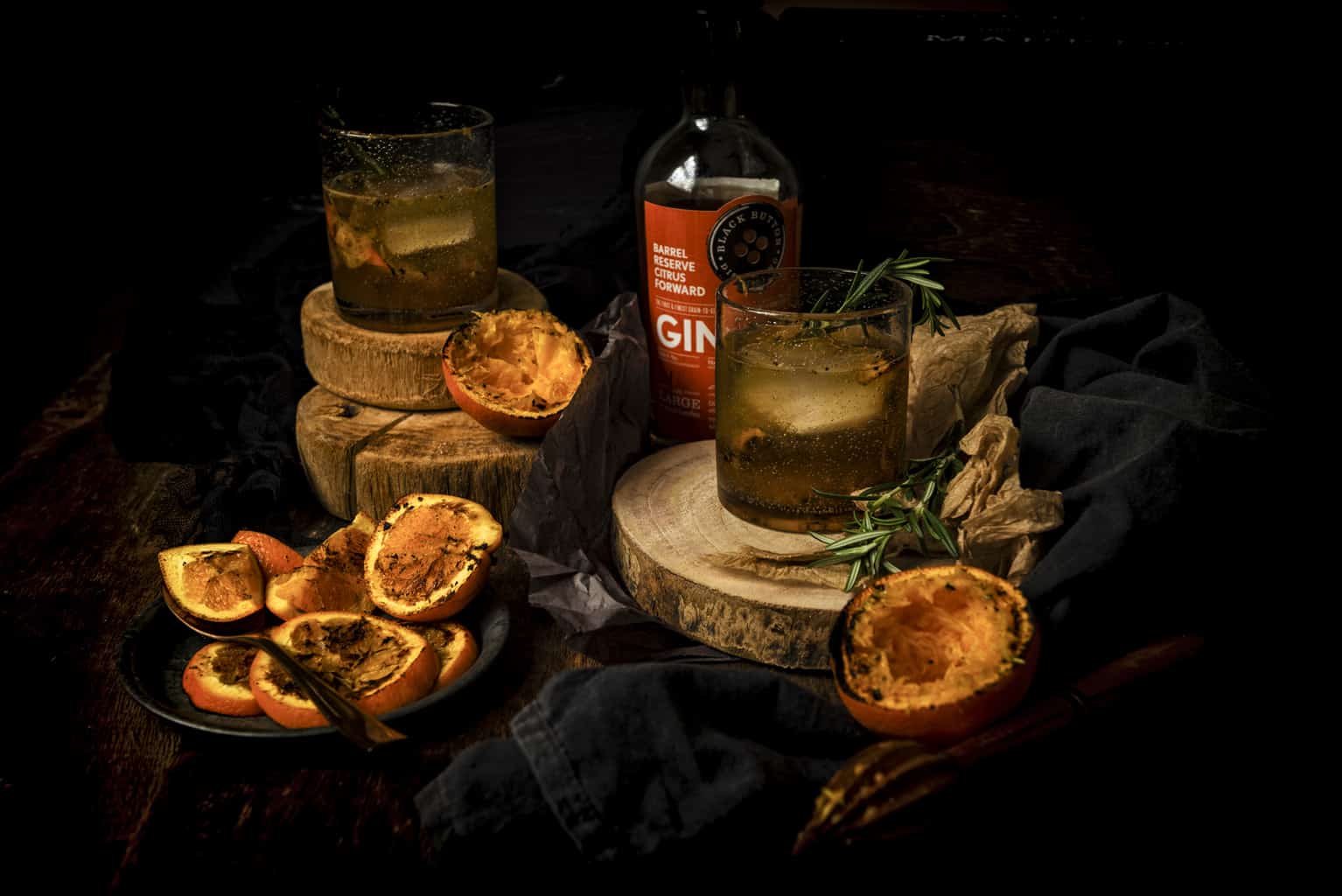 There is something about winter light that inspires me. It makes me hate the short days and curse the limited time. But the light shines crisp and clear as if the brisk air itself acts as a filter to purify and strengthen it. Stars seem to pop from the heavens and the skies ignite at sunrise and sunset for lingering moments of almost neon hues.
I have been known to drift off from conversations or seem distracted, as my eyes bounce around watching the colours and tones change in the air. As a photographer, you learn to hunt light. To wait it out patiently, watch it. Learn it. Be shocked and in awe of it.
And to let those emotions help tell stories in the images.
It's closing in on winter, the holiday's will swiftly be over and we will be in the long haul of frigid temps and threatening frosts.  Cozy blankets will be slung over chairs and fires will be stoked all night, inviting us to find some peace in the darkness. There will be kisses of brisk air, fresh and clean on your cheeks. A welcoming glow of candlelight in windows.
The moments when the earth herself feels like she is deep in slumber and we should all tiptoe gently as to not wake her from her needed sleep.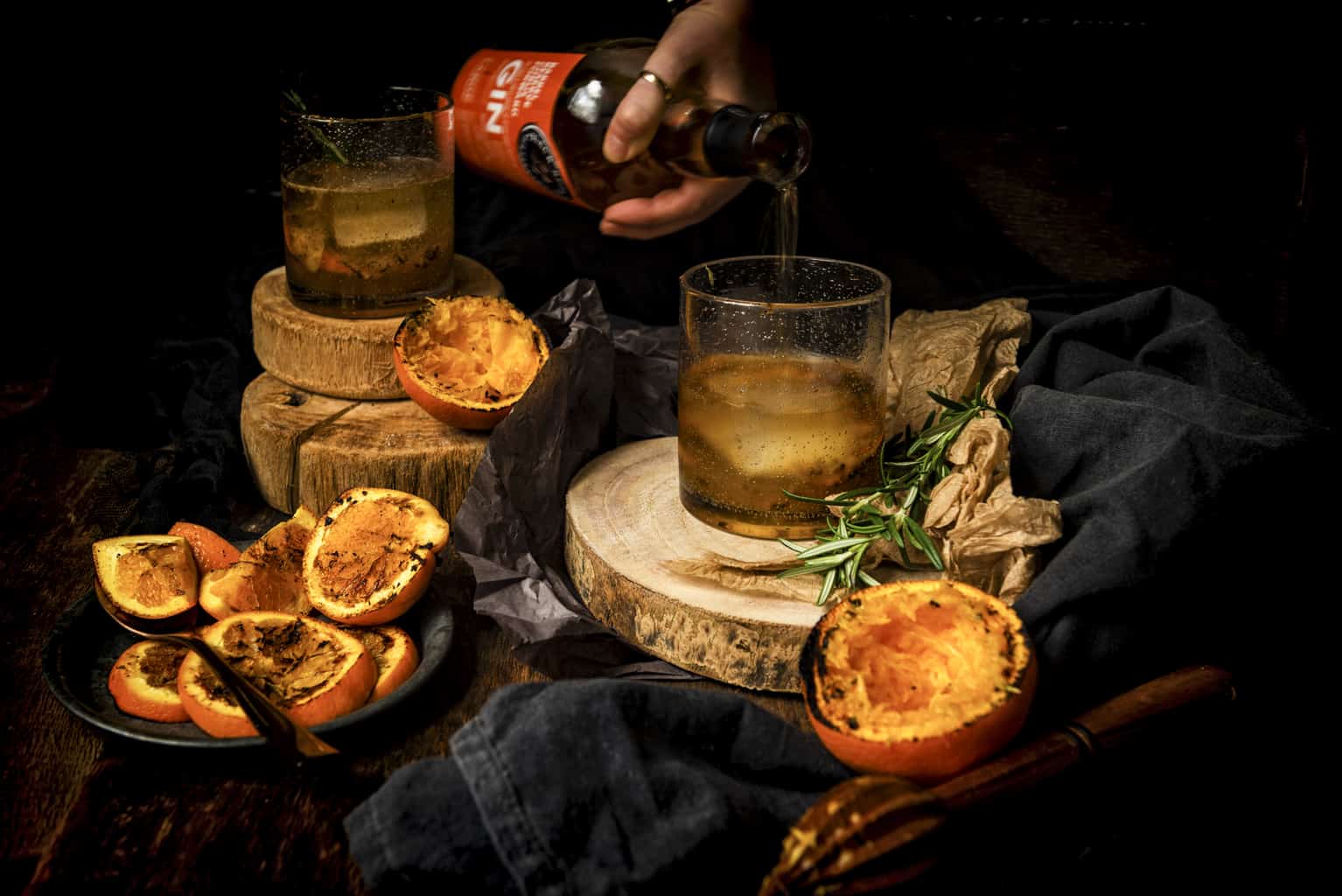 It's these images that I wanted to create in this cocktail. A comforting slow libation to sip on as you gather around with friends or read alone in the winter's shadows.
The charred citrus adding a splash of fresh along the aromatic rosemary. The sweet and yet spice from the Spicy Bees Knees Honey and the mature flavor of the slow smoked gin all coming together perfectly. This is winter in a glass. The Smoked Winter Gin and Tonic. Sip and enjoy.
Smoked Cherry Old Fashioned     |      Brandy Alexander      |      Hot Buttered Rum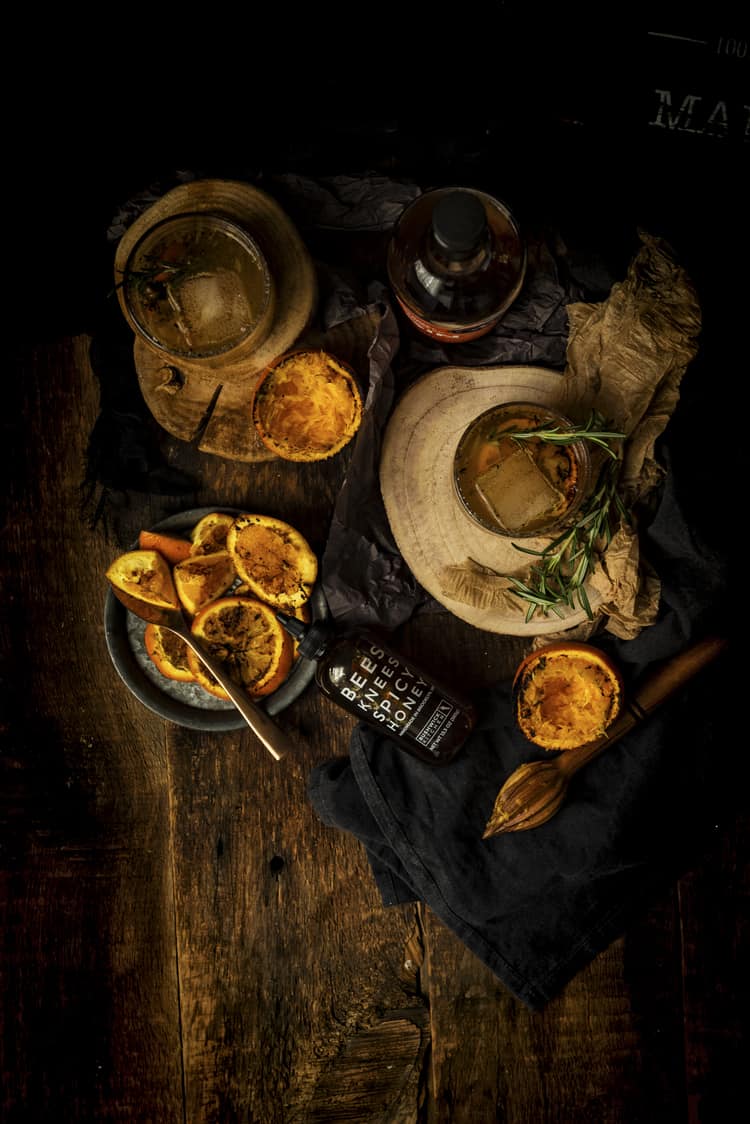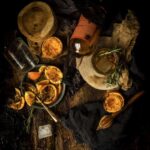 Smoked Winter Gin and Tonic
Ingredients
Ice

1

orange

sliced into 1/4" rounds

4

sprigs fresh rosemary

1/2

teas Spiced Bees Knees Honey

2

oz

Smoked Gin 

4 - 6

oz

tonic water
Instructions
Heat a small heavy skillet over medium high heat. Spray with cooking spray and char the oranges 2 to 4 minutes a side.

Alternatively, a kitchen torch or grill works for this as well.

Quickly toss the rosemary sprig in the same pan until fragrant, 30 seconds.

Add ice to a highball glass. Muddle 1 orange slice and a bit of rosemary.

Add the honey, gin and tonic.

Stir to dissolve the honey and garnish with a fresh charred orange slice and toasted rosemary sprig.