Looking for a cocktail that will add a touch of intrigue to your next gathering? Look no further than the dirty smoked martini. This unique twist on the classic martini combines the bold flavors of vodka, vermouth, and olive brine with a mesmerizing smoky essence, creating a drink that is both sophisticated and unforgettable for even the most refined martini lovers.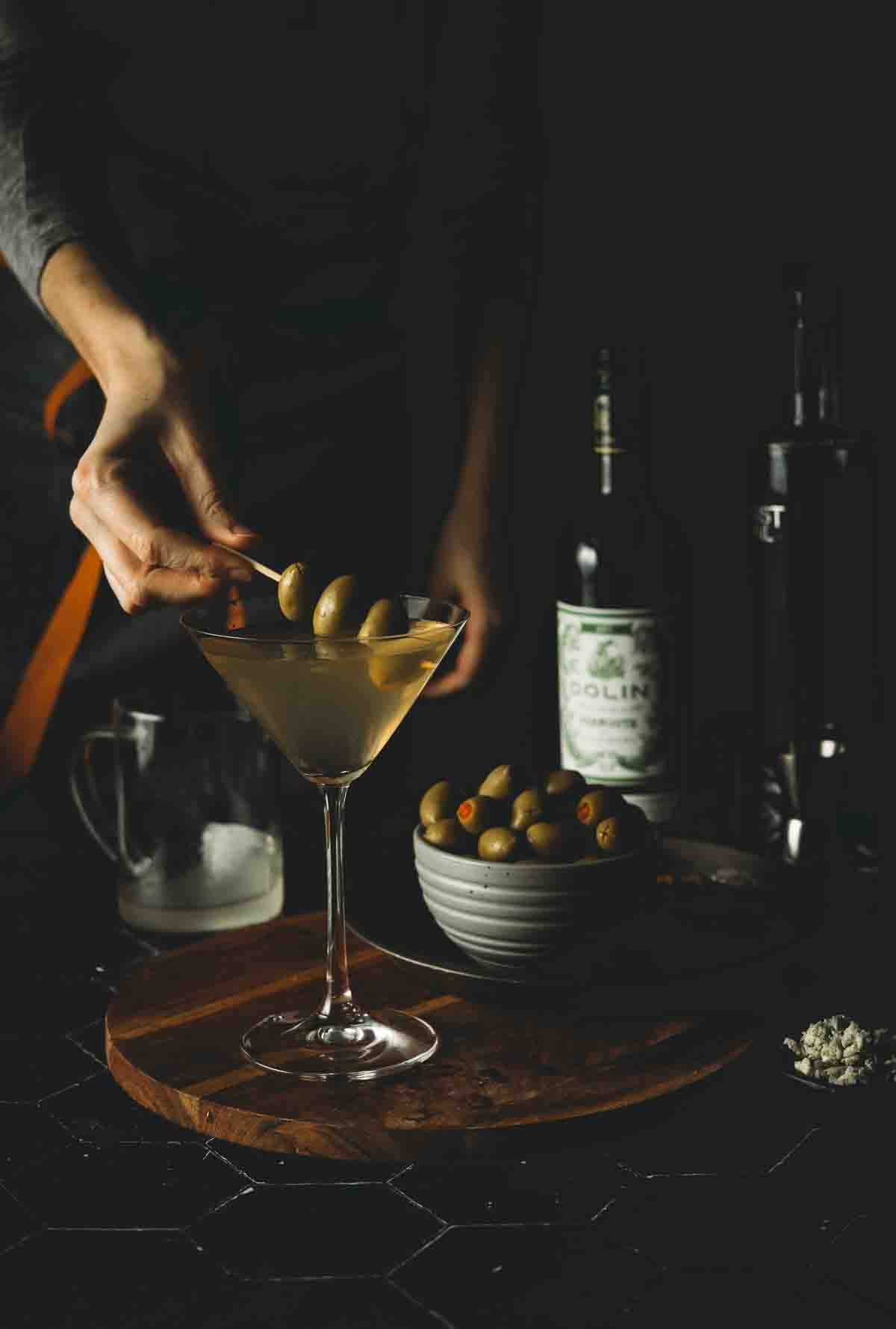 Jump to:
Made famous by the infamous James Bond, the martini is one of the most classic cocktail recipes. However, this recipe isn't your classic martini. This martini is one of our smoked cocktails. Similar to a Smoked Old Fashioned or Smoked Gin and Tonic, this Smoked Martini involves a torch and wood chips to create a soothingly smokey finish that infuses a whisper of smoky flavor in every sip.
What Is a Smoked Martini?
A Smoked Martini is like the sexier, more mysterious cousin of the traditional martini. What's different about a Smoked Martini is in the way it's prepared. We use the same alcohol base as a martini, gin and vermouth, but we infuse smoke into the martini glass for a dramatic twist. The end result is a smoky dry martini with a beautifully bitter bite that you'll be sipping all night long!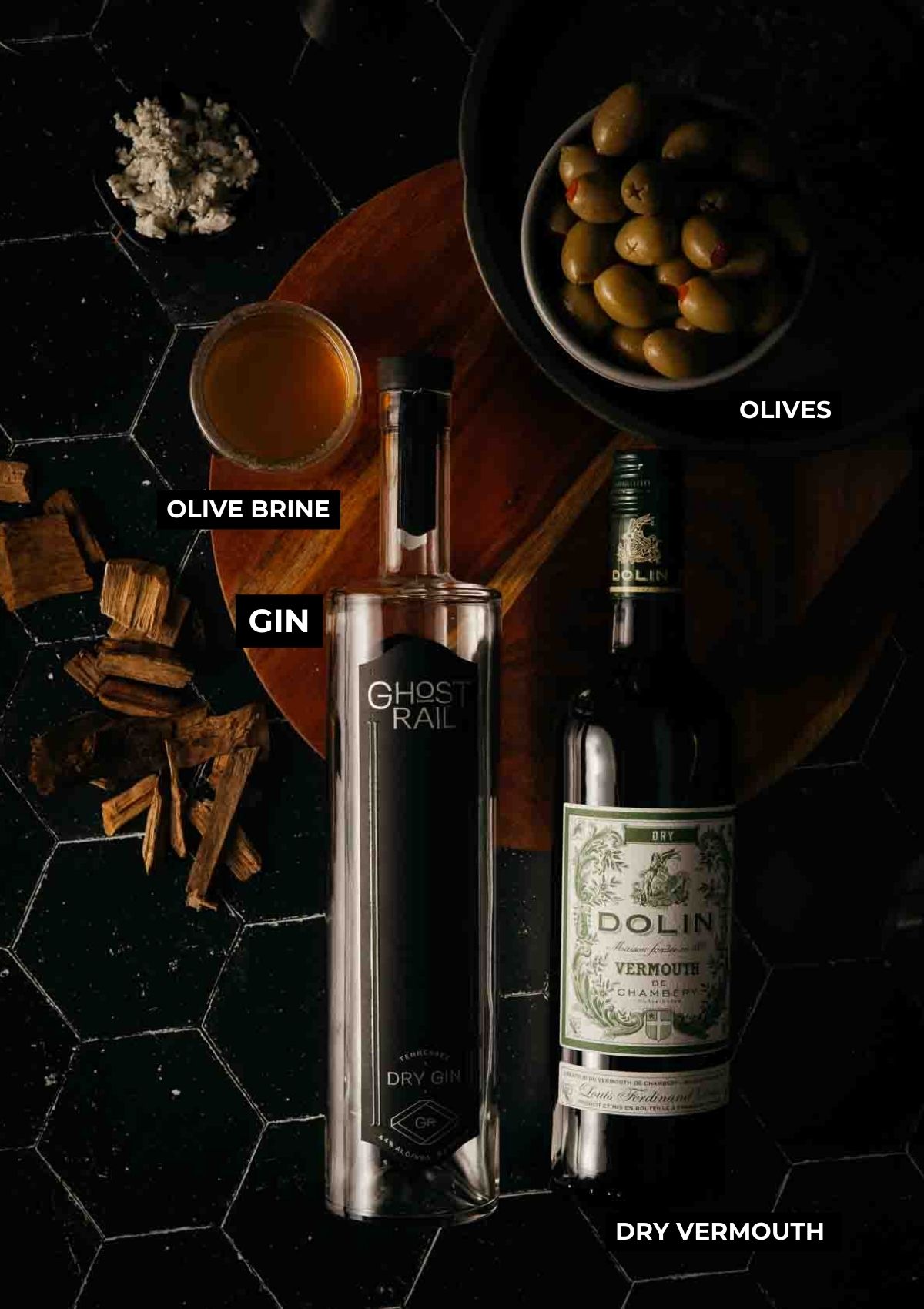 What You Need to Make this Dirty Martini
Gin
Dry Vermouth
Olive Brine
Garnish – Olives (pitted olives or blue cheese olives)
Tools
Wood chips (we use Western Wood BBQ smoking chips, oak, or hickory for this recipe)
Wood plank for smoking
Torch
Cocktail picks
How to Make a Smoked Martini
Prep Your Smoking Station
Start by placing ice in a martini glass to chill it.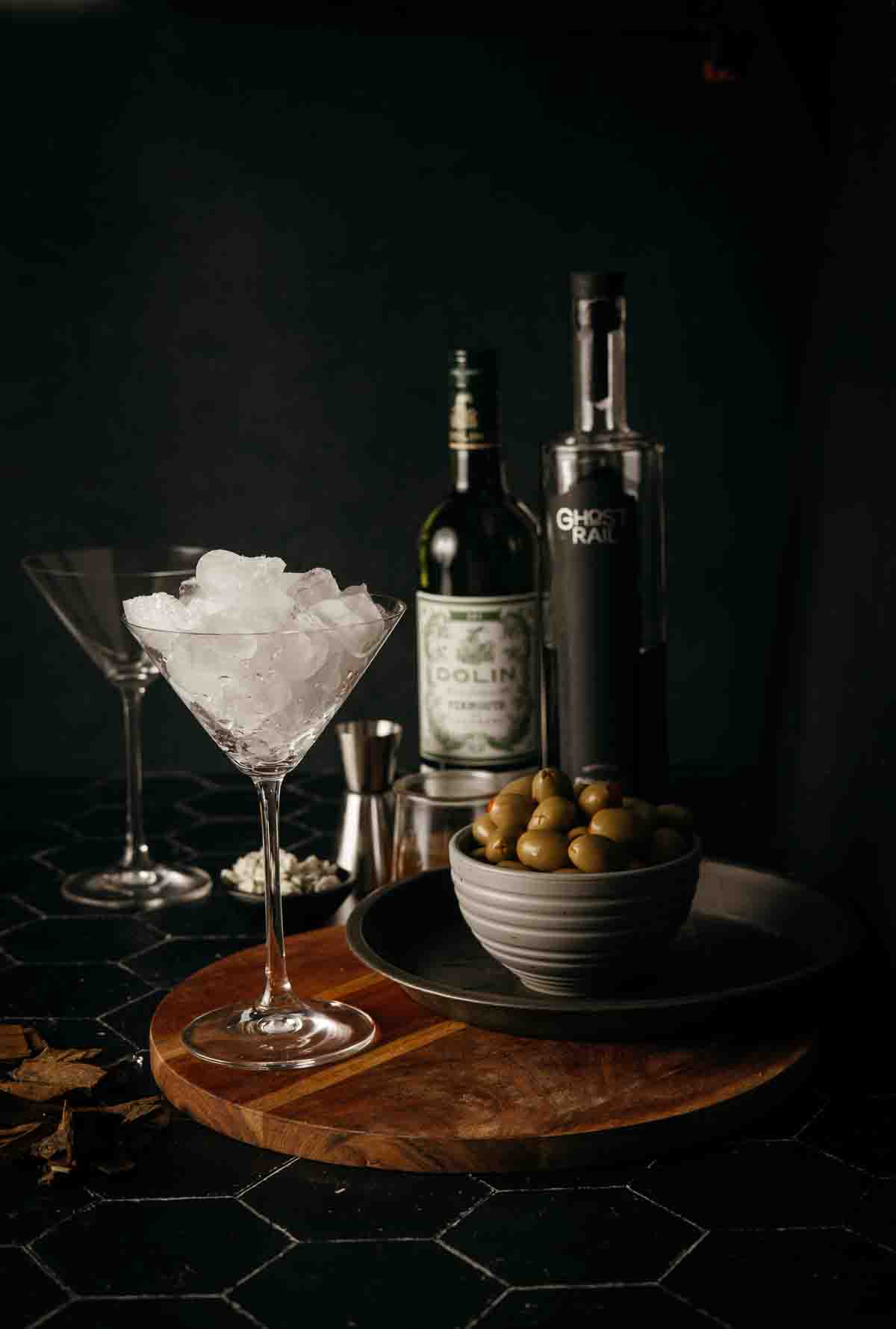 Create Your Mise en Place
While that's happening, gather your ingredients and set up a wood plank on a safe surface. Add a handful of woodchips to the center of the plank and ignite them using a torch until they start smoking.
Trap the Smoke
Quickly flip the ice-filled glass over the smoking chips, trapping the smoky goodness inside, and let it sit for 30 seconds.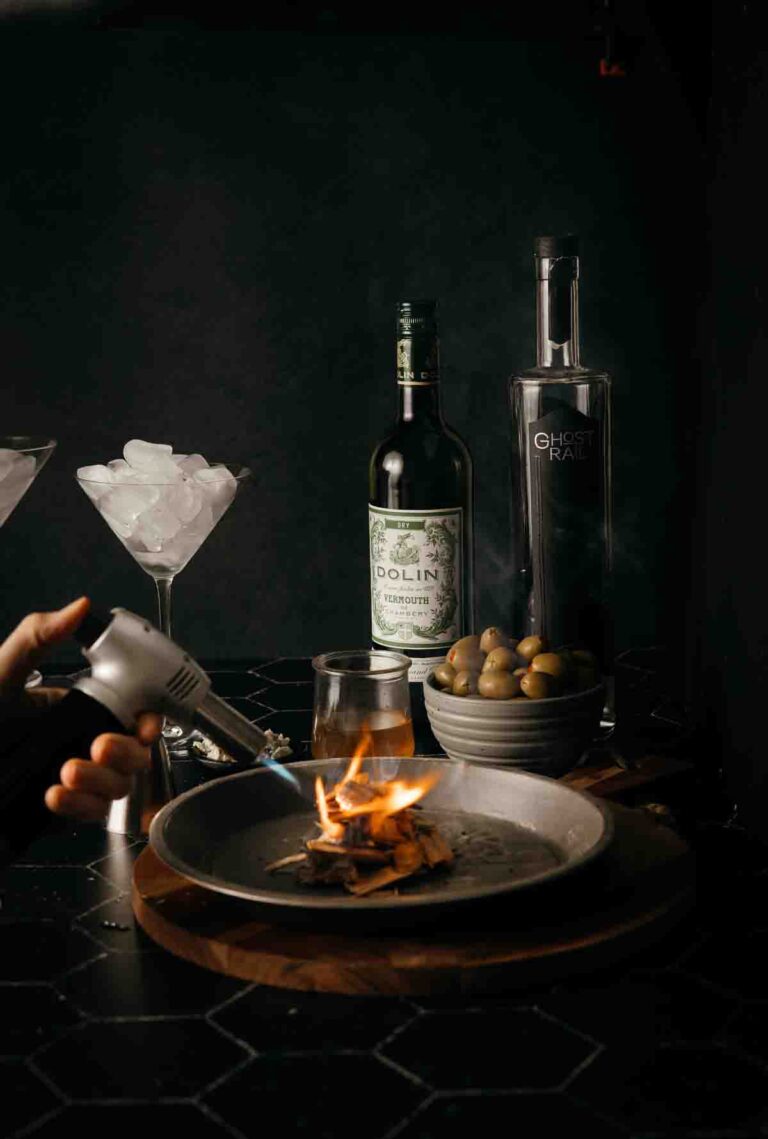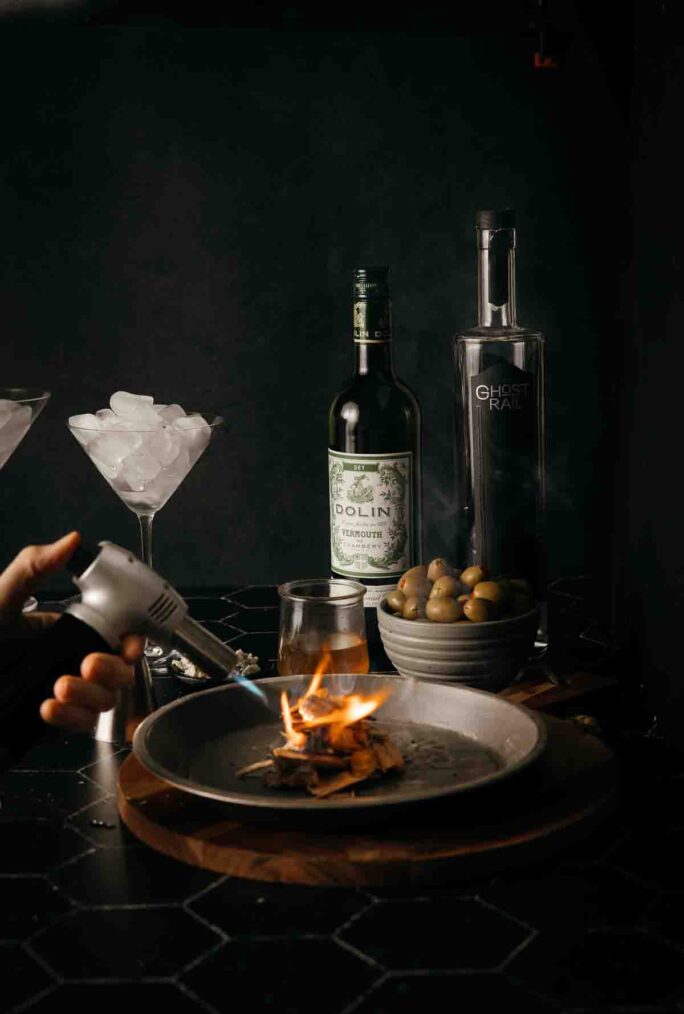 Craft Your Cocktail
In a cocktail mixing glass, combine gin, dry vermouth, and olive brine with a craft ice cube, give it a stir, then strain the mixture into the smoky martini glass.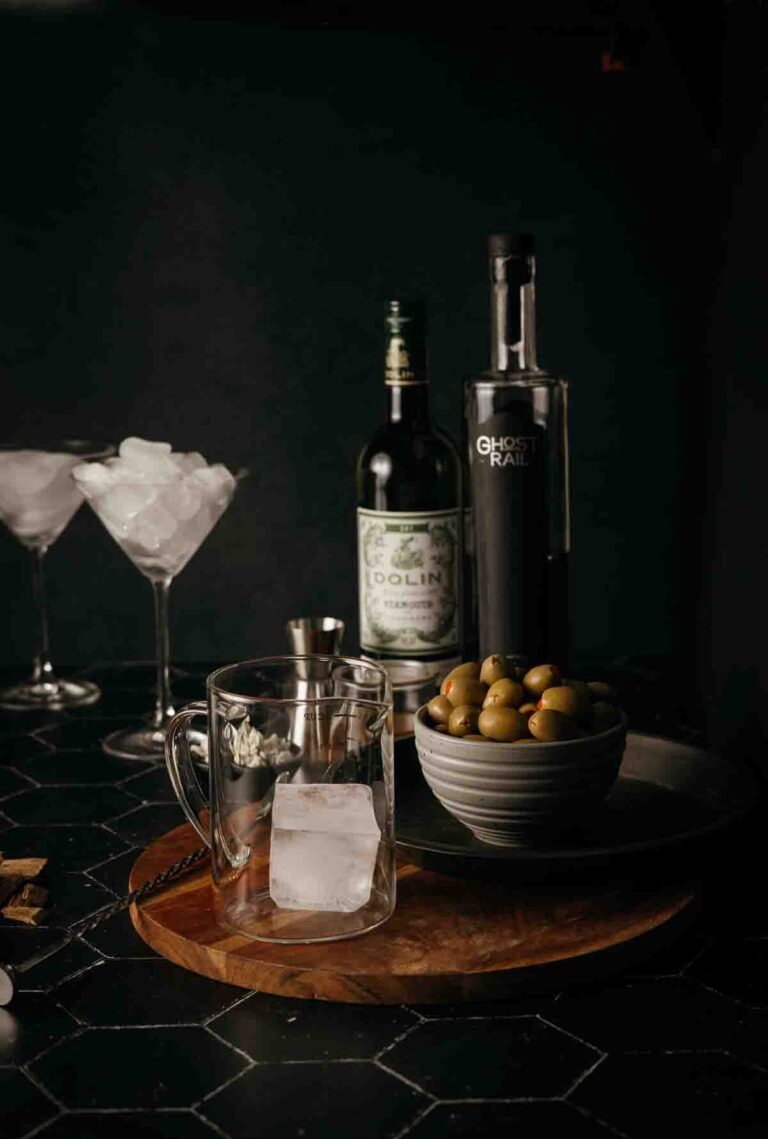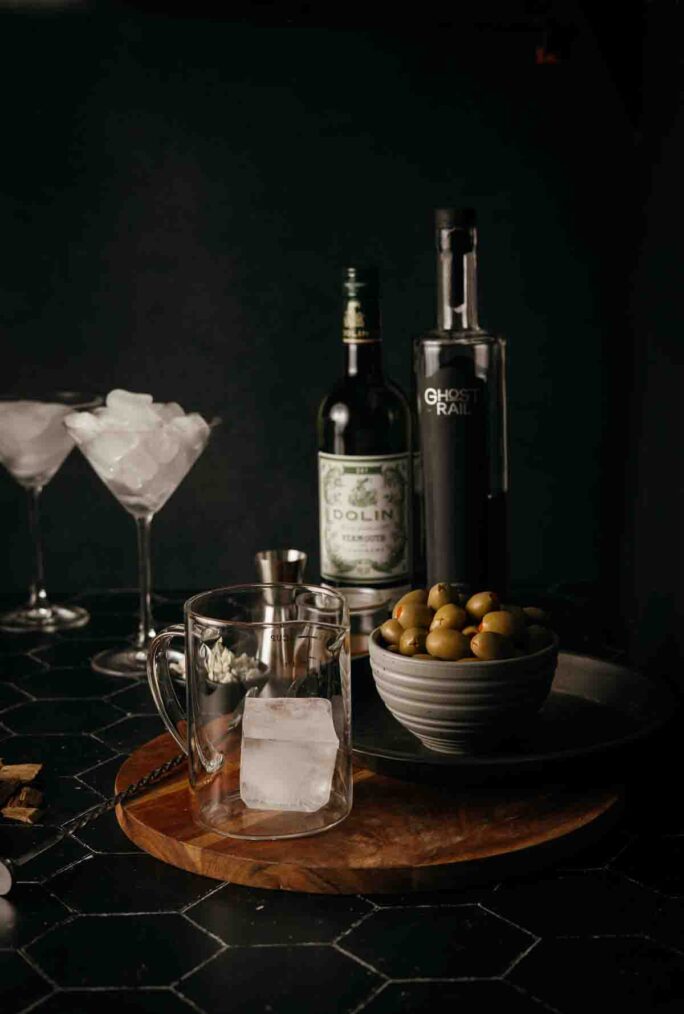 Serve
Garnish with olives, and get ready to savor the incredible smoky flavors of this enticing martini creation.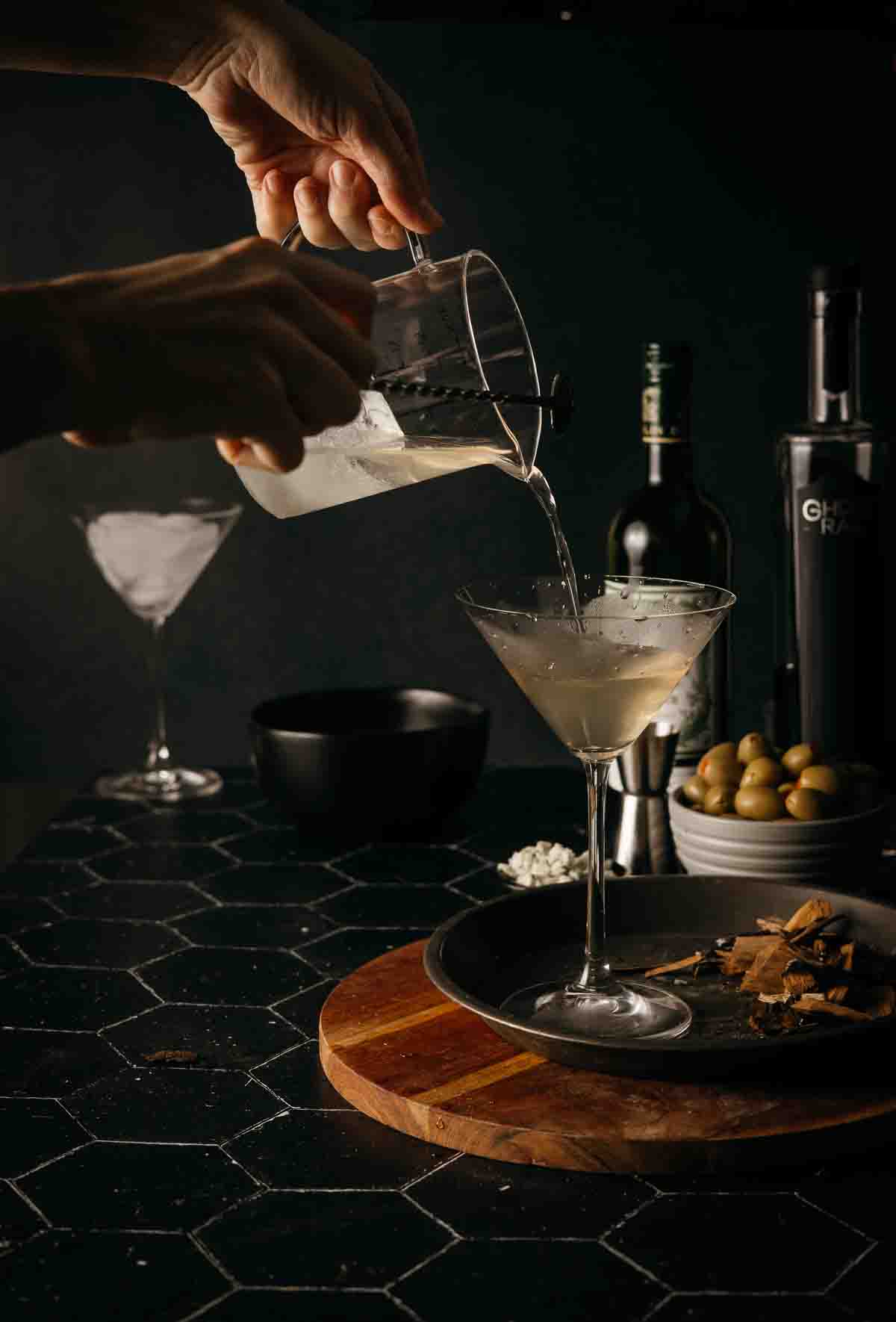 What to Serve With a Smoked Martini
You can serve your Dirty Smoked Martini as a pre-dinner drink or whip up foods that pair well with martinis, such as deviled eggs or a cheese plate! If you plan on hosting a dinner party, pair your smoked martini with mushroom gruyere pudding or salmon cakes!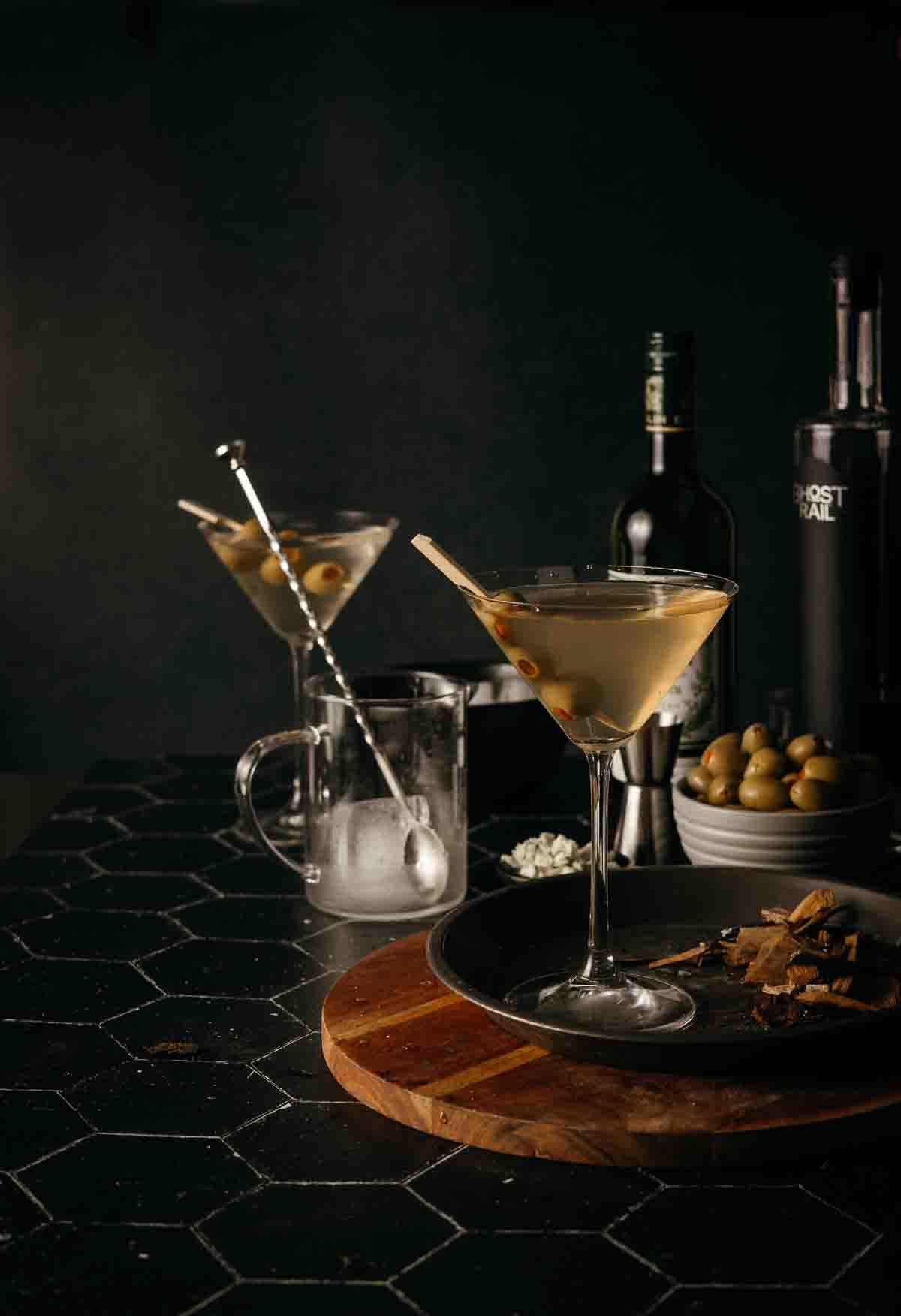 Expert Tips
Add a dash of olive bitters for even more bitter goodness.
Feeling bold, try cocktail onions.
Skip the olive and go with a twist of lemon if you prefer.
Recipe FAQs
Can I make a non-alcoholic beverage with this recipe?
The world of mocktails welcomes you. Simply replace the vodka or gin with a non-alcoholic spirit alternative, making sure it captures the essence of the original recipe. Combine it with the dry vermouth and olive brine, and infuse it with captivating smokiness.
What other cocktail garnishes can I use to make this dirty martini?
For the best dirty martini you've ever had, we suggest using pitted olives or bleu cheese olives for a savory flavor. For an interesting combination, you can use olives stuffed with pickles or pimento cheese. 
Can I make a vodka martini with this recipe?
Absolutely! We get it, some people aren't huge fans of gin, and that's okay! The great thing about this recipe is that you can customize it to your liking! So, simply swap out the gin for your favorite vodka and repeat the rest of the recipe like normal! 
What's the point of the olive brine and do I have to have it?
The olive brine adds a pungent olive taste to your cocktail but you can leave it out if you want! Just omit it and make the recipe as you normally would!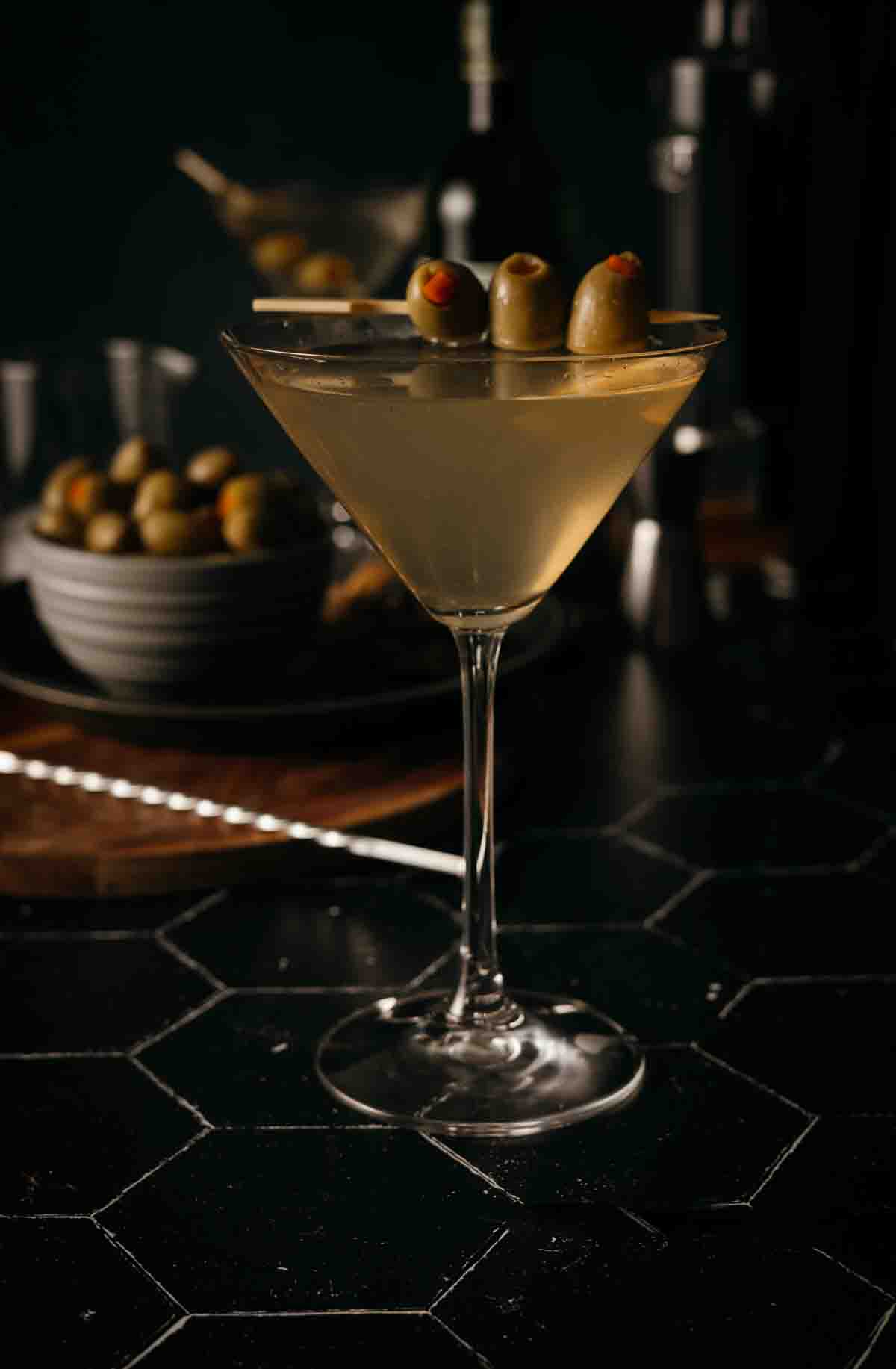 More Martini Recipes to Try
The smokey, savory notes of this Dirty Martini recipe will become your newest addiction. Whether you're sitting in your living room on a random rainy day listening to jazz music or throwing a swanky dinner party with friends, this smoked martini will brighten up any occasion! Say goodbye to boring cocktails and take your taste buds on a smoky, bitter adventure they won't forget! Also, please rate the recipe card and leave a comment below to help out the next reader!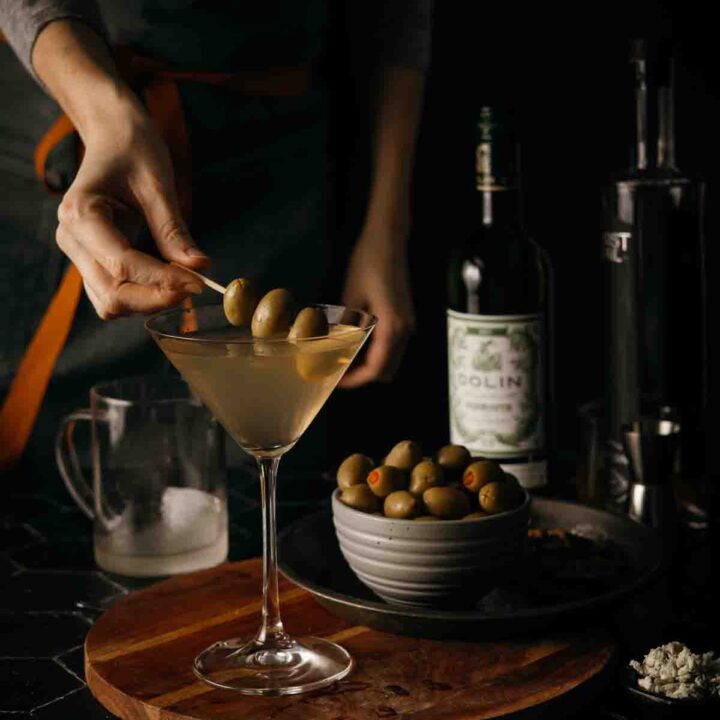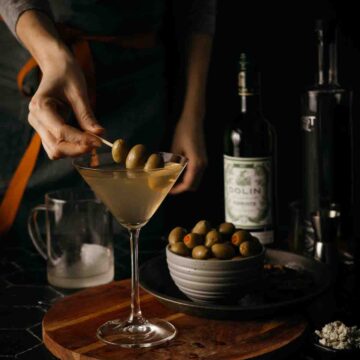 Dirty Smoked Martini Cocktail
Shake up your taste buds with a dirty smoked martini. This tantalizing cocktail combines the classic flavors of vodka, vermouth, and olive brine with a hint of smokiness, creating a drink that is bold, delicious, and perfect for any occasion. In this case, stirred, not shaken.
Print
Pin
Rate
Share by Text
Equipment
Wood chips (we use Western Wood BBQ smoking chips, oak or hickory for this recipe)

Wood plank for smoking

Torch

Cocktail picks

Glass: martini
Ingredients
For the dirty martini
2 ½

oz

Gin

1/2

oz

Dry vermouth

½

oz

Olive brine
Garnish
Olives

-

pitted olives or blue cheese olives
Instructions
Place ice in a martini glass to chill the glass.

Meanwhile, prepare your mise en place by gathering all of your ingredients.

Place the wood plank on a safe work surface or on a baking sheet.

Place a small handful of wood chips on the plank in the center.

Using a torch, light the wood chips until they are just smoking.

Quickly remove the ice from the glass, and flip it over the wood chips, trapping the smoke inside.

Let the glass sit for 30 seconds while you mix the cocktail.

Add one craft ice cube to a cocktail mixing glass.

Then add the gin, dry vermouth, and olive brine.

Stir with a cocktail stirrer to combine.

Strain into the martini glass and garnish with olive
Nutrition
Serving:
1
g
|
Calories:
175
kcal
|
Carbohydrates:
1
g
|
Protein:
0.01
g
|
Sodium:
413
mg
|
Potassium:
1
mg
|
Iron:
0.03
mg
Nutritional informations provided as a courtesy and is only an approximatation. Values will changes based on ingredients used.
⭐ Tried this recipe? Rate it ⭐
Help out the next person and give it a star rating below!