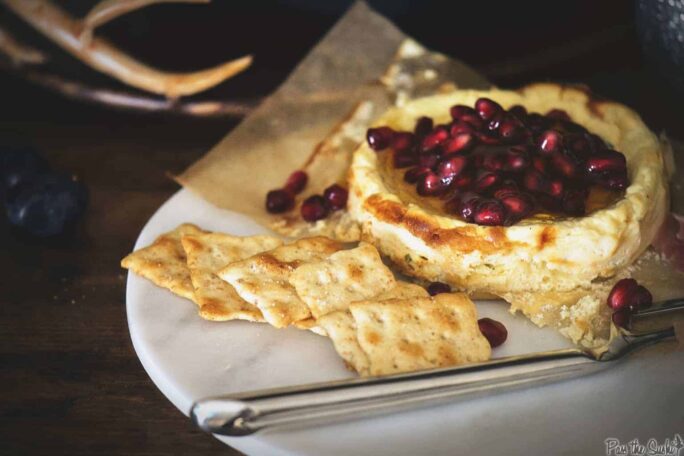 At the end of the day, when the dishes are drying and the wine bottles are empty, the house is hushed with only the soft subtle background music lingering softly and is once again empty of the buzz of the guests… That's the moment when you can sit back and digest the few quick hours that just escaped you. The reason you prepped dishes, fought for parking spots at crowded markets, made sure the bathroom was spotless, and even made your dog prance around in his adorable bandanna. This moment, those shared laughs, the smiles, the stories. Those are the reasons why we enjoy our company together.
In today's age where we are all up in one another's business all day every single day with a never ending feed of stunning picture perfect filtered images and posts, shared news, and announcements flowing like wine in ancient Greece. It's quick to get wrapped up in everything. Quick to think you know every single detail that's happening every moment in your friends lives. But like I described, social sharing is a filter. A broad sweeping filter we are sharing with the world. The laughter and memories we make in our private moments together aren't always expressed with emoticons and are sometimes not meant to be constrained to 140 characters.
Entertain and entertain often. Whether it be big or small, host friends as often as you can. It isn't about the expense or luxury. It isn't about showing who has the most viral video of the day. It's about simply enjoying some time in one another's company. We all filter for social sharing, but at the end of the day nothing eases a friends worried mind like a few hours spent with friends. Laughter really is the best drug one can take. It has amazing curing abilities that only human contact can sustain.
Bust out the fine china or the paper plates. Let's have some company over.
---
How to create the perfect cheese plate
1. Make cheese plates as big or as small as you would like.
Highlight a single cheese and pair it with a complimentary jam and meat for a small delicate bite or arrange large platters and let guests mix and match their flavor choices.
2. A little bit of variety goes a long way.
Arrange sweet and savory selections over your board to stimulate the entire palette. I like to have sweet fruit, apples, figs, or grapes, along with a selection of charcuterie. Add a few crackers or a sliced baguette, jams and an olive selection and you pretty much have it all figured out.
3. Dress up your cheese plate with contrasting serving plates.
Mix slate serving boards with marble or antique trays. I let a fun mix of textures show through for visual appeal. Add seasonal decor and flair to make your cheese plate extra special. 
4. Have the cheese plate out before guests arrive.
Let them nibble before the main course. Or, beef up your cheese plate, and have several around with themed varieties on each try if you just want to serve light fair all night long.
5. Don't over think it.
Your friends aren't hear for your fancy cheeseboards, they are hear to enjoy your company.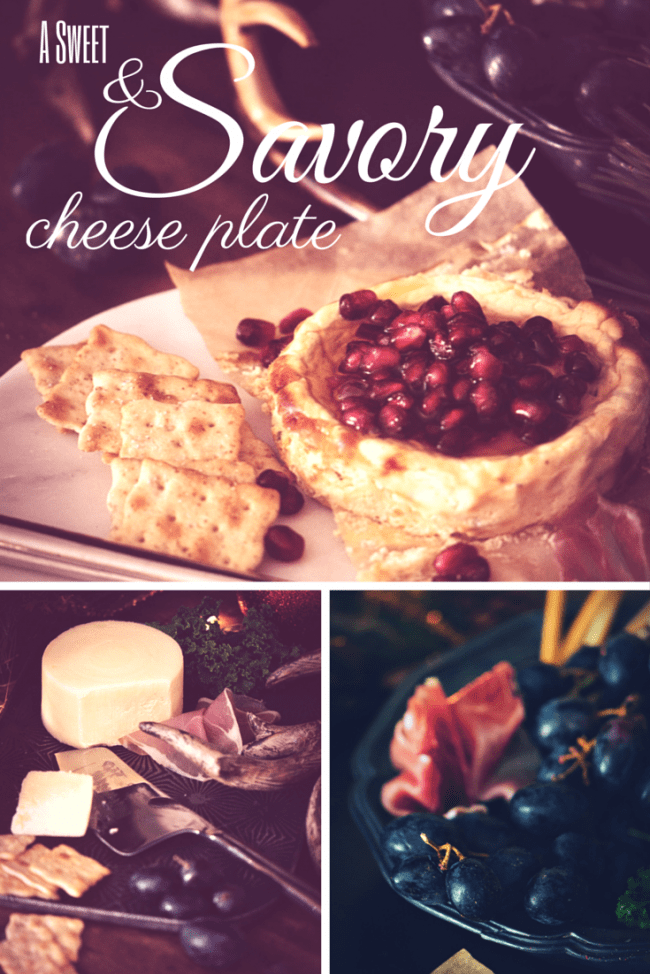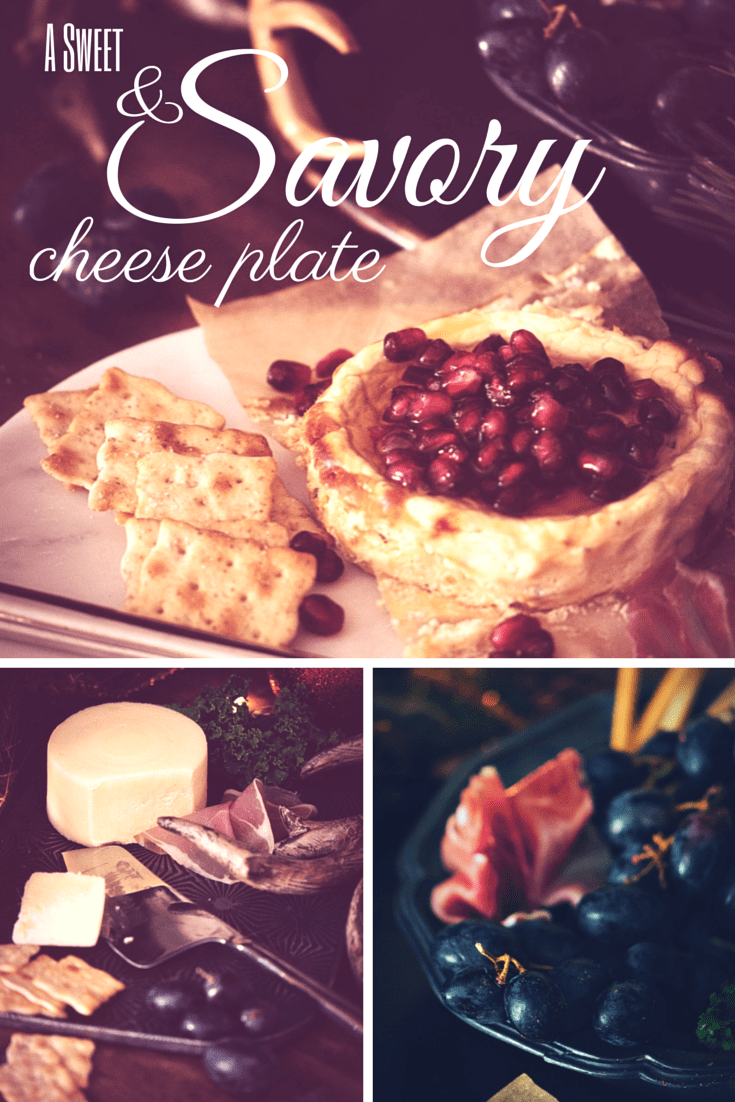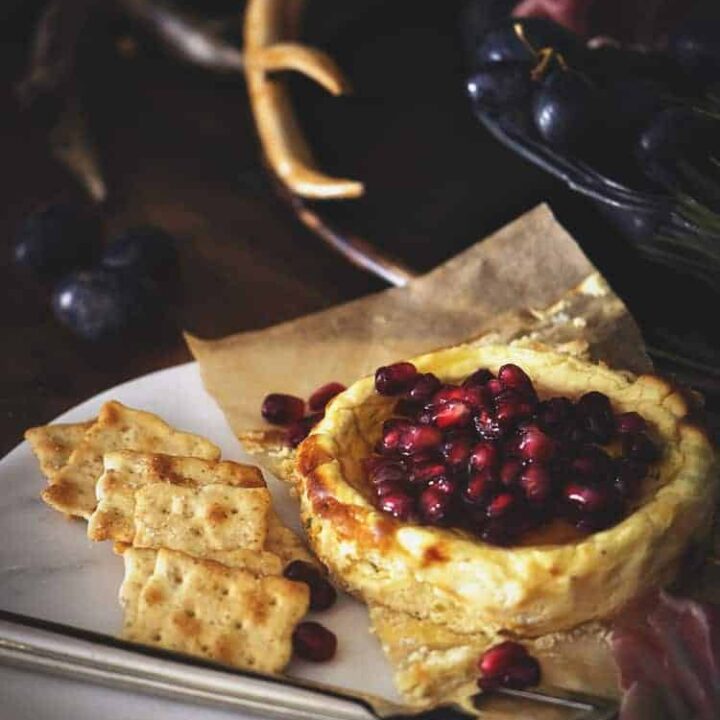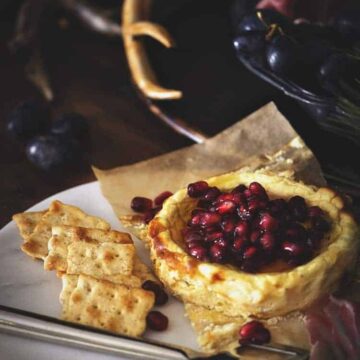 Ingredients
4

oz

cream cheese

-

softened

1/2

cup

ricotta

2

oz

Dubliner Irish Stout Cheese

1

teas fresh rosemary

-

chopped fine

1

tbs

honey

-

plus more for drizzling

1/8

teas freshly ground black pepper

1/3

cup

pomegranate seeds
Instructions
Preheat the oven to 350 degrees F. Line 2 4" springform pans with parchment paper.

Mix the cream cheese and ricotta in the bowl of your stand mixer until smooth. Scrape down the sides. Add the Dubliner, rosemary, honey and pepper. Mix again 30 seconds to combine.

Divide evenly into the prepared pans and bake for 25 to 30 minutes, until set.

Serve with pomegranate seeds on top drizzled with extra honey and crackers or thinly sliced baguette.
Nutritional informations provided as a courtesy and is only an approximatation. Values will changes based on ingredients used.
⭐ Tried this recipe? Rate it ⭐
Help out the next person and give it a star rating below!