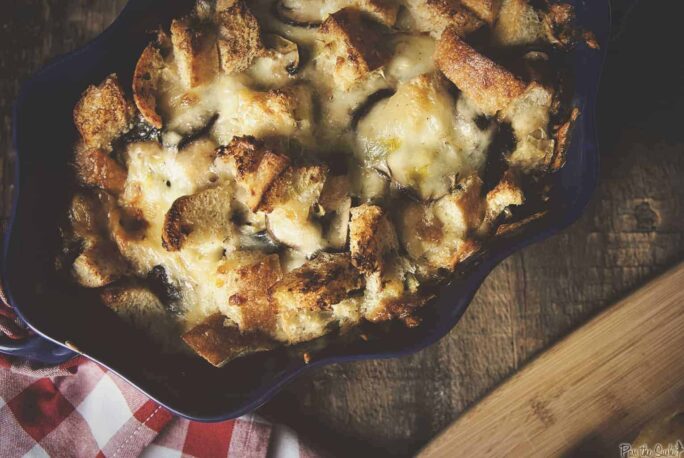 The other day a video started to fly around the internet of Martha Stewart rather harhsly talking about 'bloggers'. Before I go any further, I should mention that I've never been a fan of Martha's. I know that shes an amazing business woman and that is awesome, but other than that, I've just never really found her warm or comforting and often thought her tone was belittling. Let's just say this video does nothing to help my shining opinion of the woman. I should really do some quick internet research (hello, 2 seconds on Google) and see more about the video and perhaps watch the longer clip - just in case her expressed opinion is somehow being manipulated. (Doubtful).
So yeah, Mrs King of Homemaking Hill goes on to talk of bloggers in a disgusted tone saying they are not experts or classically trained. We don't test our recipes, we lick spoons, and have Boogie Fever.  Exact quote, I swear. Here's the thing. Most of us aren't experts, but I don't recall ever proclaiming to be either. But really, neither was your mom (and given her background in history and learning to cook from her mom, neither was Martha), and that doesn't mean she didn't have magical powers to kiss a wound better or make killer chicken soup when you had a fever. And not being classically trained made her - and us, the 'bloggers' - no less worthy of cooking a great meal.
I'm not writing this because it's an easy topic right now, but rather because for I stewed over it for a day. I realized if I ever became rich enough to be in the same room as her, I'd tell her to go shove it (ever classy, right?). I don't like hearing anyone speak about people in a demeaning tone, but to degrade a rather broad spectrum of rather talented people who share their recipes, time, photography, (and trust me, if this tasted like poo, I wouldn't post it) tested recipes, and personalities with you. I never plan on taking over the fluffy pillow empire, don't care to make tablescapes, and truly only do this as a hobby. But don't lump me in to some group of people who you don't understand, or respect, and seem to loathe - given that these dirty little bloggers work for your PR network, promote your books, test your recipes and at the end of the day put money in your deep deep pockets, there Mrs. Martha. Tenacious businesswoman she may be, she really seems to have miss tact lessons during etiquette lessons.
On that note - it doesn't take classical training or a degree is astrophysics to make a damn good chicken dinner. This roasted chicken and gravy recipe is hanging out over at the meater side, Girl Carnivore and this savory bread pudding is a neat take on 'stuffing' to serve if you are looking to throw some new recipes on the table this holiday season.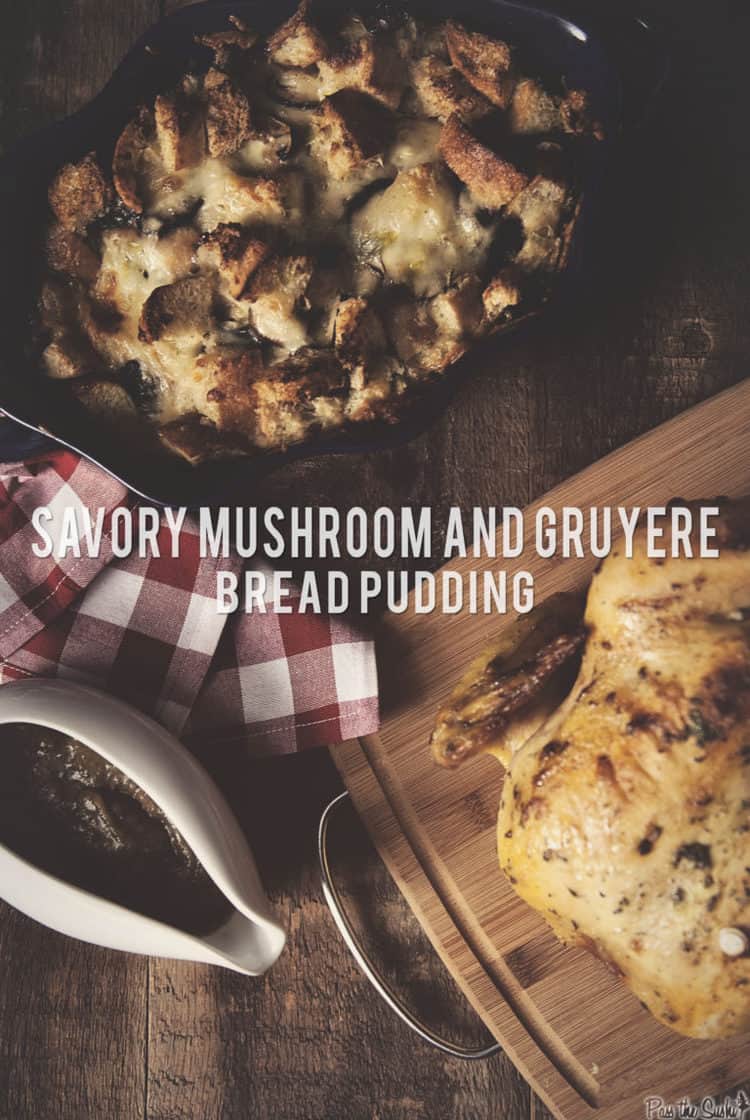 📖 Recipe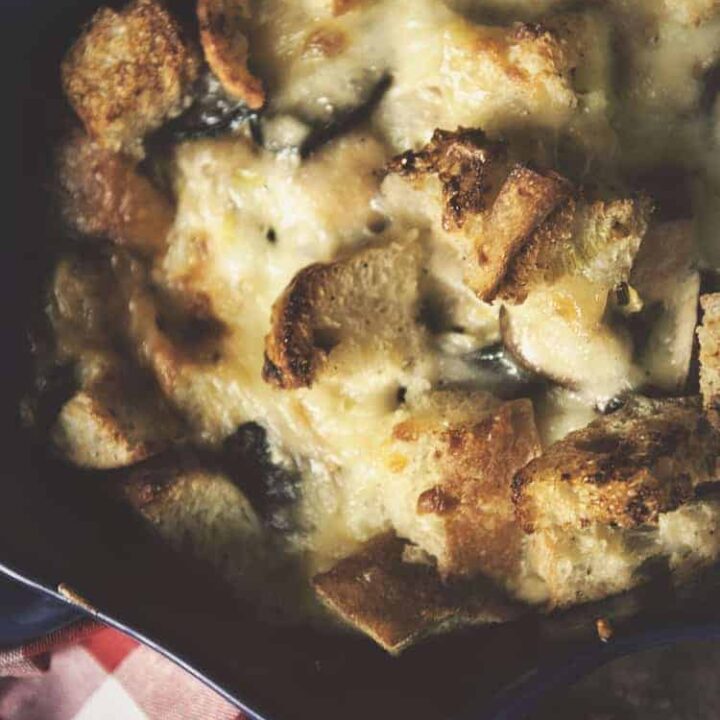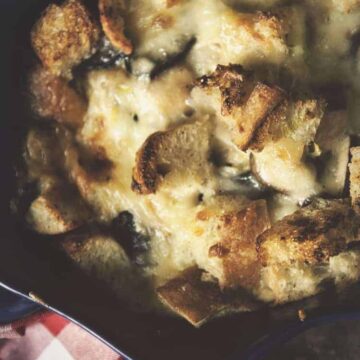 Ingredients
2

tbs

olive oil

4

leeks

-

white and light green part only, rinsed and sliced

10

oz

cremini mushrooms

-

cleaned and sliced

salt and pepper

3

large eggs

2

cups

half and half

1

half loaf of hearty country bread

-

sliced into 1? cubes (about 5 cups)

4

oz

Gruyere cheese

-

shredded

2

tbs

fresh chives

-

or whatever other savory herb you have on hand
Instructions
Preheat oven to 350 degrees F. Spray a 2 quart baking dish with non-stick cooking spray.

In a large skillet over medium heat, heat the oil until shining. Add the leeks and cook 3 to 4 minutes, until softened. Add the mushrooms, season with salt and pepper, and cook 4 minutes longer. Remove from heat and let cool for 5 minutes.

Meanwhile, whisk the eggs in a large bowl. Add the half and half and the cheese, stir to combine. '

Toss the bread and veggies together. Carefully combine the bread with the half and half mixture to coat everything. Pour into the prepared baking dish. Cover with aluminum foil and bake for 30 minutes, until center is just set. Remove foil and bake 25-30 minutes longer until the top is nice and browned. Sprinkle with fresh herbs.
Notes
Real Simple Magazine Oct 2013
Nutritional informations provided as a courtesy and is only an approximatation. Values will changes based on ingredients used.
⭐ Tried this recipe? Rate it ⭐
Help out the next person and give it a star rating below!