It's amazing what you can remember about food. The world goes whizzing by us at such a ridiculous speed that I can't keep up. And, I'm no Super Woman juggling a job and three kids like a lot of you are. I'm just trying to hold my own. I don't know where yesterday went. But I can remember exactly the first time my father made cream puffs. I can remember the smell of the choux paste baking into perfect little balls in the oven filling the house and how excited I was to pop an over stuffed cream filled bite in my mouth. Smell and taste can really bring you right back and ground you in those moments that mean something.
The other day I cracked open a new magazine to discover their Nutella version. These bakery case balls of perfection always seem so far out of my league, but I'm here to tell you they aren't. Really, they came together in a snap and I was shocked how easy they were (I even peeked in the oven once or twice – which I never do! – to make sure they hadn't exploded, goblins weren't having a food fight, something). The Nutella filling was even a hit with Handsome who ended up finishing it off with a spoon and robbing the last two little pastries of their creamy centers.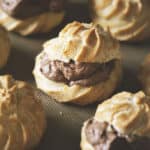 Nutella Cream Puffs
If you think you can't make perfect bakery style airy cream puffs, you are wrong. This recipe really is no fail – and delicious. Roll up your sleeves and give it a go.
Ingredients
1

cup

water

1/2

cup

butter

1/4

teas salt

1

cup

flour

4

eggs

1 1/2

cup

heavy cream

3/4

cup

Nutella or other hazelnut chocolate spread
Instructions
Line a baking sheet with parchment paper or silpat. Preheat the oven to 400 degrees F.

Combine the water, butter, and salt in a saucepan and bring to a boil. Add the flour quickly and whisk to combine. Stir until the mixture forms a ball and holds itself together. Remove from heat and let cool 10 minutes. Add the eggs, one at a time, mixing with a wooden spoon well after each addition.

Using a pastry bag fitted with a large tip, or an old fashioned spoon, dollop the flour mixture into 12 portions onto the preparing baking sheet, leaving 2? between each each. Bake for 30 to 35 minutes until golden. Place on a wire rack to cool completely.

Meanwhile, in the bowl of your stand mixer, fitted with the whisk attachment, whisk the cream at medium to medium high speed until soft peaks form. Add the nutella and mix to combine. Scrape down the sides as needed.

Gently cut the tops off the cream puffs and fill with nutella cream.
Recipe Notes
BHG Special Interest Magazine Fall Baking