Peanut butter granola bars with chocolate hazelnut spread, salty peanuts, coconut, and dried fruit. What more could you want in a snack?
Am I the only one who has a sticky note collection of recipes I have got to try piling up on my desktop, a mile long favorites folder and a binder just for the recipes I've torn from the glossy pages of magazines? Probably not – but I have been promising Briarrose, from Flour Dusted that I would try these Nutella peanut butter granola bars for over a month. Way not cool.
Excuses? It was December, there was a ton to do, I've been sick, it snowed? Do any of these redeem my laziness?
I guess in the long run it doesn't matter because I have finally made these granola bars and they were so worth the wait! These things are delicious and so quick and simple to make. It's a great recipe I really recommend everyone try it.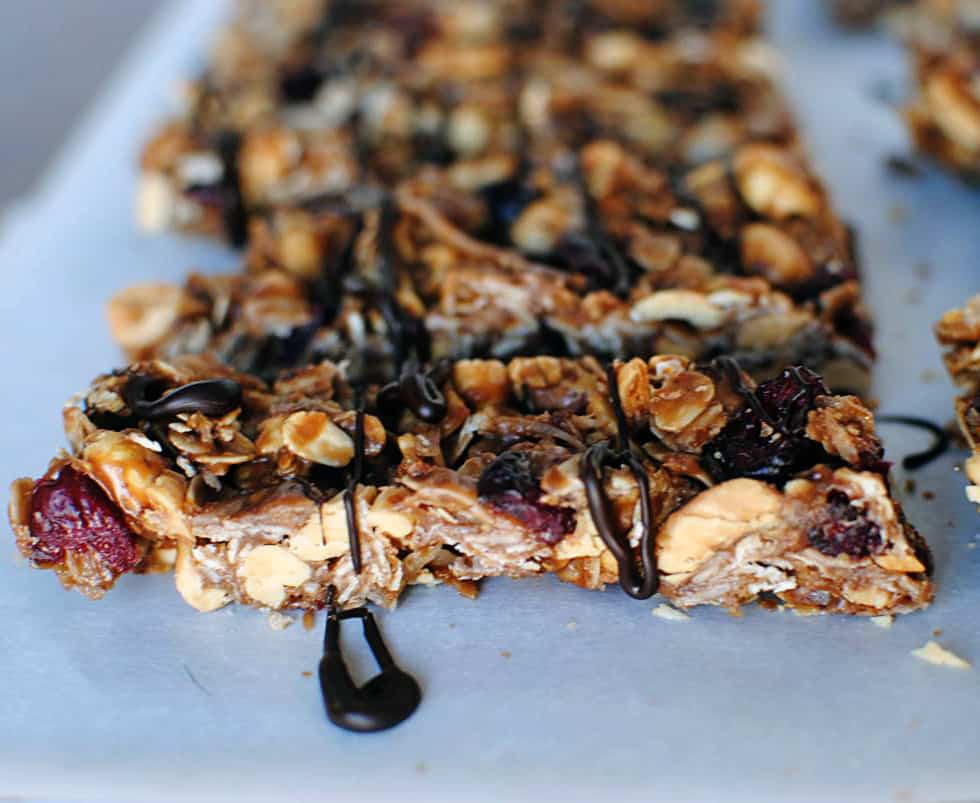 Nutella Peanut Butter Granola Bars
Adapted from Flour Dusted
Ingredients:
2 1/3 cups old fashioned oats
1 cup unsalted dry roasted peanuts
3/4 cup wheat germ
3/4 cup unsalted sunflower seeds
2 tbls tub margarine
1/2 cup raw honey
1/4 cup brown sugar
1/3 cup natural creamy peanut butter
1/3 cup Nutella
1/2 cup coconut flakes
1/3 cup dried cranberries or raisins
Preparation:
Preheat the oven to 400 degrees F. Line a baking sheet with parchment or aluminium foil. With the bottom of a jar, crush the peanuts.
Spread the peanuts, oats, wheat germ, and sunflower seeds in a single layer over the parchment and bake for 10 minutes, mixing once half way through. Pour the mixture in a bowl to cool and set aside.
In a small saucepan, combine the honey, margarine, and brown sugar. Cook, stirring constantly over medium heat until it begins to bubble. Cook for another 4 minutes. Remove from heat and immediately add the Nutella and peanut butter. Toss with the oat mixture until evenly combined.
Pour into a greased 9 x 13 baking dish. Press down firmly to make everything stick together. Let cool completely. Cut into even rectangles to serve.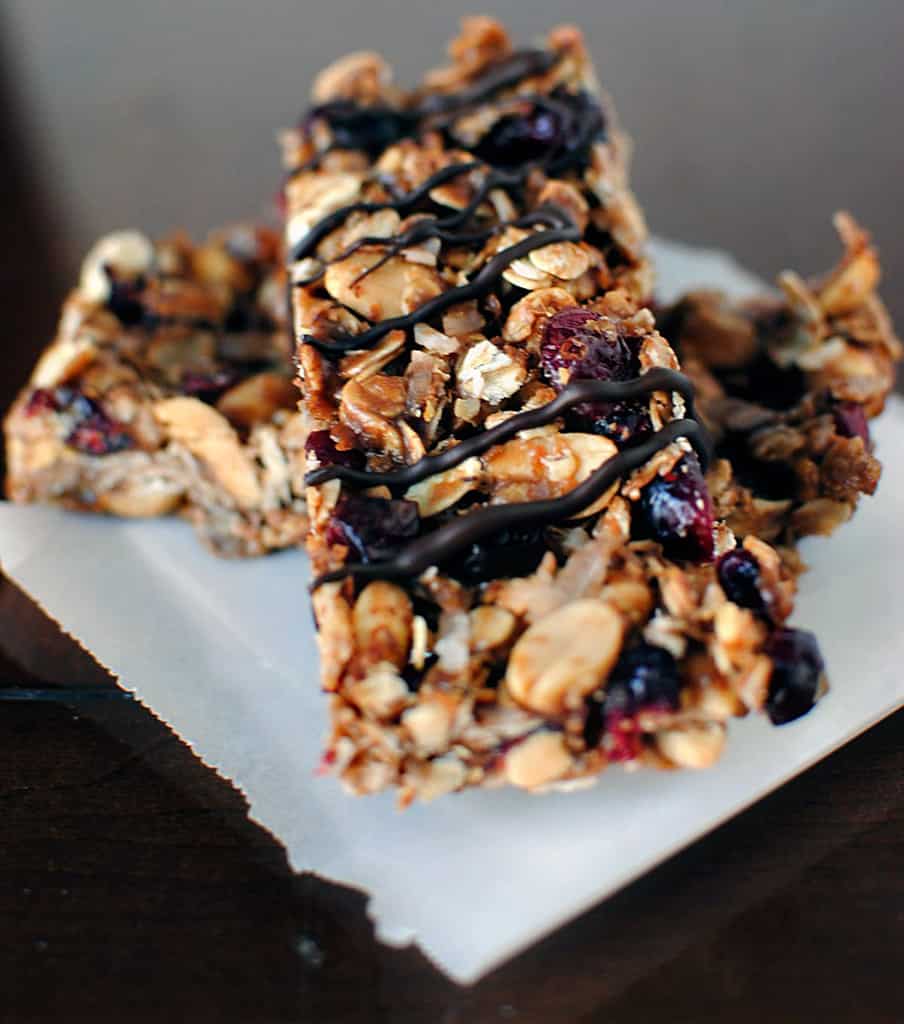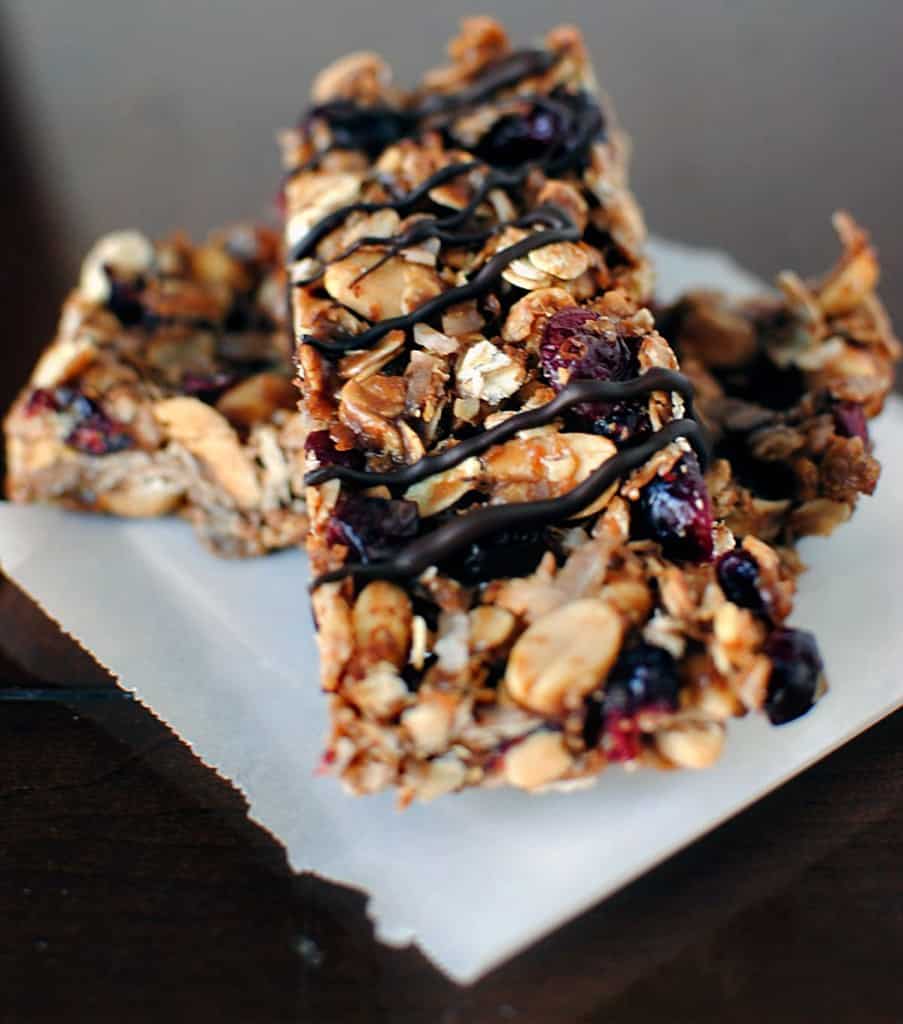 Whats extra special about this Nutella peanut butter granola bars recipe is the versatility.
Don't like sunflower seeds? Throw something else in. Fresh out of raisins? Use dried apples or cranberries. I love recipes that can be customized, especially when the results are as tasty as these peanut butter granola bars were. 😀