Deviled eggs make every appetizer platter tastier. But should they be made with mayonnaise or Miracle Whip? It's debatable, yet the Miracle Whip vs mayo debate doesn't have to tear down relationships.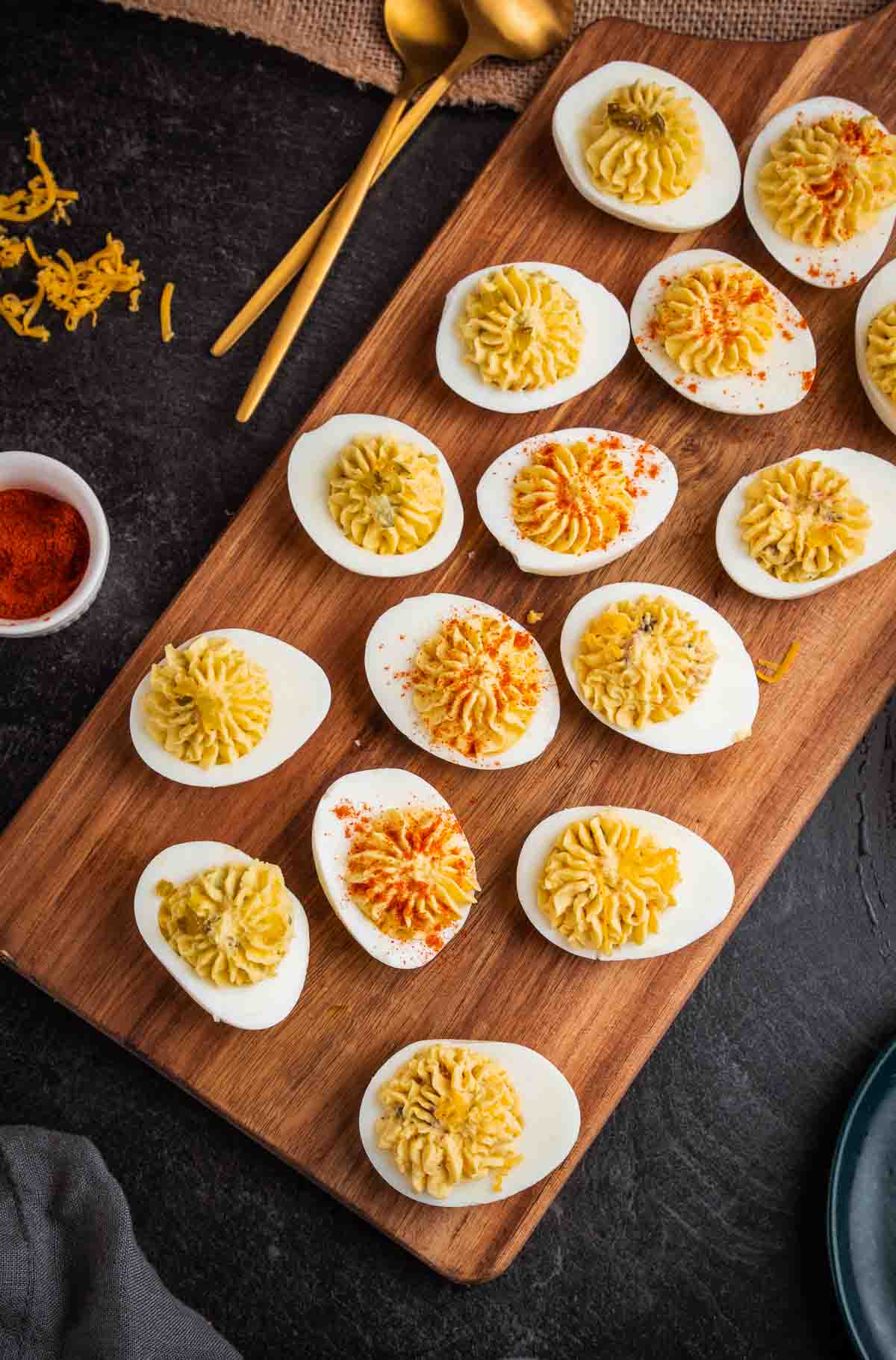 Jump to:
This recipe calls for a simple and easy way to make the scrumptious deviled eggs and the tale-old discussion of whether to use mayo or miracle whip when making this.
If you're tired of eating the same old boiled eggs every morning, here's a fun little twist to do with your eggs. Although deviled eggs are very straightforward, you still shouldn't expect a less-than-delicious and pleasurable dish that will fill up your tummy. This delicious combination of fat and emulsion of egg yolks makes up the essential components of award-winning deviled eggs. So which is the better option? Keep reading to see.
Perfect for holidays, potlucks, Easter, parties, or any kind of event!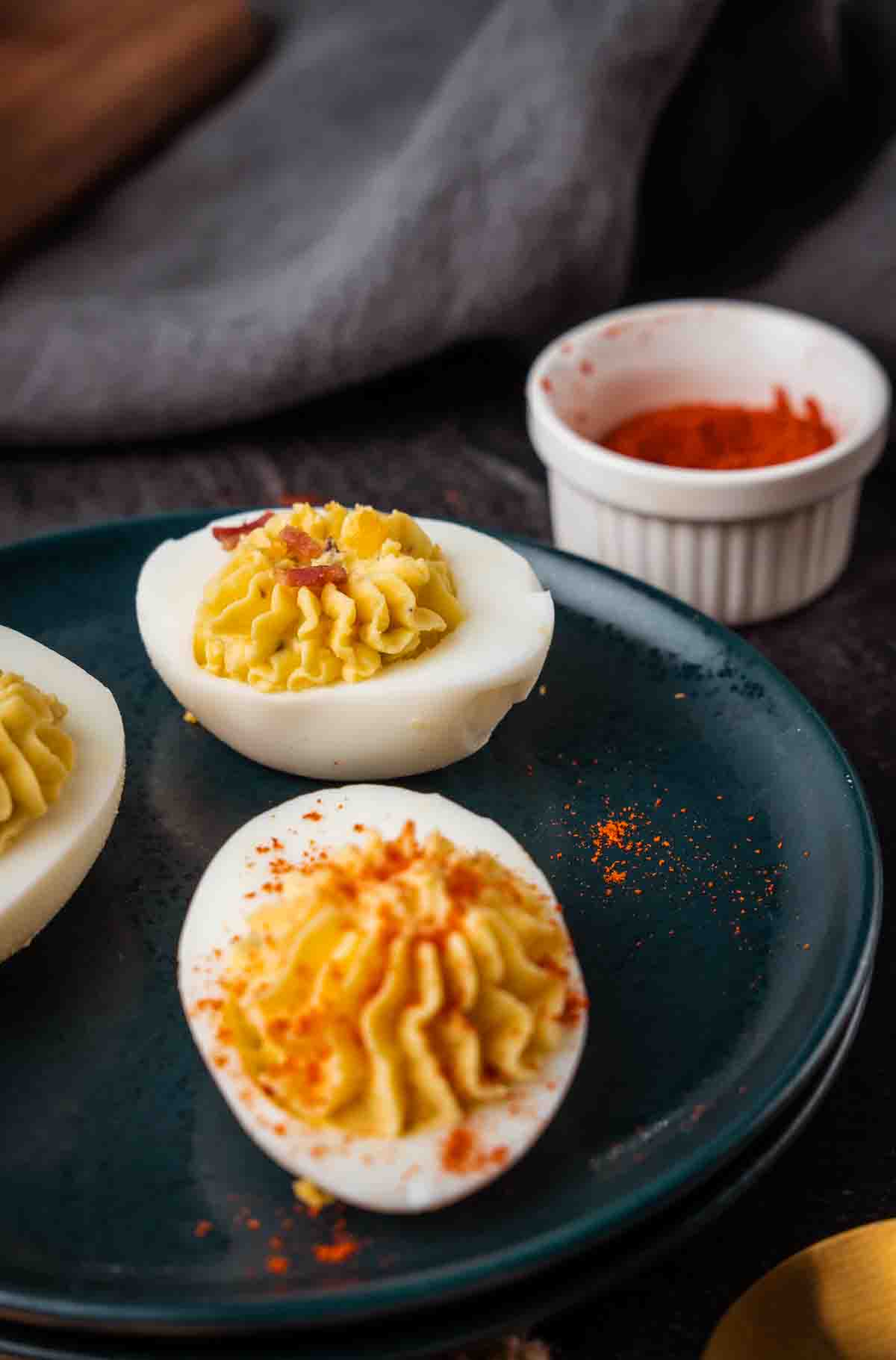 What are Deviled Eggs?
Never indulged in delicious deviled eggs? You're missing out. Deviled eggs are hard-boiled eggs that have been shelled and cut in half. They are then filled with a creamy paste made from pale yellow egg yolks and Miracle Whip or mayonnaise and some mustard. They are best enjoyed as an appetizer or side dish at parties. Some people top them with paprika, chopped chives, and other seasonings to add more flavor.
Why You'll Love This Recipe
This simple recipe is made with basic ingredients already in your kitchen. It uses hard-boiled eggs, salt, pepper, Dijon mustard, and the secret mayo or miracle whip of choice! The rich, creamy Miracle Whip or mayo base provides delicious flavor without breaking the bank. It uses the most versatile condiment out there. Deviled eggs are a number one choice for snacks or side dishes simply because they are easy to make, delicious, and a crowd-pleaser.
For the sake of this recipe, we are choosing to use Miracle Whip over mayonnaise. You're welcome, miracle whip fans. It honestly just boils down to taste preferences and what you have on hand in the fridge or pantry. If you prefer using real mayonnaise, go for it! The recipe won't change that much.
Just like with tuna salad or chicken salad, the base won't make a huge difference. Traditional mayonnaise, compared to Miracle Whip, won't confuse the tastebuds with a distinct taste too much. So which is the better choice? It's up to you.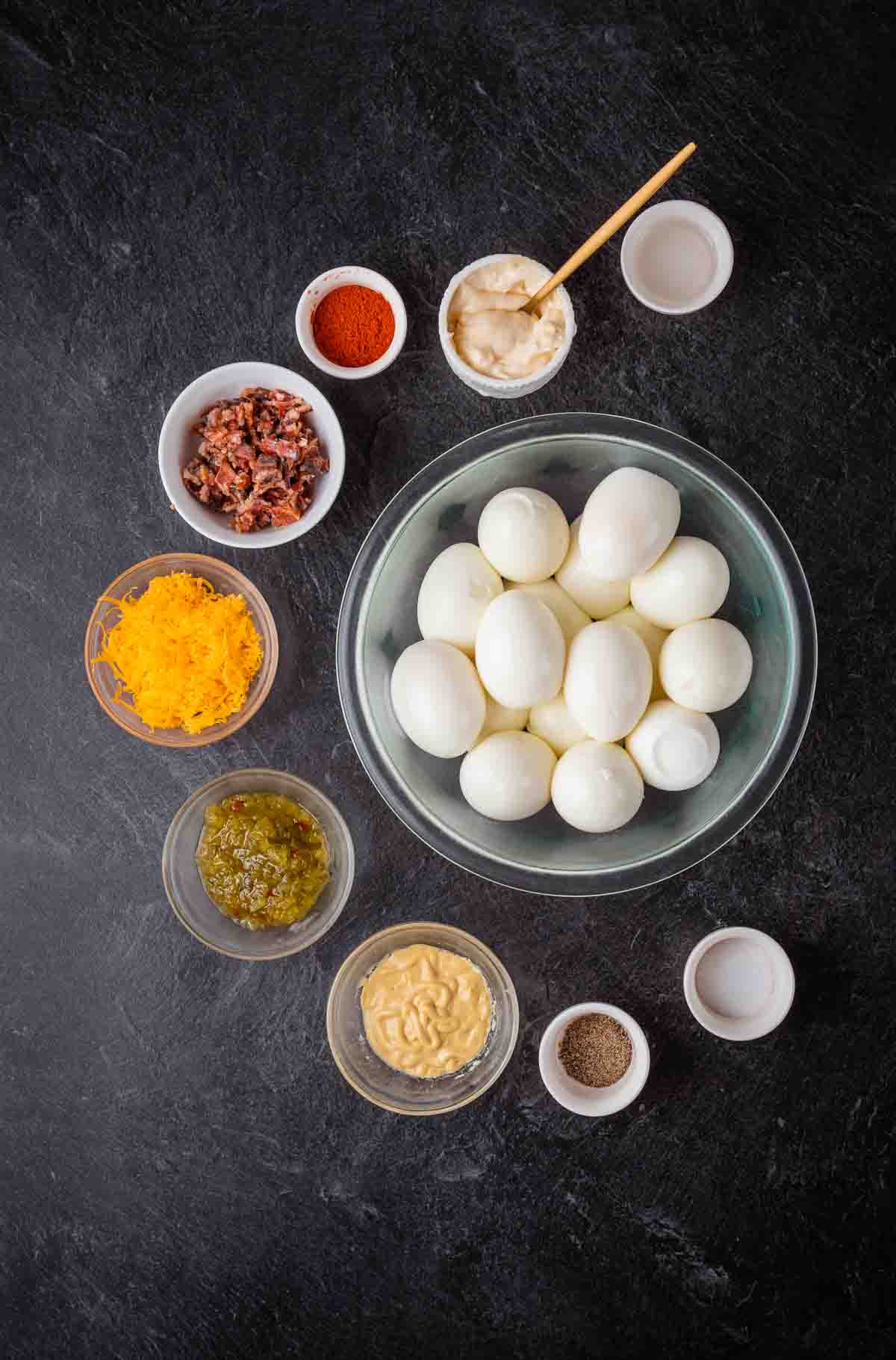 Ingredients for Deviled Eggs
For the Filling
Egg yolks from hard-boiled eggs – we always boil 3 to 4 more eggs than we want to serve for extra filling
Miracle Whip – use store-bought or homemade miracle whip
Vinegar – distilled white vinegar is perfect for this
Dijon mustard
Salt and pepper – we always use kosher salt when cooking
For Assembly
Hard-boiled egg whites
Paprika
How to Cook Deviled Eggs
Begin by preparing your hard-boiled eggs however you deem necessary. See the FAQs below for one of the best ways.
Combine all of the filling ingredients in a small bowl and mix until they are creamy and smooth.
Pipe the mixture into the egg white halves.
Garnish with paprika and any other desired seasonings.
If you have one, serve it in a deviled egg dish. Store in the fridge until it is time to serve. You don't want these sitting at room temperature for long.
Expert Recipe Tips
Boil a few extra
It's always a smart move to boil a few extra eggs than you want to serve, just in case. Many deviled egg lovers enjoy their eggs overflowing with filling. To achieve this, you need a few extra egg yolks to make more filling.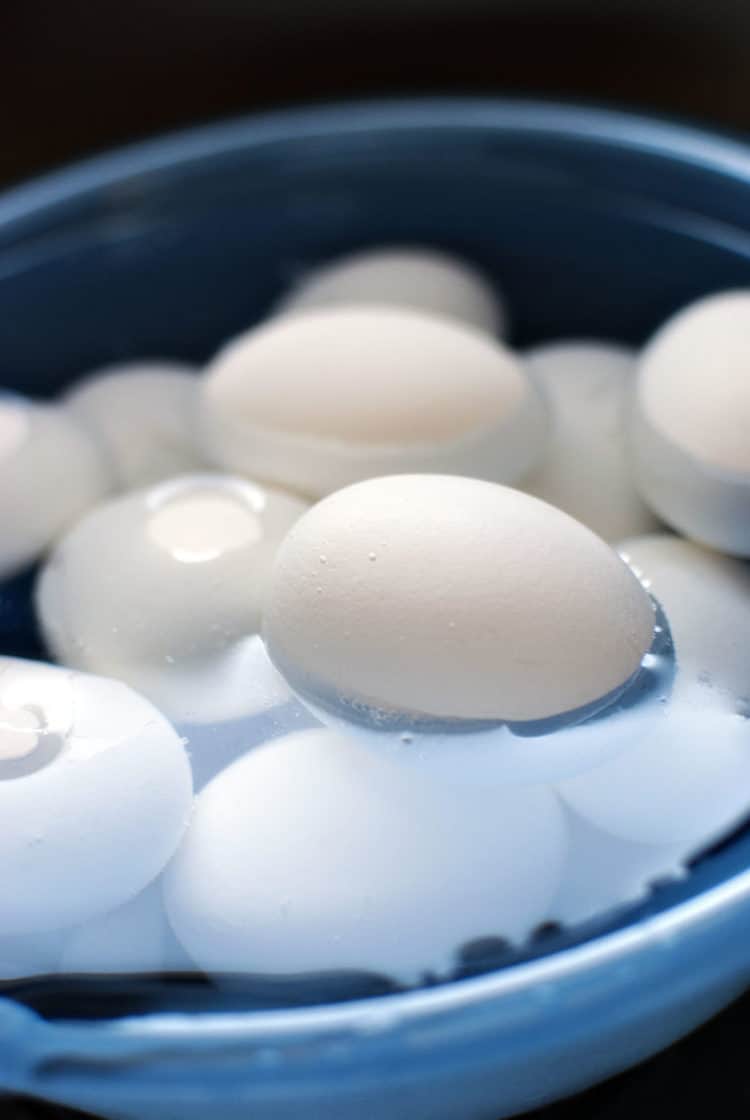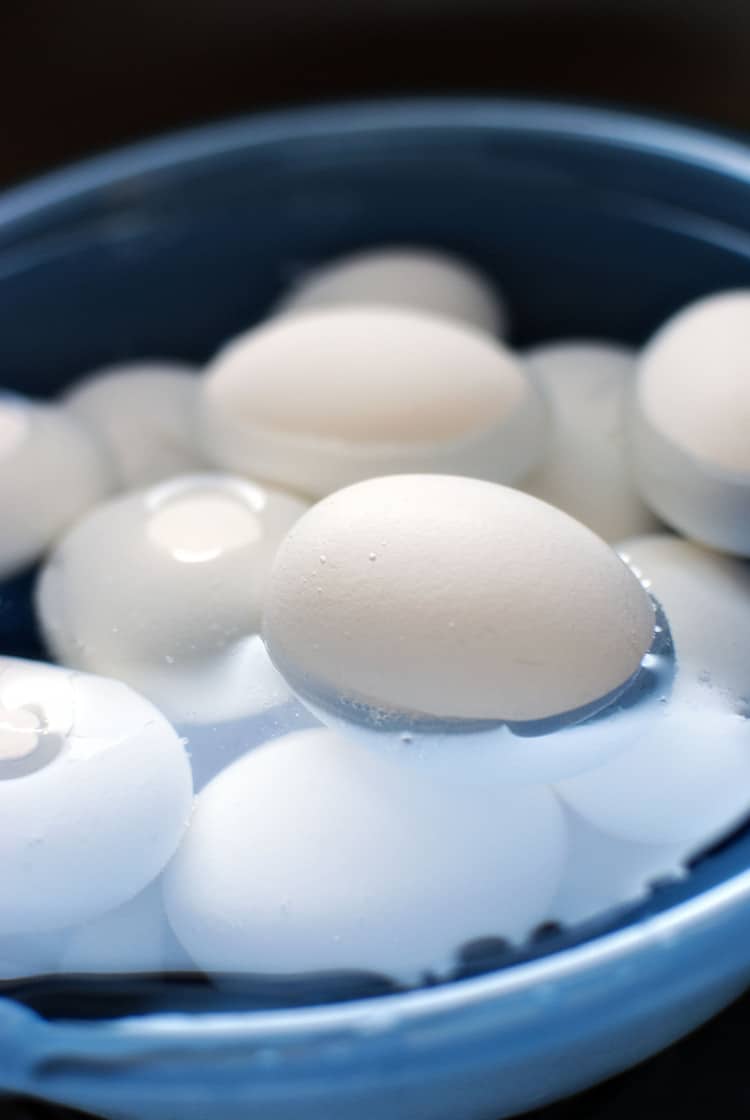 How to Store Leftovers & Reheat
If your guests don't inhale the deviled eggs at the get-together, don't fret. You can easily store them in a single layer in an airtight container. An egg carrier may come in handy here. Place them in the fridge for storage. They will keep for about 4 days before you need to toss them. No need to heat them up, serve them cold or grab them as a snack the next day.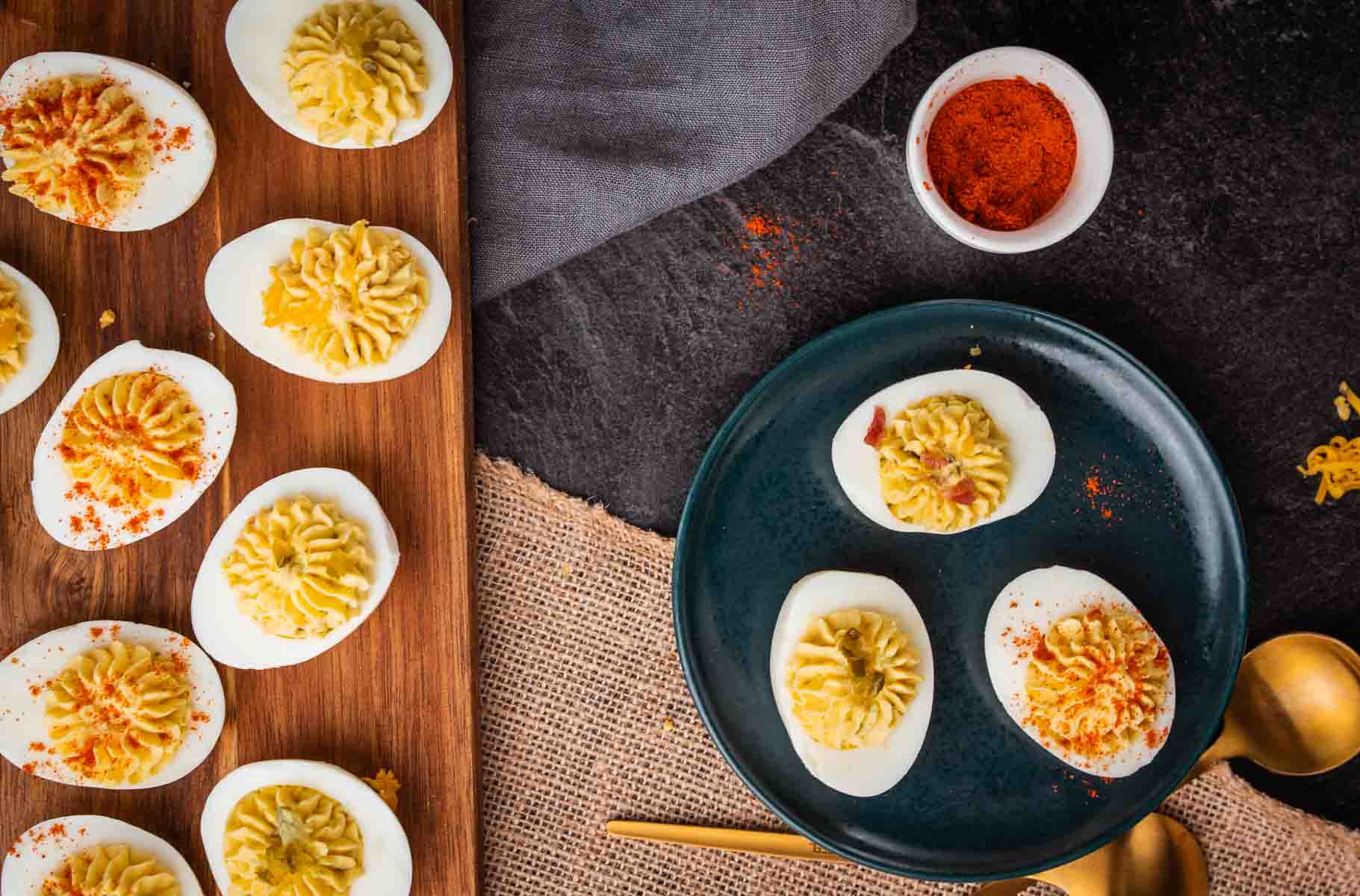 What to Serve with Deviled Eggs
Deviled eggs are often served as an appetizer or side dish. They are the perfect side for dishes like 321 ribs, grilled bison burgers, smoked chicken legs, turkey burgers, potato salad, and creamy carrots.
Other amazing sides that also use mayonnaise or Miracle Whip include pasta salad, tuna salad, macaroni salad, broccoli salad, and chicken salad sandwiches.
If you serve them in the summertime, try pairing them with watermelon avocado salad or spinach artichoke beer cheese dip.
Recipe FAQs
How to Boil Eggs for Deviled Eggs
There is also much debate over how to boil an egg for the perfect yolk, and the best method is as follows:
Place eggs in a large pot of boiling water
Bring the water to a boil
Immediately turn off the water
Cover and let the eggs sit for 12 minutes.
Drain and immediately place the eggs in an ice bath.
How long to boil eggs for deviled eggs
If you want to achieve that perfect hard-boiled egg for your deviled eggs recipe, the biggest tip is to boil the eggs ahead of time. For the BEST deviled eggs, make sure that you're not overboiling and ending up with a green tinge around the egg yolk.
The perfect cooking time is 12 minutes, and using older eggs is easier because they're easier to peel than fresh ones!
Mayo or Miracle Whip for deviled eggs?
Many homes are divided on this topic. It can rip a hole into the solid foundation of generations of blood and love, but it doesn't have to. The bottom line is that you can use either Miracle Whip or mayo for deviled eggs. Both will do the same thing – make the yolk filling creamy. However, both produce different outcomes.
Miracle whip has a build-it zing to it. It's listed as a mayo dressing mix right on the label, and a quick taste test will note the spice and garlic. It's not a huge thing, but it does produce a different flavor.
Mayo, on the other hand, is more of a base. Allowing you to add your signature blend of spices to the yolk filling. That's the real difference when you break it down.
Honestly, use whatever you have on hand, and then change things up next time. As long as the yolk has a good ratio of flavors and isn't too firm or too runny, your deviled eggs will be perfect! You'll get a similar creamy texture with both.
Is mayonnaise or Miracle Whip healthier?
The miracle whip is generally lower in fat and has fewer calories, while mayonnaise is less highly refined. If you choose to use mayonnaise, use mayonnaise brands that use healthy oils like olive oil or avocado oil. Soybean oil, canola oil, and corn oil are less healthy options. Homemade mayonnaise is also a great option if you are searching for a healthy sandwich spread.
Another alternative is greek yogurt because it has a lower fat content and mimics the results of many brands of mayo. Whichever healthier brand you go with, choose the one that works for you.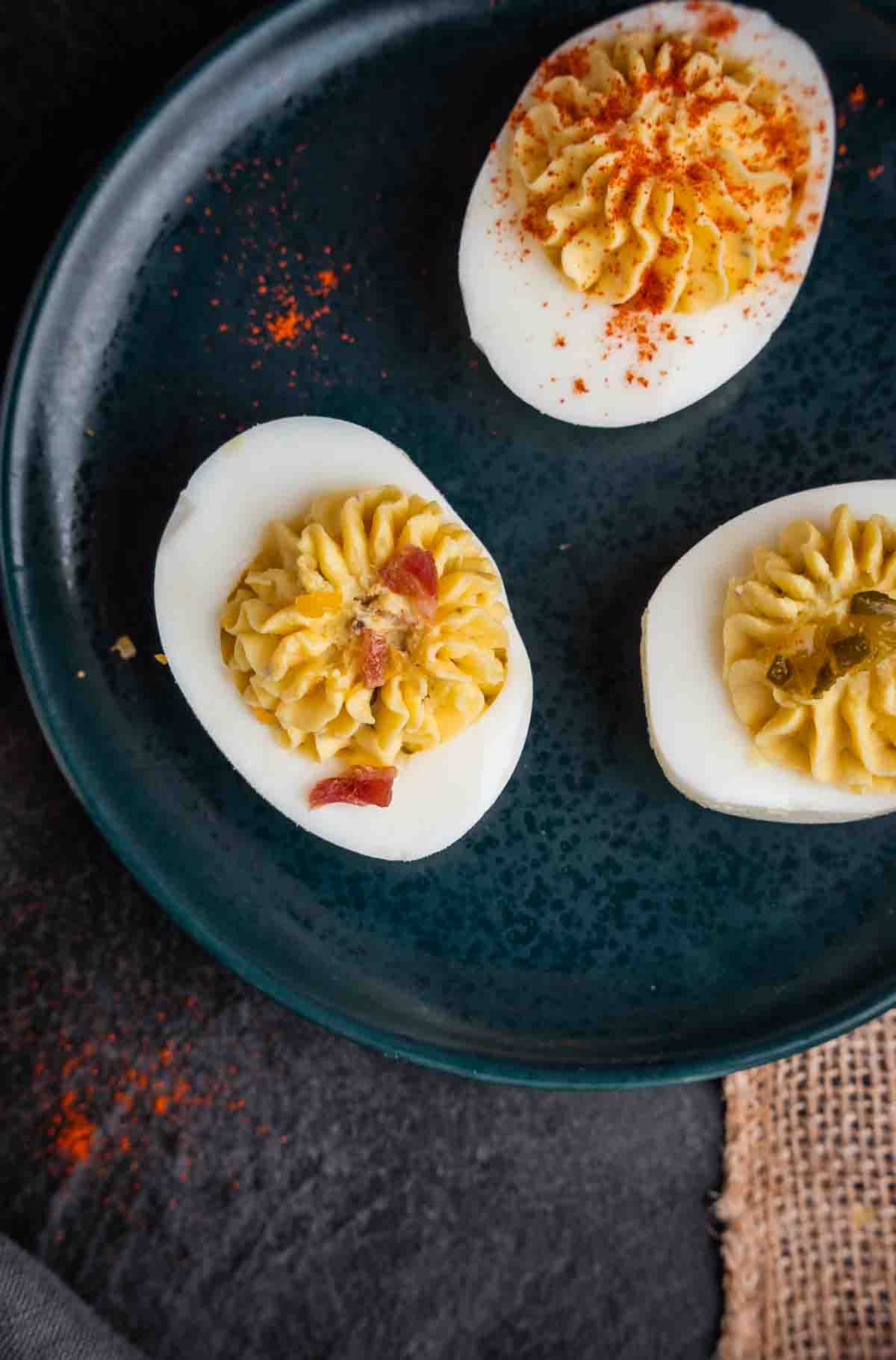 More Delicious Recipes
For more great sides and appetizers, try these:
What about you and your family? Are you Whip people or mayo people, and do you taunt those who have opposing points of view? Keep in mind, this personal preference of regular mayo vs miracle whip doesn't have to destroy bonds!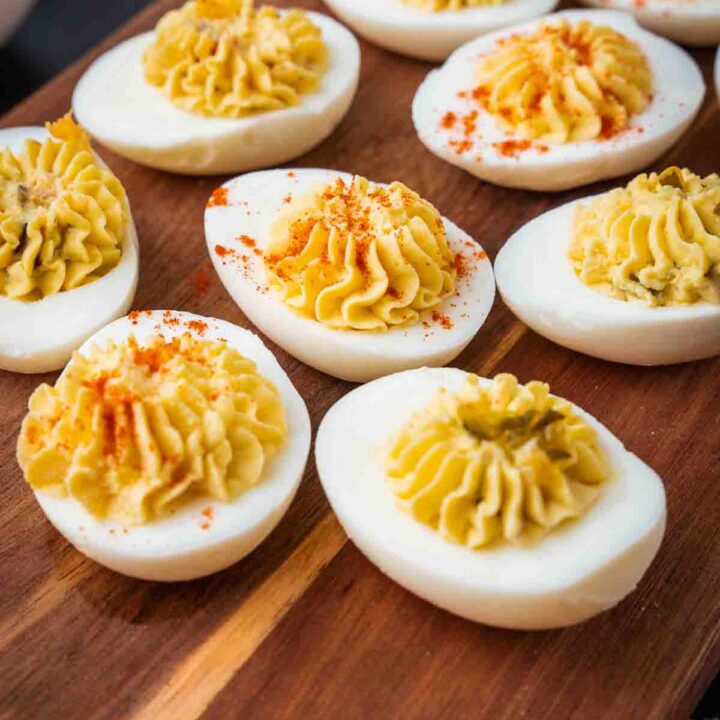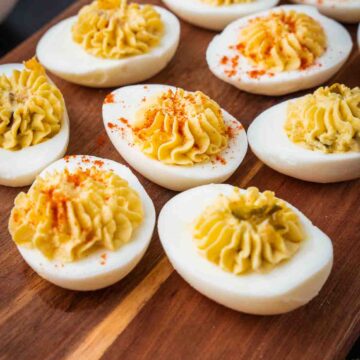 Classic Deviled Eggs
When it comes to classic deviled eggs, you want a perfectly boiled egg with a creamy yolk filling. Our trick is in the Miracle Whip–a family secret that's been on our menu for years!
Print
Pin
Rate
Share by Text
Ingredients
For the filling
12

egg yolks from hard boiled eggs

1/4

cup

Miracle Whip

1/2

tsp

vinegar

1

tbsp

Dijon Mustard

Salt & Pepper to taste
For Assembly
12

egg whites from hard boiled eggs

Paprika to garnish
Instructions
1 Combine all filling ingredients and mix until they are an even creamy consistency.

2 Pipe into egg white halves

3 Garnish with paprika
Nutrition
Serving:
1
g
|
Calories:
181
kcal
|
Carbohydrates:
4
g
|
Protein:
15
g
|
Fat:
11
g
|
Saturated Fat:
4
g
|
Polyunsaturated Fat:
6
g
|
Cholesterol:
432
mg
|
Sodium:
348
mg
|
Sugar:
2
g
Nutritional informations provided as a courtesy and is only an approximatation. Values will changes based on ingredients used.
⭐ Tried this recipe? Rate it ⭐
Help out the next person and give it a star rating below!